This post may contain affiliate links; please read the disclosure for more information.
Cape May Cafe in Disney's Beach Club Resort, Disney's Beach Club Resort, Walt Disney World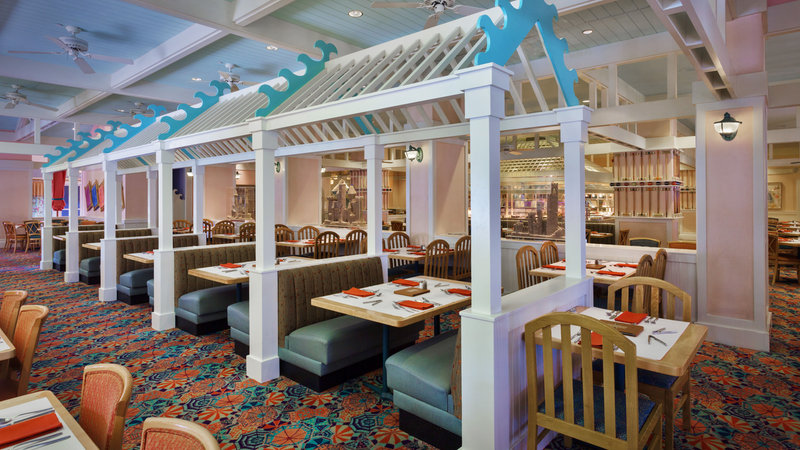 Details, tips, and information for Cape May Cafe
Coast on down to this New England-style, beachside setting where you can join some favorite Disney pals at breakfast for a lively Character Dining experience, or set sail later in the day for a mouthwatering seafood-and-more dinner buffet. Please note: Disney Characters join Guests for breakfast only.

Cuisine:
American/Seafood

Details:
Disney Dining Plan Accepted
WDWNT Reviews
Coming soon!
Menus for Cape May Cafe
Brunch
Experience: Character Dining
Price level: $$$ ($35 to $59.99 per adult)
Character Breakfast Offerings
Sliced Meats –
Selection of Cheeses –
Assorted Fresh Fruits and Yogurt –
Cereals and Grains –
Breakfast Breads –
Fresh-baked Pastries –
Mickey Waffles –
Selection of Breakfast Favorites –
Specialty Beverages
French Roast or Shakin' Jamaican Cold Brew Coffee – $3.79
French Press Coffee – $8.00
Featuring Joffrey's Alto Mayo Blend
Baileys and Coffee – $9.00
Kahlúa and Coffee – $9.00
Café Mocha – $4.09
Cappuccino – $4.19
Café au Lait – $4.69
Espresso – $3.69
Assorted Minute Maid Juices –
Orange, Cranberry, Apple, Orange-Guava-Passion Fruit, and Lemonade
Featuring Twinings of London Hot Teas –
Sunrise Sippers
Soleil Classic Mimosa – Per Glass – $9.00 / Per Bottle – $39.00
Sparkling Wine with Orange Juice
It's A Shore Thing – $10.00
Sparkling Wine with Mango Popping Boba
Traditional Bloody Mary – $10.00
with Absolut Peppar Vodka
Cape May Café Sunrise – $9.50
Ketel One Vodka with Orange Juice
Brunch
Experience: Character Dining
Price level: $$$ ($35 to $59.99 per adult)
Character Breakfast Offerings
Sliced Meats –
Selection of Cheeses –
Assorted Fresh Fruits and Yogurt –
Cereals and Grains –
Breakfast Breads –
Fresh-baked Pastries –
Mickey Waffles –
Selection of Breakfast Favorites –
Specialty Beverages
French Roast or Shakin' Jamaican Cold Brew Coffee – $3.79
French Press Coffee – $8.00
Featuring Joffrey's Alto Mayo Blend
Baileys and Coffee – $9.00
Kahlúa and Coffee – $9.00
Café Mocha – $4.09
Cappuccino – $4.19
Café au Lait – $4.69
Espresso – $3.69
Assorted Minute Maid Juices –
Orange, Cranberry, Apple, Orange-Guava-Passion Fruit, and Lemonade
Featuring Twinings of London Hot Teas –
Sunrise Sippers
Soleil Classic Mimosa – Per Glass – $9.00 / Per Bottle – $39.00
Sparkling Wine with Orange Juice
It's A Shore Thing – $10.00
Sparkling Wine with Mango Popping Boba
Traditional Bloody Mary – $10.00
with Absolut Peppar Vodka
Cape May Café Sunrise – $9.50
Ketel One Vodka with Orange Juice
Breakfast
Experience: Character Dining
Price level: $$$ ($35 to $59.99 per adult)
Character Breakfast Offerings
Sliced Meats –
Selection of Cheeses –
Assorted Fresh Fruits and Yogurt –
Cereals and Grains –
Breakfast Breads –
Fresh-baked Pastries –
Mickey Waffles –
Selection of Breakfast Favorites –
Allergy-Friendly Offerings
Allergen Guides available upon request –
Sunrise Sippers
Soleil Classic Mimosa – Per Glass – $9.00 / Per Bottle – $39.00
Sparkling Wine with Orange Juice
It's A Shore Thing – $10.00
Sparkling Wine with Mango Popping Boba
Traditional Bloody Mary – $10.00
with Absolut Peppar Vodka
Cape May Café Sunrise – $9.50
Ketel One Vodka with Orange Juice
Specialty Beverages
French Roast or Shakin' Jamaican Cold Brew Coffee – $3.79
French Press Coffee – $8.00
Featuring Joffrey's Alto Mayo Blend
Baileys and Coffee – $9.00
Kahlúa and Coffee – $9.00
Café Mocha – $4.09
Cappuccino – $4.19
Café au Lait – $4.69
Espresso – $3.69
Assorted Minute Maid Juices –
Orange, Cranberry, Apple, Orange-Guava-Passion Fruit, and Lemonade
Featuring Twinings of London Hot Teas –
Dinner
Experience: Casual Dining
Price level: $$$ ($35 to $59.99 per adult)
Seafood Buffet Offerings
Soups and Salads –
Selection of Cheeses –
Baked Breads and Accompaniments –
Seasonal Vegetables –
House-baked Breads and Accompaniments –
Pasta –
Carving Station –
Selection of Seafood –
Featuring Snow Crab Legs
Classic Favorites for Children –
Assortment of Desserts –
Allergy-Friendly Offerings
Allergen Guides available upon request –
Related