This post may contain affiliate links; please read the disclosure for more information.
Tiffins in Discovery Island, Disney's Animal Kingdom, Walt Disney World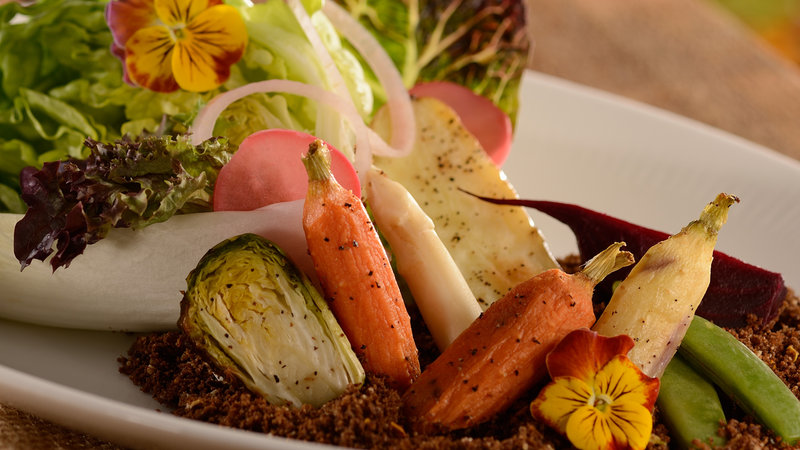 Details, tips, and information for Tiffins
Today's Hours
11:30AM - 8:00PM
Set off on a culinary expedition of international cuisine at this restaurant inspired by exploration and adventure.

Cuisine:
African/Asian/Latin

Details:
Disney Dining Plan Accepted
WDWNT Reviews
Coming soon!
Menus for Tiffins
Lunch
Experience: Signature Dining
Price level: $$$ ($35 to $59.99 per adult)
Appetizers
Charred Octopus – $16.00
Romesco Sauce, Olive Tapenade, Chorizo, Squid Ink Aïoli
Spiced Chickpea Falafel – $10.00
Mint-Pistachio Pesto, Cumin-scented Garlic Yogurt Sauce, Pickled Vegetables
Tiffins Signature Bread Service – $11.00
Indian-spiced Tomato Chutney, Eggplant Dip, Apricot Chutney
Selection of Artisanal Cheeses – $16.00
Chef's Selection of Accompaniments
Avocado and Tomato Salad – $12.00
Artisanal Greens, Grilled Corn, Queso Fresco, Buttermilk Dressing
Fig and Burrata Salad – $14.00
Pistachio-Cilantro Chutney, Toy Box Tomatoes, Brioche Toast, Lemon Vincotto, Smoked Olive Oil
Mushroom Soup – $13.00
Wild Chanterelle Ragoût, Truffle Oil, Crispy Shiitake
Chef's House-made Charcuterie Board – $17.00
Selection of Cured and Smoked Meats
Main Courses
Fort McCoy Rib-Eye – $49.00
Char-crusted Rib-Eye, Loaded Crushed Potatoes, Roasted Brussels Sprouts, Bacon-Sherry Vinaigrette, Crispy Shallots
Chicken and Waffle – $36.00
Cornmeal Waffle, Caulilini, Huckleberry Butter, Maple Chicken Jus
Shrimp and Grits – $33.00
Anson Mills Grits, Applewood-smoked Bacon, Heirloom Tomatoes, Smoked Pepper Jam
Surf and Turf – $62.00
Grilled Beef Tenderloin, Butter-poached lobster Tail, Yukon Gold Potatoes, Charred Broccolini, Cape Mountain Whisky Butter
Pan-seared Alaskan Halibut – $39.00
Herb-roasted Tomato, Haricot Vert, Fingerling Potatoes, Saffron Aïoli, Kalamata Marmalade
Whole-fried Sustainable Fish – $43.00
Fermented Black Bean Sauce, Thai Green Papaya Slaw, Peanuts
Crispy Sadza – $29.00
Crispy Corn Cake, Chermoula-infused Spring Vegetables, Chakalaka, Corn Emulsion
Crispy Sadza wtih Braised Berkshire Pork Belly – $41.00
Crispy Corn Cake, Chermoula-infused Spring Vegetables, Chakalaka, Corn Emulsion
Braised Lamb Shank – $43.00
Black-Eyed Peas, Piquillo Peppers, Coriander Chutney, Baharat
Enhancements (Not eligible on the Disney Dining Plan)
Gobi Manchurian – $11.00
Crispy-fried Cauliflower, Manchurian Sauce, Green Onion
Lobster Mac & Cheese – $21.00
Black Diamond Cheddar, Sherry, Orecchiette Pasta
Vanilla-poached South African Lobster Tail – $29.00
Roasted Jumbo Asparagus – $12.00
Tomato Vinaigrette, crispy Bacon
Desserts
Passion Fruit Tapioca Créme – $9.00
Chocolate Crumble, Citrus Fruits
South American Chocolate Ganache – $12.00
Caramelized Banana, Cocoa Nib Tuile
Whipped Cheesecake – $10.00
Amarula Panna Cotta, Sesame Crumbs, Espresso Sponge
Guava Mousse – $11.00
Lemon Curd, Pomegranate Sauce
Halo-Halo – $9.00
Sweet Potato Ice Cream, Jack Fruit, Raspberry-Ginger Beer Sorbet, Condensed Milk Ice Cream, Coconut Crumble, Lime Pâte de Fruit
Kids' Appetizers
Garden Salad – $5.00
Mixed Lettuce and Seasonal Vegetables with Vinaigrette or Ranch Dressing
Soup of the Day – $4.00
Black-Eyed Pea Fritters – $5.00
Crispy Fritters with Dipping Sauce
Kids' Disney Check Meals
Cottage Pie – $14.00
Seasoned Beef, English Pea, Whipped Potato, and Fresh Fruit served with choice of Small Lowfat Milk or Small Dasani Water. Meets Disney Nutrition Guidelines for Complete Meals without substitutions
Grilled Chicken – $14.00
Seasonal Vegetables, Multigrain Rice, and Fresh Fruit served with choice of Small Lowfat Milk or Small Dasani Water. Meets Disney Nutrition Guidelines for Complete Meals without substitutions
Shrimp Rice Bowl – $15.00
Key West Pink Shrimp, Piquillo Peppers, Ginger-Tamari Sauce, and Fresh Fruit served with choice of Small Lowfat Milk or Small Dasani Water. Meets Disney Nutrition Guidelines for Complete Meals without substitutions
Kid's Meal
Pasta Marinara – $9.00
Bowtie Pasta with Marinara Sauce and grated Parmesan served with choice of Small Lowfat Milk, Small Dasani Water, or Small Minute Maid Apple Juice
Kids' Desserts
Chocolate Brownie – $6.00
with Chocolate-Hazelnut Mousse, House-made Vanilla Ice Cream, and Strawberry Sauce
Neapolitan Macaroon – $6.00
Strawberry and Vanilla Macaroon with White Chocolate Mousse, Pâte de Fruits, and Macerated Strawberries
Fresh Fruit – $5.00
Kid's Specialty Drink
Specialty Character Drink – $8.00
Minute Maid Light Lemonade served in a souvenir Character Cup with a glowing Character Clip-on Light
Non-Alcoholic Beverages
Zingiber Fizzie – $6.25
Passion Fruit Purée, Mint, Ginger Beer, Lime Juice
Hibiscus Henna – $6.75
Watermelon, Hibiscus, Soda Water, Lime Juice
Lillie Gorill-ie – $6.00
Strawberry, Sprite
Balineze Breeze – $6.00
Mountain Berry Tea, Simple Syrup, Lemon Juice
Kiama Mamma – $5.75
Watermelon, Sprite
Tealeaves Iced Tea – $3.49
Passion Fruit Vanilla
Vitaminwater – $3.79
Açai-Blueberry-Pomegranate
Powerade – $3.49
Mountainberry Blast
Alto Mayo Protected Forest Coffee Roasted by Joffrey's Coffee – $8.00
Disney supports Conservation International's Alto Mayo Protected Forest project in Peru, which promotes sustainable coffee growing and trains local coffee farmers in alternative farming techniques that help protect forests, improve productivity and coffee bean quality, and promote economic growth
Specialty Cocktails
Jenn's Tattoo – $12.00
Ketel One Vodka, Watermelon, Hibiscus, Lime Juice
Annapurna Zing – $14.25
Bombay Sapphire East Gin, Passion Fruit Purée, Mint, Lime Juice, Ginger Beer
Lamu Libation – $12.50
Starr African Rum, Cruzan Banana Rum, Guava Purée, Tropical Juices, Gosling's 151 Rum Float
Hightower Rocks – $14.00
Casa Dragones Blanco Tequila, Watermelon, Sweet-n-Sour, Lime Juice
Snow Leopard Salvation – $13.75
Snow Leopard Vodka, Belle de Brillet Pear Liqueur, Mint, Lime Juice, Ginger Beer
Tempting Tigress – $14.00
Russell's Reserve 10 yr Bourbon, St. Elizabeth Allspice Dram, Tamarind Syrup, Lime Juice
Draft and Bottled Beer
Kungaloosh Spiced Excursion Ale Draft – USA – $9.50
African-inspired deep amber ale brewed exclusively for Walt Disney World with sorghum and a special blend of spices including cinnamon and cardamom
First Magnitude Wakulla Hefeweizen – USA – $9.00
Modelo Especial Lager Draft – Mexico – $8.00
TBBC Old Elephant Foot IPA Draft – USA – $9.00
Exploration Beer Flight – $10.50
(5-oz each) First Magnitude Wakulla Hefeweizen, Kungaloosh Spiced Excursion Ale, Old Elephant Foot IPA
Chang Lager – Thailand – $7.75
Sapporo Black Lager – Japan – $10.00
Dogfish Head Namaste White Belgian-style Witbier – USA – $8.75
Modelo Negra Munich Dunkel-style Lager – Mexico – $7.75
Tiger Lager – Singapore – $9.00
Singha Lager – Thailand – $7.25
First Magnitude 72 Pale Ale – USA – $8.75
Tusker Lager – Kenya – $8.50
Savanna Dry Premium Cider, South Africa (Gluten-friendly) – $10.00
Red Wines by the Glass
Pinot Noir Alto Limay Select, Argentina – Per Glass – $11.00
Bonarda Familia Zuccardi Serie A, Argentina – Per Glass – $10.00
Pinotage Painted Wolf The Den, South Africa – Per Glass – $10.00
Red Blend Emiliana Coyam, Chile – Per Glass – $17.00
Red Blend Spice Route Chakalaka, South Africa – Per Glass – $11.00
Carmenère Viña Tarapacá Gran Reserva, Chile – Per Glass – $11.00
Red Blend Familia Zuccardi Tito Zuccardi, Argentina – Per Glass – $19.00
Malbec Don Miguel Gascón, Argentina – Per Glass – $9.00
Malbec/Syrah Tikal Natural, Argentina – Per Glass – $13.00
Red Blend De Toren Z, South Africa – Per Glass – $19.00
Cabernet Sauvignon Santa Julia Organic Grapes, Argentina – Per Glass – $8.00
Cabernet Sauvignon Kaiken Terroir Series, Argentina – Per Glass – $9.00
Cabernet Sauvignon Rust en Vrede, South Africa – Per Glass – $13.00
Cabernet Concha y Toro Marques de Casa Concha, Chile – Per Glass – $13.00
Dinner
Experience: Signature Dining
Price level: $$$ ($35 to $59.99 per adult)
Appetizers
Charred Octopus – $16.00
Romesco Sauce, Olive Tapenade, Chorizo, Squid Ink Aïoli
Spiced Chickpea Falafel – $10.00
Mint-Pistachio Pesto, Cumin-scented Garlic Yogurt Sauce, Pickled Vegetables
Tiffins Signature Bread Service – $11.00
Indian-spiced Tomato Chutney, Eggplant Dip, Apricot Chutney
Selection of Artisanal Cheeses – $16.00
Chef's Selection of Accompaniments
Avocado and Tomato Salad – $12.00
Artisanal Greens, Grilled Corn, Queso Fresco, Buttermilk Dressing
Fig and Burrata Salad – $14.00
Pistachio-Cilantro Chutney, Toy Box Tomatoes, Brioche Toast, Lemon Vincotto, Smoked Olive Oil
Mushroom Soup – $13.00
Wild Chanterelle Ragoût, Truffle Oil, Crispy Shiitake
Chef's House-made Charcuterie Board – $17.00
Selection of Cured and Smoked Meats
Main Courses
Fort McCoy Rib-Eye – $49.00
Char-crusted Rib-Eye, Loaded Crushed Potatoes, Roasted Brussels Sprouts, Bacon-Sherry Vinaigrette, Crispy Shallots
Chicken and Waffle – $36.00
Cornmeal Waffle, Caulilini, Huckleberry Butter, Maple Chicken Jus
Shrimp and Grits – $33.00
Anson Mills Grits, Applewood-smoked Bacon, Heirloom Tomatoes, Smoked Pepper Jam
Surf and Turf – $62.00
Grilled Beef Tenderloin, Butter-poached lobster Tail, Yukon Gold Potatoes, Charred Broccolini, Cape Mountain Whisky Butter
Pan-seared Alaskan Halibut – $39.00
Herb-roasted Tomato, Haricot Vert, Fingerling Potatoes, Saffron Aïoli, Kalamata Marmalade
Whole-fried Sustainable Fish – $43.00
Fermented Black Bean Sauce, Thai Green Papaya Slaw, Peanuts
Crispy Sadza – $29.00
Crispy Corn Cake, Chermoula-infused Spring Vegetables, Chakalaka, Corn Emulsion
Crispy Sadza wtih Braised Berkshire Pork Belly – $41.00
Crispy Corn Cake, Chermoula-infused Spring Vegetables, Chakalaka, Corn Emulsion
Braised Lamb Shank – $43.00
Black-Eyed Peas, Piquillo Peppers, Coriander Chutney, Baharat
Enhancements (Not eligible on the Disney Dining Plan)
Gobi Manchurian – $11.00
Crispy-fried Cauliflower, Manchurian Sauce, Green Onion
Lobster Mac & Cheese – $21.00
Black Diamond Cheddar, Sherry, Orecchiette Pasta
Vanilla-poached South African Lobster Tail – $29.00
Roasted Jumbo Asparagus – $12.00
Tomato Vinaigrette, crispy Bacon
Desserts
Passion Fruit Tapioca Créme – $9.00
Chocolate Crumble, Citrus Fruits
South American Chocolate Ganache – $12.00
Caramelized Banana, Cocoa Nib Tuile
Whipped Cheesecake – $10.00
Amarula Panna Cotta, Sesame Crumbs, Espresso Sponge
Guava Mousse – $11.00
Lemon Curd, Pomegranate Sauce
Halo-Halo – $9.00
Sweet Potato Ice Cream, Jack Fruit, Raspberry-Ginger Beer Sorbet, Condensed Milk Ice Cream, Coconut Crumble, Lime Pâte de Fruit
Kids' Appetizers
Garden Salad – $5.00
Mixed Lettuce and Seasonal Vegetables with Vinaigrette or Ranch Dressing
Soup of the Day – $4.00
Black-Eyed Pea Fritters – $5.00
Crispy Fritters with Dipping Sauce
Kids' Disney Check Meals
Cottage Pie – $14.00
Seasoned Beef, English Pea, Whipped Potato, and Fresh Fruit served with choice of Small Lowfat Milk or Small Dasani Water. Meets Disney Nutrition Guidelines for Complete Meals without substitutions
Grilled Chicken – $14.00
Seasonal Vegetables, Multigrain Rice, and Fresh Fruit served with choice of Small Lowfat Milk or Small Dasani Water. Meets Disney Nutrition Guidelines for Complete Meals without substitutions
Shrimp Rice Bowl – $15.00
Key West Pink Shrimp, Piquillo Peppers, Ginger-Tamari Sauce, and Fresh Fruit served with choice of Small Lowfat Milk or Small Dasani Water. Meets Disney Nutrition Guidelines for Complete Meals without substitutions
Kid's Meal
Pasta Marinara – $9.00
Bowtie Pasta with Marinara Sauce and grated Parmesan served with choice of Small Lowfat Milk, Small Dasani Water, or Small Minute Maid Apple Juice
Kids' Desserts
Chocolate Brownie – $6.00
with Chocolate-Hazelnut Mousse, House-made Vanilla Ice Cream, and Strawberry Sauce
Neapolitan Macaroon – $6.00
Strawberry and Vanilla Macaroon with White Chocolate Mousse, Pâte de Fruits, and Macerated Strawberries
Fresh Fruit – $5.00
Kid's Specialty Drink
Specialty Character Drink – $8.00
Minute Maid Light Lemonade served in a souvenir Character Cup with a glowing Character Clip-on Light
Non-Alcoholic Beverages
Zingiber Fizzie – $6.25
Passion Fruit Purée, Mint, Ginger Beer, Lime Juice
Hibiscus Henna – $6.75
Watermelon, Hibiscus, Soda Water, Lime Juice
Lillie Gorill-ie – $6.00
Strawberry, Sprite
Balineze Breeze – $6.00
Mountain Berry Tea, Simple Syrup, Lemon Juice
Kiama Mamma – $5.75
Watermelon, Sprite
Tealeaves Iced Tea – $3.49
Passion Fruit Vanilla
Vitaminwater – $3.79
Açai-Blueberry-Pomegranate
Powerade – $3.49
Mountainberry Blast
Alto Mayo Protected Forest Coffee Roasted by Joffrey's Coffee – $8.00
Disney supports Conservation International's Alto Mayo Protected Forest project in Peru, which promotes sustainable coffee growing and trains local coffee farmers in alternative farming techniques that help protect forests, improve productivity and coffee bean quality, and promote economic growth
Specialty Cocktails
Jenn's Tattoo – $12.00
Ketel One Vodka, Watermelon, Hibiscus, Lime Juice
Annapurna Zing – $14.25
Bombay Sapphire East Gin, Passion Fruit Purée, Mint, Lime Juice, Ginger Beer
Lamu Libation – $12.50
Starr African Rum, Cruzan Banana Rum, Guava Purée, Tropical Juices, Gosling's 151 Rum Float
Hightower Rocks – $14.00
Casa Dragones Blanco Tequila, Watermelon, Sweet-n-Sour, Lime Juice
Snow Leopard Salvation – $13.75
Snow Leopard Vodka, Belle de Brillet Pear Liqueur, Mint, Lime Juice, Ginger Beer
Tempting Tigress – $14.00
Russell's Reserve 10 yr Bourbon, St. Elizabeth Allspice Dram, Tamarind Syrup, Lime Juice
Draft and Bottled Beer
Kungaloosh Spiced Excursion Ale Draft – USA – $9.50
African-inspired deep amber ale brewed exclusively for Walt Disney World with sorghum and a special blend of spices including cinnamon and cardamom
First Magnitude Wakulla Hefeweizen – USA – $9.00
Modelo Especial Lager Draft – Mexico – $8.00
TBBC Old Elephant Foot IPA Draft – USA – $9.00
Exploration Beer Flight – $10.50
(5-oz each) First Magnitude Wakulla Hefeweizen, Kungaloosh Spiced Excursion Ale, Old Elephant Foot IPA
Chang Lager – Thailand – $7.75
Sapporo Black Lager – Japan – $10.00
Dogfish Head Namaste White Belgian-style Witbier – USA – $8.75
Modelo Negra Munich Dunkel-style Lager – Mexico – $7.75
Tiger Lager – Singapore – $9.00
Singha Lager – Thailand – $7.25
First Magnitude 72 Pale Ale – USA – $8.75
Tusker Lager – Kenya – $8.50
Savanna Dry Premium Cider, South Africa (Gluten-friendly) – $10.00
Red Wines by the Glass
Pinot Noir Alto Limay Select, Argentina – Per Glass – $11.00
Bonarda Familia Zuccardi Serie A, Argentina – Per Glass – $10.00
Pinotage Painted Wolf The Den, South Africa – Per Glass – $10.00
Red Blend Emiliana Coyam, Chile – Per Glass – $17.00
Red Blend Spice Route Chakalaka, South Africa – Per Glass – $11.00
Carmenère Viña Tarapacá Gran Reserva, Chile – Per Glass – $11.00
Red Blend Familia Zuccardi Tito Zuccardi, Argentina – Per Glass – $19.00
Malbec Don Miguel Gascón, Argentina – Per Glass – $9.00
Malbec/Syrah Tikal Natural, Argentina – Per Glass – $13.00
Red Blend De Toren Z, South Africa – Per Glass – $19.00
Cabernet Sauvignon Santa Julia Organic Grapes, Argentina – Per Glass – $8.00
Cabernet Sauvignon Kaiken Terroir Series, Argentina – Per Glass – $9.00
Cabernet Sauvignon Rust en Vrede, South Africa – Per Glass – $13.00
Cabernet Concha y Toro Marques de Casa Concha, Chile – Per Glass – $13.00