Whispering Canyon Cafe in Disney's Wilderness Lodge, Disney's Wilderness Lodge, Walt Disney World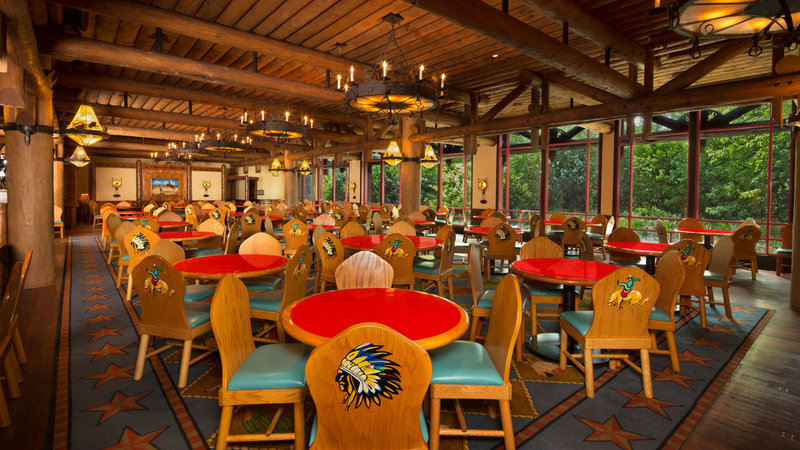 Details, tips, and information for Whispering Canyon Cafe
Today's Hours
EMPTY api-answer: No JSON received - is the API down? Check the URL you use in the shortcode!
For a rowdy, rootin' tootin' good time, round up the whole family for hearty western fare and antics aplenty.
Rob says…
My family loves this restaurant. You can get the build-your-own platter and eat to your heart's content. The cornbread is great as well as the atmosphere. Be sure to ask for ketchup!

WDWNT recommends this!

Short code:
whisp

Cuisine:
American

Details:
Disney Dining Plan Accepted
WDWNT Reviews
Coming soon!
Menus for Whispering Canyon Cafe
[mks_tabs nav='horizontal']
[mks_tab_item title='Breakfast']
Experience: Special and Unique Dining
Price level: $ ($14.99 and under per adult)
Starters
Fresh Fruit – $8.00
with Honey-Ginger Yogurt and Granola
Blueberry Muffin – $4.00
Main Claim Entrées
All-You-Care-To-Enjoy Breakfast Skillet – Per Person – $21.00
Scrambled Eggs, Country Potatoes, Hickory-smoked Bacon, Sausage, Mickey Waffles, House-made Buttermilk-Cheddar Biscuits, and Sausage Gravy
Eggs Benedict – $15.00
Two-poached Eggs on a House-made Buttermilk-Cheddar Biscuit with Hollandaise Sauce, Canyon-smoked Ham, and Country Potatoes
Vegetarian Eggs Benedict – $15.00
Two-poached Eggs on a House-made Buttermilk Cheddar Biscuit, Sliced Tomato, fresh Spinach, Hollandaise Sauce, and your choice of fresh Fruit or Country Potatoes
Eggs-Any Style – $16.00
Country Potatoes, a House-made Buttermilk-Cheddar Biscuit, and your choice of Hickory-smoked Bacon or Sausage
Ham and Cheddar Omelet – $15.00
Country Potatoes and a House-made Buttermilk Cheddar Biscuit
Smoked Salmon and House-made Seasoned Bialy – $11.00
Hard-cooked Egg, Shallots, and Capers
Steel-cut Oatmeal – $11.00
Fresh Fruit and Spiced Apple Muffin
Banana Bread French Toast – $16.00
Topped with Bananas Foster Sauce and your choice of Hickory-smoked Bacon or Sausage
Belgian-style Waffle – $14.00
Fresh Berries and your choice of Hickory-smoked Bacon or Sausage
Seasonal Fresh Fruit Plate – $10.00
Honey-Ginger Greek Yogurt and Granola
Side Orders
House-made Buttermilk-Cheddar Biscuit – $5.00
Toast – White, Wheat, or Rye – $4.00
Blueberry Muffin – $4.00
Cold Cereal – $6.00
Stone-ground Cheese Grits – $5.00
Turkey Sausage Patty – $5.00
Hickory-smoked Bacon or Sausage – $5.00
Kids' Disney Check Meal
Spinach and Tomato Omelet – $9.00
with Fresh Fruit and Goldfish Honey-Wheat Toast served with choice of Small Lowfat Milk or Small Dasani Water. Meets Disney Nutrition Guidelines for Complete Meals without substitutions
Kids' Meals
One Egg – $9.00
with Bacon or Sausage Link, Country Potatoes, and a Biscuit served with choice of Small Lowfat Milk, Small Dasani Water, or Small Minute Maid Apple Juice
Mickey Waffles – $8.00
with Bacon or Sausage Link and choice of Small Lowfat Milk, Small Dasani Water, or Small Minute Maid Apple Juice
House-made Banana Bread French Toast – $8.00
One slice of Banana Bread French Toast with Bananas Foster Sauce and Bacon or Sausage Link served with choice of Small Lowfat Milk, Small Dasani Water, or Small Minute Maid Apple Juice
Steel-cut Oatmeal – $6.00
Topped with Sun-dried Cranberries and Maple Syrup served with Fresh Fruit and choice of Small Lowfat Milk, Small Dasani Water, or Small Minute Maid Apple Juice
Fresh Fruit Cup – $6.00
Topped with Yogurt and Granola served with choice of Small Lowfat Milk, Small Dasani Water, or Small Minute Maid Apple Juice
All-You-Care-To-Enjoy Breakfast Skillet – $13.00
served with choice of Small Lowfat Milk, Small Dasani Water, or Small Minute Maid Apple Juice
Non-Alcoholic Beverages
Chocolate, Vanilla, Strawberry, or Caramel Shakes – $9.00
All-You-Care-To-Enjoy
Assorted Juices –
Minute Maid Orange, Apple, Cranberry, Grapefruit, Tomato, or Vegetable Juice
Odwalla Berries GoMega –
Freshly Brewed Joffrey's Coffee – $3.79
Alto Mayo Protected Forest Coffee Roasted by Joffrey's Coffee – $9.00
Disney supports Conservation International's Alto Mayo Protected Forest project in Peru, which promotes sustainable coffee growing and economic growth (serves Two)
Morning Cocktails
Mimosa – $10.75
Sparkling Wine and Orange Juice
Bloody Mary – $9.50
Vodka and Bloody Mary Mix
Allergy-friendly Offerings
Allergy-Friendly menus available upon request –
[/mks_tab_item]
[mks_tab_item title='Lunch']
Experience: Special and Unique Dining
Price level: $$ ($15 to $34.99 per adult)
Average entrée price: $18.20
Trailblazing Starters
Crispy Pork Belly – $11.00
with Tamarind-Soy Glaze and Kimchi Slaw
Organic Mixed Greens – $9.00
Dried Cranberries, Seed Brittle, Goat Cheese, and Cranberry-Poppy Seed Vinaigrette
Chicken Tortilla Soup – $9.00
Prospector Nachos – $12.00
Topped with Beef Brisket, Barbecued Pulled Pork, Queso, and Fresh Salsa
Entrées
All-You-Care-To-Enjoy Skillet – Per Person – $24.00
Fresh Baked Cornbread, Slow-smoked Pork Ribs, Barbecued Pulled Pork, Citrus Herb Chicken, Western-style Sausage, Mashed Yukon Potatoes, Buttered Corn, and Cowboy-style Baked Beans
Grilled Chicken Sandwich – $17.00
with Citrus-Herb Marinade, Roasted Red Pepper Aïoli, and fresh Greens on Focaccia served with Potato Wedges
Applewood-smoked Turkey Sandwich – $15.00
with Arugula, Tomato, and Cranberry-Mayonnaise on Toasted Multigrain Bread with your choice of French Fries or Sweet Potato Fries
Slow-smoked Pulled Pork Sandwich – $14.00
with Onion Rings, Chipotle Barbecue Sauce, and Coleslaw on a Brioche Roll with your choice of French Fries or Sweet Potato Fries
Chopped Bison Burger – $19.00
with Chipotle Aïoli, White Cheddar, Candied Hickory-smoked Bacon, and Fried Pickle on a House-made Bun served with Potato Wedges
Tuna Melt – $15.00
with Vine-ripened Tomatoes, Emmental, Arugula, and Pistou-Herb Oil on Multigrain Bread
Skillet-fired Red Quinoa Cakes – $19.00
with Edamame Salsa, Organic Greens, and Cucumber Yogurt
Grilled Salmon BLT Salad – $21.00
Mixed Greens, Basil, Fennel, Tomatoes, Focaccia, Bacon Jam, and Citrus Vinaigrette
Chopped Salad – $18.00
Mixed Greens, Hickory-smoked Bacon, "Cowboy Caviar", House-smoked Turkey, Cheddar cheese, Cornbread Croutons, and Chipotle-Ranch Dressing
St. Louis-style Pork Ribs – $20.00
Chipotle Barbecue Sauce and your choice of "Cowboy Caviar" or Coleslaw, and French Fries
Kids' Appetizers
Garden Salad – $3.00
Fruit Salad – $3.00
Carroteenies – $3.00
Seasonal Soup – $3.00
Kids' Disney Check Meals
Chicken and Cheese Quesadilla – $8.00
with Pico de Gallo, Guacamole, Mixed Green Salad, and Sliced Apples served with choice of Small Lowfat Milk or Small Dasani Water. Meets Disney Nutrition Guidelines for Complete Meals without substitution
Grilled Fish of the Day – $10.25
with Farro, Arugula, Tomato, and Fruit Salad served with choice of Small Lowfat Milk or Small Dasani Water. Meets Disney Nutrition Guidelines for Complete Meals without substitution
Grilled Chicken Breast – $10.00
with Whole-Grain Pilaf, Veggies, and Sliced Apples served with choice of Small Lowfat Milk or Small Dasani Water. Meets Disney Nutrition Guidelines for Complete Meals without substitutions
Kids' Meals
Cheeseburger – $11.00
Choice of one (1) Beverage and one (1) Dessert
Macaroni & Cheese – $9.00
Choice of one (1) Beverage and one (1) Dessert
Chicken Nuggets – $10.00
Choice of one (1) Beverage and one (1) Dessert
All-You-Care-To-Enjoy Skillet – $16.00
Please ask your server for more details
Kids' Desserts
Chocolate Chip Cookies –
Sliced Apples –
Fruit Salad –
Allergy-friendly Offerings
Allergy-Friendly menus available upon request –
Kids' Beverages
Small Lowfat Milk –
Small Dasani Water –
Small Minute Maid Apple Juice –
Non-Alcoholic Beverages
Chocolate, Vanilla, Strawberry, or Caramel Shakes – $9.00
All-You-Care-To-Enjoy
Assorted Fountain Beverages –
Coca-Cola, Diet Coke, Coca-Cola Zero Sugar, Sprite, Barq's Root Beer, or Minute Maid Light Lemonade
Espresso –
Cappuccino –
Featuring Freshly Brewed Joffrey's Coffee
Latte –
Café Mocha –
Freshly Brewed Joffrey's Coffee –
Alto Mayo Protected Forest Coffee Roasted by Joffrey's Coffee – $9.00
Disney supports Conservation International's Alto Mayo Protected Forest project in Peru, which promotes sustainable coffee growing and economic growth (serves Two)
Specialty Drinks
Magical Star Cocktail – $13.75
X-Fusion Organic Mango and Passion Fruit Liqueur, Parrot Bay Coconut Rum, Pineapple Juice, and a souvenir Multicolored Glow Cube
Moonshine Lemonade – $12.50
Moonshine with Blackberry, Strawberry, or Watermelon
Moonshine Margarita – $12.50
Moonshine Whiskey, St-Germain Elderflower Liqueur, fresh Lime Juice, and Agave Nectar
Mountain Trail Cocktail – $12.50
Moonshine Whiskey, Chambord, Blackberry Brandy, and Wildberry topped with Lemonade
Godiva Chocolate Martini – $12.50
Godiva Chocolate Liqueur, Stoli Vanil Vodka, White Crème de Cacao, and Frangelico
Baileys and Coffee – $9.75
Baileys Irish Cream mixed with Hot Joffrey's Coffee
Cold Brew XO – $11.00
Patrón XO Cafe Coffee Liqueur, Heavy Cream, and Cold Brew Joffrey's Coffee
White and Red Wines
Eroica Riesling, Columbia Valley – Per Glass – $13.00 / Per Bottle – $55.00
aromas and flavors of white peach, grapefruit, and sweet lime with subtle mineral notes
Pacific Rim Sweet Riesling, Columbia Valley – Per Glass – $10.00 / Per Bottle – $45.00
delicately sweet, with pineapple and lemon flavors that reveal spicy accents
King Estate Pinot Gris, Oregon – Per Glass – $13.00 / Per Bottle – $55.00
ripe flavors of pear and apple profile a creamy texture and refreshing long finish
14 Hands Chardonnay, Columbia Valley – Per Glass – $10.00 / Per Bottle – $45.00
bright aromas of apples and pears with a touch of caramel and spice
Argyle Pinot Noir, Willamette Valley – Per Glass – $14.00 / Per Bottle – $59.00
ripe raspberry, black cherry, and plum flavors with a juicy cherry finish
Waterbrook Merlot, Columbia Valley – Per Glass – $10.00 / Per Bottle – $45.00
black currant and juicy plum notes balanced with a round and juicy texture
Chateau Ste. Michelle Syrah, Columbia Valley – Per Glass – $10.00 / Per Bottle – $45.00
flavors of vanilla, huckleberry, and blackberry are met with a touch of baking spice
Borne of Fire Cabernet Sauvignon, Columbia Valley – Per Glass – $13.00 / Per Bottle – $55.00
powdery tannins frame flavors of cherry, currant, savory spice, and red pepper
Purple Cowboy Trail Boss Cabernet Sauvignon, Paso Robles – Per Glass – $9.00 / Per Bottle – $39.00
dark red with hints of purple, aromas of ripe plum, cherry, and cassis are accented with cola and vanilla
Featured Draft & Bottled Beers
Moosehead Lager Draft – $8.50
Space Dust IPA Draft – $9.00
Lagunitas IPA – $8.75
Sweetwater 420 Extra Pale Ale – Per Bottle – $8.75
Full Sail Session Lager – Per Bottle – $8.75
Blue Moon Belgian White (Witbier) – $7.50
[/mks_tab_item]
[mks_tab_item title='Dinner']
Experience: Special and Unique Dining
Price level: $$ ($15 to $34.99 per adult)
Trailblazing Starters
Crispy Pork Belly – $11.00
with Tamarind-Soy Glaze and Kimchi Slaw
Organic Mixed Greens – $9.00
Dried Cranberries, Seed Brittle, Goat Cheese, and Cranberry-Poppy Seed Vinaigrette
Chicken Tortilla Soup – $9.00
Prospector Nachos – $12.00
Topped with Beef Brisket, Barbecued Pulled Pork, Queso, and Fresh Salsa
Main Claim Entrées
All-You-Care-To-Enjoy Skillet – Per Person – $33.00
Family-style Mixed Greens Dressed with Apple Vinaigrette, Fresh-baked Cornbread, Slow-smoked Pork Ribs, Barbecued Pulled Pork, Oak-smoked Beef Brisket, Herb-roasted Chicken, Western-style Sausage, Mashed Yukon Potatoes, Buttered Corn, Seasonal Farm-fresh Vegetables, and Cowboy-style Baked Beans. Plant-based option available upon request
Grilled Salmon BLT Salad – $23.00
Heirloom Lettuces, Basil, Fennel, Tomatoes, Focaccia, Bacon Jam, and Citrus Vinaigrette
Char-crusted New York Strip – $35.00
Roasted Carrots, Crispy Red Potatoes, and Whiskey-Onion Butter
Skillet-fired Red Quinoa Cakes – $19.00
Charred Winter Greens, Roasted Onions, and Red Pepper Vinaigrette
Braised Pork Shank – $28.00
Mashed Yukon Potatoes, Vegetable Medley, Tamarind Jus, and Citrus Gremolata
St. Louis-style Full-slab of Pork Ribs – $26.00
Chili-Chipotle Barbecue Sauce, Mashed Yukon Potatoes, Onion Rings, and Buttered Corn
Enhancements
Baked Macaroni & Cheese – $6.50
Bacon, Caramelized Onion, and Cheddar Cheese
Charred Ranch Broccoli – $6.50
Parmesan Cheese
Smoked Turkey-braised Greens – $6.50
Desserts
Whispering Canyon Pioneer Chocolate Cake – $8.00
Granny Smith Apple-Caramel Pie – $9.00
with Vanilla Gelato
Seasonal Cheesecake – $8.00
Coconut-Rice Pudding (A No Sugar Added Dessert) – $9.00
Kids' Appetizers
Garden Salad – $3.00
Fruit Salad – $3.00
Carroteenies – $3.00
Seasonal Soup – $3.00
Kids' Disney Check Meals
Chicken and Cheese Quesadilla – $8.00
with Pico de Gallo, Guacamole, Mixed Green Salad, and Sliced Apples served with choice of Small Lowfat Milk or Small Dasani Water. Meets Disney Nutrition Guidelines for Complete Meals without substitution
Grilled Fish of the Day – $10.25
with Farro, Arugula, Tomato, and Fruit Salad served with choice of Small Lowfat Milk or Small Dasani Water. Meets Disney Nutrition Guidelines for Complete Meals without substitution
Grilled Chicken Breast – $10.00
with Whole-Grain Pilaf, Veggies, and Sliced Apples served with choice of Small Lowfat Milk or Small Dasani Water. Meets Disney Nutrition Guidelines for Complete Meals without substitutions
Kids' Meals
Cheeseburger – $11.00
Choice of one (1) Beverage and one (1) Dessert
Macaroni & Cheese – $9.00
Choice of one (1) Beverage and one (1) Dessert
Chicken Nuggets – $10.00
Choice of one (1) Beverage and one (1) Dessert
All-You-Care-To-Enjoy Skillet – $16.00
Please ask your server for more details
Kids' Desserts
Chocolate Chip Cookies –
Sliced Apples –
Fruit Salad –
Allergy-friendly Offerings
Allergy-Friendly menus available upon request –
Kids' Beverages
Small Lowfat Milk –
Small Dasani Water –
Small Minute Maid Apple Juice –
Non-Alcoholic Beverages
Chocolate, Vanilla, Strawberry, or Caramel Shakes – $9.00
All-You-Care-To-Enjoy
Assorted Fountain Beverages –
Coca-Cola, Diet Coke, Coca-Cola Zero Sugar, Sprite, Barq's Root Beer, or Minute Maid Light Lemonade
Espresso –
Cappuccino –
Featuring Freshly Brewed Joffrey's Coffee
Latte –
Café Mocha –
Freshly Brewed Joffrey's Coffee –
Alto Mayo Protected Forest Coffee Roasted by Joffrey's Coffee – $9.00
Disney supports Conservation International's Alto Mayo Protected Forest project in Peru, which promotes sustainable coffee growing and economic growth (serves Two)
White and Red Wines
Eroica Riesling, Columbia Valley – Per Glass – $13.00 / Per Bottle – $55.00
aromas and flavors of white peach, grapefruit, and sweet lime with subtle mineral notes
Pacific Rim Sweet Riesling, Columbia Valley – Per Glass – $10.00 / Per Bottle – $45.00
delicately sweet, with pineapple and lemon flavors that reveal spicy accents
King Estate Pinot Gris, Oregon – Per Glass – $13.00 / Per Bottle – $55.00
ripe flavors of pear and apple profile a creamy texture and refreshing long finish
14 Hands Chardonnay, Columbia Valley – Per Glass – $10.00 / Per Bottle – $45.00
bright aromas of apples and pears with a touch of caramel and spice
Argyle Pinot Noir, Willamette Valley – Per Glass – $14.00 / Per Bottle – $59.00
ripe raspberry, black cherry, and plum flavors with a juicy cherry finish
Waterbrook Merlot, Columbia Valley – Per Glass – $10.00 / Per Bottle – $45.00
black currant and juicy plum notes balanced with a round and juicy texture
Chateau Ste. Michelle Syrah, Columbia Valley – Per Glass – $10.00 / Per Bottle – $45.00
flavors of vanilla, huckleberry, and blackberry are met with a touch of baking spice
Borne of Fire Cabernet Sauvignon, Columbia Valley – Per Glass – $13.00 / Per Bottle – $55.00
powdery tannins frame flavors of cherry, currant, savory spice, and red pepper
Purple Cowboy Trail Boss Cabernet Sauvignon, Paso Robles – Per Glass – $9.00 / Per Bottle – $39.00
dark red with hints of purple, aromas of ripe plum, cherry, and cassis are accented with cola and vanilla
Specialty Drinks
Magical Star Cocktail – $13.75
X-Fusion Organic Mango and Passion Fruit Liqueur, Parrot Bay Coconut Rum, Pineapple Juice, and a souvenir Multicolored Glow Cube
Moonshine Lemonade – $12.50
Moonshine with Blackberry, Strawberry, or Watermelon
Moonshine Margarita – $12.50
Moonshine Whiskey, St-Germain Elderflower Liqueur, fresh Lime Juice, and Agave Nectar
Mountain Trail Cocktail – $12.50
Moonshine Whiskey, Chambord, Blackberry Brandy, and Wildberry topped with Lemonade
Godiva Chocolate Martini – $12.50
Godiva Chocolate Liqueur, Stoli Vanil Vodka, White Crème de Cacao, and Frangelico
Baileys and Coffee – $9.75
Baileys Irish Cream mixed with Hot Joffrey's Coffee
Cold Brew XO – $11.00
Patrón XO Cafe Coffee Liqueur, Heavy Cream, and Cold Brew Joffrey's Coffee
Featured Draft & Bottled Beers
Moosehead Lager Draft – $8.50
Space Dust IPA Draft – $9.00
Lagunitas IPA – $8.75
Sweetwater 420 Extra Pale Ale – Per Bottle – $8.75
Full Sail Session Lager – Per Bottle – $8.75
Blue Moon Belgian White (Witbier) – $7.50
[/mks_tab_item]
[/mks_tabs]
Related