This post may contain affiliate links; please read the disclosure for more information.
Yachtsman Steakhouse in Disney's Yacht Club Resort, Disney's Yacht Club Resort, Walt Disney World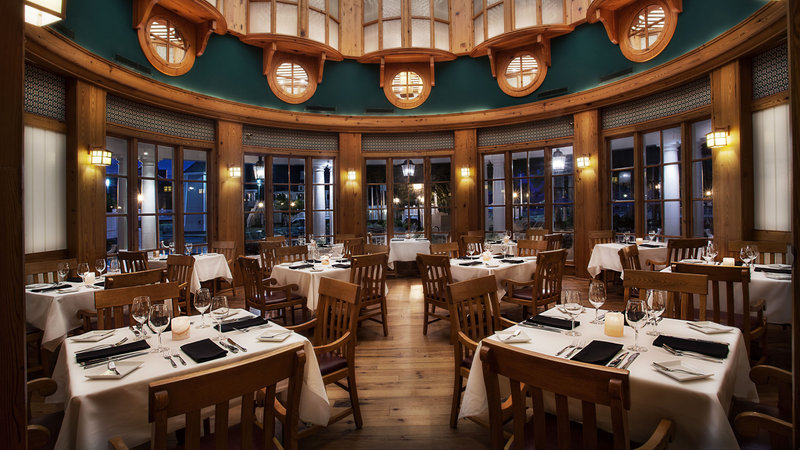 Details, tips, and information for Yachtsman Steakhouse
Savor premium steaks, fresh seafood and more at this family-friendly, New England-style steakhouse.

Cuisine:
American/Steakhouse

Details:
Disney Dining Plan Accepted
WDWNT Reviews
Coming soon!
Menus for Yachtsman Steakhouse
[mks_tabs nav='horizontal']
[mks_tab_item title='Breakfast']
Experience: Signature Dining
Price level: $$ ($15 to $34.99 per adult)
Average entrée price: $13.38
Early Starters
Seasonal Fruit Arrangement – $10.00
House-made Granola Bar and Yogurt Sauce
Steel-cut Oatmeal Brûlée – $9.00
Brandied Bananas, Dried Cranberries, and Sweet Cream
Smoked Salmon and Toasted Bagel – $10.00
served with traditional accompaniments
Pastry Board – $10.00
Scones, Croissants, and Biscuits with Cinnamon Butter, Orange Blossom Honey-Cream Cheese, and Seasonal Jam
Entrées
Tailored Omelet – $14.00
Choice of Meats, Vegetables, and Cheese served with Roasted Potatoes and a Biscuit
Crab Cake Benedict – $15.00
Crab Cake, Poached Eggs, Stone-ground Mustard Cream, Hollandaise, and Roasted Potatoes
Egg White Frittata – $14.00
Spinach, Mushrooms, Tomatoes, Peppers, and White Cheddar Cheese with Roasted Potatoes
Dark Chocolate Waffles – $13.00
Dried Cherry Compote, Espresso-Mascarpone Cream, Chocolate Shavings, and a choice of Bacon or Sausage
Mickey Waffles – $12.00
Choice of Bacon or Sausage
Fried Egg Sandwich – $12.00
Serrano Ham, Aged Parmesan, Tomatoes, Onion Marmalade, and Seasoned Arugula with Roasted Potatoes
Shrimp and Pepper Jack Cheese Grits – $15.00
Poached Egg, Wilted Spinach, and Roasted Tomatillo Salsa
Tailored Eggs – $12.00
Two Eggs, Roasted Potatoes, with choice of Bacon or Sausage, and a Biscuit
Sides
Grits – $4.50
Oatmeal – $6.00
Bacon, Turkey Bacon, or Sausage – $5.00
Yogurt – $3.00
Non-Alcoholic Beverages
Tinker Bell and Friends or Buzz Lightyear Punch – $8.00
Minute Maid Light Lemonade Punch served in a souvenir Fairies or Toy Story 3 Cup with a glowing Tinker Bell or Buzz Lightyear Clip-on Light
Odwalla All-Natural Lemonade – $4.50
topped with a Wildberry Foam
Alto Mayo Protected Forest Coffee Roasted by Joffrey's Coffee (Serves two) – $8.00
Disney supports Conservation International's Alto Mayo Protected Forest project in Peru, which promotes sustainable coffee growing and economic growth
Freshly Brewed Coffee, Espresso, Cappuccino, or Latte –
Cappuccino –
Caffé Latte –
Café Mocha –
Freshly Brewed Joffrey's Coffee –
Espresso, Cappuccino, Latte, or Freshly Brewed Coffee
Hot Tea –
Kids' Mickey Check Meal
Kids' Mickey Check Meal – Breakfast Platter – $8.00
Scrambled Eggs, Roasted Potatoes, Goldfish Honey-Wheat Toast, and Fruit Salad served with choice of Small Lowfat Milk or Small Dasani Water. Meets Disney Nutrition Guidelines for Complete Meals without substitutions
Kids' Meals
Seasonal Fruit Plate – $6.00
served with choice of Small Lowfat Milk, Small Dasani Water, or Small Minute Maid Apple Juice
Kellogg's Cereal – $6.00
Choice of Raisin Bran, Froot Loops, or Corn Flakes choice of Small Lowfat Milk, Small Dasani Water, or Small Minute Maid Apple Juice
Mickey-shaped Waffles – $7.00
dusted with Powdered Sugar and choice of Small Lowfat Milk, Small Dasani Water, or Small Minute Maid Apple Juice
Steel-cut Oatmeal – $6.00
Sliced Apples, Honey, and Strawberries with choice of Small Lowfat Milk, Small Dasani Water, or Small Minute Maid Apple Juice
Egg Breakfast – $8.00
One Egg, Toast, and choice of Bacon, or Sausage Links. Includes choice of Small Lowfat Milk, Small Dasani Water, or Small Minute Maid Apple Juice
Kid's Specialty Drink
Toy Story 3 or Fairies Punch – $8.00
Minute Maid Light Lemonade Punch served in a souvenir Toy Story 3 or Fairies cup with a glowing Buzz Lightyear or Tinker Bell Clip-on Light
[/mks_tab_item]
[mks_tab_item title='Lunch']
Experience: Signature Dining
Price level: $$ ($15 to $34.99 per adult)
Appetizers
Seared Tuna – $11.00
Cucumber, Tomato, Haricots Verts, Pickled Watermelon, Red Pepper Coulis, and Verde Sauce
Seasonal Soup – $7.00
New England Clam Chowder – $8.00
Creamy Chowder with Clams, Potatoes, and Vegetables
Wedged Romaine Salad – $9.00
Garlic-Peppercorn Cream, Bacon Lardons, Confit Tomatoes, and Blue Cheese
Farmers' Market Salad – $10.00
Roasted Beets, Pomegranate Seeds, Caramelized Red Onion, Honey Goat Cheese, Almond Granola, and Sun-dried Cherry Vinaigrette
Sandwiches and Entrées
Grilled Chicken Salad – $15.00
Kale, Spring Greens, Artichokes, Cannellini Beans, Roasted Red Onions, Feta Cheese, Olives, and Lemon Vinaigrette
New England-style Lobster Roll – $19.00
served chilled on Butter-toasted Roll with a choice of Vegetable Orzo Salad or House-made Chips
Blackened Fish Tacos – $14.00
Chilled Cucumber Slaw, Sliced Avocado, Chipotle Rémoulade, and Flour Tortillas
Shaved Beef Sandwich – $15.00
Shallot Mayonnaise, Candied Pepper Jam, Beef Jus Reduction, Vermont Cheddar, and Watercress on a Caraway Seed Roll with choice of Vegetable Orzo Salad or House-made Chips
Tomato and Mozzarella Sandwich – $13.00
Tomato, fresh Mozzarella, and chopped Arugula Vinaigrette on Toasted Sea Salt Focaccia served with Vegetable Orzo Salad
Soup and Sandwich Combo – $15.00
Chef's Sandwich Selection with your choice of New England Clam Chowder or Seasonal Soup
Grilled Chicken Sandwich – $15.00
Smoked Gouda, Serrano Ham, Chipotle Barbecue Sauce, and Seasoned Greens with your choice of Vegetable Orzo Salad or House-made Chips
Chef's Pasta Creation – $22.00
Desserts
House-made Gelato – $6.00
Chocolate, Strawberry, or Vanilla
Cookies and Cream Brownie – $7.00
Chocolate Ganache, Whipped Vanilla Panna Cotta, Cookies and Cream Mousse
Gianduja Chocolate Cake – $7.00
Hazelnut, Salted Caramel Sauce, and Chocolate Crispies
Angel Food Cake (No Sugar Added Dessert) – $6.00
Berry Compote and Shortbread Croutons with White Chocolate Panna Cotta
Cheesecake – $8.00
with Seasonal Accompaniments
Kids' Appetizers
Chicken Noodle Soup – $3.00
Garden Salad – $3.00
Fruit Cup – $3.00
Kids' Mickey Check Meals
Kids' Mickey Check Meal – Baked Fish of the Day – $11.00
with Brown Rice, Corn, Green Beans, Carrots, and Frozen Yogurt and Berry Push-Pop served with choice of Small Lowfat Milk or Small Dasani Water. Meets Disney Nutrition Guidelines for Complete Meal without substitution
Kids' Mickey Check Meal – Grilled Chicken Strips – $10.00
with Brown Rice, Corn, Green Beans, Carrots, and Frozen Yogurt and Berry Push-Pop served with choice of Small Lowfat Milk or Small Dasani Water. Meets Disney Nutrition Guidelines for Complete Meal without substitution
Kids' Mickey Check Meal – Sautéed Shrimp Skewer – $11.00
with Brown Rice, Corn, Green Beans, Carrots, and Frozen Yogurt and Berry Push-Pop served with choice of Small Lowfat Milk or Small Dasani Water. Meets Disney Nutrition Guidelines for Complete Meal without substitution
Kids' Meals
Pasta Bolognese – $9.00
Includes choice of one (1) Beverage and one (1) Dessert
Chicken Nuggets – $9.00
Includes choice of one (1) Beverage and one (1) Dessert
Sautéed Shrimp Skewer – $11.00
Includes choice of one (1) Beverage and one (1) Dessert
Kids' Desserts
Ice Cream Sundae –
Cupcake Push-Pop –
Frozen Berry Yogurt Push-Pop –
Kids' Beverages
Small Lowfat Milk –
Small Dasani Water –
Small Minute Maid Apple Juice –
Toy Story 3 or Fairies Punch – $8.00
Minute Maid Light Lemonade Punch served in a souvenir Toy Story 3 or Fairies cup with a glowing Buzz Lightyear or Tinker Bell Clip-on Light
Kid's Specialty Drink
Toy Story 3 or Fairies Punch – $8.00
Minute Maid Light Lemonade Punch served in a souvenir Toy Story 3 or Fairies cup with a glowing Buzz Lightyear or Tinker Bell Clip-on Light
[/mks_tab_item]
[mks_tab_item title='Dinner']
Experience: Signature Dining
Price level: $$$ ($35 to $59.99 per adult)
Average entrée price: $43.25
Soups & Salads
French Onion Soup – $12.00
Sourdough Crouton, Gruyére Cheese, Rich Onion Broth
Lobster Bisque – $13.00
Maine Lobster, Crème Fraîche, Preserved Lemon, Fines Herbes
Caesar Salad – $12.00
Crisp Romaine, Parmigiano, Coppa Secca, and Focaccia Croutons
The Waldorf Wedge Salad – $14.00
Iceberg, Kale, Port Apples, Bacon, Candied Walnuts, Shropshire Cheese, Waldorf Vinaigrette
Appetizers
Jumbo Shrimp Cocktail – $19.00
Old Bay-poached, Lemon, Homemade Cocktail Sauce
Artisanal Cheeses – $19.00
Green Onion Brioche, Seasonal Accompaniments
Blue Crab Cake – $19.00
Fried Green Tomato, Candy Bacon Jam, Mustard Vinaigrette, Roast Garlic Aïoli
Charcuterie Board – $19.00
House-cured Charcuteries paired with Seasonal Accompaniments
Moroccan Kefta Beef Blossoms – $16.00
Saffron Tempura-fried, White Bean Hummus, Mission Figs, Pine Nuts
100% Japanese Wagyu Beef
5-oz Wagyu Strip Loin – $125.00
Miyazaki Prefecture Marble Score A5 (If using Disney Dining Plan, a surcharge will apply)
Signature Steak – 21 Day-Aged
32-oz Porterhouse for Two – $119.00
Beef Fat Potatoes, choice of One Steakhouse Side, Garlic Butter
Butcher's Cuts
8-oz Black Angus Filet Mignon – $50.00
Mashed Potatoes and Cabernet Wine Sauce
12-oz Prime New York Strip Steak – $49.00
Potato Gratin, Peppercorn-Brandy Sauce
14-oz Roast Prime Rib – $45.00
Sweet Potato Casserole, Horseradish Cream, Au Jus
16-oz Prime Rib-Eye Steak – $54.00
Truffle Fries, Black Garlic Aïoli, Point Reyes Blue Cheese Butter
Entrèes
Pan-seared Sea Scallops – $46.00
Smoked Tomato Sauce, Black Garlic Spaghetti, Ash-roasted Carrots
1.5 lb Live Maine Lobster – $62.00
Broiled or Thermidor-style, Mashed Potatoes, Garlic Butter, Lemon
Okinawan Purple Sweet Potato-filled Pasta – $31.00
Parmigiano-Reggiano Foam, Umami Demi-glace, Wild Mushrooms
Chicken Cordon Bleu All-Natural Bell & Evans – $34.00
Honey Roasted, Lobster Mushrooms, Black Truffle, Kale, Cognac Soubise
Enhancements
Bone Marrow – $9.00
with Quince Jam
Broiled Half Maine Lobster – $28.00
Shrimp Scampi – $18.00
Oscar-style – $18.00
Asparagus, Jumbo Lump Crab, Béarnaise
Sides
Truffle Macaroni & Cheese – $12.00
Orecchiette Pasta, Smoked Gouda, Sweet Peppers, Spinach
Creamed Spinach – $10.00
Parmigiano-Reggiano and Gruyère
Braised Mushrooms – $9.00
Maître d' Butter, Chicken Jus
Braised Onions – $9.00
Cipollini Onions, Pearl Onions, Shallots, Red Wine
Beef Fat Potatoes – $11.00
Beef Fat, Marbled Potatoes, Crème Fraîche
Yachtsman's Twice Baked Potato – $12.00
Aged Gouda, Bacon, Chives, Sour Cream
Brussels and Bacon – $10.00
Brussels Sprouts, Neuske's Bacon, Seahive Cheddar, Tomatoes, Honey-Bacon Vinaigrette
Sweet Summer Cream Corn – $11.00
Corn Cream, Pancetta, Roasted Onions, Shishito Peppers
Desserts
Lime Semifreddo – $12.00
Meringue, Guava, Blackberry
Carrot Cake (No Sugar Added) – $12.00
Cheesecake Icing, Caramel Ice Cream, Walnuts
White Chocolate Cheesecake – $12.00
Pickled Blueberries, Caramel Ganache, Anise Twist
The Lexington Sundae – $10.00
Salted Caramel and Buttered Popcorn Gelatos, Crumbled Brown Butter Cookies, Caramel, Whipped Cream, Toasted Honey Marshmallow
Seasonal Sorbet Trio – $9.00
Coconut Tuile and Sparkling Wine
Crème Brûlée – $10.00
Vanilla Custard and Mixed Berries
The Admirals Cake – $16.00
Decadent Layered Cake of Valrhona Chocolate Brownie, Caramel Crunch, Dark Chocolate Ganache, Chocolate Spinge Cake, Bananas Foster Jam, Caramel Ganache
Kids' Appetizers
Chicken Noodle Soup – $4.00
Mixed Green Salad – $5.00
Kids' Disney Check Meals
Grilled Chicken Breast – $15.00
with Farro Wheat, Seasonal Vegetables, and Frozen Yogurt and Berry Push Pop served with choice of Small Lowfat Milk or Small Dasani Water. Meets Disney Nutrition Guidelines for Complete Meals without substitution
Baked Fish of the Day – $17.00
with Farro Wheat, Seasonal Vegetables, and Frozen Yogurt and Berry Push Pop served with choice of Small Lowfat Milk or Small Dasani Water. Meets Disney Nutrition Guidelines for Complete Meals without substitution
Kids' Meals
Grilled Chicken Breast – $14.00
with Brown Rice and Broccolini served with choice of Small Lowfat Milk, Small Dasani Water, or Small Minute Maid Apple Juice
Baked Fish of the Day – $13.00
with Farro Wheat and Seasonal Vegetables served with choice of Small Lowfat Milk, Small Dasani Water, or Small Minute Maid Apple Juice
Macaroni & Cheese – $9.00
served with choice of Small Lowfat Milk, Small Dasani Water, or Small Minute Maid Apple Juice
Orecchiette Pasta and Meatballs – $10.00
with Marinara and Parmesan served with choice of Small Lowfat Milk, Small Dasani Water, or Small Minute Maid Apple Juice
Oak-grilled Steak Skewer – $13.00
with Mashed Potatoes and Seasonal Vegetables served with choice of Small Lowfat Milk, Small Dasani Water, or Small Minute Maid Apple Juice
Kids' Desserts
Mickey Puzzle – $9.00
Frozen Yogurt and Berry Push Pop – $5.00
Chocolate Pudding – $5.00
Kids' Specialty Drink
Specialty Character Drink – $8.00
Minute Maid Light Lemonade served in a souvenir Character Cup with a glowing Character Clip-on Light
Featured Wines
Heitz Cellars Sauvingon Blanc, Napa Valley – Per Glass – $15.00
Flowers Chardonnay, Sonoma Coast – Per Glass – $16.00
La Giaretta Amarone, Italy – Per Glass – $18.00
The Prisoner Saldo Zinfandel Blend, Napa Valley – Per Glass – $16.00
[/mks_tab_item]
[/mks_tabs]
Related