With fall finally here and Labor Day behind us it's always a good time to check in and report on the rumors that might be circulating about future changes at the World. Below is a partial list reporting what I'm picking up from behind the berm and a little bit about the likelihood of each.
Star Wars
So this is surprise to exactly … no one. When it comes to a possible Star Wars expansion the only real questions are "when?" and "what?" Possibilities include an additional attraction in Hollywood Studios, a new Land, or an entire Star Wars park. We can rule the park out right away. That's not going to happen. What is more likely is a new Star Wars Land that would be along the lines of Cars Land in California. Initially I heard that the plan was for one E Ticket attraction but that has broadened to include multiple attractions since the original pitch. My gut tells me that the delay in any kind of formal announcement means that the expansion will be bigger than originally conceived. This means more than one E Ticket and a more immersive environment. I expect an announcement either in the spring or fall 2015.
Pixar Place
In the near-term the Disney Company won't launch multiple large-scale enterprises like Star Wars  and Pixar expansion simultaneously at Hollywood Studios. Cost is an issue, but that's not the most pressing factor to a cash-rich company like Disney. Simultaneous expansions are not likely more because of the impact to Hollywood Studios guests. But this doesn't mean that a Pixar Place build-out isn't going to happen. The sense I'm getting is that it will. The bad news is that Hollywood Studios will not receive anything on the level of Cars Land in this regard. Additions are likely to be more modest and come in the form of attractions like Radiator Springs Racers based on Pixar properties one at a time instead of a single yet significant splash. While a Pixar Place expansion will continue to be an exciting story that we will follow it can only mean …
Lights, Motor, Action! Extreme Stunt Show and the Studio Backlot Tour
Yes, that would be correct. Pixar expansion would translate into major changes to the surrounding area that includes the Studio Backlot Tour and the Lights, Motor, Action! show. On a personal level I would hate to lose the Backlot Tour. I know it's a mere shadow of its former self, but seeing the "Jacqueline" from Wes Anderson's Life Aquatic with Steve Zissou and rumbling through Catastrophe Canyon have become very near to "rites" of our annual WDW visits. The stunt show I won't miss as much. (Have you ever sat in the Lights, Motor, Action! stands in the afternoon? That might be the hottest spot south of the sun.) Perhaps the most traumatic loss associated with Pixar additions will be the Earfel Tower. I know it's somewhat trivial, but I love the tower's connection to the Disney Studios in Burbank. That being said, it's the price of progress and change and a trade I'm willing to make as a fan and customer for these additions.
Sorcerer's Hat
Sticking with Hollywood Studios, this is one of the more interesting and under-the-radar changes in the conversation. Apparently the story is not "if" the Sorcerer's Hat is removed, but "when." Admittedly, the first time this was mentioned to me I was stunned. For me, Mickey's sorcerer's hat holds the same relative place as Cinderella's Castle, the Tree of Life, and Spaceship Earth. While waiting for the rope to drop during one of our last visits, however, it became fairly obvious that the hat actually doesn't work. In fact, it feels contrary to the original vision of Hollywood Studios. Clearly the Grumman's Theater facade of the Great Movie Ride was designed to be the feature image at one end of Hollywood Boulevard "bookending" the "Hollywood that never was" with the Pan Pacific Auditorium-inspired entrance at the other end.  Moreover, if you take the time to really study the layout it's antithetical to Disney imagineering. It's my understanding that the biggest problem facing removal is the depth of the attraction's anchor points. If it happens it will happen when the Great Movie Ride gets a long-overdue makeover, but it's not a current priority. I'll believe it when I see it.
Marvel Land
This has to be mentioned. But there just doesn't seem to be any way for this to become a reality. In a recent conversation it was again mentioned that Universal owns the Marvel "park rights" east of the Mississippi. I'm currently reading Marvel Comics: The Untold Story and trust me when I say that the Marvel Universe in the hands of Disney imagineers would be one of the greatest things that could ever happen. It's because of this that I won't give up on a possible Marvel Land and I wouldn't put it past Disney to broker a deal in this regard, but it won't happen anytime soon.
Backburner
Star Wars, Pixar, and potential effects on Hollywood Studios is clearly the most interesting conversation but they're not the only rumors circulating. Avatar Land at Animal Kingdom, the Fantasyland Expansion, and the work at Hollywood Studios most likely means that Epcot will be receiving attention in the not-too-distant future. Updates in Future World are in the mix—maybe Soarin' and for sure Captain EO—but the most interesting discussion is associated with the possibility of adding pavilion(s) to the World Showcase. Not since the Norway pavilion was added in 1988 have we seen an addition there. Before that it was Morocco in 1984. There is apparently room for new pavilions and it's interesting to consider the countries that would be candidates. I would put the odds on a South American representative, specifically one of the countries Walt visited during his WWII goodwill tour chronicled in the Walt & El Grupo documentary: Brazil, Argentina, and Chile.
That's the current state of the rumor mill at least in terms of my discussions. This fan is excited about whatever Disney does with Star Wars in the parks. I'll also be holding out for significant Marvel additions in the future, but only because it's just more fun that way. Feel free to post what you've heard or even what you're hoping for.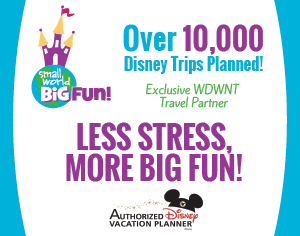 I don't know about you, but there are times when planning a Disney vacation can be overwhelming! There are so many options, where to stay, when to go, is this the best price. So, I want to introduce you all to Cindy Minor and the team at Small World Big Fun. They will help you plan your Disney vacation for FREE. Contact them today!