Similar to the long running Fantasmic! dining package offered at Disney's Hollywood Studios, Disney's Animal Kingdom has a Rivers of Light dining package which offers a meal at one of their table service restaurants and a preferred viewing area for their nighttime spectacular. In our continuing effort to review all dining experiences at Walt Disney World for you, we decided to go try both of the available package restaurants and see if the package was worth it.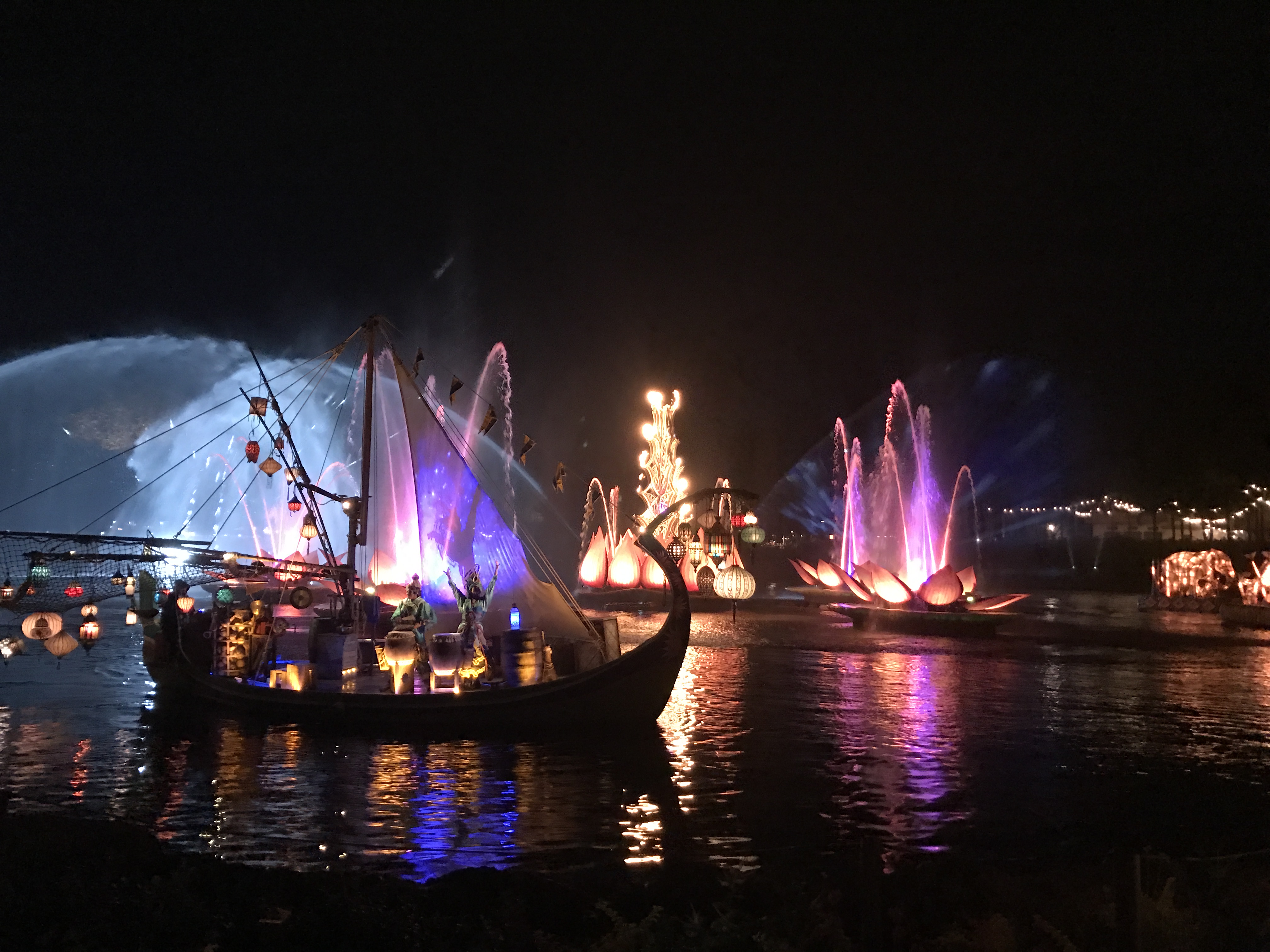 First, all of the information you will need to know. Rivers of Light is the new nighttime spectacular at Disney's Animal Kingdom theme park, typically performing just once a night on Tuesdays, Thursdays, Saturdays, and Sundays until April, but then moving to a nightly schedule. During the Summer months, it is expected that there will be two (maybe even three) shows per evening. Once the second shows become standard, the dining packages will offer guests a ticket to either the 1st or 2nd show in a special viewing area on the Dinoland side of the theater.
The dining package is currently offered at Tusker House Restaurant and Tiffins. Both are Disney Dining Plan Eligible.
At Tusker House, you'll find a bountiful buffet with African flavors. Breakfast, lunch, and dinner meals ranging between 8am and 2.5 hours before the last Rivers of Light showtime of the evening are available.
Breakfast is $39.00 for adults, $24.00 children ages 3 to 9; Lunch/Dinner is $52.00 for adults; $32.00 children ages 3 to 9.
Tiffins is a signature restaurant where you can enjoy a choice of appetizer, entrée and dessert (plus non-alcoholic beverage) from a menu featuring mouth-watering delights from around the globe. Lunch and dinner meals are available here, starting at 11:30AM and 3 hours before the last Rivers of Light showtime of the evening. The price is $67.00 adults, $26.00 children ages 3 to 9.
No discounts can be applied to these packages and any alcoholic drinks are not included.
After your meal is complete, you are handed your tickets to Rivers of Light and instructed to show up at the seating area 15 to 35 minutes prior to showtime. I'll get more in-depth with where and when you should go towards the end of this post, but let's start with our experiences at both of these restaurants.
Tiffins

We have been to Tiffins a lot and reviewed nearly the entire menu at this point, so you will want to check out these reviews to cover everything we have already tried (including all of the drinks at Nomad Lounge, which can be ordered from your table at Tiffins)…
While there are just three reviews linked above, I have been to Tiffins a lot more than that. It may in fact be my favorite restaurant at Walt Disney World, providing some of the absolute best meals I have ever eaten in my life.
While the package is a bit pricey at $67.00 for an adult, you can obtain that value quite easily with a $14-16 appetizer, a $42-53 entree, a $10-12 dessert, and a nonalcoholic drink. If you stay in these price ranges, you will end up with a discounted meal that would typically cost between $70 and $86 for just $67. Obviously, for lunch, you will want to stay away from the Taste of Tiffins meals as they will not provide a good value for what you are paying.
Here is the current menu of appetizers, entrees, and desserts at Tiffins, slightly altered since our previously review visits:
New from past visits was the Duo of Lamb, so I had to try it…
Duo of Lamb ($41)
Ethiopian Coffee Butter-infused Lamb Loin, Boerewors, Soubise, Chakalaka, Tamarind Barbecue, Leek Ash
I am not one to typically order lamb, but this was phenomenal. The leek ash on the edge of the plate is intended to be an accompaniment for the lamb, and when you rub the lamb in it, it is absolutely glorious. I would highly recommend this is you are looking for something outside of the seafood or the short rib.
The Rest
If you have read the previous reviews, then you know about the other highlights of the menu, and they are still there. Sadly, the halibut dish is now swordfish for the time being (seasonally available), but otherwise, all of my other recommendations for Tiffins still stand.
Tiffins is going to offer you unparalleled service and meals. I could see those with children wanting to pick Tusker House for the package (or to save some money as the Tiffins version is a little more expensive), but I can't imagine anyone reading this site would be disappointed in dining here, even when it is almost $70.00.
Tusker House
On the opposite side of the spectrum is the Tusker House restaurant, offering breakfast, lunch, and dinner as a character buffet.The characters you can meet here include Mickey Mouse, Donald Duck, Daisy Duck, and Goofy, all in Safari outfits.
As you can see above, the characters are fun (as always), but the food is an entirely different story…
Why do we have a picture of chocolate milk, pickles, chicken, pap, and the seven (yeah, seven) layer bar? Because this is what we enjoyed. That's practically it.
OK, maybe we did this just for comedic effect, but the two main dishes were awful. Both the peri-peri salmon and the mojo pork from the carving station were near flavorless. I'm not sure I could really recommend a buffet where the two highest cost items aren't good. In my experience, that is mostly what you are paying for as they would be the most expensive items at a normal table service restaurant, so you kind of want those to be good.
I've had a few dinners here before, so I was surprised at how bad our experience was. Many dishes had degraded in quality and the time it took the staff to replenish empty dishes was insane. There was two desserts that were listed and ran out, but did not become available again during the last 30 minutes of our meal. How does a dish from the buffet vanish for over 30 minutes? That's poor show.
I usually write longer reviews than this, but there isn't much more to say. There was a few things that were good, but a lot was bad. In fact, the bred pudding should be used as a torture device.
My recommendation here would be to do breakfast at Tusker House if you absolutely need to eat here. Breakfast is cheaper, offers the same characters, and I feel is abetter value overall. If you can feel good about just wearing a bunch of side dishes at a buffet, then you will likely survive your Tusker House experience. Otherwise, Tiffins is where you will want to go for lunch or dinner.
Rivers of Light Dining Package and Show Viewing Tips
If you are doing the dining package, you will be given tickets for everyone in your dining party to see Rivers of Light from a special dining section. That being said, if there is a second show added and no dining packages offered for it, then standby guests can get in this area for the second show. This will not be a regular occurrence during the late spring and summer months as the packages will cover both announced shows.
Having seen the show from seven (yeah, seven) different locations so far, I'm going to give you my thoughts on the various viewing locations within the Discovery River Theater, not just for the dining package.
The dining package entrance is located just across from the entrance of the Theater in the Wild, home to Finding Nemo: The Musical. This entrance will typically open up a little before 6pm for a 7:15pm show, despite the tickets telling guests to arrive only 15-35 minutes prior to show. A good rule of thumb is to ask cast members working at the theater when they will let guests in if you are concerned about getting in here early to pick your seats.
Above is the view from our dining package seats, practically dead-center for the show.
These two sections make-up the entire dining package area, with the standby seating beginning in the area where the benches go further back.
There is wheelchair accessible seating towards the bottom for those with the need and their families/friends, but the row above offers seats with the most unobstructed views of the show. My recommendation would be to get here early and try to get this slightly-raised second row that does not exist in every viewing area.
Here is video from our view in the Dining Package section:
I do like the dining section, but my favorite view of Rivers of Light would have to be from section D in the FastPass area. If you want to sit here, you will need to be there when they start allowing FastPass guests into the viewing area, as this section is typically the first to go. Similar to dining, FastPass+ seating has opened at 5:50-6pm for 7:15 shows, but you will see a line forming shortly before that.
Here is a video taken from section D on the Asia side:
Section C isn't bad either, but D is pretty perfect. I'm sure E is great, but this is reserved for some reason, so I haven't had the chance to sit there. Only guests with a FastPass+ are allowed on the Asia viewing side (provided it fills up completely, which it most likely will).
Guests in wheelchairs and their party have access to the bottom rows of sections on the FastPass side as well, which would provide an awesome seat in sections E or D, right against the water's edge. This show does not have splash zones, so you are assured to stay dry, unlike at Fantasmic when you sit towards the bottom. For other guests, I suggest being up 1-2 rows from the bottom for what we thought to be the best view of the show on the FastPass+ side in Asia.
With FastPass+ reservations filling up at 30 days out, the dining package is quickly becoming an important weapon for trip planners without a FastPass reservation. Honestly, if you are going to do Tusker House breakfast already, or want a good deal on a Tiffins meal, I recommend it. It isn't my favorite view of the show, but it is a close second. Otherwise, you're going to need to be on the ball and ready to book FastPass+ reservations for Rivers of Light as soon as they are available to you.
If neither of these options works out for you, there is always the standby line, which goes through the path near Dinoland U.S.A. up to the Discovery River Theater. These lines have been LONG though (some reporting waiting over 2.5 hours prior to showtime for a better seat), and I'm not sure that standing in line for that long to sit (or stand) in sections U, M, N, O, R, S, T, or V is worth it. If this is your only option, then go for it, but otherwise, I wouldn't bother. If you do HAVE to do standby, try for the second show (if available). Same as Fantasmic!, this will be less crowded and offer a shorter wait at least, albeit with a view not preferable to dining package or most FastPass+ seats. There is also some viewing available on the bridge, between Dinoland and Asia which fills up pretty early and only holds roughly 40-50 guests in my estimation. If you get there early enough to be front row in that standing-room only section, it should offer an OK view of the show.
Overall, many WDWNT staffers agree the Asia side is best for viewing, but again, the dining package area is a suitable runner-up. There's something about section D that is just more pleasing to the eyes, and the Asia side offers better views of one of the shaman boats in the show.