Editor's Note: This series is a look at how one staff member would re-imagine Epcot pavilions. Previous articles in the series can be found here.
As I leave the newly-imagined Wonders Of Life, I travel over to a pavilion which has lost much imagination over the years: The Imagination Pavilion.
The attraction has suffered greatly since the removal of the original Journey Into Imagination attraction in 1998.
In its current state, Journey Into Imagination with Figment, it is a shell of its former self, and quite a sad, decrepit shell at that.
MY LATEST VIDEOS
There have been long-standing rumors about different Disney IPs replacing Figment. My idea goes one step further: combining an IP with the original Journey Into Imagination attraction.
I'm calling it "Phineas and Ferb Restore Imagination" but this is only a working name for now.
One of the long-standing rumors was that the popular Disney XD animated show Phineas and Ferb would replace Figment, but it never developed further than the rumor stage.
However, Phineas and Ferb is still a valuable IP that can be integrated into the pavilion to create an original and timeless attraction.
By adding Phineas and Ferb to the Imagination Pavilion, Agent P's World Showcase Adventure now has a tie-in somewhere else in the park. The attraction will cohesively bring together both story lines.
I'm going to explain the story of the attraction first, before explaining what changes will take place within the pavilion.
The story begins in the Flynn-Fletcher backyard, as Phineas and Ferb are trying to come up with ideas for something to do before the summer ends. After the many ideas they've already imagined, they come up empty, and give up for the day.
Out of nowhere appears Figment, the lovable purple dragon. Figment greets the boys, who are stunned. Figment tells them that he overheard their conversation and tells them that everyone has a sense of imagination, and no one can ever lose it. The boys don't believe him, continuing to slouch under the tree.
Figment then tells the boys to hear him out, as he tells stories of his past. He tells them of his keeper, The Dreamfinder. He tells them of the adventures they went on, until one day, when he suddenly disappeared in his Dream Mobile.
Figment tells them that soon after, Dr. Nigel Channing found him and took him to the Imagination Institute. While Dr. Channing took good care of the dragon, he never felt at home in the institute, so he escaped, trying to find Dreamfinder, and eventually, stumbled upon the boys. Figment then asks Phineas and Ferb to come along with him to find Dreamfinder so that they can all regain their sense of imagination.
While this is happening, Agent P gets word from Major Monogram about Dr. Heinz Doofenshmirtz, who is building an "Un-Imag-Inator" that sucks the imagination out of people. With their imagination gone, they become defenseless against Doof, who is trying to take over Epcot and the rest of central Florida.
The story switches back to Figment, Phineas, and Ferb in their search for Dreamfinder. After some time searching, the trio find him amongst rubble and debris on the second floor, trapped under his destroyed Dream Mobile.
After rescuing him from the rubble, Dreamfinder tells the three that he's been trapped on the second floor for several decades after his world of imagination was suddenly destroyed. He says that the imagination of the world has been lost, and without his Dream Mobile, he has no way to restore imagination in anyone.
Phineas comes up with an idea to restore the Dream Mobile, so everyone can have their sense of imagination back.
Switching back to Agent P, he reaches Doof's lair, the World ShowPlace Pavilion, where Doof traps him and tells him an elaborate backstory about when his parents took him as a child to EPCOT Center. While there, he he found the park to be boring, except for Journey Into Imagination, the one attraction he enjoyed. After its closing and its terrible replacement, he was disgusted and vowed to get revenge.
Agent P, of course, escaped Doof's trap and stops the Un-Imag-Inator from firing onto innocent guests. Instead, the Inator backfires and shoots Doof, who loses his imagination.
By this point, Phineas and Ferb have finished re-building the Dream Mobile, and they, along with Figment and Dreamfinder, restore everyone's sense of imagination and the ride comes back to life in an extravagant finale where "One Little Spark" is sung by the quartet.
Along with restoring the ride and everyone's imagination, they also restore the second floor ImageWorks, which is a continuation of the attraction story.
Regarding the actual attraction building and attraction itself, the exterior will not be changed, except for a new ride marquee. The attraction will use the new trackless ride system, and the ride vehicles will be completely new. All of the existing theming will be removed and replaced with theming using colors and patterns from the original attraction.
This attraction will be longer in both track length and ride time compared to the current iteration. The current ImageWorks and part of the shop on the first floor will be removed to accommodate the lengthened track.
The show scenes will all be physical show scenes with audio-animatronic figures for whatever characters will be in each scene. There will be a new Figment animatronic, keeping to the same style, but with the newest audio-animatronic technology. The audio system in the attraction will also be replaced with new surround-sound technologies.
The Disney Vacation Club Member Lounge on the second floor will be removed and a completely new ImageWorks will be built with state-of-the-art interactive experiences for guests of all ages to enjoy, and possibly, a new Rainbow Tunnel.
The exit gift shop and bathrooms will be renovated and updated to match the new theming and color scheme of the pavilion. The original Journey Into Imagination music loop will be brought back. Also, the area formerly known as Figment's Place will be used as a Phineas and Ferb meet-and-greet, but there will be no walking Dreamfinder or Figment.
Also, the former Magic Eye Theater will be converted into queue space since the existing ride and queue footprint will now all be used by the ride. As an added bonus, utilizing the theater space for the queue means it will be indoors and thus air-conditioned.
There is virtually no chance that this will happen, but it's fun to imagine about what could be.
Next up: The former Innoventions/Communicore buildings.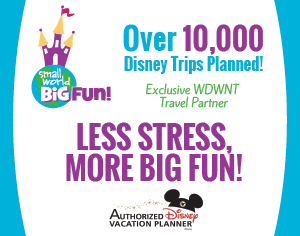 I don't know about you, but there are times when planning a Disney vacation can be overwhelming! There are so many options, where to stay, when to go, is this the best price. So, I want to introduce you all to Cindy Minor and the team at Small World Big Fun. They will help you plan your Disney vacation for FREE. Contact them today!
Get a FREE Disney Vacation Planning Video