These festivals and their exciting and delicious food booths are a "can't miss" for any Disney foodie. They offer chances to try something besides the churros, and to be quite honest, I wish they had rotating booths all year round.
The Lunar New Year Celebration is no exception. This smaller festival offers quite a few fun and tasty options. While I found the portions to be a bit smaller across the board at this festival, all of the offerings are pretty hearty; but small enough that you could easily have room to try 3 or 4 booths. Unfortunately, unlike the food offerings I was able to try, I was not able to test out any of the drinks.
KOREA MARKETPLACE
Food:
Kimchi Bokkeumbap (Kimchi-Vegetable Fried Rice) – $6.00

This was the first thing I tried at the festival and I'm glad it was! Don't be scared off by the kimchi. While the portion for rice was very small for the price, it was VERY good. Tons of flavor, and just a little bit of heat. The texture of the rice was perfect. Would highly recommend.

Yachae Mandu (Steamed vegetable dumpling with sesame-garlic soy sauce) – $6.50
Yang Gaeng (Sweet red bean and raspberry jelly) – $4.50
Drinks:
Banana Ooyu (Non-alcholic banana milk) – $5.00
Mae Shil Ju (Plum wine cocktail with a rose petal garnish) – $12.00
Hate Pale Lager – $9.00
CHINA MARKETPLACE
Food:
Xiao Long Bao (Pork soup dumplings with black vinegar and ginger) – $7.00

Another very small portion for the price paid, but jam packed with flavor and comforting texture. The dumplings had a fair amount of filling in them and the sauce, while strong, was a great sidekick.

Sanbeiji (Three-cup chicken) – $6.75
Dan Ta (Egg tart) – $4.25

While this certainly wasn't bad, there wasn't anything special about it, especially compared to how flavorful most of the other dishes are. I imagine that the scrambled-egg-like texture might scare some people away.

Waxing Huasheng Tang (Five-spiced peanut brittle) – $4.50
Drinks:
Baixiangguo Lucha (Passion fruit green iced tea with lychee popping pearls (non-alcoholic) – $5.50
Tsingtao Lager – $9.00
VIETNAM MARKETPLACE
Food:
Banh Chu'ng (Sticky rice cake with pork) – $6.50

Inside this little package, is some VERY sticky rice, and a thin slice of pork belly. While I typically despise fat on my meat, this was cooked so long that it melted in your mouth. I ignored the pickled carrots and radish on the side at first, but I'm glad I didn't for long. Once you add a little bit of the pickled vegetables into the sticky rice, it's an incredible flavor.

Chao Tom (Sugar cane shrimp skewer with sweet and sour sauce) – $7.00
Banh Khoai Lang Tim (Purple sweet potato macaron) – $5.95

What a wonderful surprise this was. This ties with the Kimchi Fried Rice for my favorite item. I was not expecting such a unique and surprisingly sweet flavor. It has a surprise of sweet red beans and a frozen disk of vanilla cream in the middle. Who doesn't like to feel a little fancy with some gold leaf on top of their dessert?
Drinks:
Vietnamese Iced Coffee (non-alcoholic) – $5.00
PARADISE GARDENS CART
Food:
Zhurou Bao (Steamed bun filled with pork and served with sweet chili dipping sauce) – $5.50

While I did enjoy this (who couldn't love a soft bun filled with meat?), I actually found it to be not so special. It's good comfort food, but just not quite as impressive as other dishes of the festival. I also found the sauce to be a little too sweet and a little too spicy.

Xingren Qu Qi (Three mini almond cookies) – $4.00
PARADISE GARDEN GRILL
Food:
Ca Ro Phi Chien Gion  (Meal for 2 – Whole crispy tilapia with chili-lime vinaigrette served family style with soup, vegetables and rice) – $24.99
Japchae (Sweet potato noodles, onions, shiitake mushrooms, carrots, spinach, snow peas, broccolini and lightly sautéed tofu tossed with sesame oil and sweet and spicy sauce and topped with toasted sesame seeds) – $10.99

I was not very impressed by this dish. Japchae is one of my favorite dishes, and this Japchae was too sweet and salty. I did appreciate the amount of vegetables and they were cooked just right, but the flavor was all wrong here.  

Galbi (Short ribs marinated and grilled Korean-style and served with steamed rice and kimchi) – $14.99
Pho Bo (Beef noodle soup with seasoned beef stock, thinly sliced tri-tip and rice noodles with classic accompaniments of onion, jalapeño, basil-lime and hot sauce) – $11.99
Banh Mi Thit Nuong (Marinated pork belly, pickled carrots and daikon with cucumber, cilantro, seasoned mayonnaise and jalapeño on a crispy baguette) – $11.99
Mango Pudding – $4.00
Drinks:
Almond Milk Black Iced Tea with Pudding (non-alcoholic)
Black Beer Stout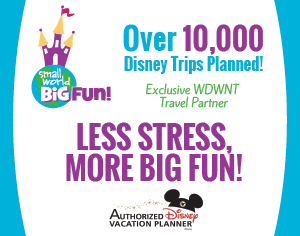 I don't know about you, but there are times when planning a Disney vacation can be overwhelming! There are so many options, where to stay, when to go, is this the best price. So, I want to introduce you all to Cindy Minor and the team at Small World Big Fun. They will help you plan your Disney vacation for FREE. Contact them today!