Welcome back to this week's edition of Attraction Smackdown! Last week's version caused quite a bit of conversation and debate on which version of the attraction should have won. This will be taken into account in the Community Votes edition of Attraction Smackdown, where your voice will be heard!
First let me say, I would like to point out the wonderful new logo for this series of articles. Let me know down below what you think of the new logo!
Let's go over the rules of these articles: I sent out a call to the staff of WDWNT to those who have been to both Disneyland Resort and Walt Disney World Resort and asked which of the attractions that, in their opinions, is the superior one between the two that I've pit against one another. That being said, the article will be based on mine and the staff's personal opinions on the specific attractions. With that said, let's get on to today's contender: Splash Mountain.
This is one of those rare Disney attractions that is based on an IP that is not well known. Most guests do not even realize that this attraction was based on the controversial Disney animated film, Song of the South.  This attraction is a special one; there is something about the magic of this attraction that makes it a classic Disney attraction. There is actually quite a bit of a difference between the two versions in the domestic parks. But, we are first going to talk about the one that is located in Critter Country at Disneyland park.
Splash Mountain(Disneyland)
When it comes to this version of the attraction, it holds a near and dear spot in my heart. This was my first log flume ride, and when I was growing up this attraction terrified me. But after years and years of riding this, it has become one of my favorite attractions at any Disney park. This version of the attraction has seen better days, though. The queue here is fantastic. My favorite part of the queue is honestly the extended outdoor queue. You get a fantastic view of the attraction and a wonderful view of riders taking their plunge into the Briar Patch.
The outdoor portion of this attraction experience itself is a leisurely cruise, with amazing views of the surrounding areas of the park. When you go down your first waterfall, this is where the attraction really begins. Now, as I said earlier, this attraction has seen better days. The vast majority of the Audio Animatronics (from the closed America Sings attraction) have had issues in the past. A majority of the time, the animation is not working. This is sad, as the AA's in this attraction are the heart of the attraction. I have been on this attraction many times, where the entire finale scene is completely static. It is currently under refurb now, so hopefully those issues will be addressed. One other thing about this attraction is the vehicle themselves is the single seat orientation. Anyone who has been on the Orlando version knows, they prefer those vehicles.
Splash Mountain(Magic Kingdom)
Splash Mountain at Magic Kingdom is in a perfect location. In Frontierland, it sits across from Big Thunder Mountain Railroad. This attraction is my go to attraction on any visit to Walt Disney World, and it would not be a trip to Walt Disney World without a ride on this attraction. The queue is similar to the Disneyland version, but the best part for me of this attraction is the kinetics. Watching from the bridge as riders plunge down below, and walking to the other side and seeing them again (sometimes soaked) coming into the last scene of the attraction.
Once on the attraction, it just continues to shine. Since its refurbishment, it has become the crown jewel once again at Magic Kingdom. The animatronics are amazing in this attraction and unlike its Disneyland sister, they work. One of my favorite parts of this attraction is the bouncing Brer Rabbit audio animatronics figure. It is amazing to watch.  My favorite part by far though is the view of the park from the top of the hill; it is spectacular. One of the other things about this attraction that is equally fun, is the attraction vehicle. Being able to sit side by side with your party is great. The awkward single row seating of Disneyland seems that much more awkward and strange after a ride on this version of the attraction. The only downside to this version is the lap bar system installed in 2011. Personally, I much prefer the no lap bar version.
After talking to a few staff members here at WDWNT, it became clear who the winner was. The attractions themselves may be very similar in approach and experience, but there is one that is far superior over the other. Between working AA figures, better lighting throughout, and wonderful views from the top. This week's winner of Attraction Smackdown is:
Splash Mountain(Magic Kingdom) 
What do you think of this week's winner of Attraction Smackdown? Do you agree or disagree? Vote in our poll down below and comment below to let me know your opinion for our finale of the series where YOUR voice will be heard!
Loading ...
Next week, we will be pitting Mad Tea Party on both coasts against each other!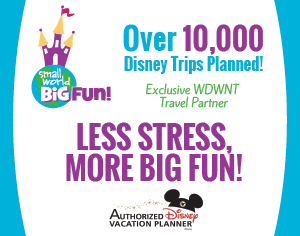 I don't know about you, but there are times when planning a Disney vacation can be overwhelming! There are so many options, where to stay, when to go, is this the best price. So, I want to introduce you all to Cindy Minor and the team at Small World Big Fun. They will help you plan your Disney vacation for FREE. Contact them today!