Work continues on the new parking structure adjacent to the Mickey and Friends parking structure and it has brought about some radical changes!
One of the most frustrating aspects of this construction is how they have handled ADA parking. With Chip and Dale and Pinocchio lots both closed, parking capacity is severely limited. They have saved a single aisle per deck for ADA parking, and they are regularly required to park farther away than Priority Parking, often walking from the back of the deck. During the later hours, when parking becomes somewhat of a free for all, there is little to no guarantee of any ADA parking at all. As a comical bonus, please note the random tram in the back of the image. This is not the tram route, but my guess is that this is where trams travel when they need fuel. The newly-built fuel lines are inaccessible during this phase of construction and had to be shut down.
Construction is well underway, and it seems as though Disney changes their setup during every new phase. As guests exit the escalators, they are greeted by an empty and walled off area where security lines and tram pickup and drop off used to be. To the left of this shot, you can see that the trams now unload where loading was and they no longer follow as far down the path.
I also took the opportunity to check out progress on the Pinocchio parking structure construction and a lot has changed in just a couple weeks. As you can see, they've cleared more space. A lot of it is already marked off and more of the yellow safety mats are present.
A lot of people looked around in shock as they exited the Mickey and Friends escalators. It's very startling to see the trams passing by in the opposite direction if you visit often. They've posted signs on gates and a friendly Cast Member nearby to direct everyone into the Chip and Dale structure, where the new security lines and loading zones are!
The electric vehicle charging stations remain down during this phase of construction, which is an inconvenience to many people. There are still a small few chargers on the Daisy level, but you have to talk to several parking structure people along the way and hope that you find someone nice enough to have security escort you to what is not a guaranteed availability. If you are like me, and think Disney's elevated power costs are worth it to be able to pass the time somewhere fun as your car charges, I would advise you to charge elsewhere during construction. These spaces will not begin to function again until all construction has been completed next year. 
The indoor security worked better than expected, although I did not arrive during peak entrance hours. Security has gotten tighter. Bags used to be glanced through, and now guards were asking people to empty things out of their bags so that they could visible see everything and visibly see the bottom of each pocket. While this is better for security, it also slows the lines down significantly. Luckily, the Cast Member I got was pretty friendly. If you follow the path of the tram in this shot, looking to the back right of this frame, you can see that they have moved Tram and Mickey Van loading into the parking structure as well.
People opting to travel by foot to the parks and Downtown Disney areas will also have a bit of an unpleasant surprise. Rather than cutting through Pinocchio and crossing the street, pedestrians cross through to the previously off limits far side of the parking structure and are directed all the way around the exterior.
Another inconvenience is that there is no longer access through the deck between elevator and escalator walkways. Gates prevent this convenient cut-through and pedestrians are required to follow the path all the way through to get somewhere that used to take a mere few steps.
The changes are present all the way along the path, not just in the structure. Take a look at two trams as they approach each other along the route. As they drive down the left side of the road, it feels as if we've taken a wrong turn.
The Downtown Disney loading and unloading has also radically changed. Large parts of it remain under construction, including the ADA transportation Mickey Van. They have removed one of their decorative flower beds and replaced it with a concrete ramp. Once they finish putting in a crosswalk and fixing the slope grade, the Mickey Van will unload in the center of the tram traffic area and guests will be directed when to cross safely. I am apprehensive about this plan, and upon speaking with a Cast Member, they aren't entirely sure this plan will  come to fruition, either. It's still a bit up in the air, and plans have changed several times as construction progresses.
As guests exit the park, they are now able to walk straight up the path to tram loading rather than going around the fountain. There are several large signs directing all ADA guests to the right side for loading and unloading. More than one tram passed by the loading ramp before one stopped to load guests, so it is evident that the tram drivers are still getting used to the new setup.
Waiting for the Mickey Van was pleasant enough. They have a single bench out and we left the park ahead of major crowd times, so we were able to sit. I was completely shocked when the van pulled in, though! There isn't much of a separation between the sidewalk and the road. The van pulled right up to the bench area!! The orange cones next to the bench are definitely there for a reason because the van pulled right up to them!
As the Mickey Van dropped me off, I stopped for a chat with the driver. The changes to the tram route are apparently pretty permanent. There may be some minor modifications and adjustments when the new deck opens, but they will continue operating in this direction. The new structure is going to be attached to the current structure and, as of now, does not have any plan for a separate entrance area. All traffic will continue to enter through Mickey and Friends. The Cast Member says it is still not certain whether the security lines will remain in their new Chip and Dale location or be moved again once the new structure opens.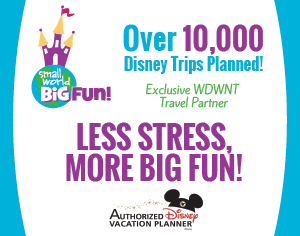 I don't know about you, but there are times when planning a Disney vacation can be overwhelming! There are so many options, where to stay, when to go, is this the best price. So, I want to introduce you all to Cindy Minor and the team at Small World Big Fun. They will help you plan your Disney vacation for FREE. Contact them today!