As the opening day for Pixar Pier looms ever closer, Disneyland has revealed new story details and fun facts surrounding what is arguably the re-visioned land's signature E-ticket: The Incredicoaster.
The story is that The Incredibles, being honored for their heroic deeds by their hometown of Municiberg, have dedicated the city's beloved roller coaster to them, now named The Incredicoaster! Unfortunately, as the family gets ready to ride, Jack-Jack is, sadly, too short to ride… as is Edna Mode. As Edna watches Jack-Jack in the VIP lounge, Jack-Jack (of course) escapes, and it's up to The Incredibles to get him back!
As we pull into the launch track, we hear Dash's voice telling us to keep our hands, arms, feet, and legs inside the vehicle, etc. We LAUNCH as Dash runs into action, trying to catch Jack-Jack and narrowly avoiding his laser beams in the first tunnel.
Climbing into the second tunnel, we see Elastigirl, stretching herself thin (her figure is 53 feet long!) to attempt to grab Jack-Jack. As we near the end of the tunnel, we detect a faint smell of….chocolate chip cookies? We soon discover Mr. Incredible, having punched through the tunnel, holding a cookie in the hopes of luring Jack-Jack to him.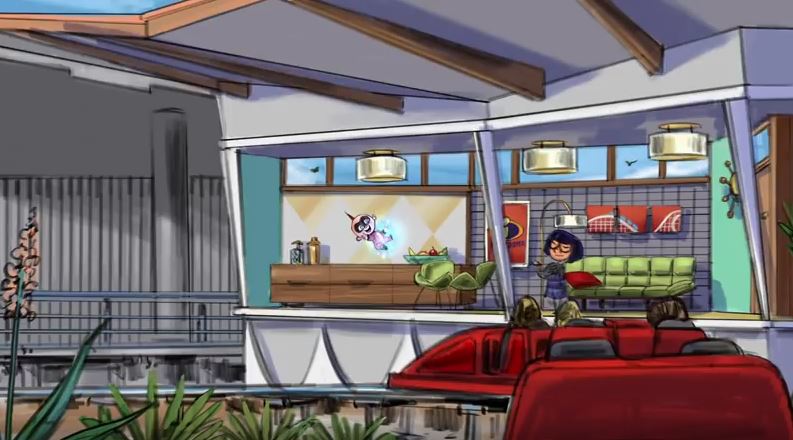 Continuing on, we soon find Jack-Jack ablaze. Violet, seeing the danger her little brother poses to us, jumps in to save us by projecting a force field up into the tunnel, shielding us from the flames. Waving through the hills of the coaster, we find a number of Jack-Jacks, all laughing as they multiply.
Nearing the end of the ride, we hear the voice of Edna Mode telling The Incredibles that Jack-Jack has come back to the VIP lounge, unharmed! As we near the end of the coaster, we see the VIP lounge, now an absolute mess, with a final unknown surprise in store for us.
I don't know about you, but that sounds like a fun time! The Incredicoaster opens alongside Pixar Pier on June 23, at Disney California Adventure.