Editor's note: Live the Disney Classics is a new column that will unearth all the places where the official Disney Animated Classics canon can be experienced—from rides to shows to restaurants and more—in Disney Parks worldwide. Embarking on a journey through Disney history, each new Animated Classic release will be covered in chronological order. This column starts off where it all began for Disney and feature-length animation in 1937/38 with "Snow White and the Seven Dwarfs"…
Disney Animated Classic #1: "Snow White and the Seven Dwarfs" (1937)
2018 marks the 80th anniversary of the universal release of Walt Disney's first feature-length animated film, "Snow White and the Seven Dwarfs." While critics referred to it as "Disney's folly" during its three-year production, Walt, however, was determined to continue pushing the boundaries of animation. He wanted to liberate cartoons from their limited timeframes as shorts and prove that all audiences—children and adults alike—could be enchanted by a feature-length animated film.
"Snow White and the Seven Dwarfs" tells the tale of a young princess working as a scullery maid. Her jealous stepmother, the Evil Queen, plots her murder after the Magic Mirror reveals that Snow White is "the fairest in the land." Snow White manages to escape to a quaint little cottage in the forest whose initially suspicious inhabitants—seven dwarfs who work in a nearby mine—welcome her.
The Evil Queen arrives disguised as an old hag selling a magic apple, poisoned with the draught of the "Sleeping Death." Tricking Snow White into taking a bite, she then flees before falling to her death when pursued by the Dwarfs. After placing Snow White in a beautiful glass coffin, the Dwarfs keep vigil by her side. One day, a prince rides by who recognizes her, having fallen in love with her in a previous chance encounter. His kiss awakens her from her enchanted sleep and they ride off together into the sunset.
Walt Disney received a Special Academy Award for his interpretation of the Brothers Grimm fairytale. He was also able to build his studio in Burbank off the back of the film's profits. This major triumph set the Walt Disney Company on its way to dominating and transforming, first, the animation industry, and later, the resort and leisure industry with its creative and innovative theme parks. These can now be found in multiple locations across the globe.
So, where can you find "Snow White and the Seven Dwarfs" in the Disney Parks?
Snow White at Walt Disney World, Florida
Let's start with the Magic Kingdom in Florida's Walt Disney World, which used to house the classic attraction, Snow White's Scary Adventures (more on that later). Now, Fantasyland is home to the ever-popular Seven Dwarfs Mine Train, which opened as a later addition to the major New Fantasyland expansion in 2014. This smooth rollercoaster features a "tilting vehicle" ride system that replicates the experience of riding in a mine cart. Its varied speed mechanisms also help amplify the dark ride section of the attraction. This is a truly immersive ride, replete with music and an interactive queue—whose wait times regularly top 90 minutes!
In the park, you're most likely to encounter Snow White in Fantasyland, where she could make appearances at either Princess Fairytale Hall  or Cinderella's Royal Table, a character dining restaurant in Cinderella Castle. At the time of writing, scheduled princesses at Princess Fairytale Hall are Cinderella and Elena, so a dining reservation at Cinderella Castle may prove more fruitful – no guarantees, though!
At Epcot, however, Snow White has her very own meet and greet! You can find the original princess herself in the Germany Pavilion of the park's World Showcase, no doubt owing to her Germanic folklore heritage courtesy of the Brothers Grimm. She also makes regular appearances at Akershus Royal Banquet Hall in the Norway Pavilion, alongside other storybook princesses.
Snow White at the Disneyland Resort, California
In California's Disneyland Resort, Snow White's Scary Adventures is an original opening day attraction from 1955—though it initially debuted with the title, Snow White and her Adventures. Although a classic, this dark ride, has had a history of both confusing and scaring park guests—particularly youngsters—hence the name change. What riders found confusing was the concept of "being Snow White" through the ride's journey through her story. They questioned why Snow White never appears. In response, the ride was redesigned in 1983 to include a single appearance by Snow White. [NB: The first WDW version of this attraction bore little similarity to the original, and was decidedly more frightening for kids. In 1994, it was redone to be more consistent with the California version.] If you want to experience Disneyland as it was in its earliest years, Snow White continues to be a fun—and scary—adventure. It also provides a window into how Walt himself developed stories from books and movies into lasting theme park attractions.
As with WDW, there are no scheduled appearances for Snow White, but chance meetings are likely near Sleeping Beauty Castle and at the Royal Hall meet and greet.
Snow White at the Tokyo Disney Resort
Tokyo Disneyland features classic, stalwart rides of the American Disney parks alongside its more uniquely-themed attractions. Here, you'll find Snow White's Adventures again, but this time with a mix of both the Disneyland and the pre-1994 WDW versions. Interestingly, the "scary" was omitted from the ride's name, despite a rather dark ending as the Evil Queen (in her "old hag" disguise) attempts to push a boulder onto the guests' moving mine carts below.
Snow White at Disneyland Paris
The Disneyland Paris version of the Snow White dark ride most closely resembles the original in Disneyland (California), and is aptly called Blanche-Neige et les Sept Mains. Again, the "scary"—or rather, "effrayantes"—has been omitted. Like the post-1994 WDW version, the Paris attraction concludes on a brighter note: The "happy ending" sees Snow White, seated on the Prince's horse and surrounded by all seven Dwarfs, waving goodbye to guests.
Your best bet for meeting Snow White in the park is at the Princess Pavilion in Fantasyland. She also performs in "The Starlit Princess Waltz" as part of the park's 25th anniversary celebration.
Snow White at Hong Kong Disneyland
Returning to the Disney resorts in the East, Hong Kong Disneyland has two places where you can encounter Snow White: One is the meet at greet at Royal Princess Garden. This is a unique indoor space whose environment will change to reflect the princess in residence. The second is Fairy Tale Forest, which opened in 2015 as part of the park's 10th anniversary celebration. This is an outdoor walkthrough attraction that takes guests through the magical realms of such storybook worlds as "Tangled," "Snow White and the Seven Dwarfs," "Beauty and the Beast," "Cinderella" and "The Little Mermaid." Music, photo ops and mini mechanical figurines make this an immersive and entertaining experience.
Snow White at Shanghai Disney Resort
It's at Disney's newest park, Shanghai Disney Resort, that the influence of "Snow White and the Seven Dwarfs" is most apparent. This could be due to the film's special significance to Shanghai: it premiered in Shanghai in February, 1938, and was among the first Disney productions to be shown to Chinese audiences. Like WDW's Magic Kingdom, Shanghai has its own Seven Dwarfs Mine Train, which is all but identical to its Orlando counterpart until the final scene. Here, the woodland creatures (in animatronic form) are the focus, with the cottage and its dancing inhabitants far off in the background.
The other dedicated attraction, and one that is unique to the Shanghai park, is Once Upon a Time Adventure. This is a fully-interactive walkthrough experience within the Enchanted Storybook Castle. While the attraction bears a similarity to Disneyland California's Sleeping Beauty Castle, the experience is very different. The "adventure" begins with the guests climbing a staircase and then "passing through" the Magic Mirror.
You might be able to meet Snow White in person at Storybook Court in Fantasyland, where a meet and greet with Disney royalty is held within the castle walls. There are no specific times for princess appearances, however.
That brings us to the end of our journey through "Snow White and the Seven Dwarfs" in the Disney Parks! Did we miss anything? Did we mention a favorite? Let us know in the comments below! Keep an eye out for the next column, which moves forward to the first of Disney's two releases in 1940….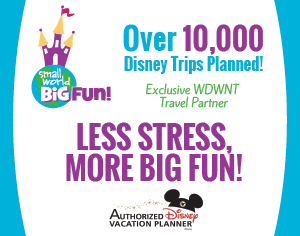 I don't know about you, but there are times when planning a Disney vacation can be overwhelming! There are so many options, where to stay, when to go, is this the best price. So, I want to introduce you all to Cindy Minor and the team at Small World Big Fun. They will help you plan your Disney vacation for FREE. Contact them today!