Terralina Crafted Italian is a brand new table service restaurant at Disney Springs. This location is a refurbished version of the old Portobello, next to Paddlefish restaurant. After an extended refurbishment, Terralina opened up on June 27, 2018, and invited guests into the establishment. We ventured over to Disney Springs on the opening night to get a taste of the crafted Italian.
The Drinks
To save you the time of reading a few sentences on every drink, let's cut to the chase: Terralina mixes a great cocktail. Not a single one we had was bad, each was great in its own particular way. We recommend taking a look at the pictures below to see how each drink is presented and what's the lead alcohol to pick one. They're all great and deserve equal recognition.
The Springs – Liv vodka, St. Elder elderflower, rosemary, mint, and Zardetto private cuvee prosecco – $15.00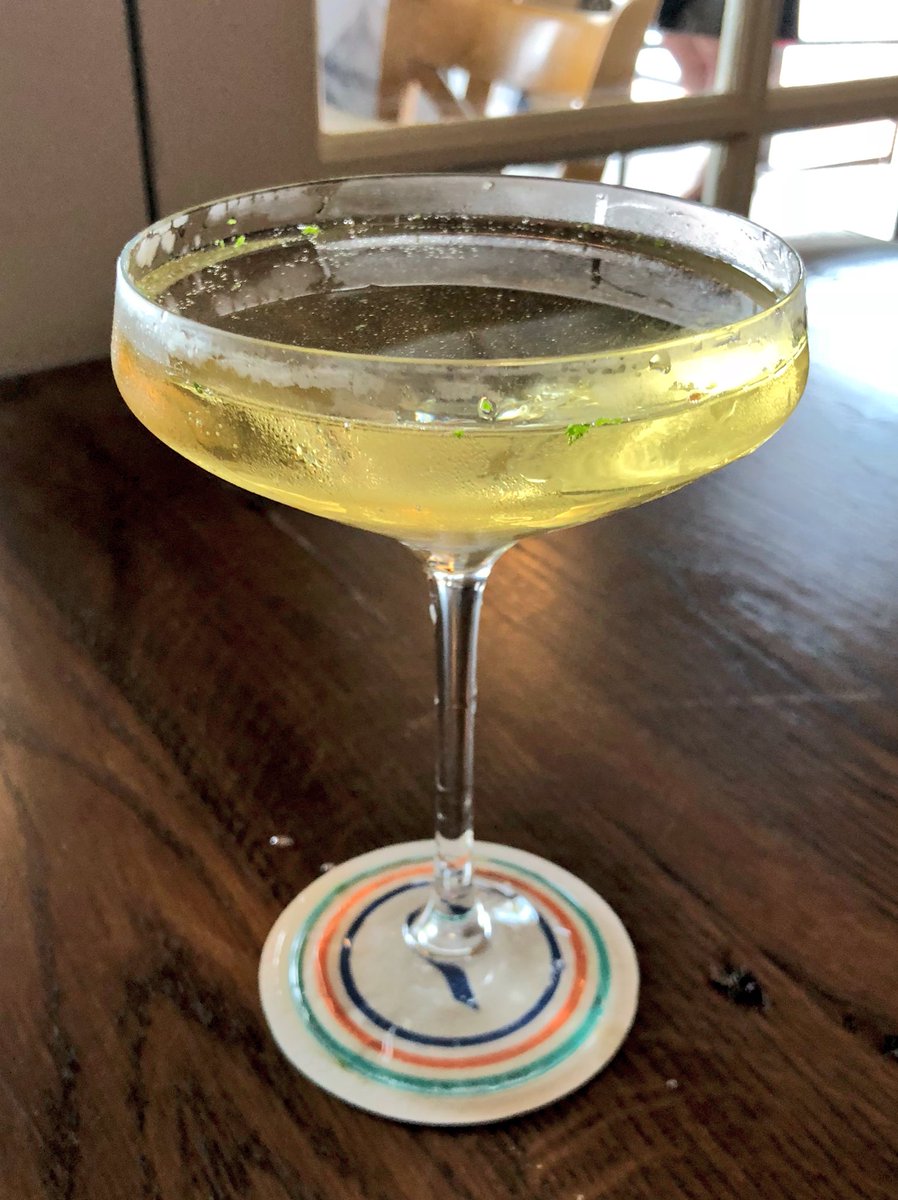 Italian Fizz – Contratto aperitif, Zardetto private cuvee prosecco, egg white (pasteurized), and fresh lemon – $15.00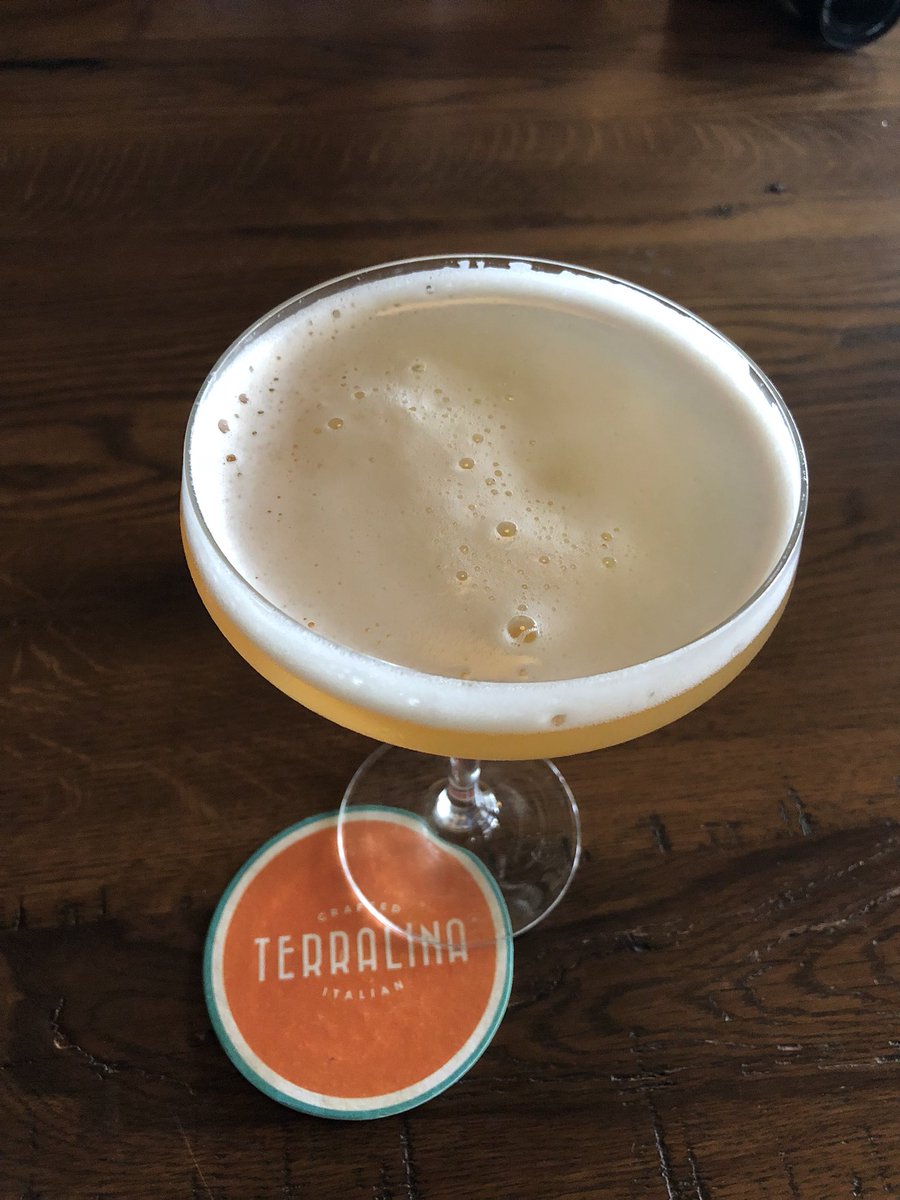 Reverred Heritage – Rough Rider double cask bourbon, Cardamaro, Cocchi, teapot bitters, Fabbri cherry – $15.00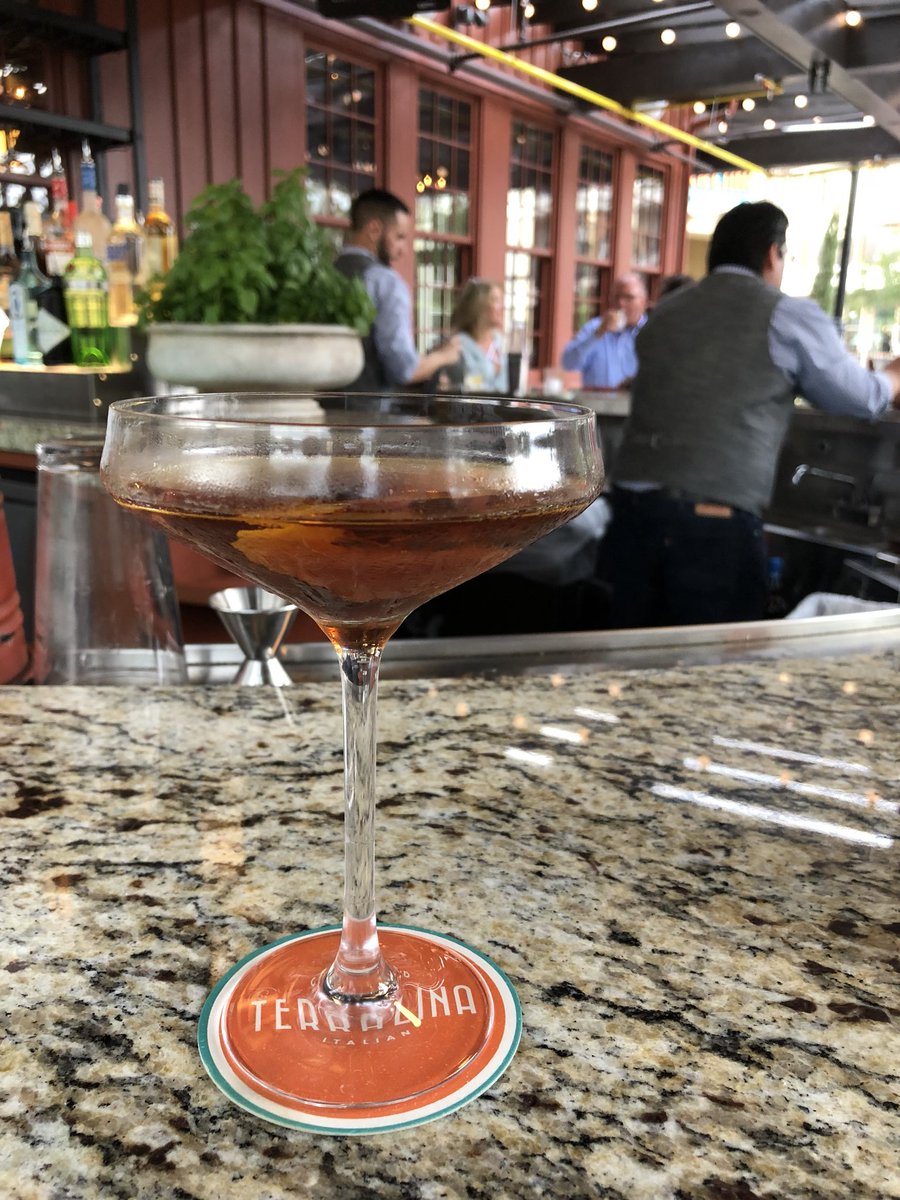 Cozy Terrace – Cathead vodka, Cappelletti, fresh watermelon, lemon, and cucumber – $15.00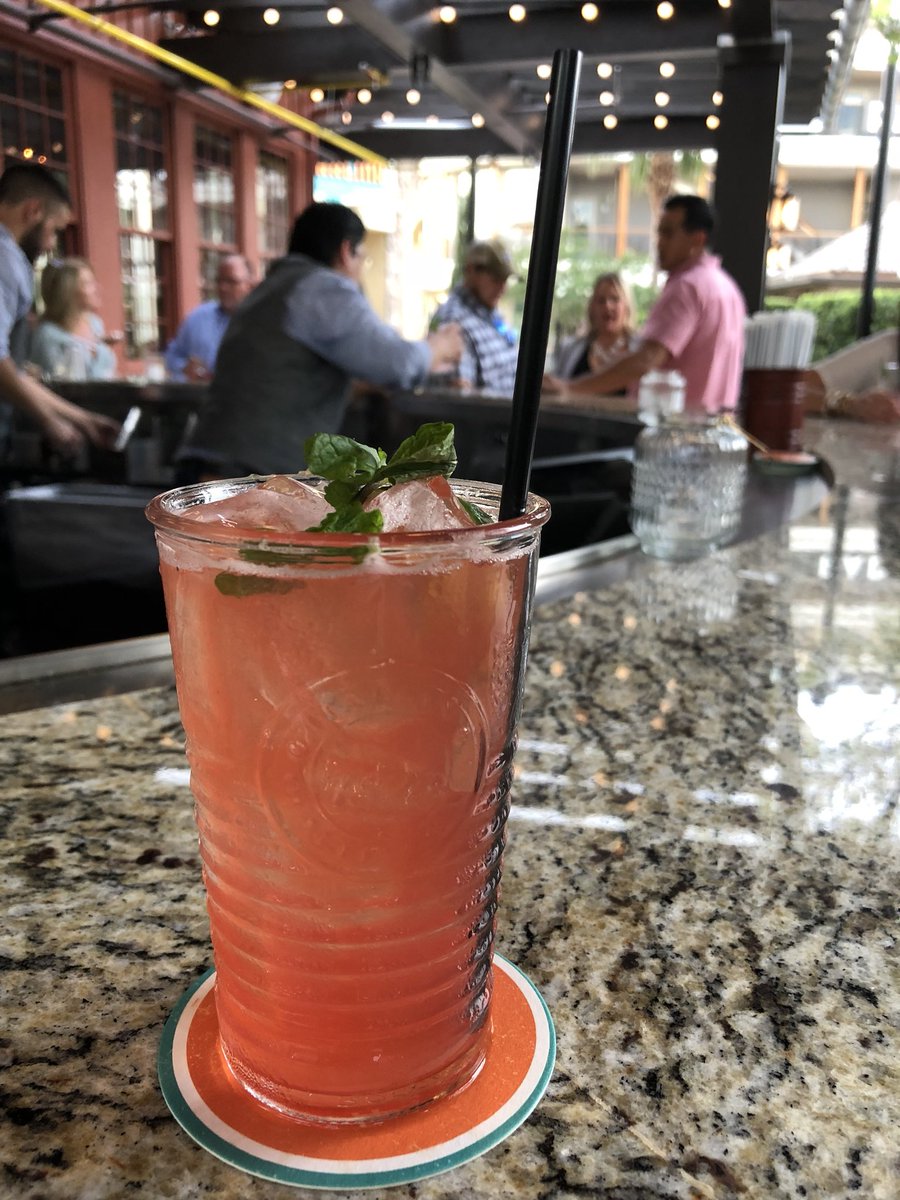 Nighttime Pleasantries – Wicked Dolphin white rum, pineapple juice, arugula leaf, fresh lime, and Cardamon bitters – $15.00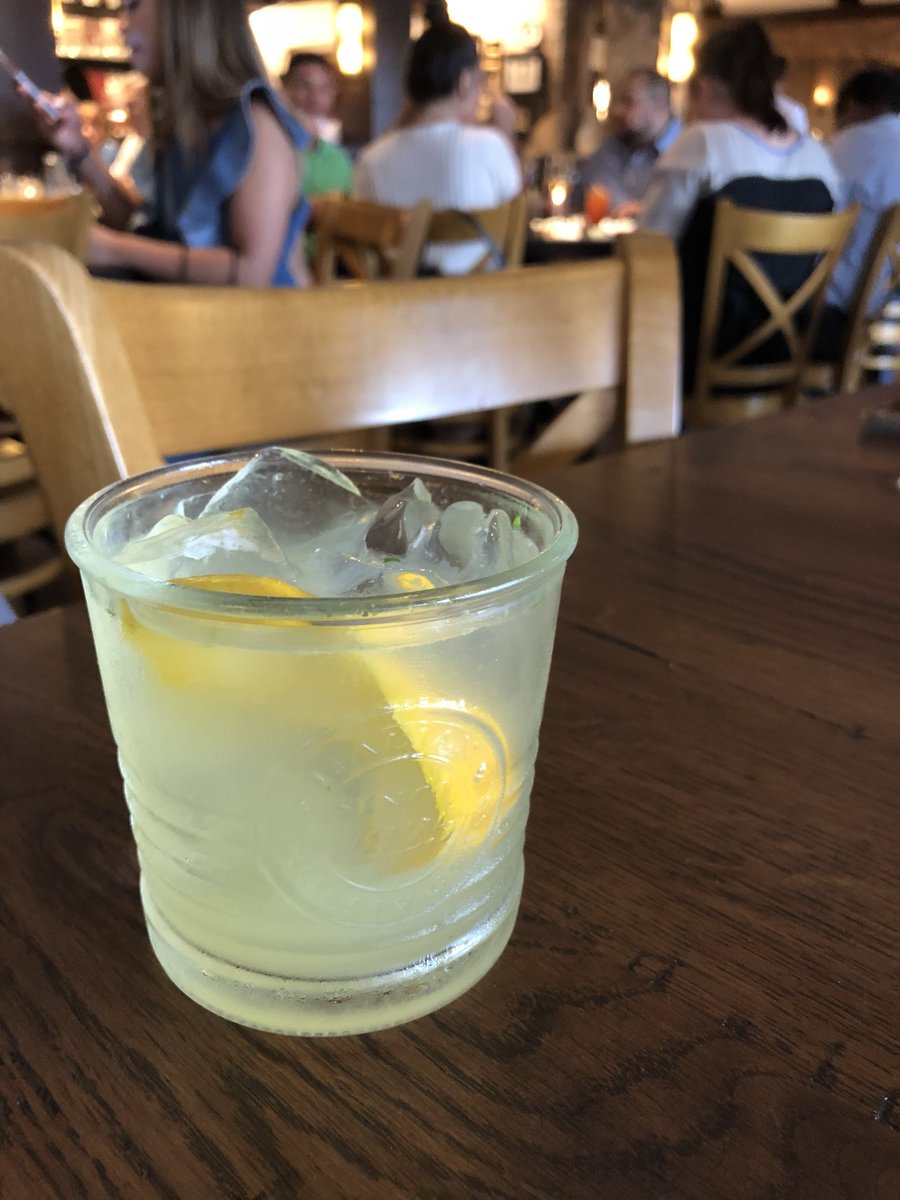 Crafted Lemonade (Serves Four) – EG Inspiration lavender rosemary vodka, house-made orange blossom lemonade, and celery bitters – Pitcher – $35.00
This is an image of a single poured glass of the lemonade. You'll get a full pitcher which is easily four of these glasses.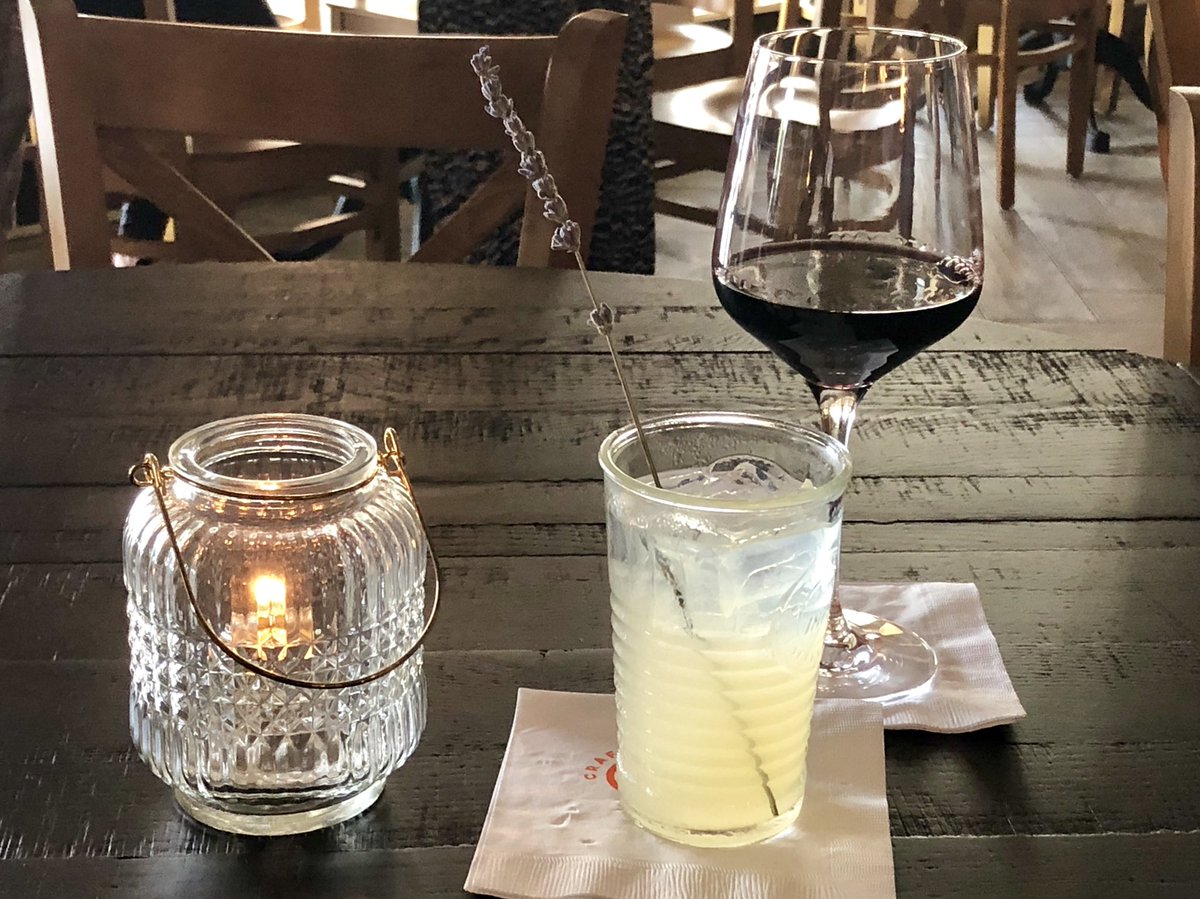 Star Crossed Lovers – James E. Pepper rye, Rothman and Winter Orchard Peach, ginger beer, smoked rhubarb strawberries, and fresh lemon – $15.00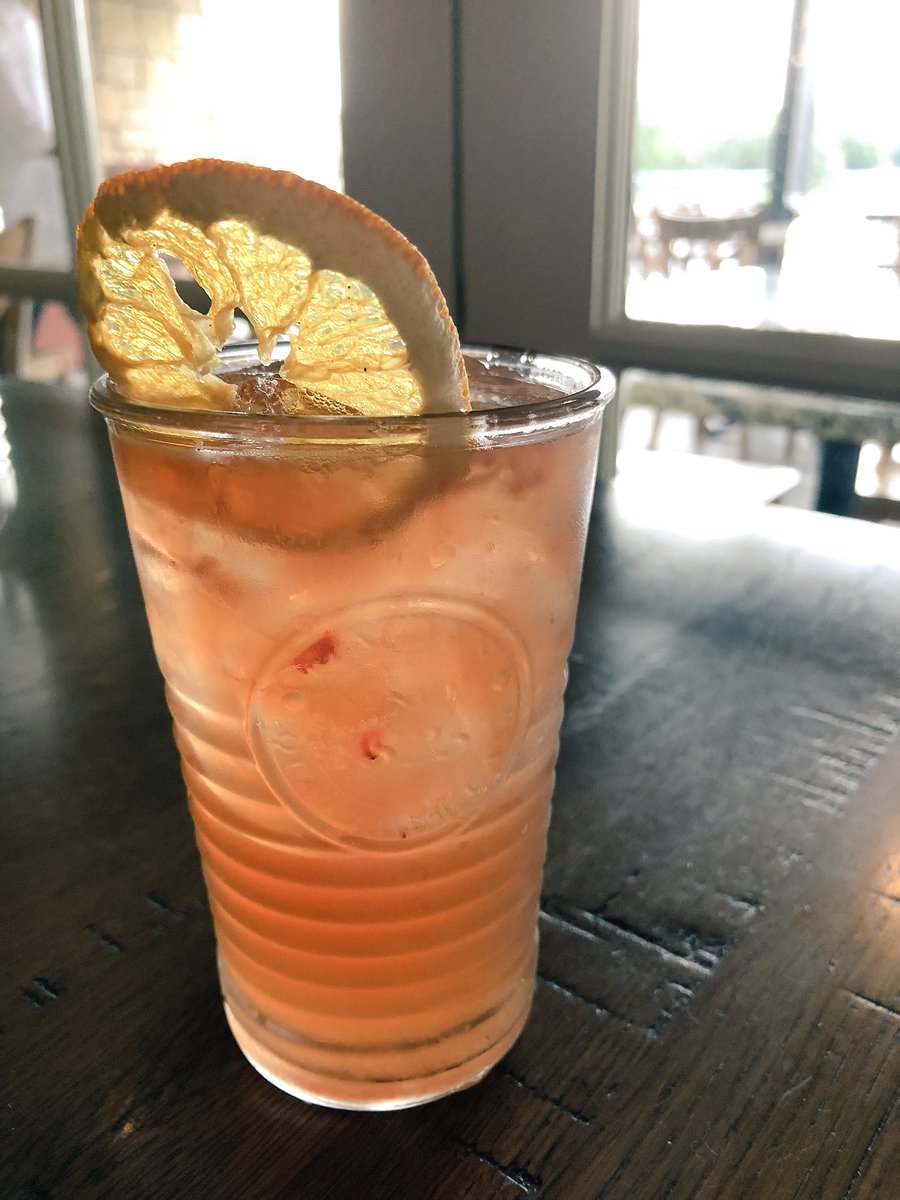 Medium & Elegant Wine Flight – $16.00
We were greeted by the sommelier of the restaurant who wanted to talk about wines. Awesome, we love that, only problem is we saw him before our server making for some confusion as to what his purpose was. He recommended this flight because it has a fruity, a dry, and a unique red.
The Appetizers
Bread service is complimentary and served with every meal. It's a loaf of bread served with pickled garlic vegetables. Those were good, the bread was tough. We just wished there was maybe an olive oil or butter served with it instead of the vegetables.
Mozzarella-stuffed Rice Balls -Tomato-Basil Sauce -$12.00
We assumed these would be similar to the typical Italian arancini. We asked our server if this was right only to be met with 'I don't know what arancini is'. So, that may give you an idea of how their kitchen decided to interpret the Italian rice ball. In what we assumed was a lesson from Captain Long John himself, these come out very similar to hush puppies with a pinch of mozzarella in each, and that's being generous.The marinara sauce served along with them didn't help cool down the overly crunchy exterior which will tear the roof of your mouth apart. Overall they're forgettable.
Spaghetti Fritters -Tomato, Basil, Mozzarella -$12.00
Just like grandma used to make: Fried spaghetti in rice balls. These fit the bill for arancini better than the mozzarella-stuffed rice balls, filled with literal cooked spaghetti instead of a meat. They're weird, different, and a much better option than the other rice balls.
Crab Crostini – Lemon-Caper Aïoli, fresh Herbs – $16.00
There's plenty of crab prepared and placed on each crostini. The crab is pretty tender and rather tasty, the crostini is nearly perfect. The main problem with the dish here is the lemon-caper aioli. It turns the decent appetizer into a nearly unenjoyable experience by adding a huge zest of sour lemon that offsets the entire crostini. Unfortunately they're using it on the plate to hold the crostini, so the entire bottom is slathered in the sauce.
Seasonal Soup – Tomato Bisque – $7.00
This was a literal bowl of marinara sauce. The manager agreed. Ask what the seasonal soup is before ordering, obviously we didn't want a bowl of marinara.
The Entrees
Slow-roasted Beef Short Rib – Honey-Balsamic Glaze served with Shaved Fennel Salad and choice of Roasted Potato Planks, crispy Polenta Fries, or Yukon Gold Mashed Potatoes (serves two price is per person) – $42.00
There's a LOT of meat here for, uh… $84.00. Price is per person, minimum of two. We think at least. The table next to us ordered this as well and their server ended up bringing two out due to the kitchen reading the double charge as two orders. There's two other entrees on the 'For the Table' section on the menu, chicken and porchetta, but we went with the most expensive option. Anyway, like we said, there's a lot of meat placed on top of a fennel salad with a light balsamic vinaigrette. The short rib is very tender and has a great char to the sides. But that's literally where the one-note flavor ends. There's nothing else going for this other than "wow that's a lot of meat". I guess if you're Ron Swanson and the only goal of your dinner experience is to ingest as much meat as possible, then this is your choice. Other folks may look for something with a satisfying flavor or a good sauce or maybe a side to pull things together. Oh, we did get one side dish. Options ranged between roasted potato planks, polenta fries, or Yukon Gold mashed potatoes. We went with the polenta fries and were greeted with soggy french toast sticks. The only thing missing was a maple syrup accompaniment. This dish was a massive disappointment, especially for being the highest price on the entire menu. There is huge potential for something amazing here, but in the meantime if you want a killer slab of meat check out The BOATHOUSE.
House-made Lasagna – Spinach, Ricotta, Mozzarella, Pecorino, spicy Tomato – $23.00
This was a main staple of the past restaurant, Portobello, so we ordered it to see how the lasagna held-up after the refurbishment. The answer: pretty fine. There's unadvertised pesto sauce on top of the lasagna, if you remember our Enzo's Hideaway review you know we absolutely love pesto. This time it didn't overpower the entire dish and let the main Italian ingredients take center stage. It's not a huge portion for $23 but you can certainly do worse. Like, for example, the ravioli…
Ravioli Gigante – Spinach, fresh Ricotta, Parmesan, Roasted Garlic-Tomato Cream – $23.00
This one comes out looking like a bunch of ravioli under an endless amount of sauce, and that's entirely accurate. At first we thought the ravioli was very al dente, which was accurate but didn't explain why the dough tasted like plastic, especially the aftertaste. At least the sauce was good, a mixture of a vodka sauce with a lot of garlic.
Crispy Parmesan Burger – Ground Chuck and Brisket, Arugula, Tomato, Pickled Fennel, Parmesan Crisp, Pesto Aïoli, Toasted Ciabatta Bun, House-made Pecorino-Truffle Potato Chips, House-made Garlic Pickles – $20.00
As a huge surprise to everyone at the table, this one was the big winner of the evening. All of the ingredients made this one heck of a burger with Terralina's own twist on the classic. The house-made garlic pickles are served on the side, so don't worry about the burger having too much garlic. There's a Parmesan crisp on the burger instead of melted cheese which added a great crispness to each bite. Recommended, especially at the price point.
Artisan Pepperoni – Pepperoni, fresh Mozzarella, Tomato, Basil – $16.00
There's a slew of pizzas on the menu, we went with the most classic option. There's only a few slices of pepperoni but the juices from the meat cook right into the pizza making for a few delicious bites. $16 for a pepperoni pizza is a lot though, especially at a table service that should know Blaze Pizza is just a 5 minute walk away with a $10 unlimited toppings pizza. Sure, the crust here is better and it's prepared in an open-flame stove, but is that worth six extra dollars?
The Desserts
Lemon-Thyme Panna Cotta – seasonal berries -$9.00
The desserts here are amazing. This panna cotta is one of the best ones we've ever had at Walt Disney World. There's a great lemon zest to the soft mousse that isn't overpowering and light enough to bring you right back in for seconds. And thirds. Absolutely recommended.
Ice Cream Sandwich – pizzelle, salted caramel gelato, chocolate dipped, toffee crunch – $10.00
Another unique creation for Terralina is this ice cream sandwich. It's a great scoop of gelato sandwiched between two waffles, rolled in chopped nuts for a nice crunch, and then halfway dipped in chocolate. It's an absolute winner and shouldn't be missed.
Overall
Terralina does drinks and dessert right. They don't just do these well though, they exceed in every aspect. Sure, $15 for a cocktail sounds a little extreme but these are potent and well crafted. Every dessert we tried was amazing, the ice cream sandwich and panna cotta steal the show though. There's a lot to enjoy across the cocktails list and dessert menu. Appetizers are looking up, but there's a long way to go. Unfortunately the actual entrees are lackluster, to be nice. At least dinner ends on a high note with dessert. We'll be back for some more panna cotta at least.