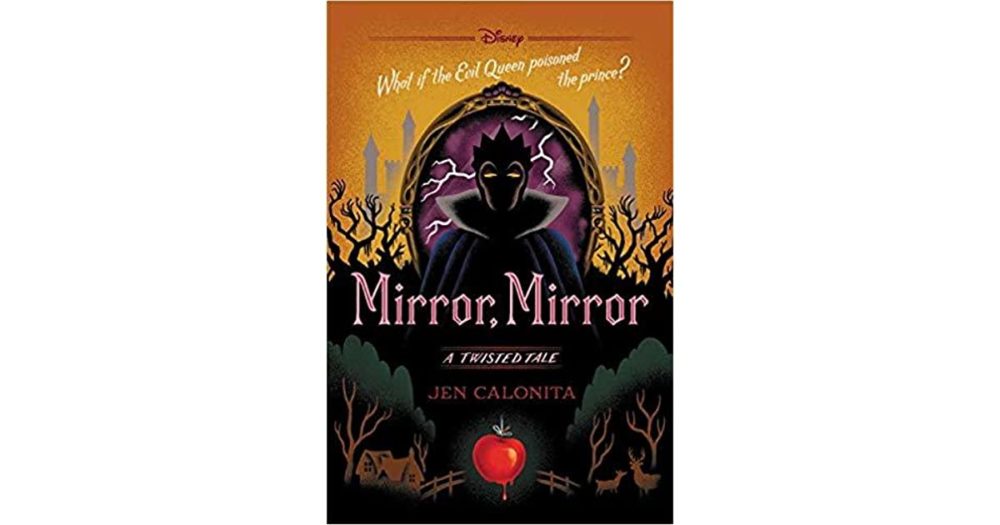 "Voice in the magic mirror, come from the farthest space. Through wind and darkness I summon thee. Speak! Let me see thy face."
Be honest, how many of you were terrified of Disney's Snow White movie or found yourself shivering after riding Snow White's Scary Adventures in one of the Disney Parks? If even a small part of you enjoyed the frightening scenes, then Jen Calonita's latest novel, Mirror Mirror: A Twisted Tale might be for you.
There have been numerous retellings of many of the classic fairy tales that Disney made famous. However, Calonita's iteration offers a fresh perspective by posing deliciously dark questions that may completely change the story we're familiar with. In Mirror Mirror the front cover asks, "What if the Evil Queen poisoned the prince?"
From that initial question, it's easy to predict that there are significant changes to the narrative, but Mirror Mirror also tell us new information about the characters. Nameless characters in the film like "The Prince" and the "Evil Queen" and Snow White's parents, who are notably absent from the movie are given names and backstories. This addition provides a rich layer to the book that makes even tertiary characters feel more real and it allows us to empathize with them.
Calonita also aged Snow White by a few years, making her 17 instead of 14, which makes more appealing to the Young Adult audience and allows for a more believable romance arc.
Coming in at around 350 pages, Mirror Mirror, which is the 6th book of the Twisted Tale series, is considerably shorter than the rest. Despite this, it still manages to create an epic and refreshing exploration of a well-known plot that keeps the reader's attention held and heart racing throughout.
Make sure you check out WDWNT's reviews of the other books in Twisted Tale series: A Whole New World, where Jafar gains control of Agrabah, Once Upon a Dream, where Aurora is finally given a voice, As Old as Time, which sheds new light on Belle's backstory, Reflection that details Mulan and Shang's journey through the underworld, and Part of Your World, where Ariel must defeat Ursula to save Tirulia.
Next up, I feel a chill in the air, as we head over to Arendelle to join Anna and Elsa in their own twisted tale. Make sure to stay tuned for that review! Have you read any of the Twisted Tales series yet? Which characters' stories would you like to see twisted? Let us know!