Don Shula, the coach with the most wins in the history of the National Football League and the inspiration for Shula's Steak House at the Walt Disney World Dolphin, passed away on Monday at the age of 90.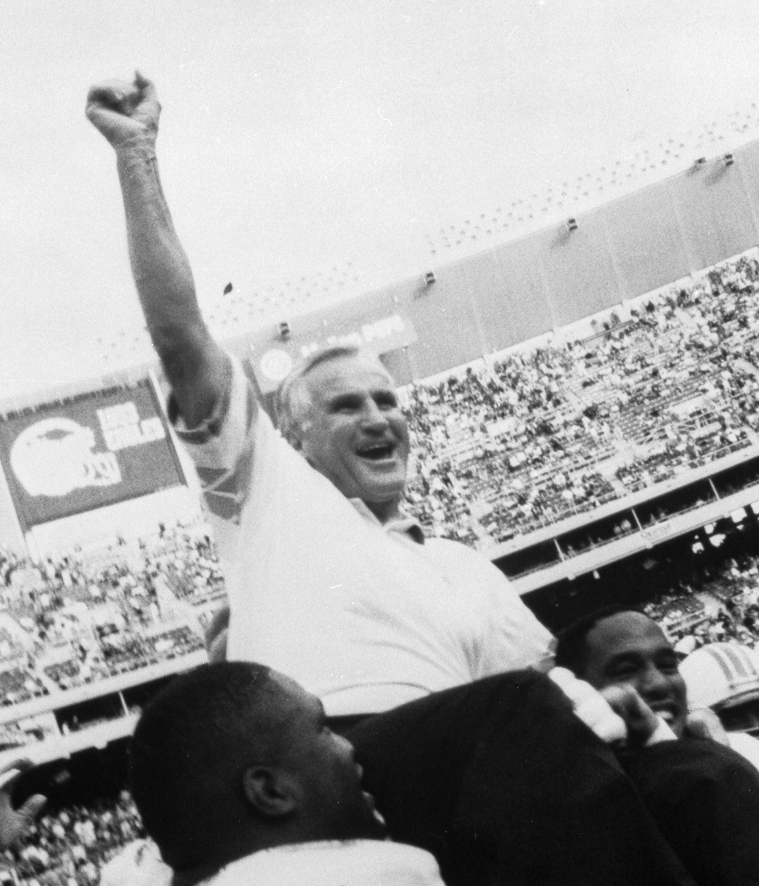 Shula began his NFL career as a player, playing as a defensive back for the Cleveland Browns, Baltimore Colts, and Washington Redskins from 1951 to 1957. After two seasons coaching college teams, Shula returned to coach in the NFL for the Detroit Lions from 1960-62, before becoming the head coach of the Colts in 1963. He stayed with the team through the 1969 season, before becoming the head coach of the Miami Dolphins in 1970. It was with the Dolphins that Shula had his greatest success, leading the team to victories in Super Bowl VII and VIII, with the undefeated 1972 team becoming having the only "perfect" season in NFL history. By the time Shula retired following the 1995 season, he had the most regular season wins (328) and total wins (347) in the NFL, a record which stands to this day. He was inducted into the Pro Football Hall of Fame in 1997.
In 1989, Shula agreed to partner with the Graham family, founders of the town of Miami Lakes, Florida, to re-brand their restaurant as Shula's Steak House, which grew to a chain of steakhouses with locations including Chicago, Houston, and Tampa. Shula's Steak House opened at the Walt Disney World Dolphin in 1999. The resort hotel also features Shula's Lounge. Today, Shula's Restaurant Group includes offerings like 347 Grill by Coach Shula, Shula's 2 Steak & Sports, Shula's Bar & Grill, and Shula Burger.
From the gridiron to the grill, Shula proved a winner every step of the way.
MORE:
PHOTOS: Construction on "The Cove" Hotel at Walt Disney World Swan & Dolphin Continues Throughout Extended Parks Closure
PHOTOS: Construction Goes Vertical on New "The Cove" Hotel at Walt Disney World Swan & Dolphin
Exclusive Deal Available at Swan and Dolphin Resort for Residents of Winning Super Bowl Team's State