Today, Disney Springs made history as the first Disney Parks venue in the United States to reopen after an unprecedented wave of month-long closures due to COVID-19. Thankfully, we're finally seeing the light after being stuck in our towers for months now, and we're venturing out to see how the "new normal" fares within the Disney bubble. The reopening of CityWalk over at Universal Orlando gave us an overall idea of what new health and safety protocols would look like: face masks, social distancing, and temperature screenings. Now, let's see how it works at Disney Springs if you're planning on driving in and parking:
Arrival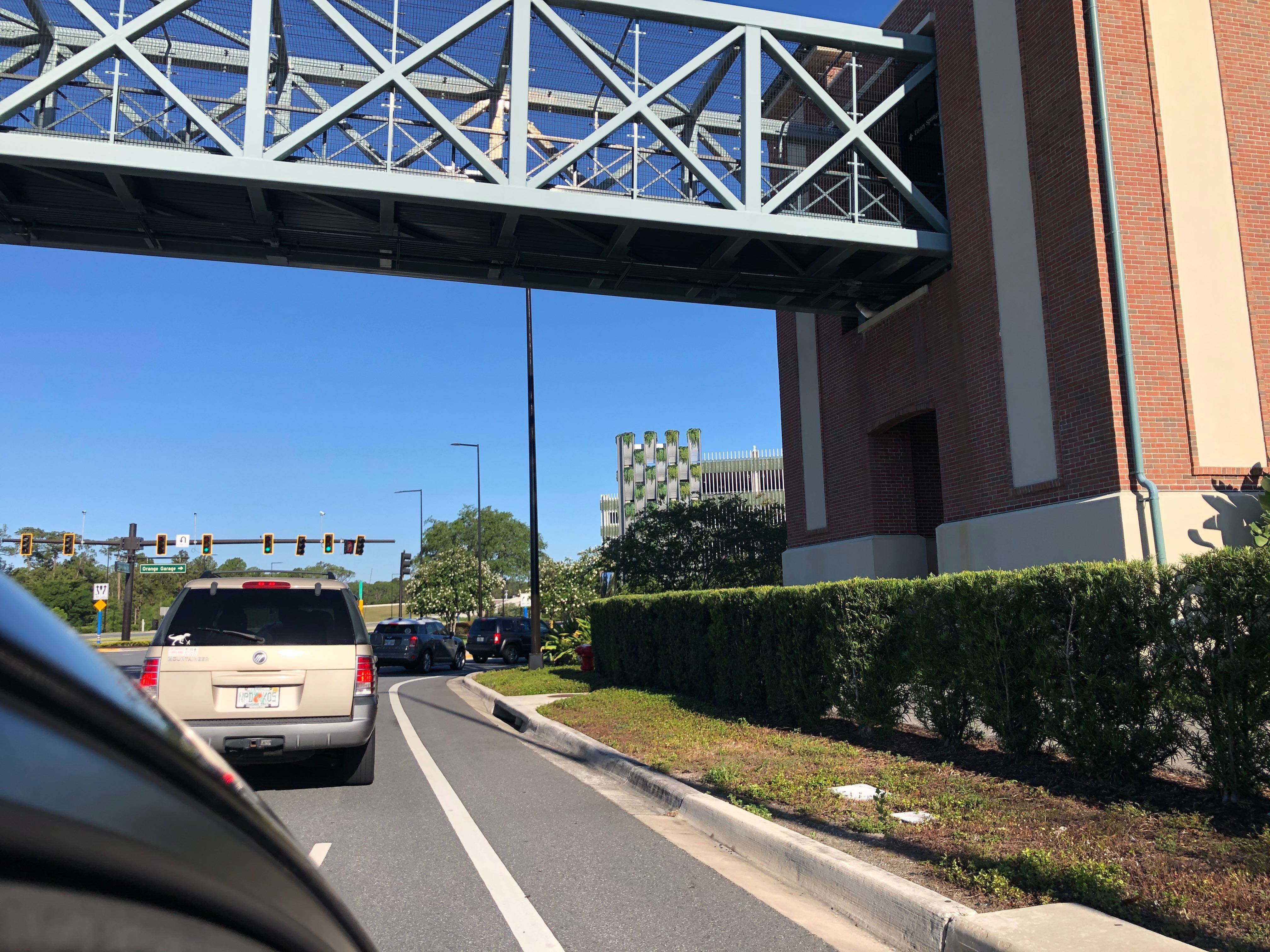 Disney Springs officially opens at 10:00 AM, but cars were able to enter the Orange Garage early. In anticipation of large Memorial Day crowds this weekend, we recommend arriving early to secure a parking spot.
Only the Orange and Lime parking garages will be available. No surface parking lots or valet will be available. Another important thing to note is that parking is first come, first serve. Once these two parking garages are full, no overflow parking will be permitted, even if you have a dining reservation for later in the day.
Parking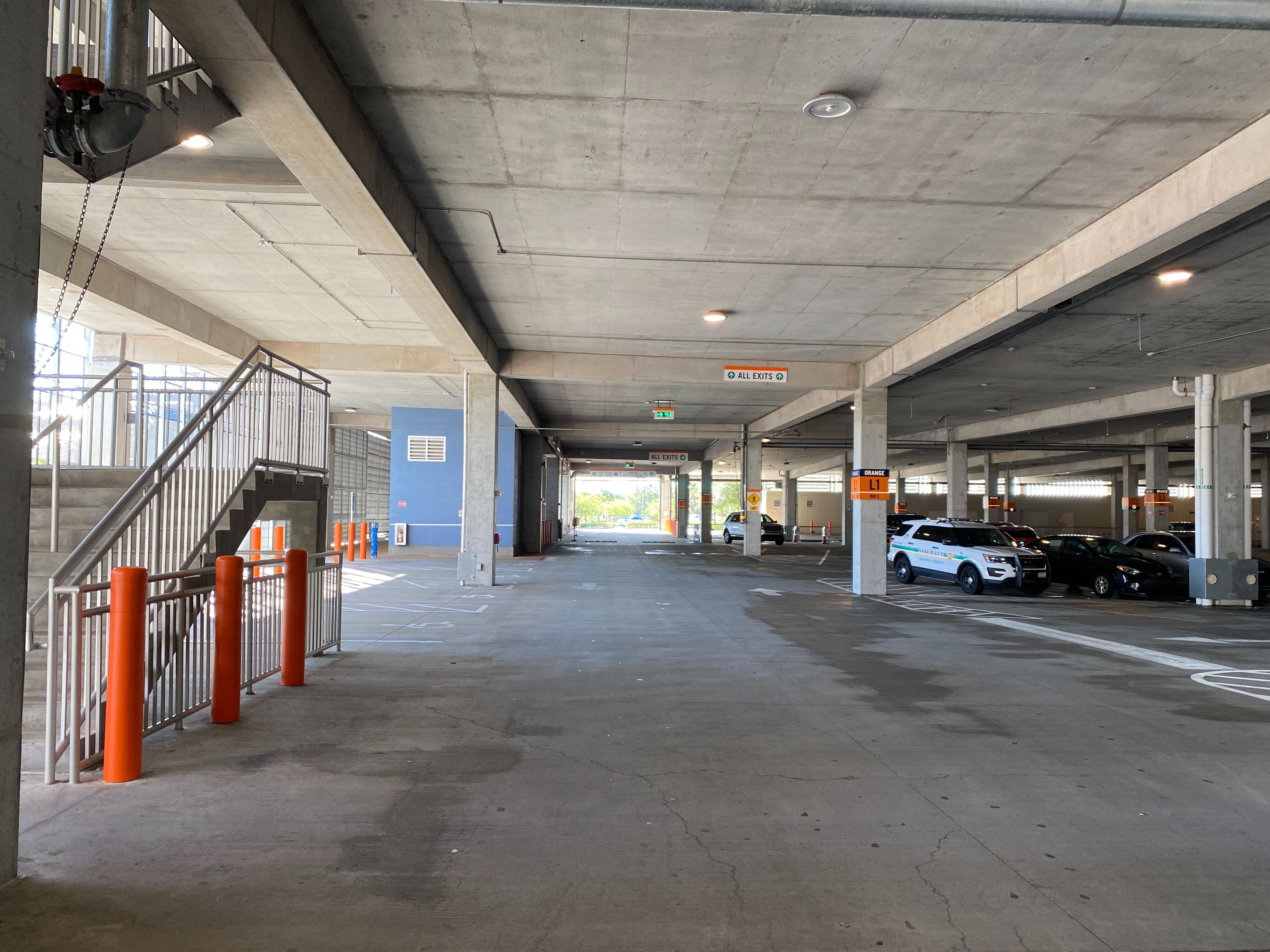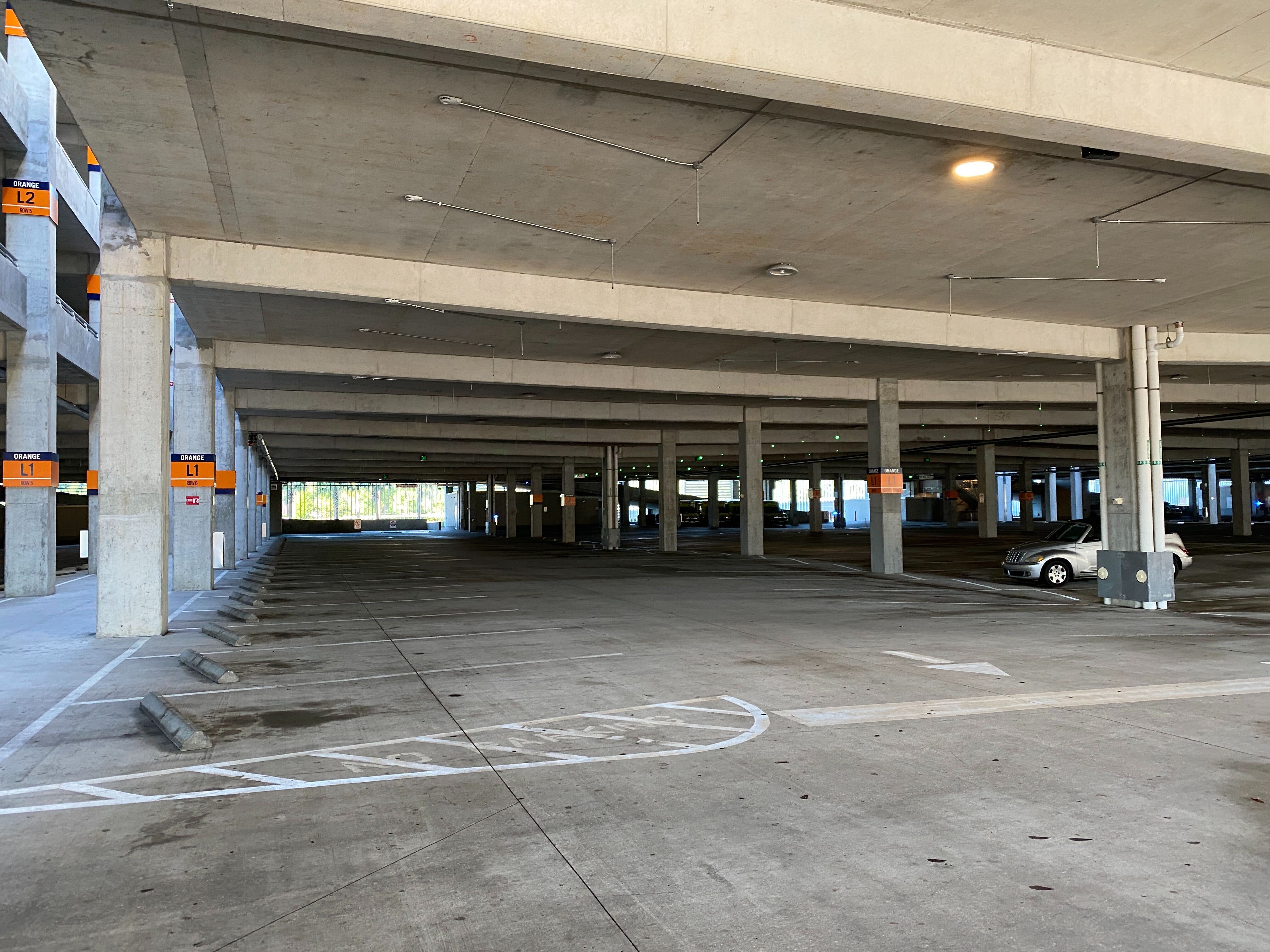 Unlike at CityWalk, there were no parking attendants to guide guests while parking inside the garages.
COVID-19 Warning & Entry Requirement Signage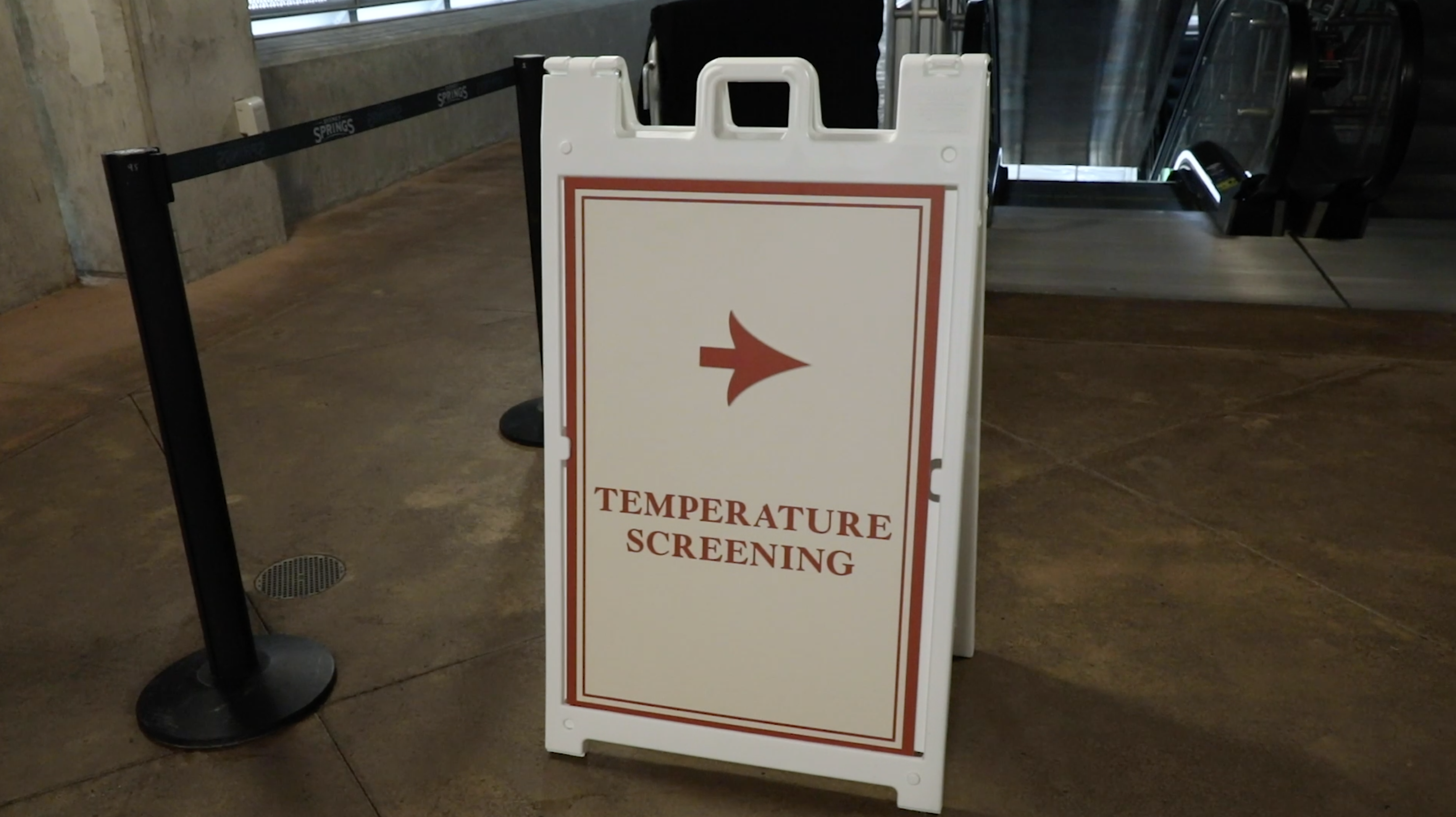 Once you're ready to go with your face mask on, follow the A-frame signs that say "Temperature Screening" to the designated temperature check area, located at the second-floor exits of Orange and Lime parking garages.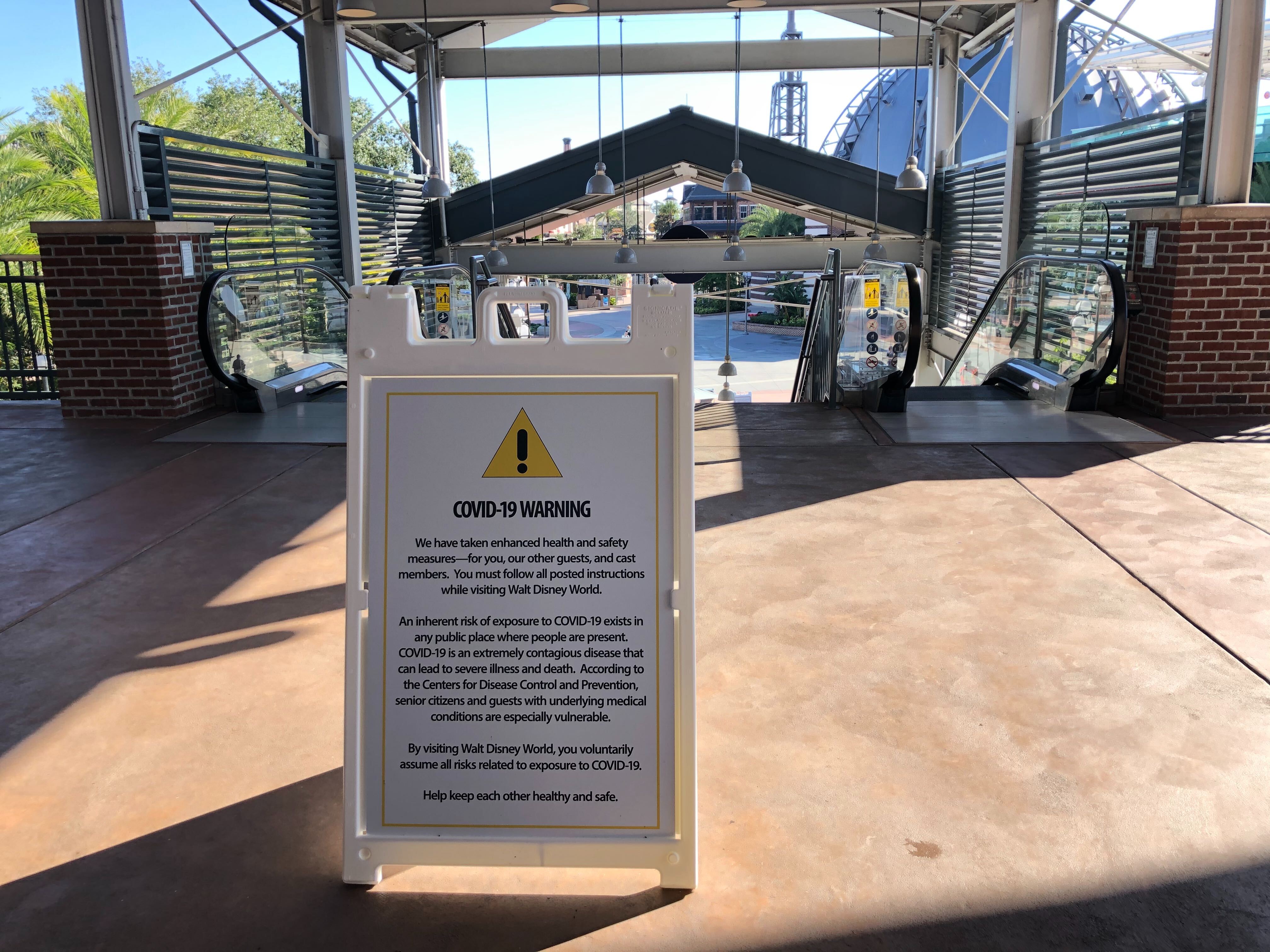 Along the way, you may encounter Disney's "COVID-19 WARNING" signs, which state that all guests voluntarily assume all risks related to exposure to COVID-19 by visiting Walt Disney World Resort.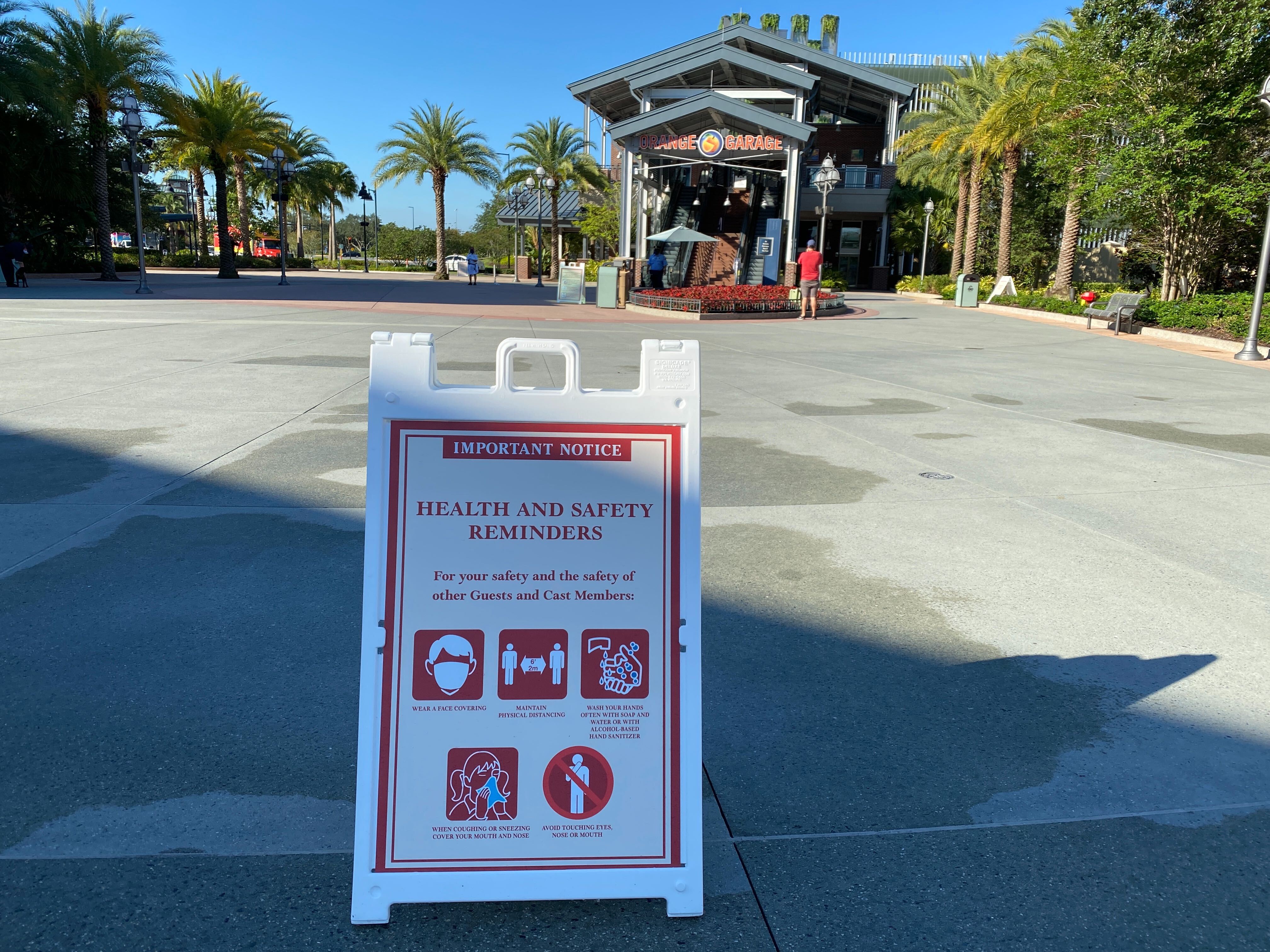 Additional signs outline requirements for admittance to Disney Springs: Face Coverings, Temperature Screenings, and Physical Distancing. New "Health and Safety Reminders" advise guests to wear face coverings, maintain social distancing at all times, wash their hands often with soap or with alcohol-based hand sanitizer, cover any coughs or sneezes, and avoid touching their eyes, nose, or mouth.
Temperature Screening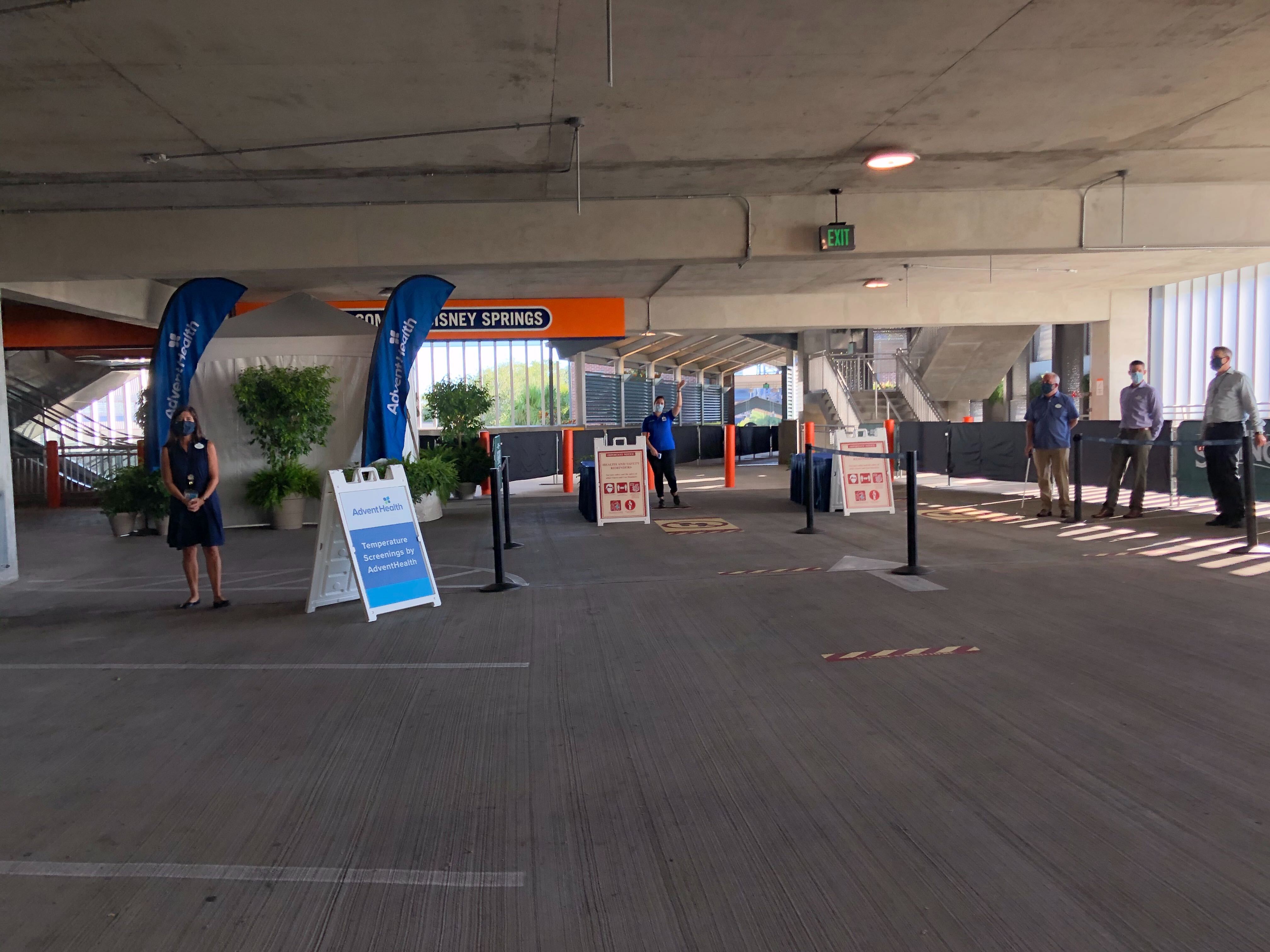 As you approach the temperature screening area, red-striped floor markings are set up six feet apart across separate queues separated by barriers. They're staggered, so guests don't wait side-by-side along the queues. Touch-free hand sanitizer stations are also available for guests to sanitize their hands.
Temperature screenings are provided by AdventHealth, a longtime medical partner with Disney. At Disney Springs, a medical professional will be taking your temperature upon entry. This is a marked difference from CityWalk at Universal Orlando, where Security hosts take temperatures instead. If you or any member of your party has a temperature of 100.4 or higher, the entire party will be denied entry. Face masks will also be required for all guests over the age of 3, and must cover your mouth and nose at all times.
You move up marker to marker with your party until at the front of the line and wait to be called by the AdventHealth host. You then stand at that line along the floor while they point the touchless thermometer at your forehead to read your temperature. It all sounds very intimidating, but it's actually pretty simple. Here's a video on how it works:
Bag check has never been required at Disney Springs, and will not be required at this time.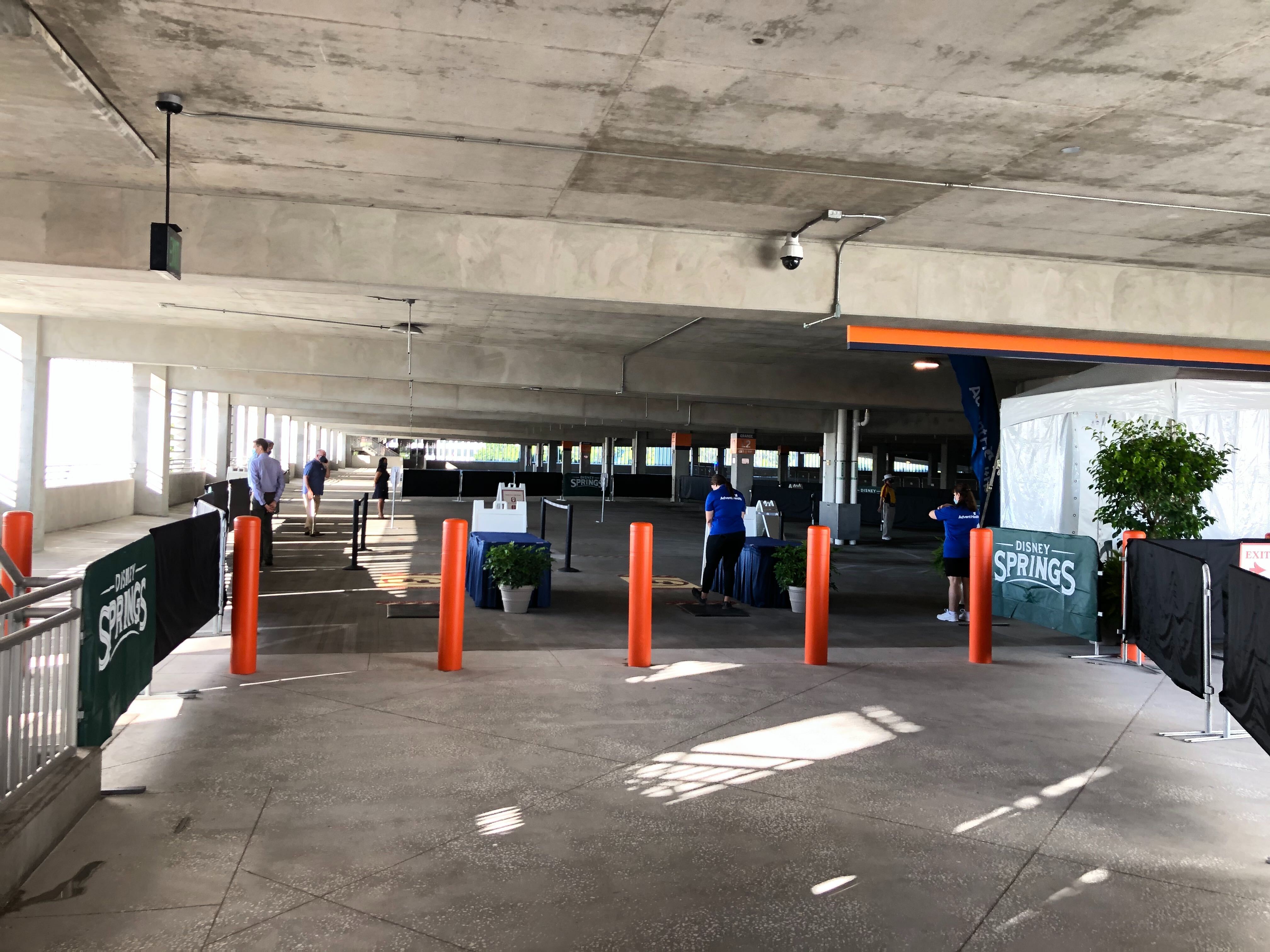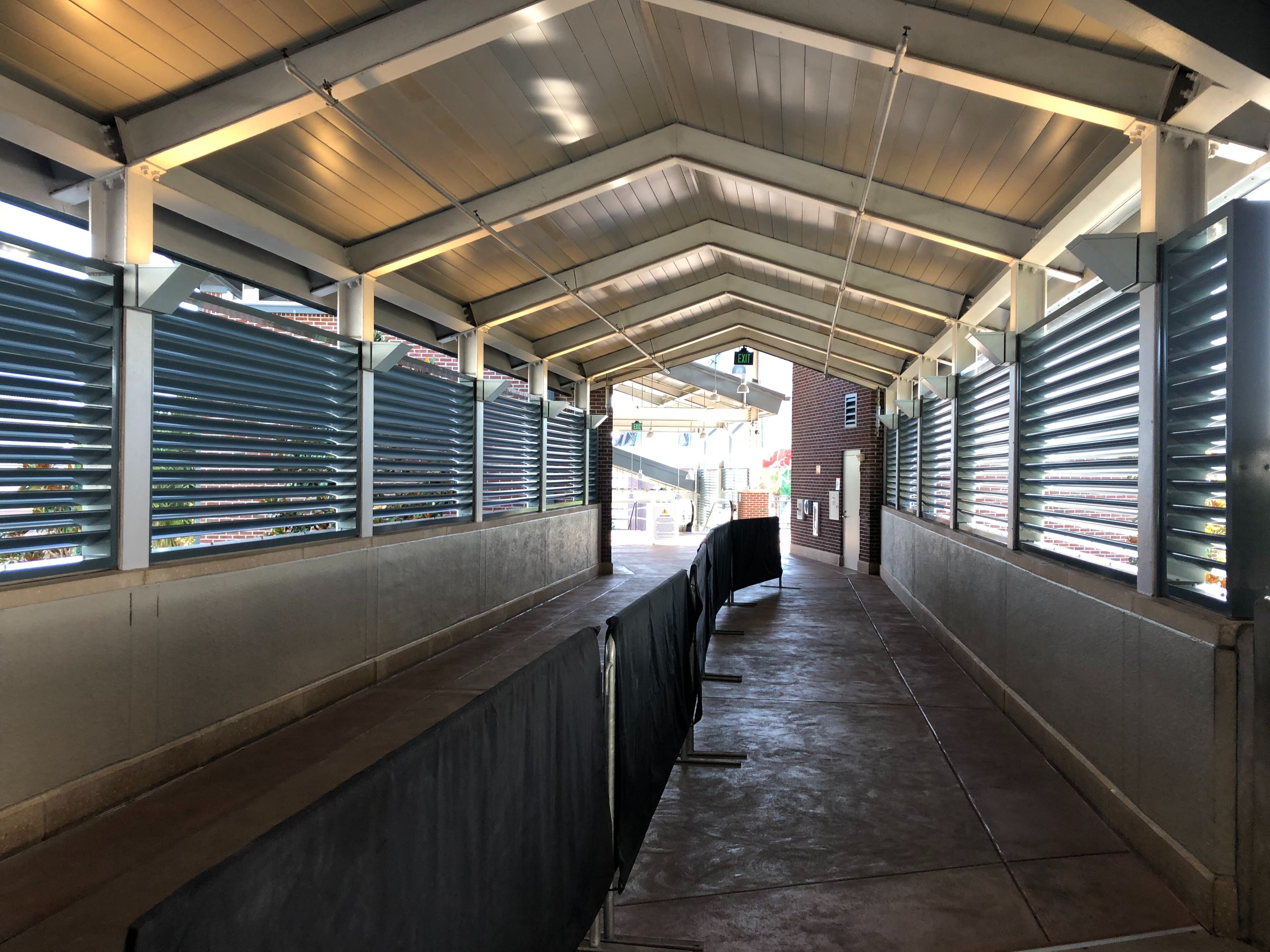 Parking garages are set up so all guests entering Disney Springs after temperature screening are separated from guests exiting. Floor markers indicate which areas are "Exit Only".
Face Masks
As a reminder, face masks are a requirement in order to enter Disney Springs, and must be worn at all times throughout the shopping and dining complex unless you're actively dining at a restaurant or having a snack.
Disney Springs Greeting Team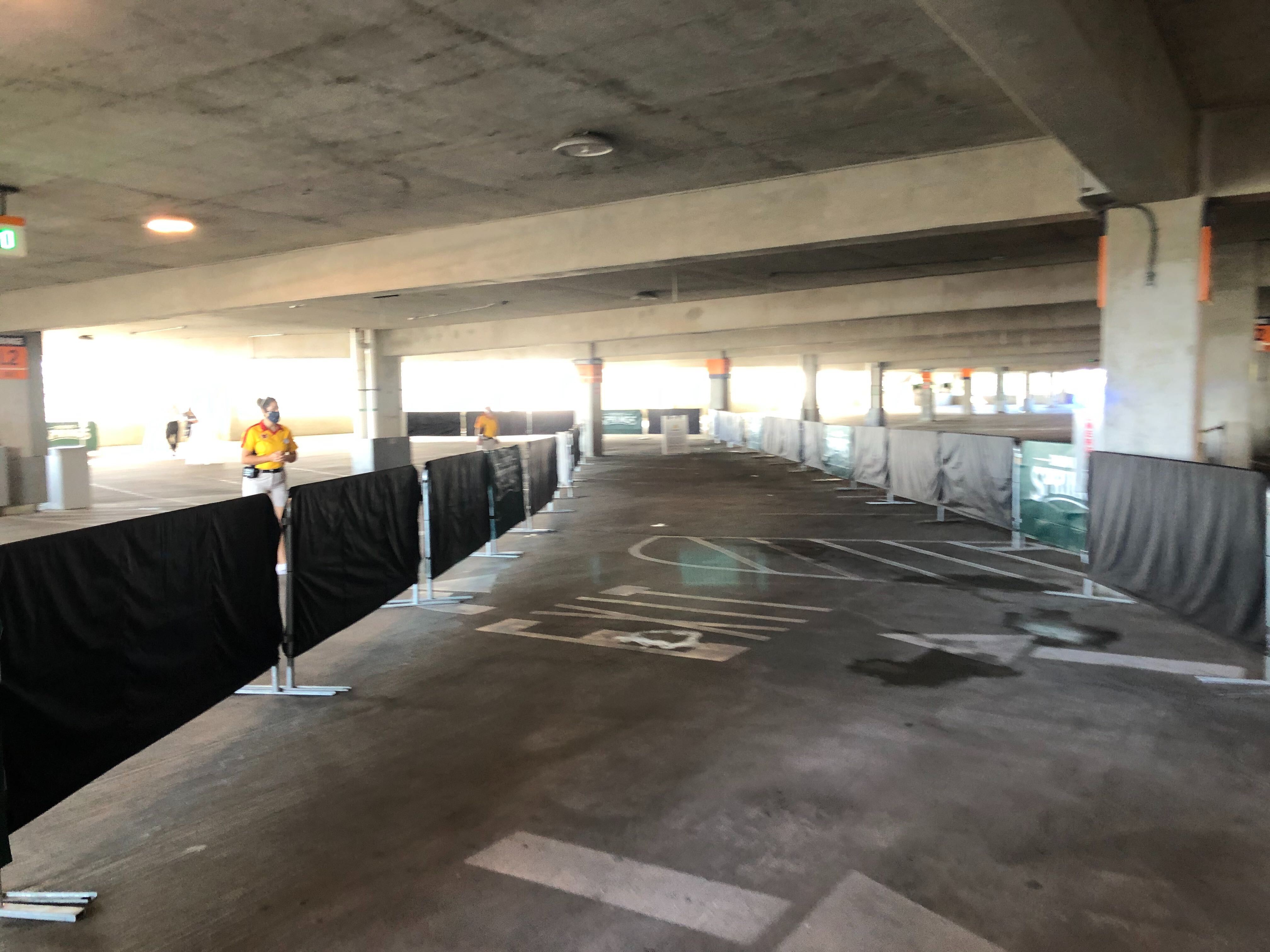 A special team of Cast Members await as you enter the shopping, dining, and entertainment district. This team, consisting of former Resort Children's Activities Cast, reminds guests to partake in safe practices like wearing masks and social distancing, but with a fun and engaging Disney twist.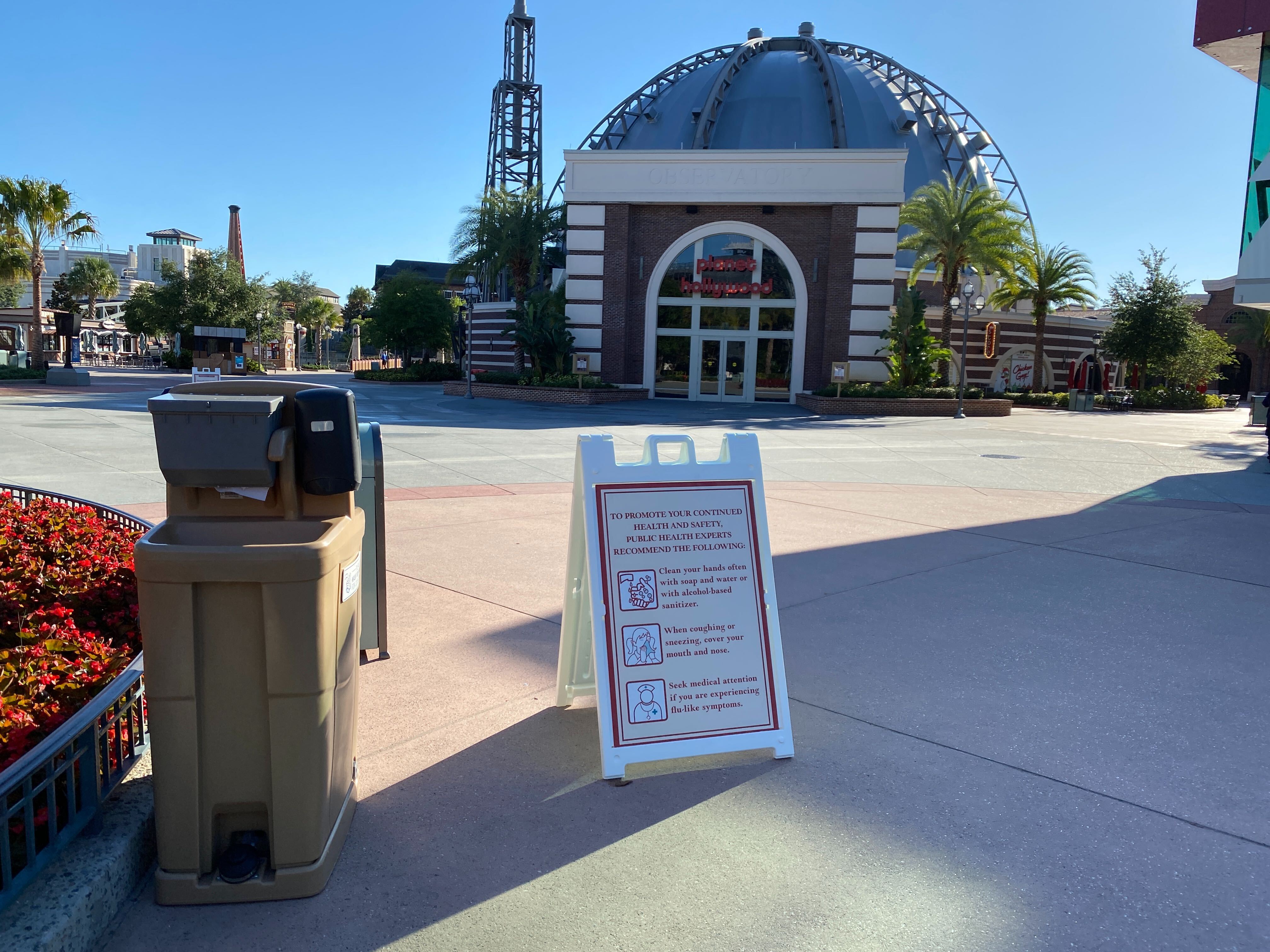 And you're in! A hand washing station is located at the ground floor.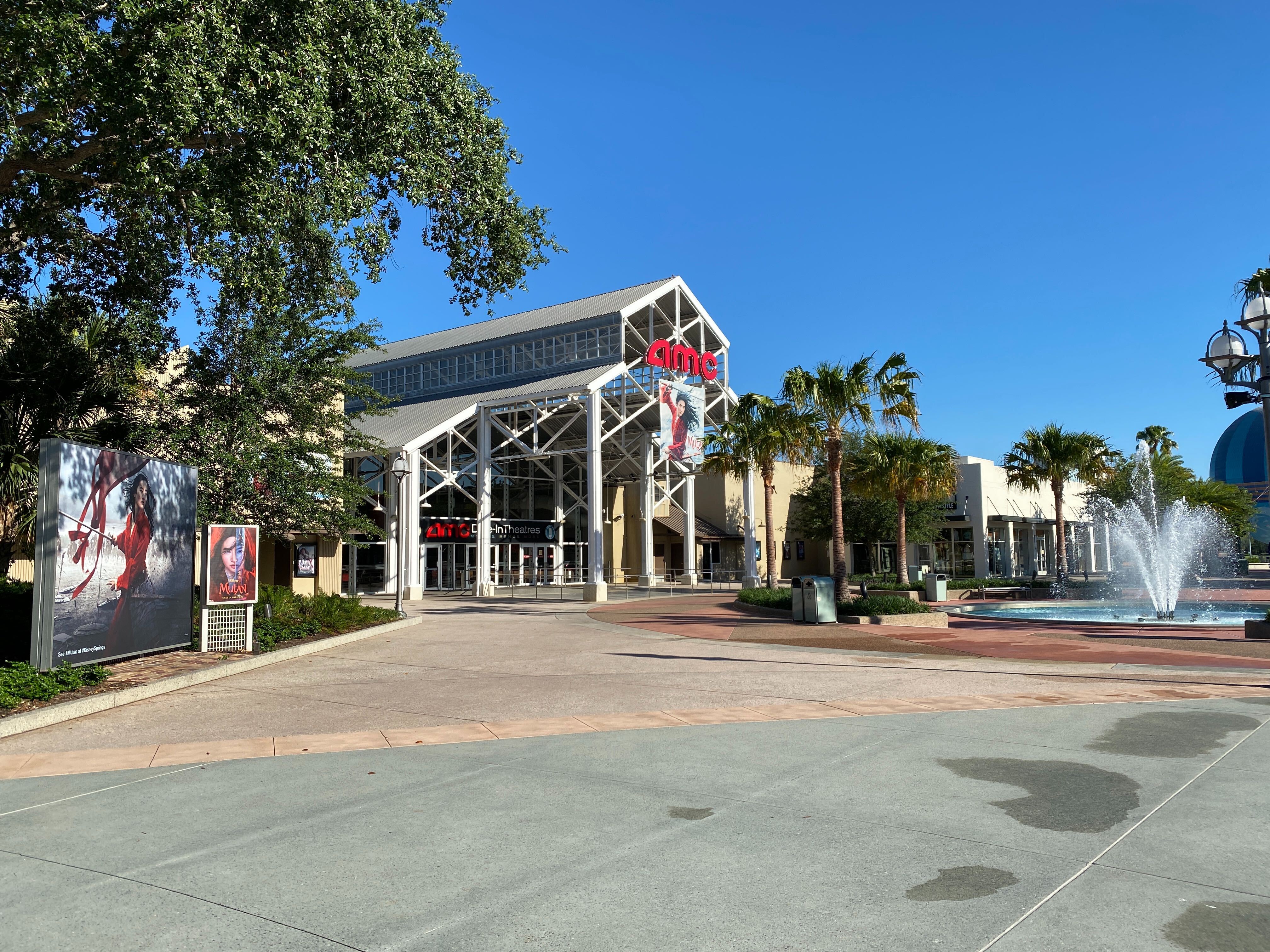 Welcome back to Disney Springs!
To check out the full list of reopened stores and restaurants at Disney Springs starting today, click here.
You can review all of the new Disney Springs guidelines here, and don't forget to read up on some of the Frequently Asked Questions here.