Back in April, we spotted beta testing of new prompts throughout My Disney Experience informing guests that online check-in was now required. While that was just a test, with Disney Vacation Club resorts reopening on June 22, it seems a new, modified prompt has been added to the app, stating that Online Check-In is "strongly recommended."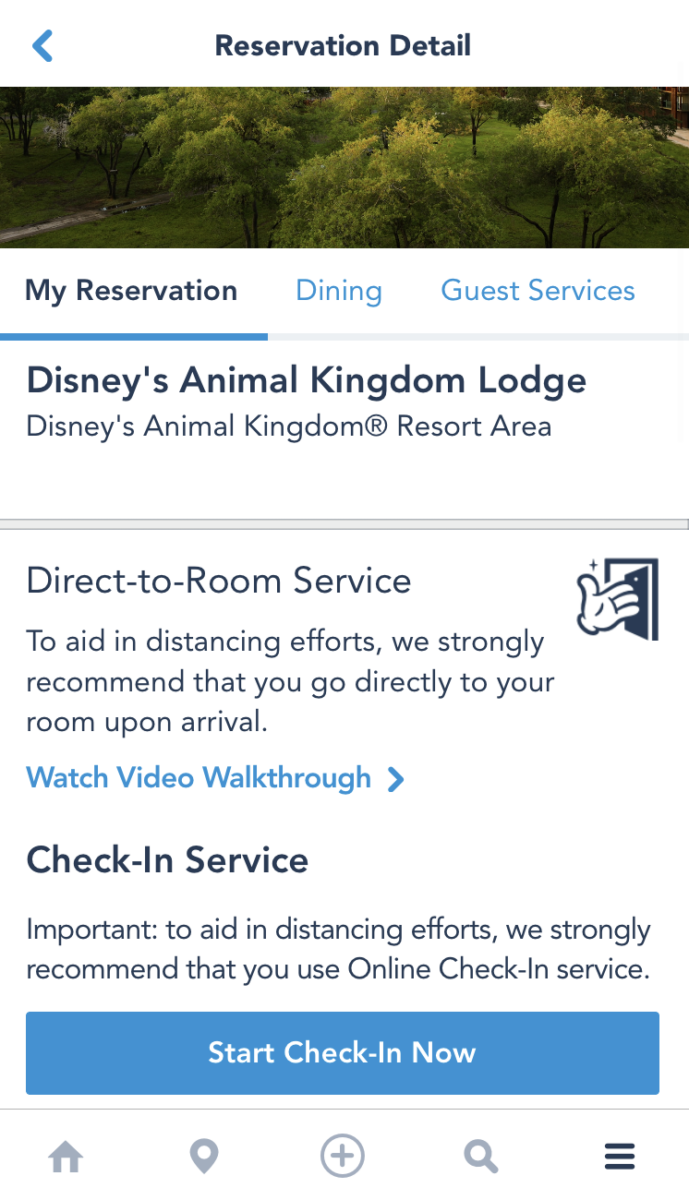 As you scroll through your "My Plans" segment of My Disney Experience, it will prompt you to "Start Check-In Now" for any upcoming reservations. The Direct-to-Room service is now being used as a means of aiding in social distance efforts throughout the resorts, allowing guests to bypass any unnecessary interactions and go directly to their rooms upon arrival.
Through this system, we assume Front Desk Cast Members would still be available to assist guests with other needs. Room entry can also be simplified by use of the Bluetooth-enabled "Unlock Door" feature on the My Disney Experience app.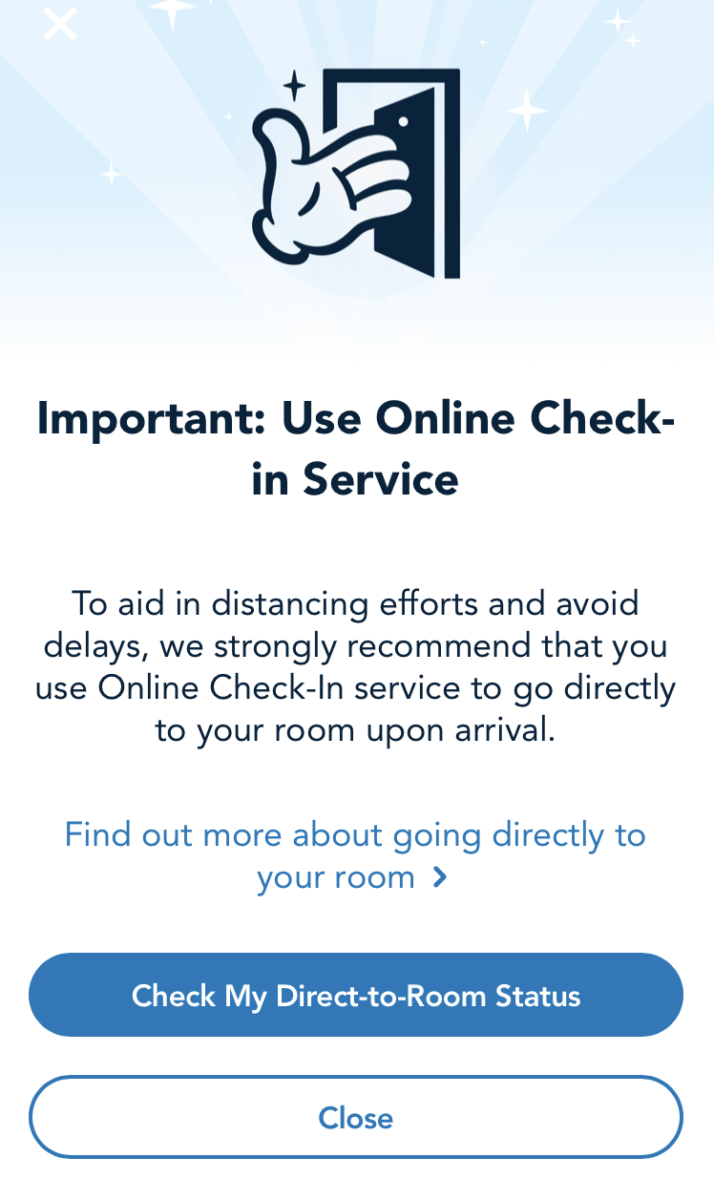 A new page prompts you to check your Direct-to-Room Status. Previously, Direct-to-Room was merely offered as an alternative option for guests wishing to skip the front desk, but it seems Disney is being far more forward about the service, especially considering how it's been integrated into the Online Check-In process on the app.
The Online Check-In page appears unchanged, with the form asking for the lead guest's email and U.S. Mobile Number, as well as approximate arrival time, and the option to decline MagicBands. Walt Disney World paused all new MagicBand orders shortly after the closure, but remember, any old MagicBands you may have, even if you received MagicBands for a cancelled reservation, can be used on any upcoming trips so long as they are linked to your My Disney Experience account.

Recommendations for Online Check-In are also outlined on Disney's new "Know Before You Go" resort information landing page. Here, it's reiterated that guests should either use their MagicBands or the digital key feature on My Disney Experience to enter their rooms upon arrival, with the option of picking up MagicBands if necessary at the front desk.
To learn how to unlock your Walt Disney World Resort hotel room door using the My Disney Experience app, check out the video below:
As far as international guests are concerned, it's unclear how the increased shift towards Online Check-In will affect those arriving from abroad. What do you think of this new push towards contactless check-in at the resorts? Let us know in the comments.