Since Friday, March 20th, 2020, Universal Studios CityWalk has been closed. After 82 long days of closure, CityWalk opened to the public today at noon. Follow along in our very first Universal Studios Hollywood CityWalk Photo Report to take a look at the opening operations and more!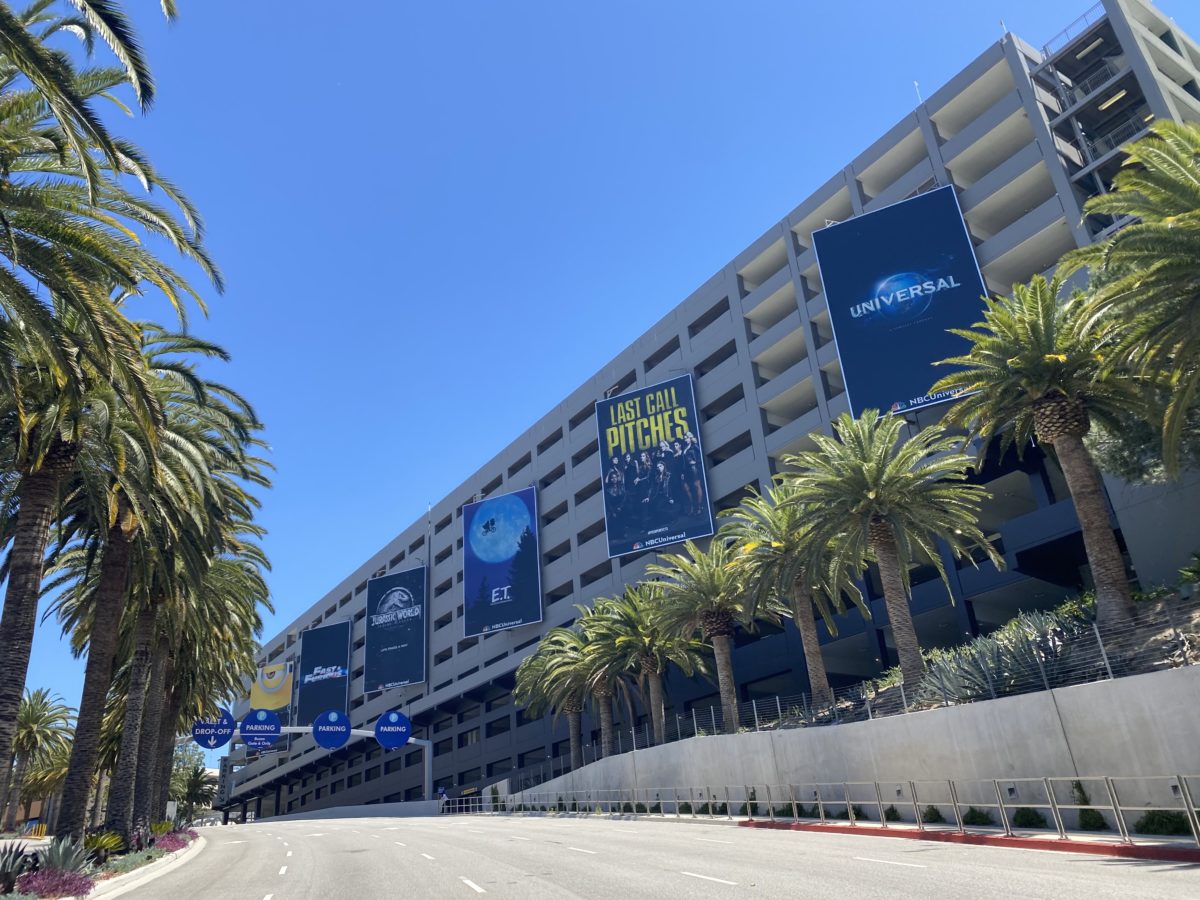 We arrived around 11:45 am and made our way over to Jurrasic Parking. The parking today was complimentary. Universal movie posters such as E.T. the Extra-Terrestrial, Jurrasic World, and Fast and Furious greeted us as we entered.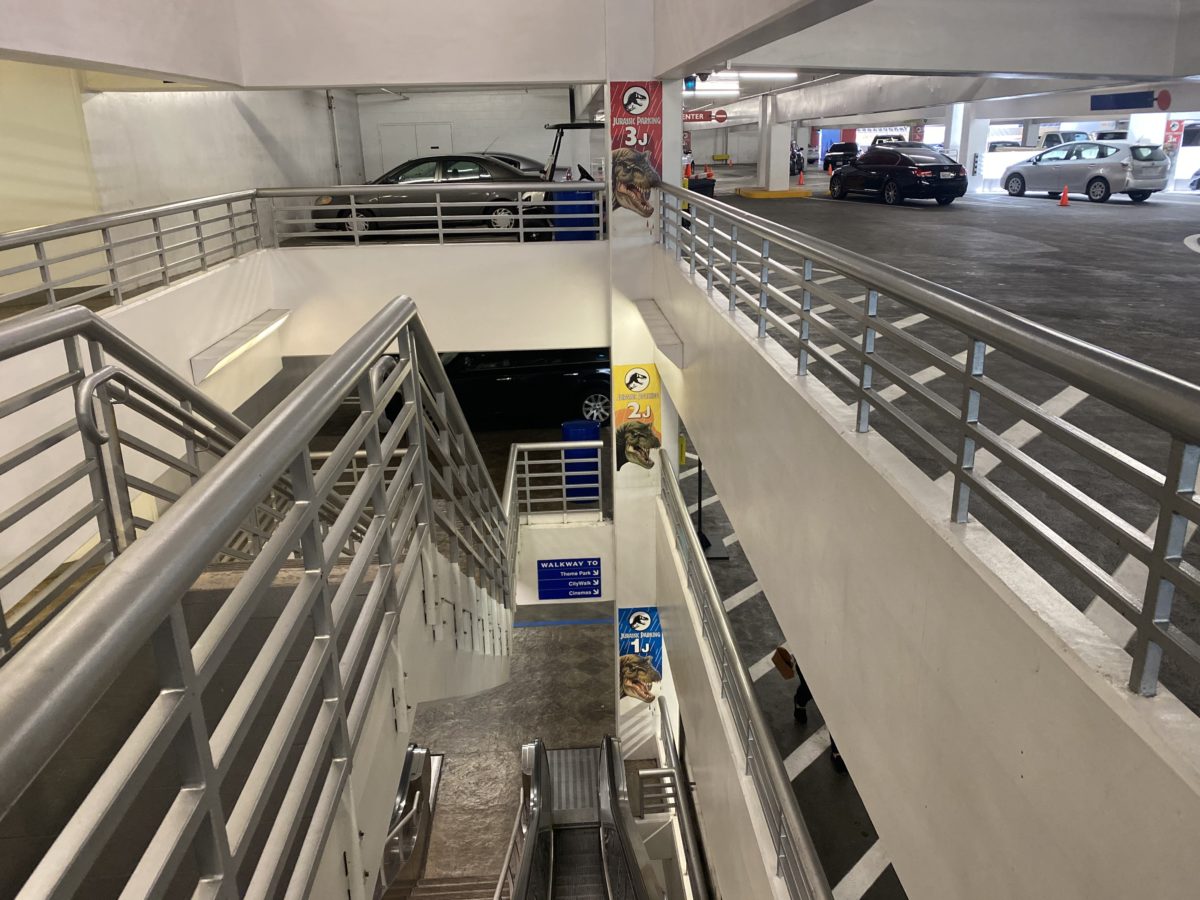 We parked on Level 3, then walked down to Level 1 to get our temperature checked.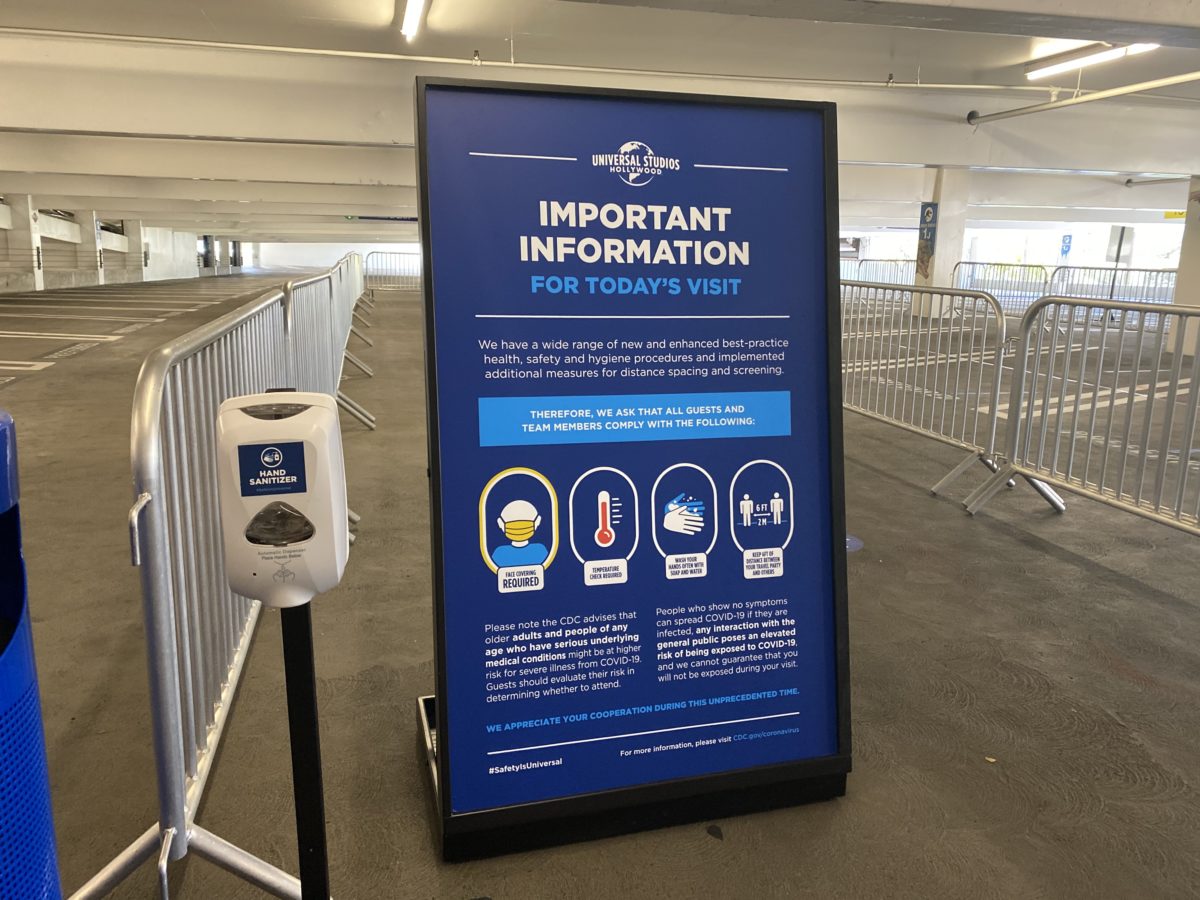 As you approach the temperature check station, there is signage requesting guests to follow the new hygiene procedures that have been implemented, such as wearing a face covering, passing a temperature screening, washing your hands, and keeping a 6-foot distance between others.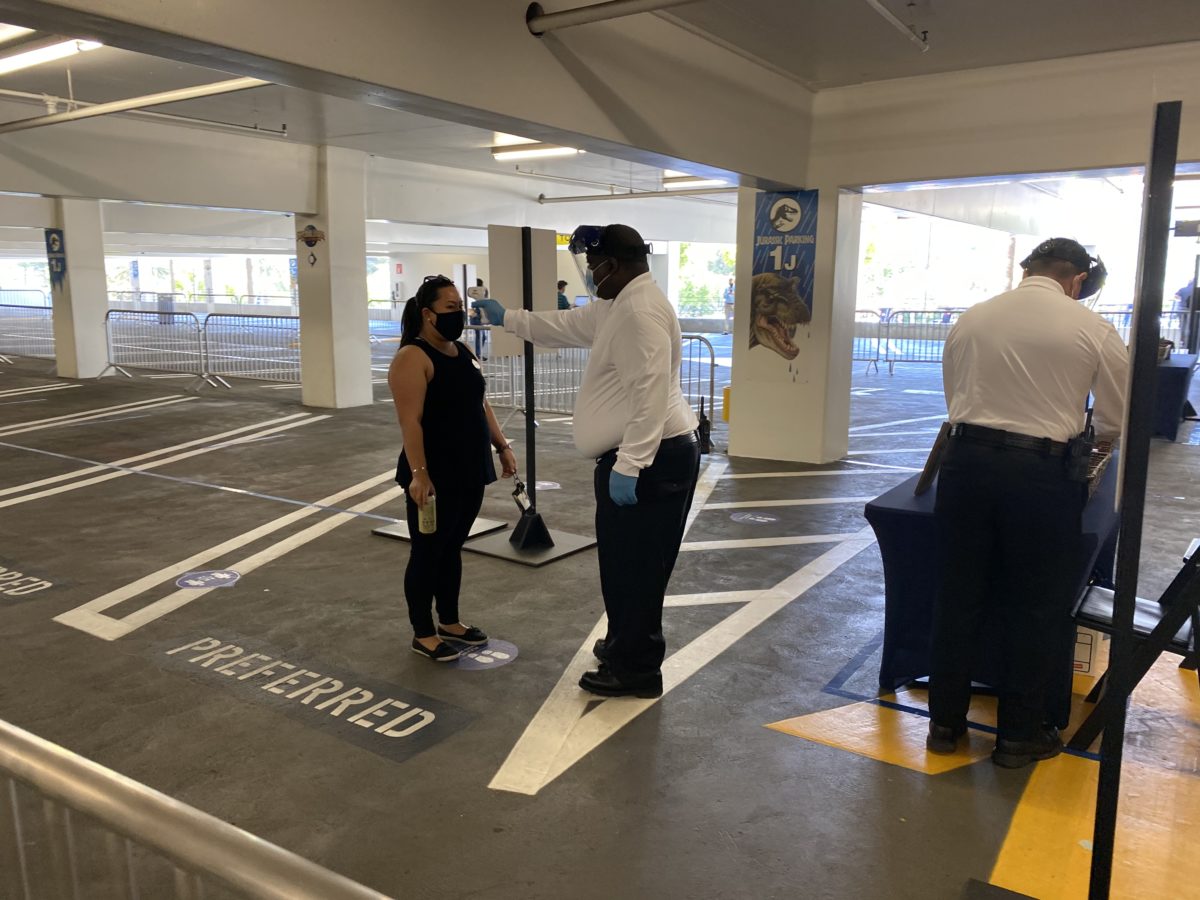 For temperature screenings, Team Members use a contactless thermometer to check guests' temperatures. Once you have been cleared, you can enter CityWalk. There was no type of bag check point at CityWalk today.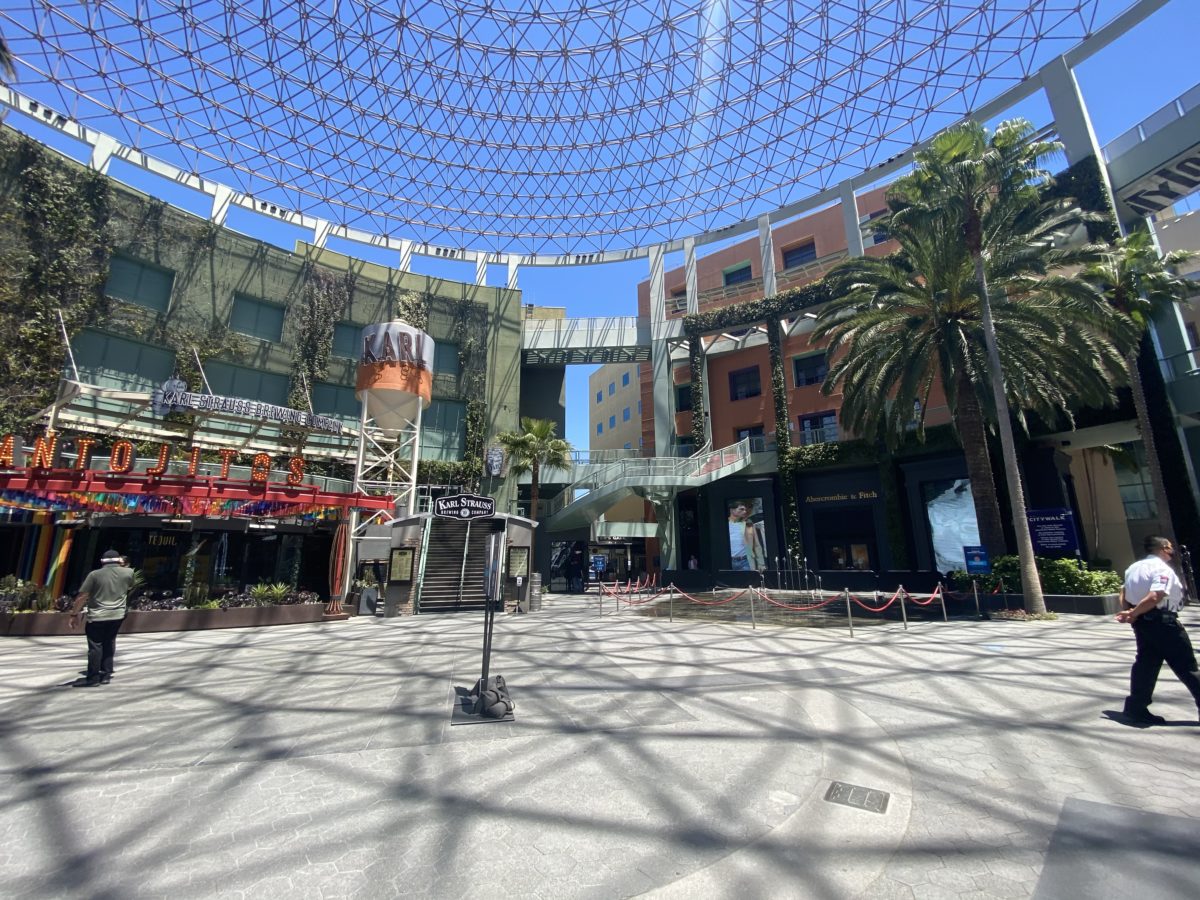 We made it in! While not everything was open, these particular restaurants and stores were operating:
Eateries
Shopping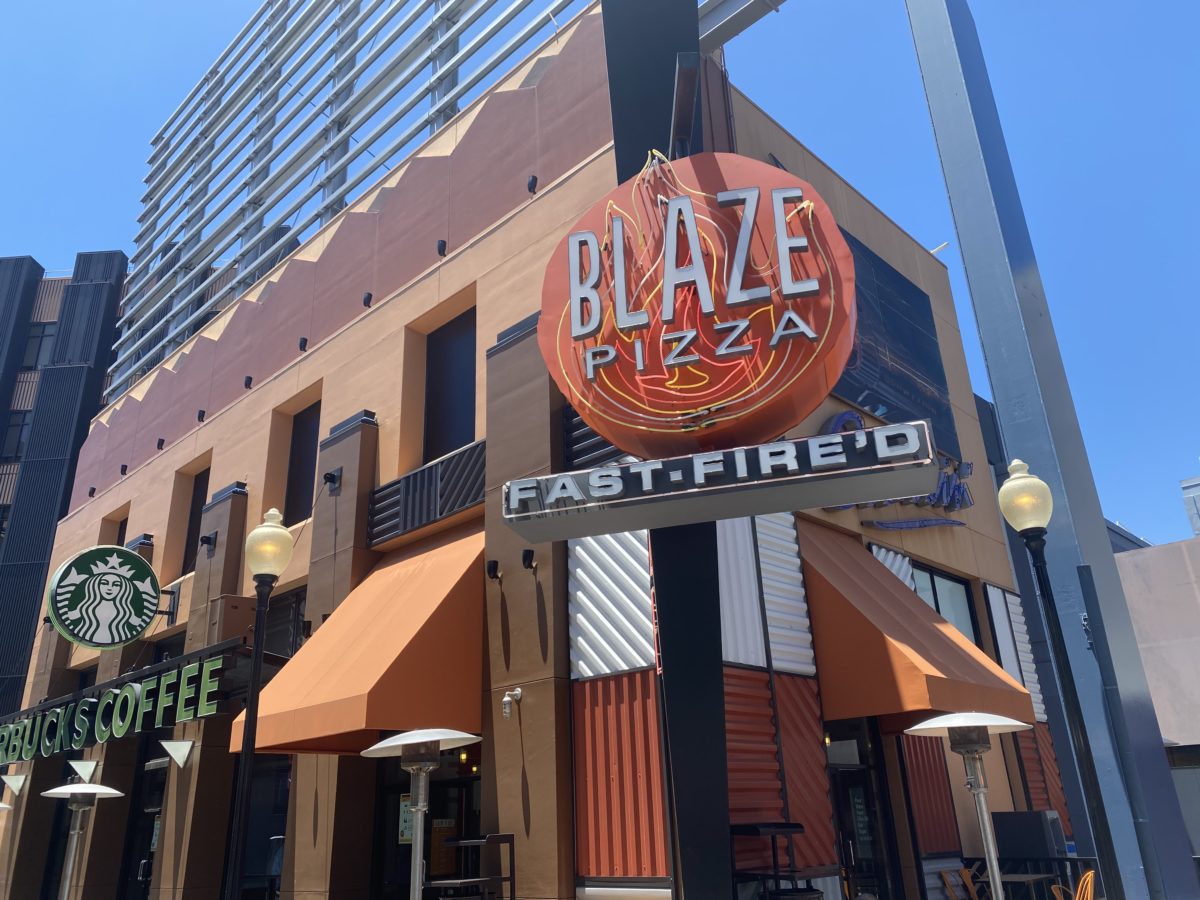 Blaze Pizza, which is located on the ground level next to Starbucks, was fast and fire'd, ready to welcome guests.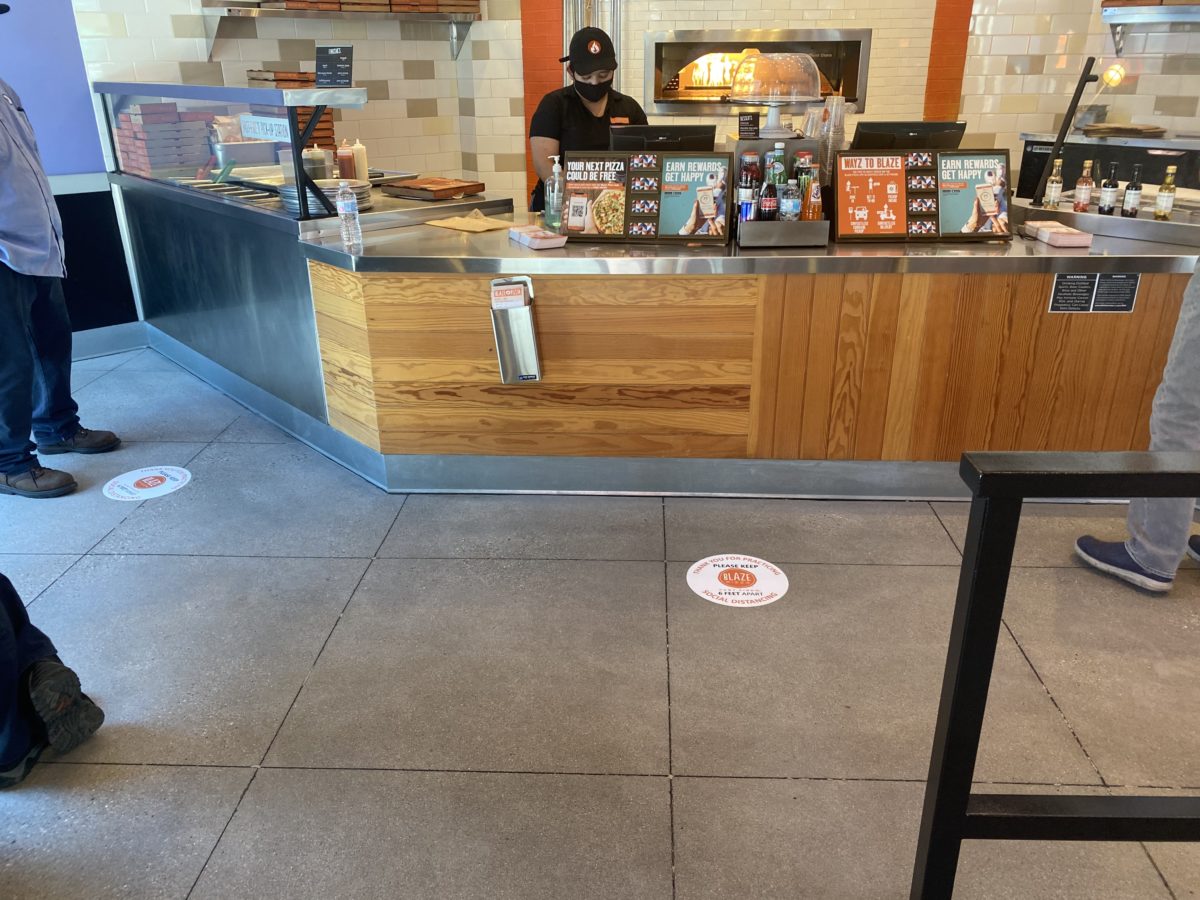 Social distancing markers were placed on the floor 6 feet apart.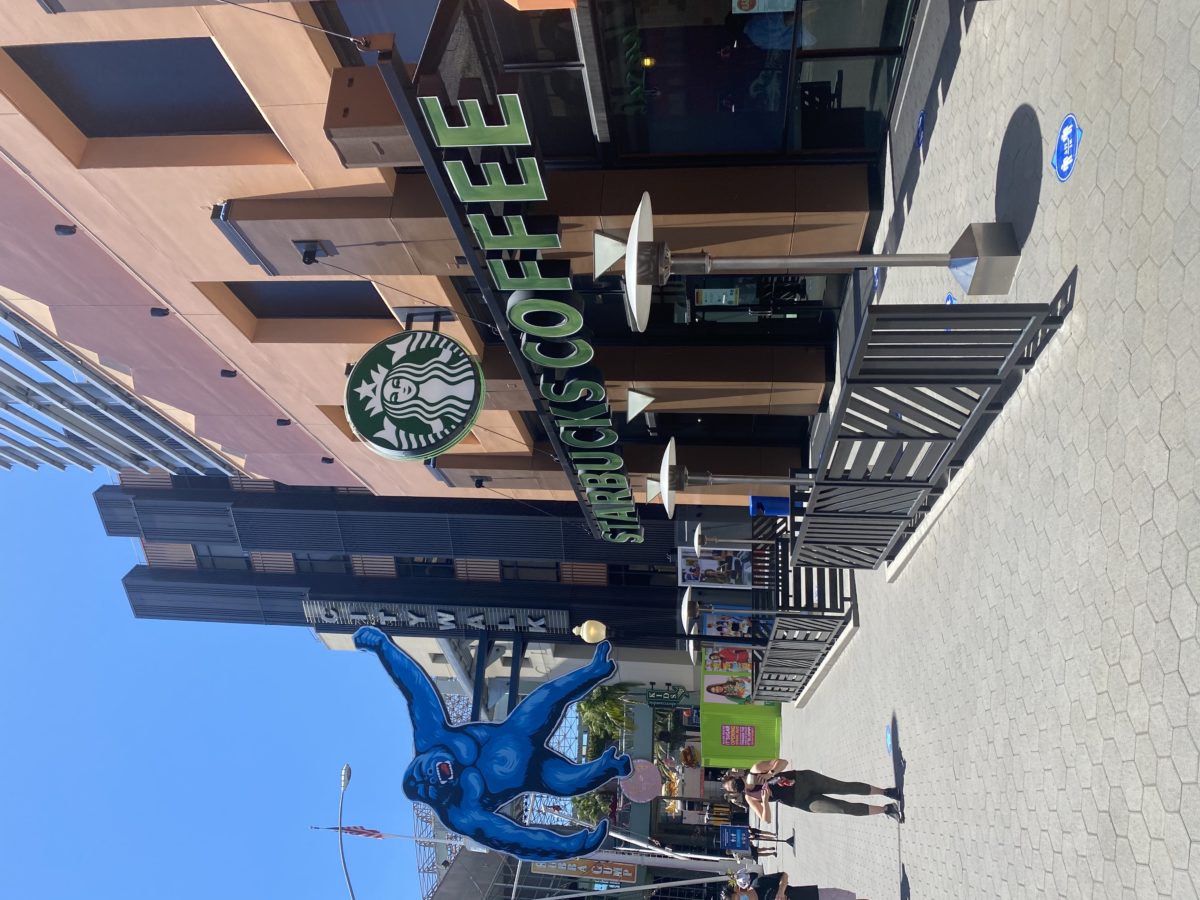 Next door, Starbucks followed suit with similar social distancing markers.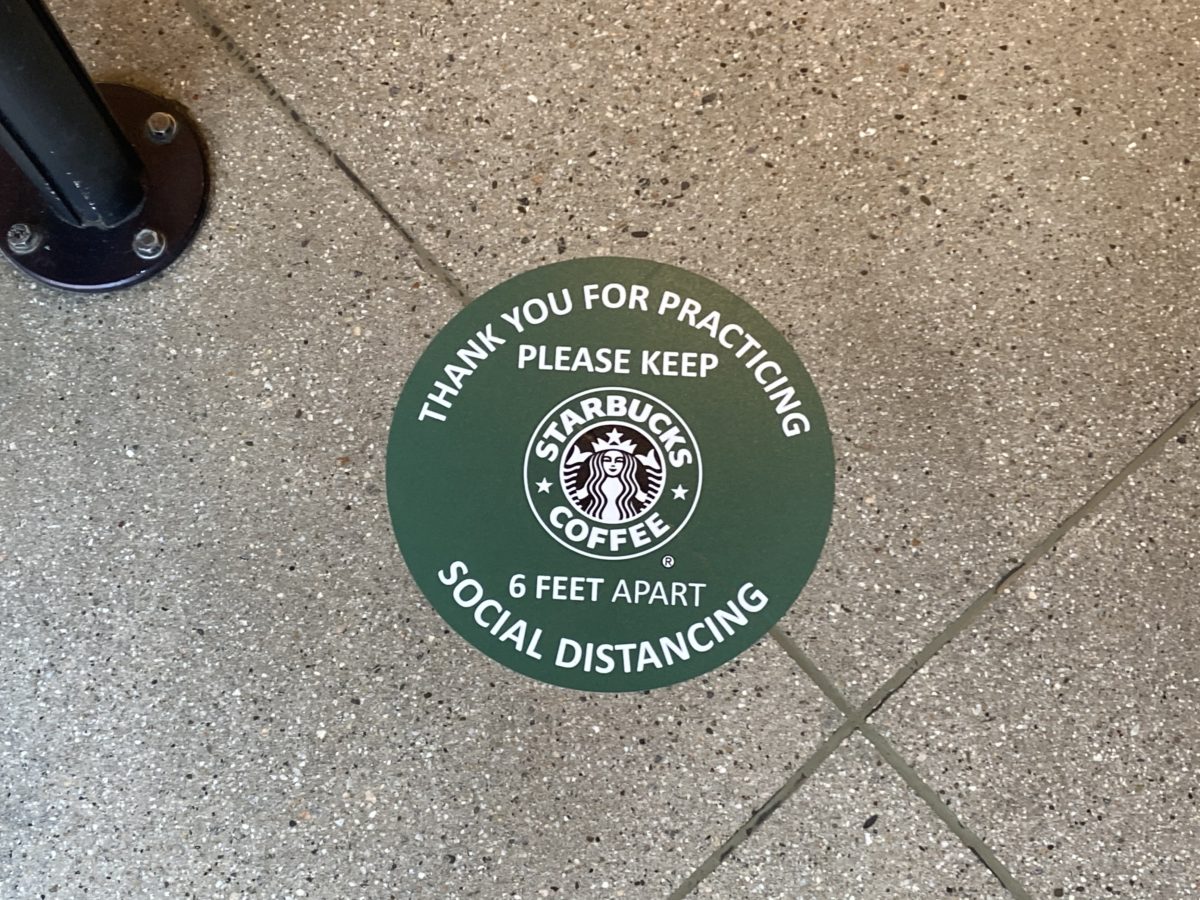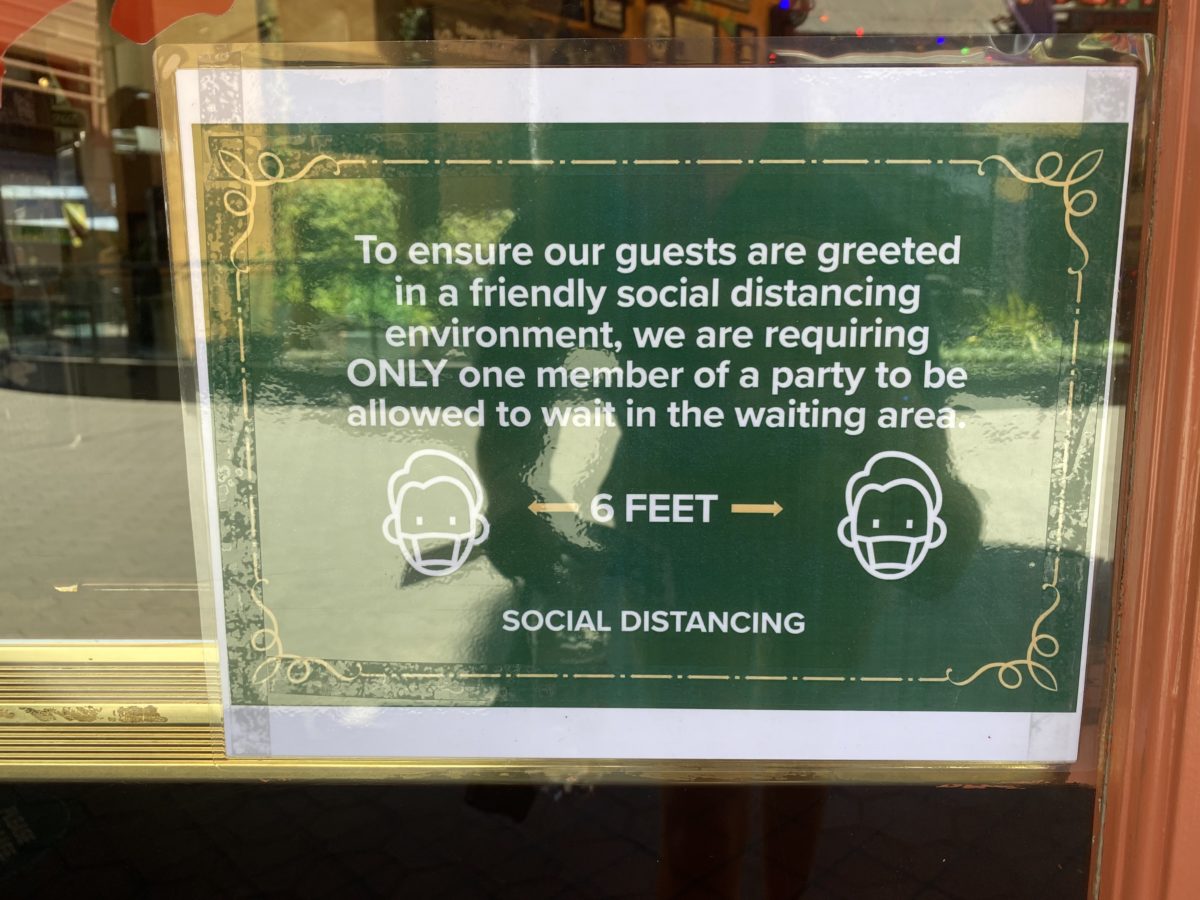 Starbucks asked that only one member of each party enter the indoor waiting area.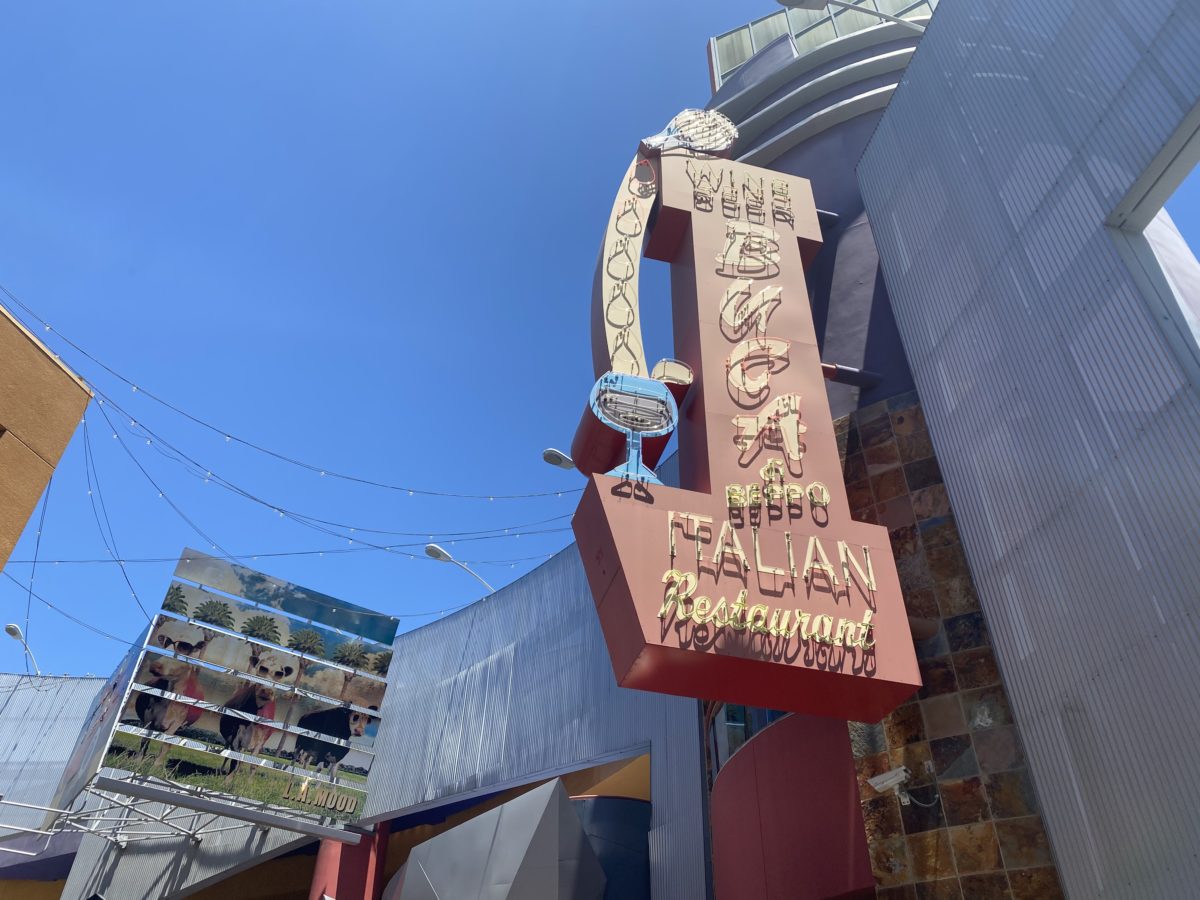 Buona sera, Buca di Beppo! We went inside to check out the social distancing markers in place at this popular Italian eatery.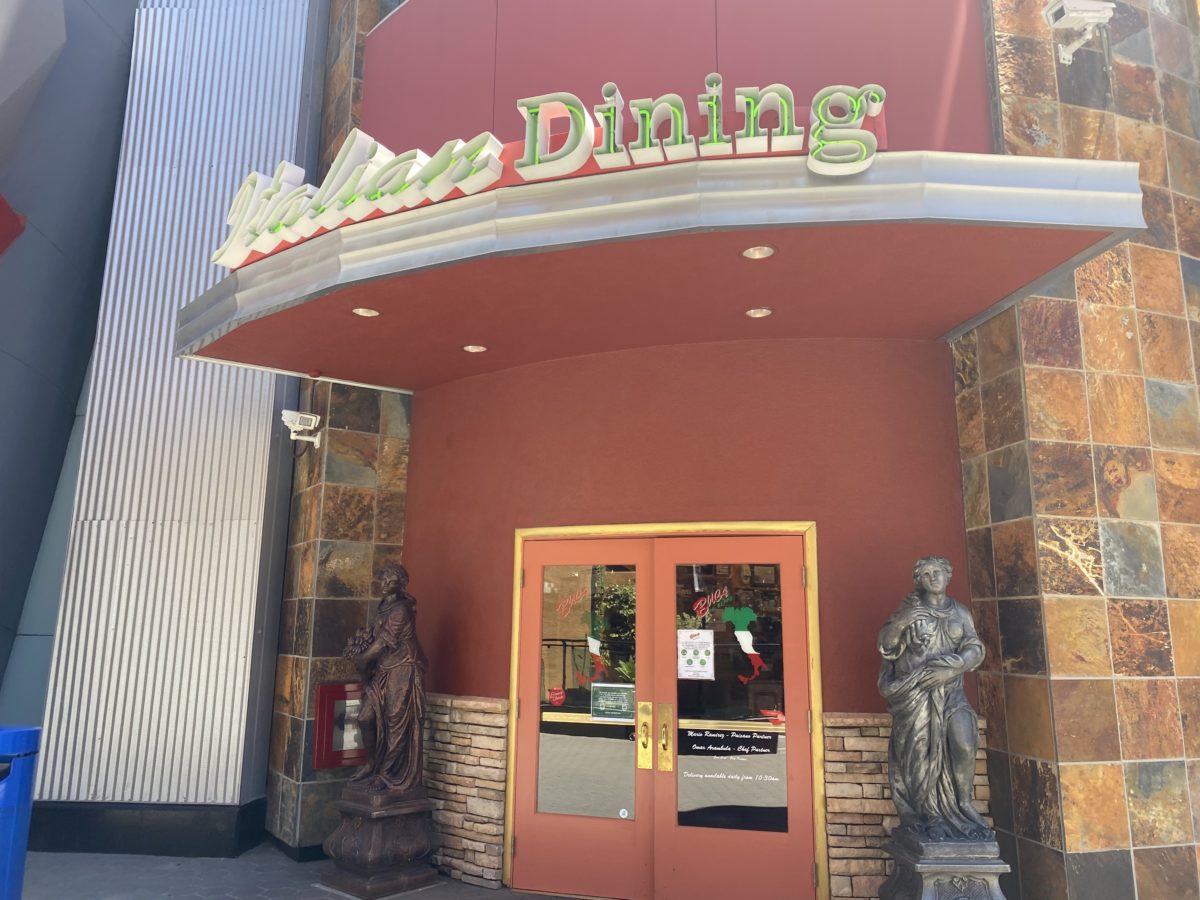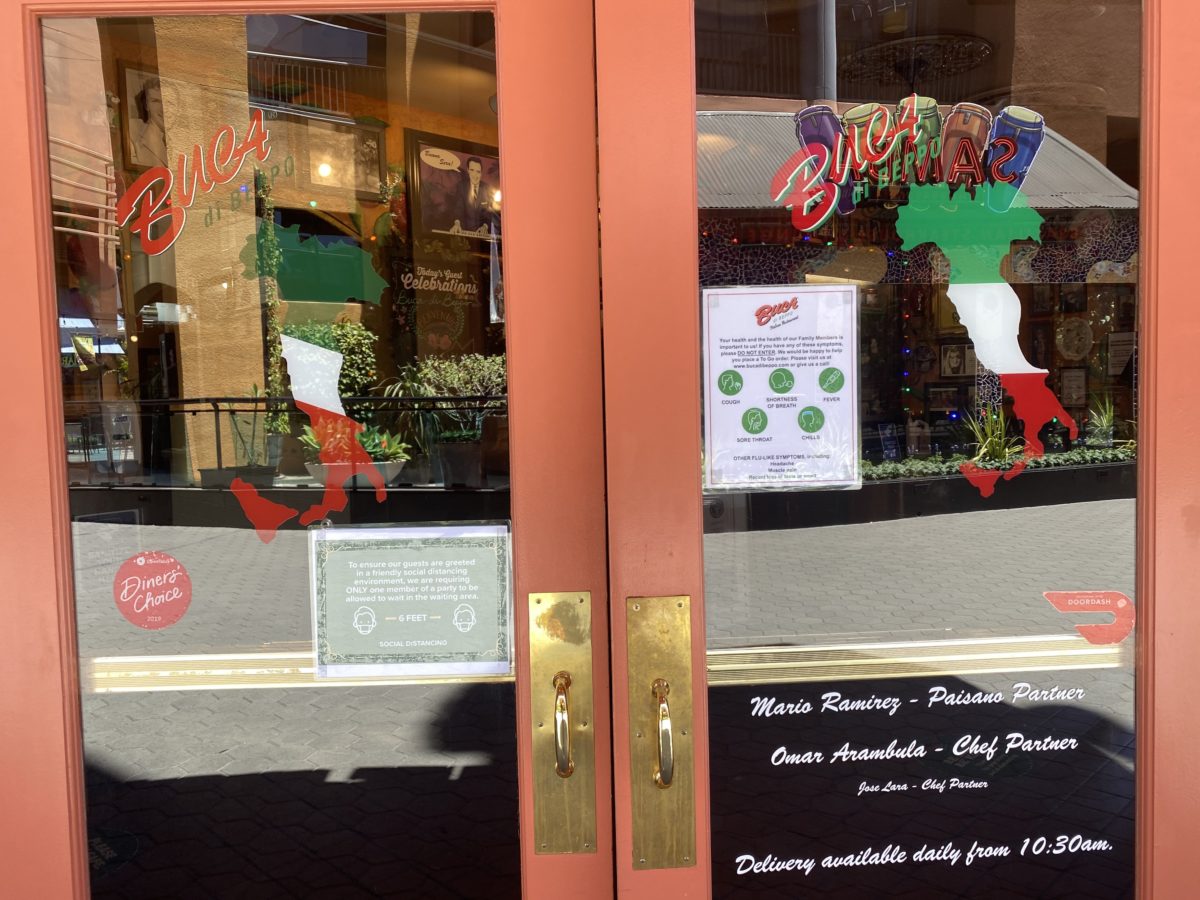 Signage reminded guests at the door of the new hygiene procedures.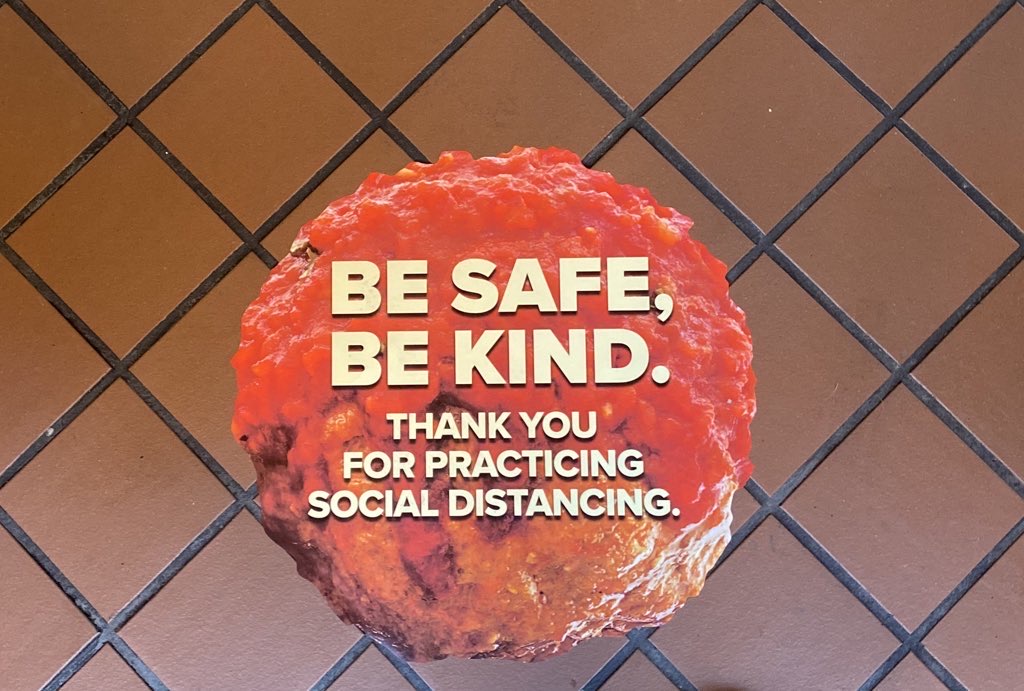 I don't know about you, but I love this meatball social distancing marker.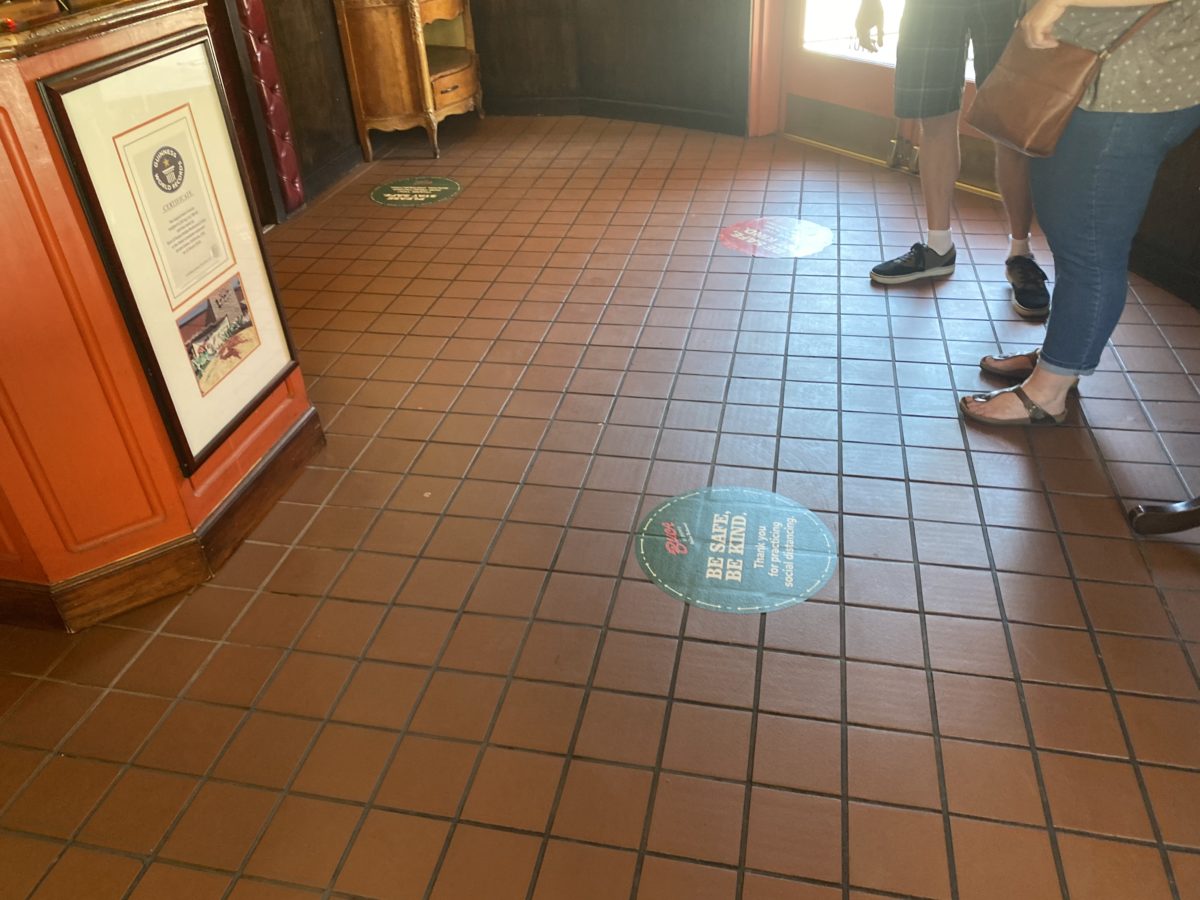 Social distancing markers surrounded the host stand.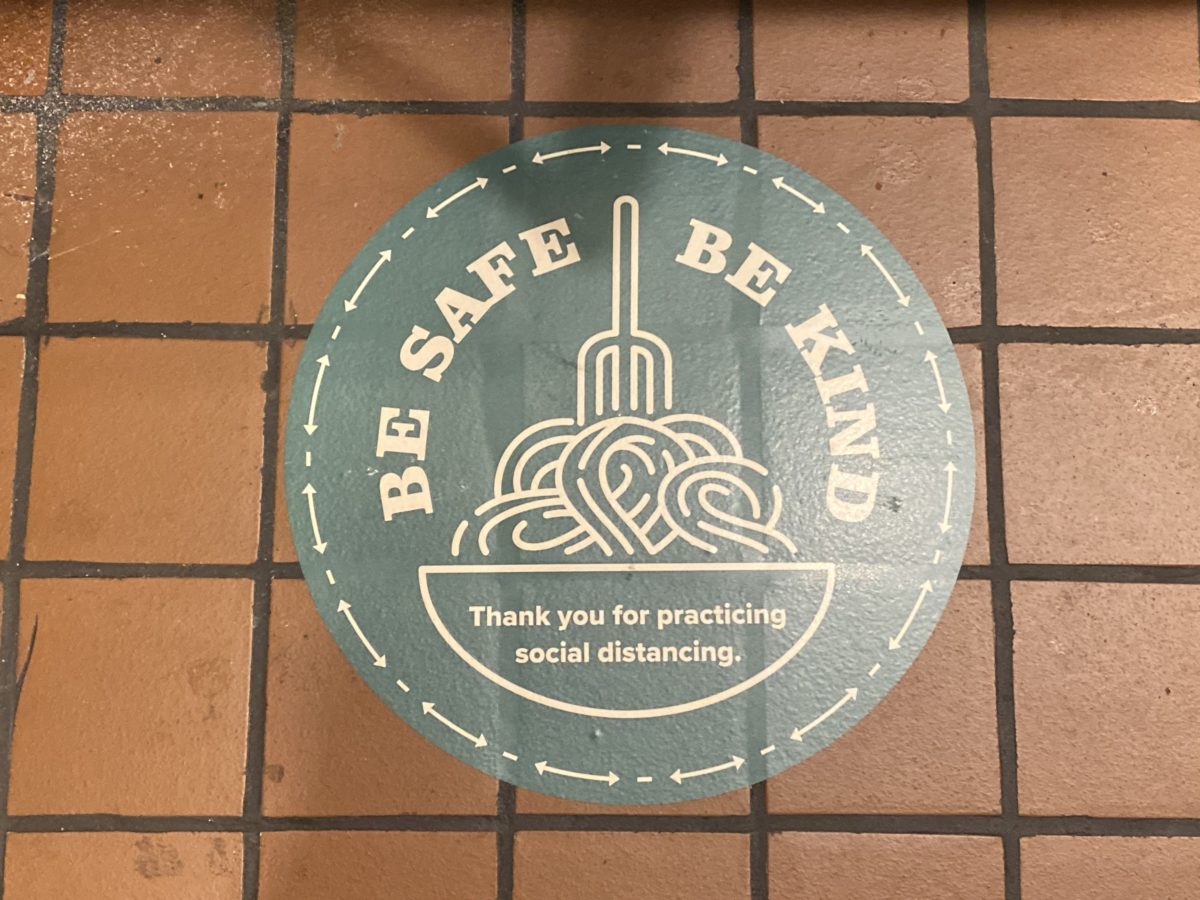 This pasta marker was almost made me order some Chicken Carbonara.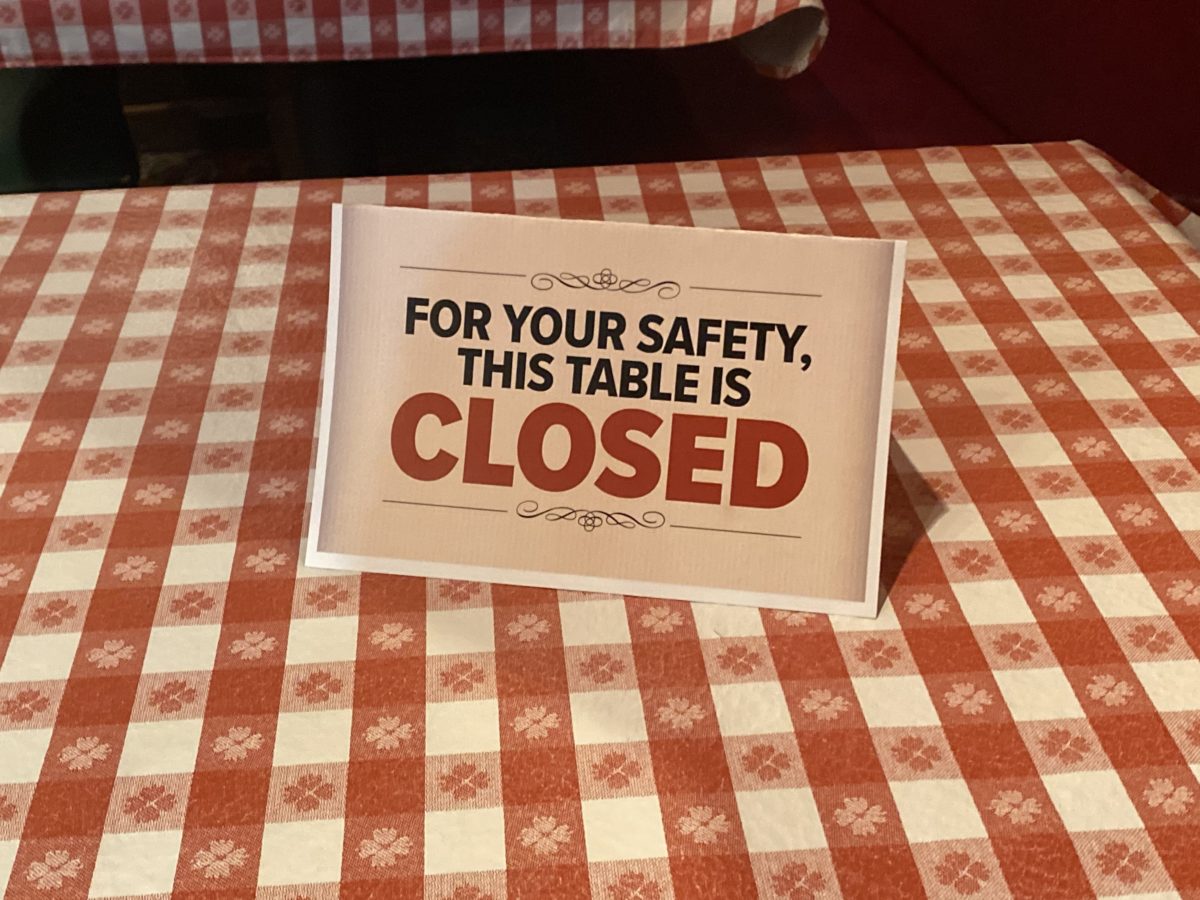 Every other table inside was closed.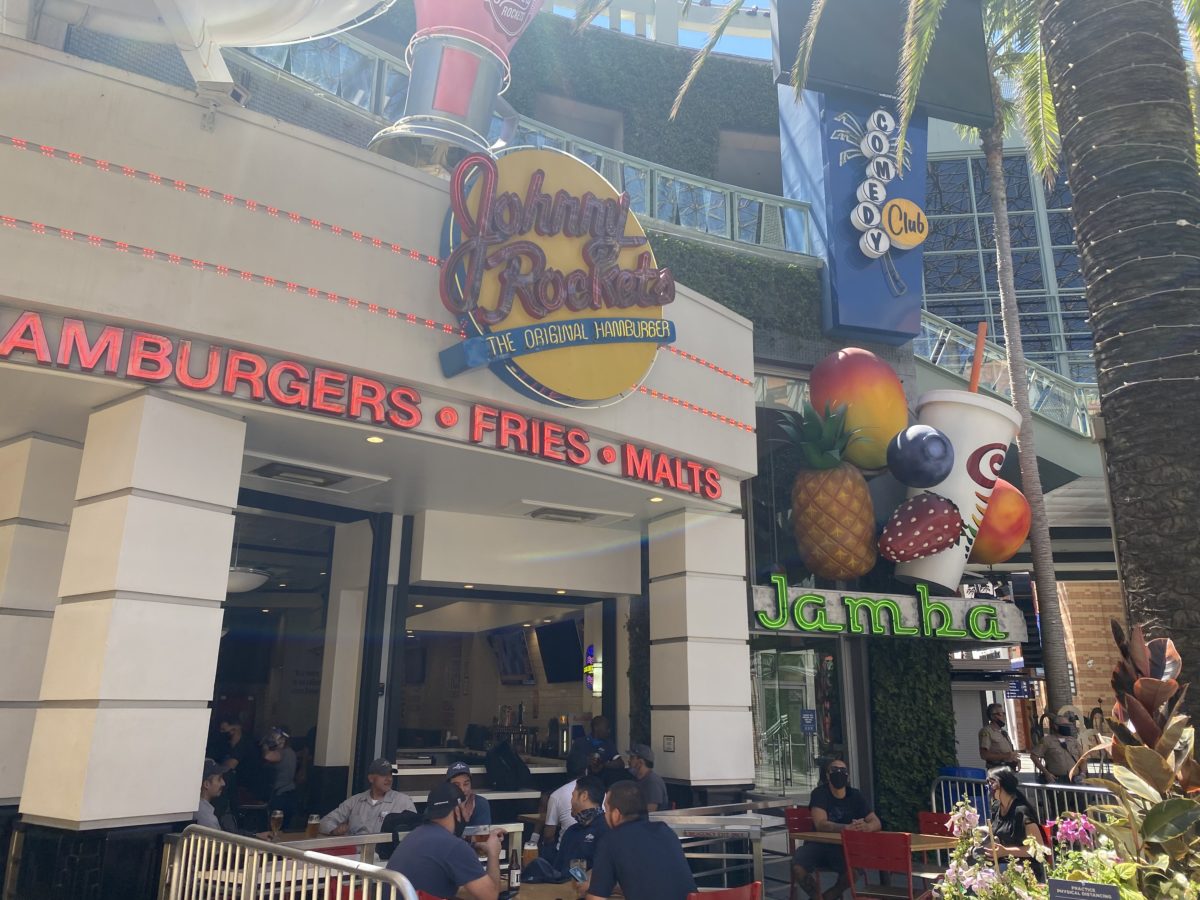 Johnny Rockets was probably the most crowded restaurant. Both guests and Universal Team Members were enjoying some classic burgers and shakes.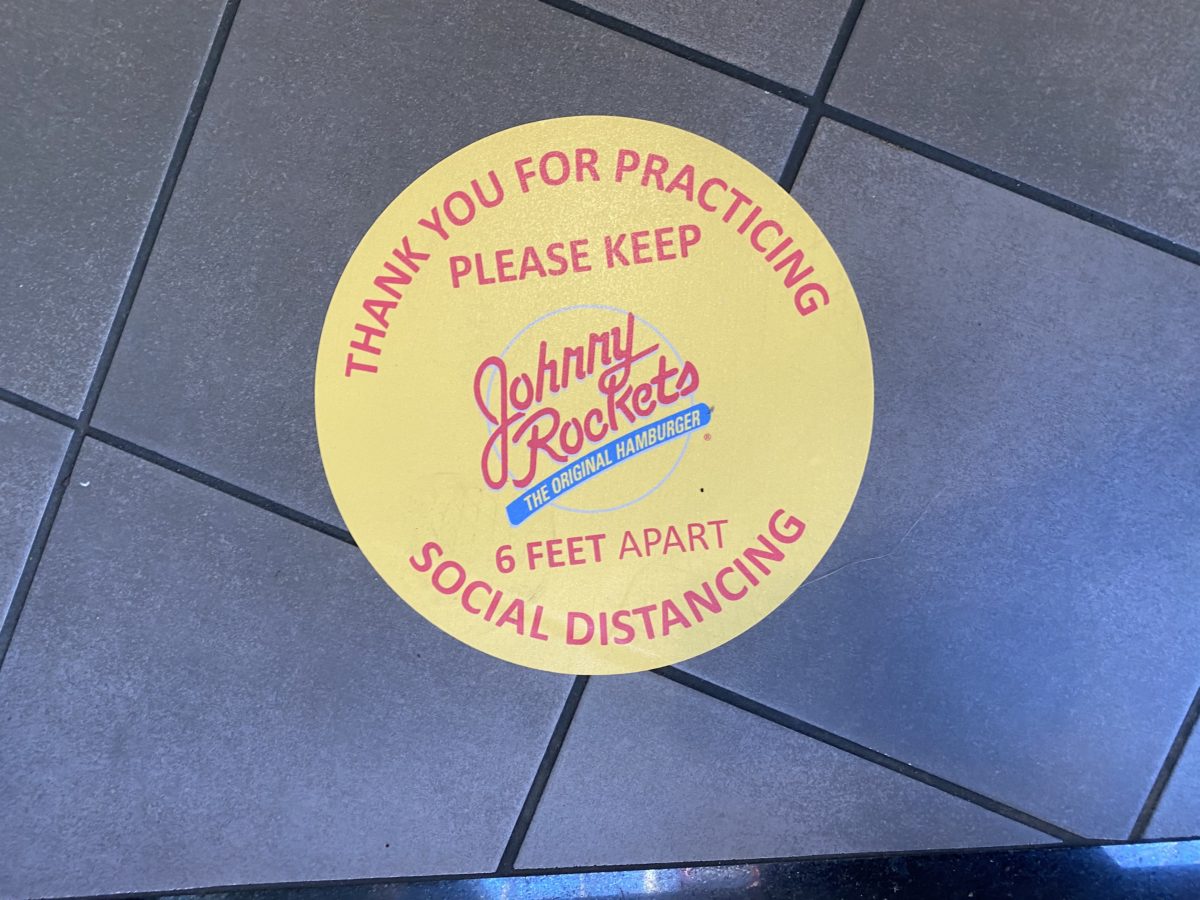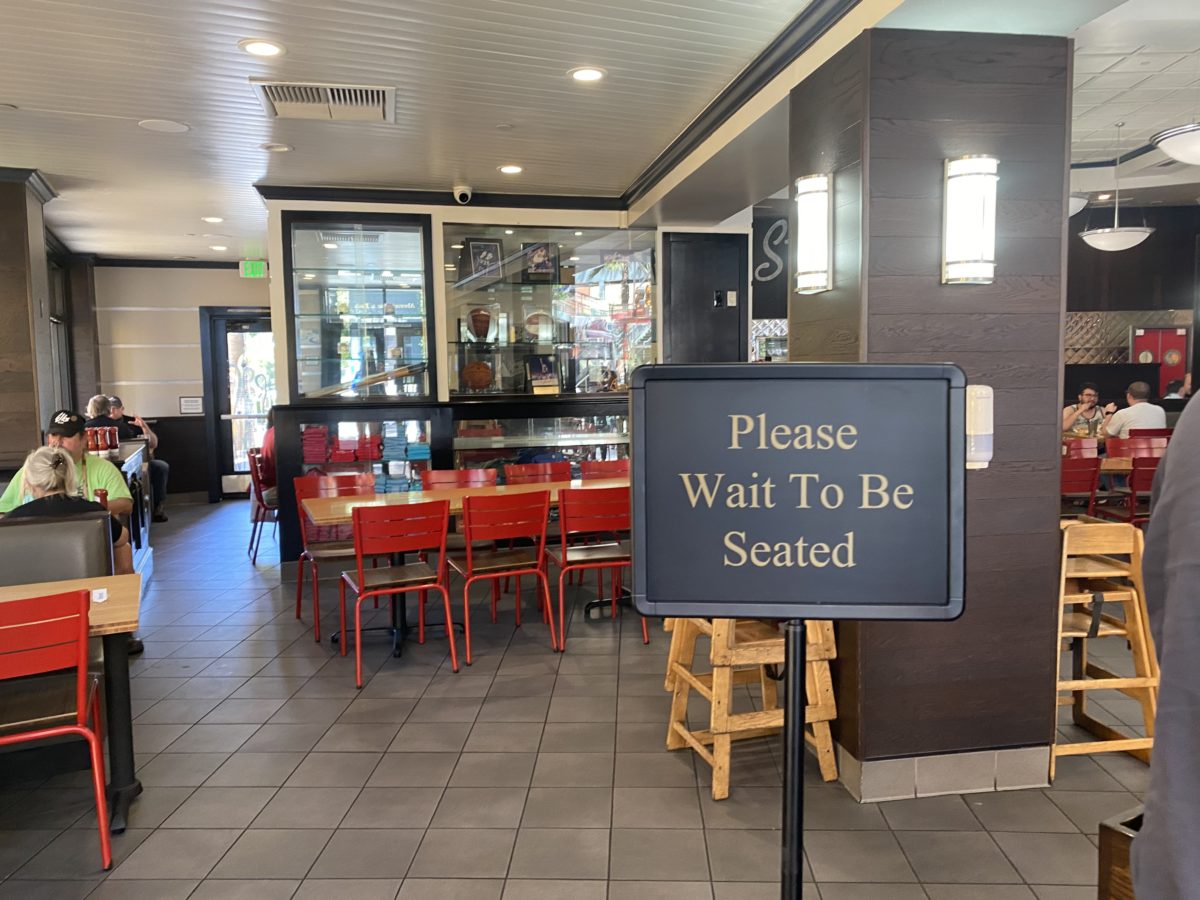 Every other table sat empty at Johnny Rockets as well.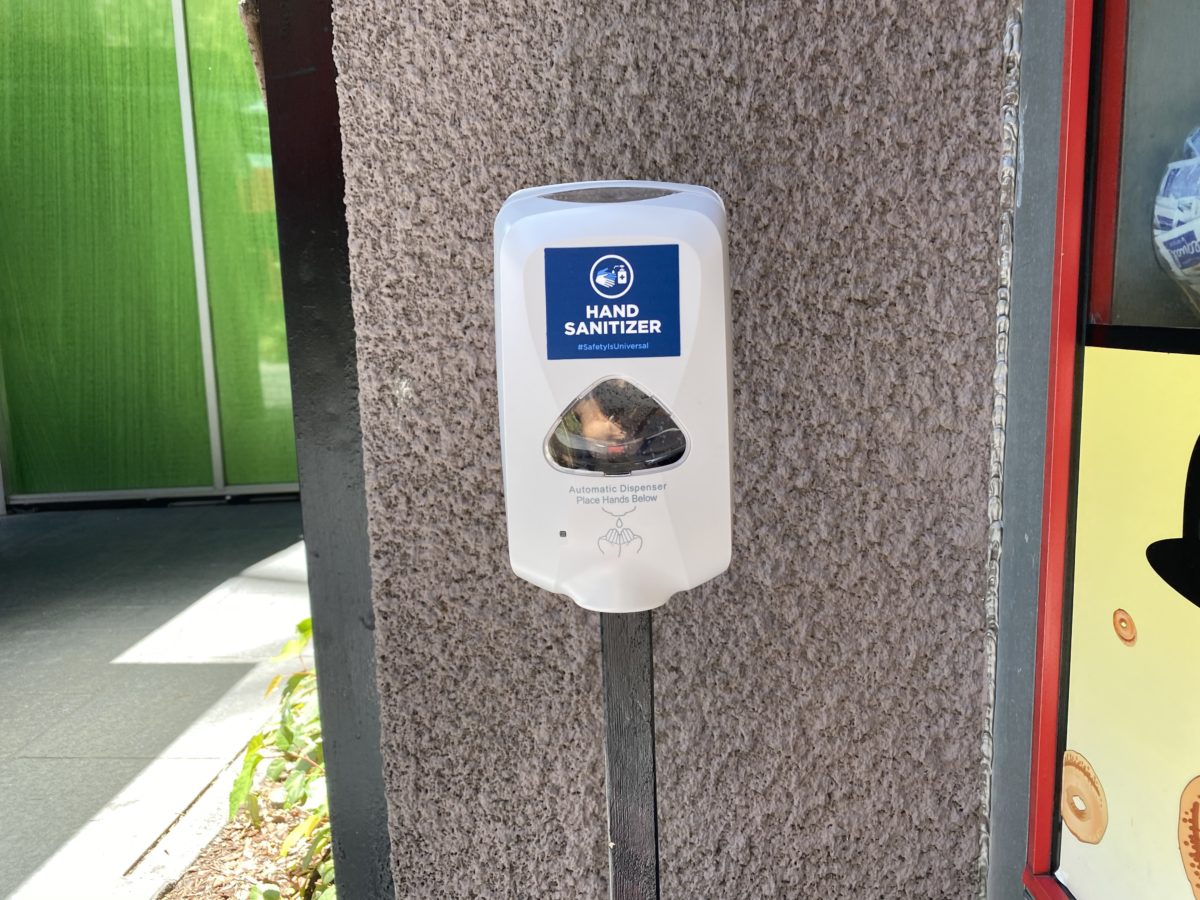 Hand sanitizer stations can be found between numerous stores and restaurants. They are appropriately spaced out through CityWalk.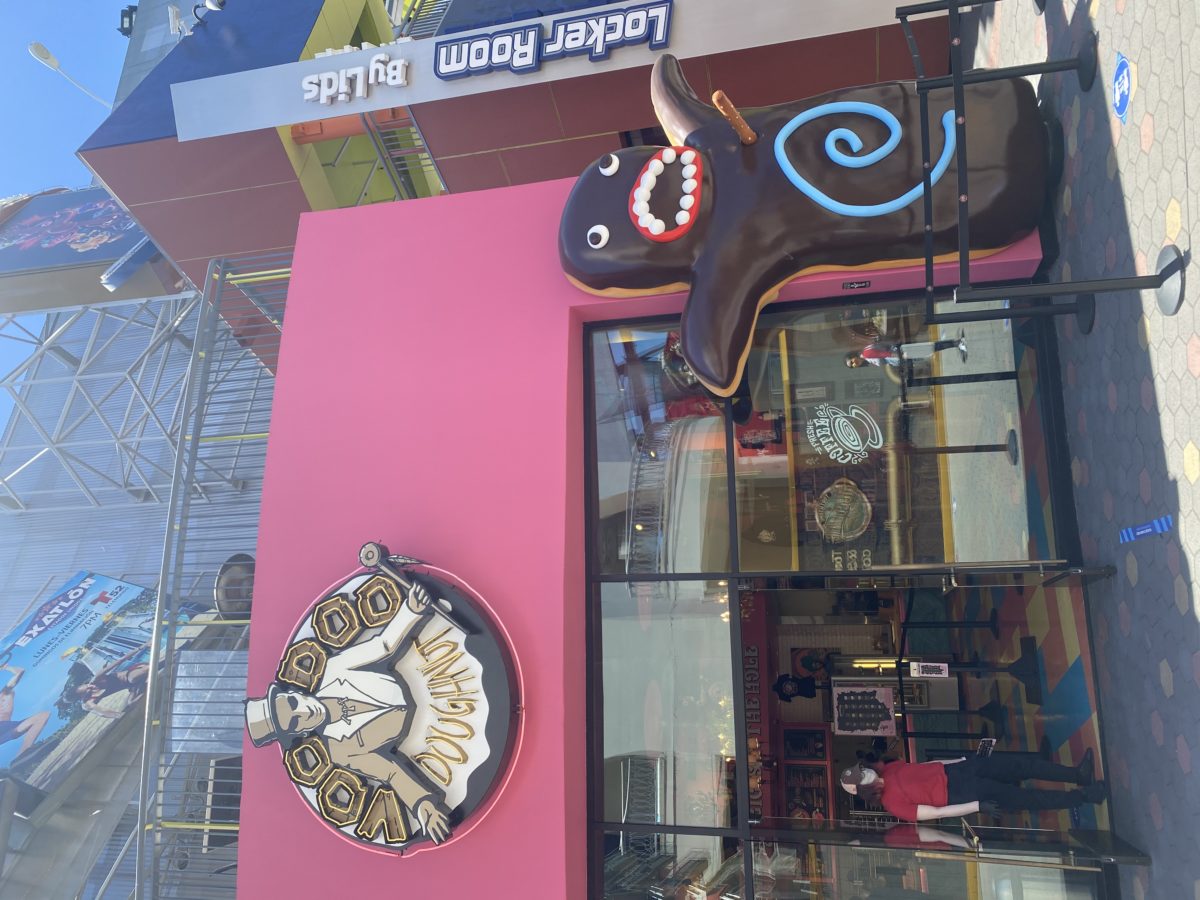 Voodoo Doughnut was open to guests with the same social distancing requirements.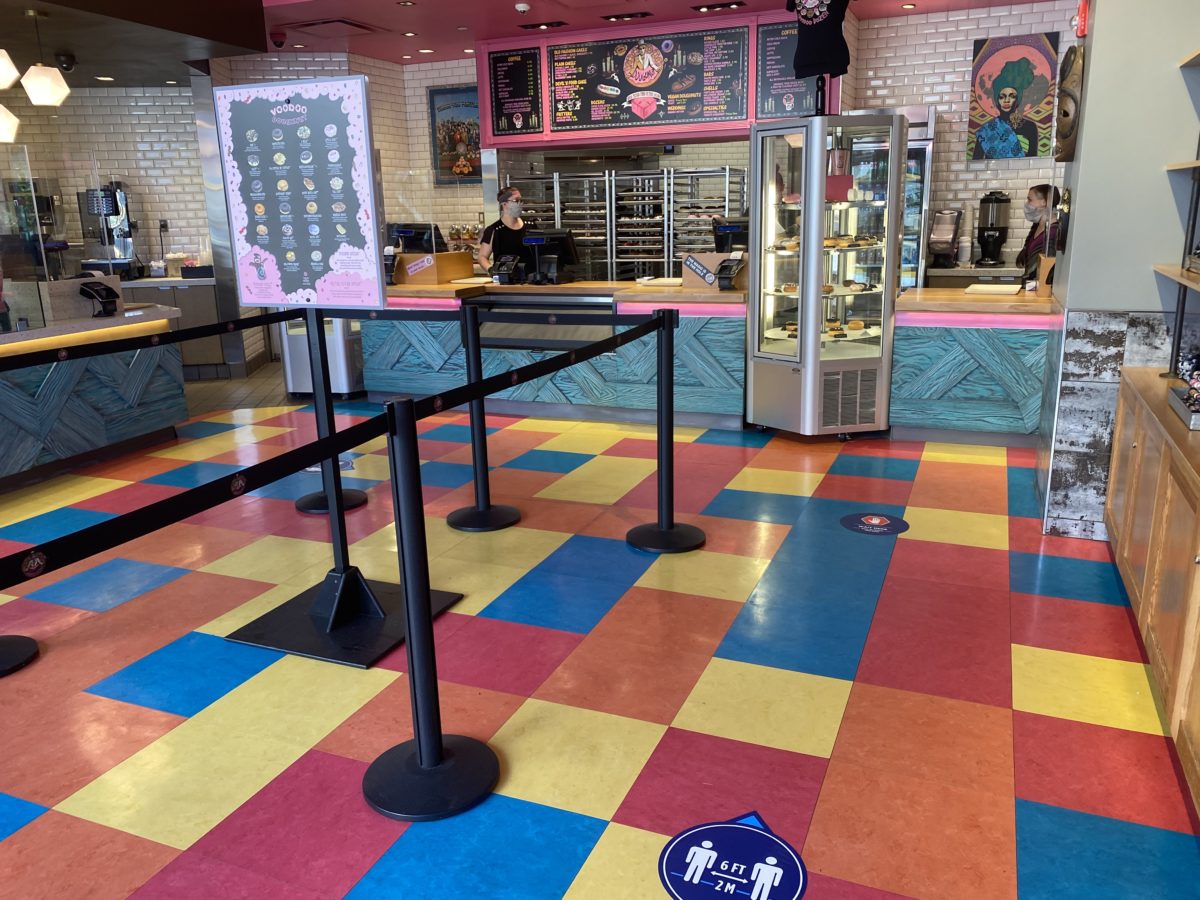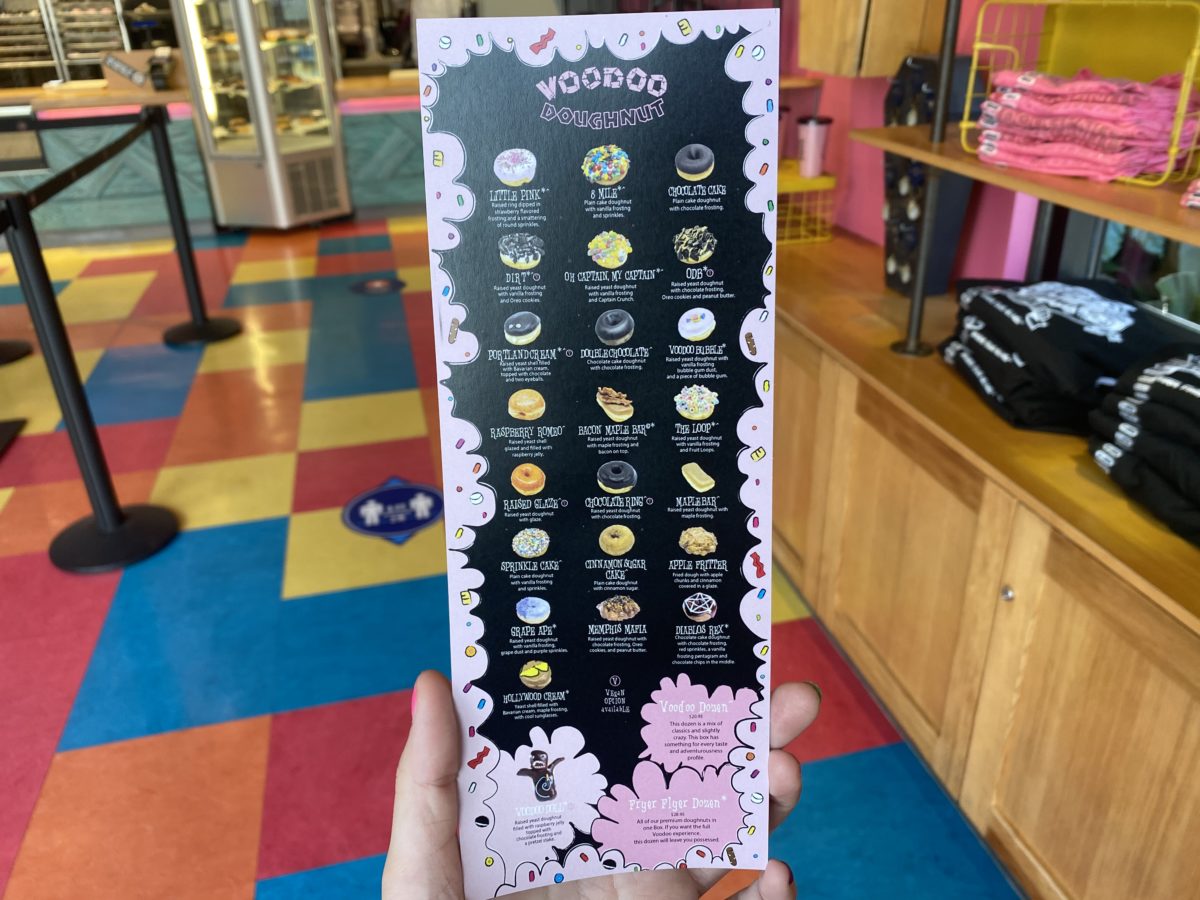 Souvenir menus were available at the entrance. This was handy for the reason that everyone was able to read the list in their own space while social distancing.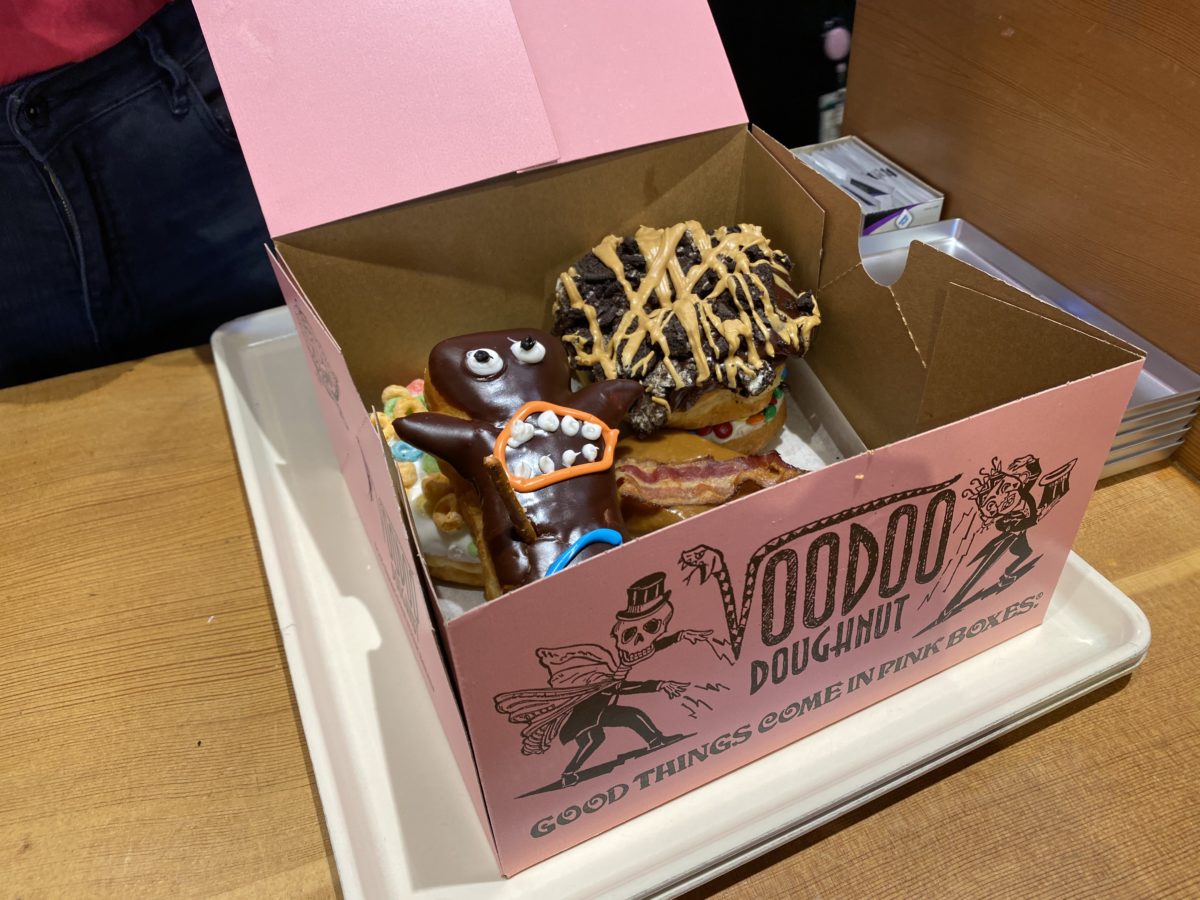 Couldn't leave without some doughnuts!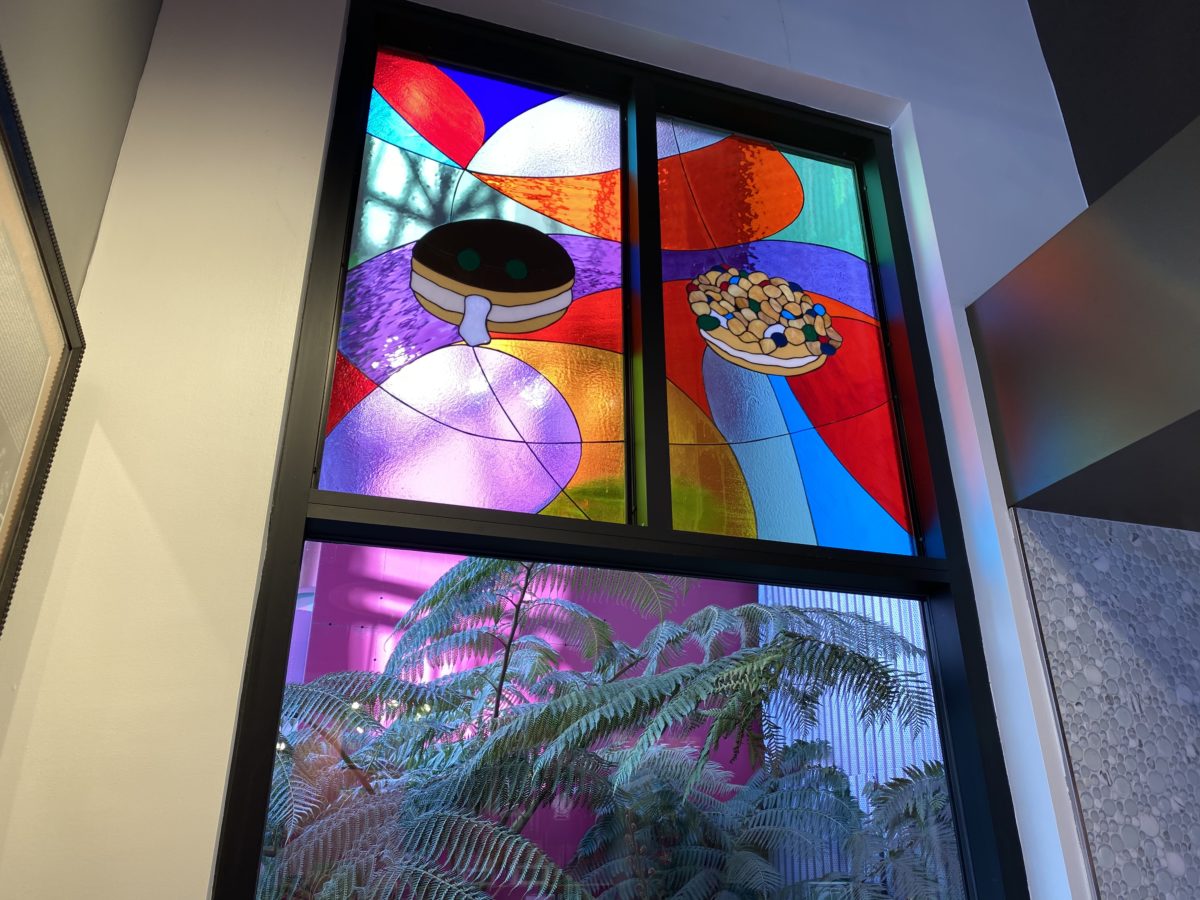 These doughnut-themed stained glass windows add some extra character to the interior of the building.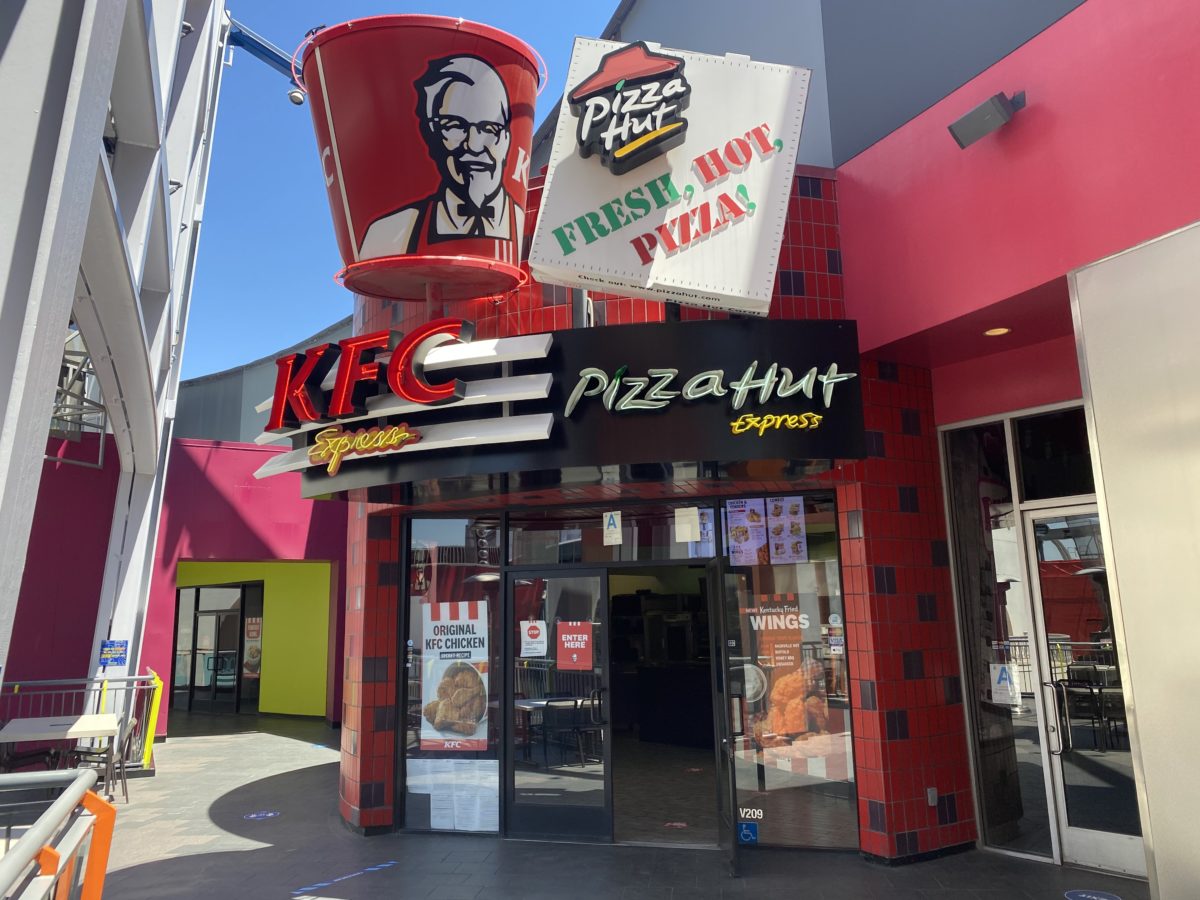 On the upper level, KFC Express and Taco Bell were both open with the same social distancing procedures in place.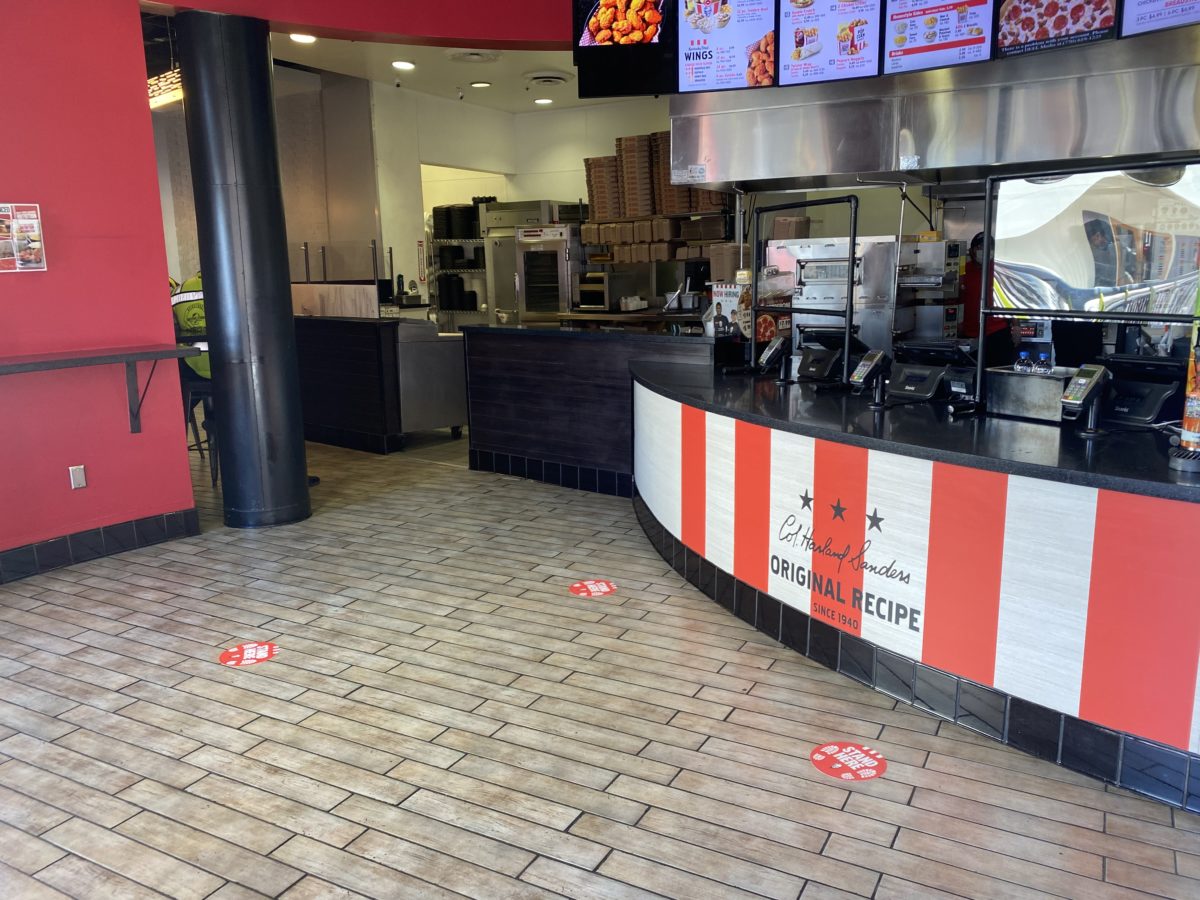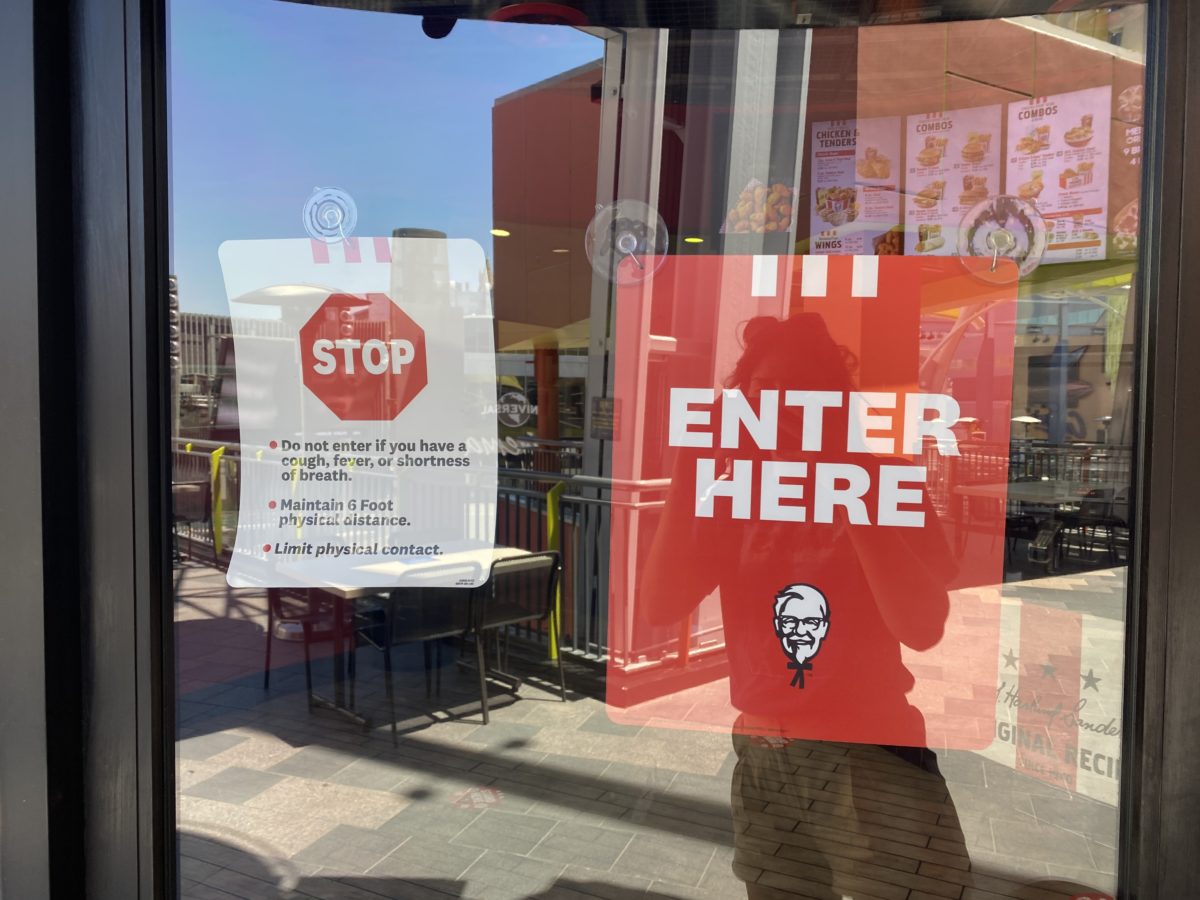 KFC also had signage on the door reminding guests once again to follow the new hygiene procedures.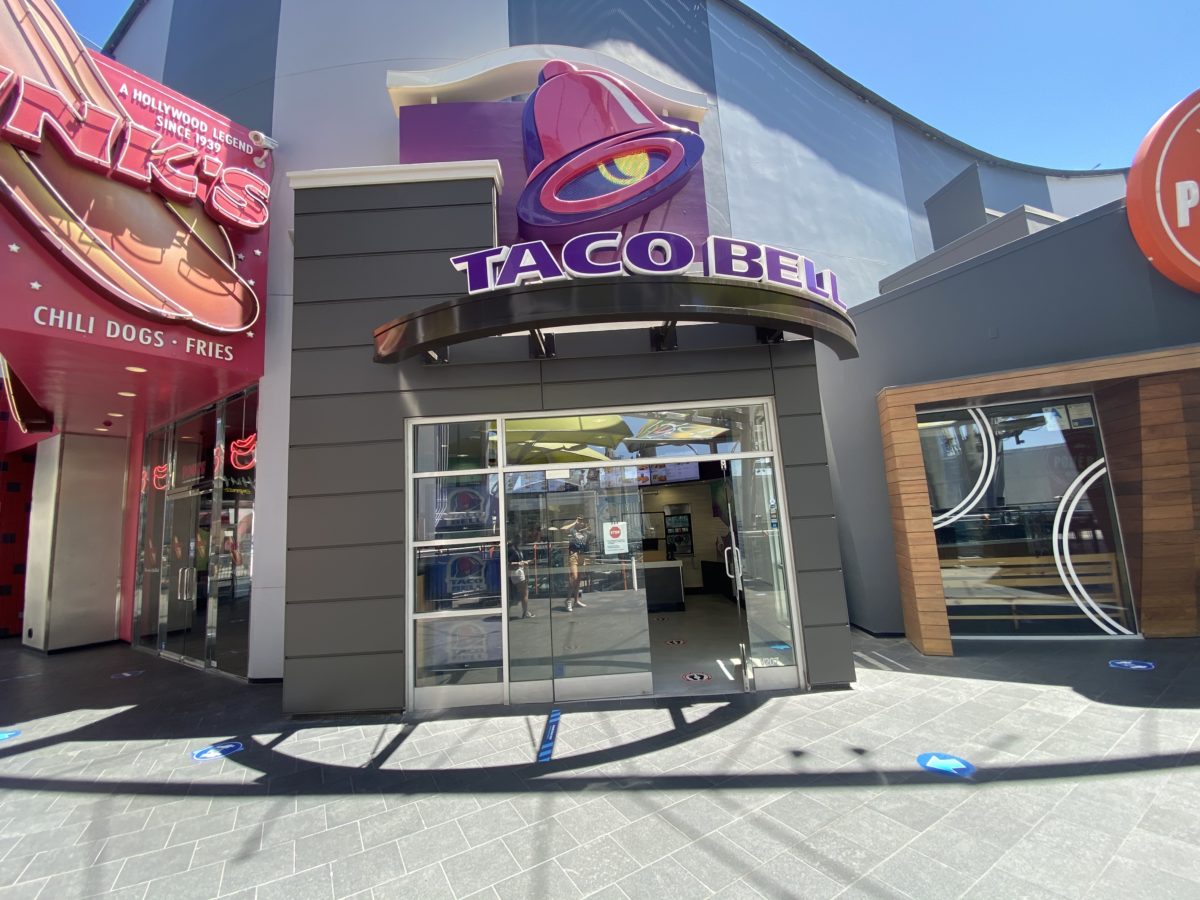 There was no one to be seen near these two restaurants.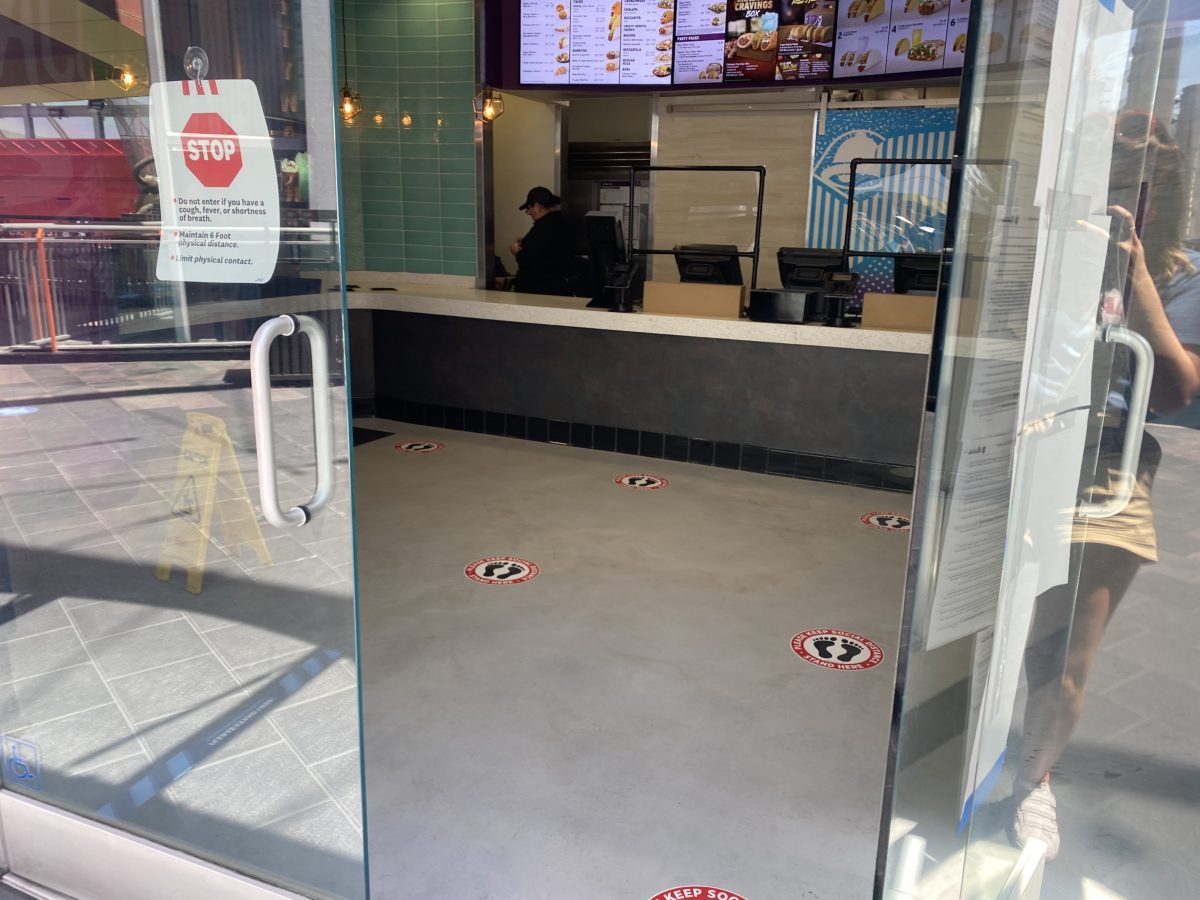 As CityWalk continues with its phased reopening, I'm sure more people will venture to the upper level.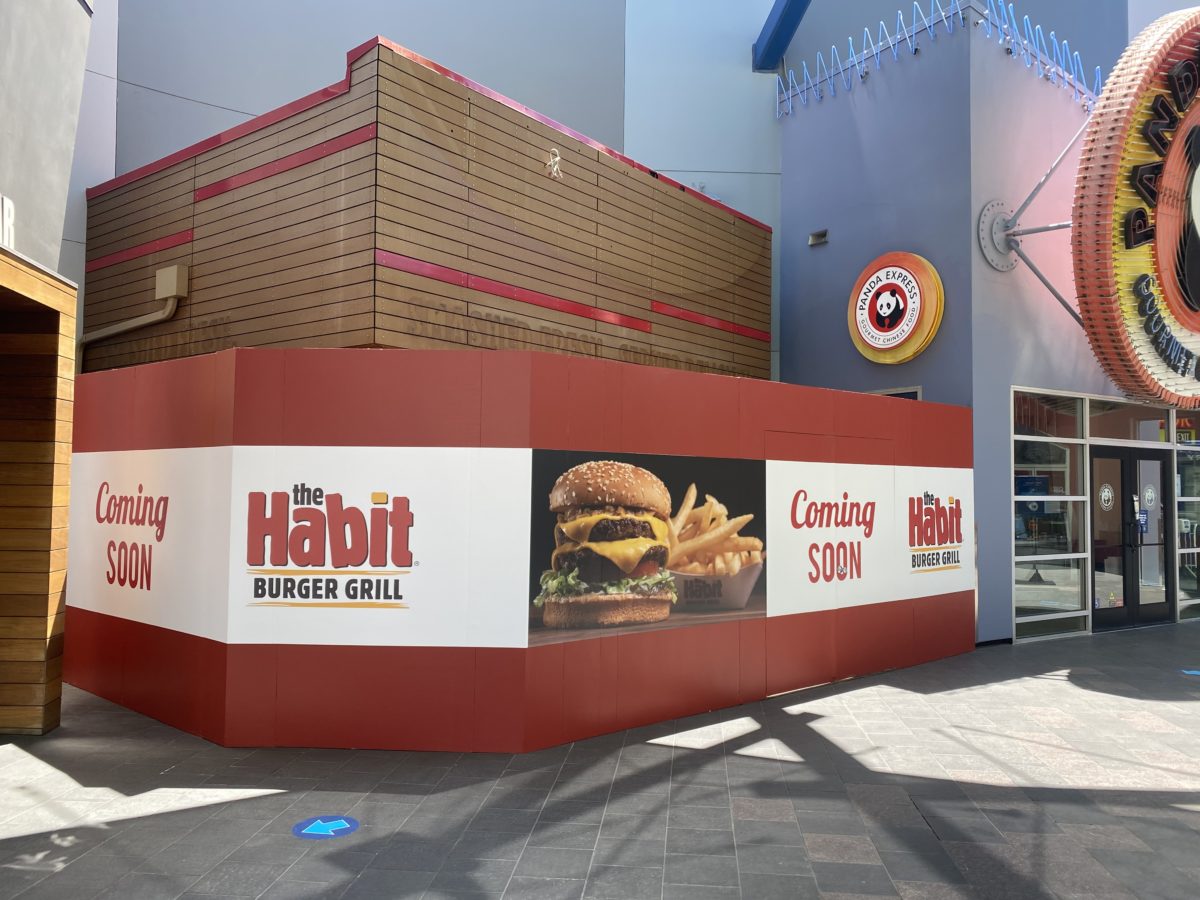 The Habit Burger Grill will be coming soon to CityWalk between Panda Express and Taco Bell.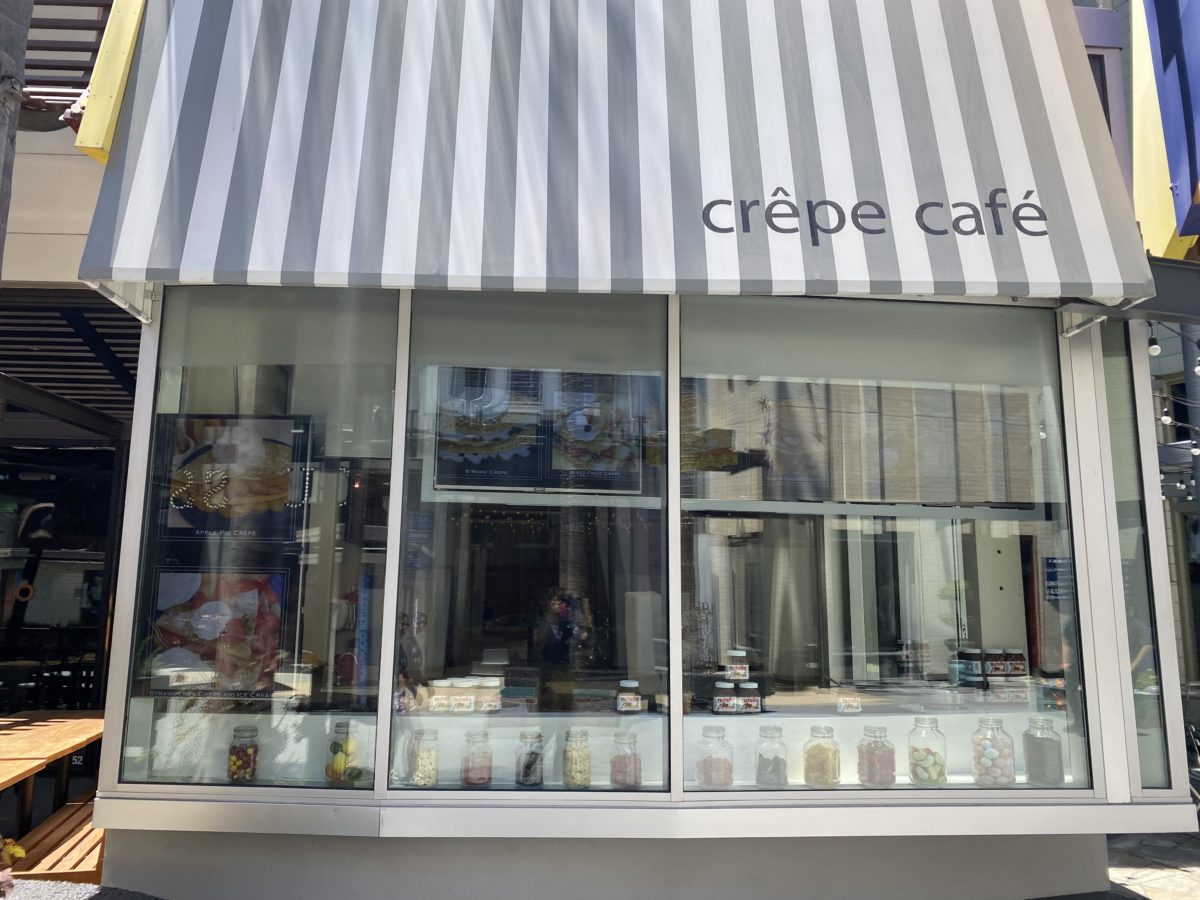 The last restaurant that was operating was Crêpe Café.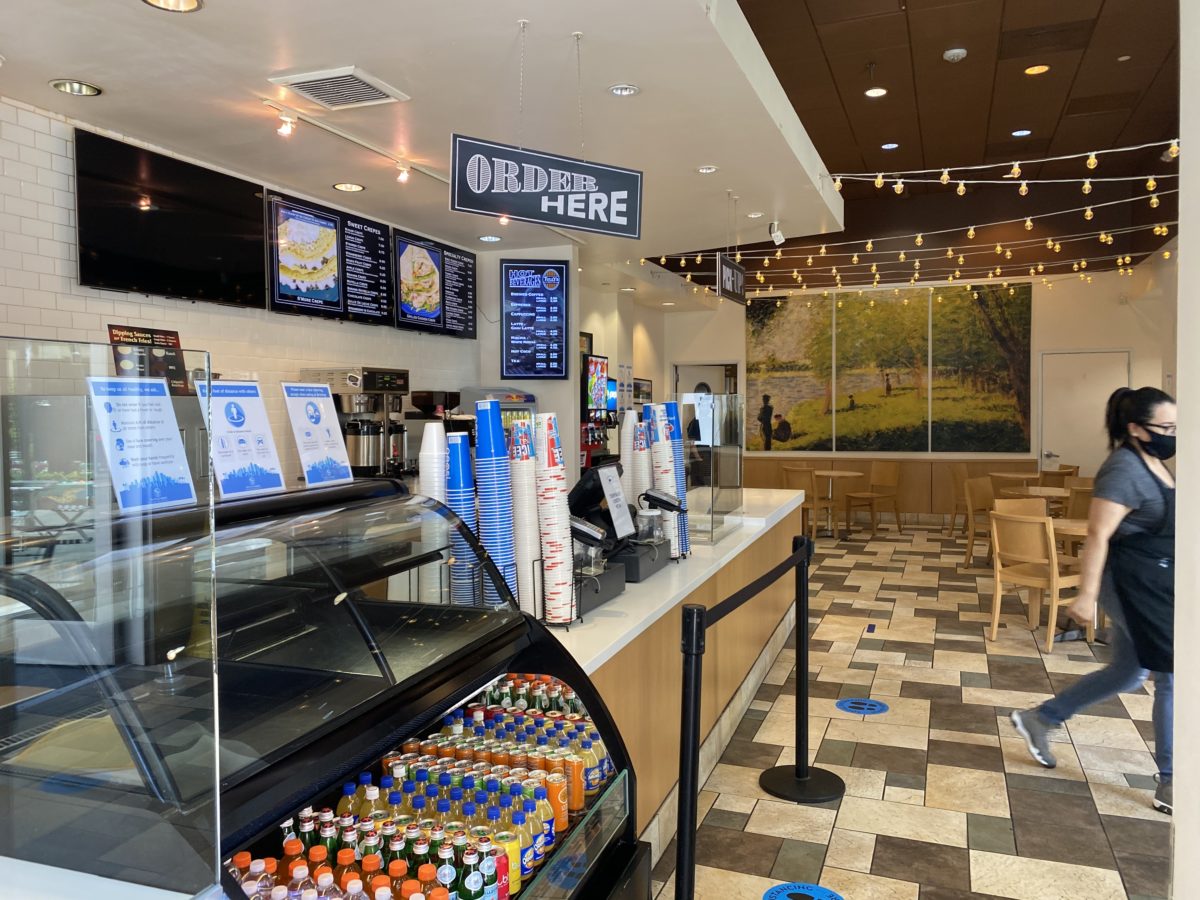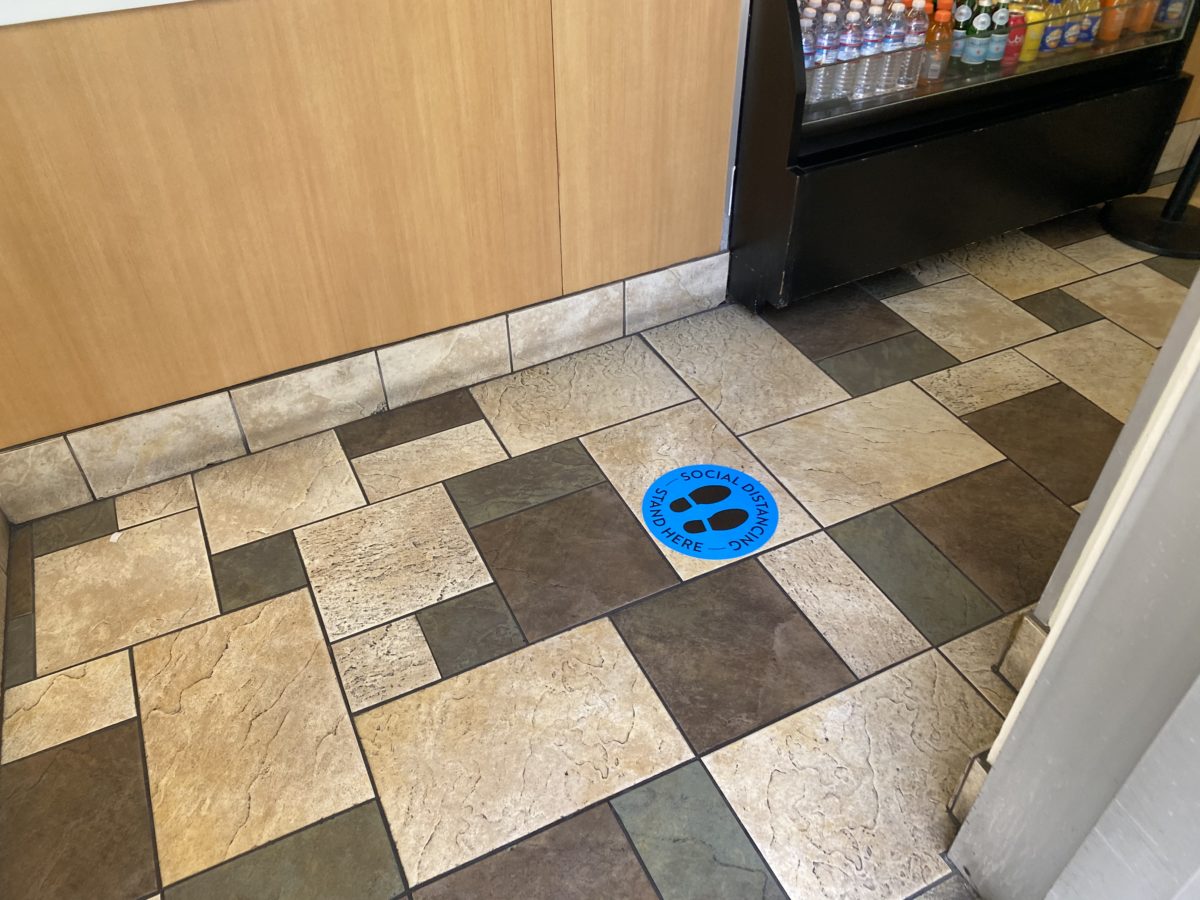 Social distancing markers only surrounded the main counter. The indoor seating was spaced out allowing guests to sit anywhere.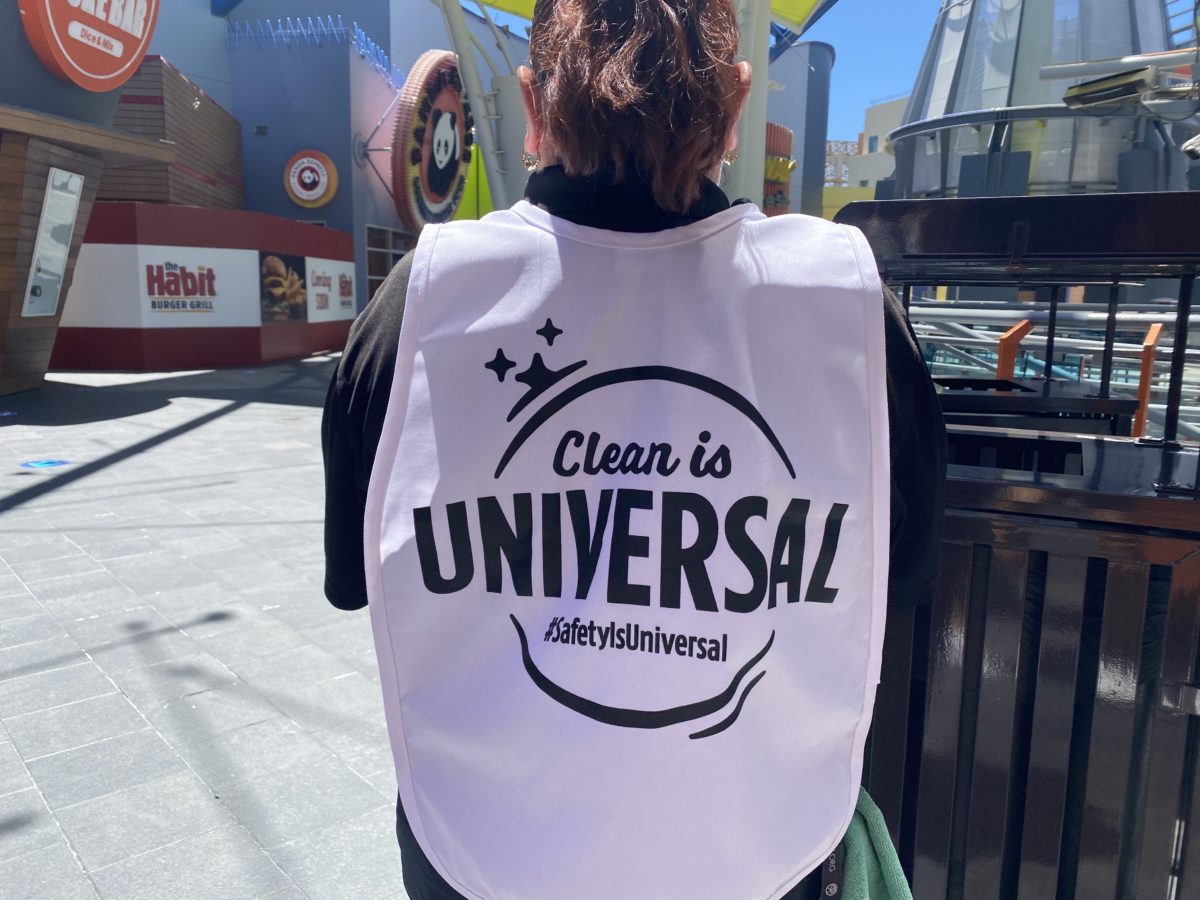 Universal Team Members in white vests reading "Clean is Universal" sanitized tables and handrails around CityWalk.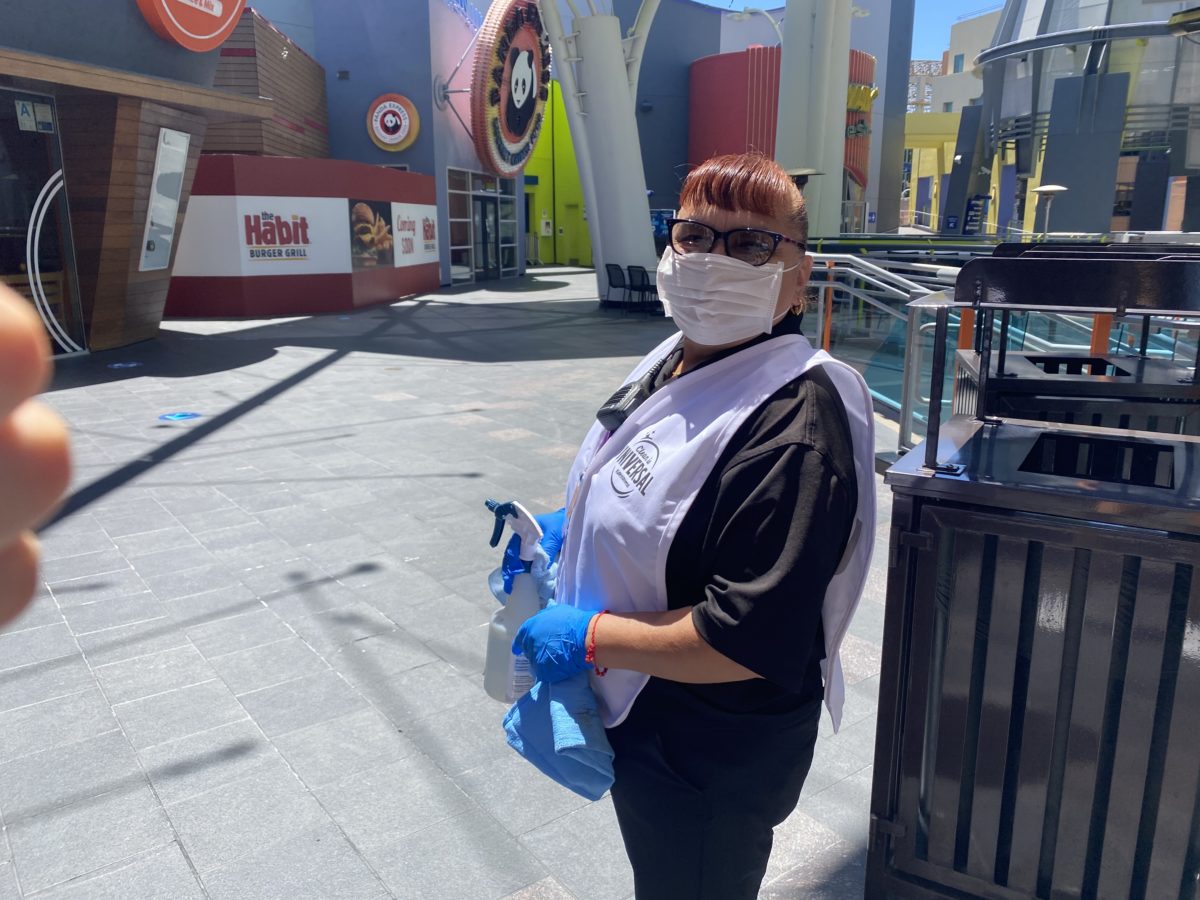 Thank you, Universal Team Members, for helping us stay safe!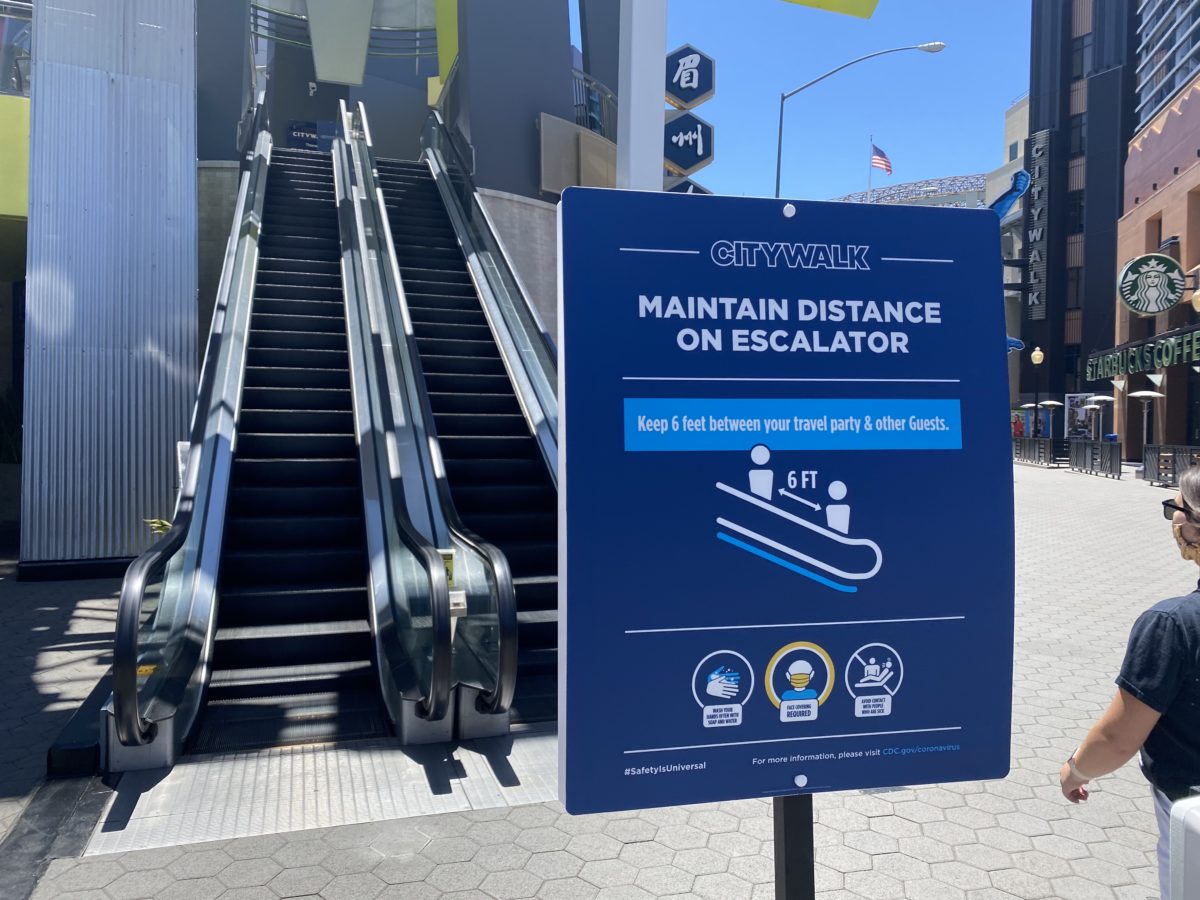 More signage reminding guests to maintain distance was placed in front of the escalators.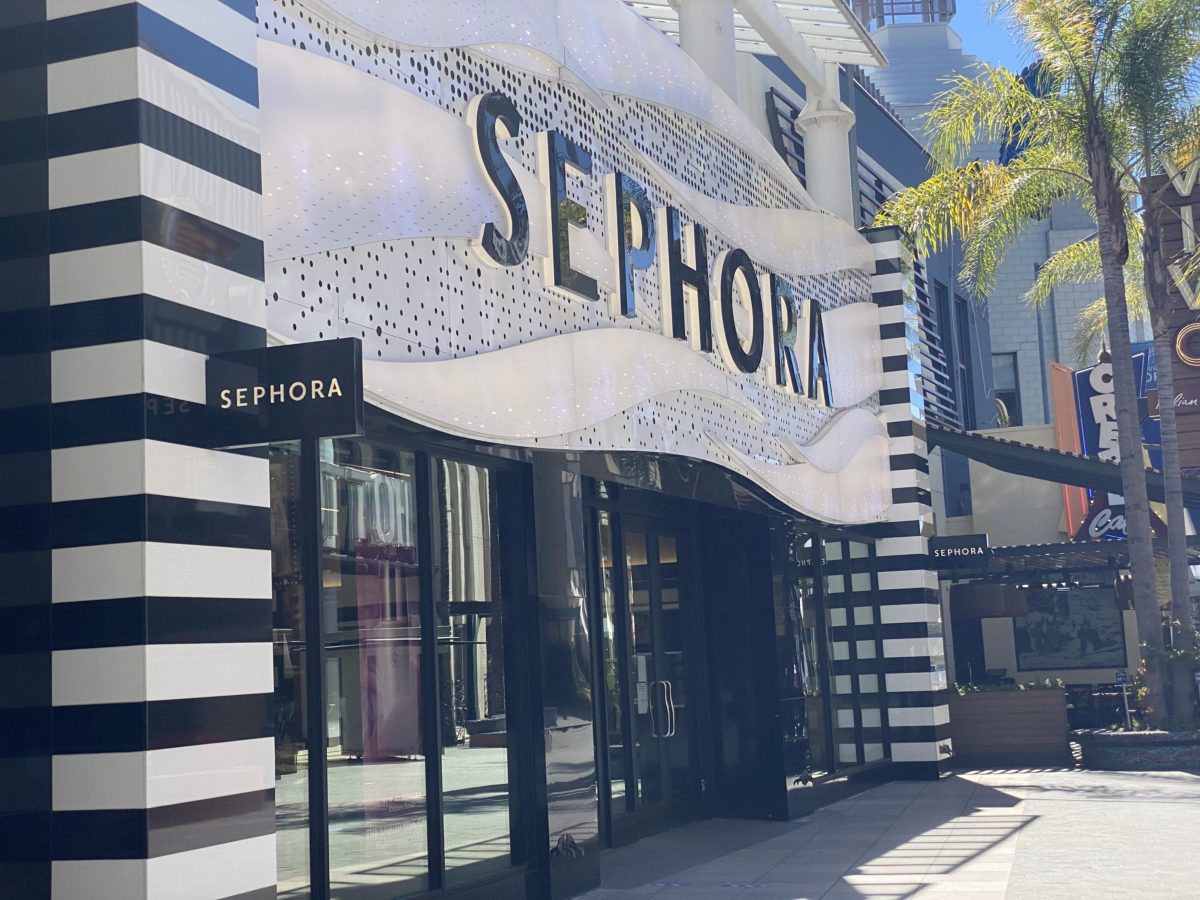 As we made our way over to Universal Studios Hollywood's park entrance, we noticed that Sephora had a message on the door.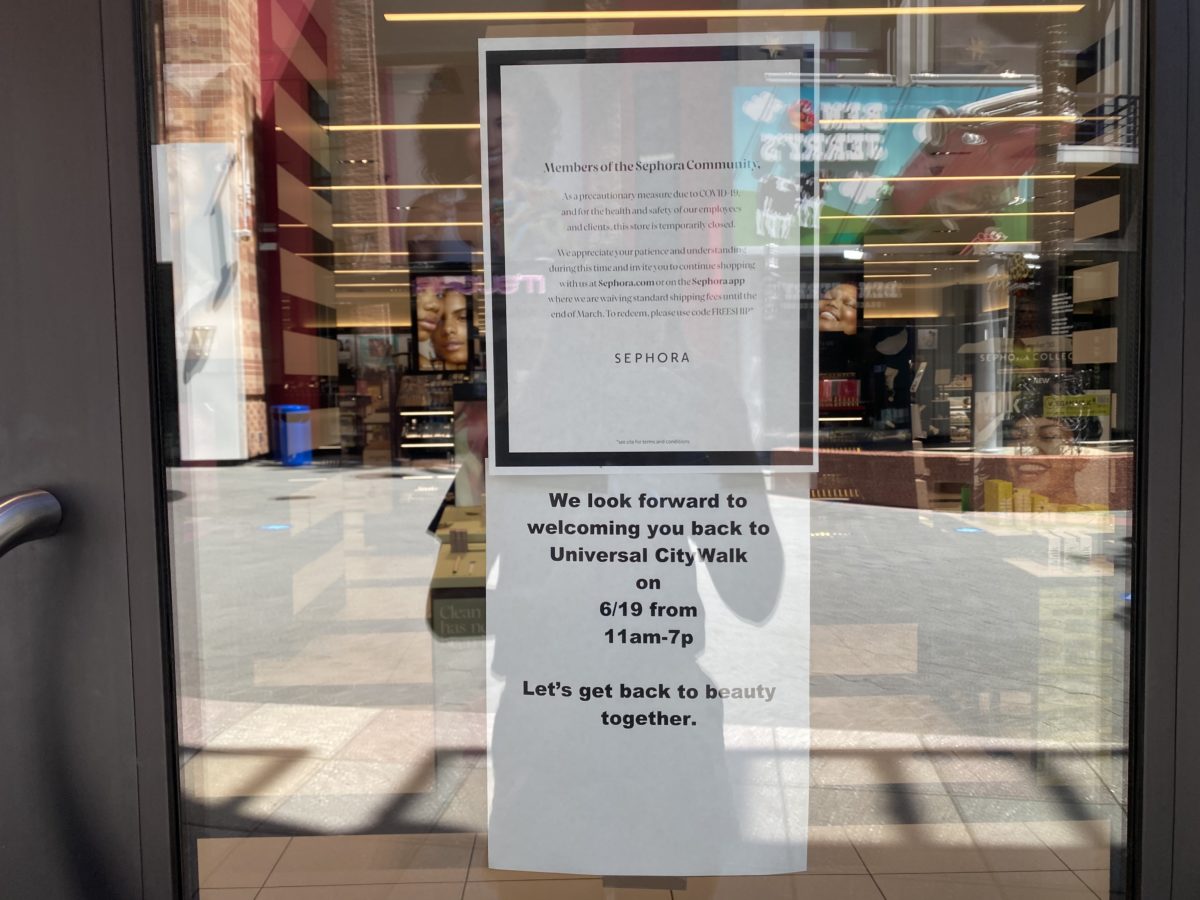 It stated that Sephora will be reopening on 6/19 from 11am – 7pm. Let's get back to beauty together!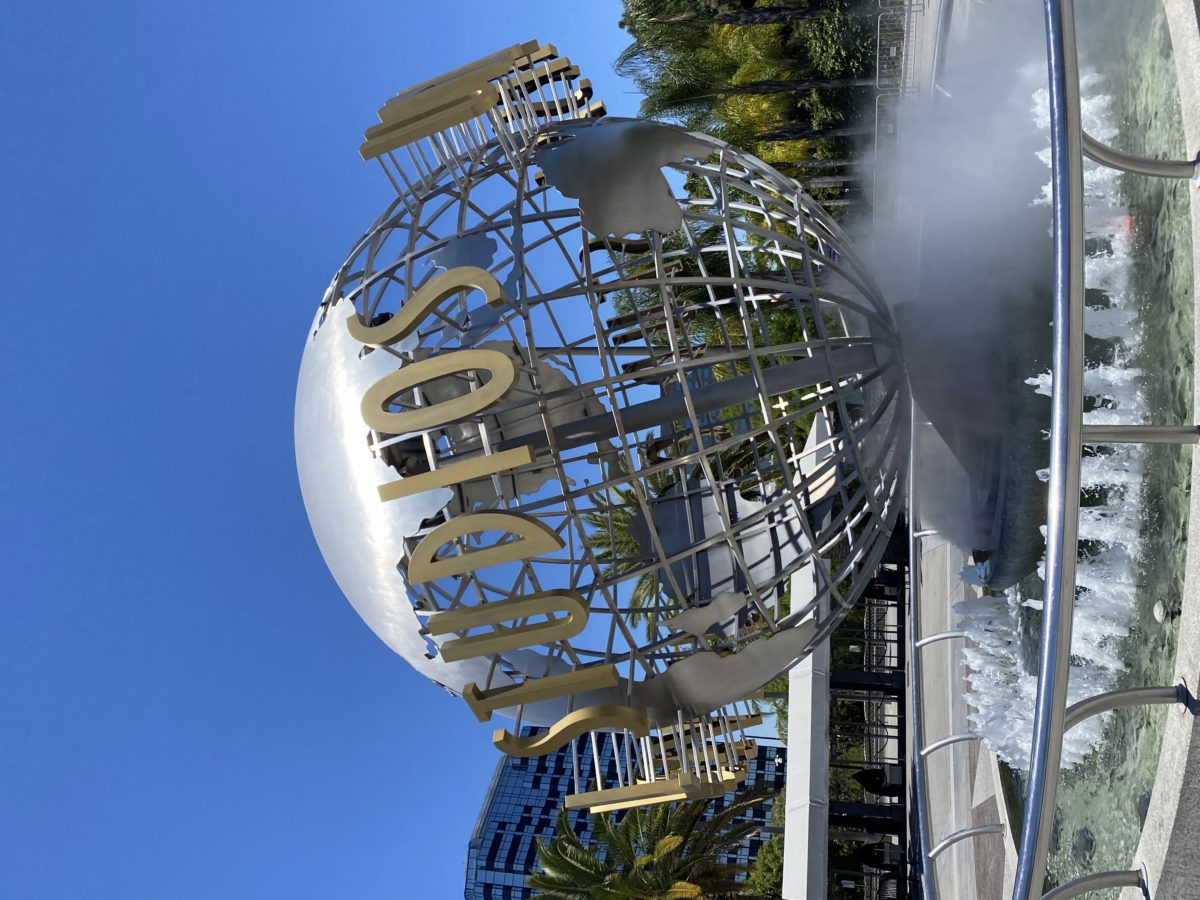 Man, oh man, was it nice to see this view!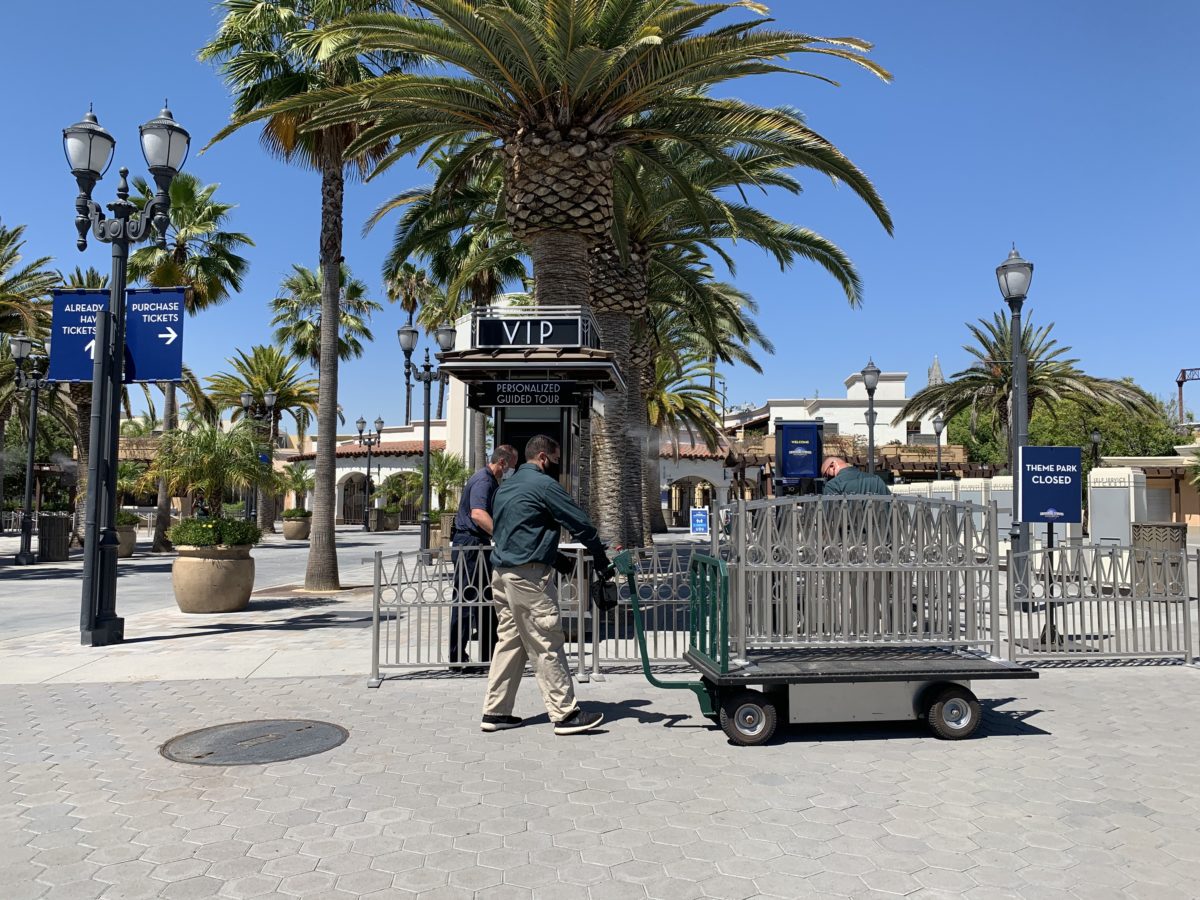 As we walked toward the entrance, we caught some Team Members removing the gates that were blocking off entrance to the front of the park gate.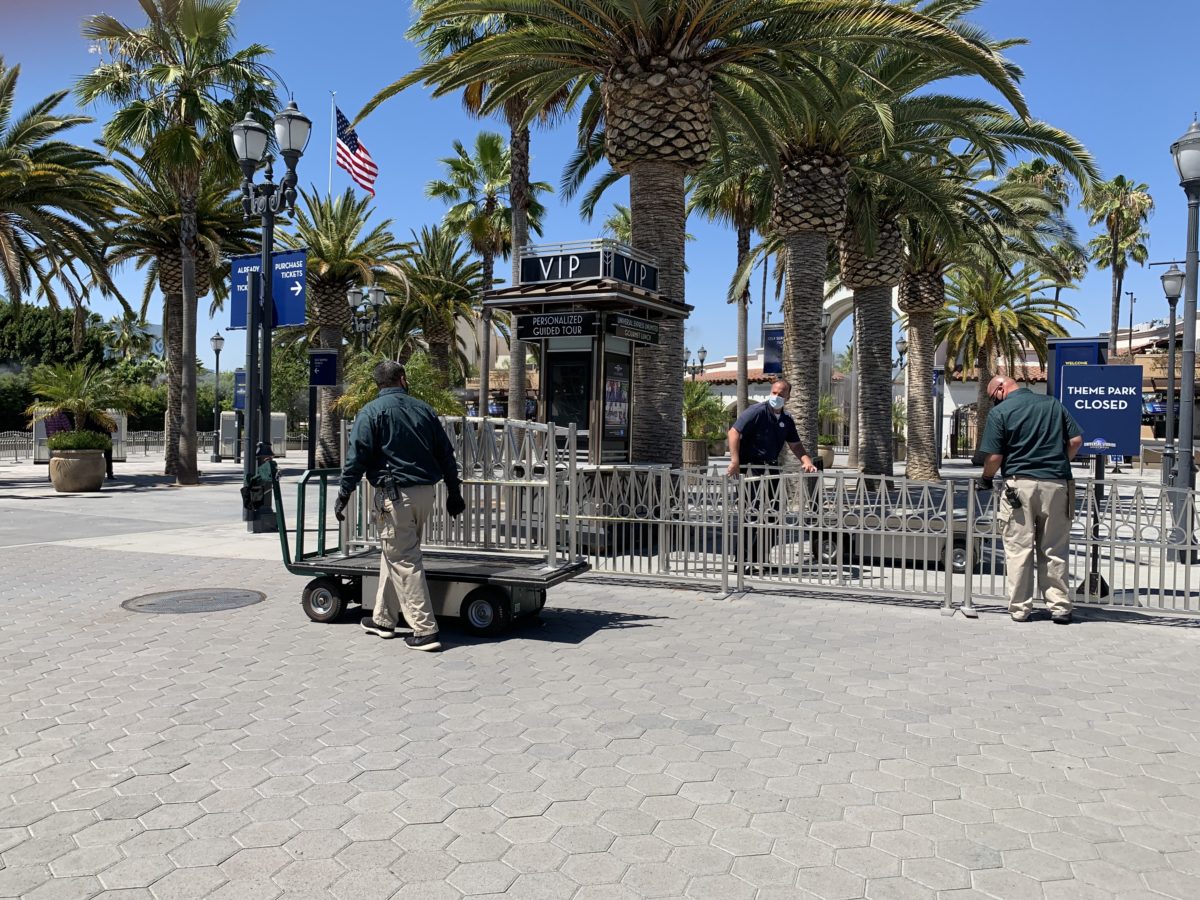 Near this area, we could hear a repeating track stating the new hygiene procedures that guests are expected to follow.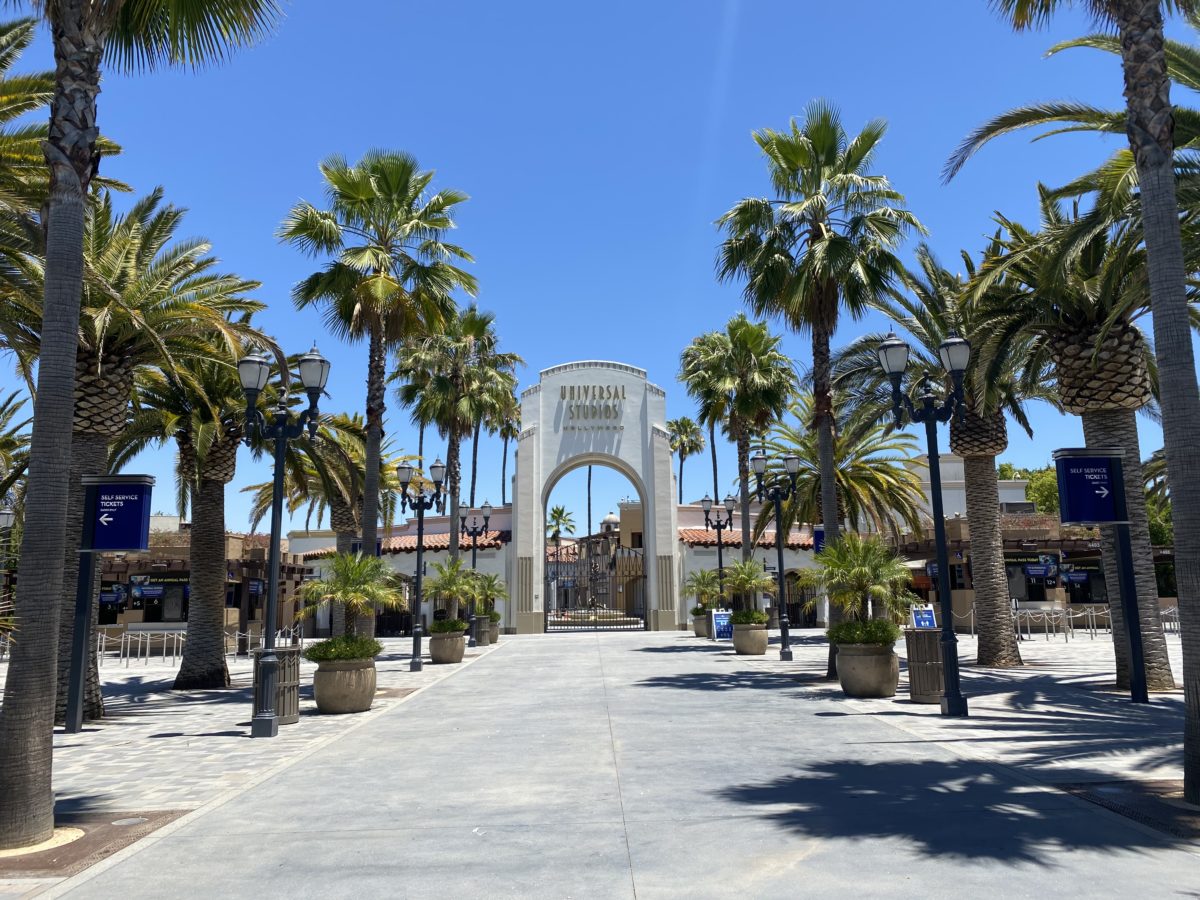 It was surreal standing in this spot again looking into a closed Universal Studios Hollywood.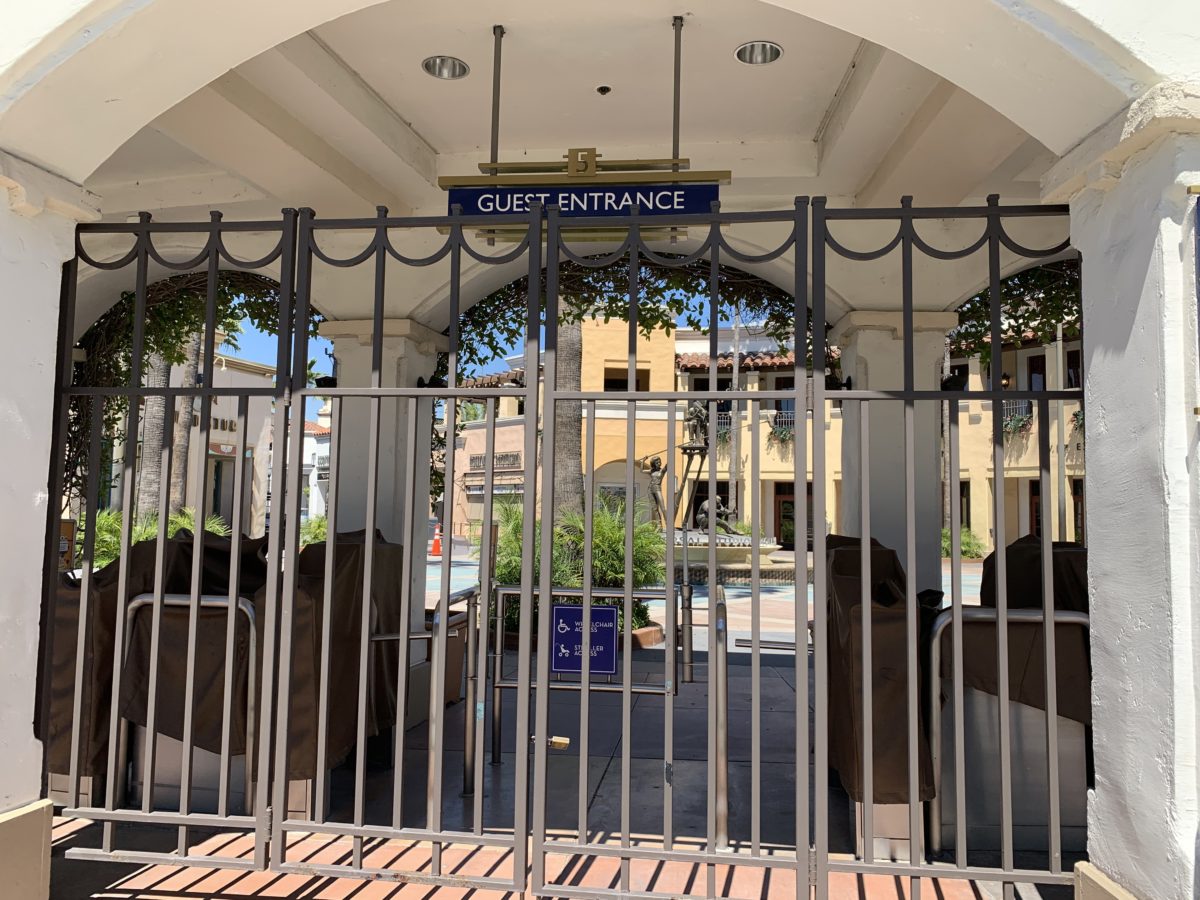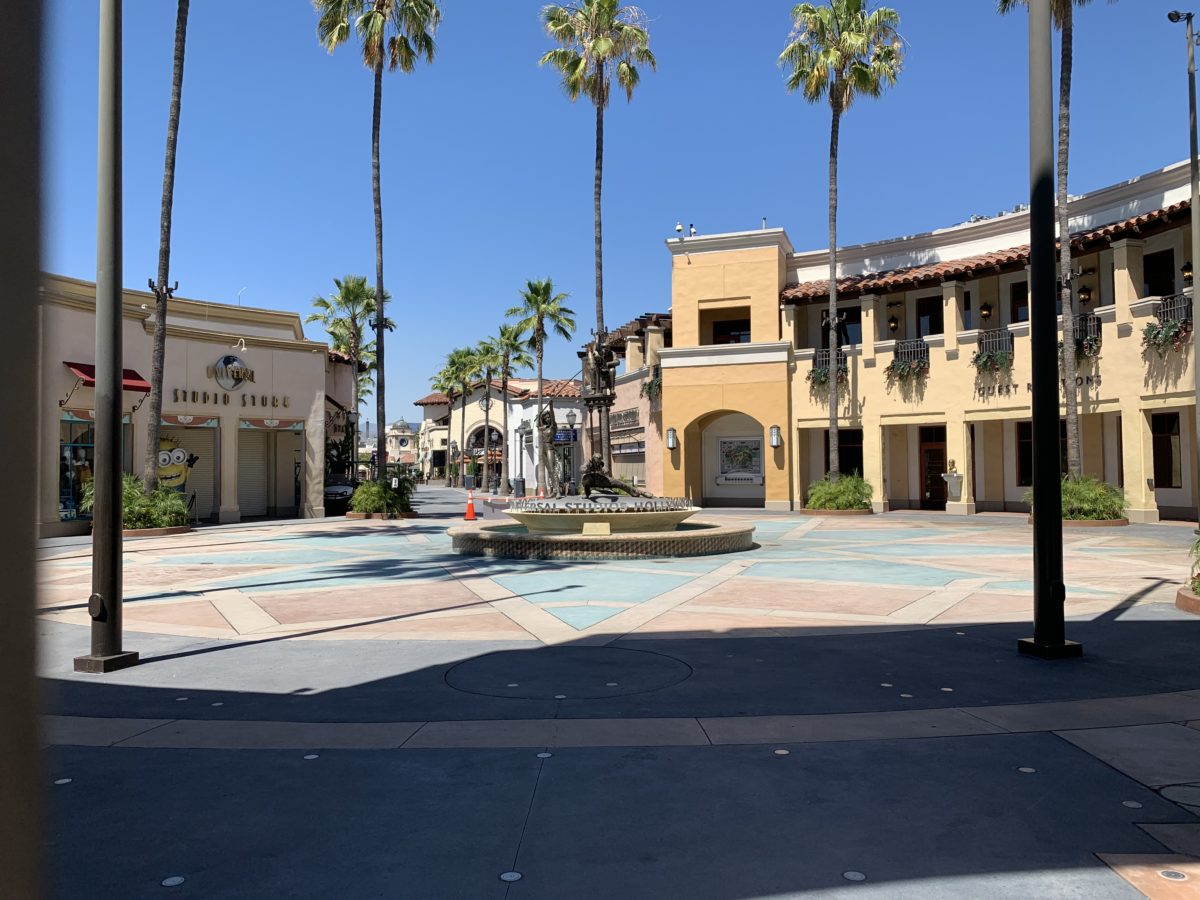 So close, yet so far…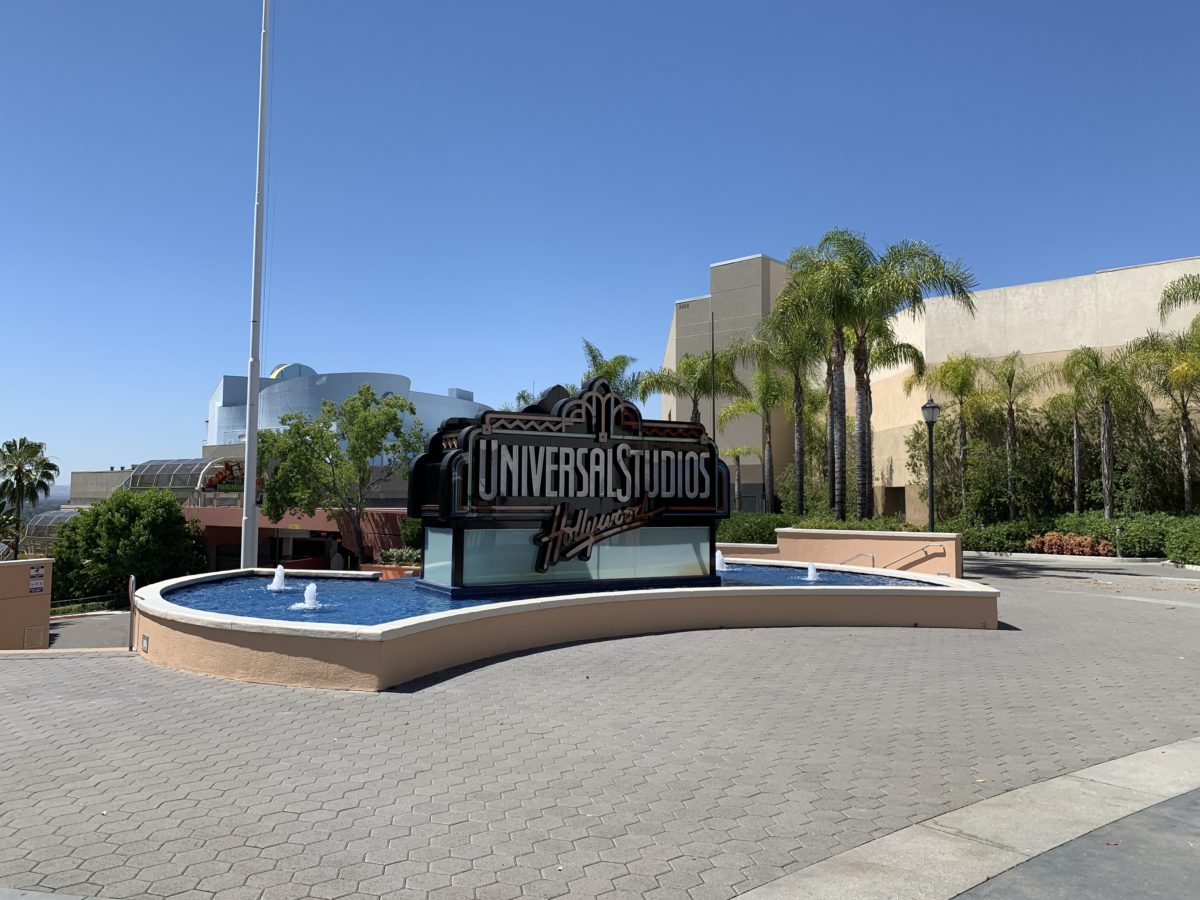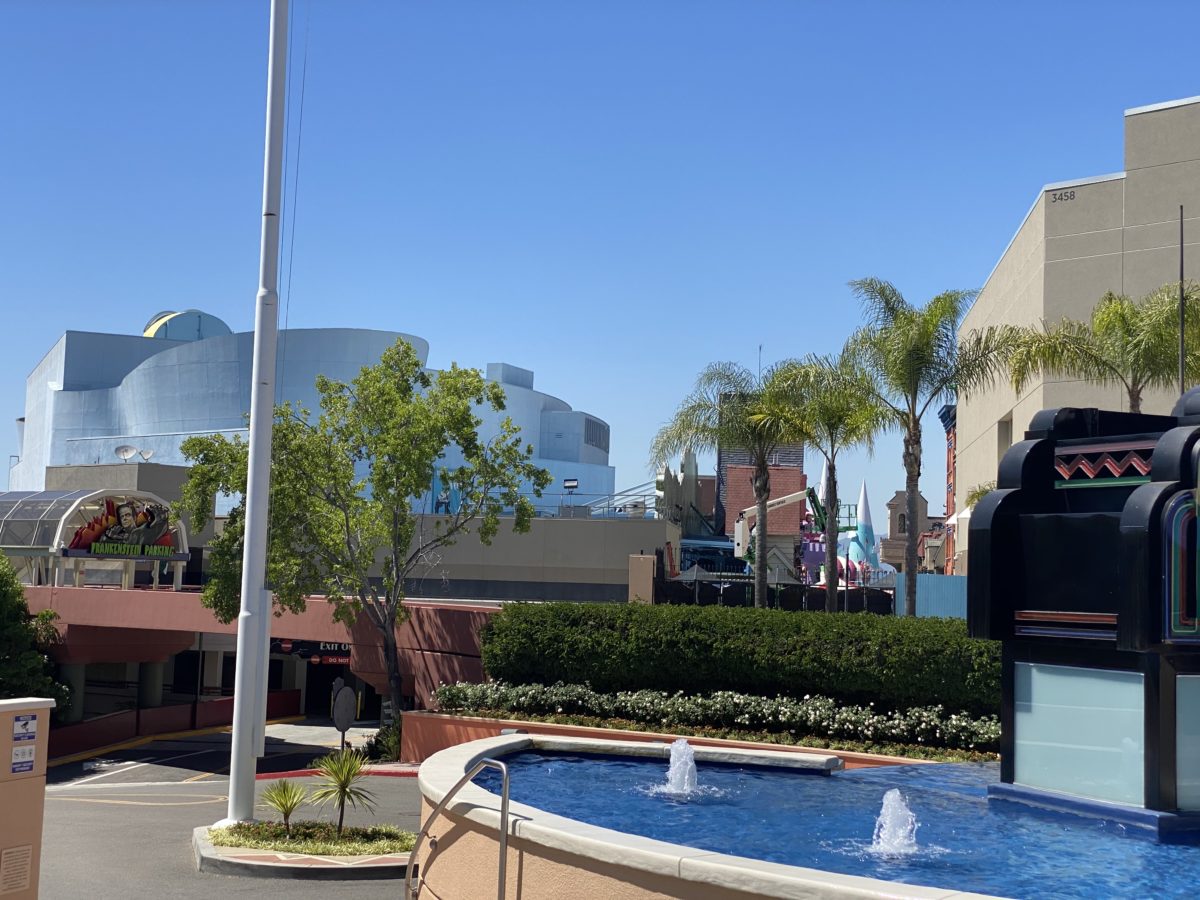 Just over the Universal Studios Hollywood water fountain, we were able to catch a glimpse of the Despicable Me themed area, Super Silly Fun Land.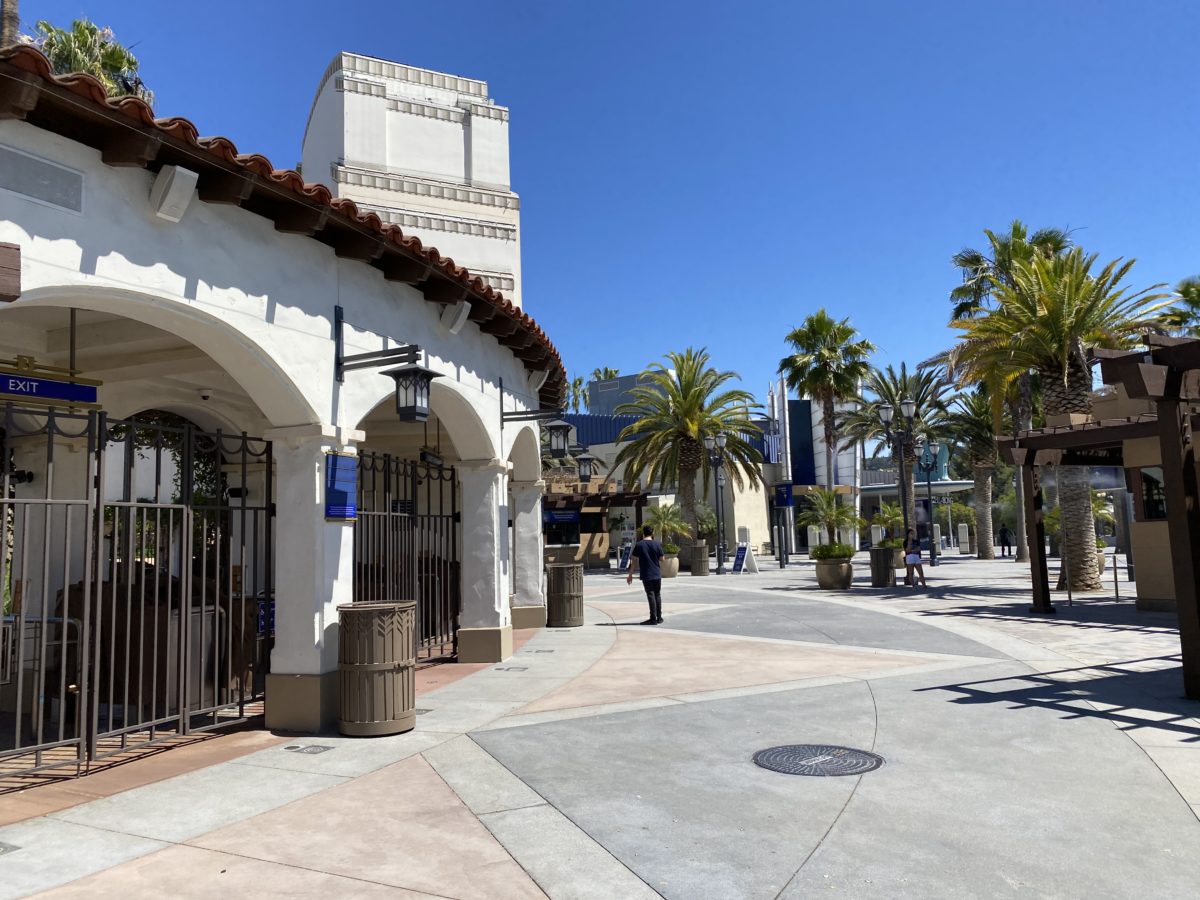 With Disneyland announcing its phased reopening, we will most likely be hearing news about Universal Studios Hollywood soon.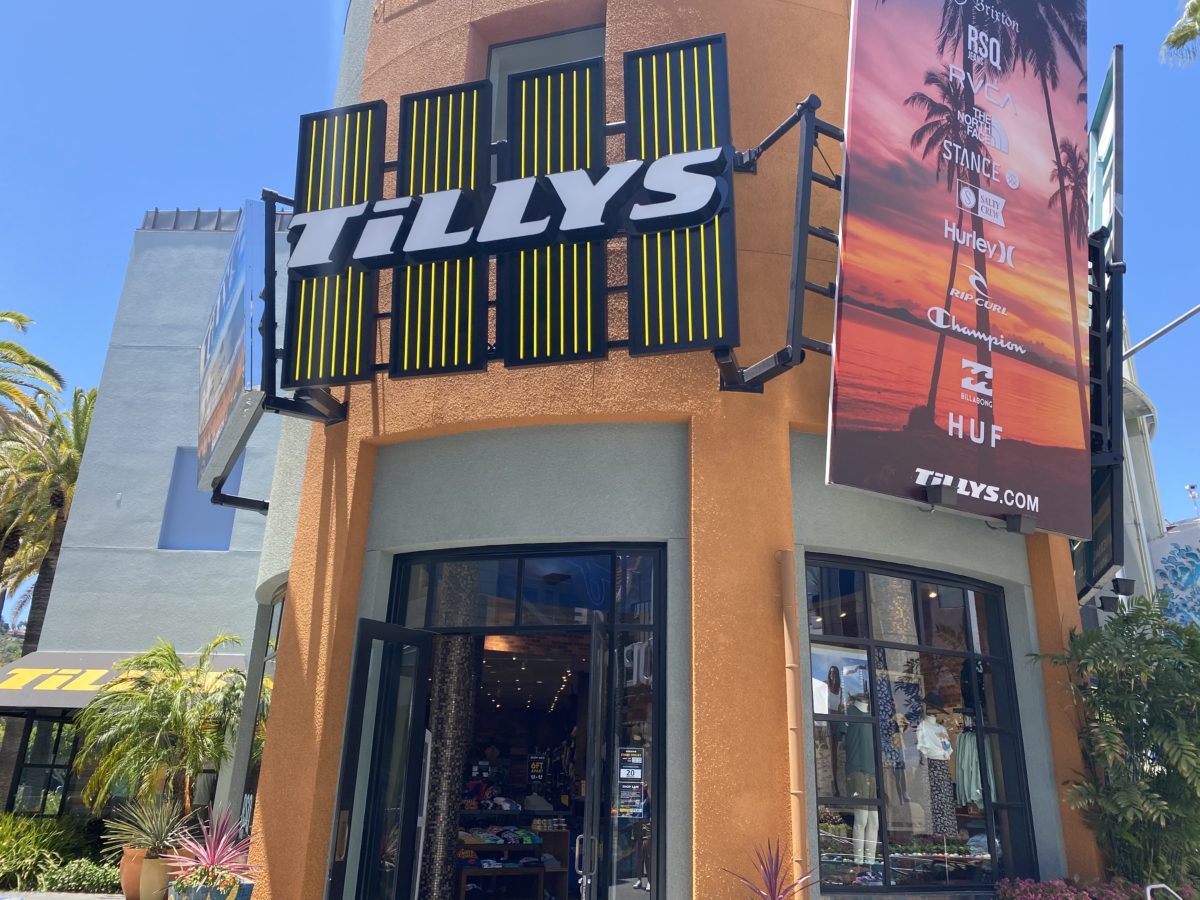 Tillys was open today with operating changing rooms.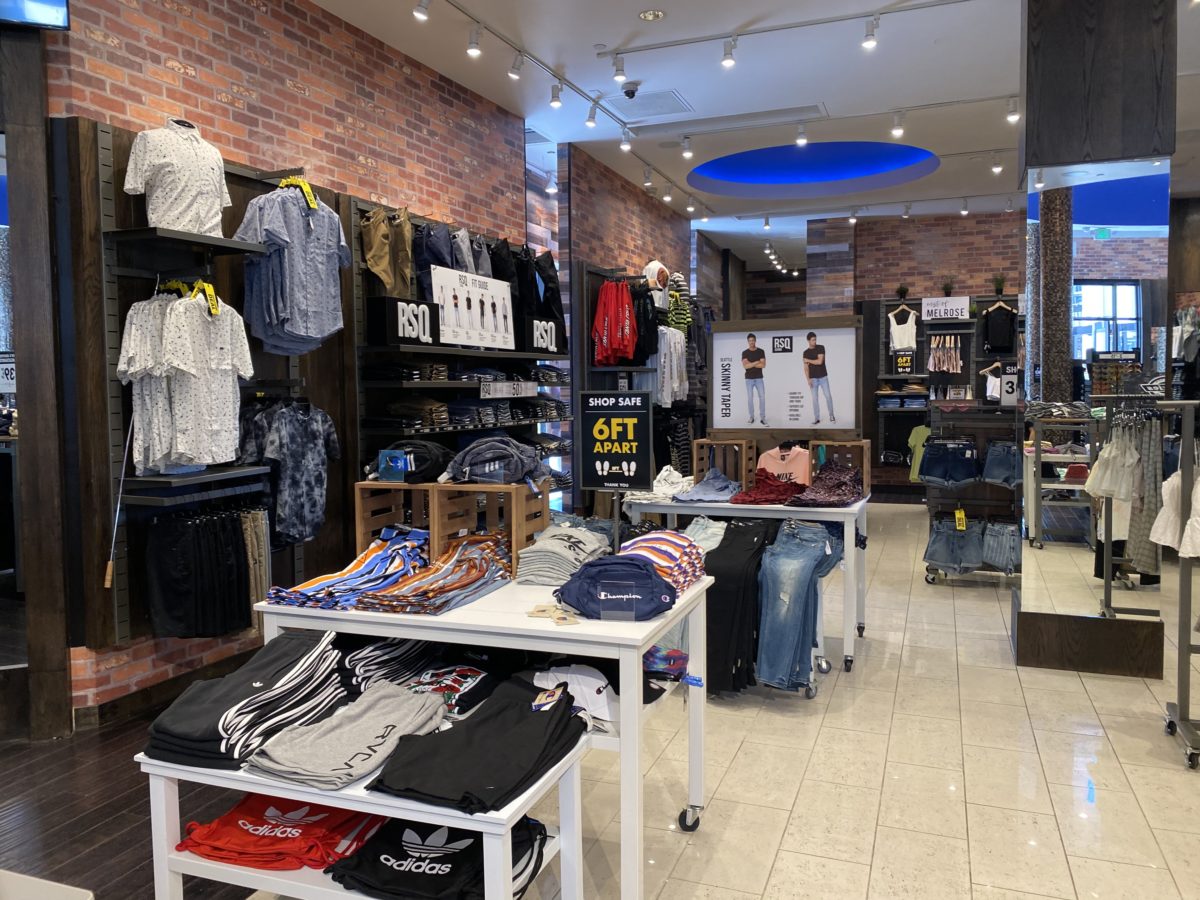 There were no markings on the floor other than near the register.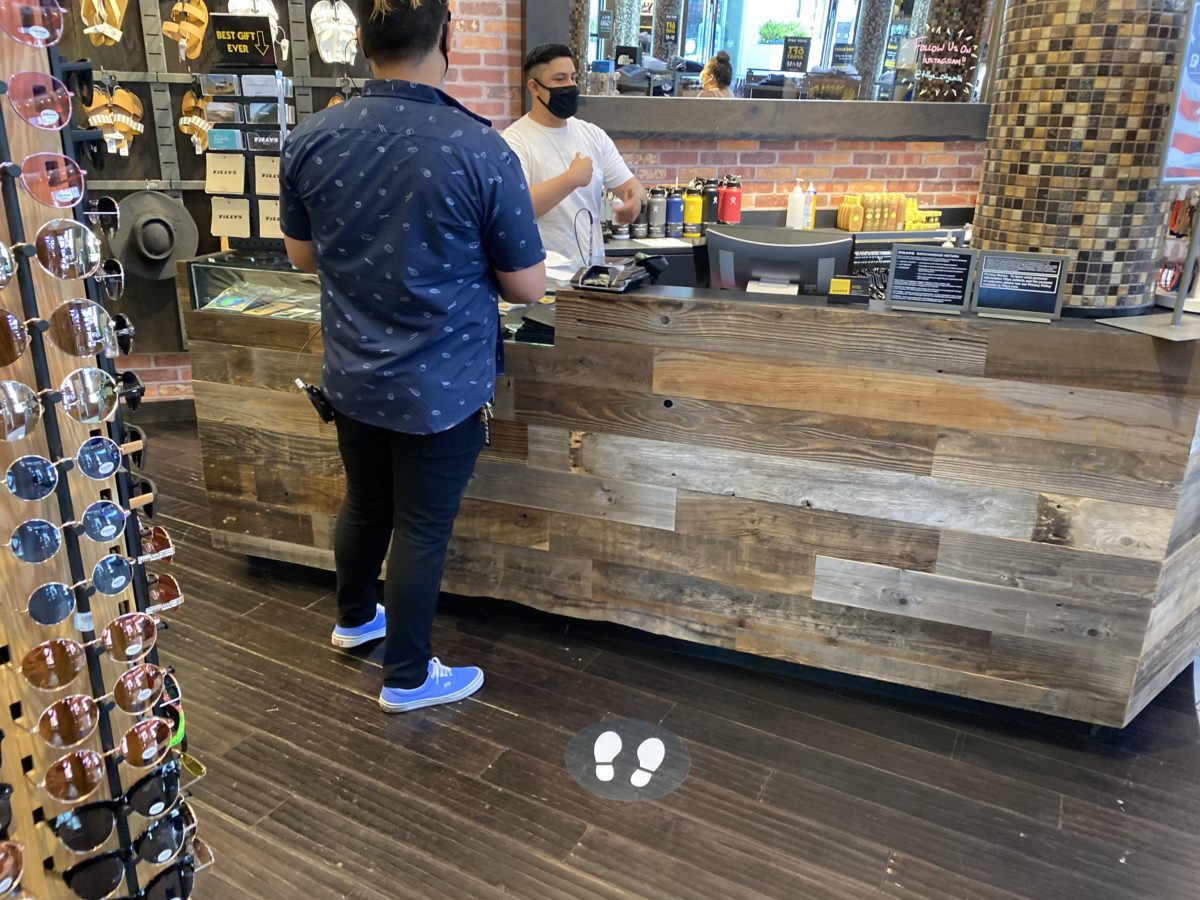 There were no guests shopping when we entered the store.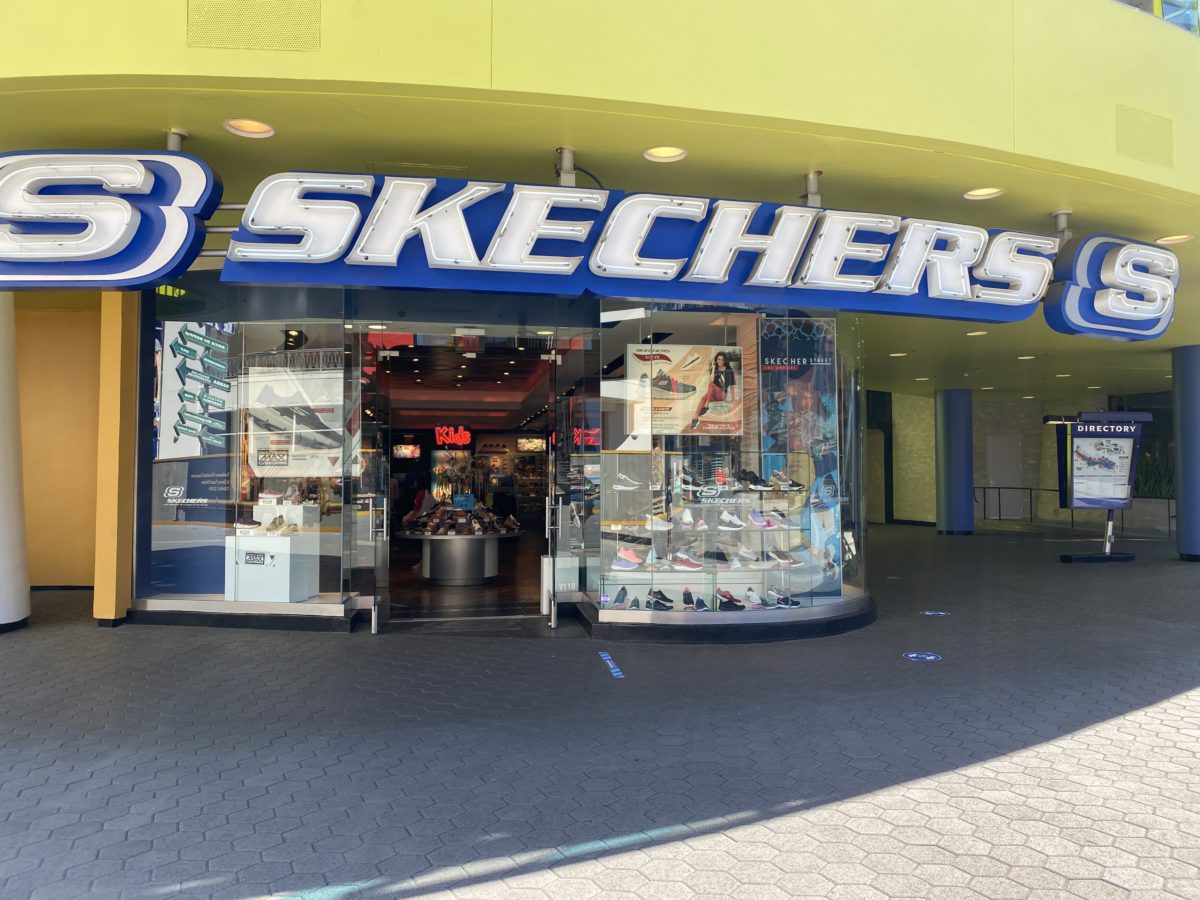 The Skechers store opened around 2pm. Social distancing measures were in place inside and outside. A few guests were safely able to try some new kicks on.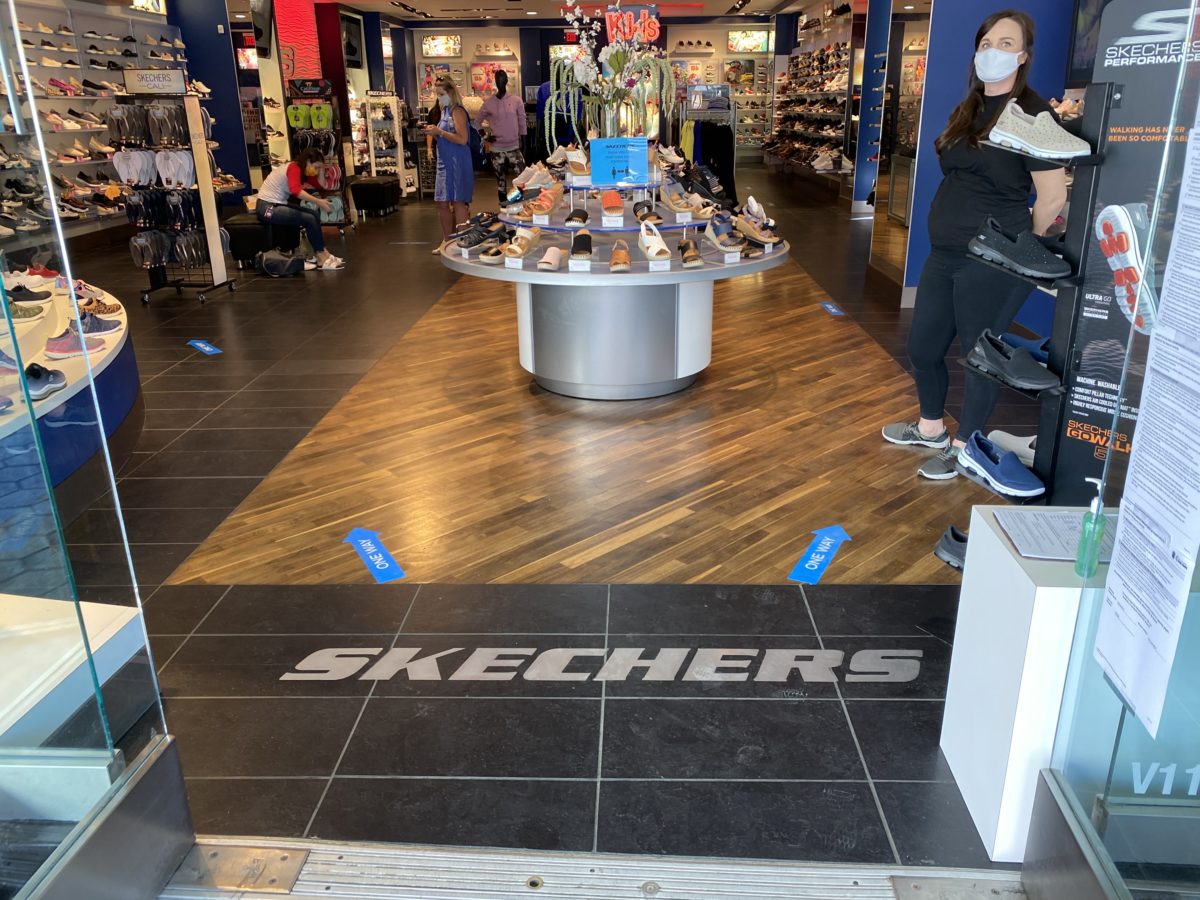 The floor markings helped guide guests through the store smoothly.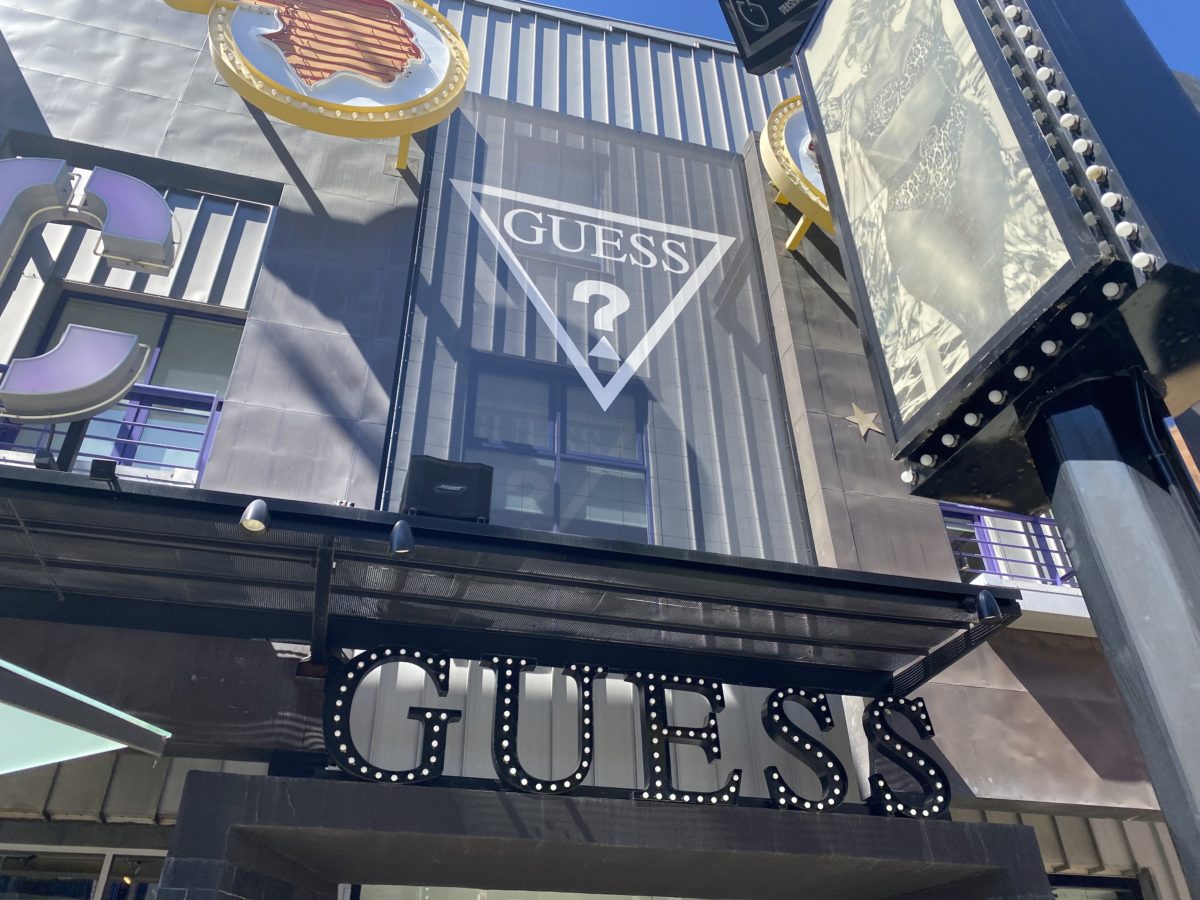 Guess is another one of the few stores that opened today.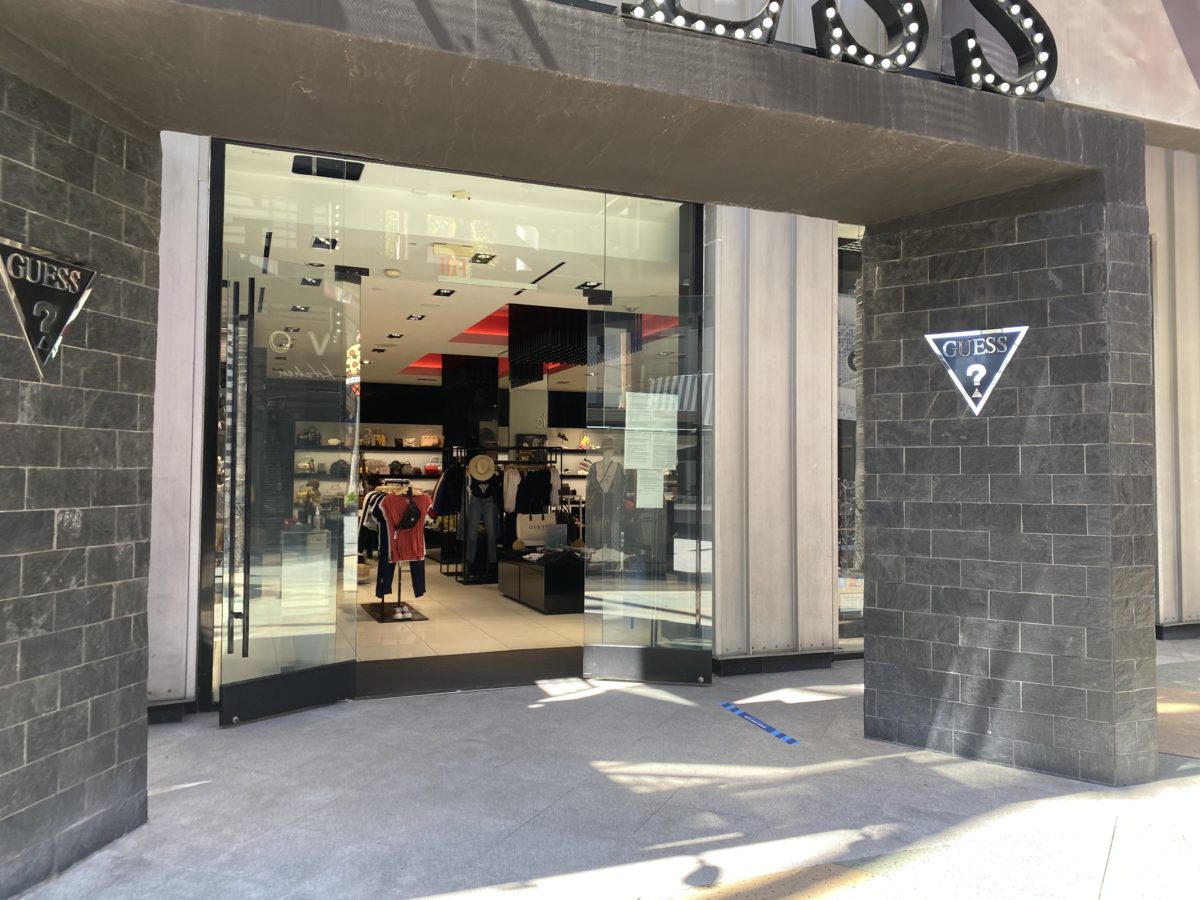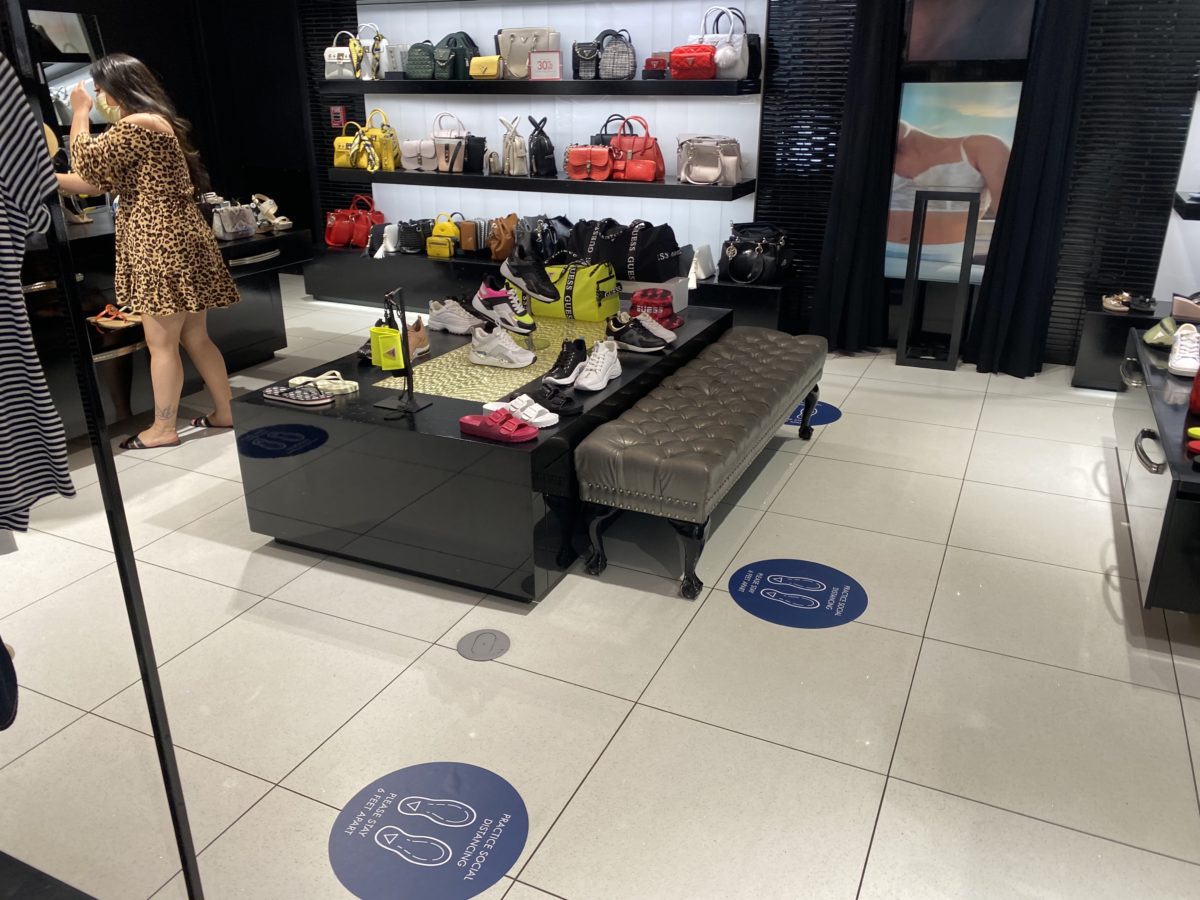 Social distancing stickers were placed all around the store.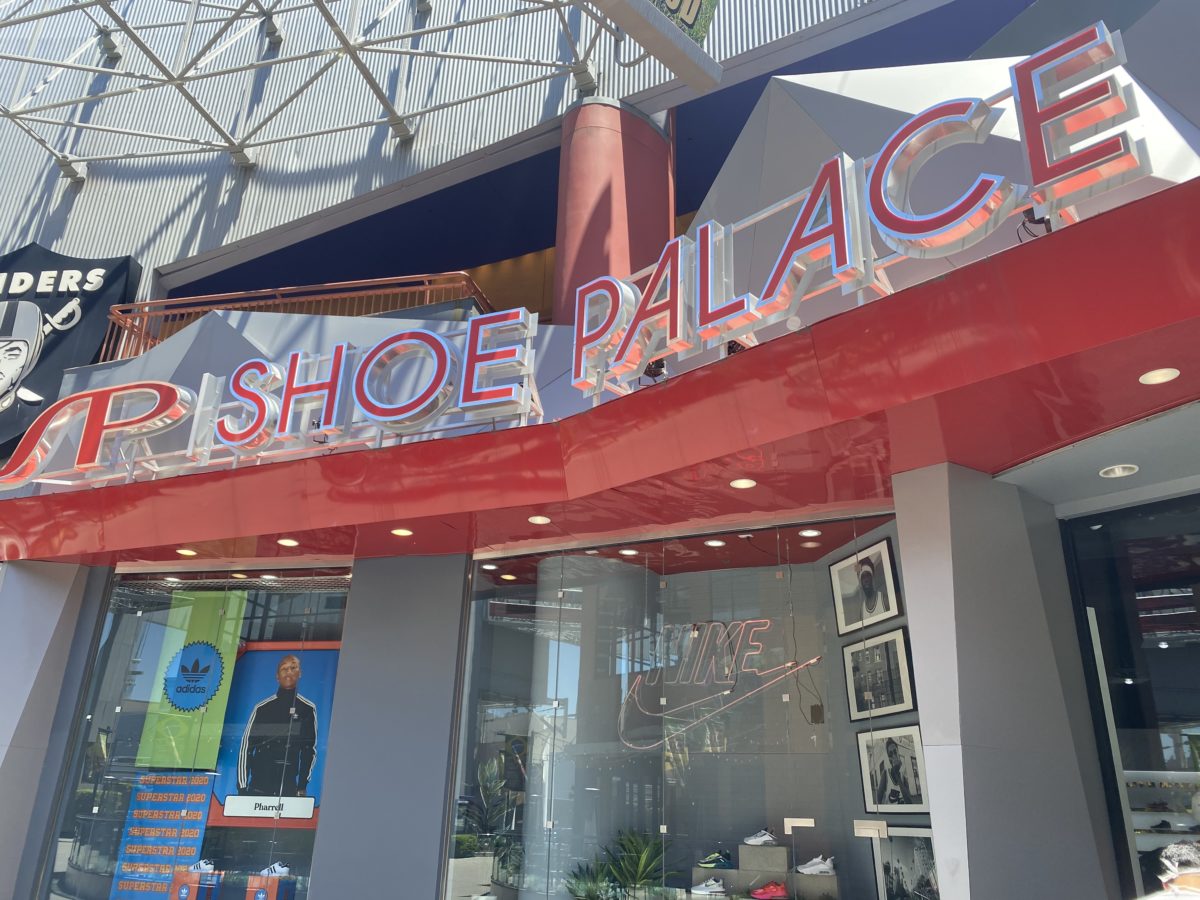 The last retail store that was open was at CityWalk today was Shoe Palace.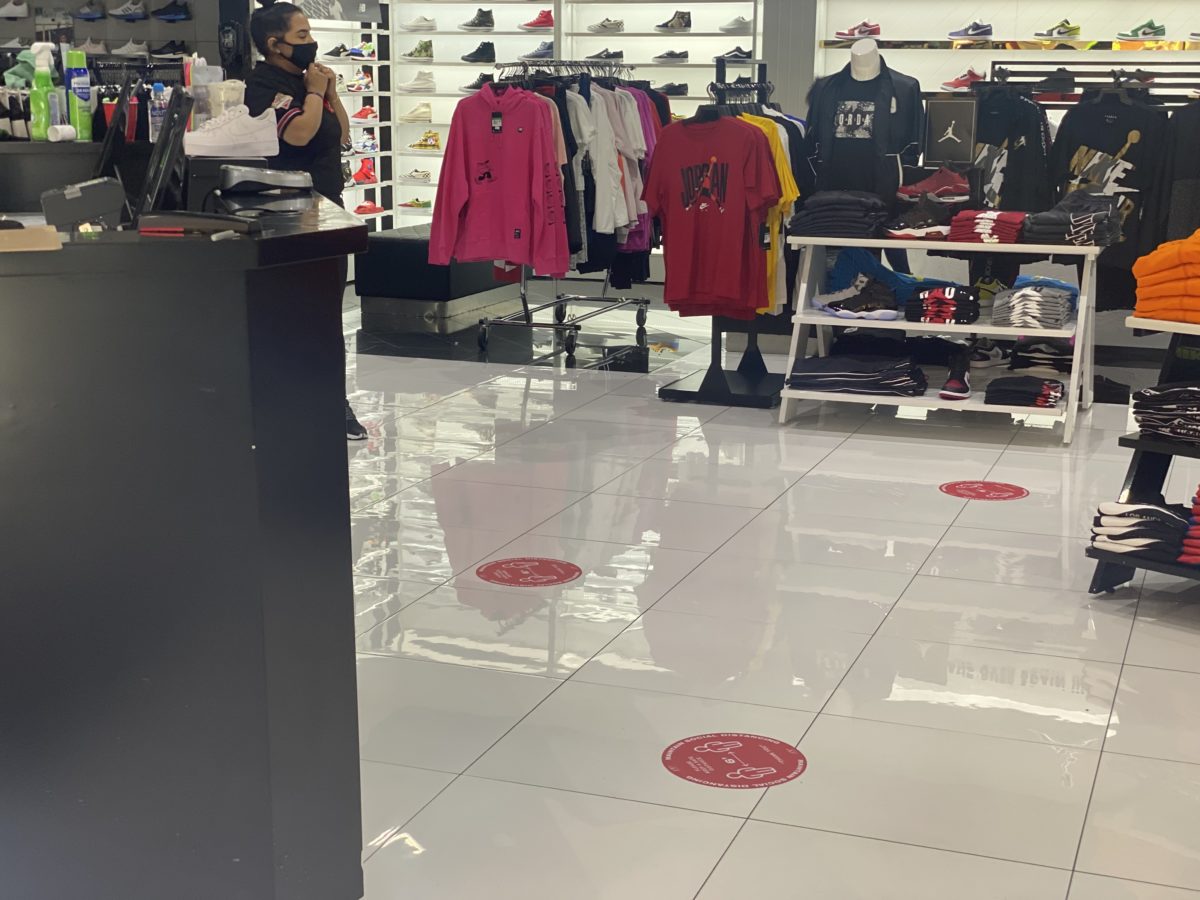 Much like Guess, Shoe Palace had big circle markers on the main floor in front of the register.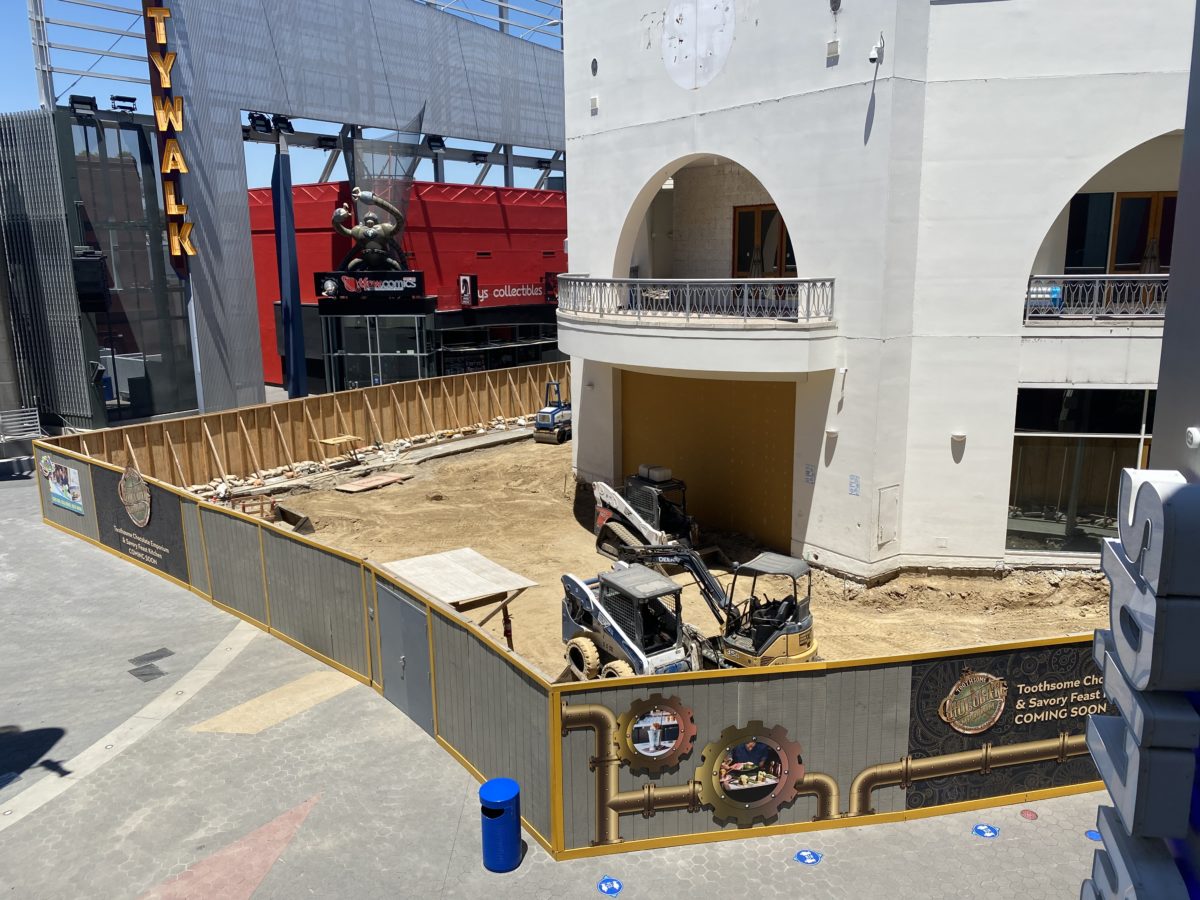 The last thing we were able to see on the way out was the current construction on the Toothsome Chocolate Emporium which is due to open in 2021. This is the former location of The Hard Rock Cafe.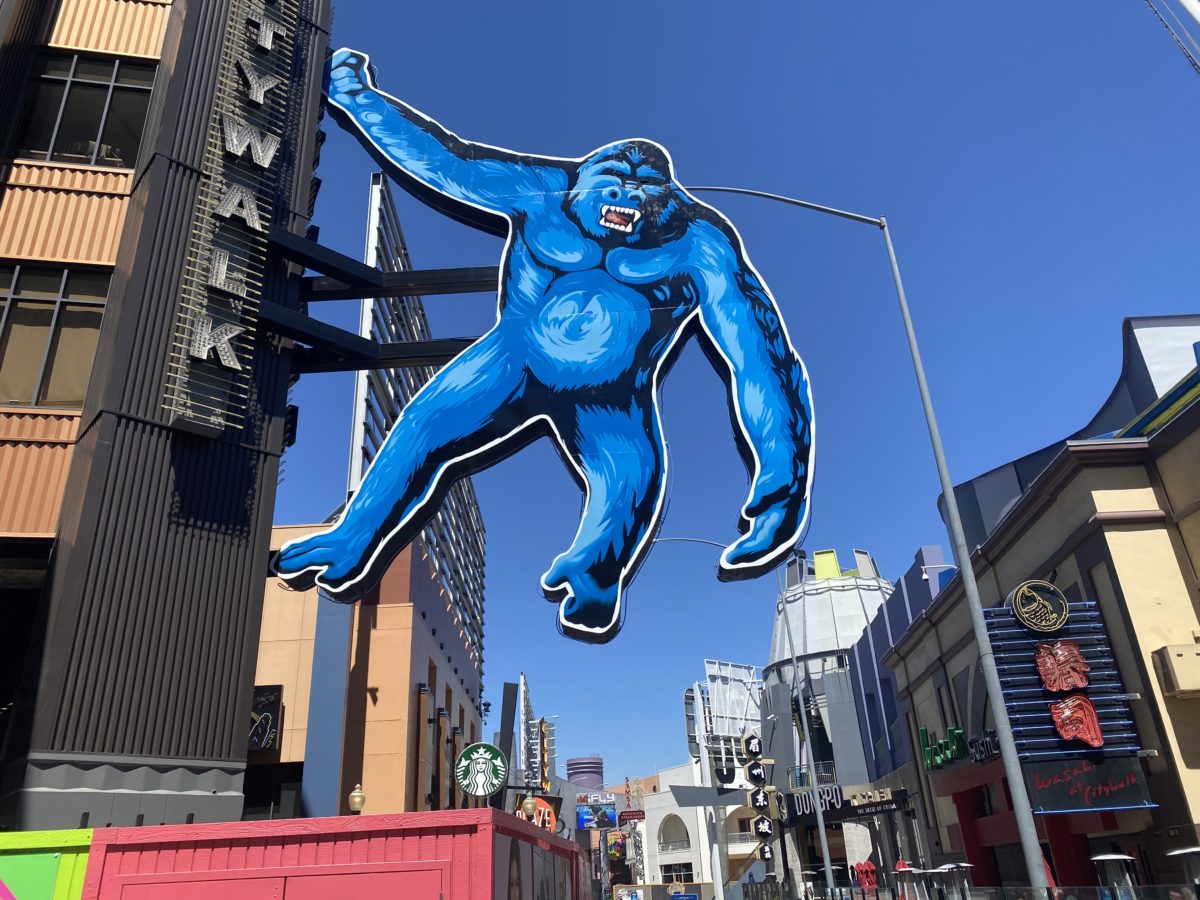 That wraps up the first Universal CityWalk Hollywood photo report! As you can tell, the first day of operations ran smoothly. Hopefully, we can see this trend continue.
Keep checking back at Universal Parks News Today for more updates regarding the Universal Parks from around the world.