The Florida Department of Health has now extended the mandate stating that guests traveling to Florida from the Tri-State area are required to self-isolate for 14 days. Previously, the order had been extended through July 7th, but according to officials, no official end date has been established for these restrictions.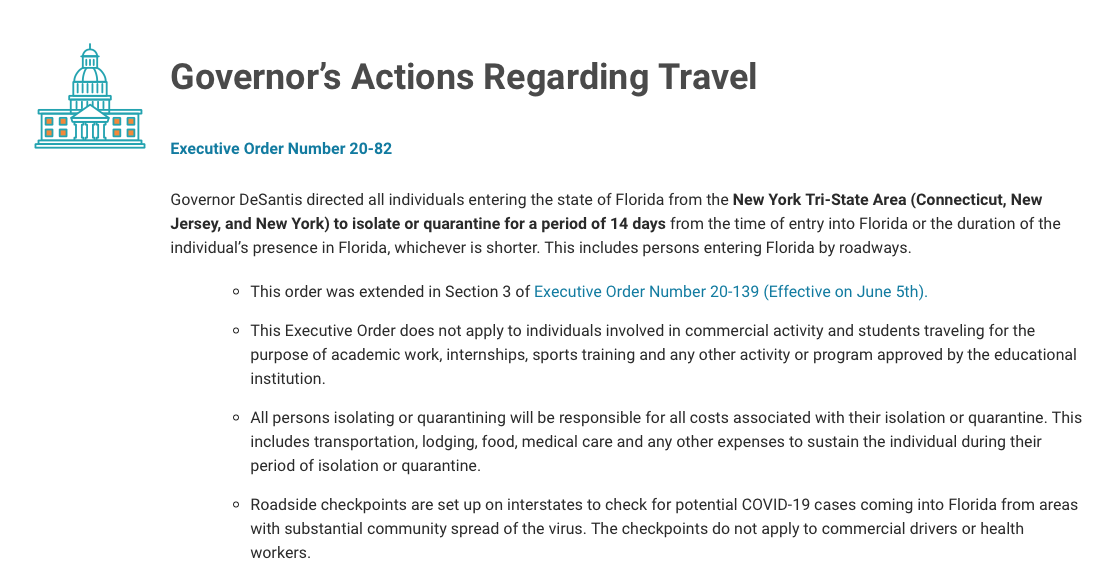 In a recent update, Governor DeSantis announced that all individuals entering the state of Florida from Connecticut, New Jersey, and New York must isolate or quarantine themselves for a period of 14 days. The order was originally set to end on May 8th. Upon calling the Florida Department of Health COVID-19 hotline today, we were informed that there is no end date identified for these restrictions, and that the restrictions are therefore extended indefinitely. Quarantine should be in effect from the time of entry into Florida or the duration of the individual's presence in Florida, whichever is shorter.
Roadside checkpoints on I-10 and I-95 are set up to screen for potential COVID-19 cases. The rule will not apply to students travelling for the purpose of academic work, internships, sports training and any other activity or program approved by their institution. All those isolating are responsible for their own costs associated with their quarantine.
If you live in the Tri-State area and have been planning a trip to Walt Disney World within the coming month, we encourage you to check with your travel agent for any potential changes. In the meantime, any and all changes to these mandates will be listed on the Florida Health Department's website first and foremost.