Good morning from another exciting day at Disney Springs! As usual, we've got a ton of updates, from new merchandise to construction. Let's put our masks on and head in.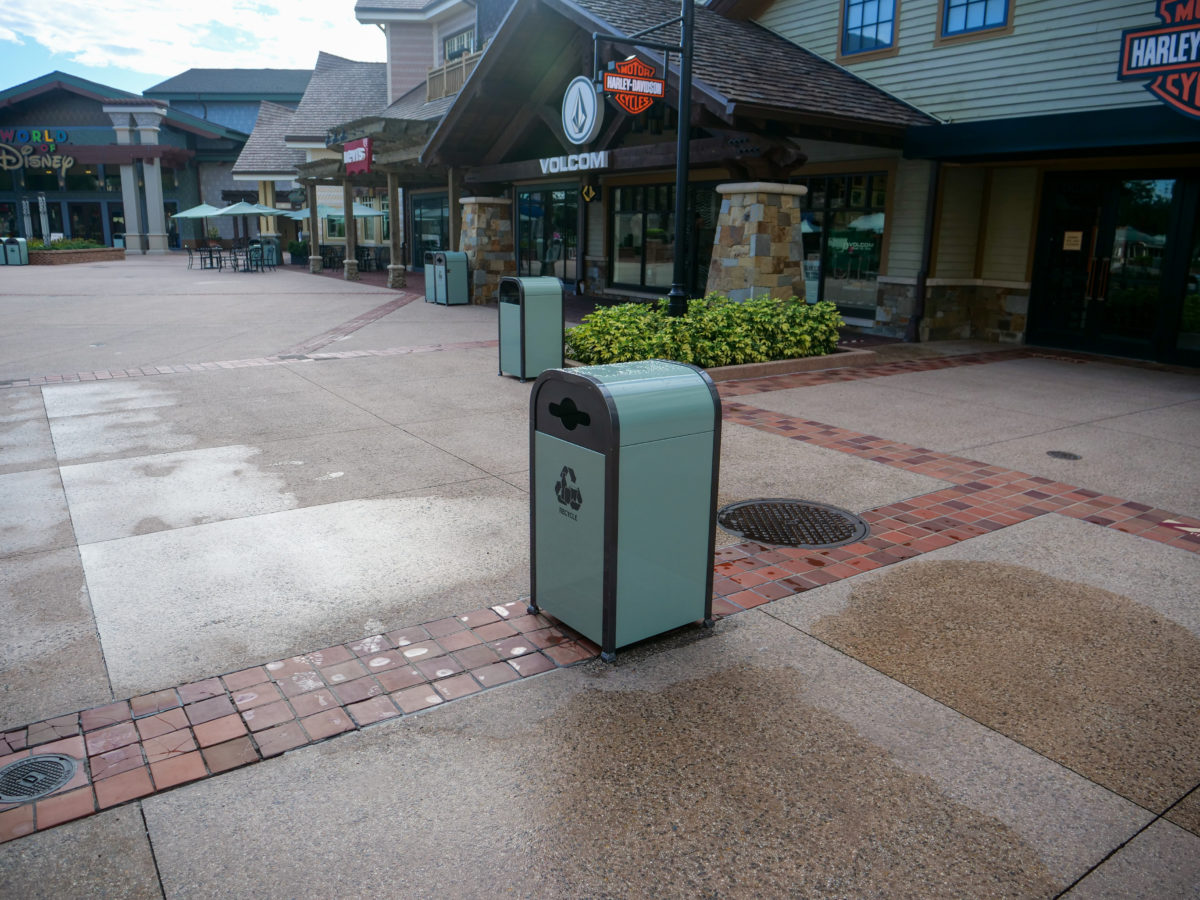 Heading towards our first destination, this recycling bin was slightly out of place. We spent several minutes talking to it, thinking it was perhaps the next iteration of Push, however, we eventually came to the determination that this was simply a regular bin after it failed to respond.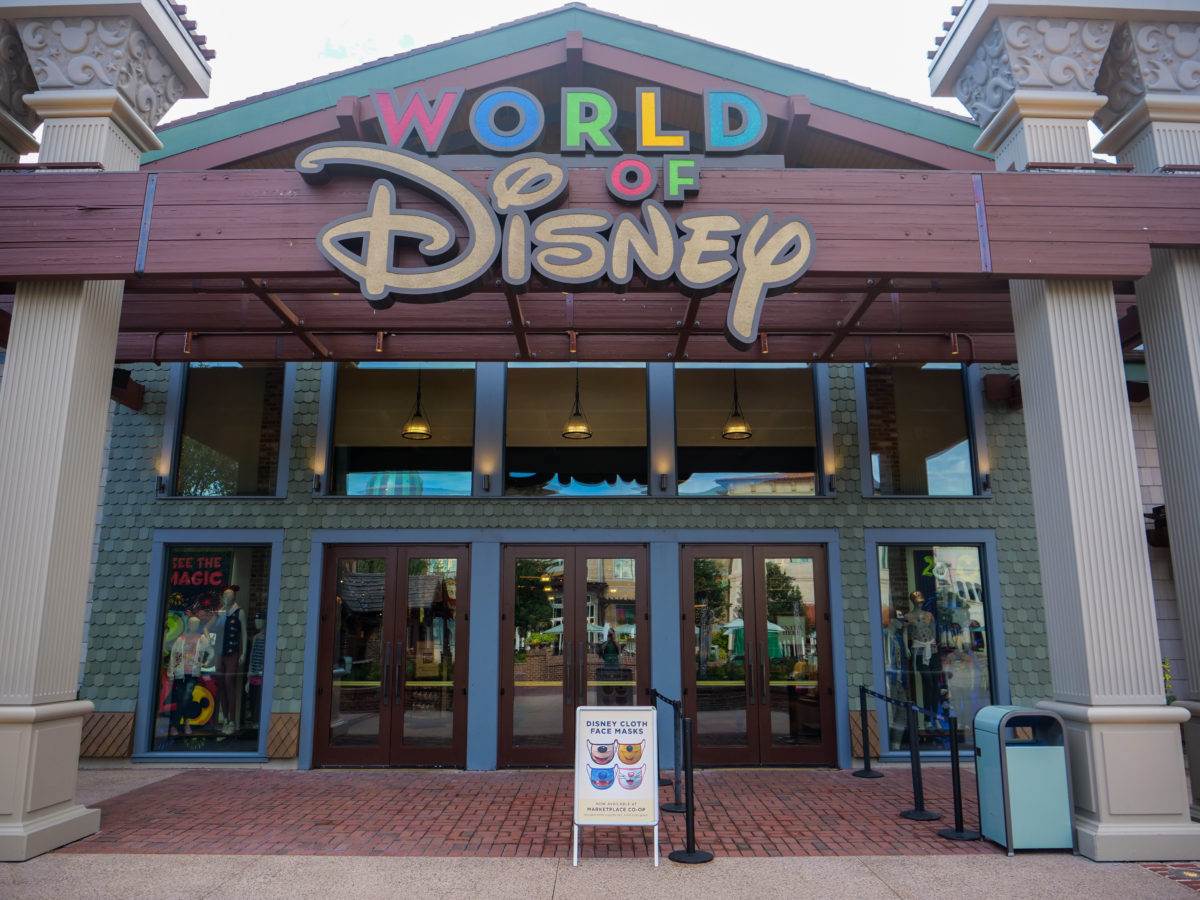 Once we arrived at the retail store to rule them all, World of Disney, the recent trend of foregoing the virtual queue system continued. The difference today, however, is a sign directing guests wishing to buy Disney character masks to visit Marketplace Co-Op.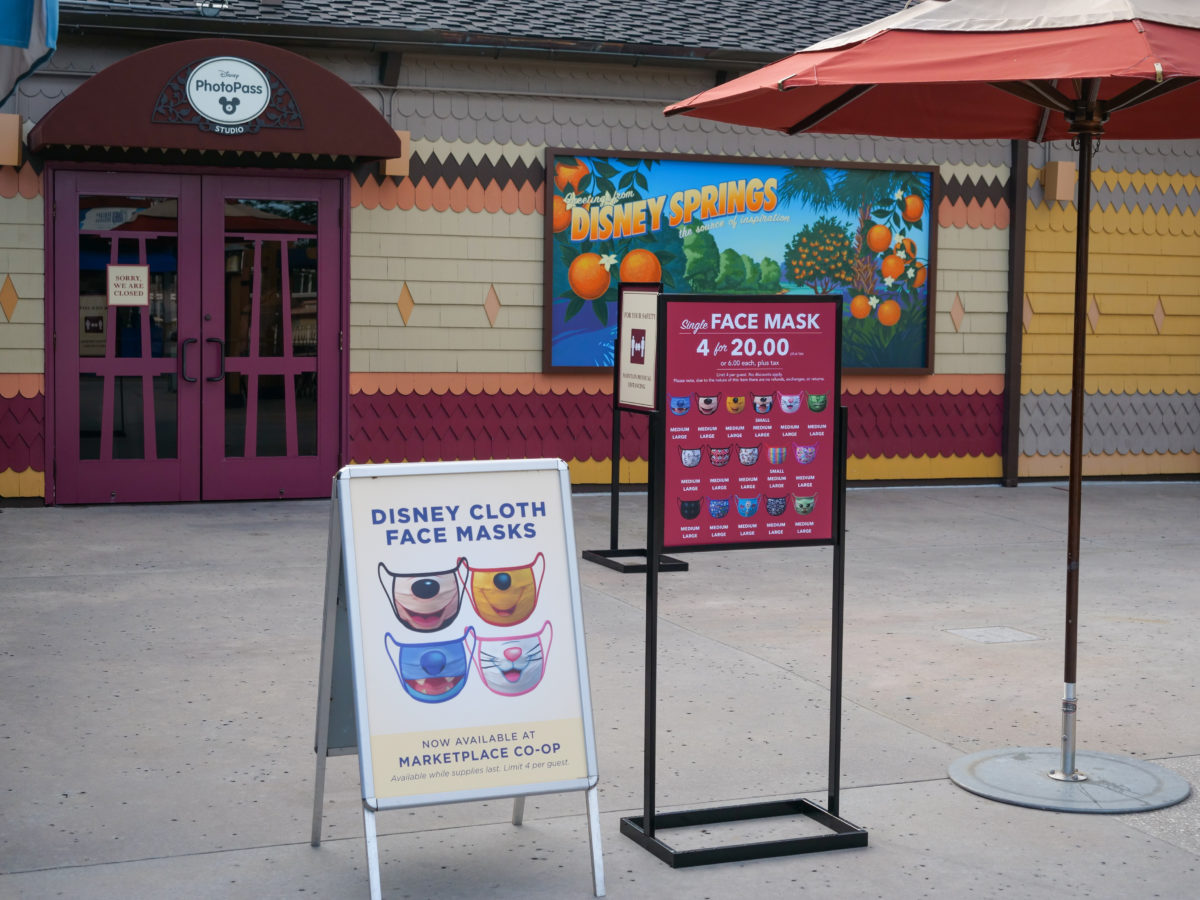 At the aforementioned Co-Op, signage was set up bright and early for guests wishing to assess the mask selection and line up to purchase them. Anyone choosing to wait would do so in an old-fashioned physical queue.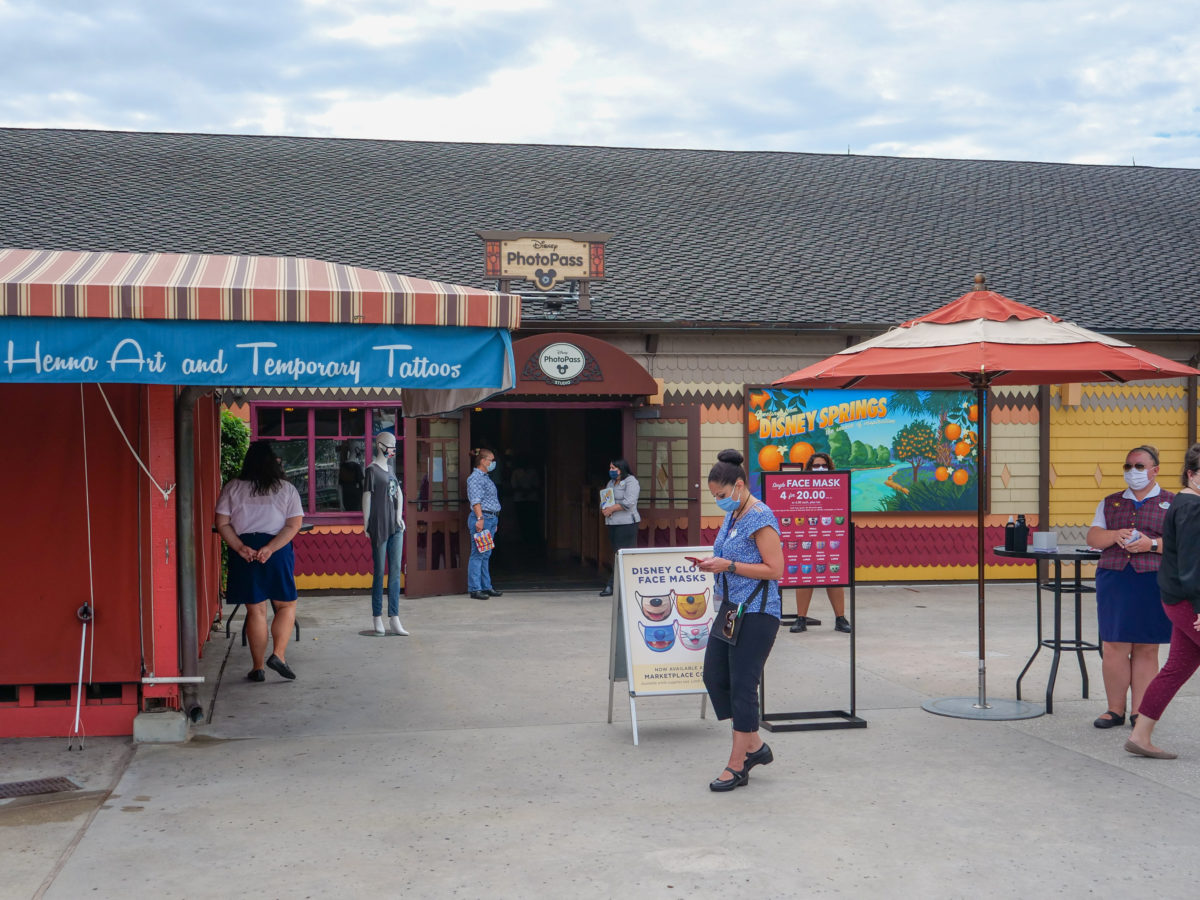 Luckily for those guests, they were allowed into Marketplace Co-Op a bit early, and were allowed to purchase masks around 9:15 am instead of the advised 10:00 am.
Inside World of Disney, they're actively trying to get 2020 dated merchandise off the shelves via a "buy one, get one" free promotion. Between having an extra few months of merchandise from what they probably expected to sell throughout the year, and 2020 generally being "the year no one wants to remember", we're confident there's a surplus to move off the shelves.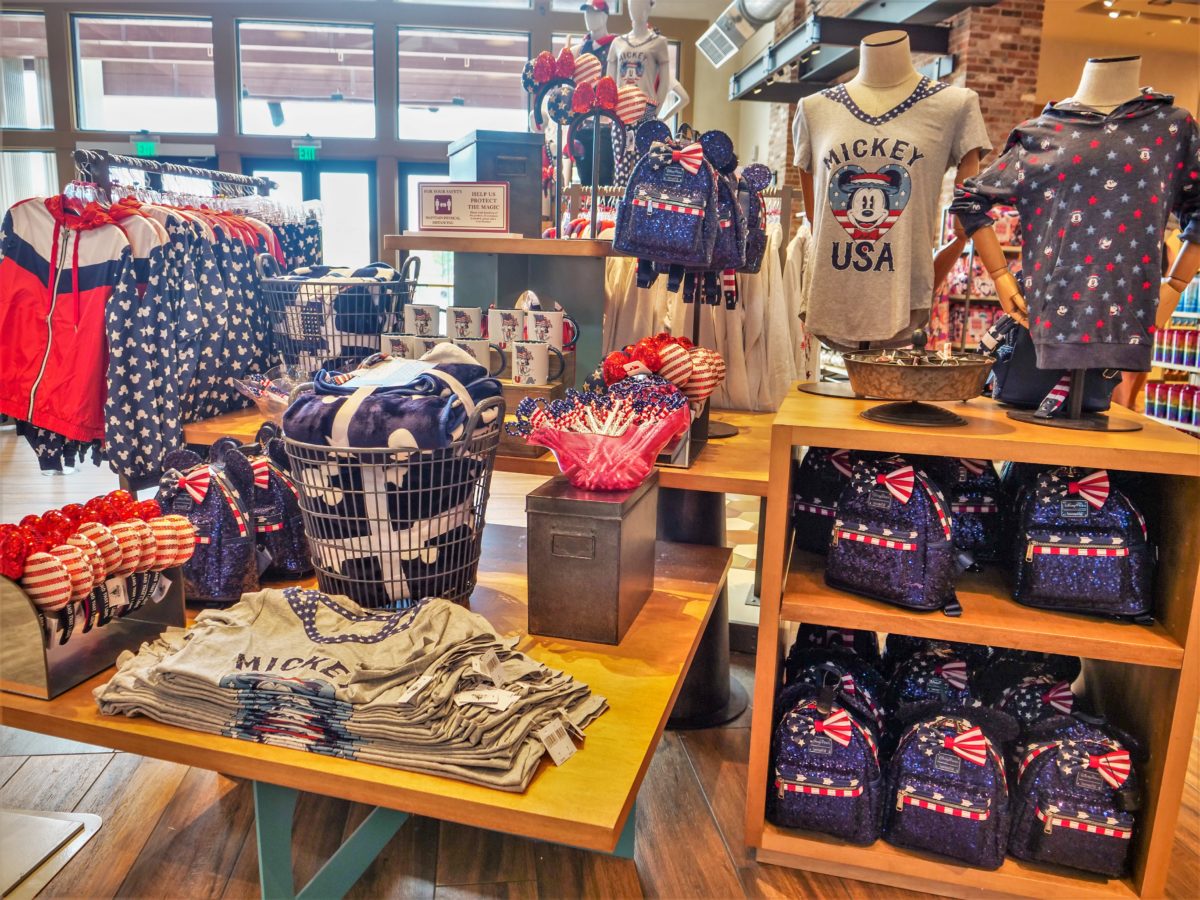 Despite the displays full of six-month-old items, these displays popped up overnight with a myriad of new Americana merchandise in advance of the Fourth of July holiday.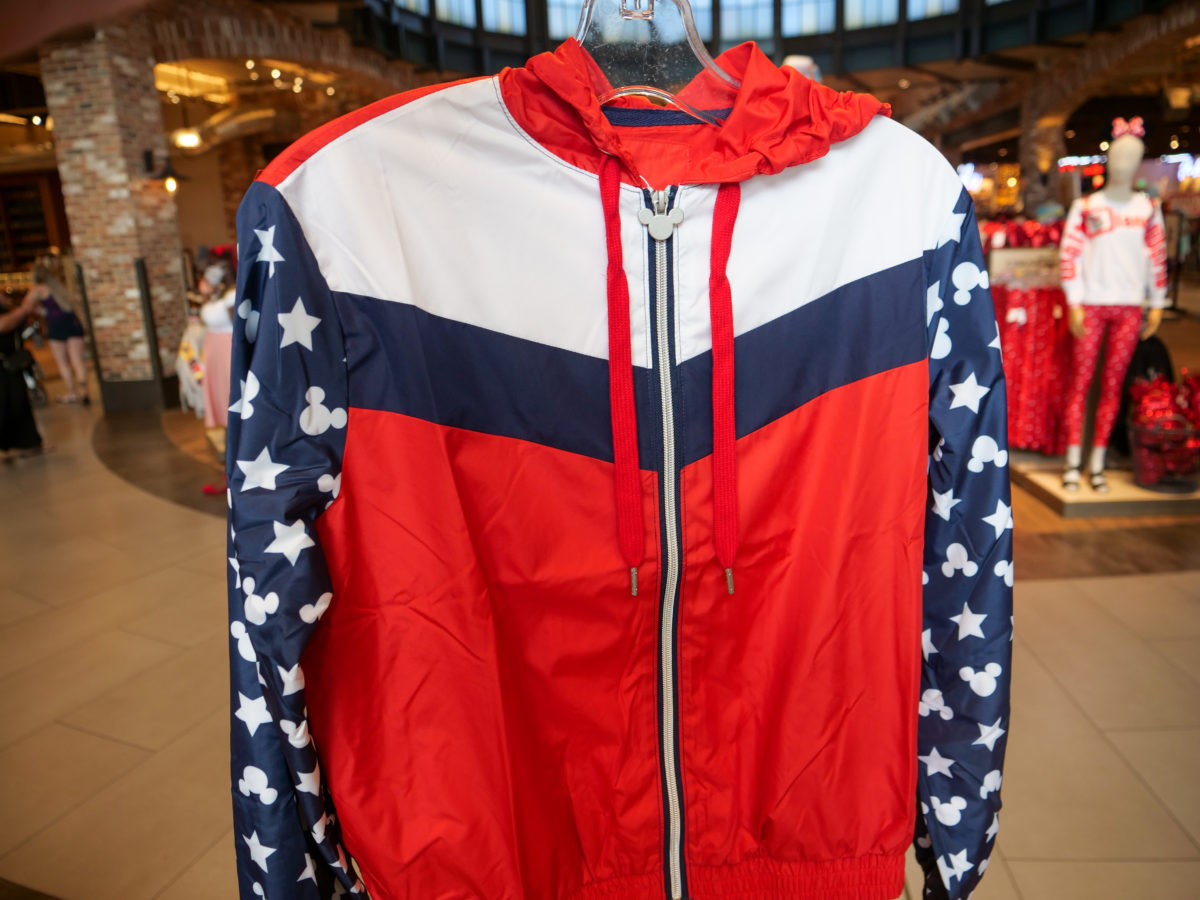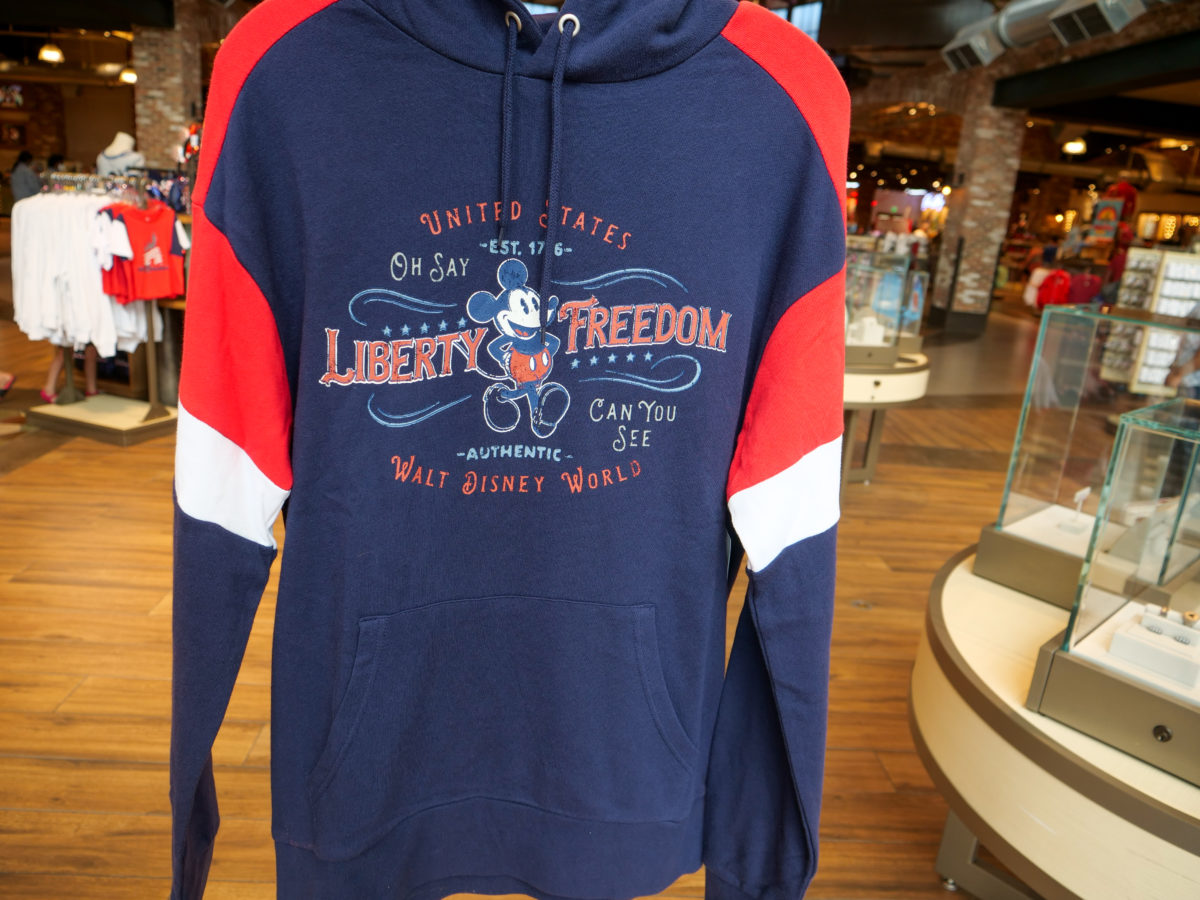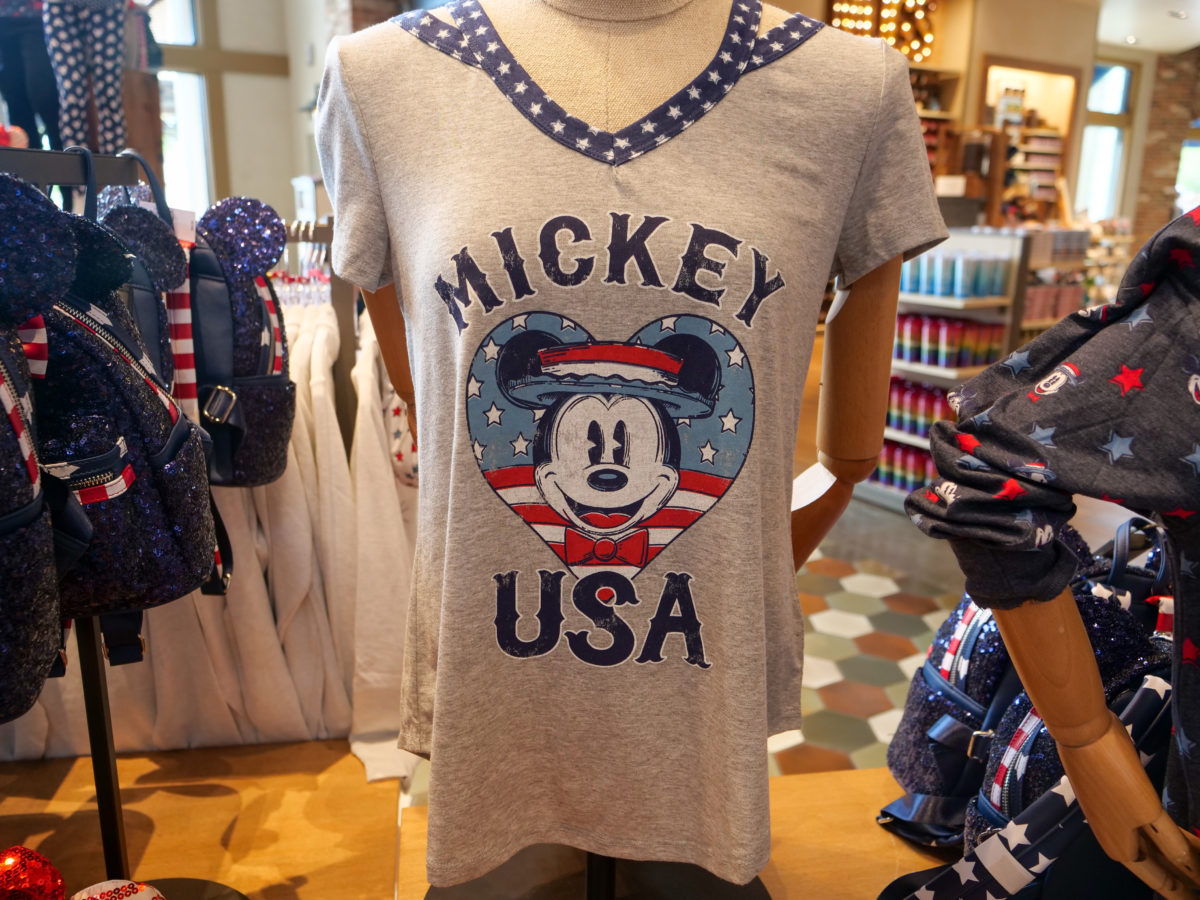 The line includes a variety of apparel, including the pictured windbreaker, hoodie, and ladies shirt, as well as a tank top, leggings, and t-shirt.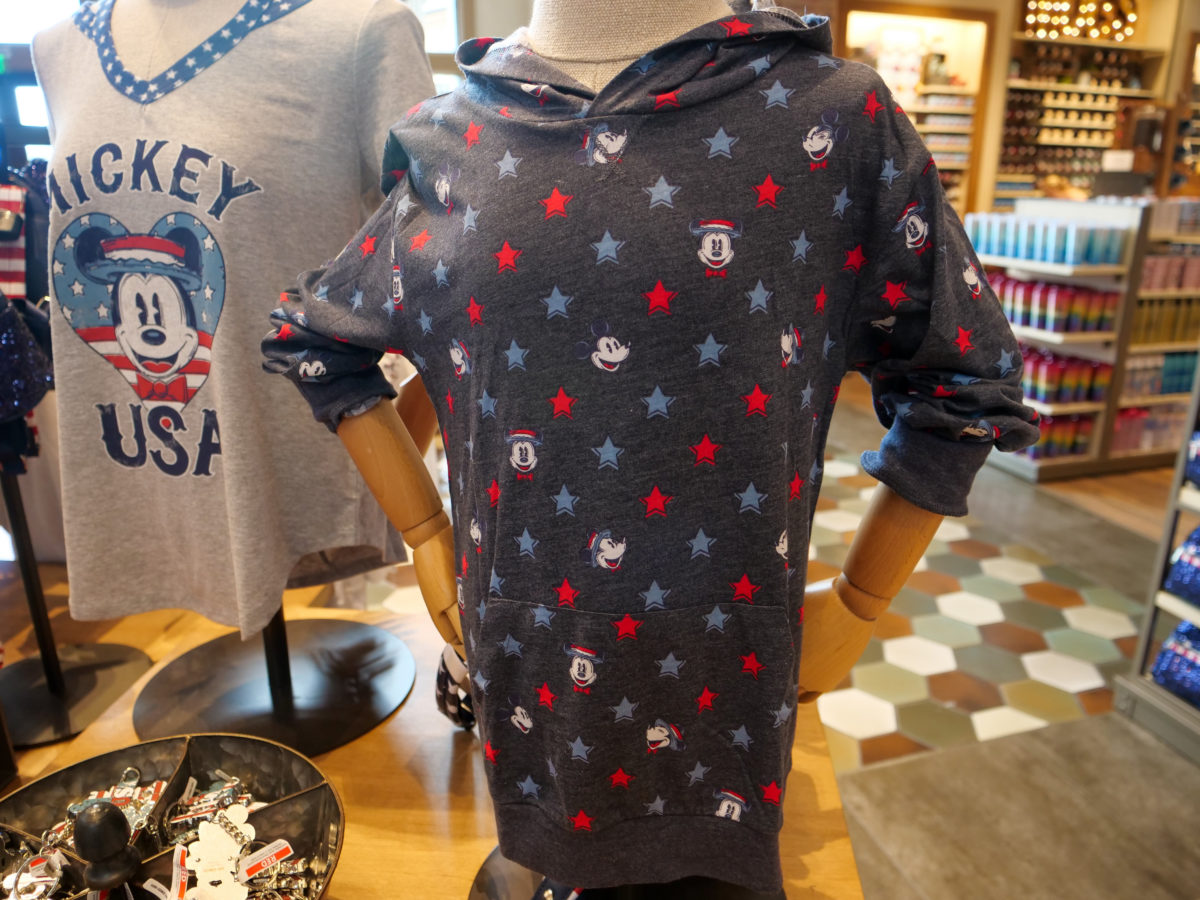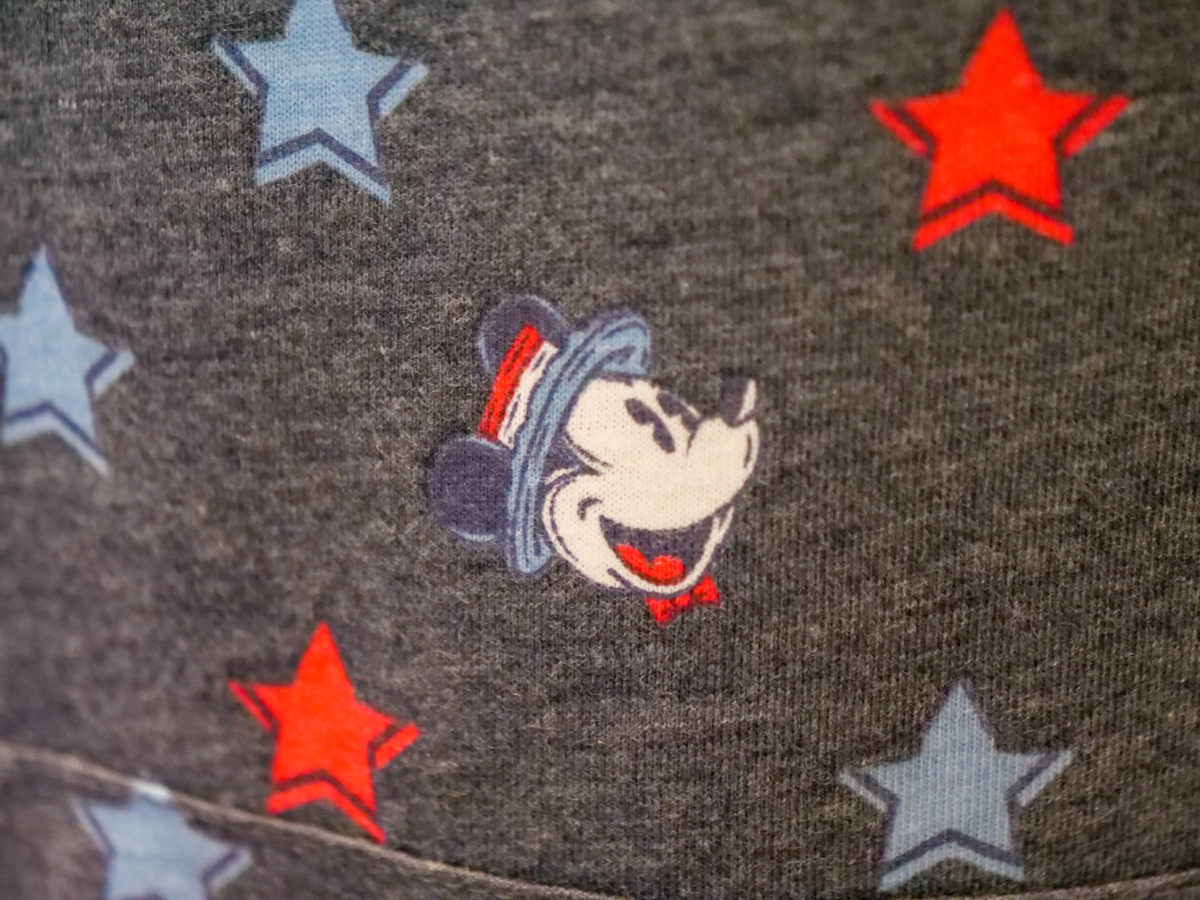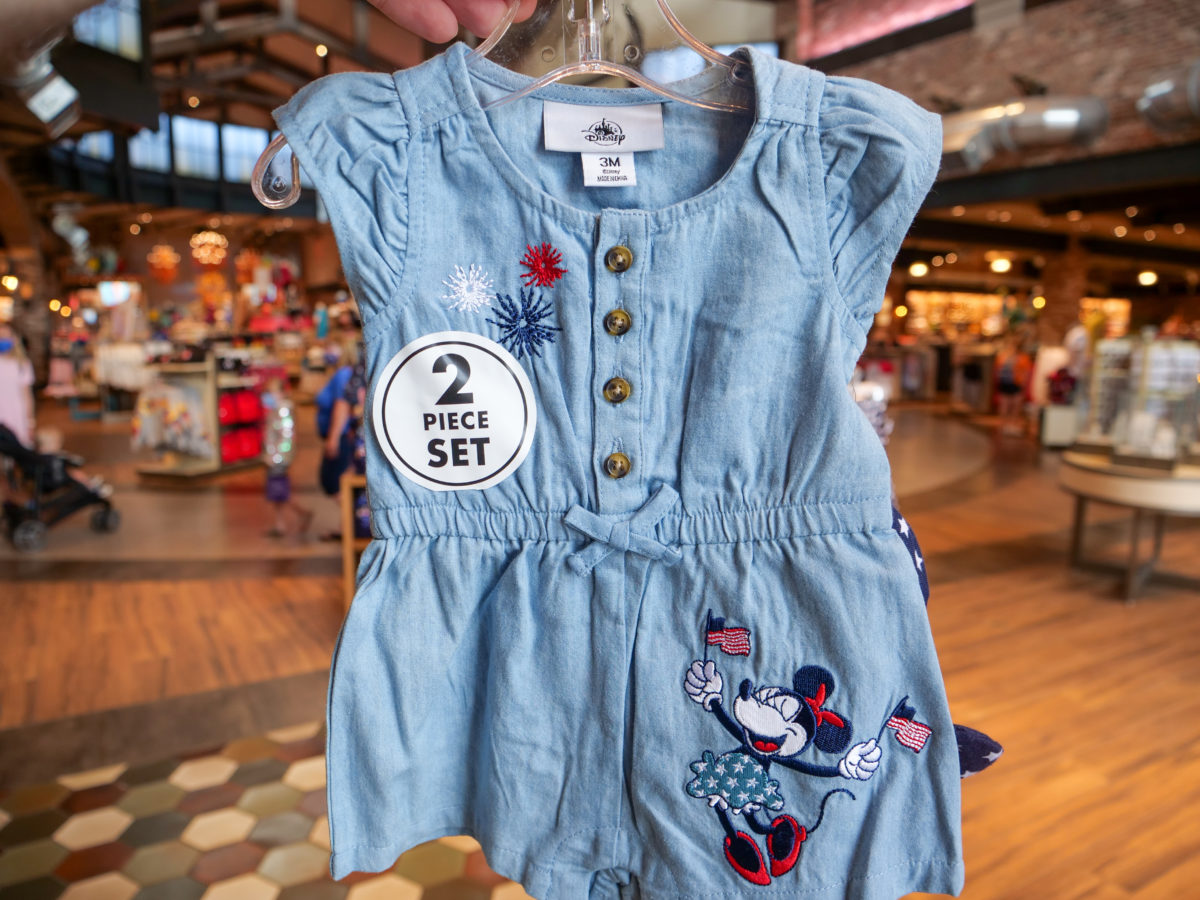 There's also apparel for the little ones, including a youth hoodie and baby's onesie.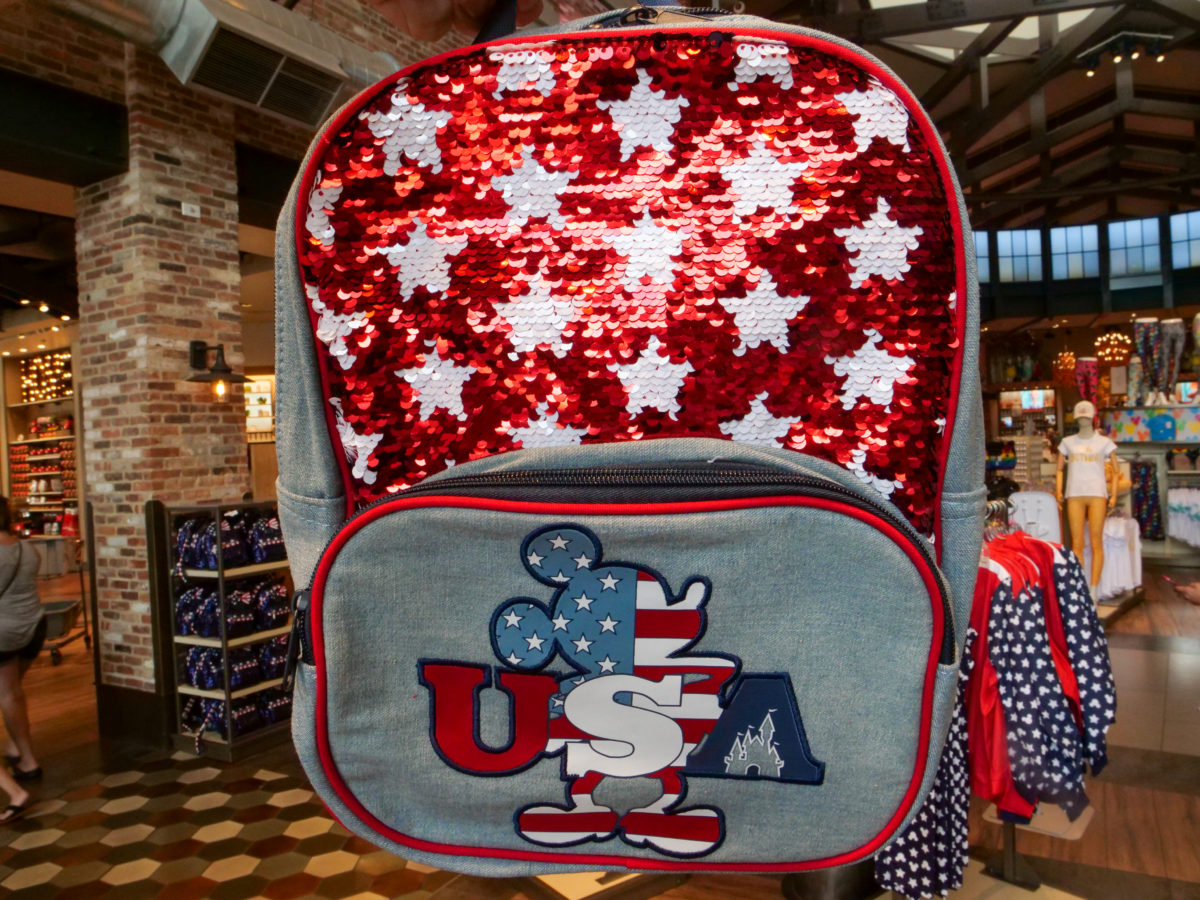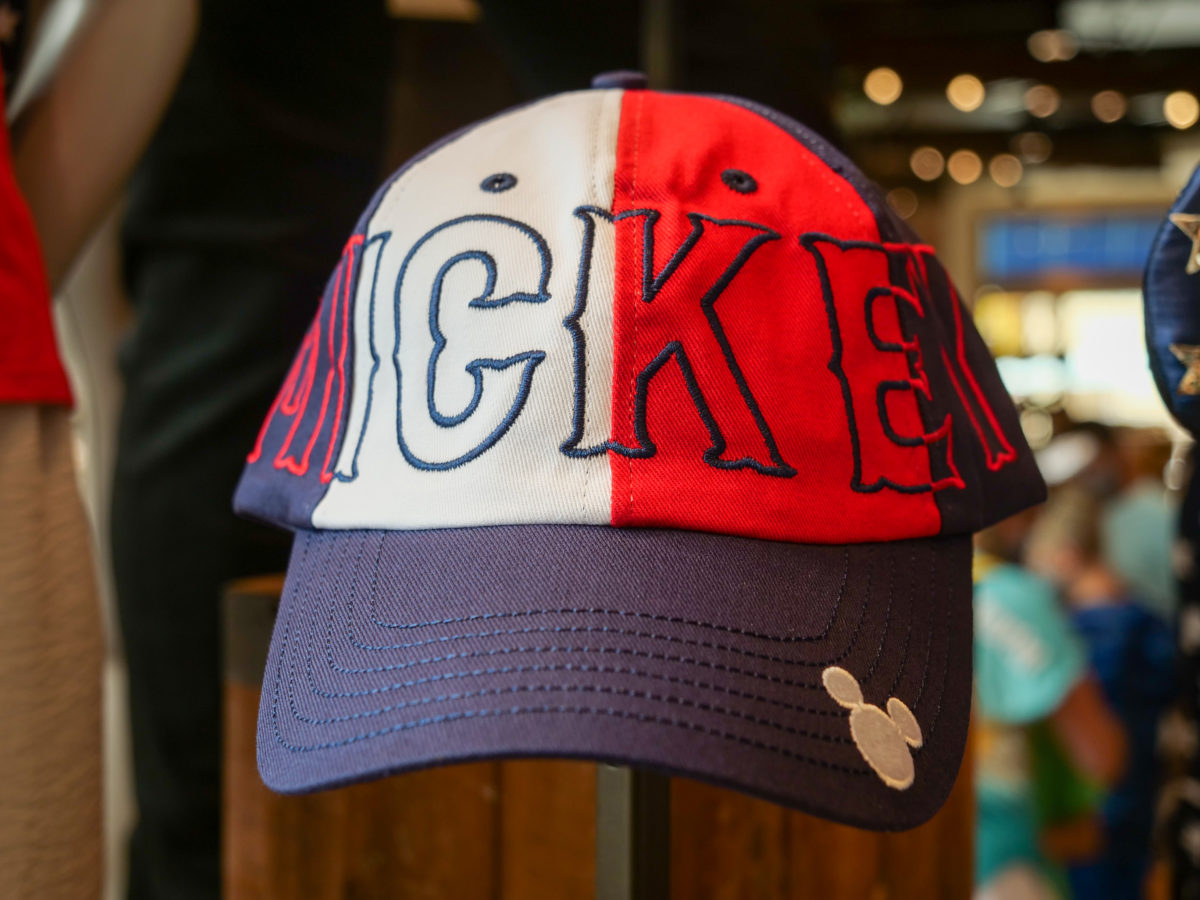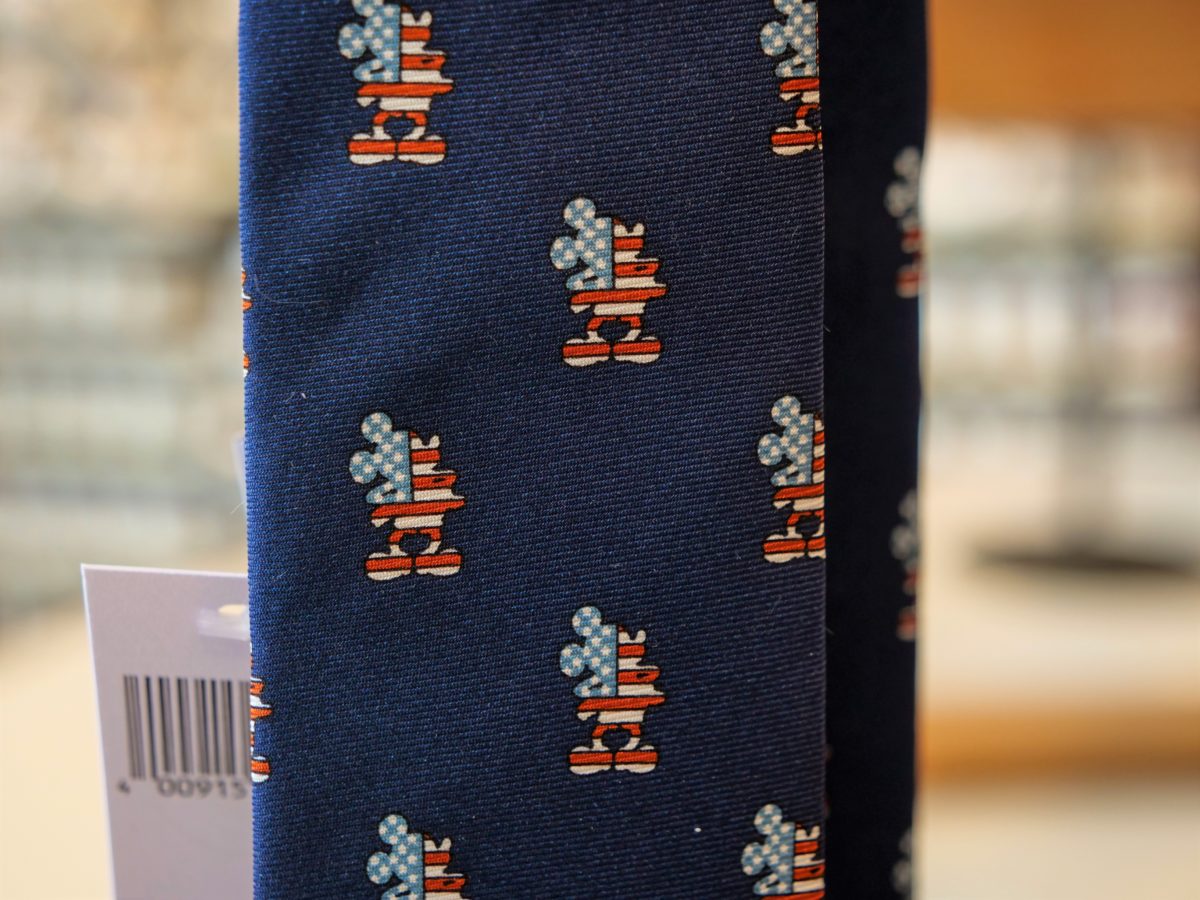 There's also no shortage of accessories, including a backpack, hat, and necktie, along with a mug and keychain.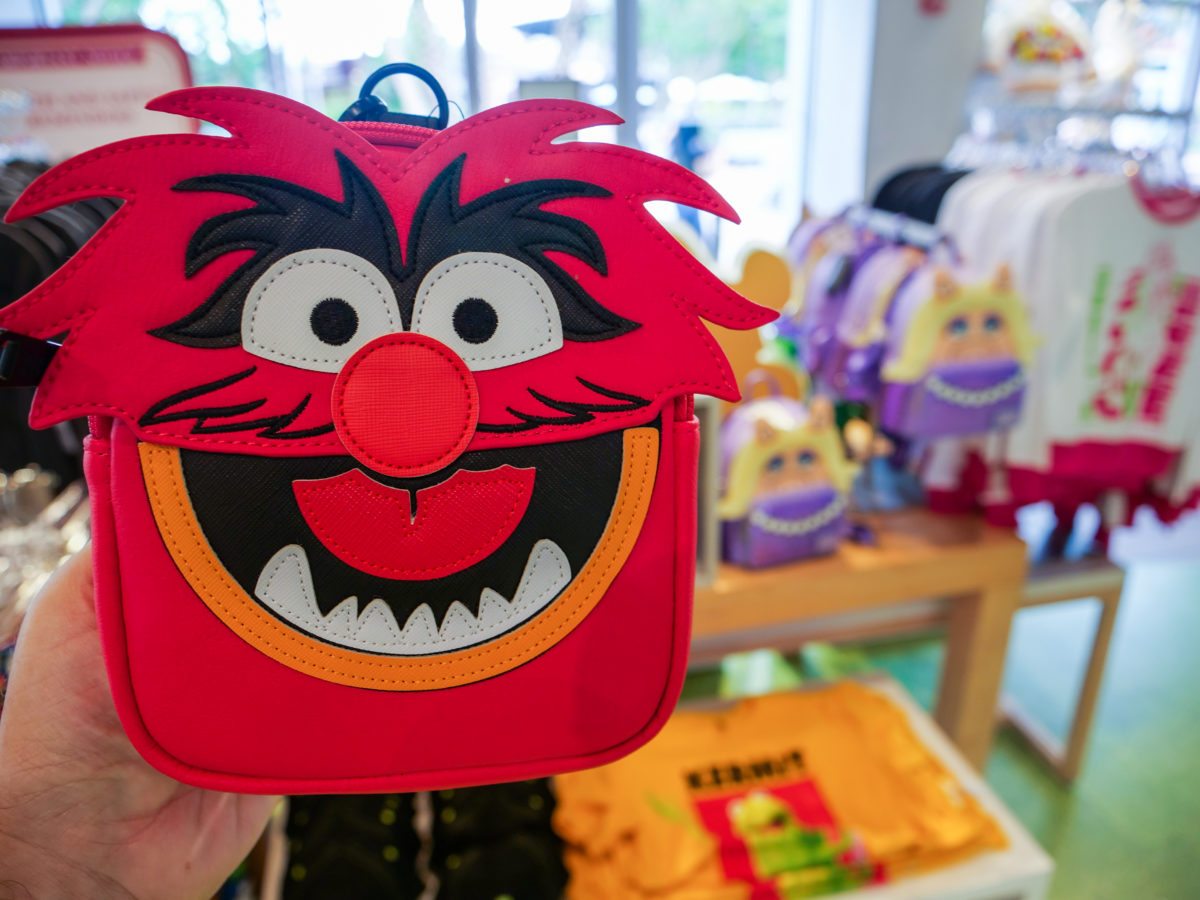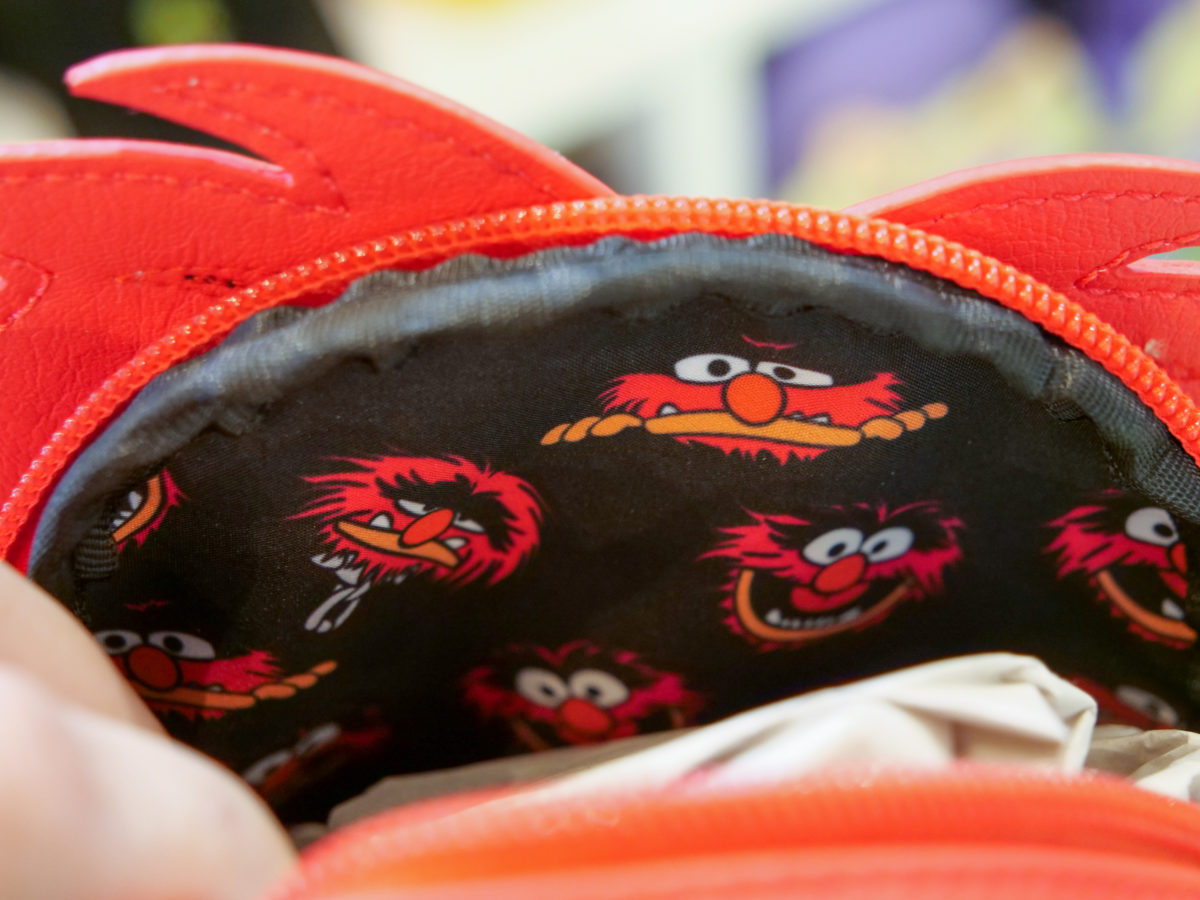 Over at DisneyStyle, Muppets legend Animal has been given his own Loungefly wristlet, allowing you to rock in style. The bag retails for $40.00.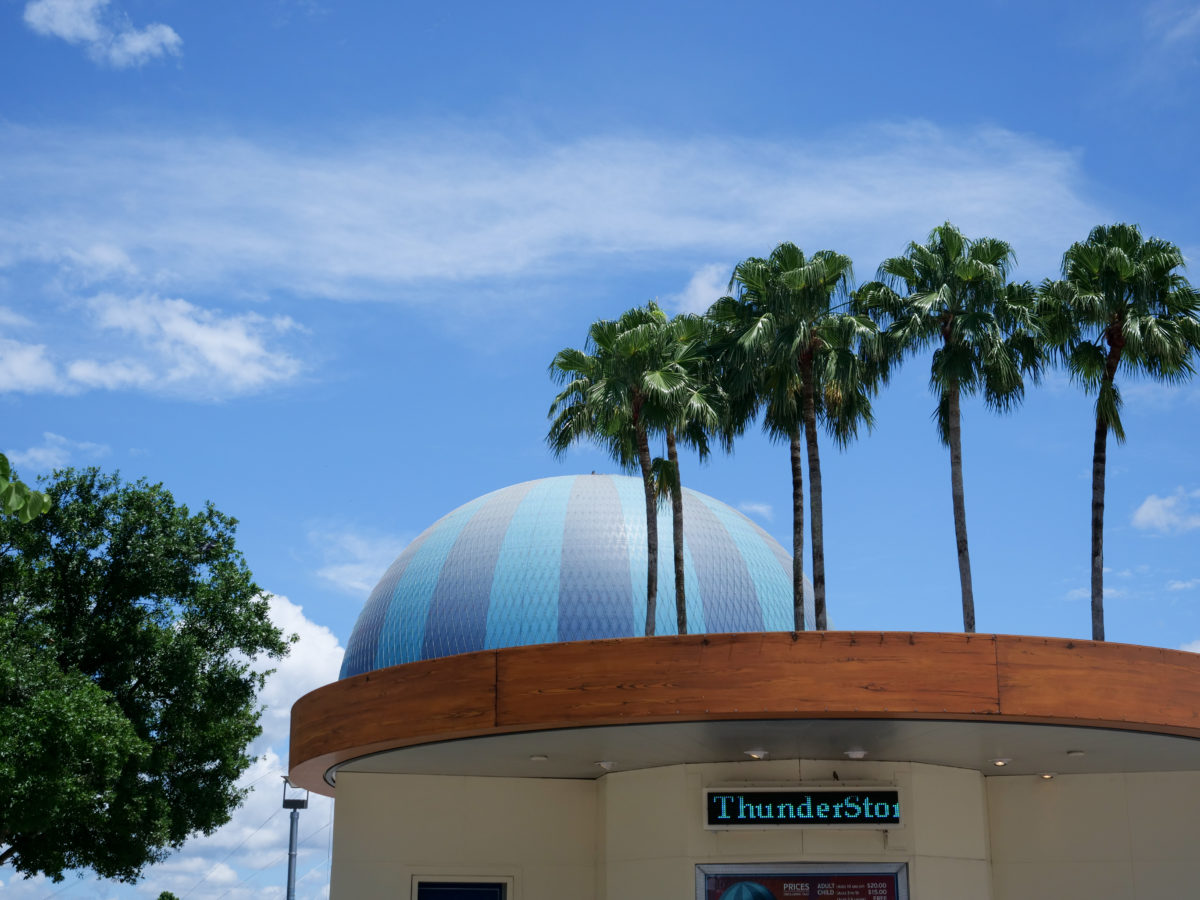 Just outside of DisneyStyle, the Aerophile balloon, which reopened on May 22nd, was grounded due to "thunderstorms in the area." That explanation didn't check out with our eyes (or weather app), but they were closed nonetheless.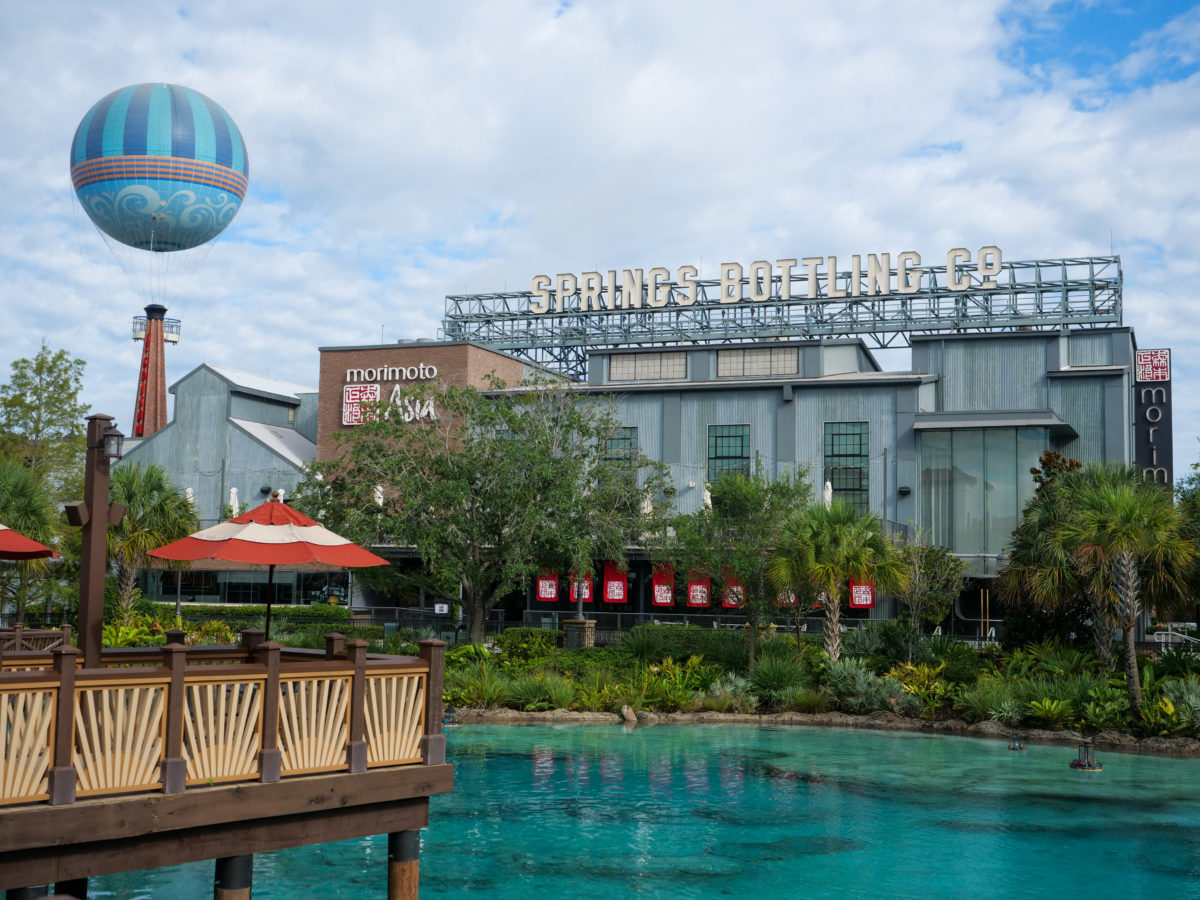 However, the balloon had taken to the sky earlier in the day and does, in fact, leave the ground on occasion – contrary to popular belief.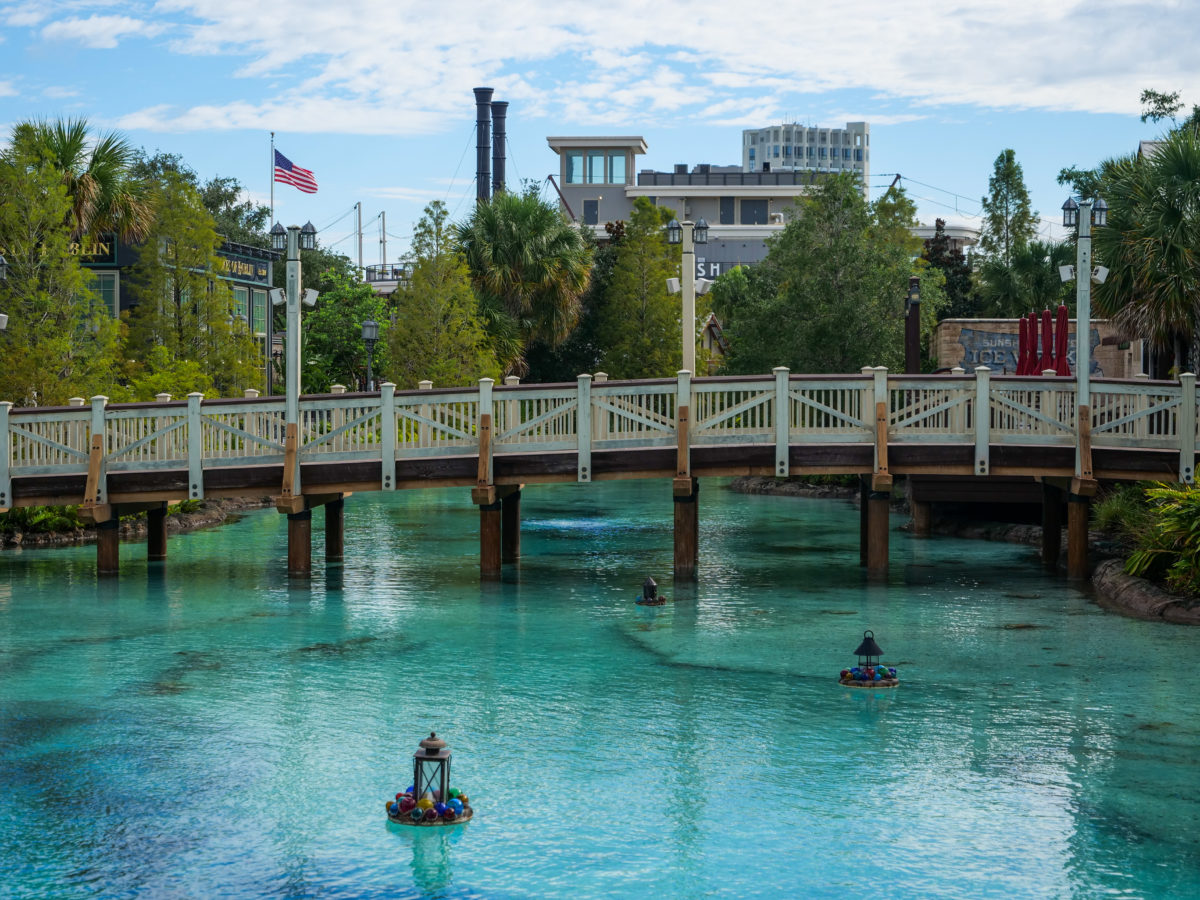 As the flag over at Paddlefish suggests, wind may have been the bigger issue.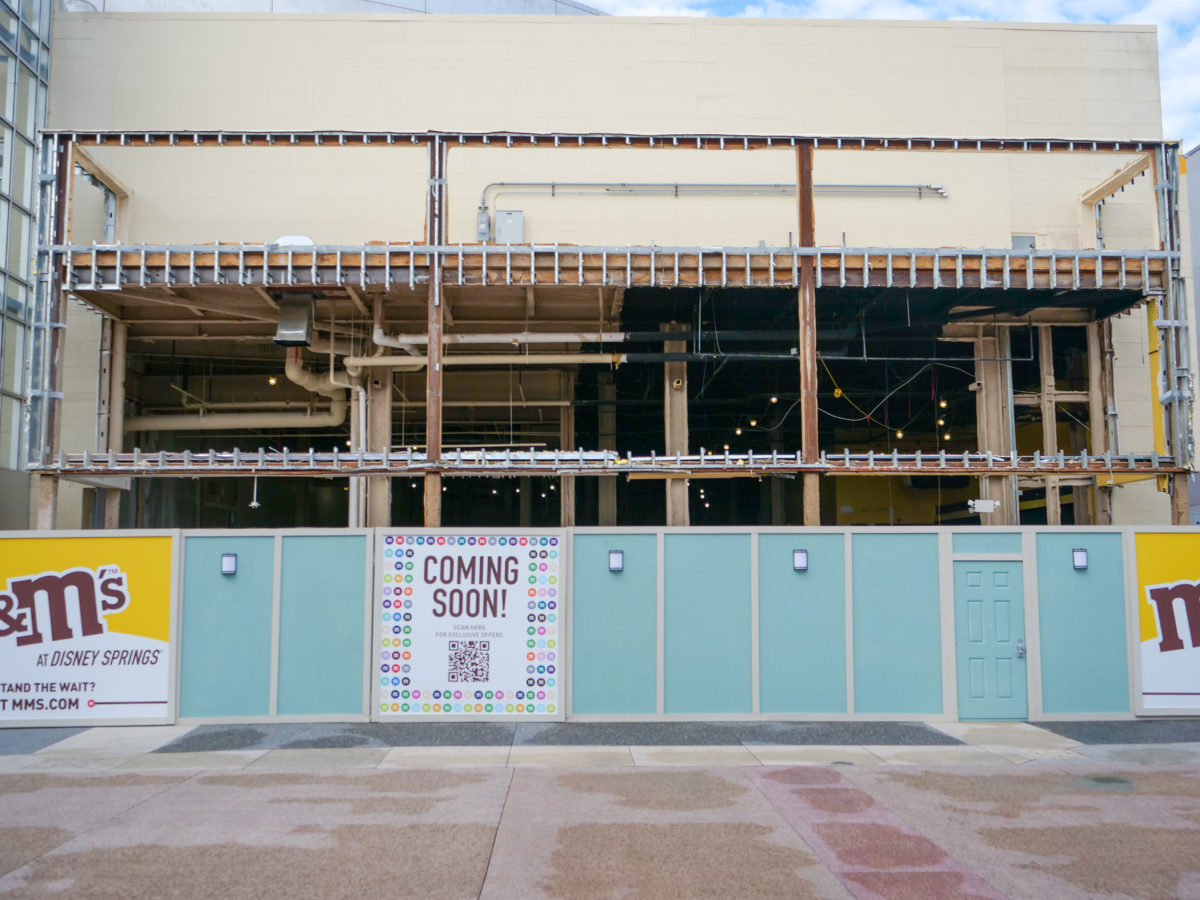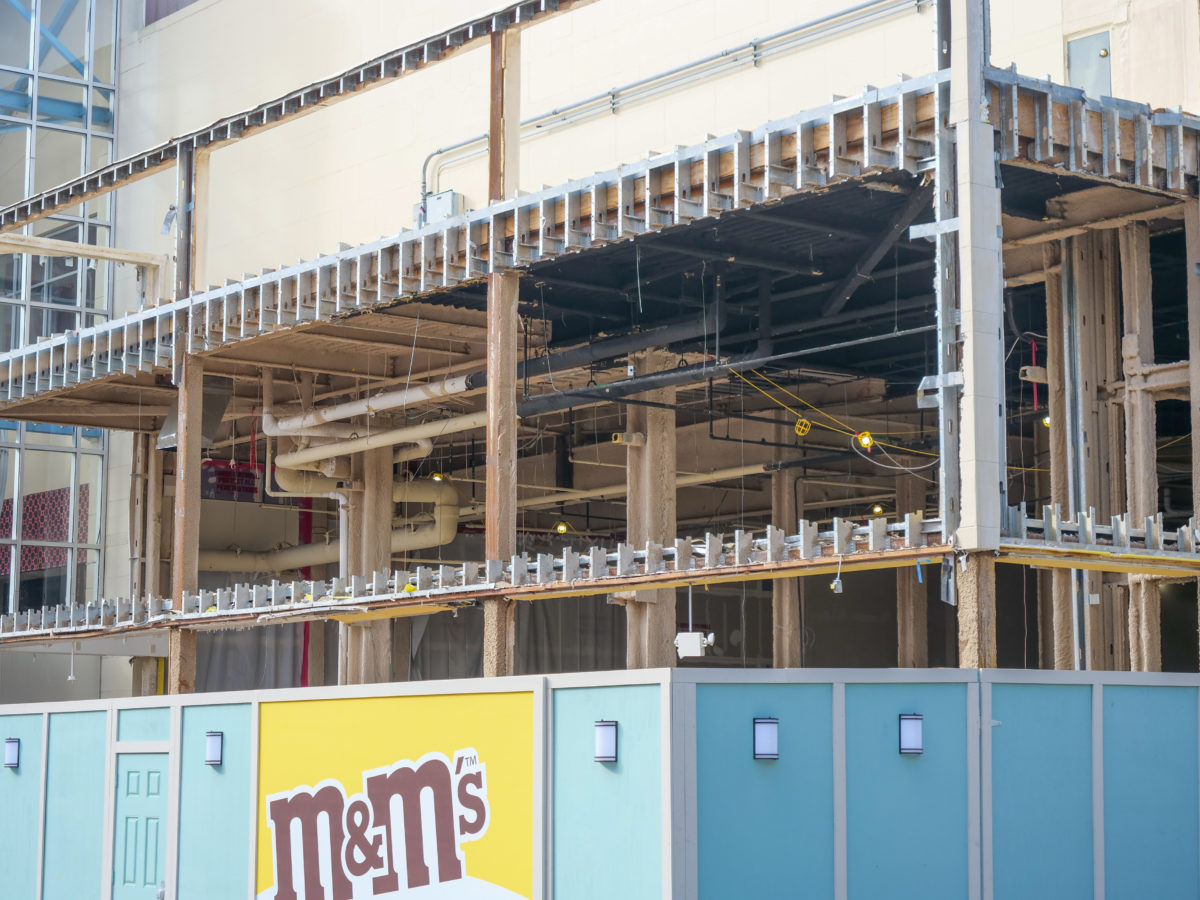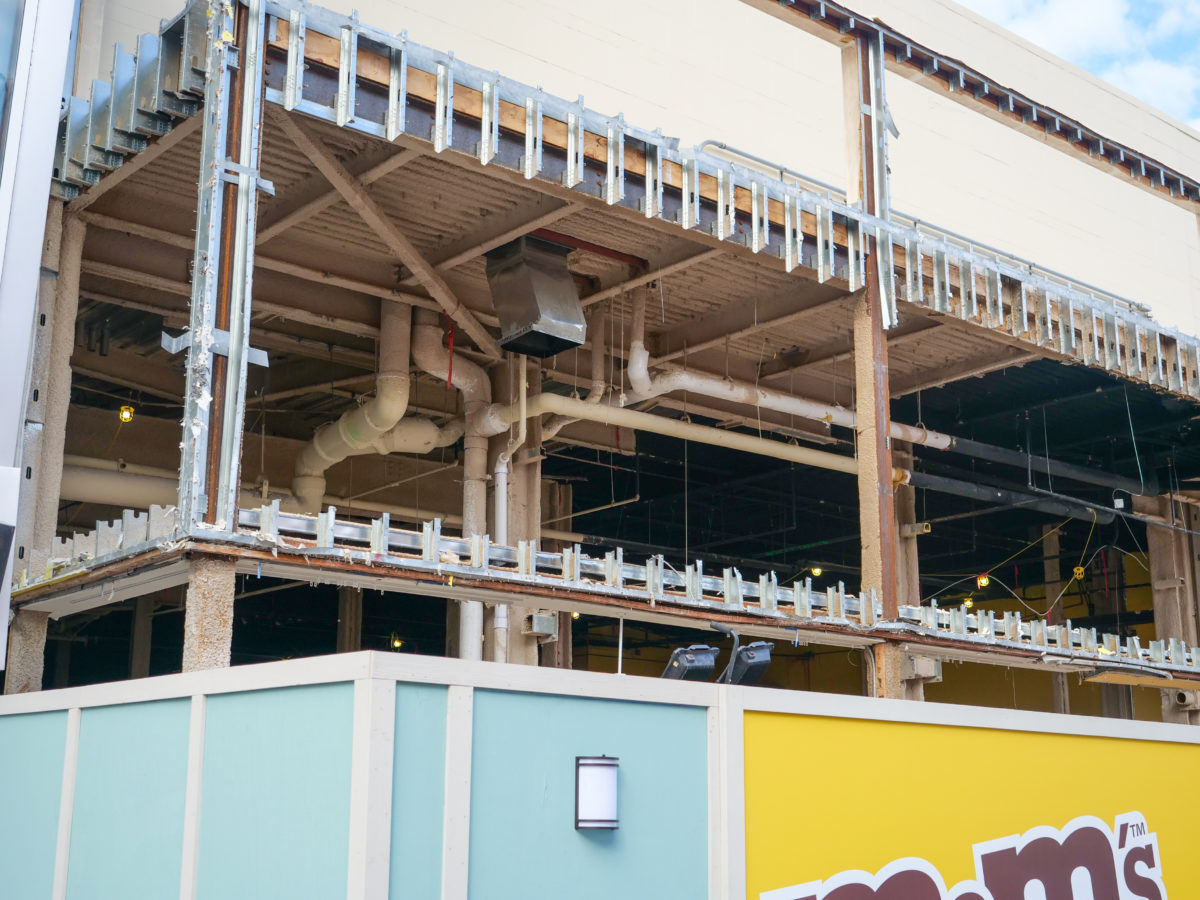 Back over on the West Side, the space for the M&M'S Store has been demolished, with most of the exterior wall facing guests having been completely removed.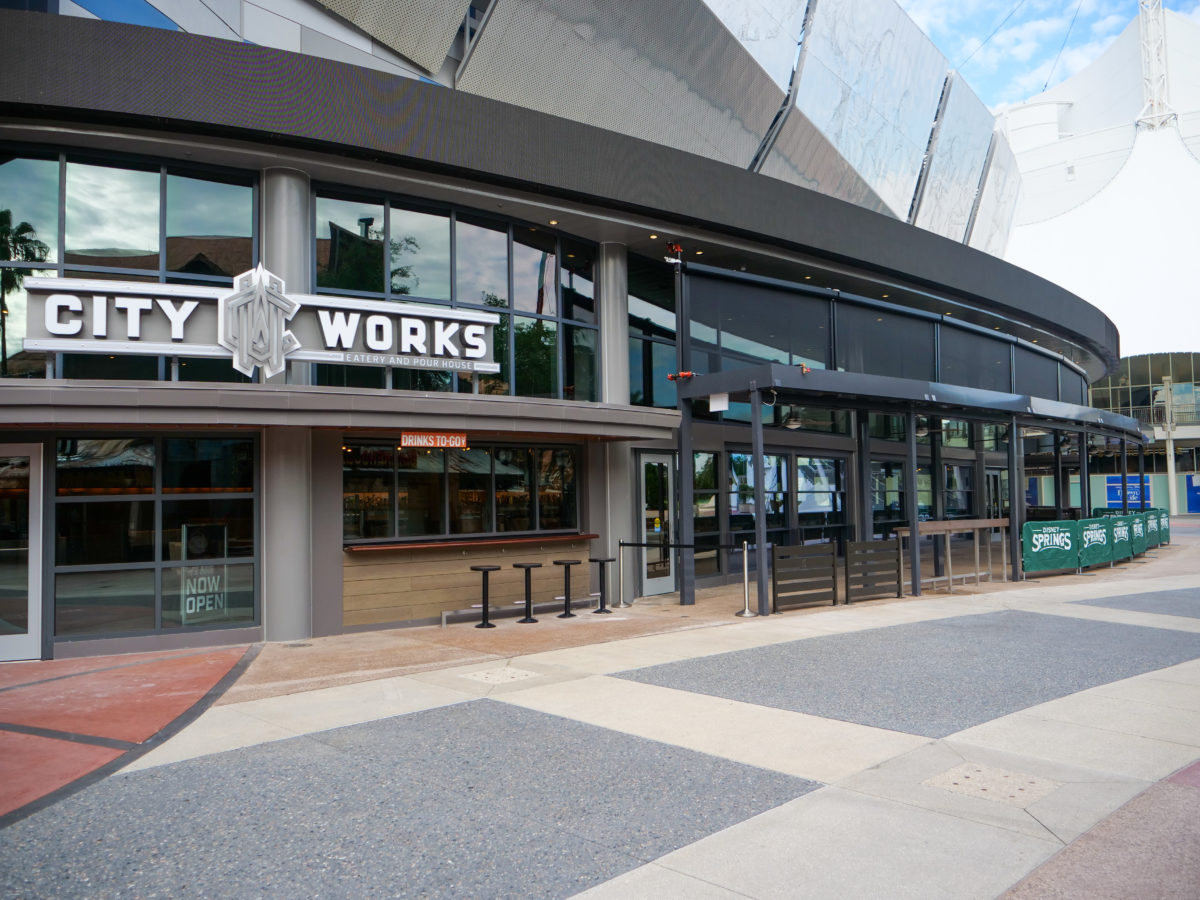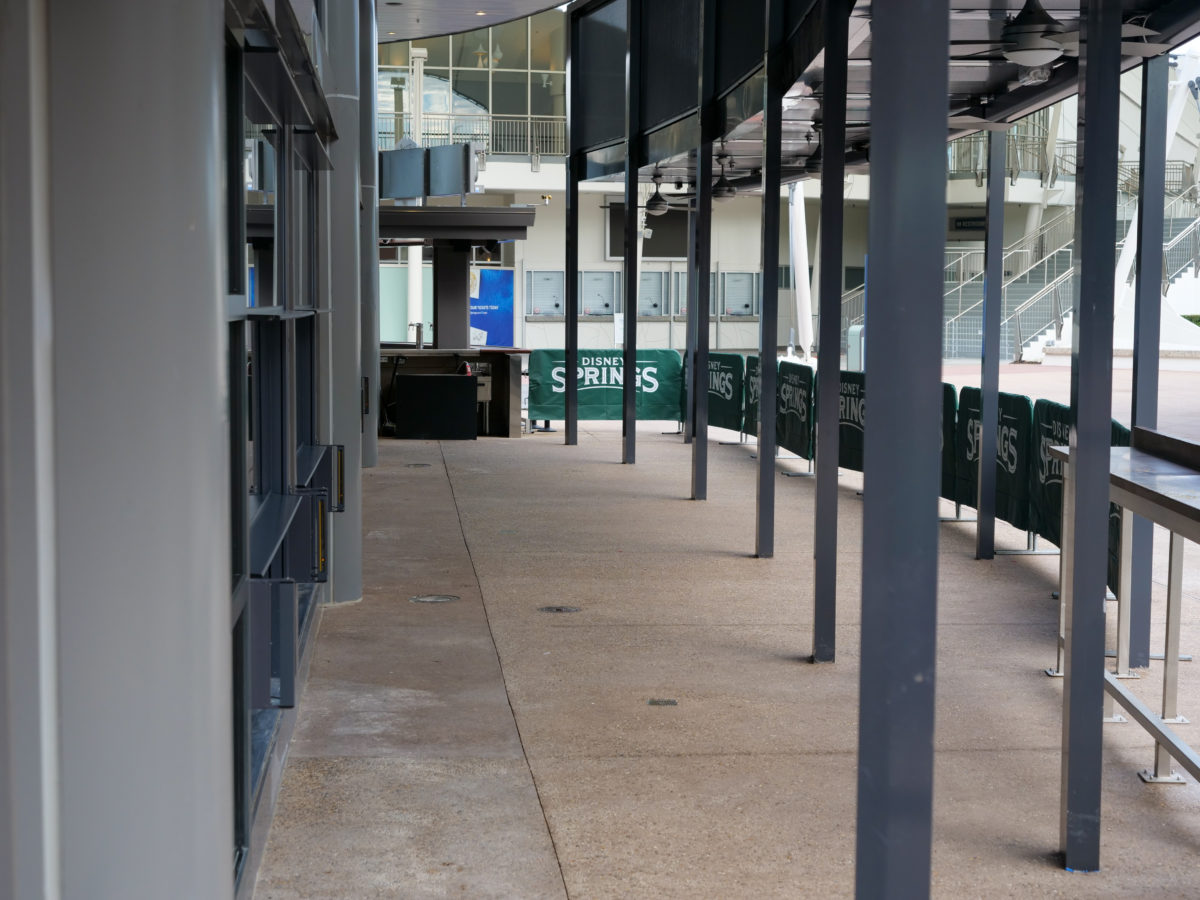 City Works Eatery & Pour House, which reopened on June 10th, has nearly completed their new canopy project which was underway when Disney Springs first reopened.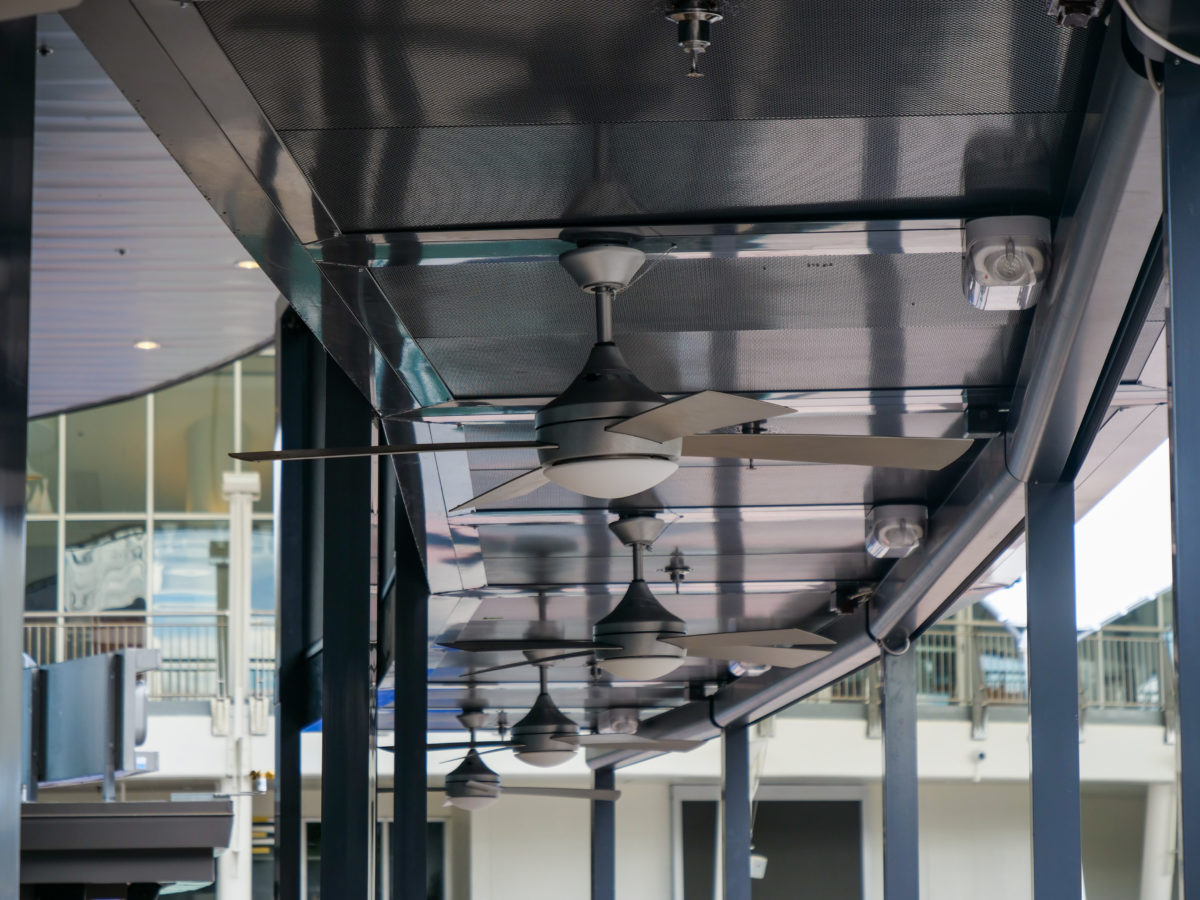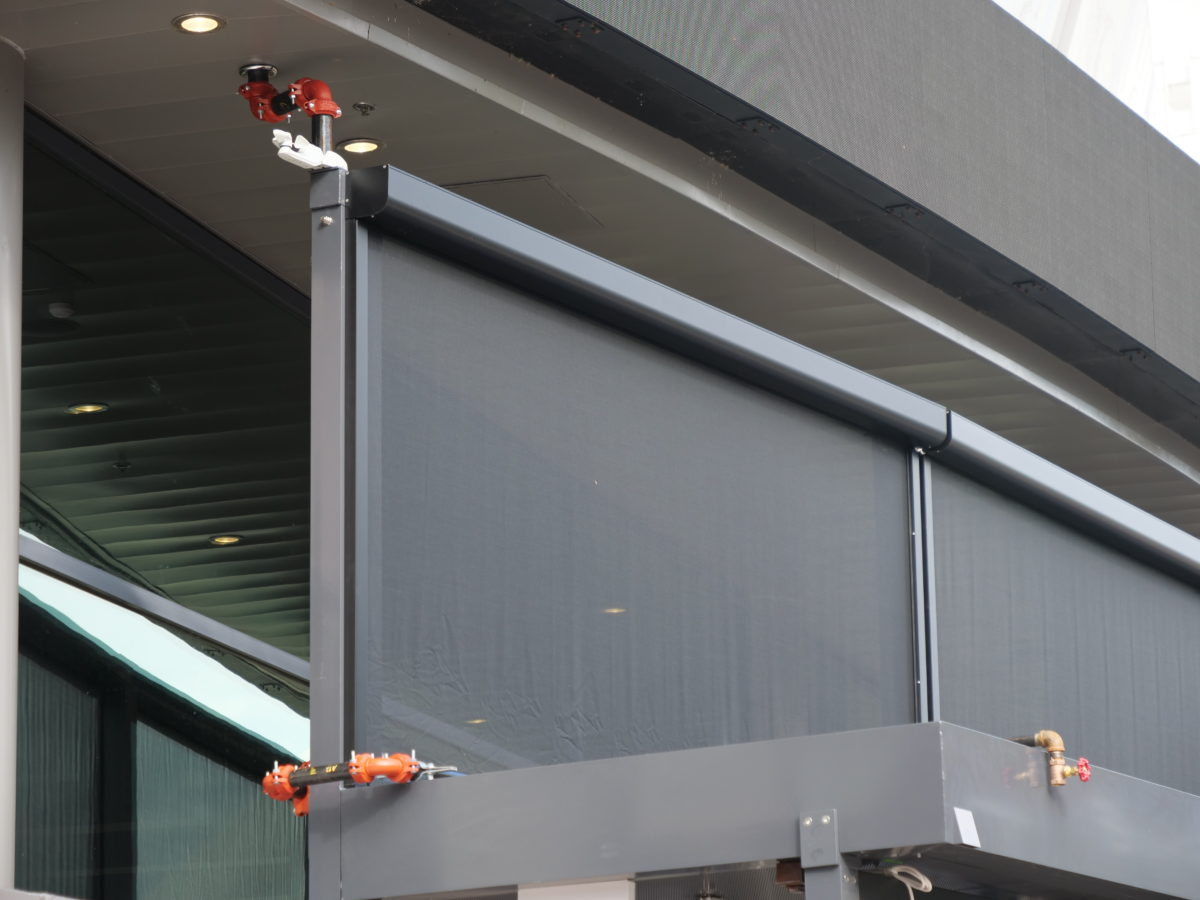 A month later, final elements have been added such as ceiling fans and the sprinkler system. Rolling planters have been removed, and it won't be long before the improved patio opens to guests.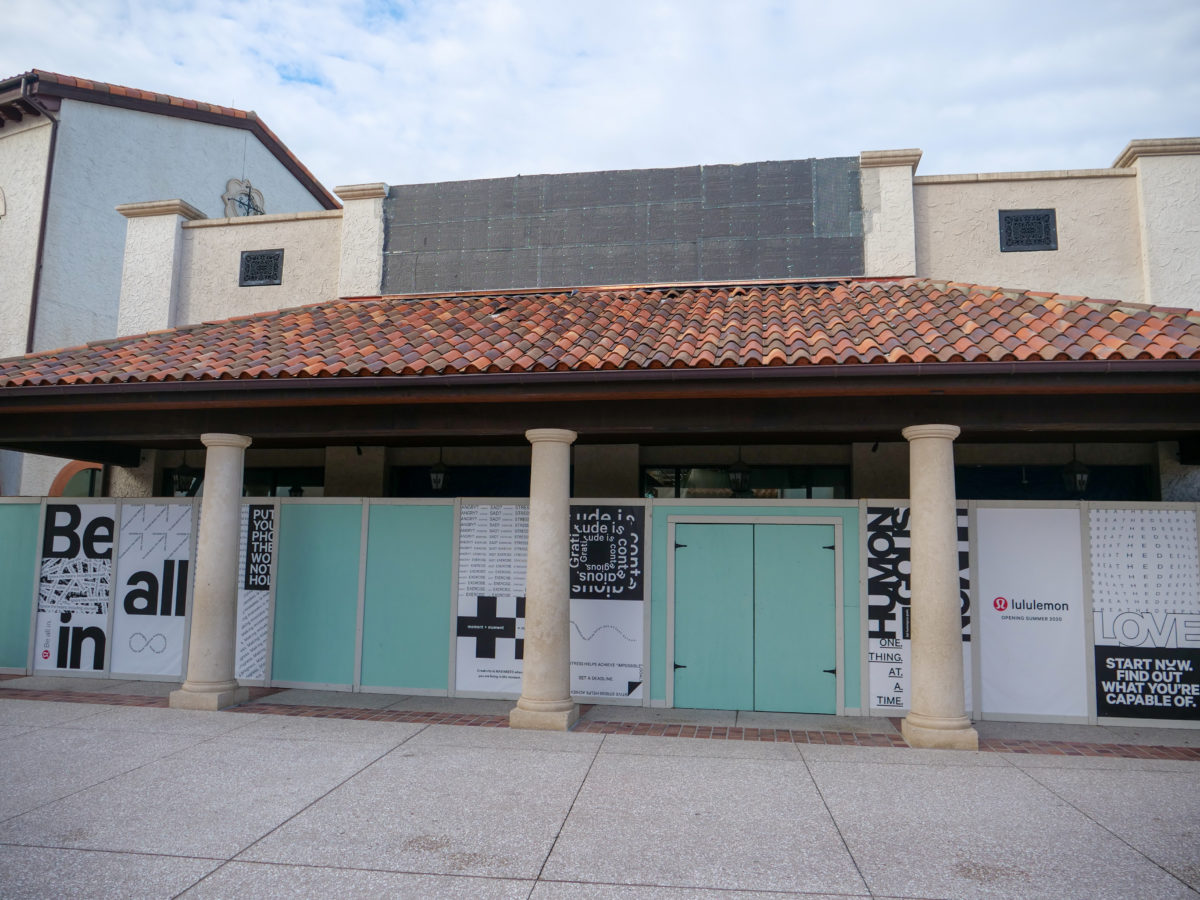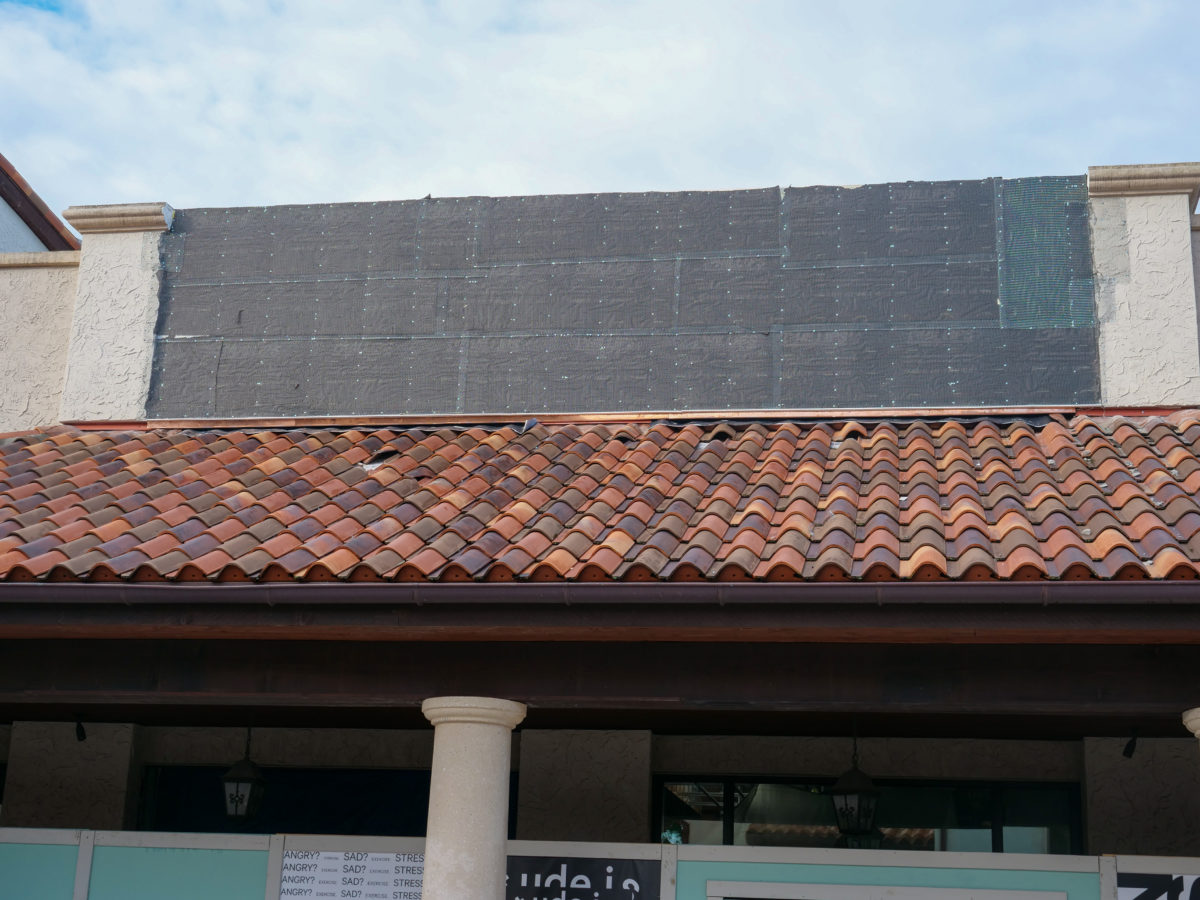 With Chef Art Smith's Homecomin' and new "Shine Bar + Social" having opened on Wednesday, that drops out of our construction updates, so we'll finish up with lululemon today. The athleisure brand is expected to open in 2020 – in the summer if their signs are to be believed – and it looks like we're getting closer to signage being installed.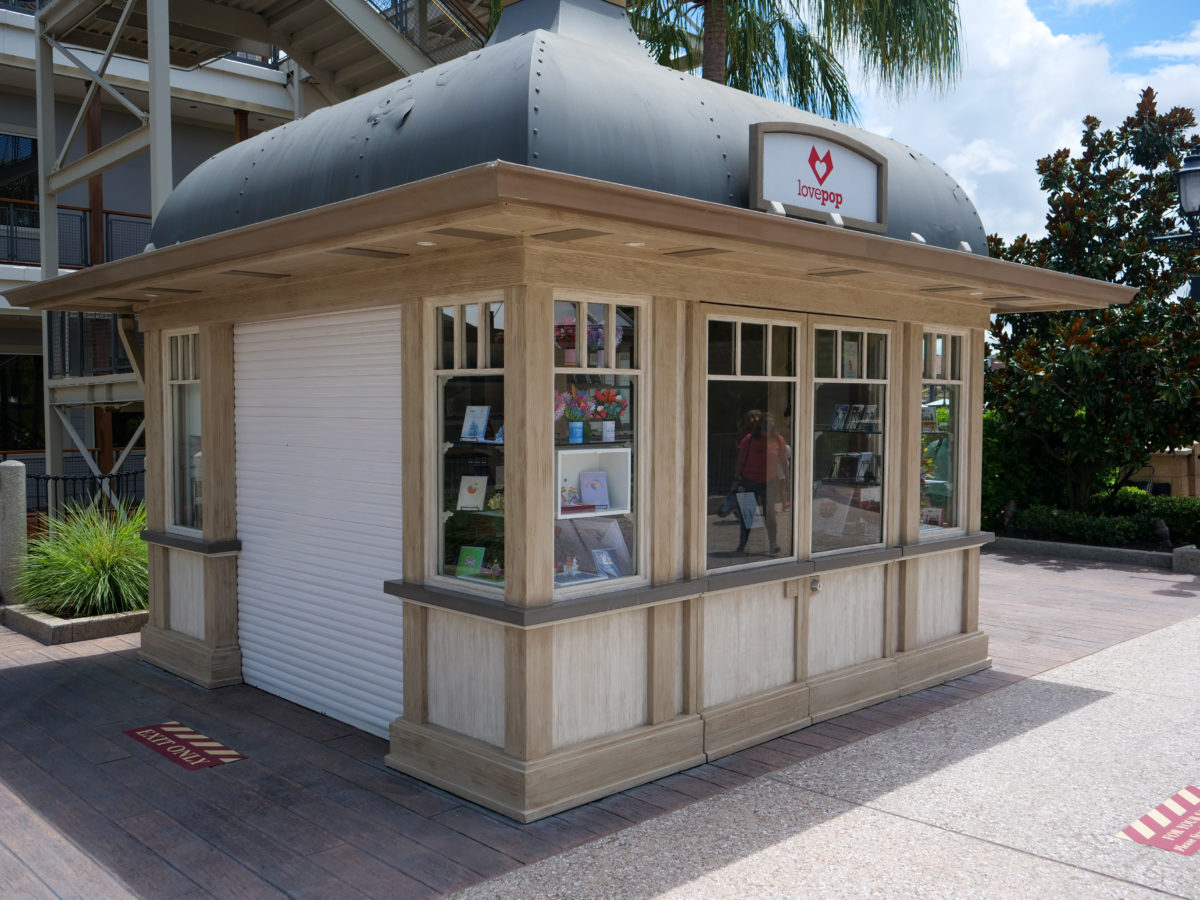 The lovepop kiosk, which has been open the past week, was still closed around 12:15 pm today.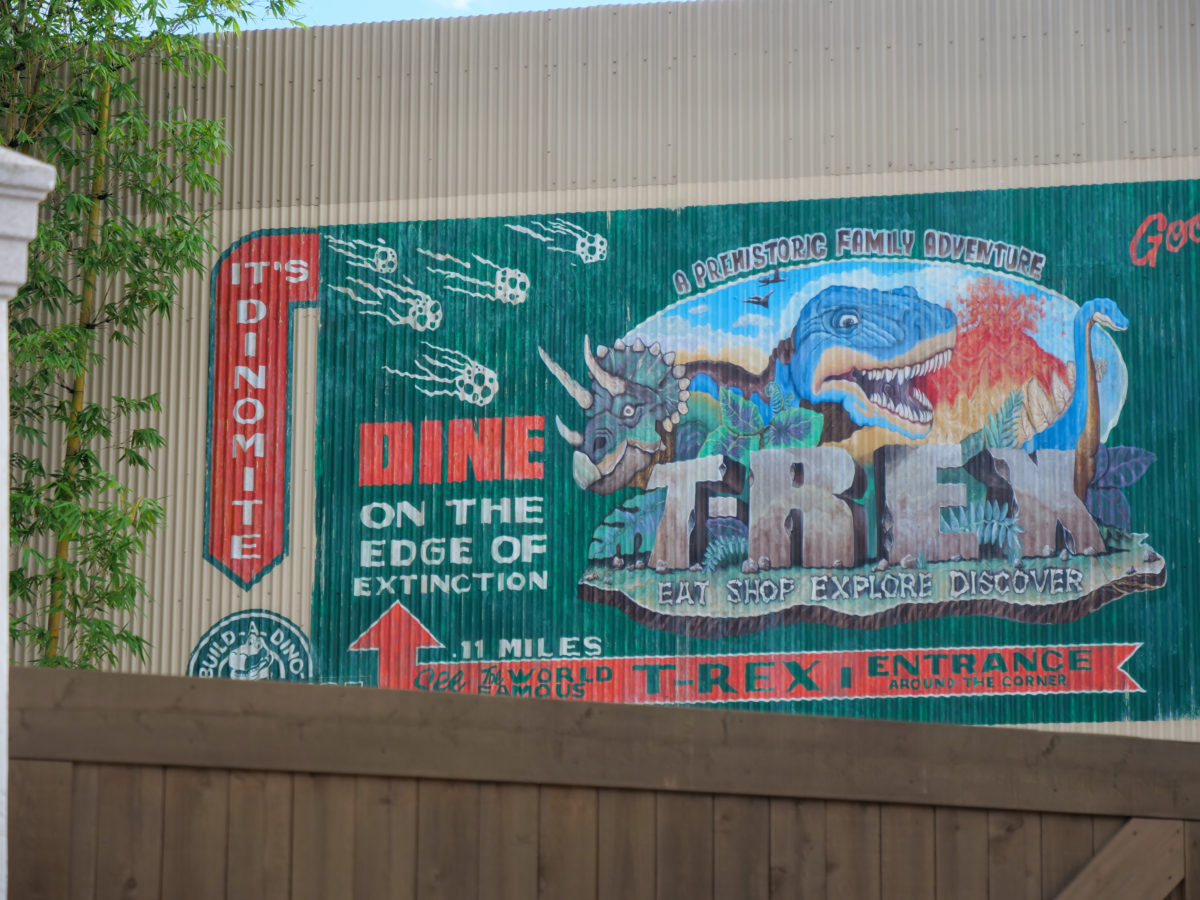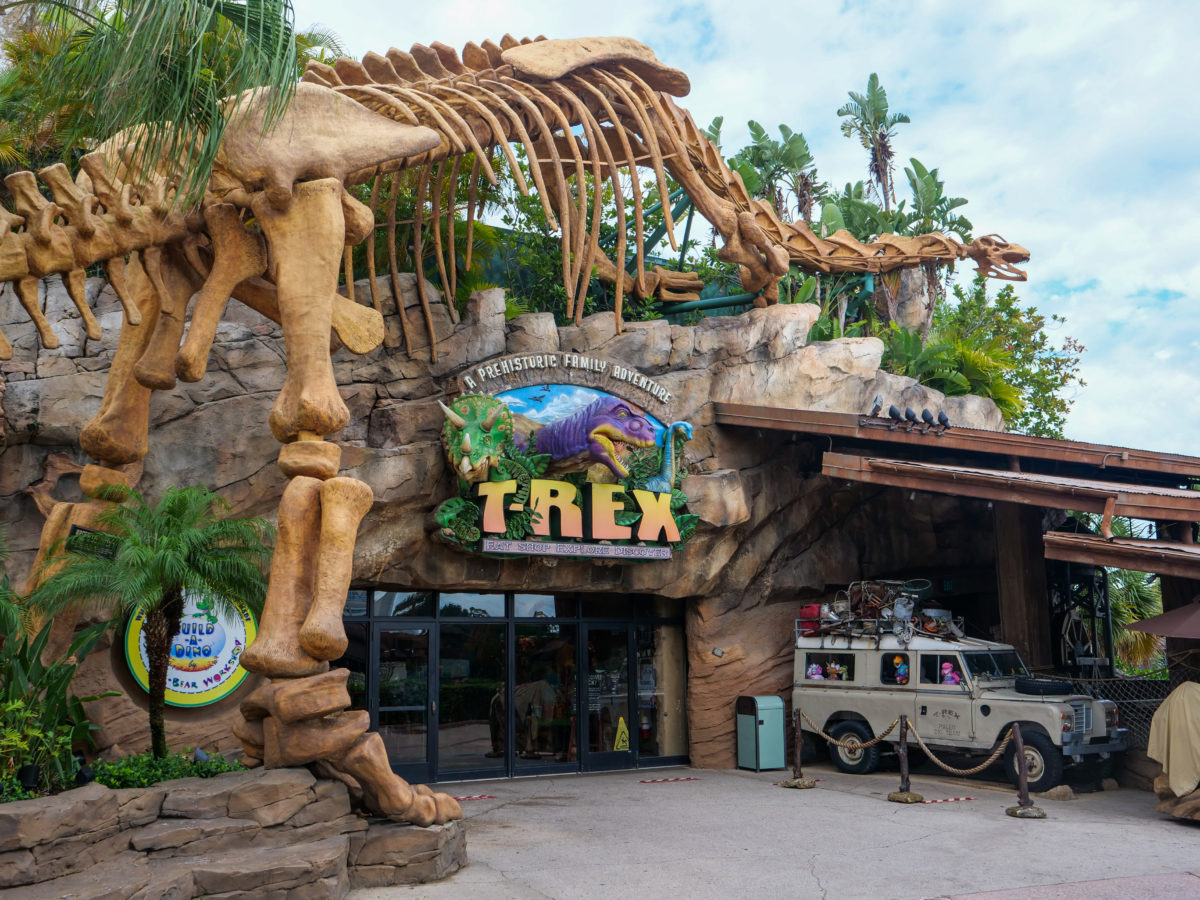 T-Rex Cafe was open today, though we wouldn't have been surprised if they were closed as well, given some recent revelations about an employee testing positive for COVID-19.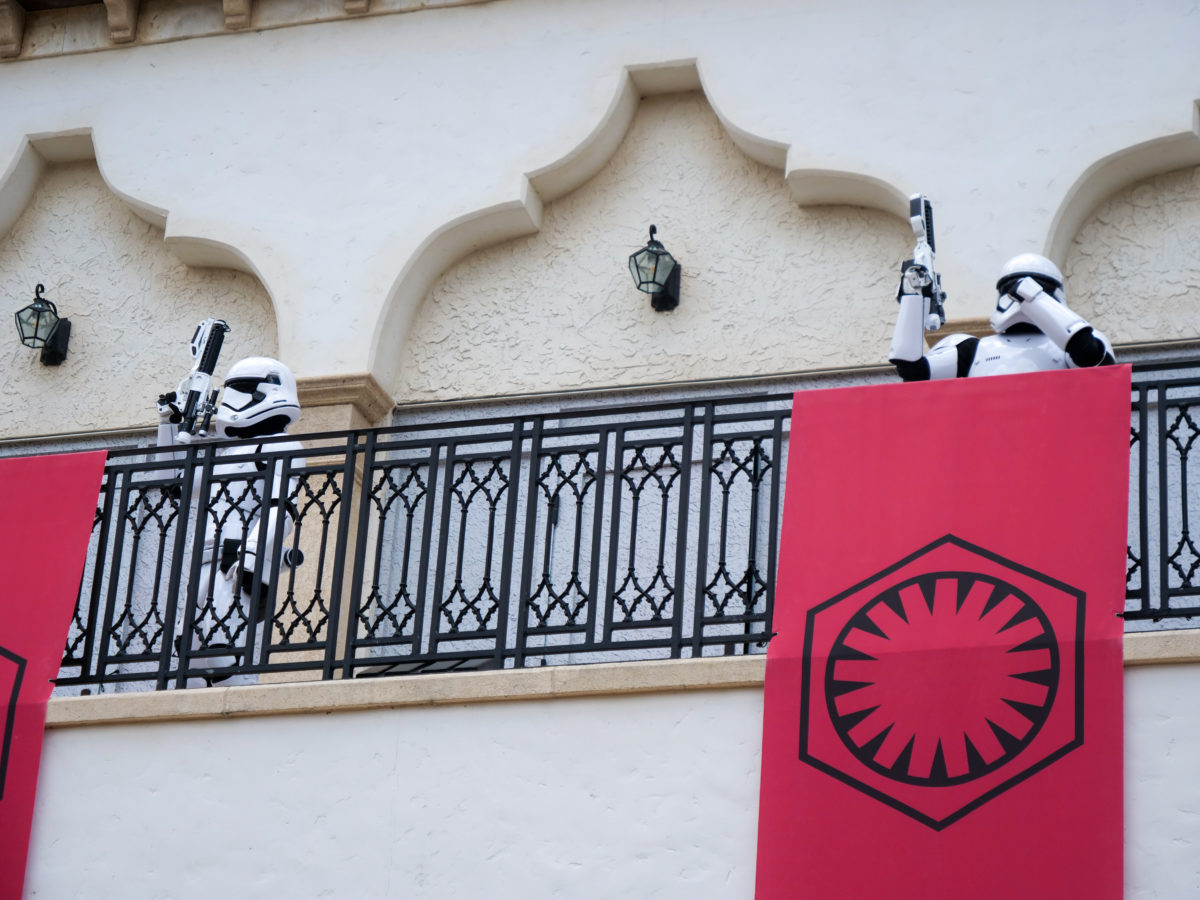 Let that be a reminder to you – wear your mask. You don't want any trouble with these two.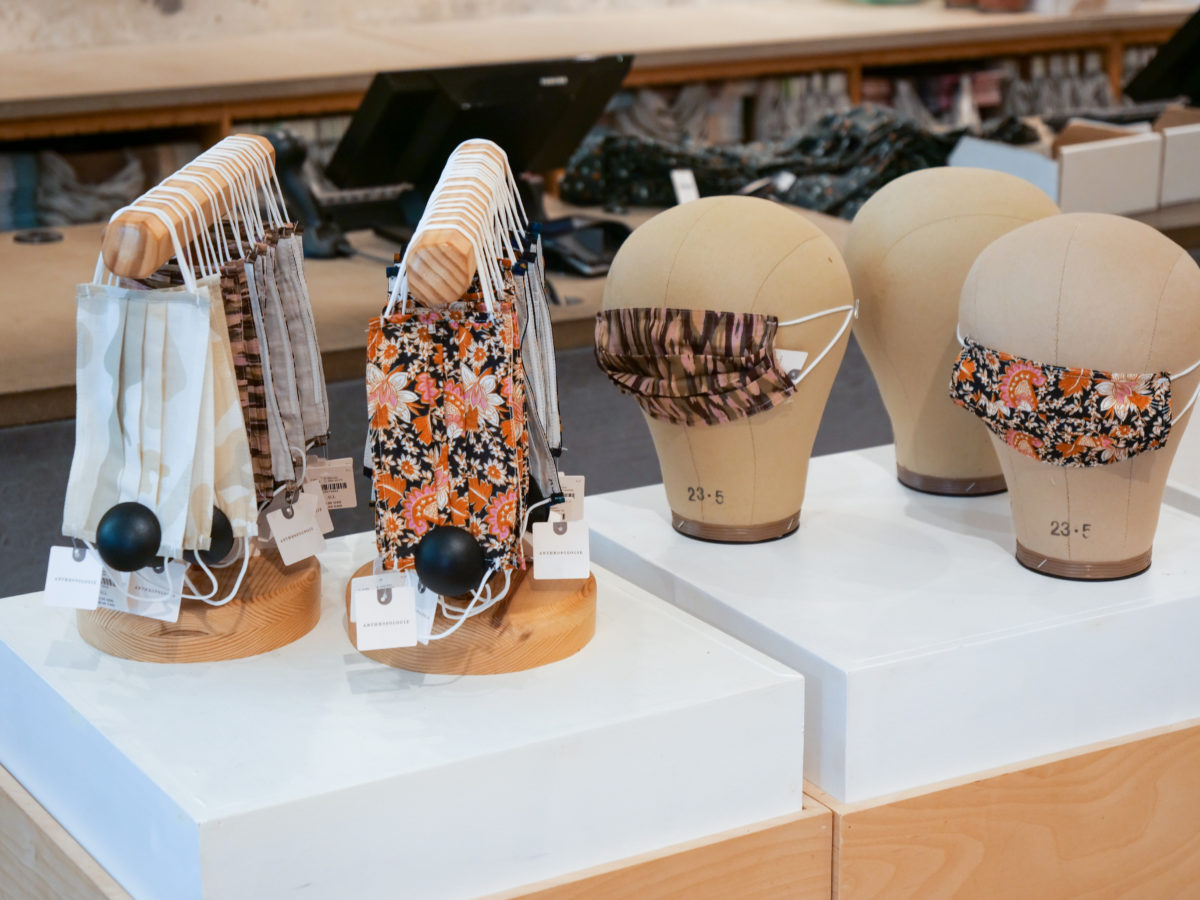 Disney Springs has no shortage of masks available, though you'll need to be wearing one to enter in the first place. Anthropologie has a couple styles to choose from, at a cost of $8.00 each.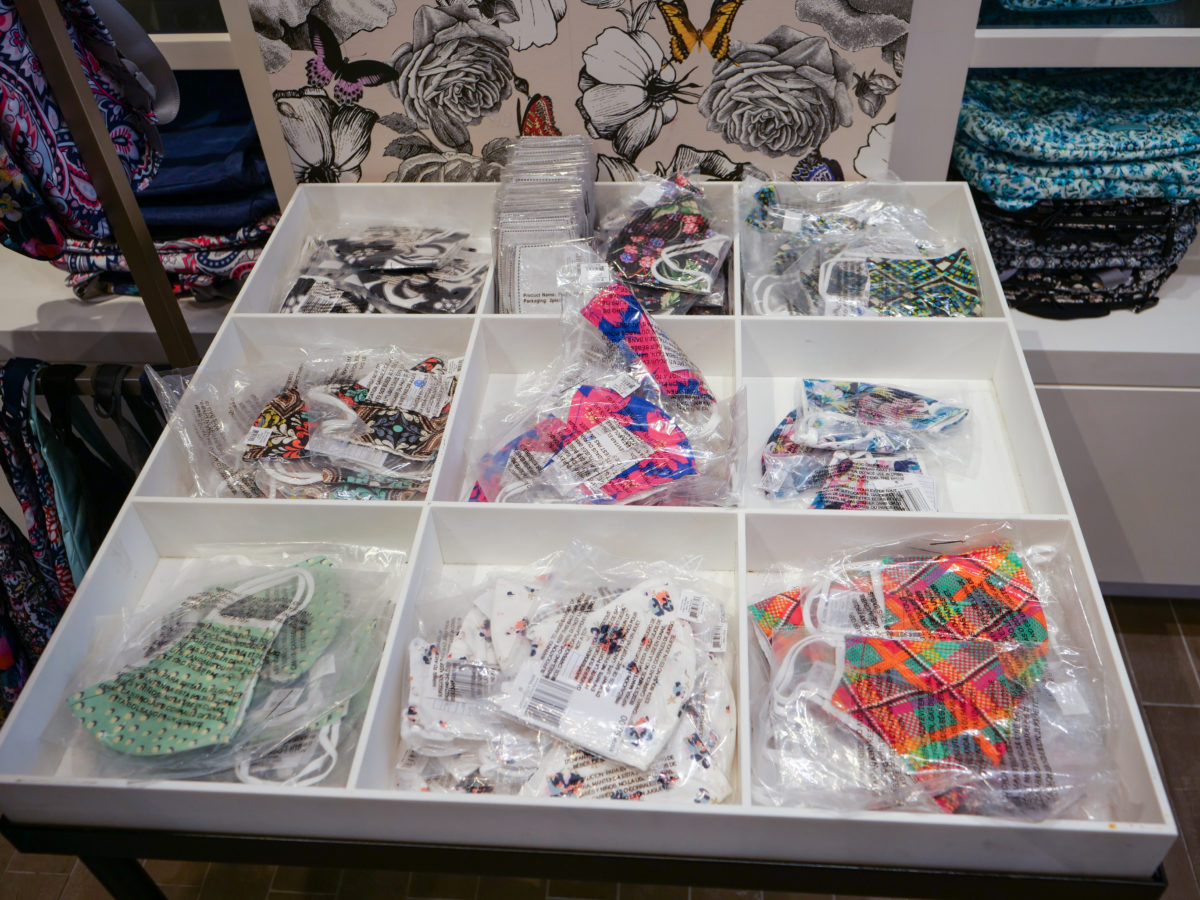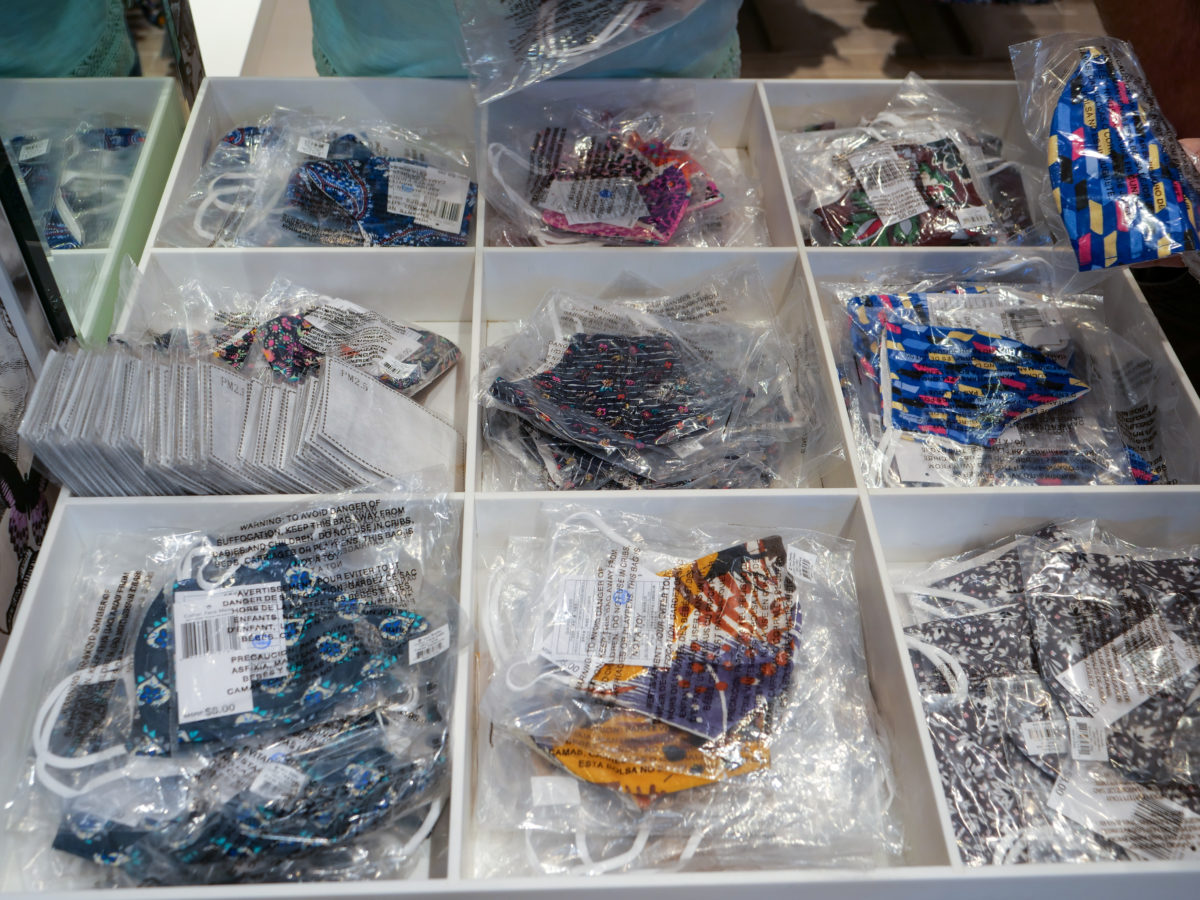 Vera Bradley now has well over a dozen different designs to choose from, along with mask filters. Their masks are also $8.00 each, with filters selling for $2.50 for a two-pack.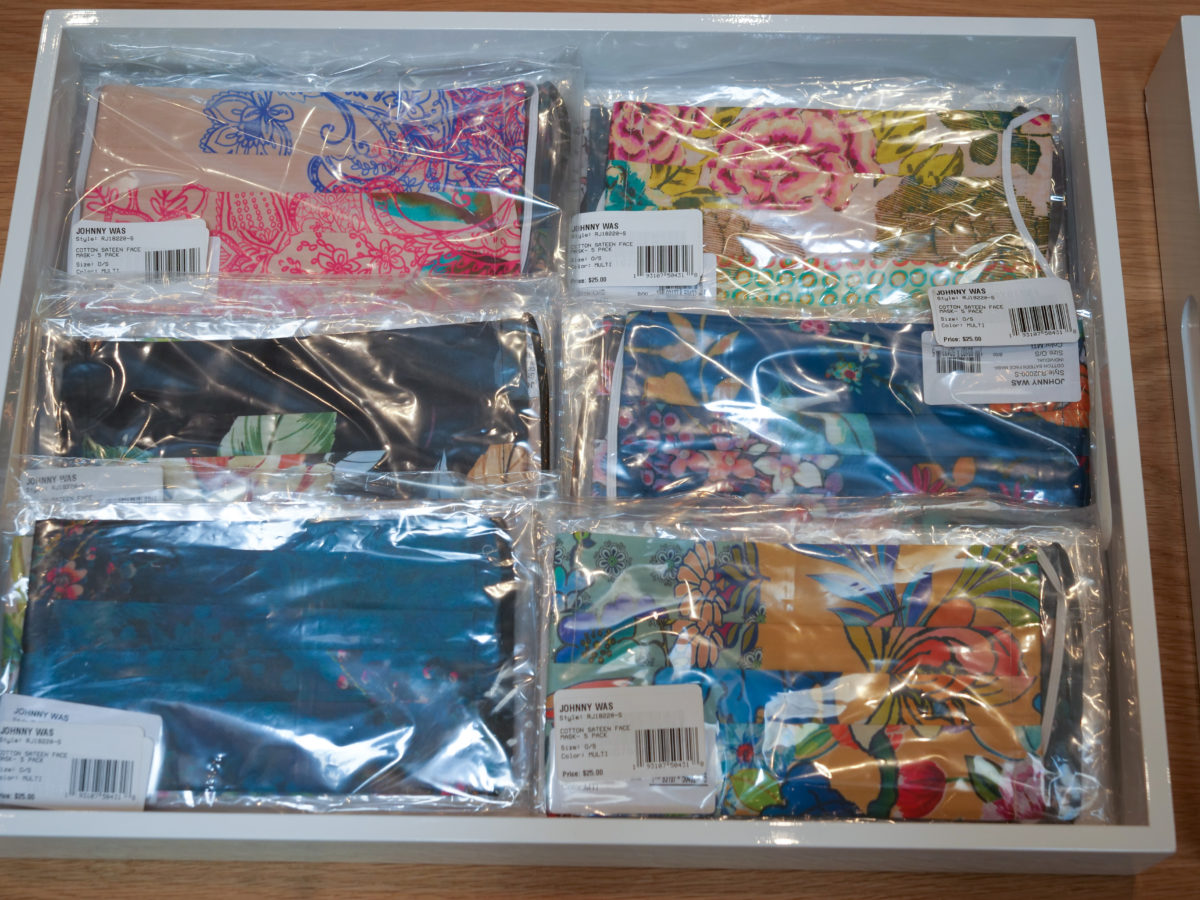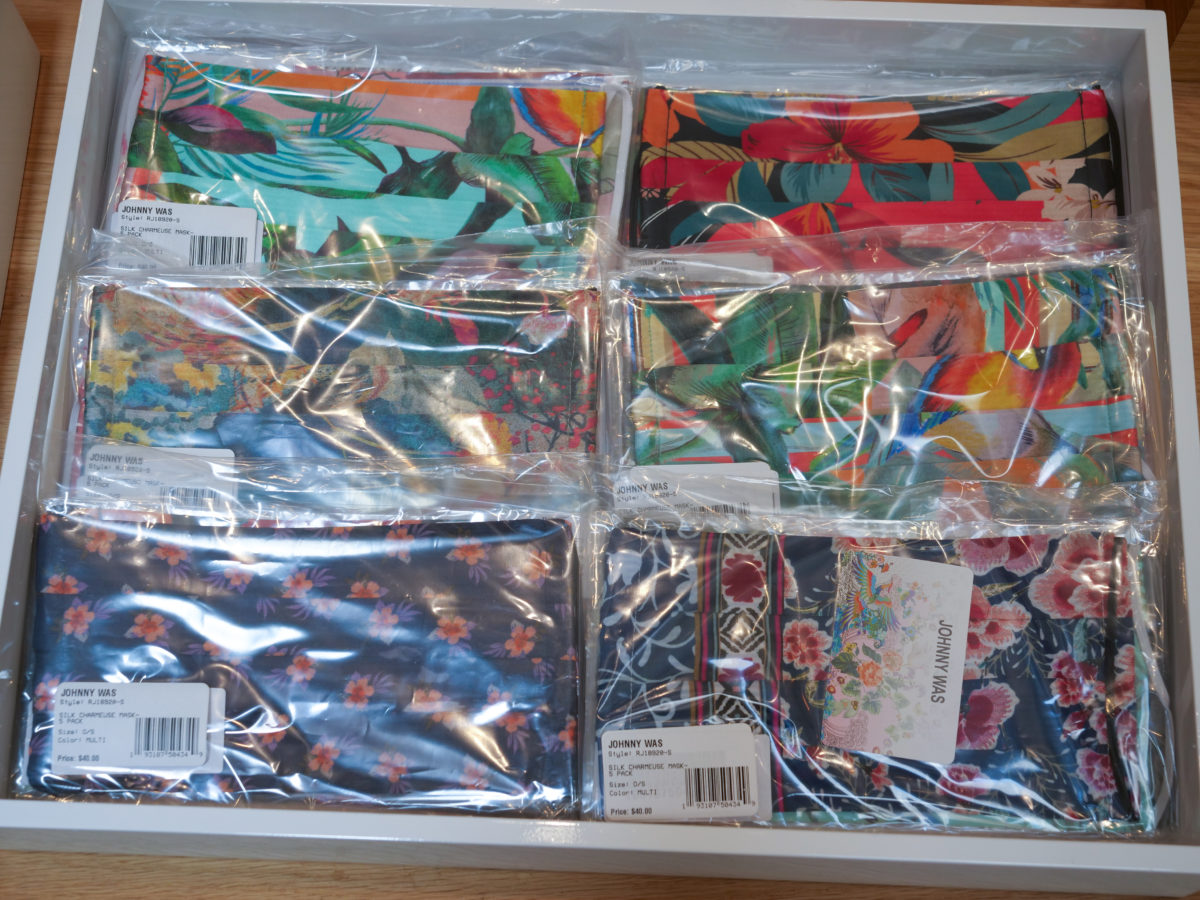 Johnny Was has begun selling their masks, which cost $25.00 for a five-pack made from cotton, or $40.00 for the silk variety.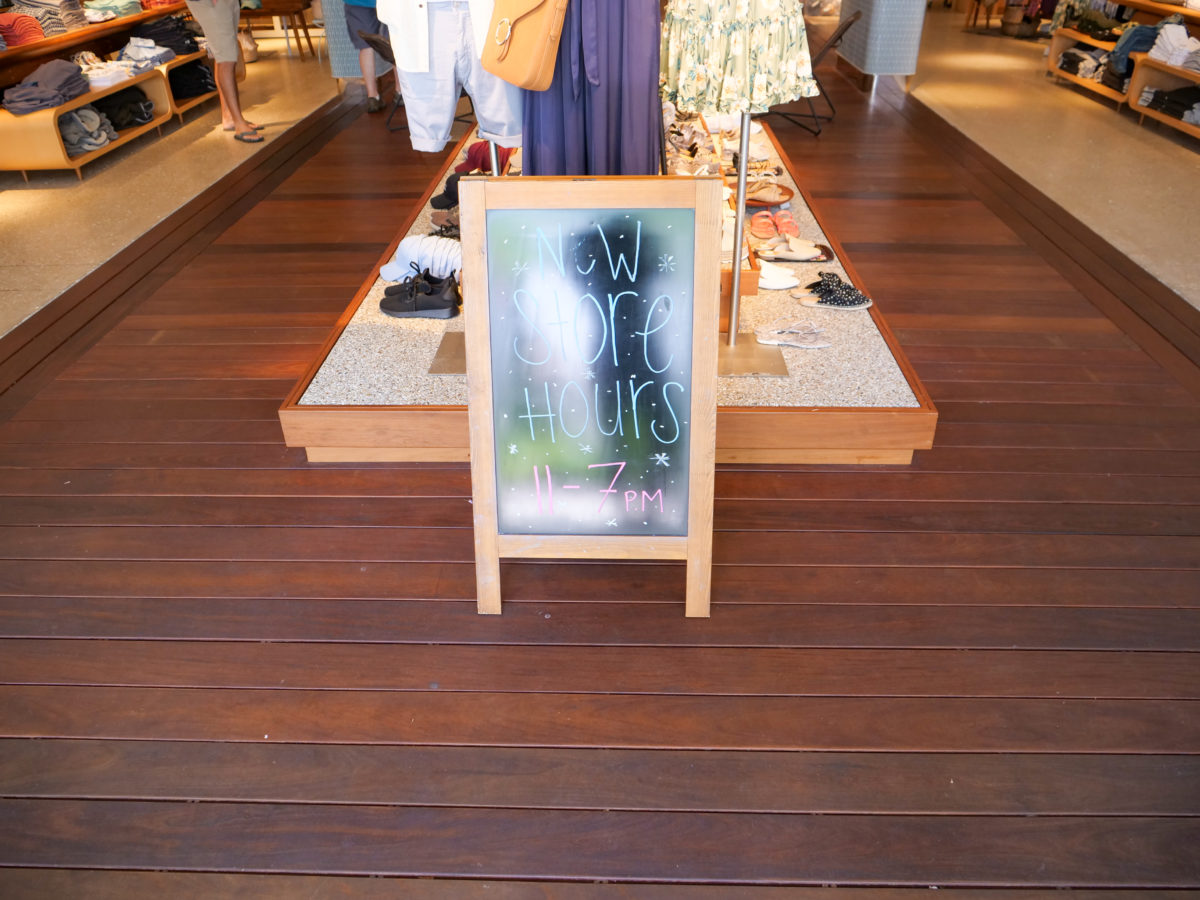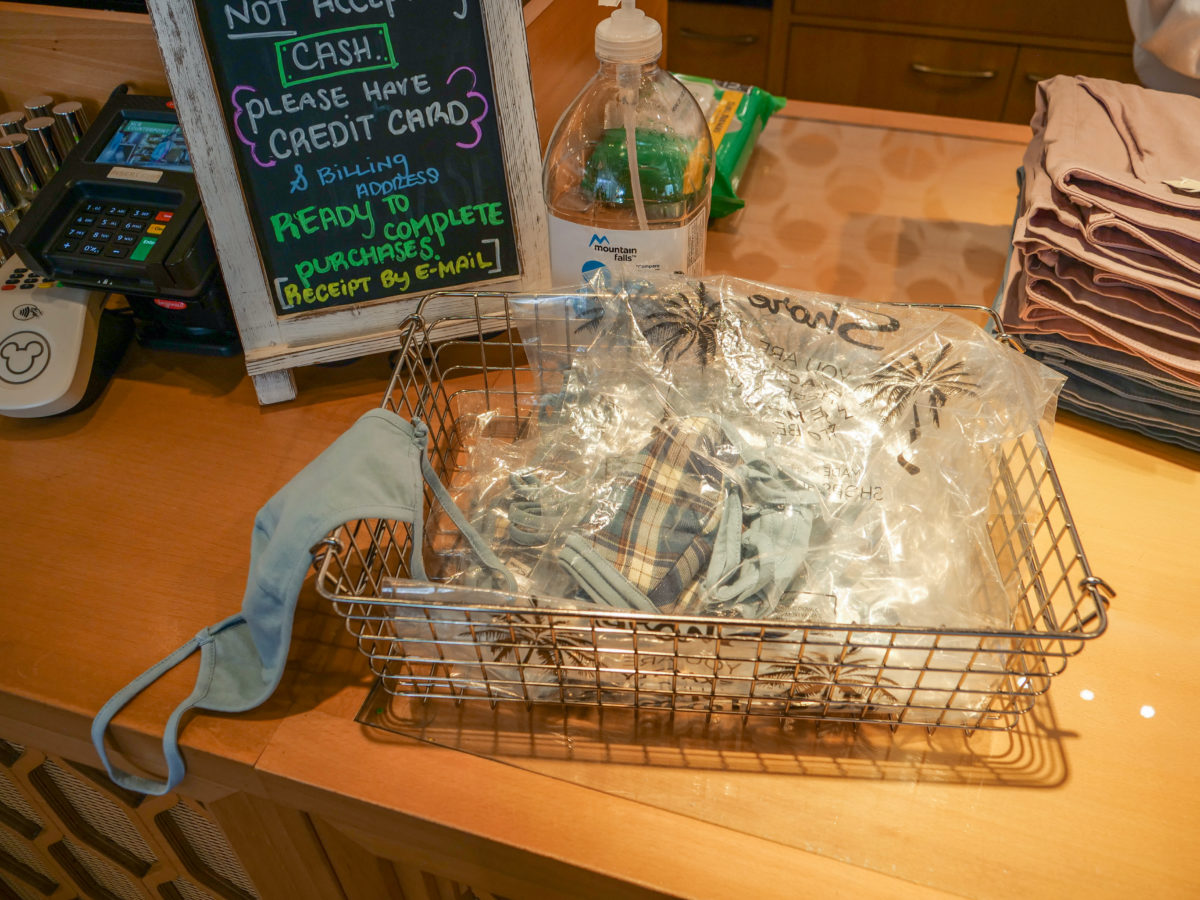 Shore's selection of $30.00 packs of three masks has become extremely limited, but they're expecting more in the near future. They've removed their display at the entrance to the store as a result.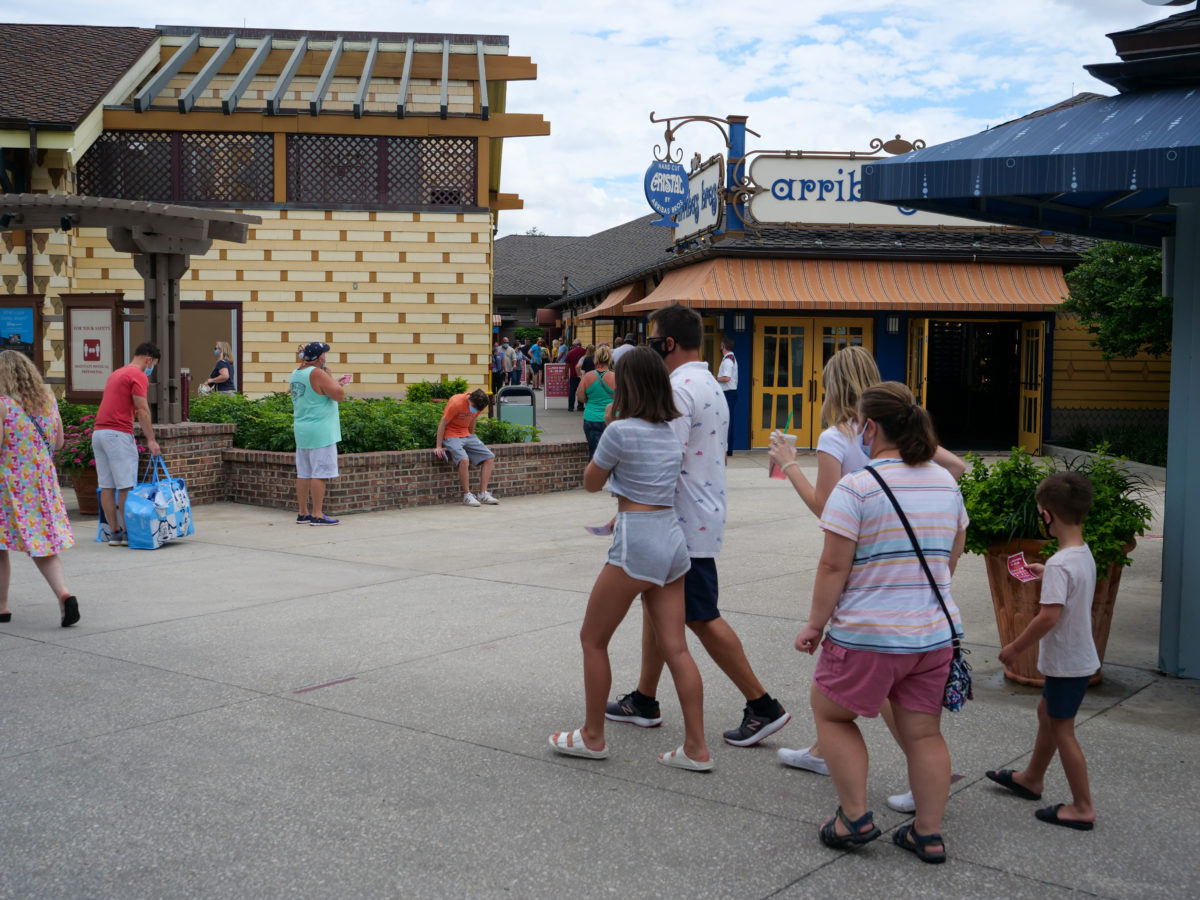 As we mentioned earlier, you can now choose to line up and purchase masks directly from Disney. The variety of masks were introduced yesterday without notice, and plenty of guests waited all the way past Basin to purchase them. As you can see, World of Disney management put down some temporary tape to help physically distance guests.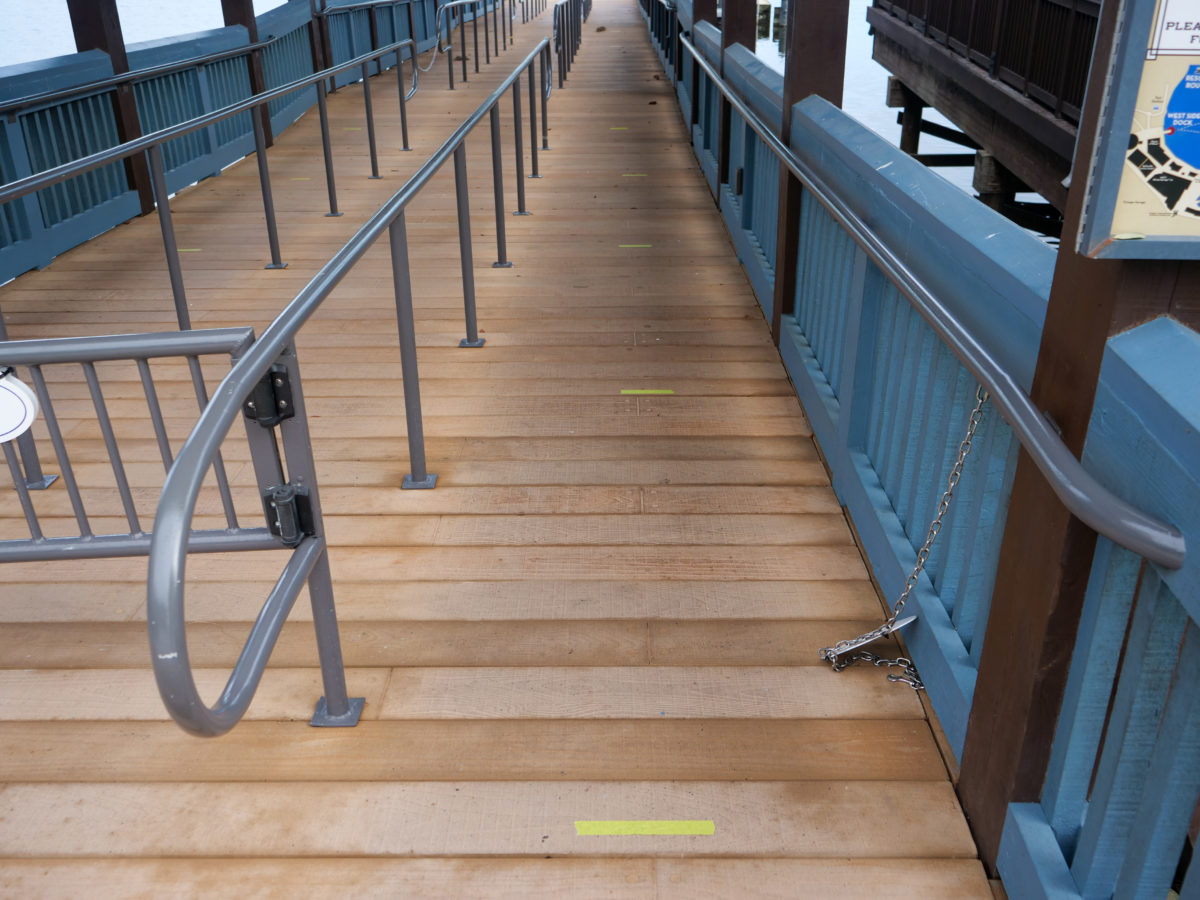 Similarly, the docks for the Sassagoula Steamboat Co. boat transportation have preliminary tape markings, but we're expecting markers fitting the rest of Disney Springs' branding to appear soon.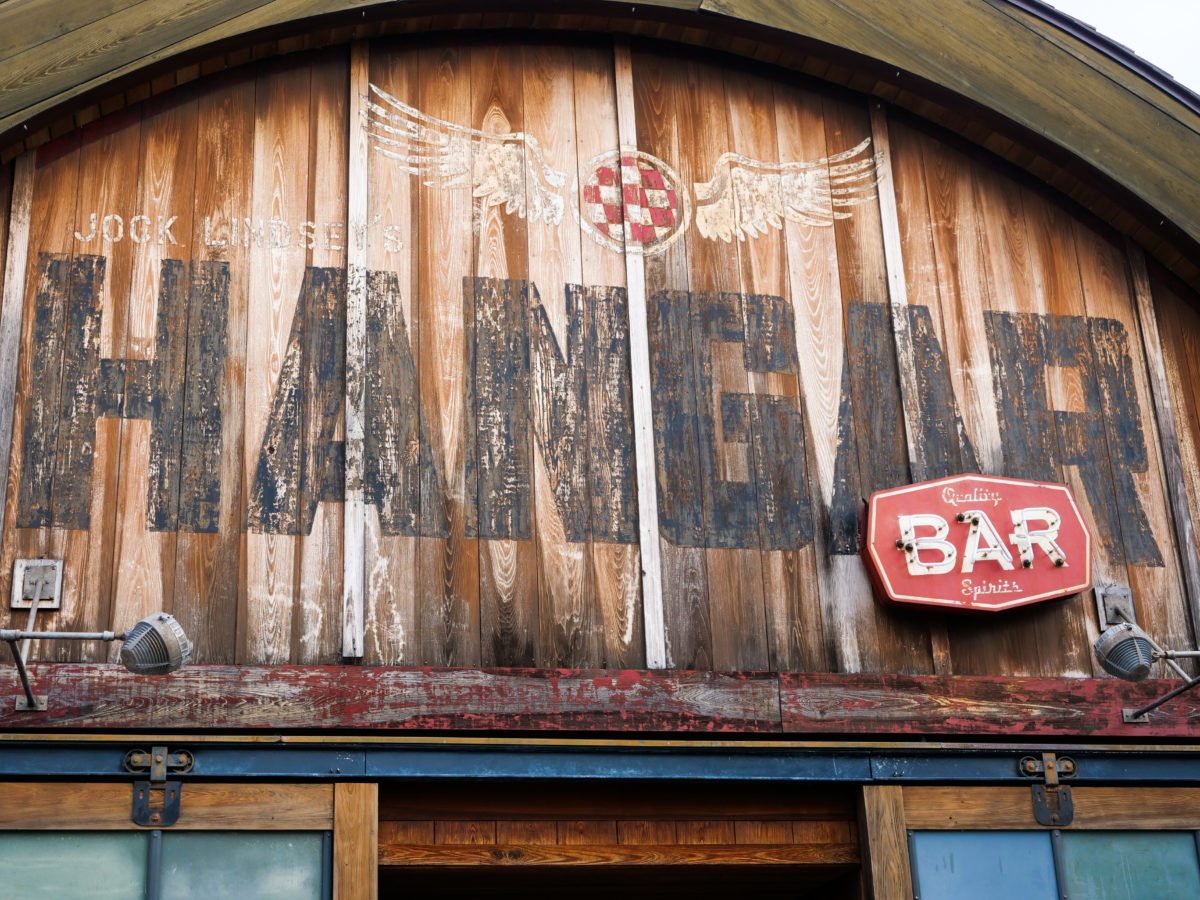 Next door, Jock Lindsey's Hangar Bar is seeing activity inside, suggesting that it will reopen in the not-too-distant future.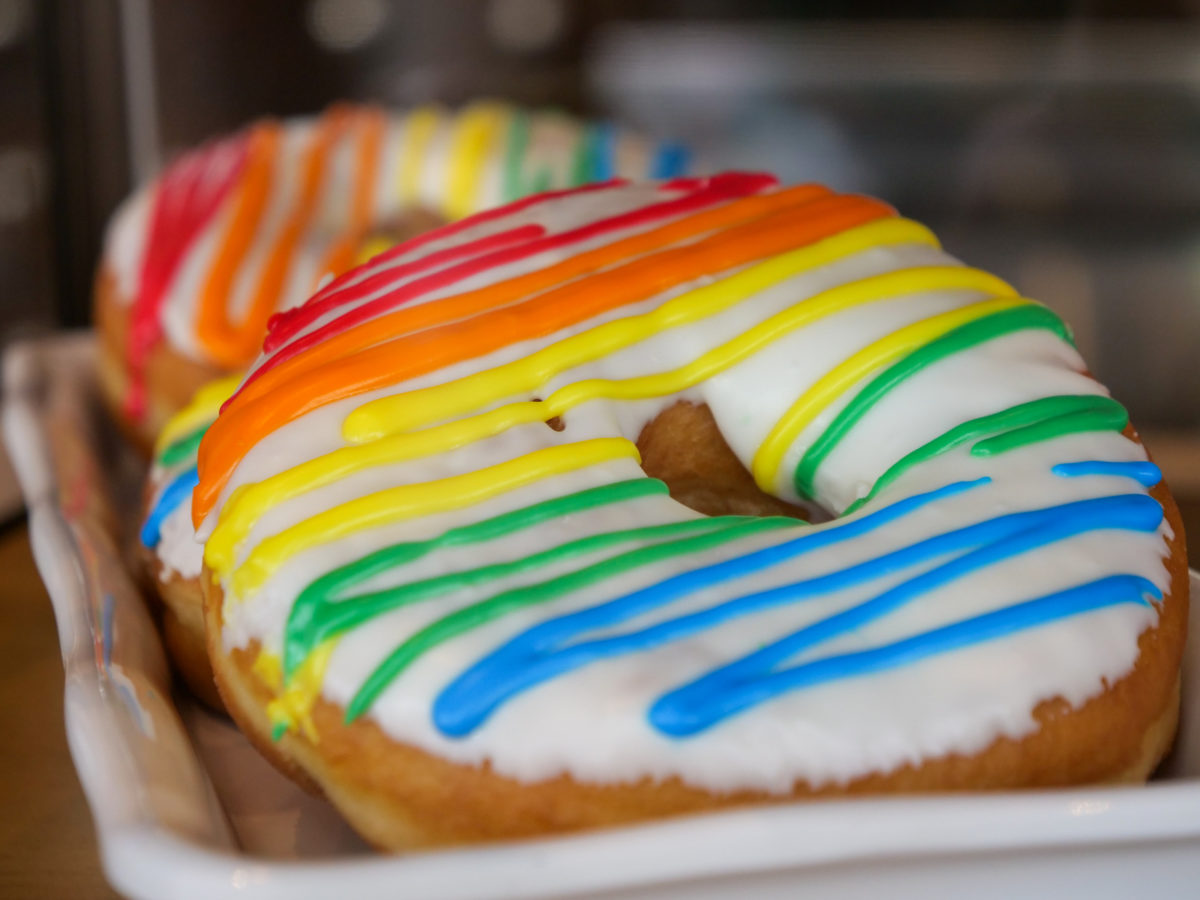 Finally, if you're looking for an indulgence, and not willing to wait a week or two for the Hangar Bar, Joffrey's Coffee has begun serving a Pride-themed doughnut at its Landing location.
That's all for today's trip around Disney Springs. We hope you've enjoyed the photos and updates, and if you need more in the meantime, join us on Twitter by clicking here and following @WDWNT.