Greetings from an overcast Disney Springs! While the weather is a bit dreary, the rain held out long enough for us to check out some exciting happenings. Let's take a look at what the day held.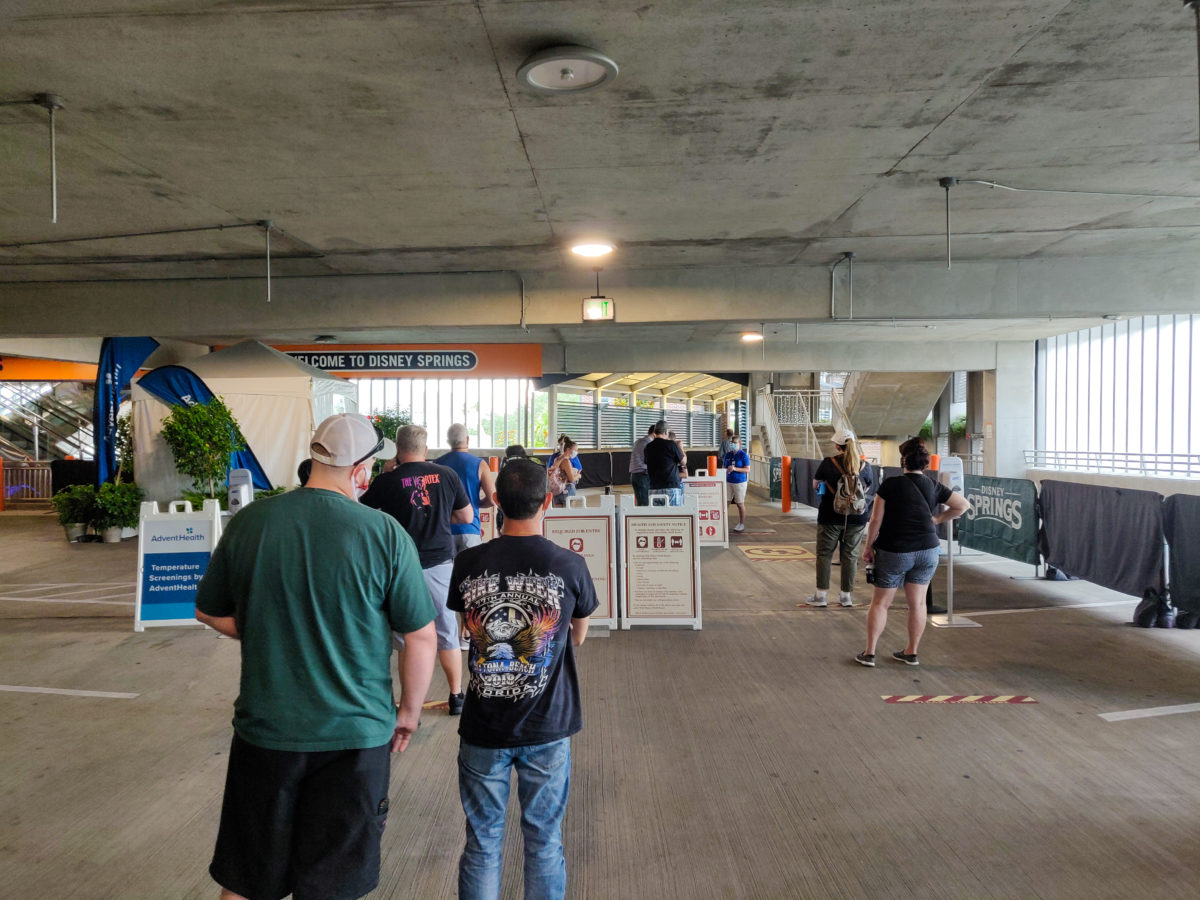 Bright and early at 8:00am, entrance into Disney Springs from the Orange Garage was slightly delayed and guests were held at the temperature screening area. We were told this was due to some vehicles still being in guest walking areas. Temperature checks began around 8:07am and we were allowed in as usual.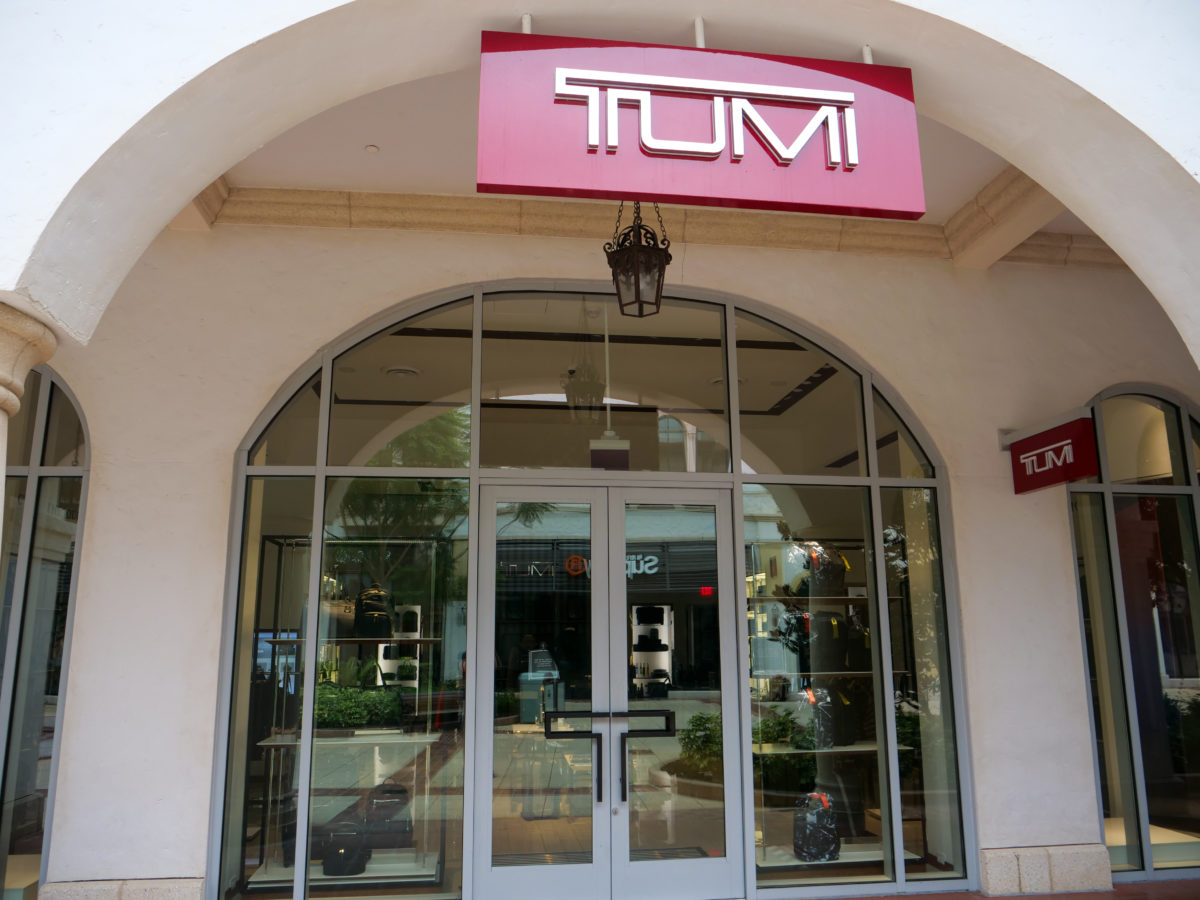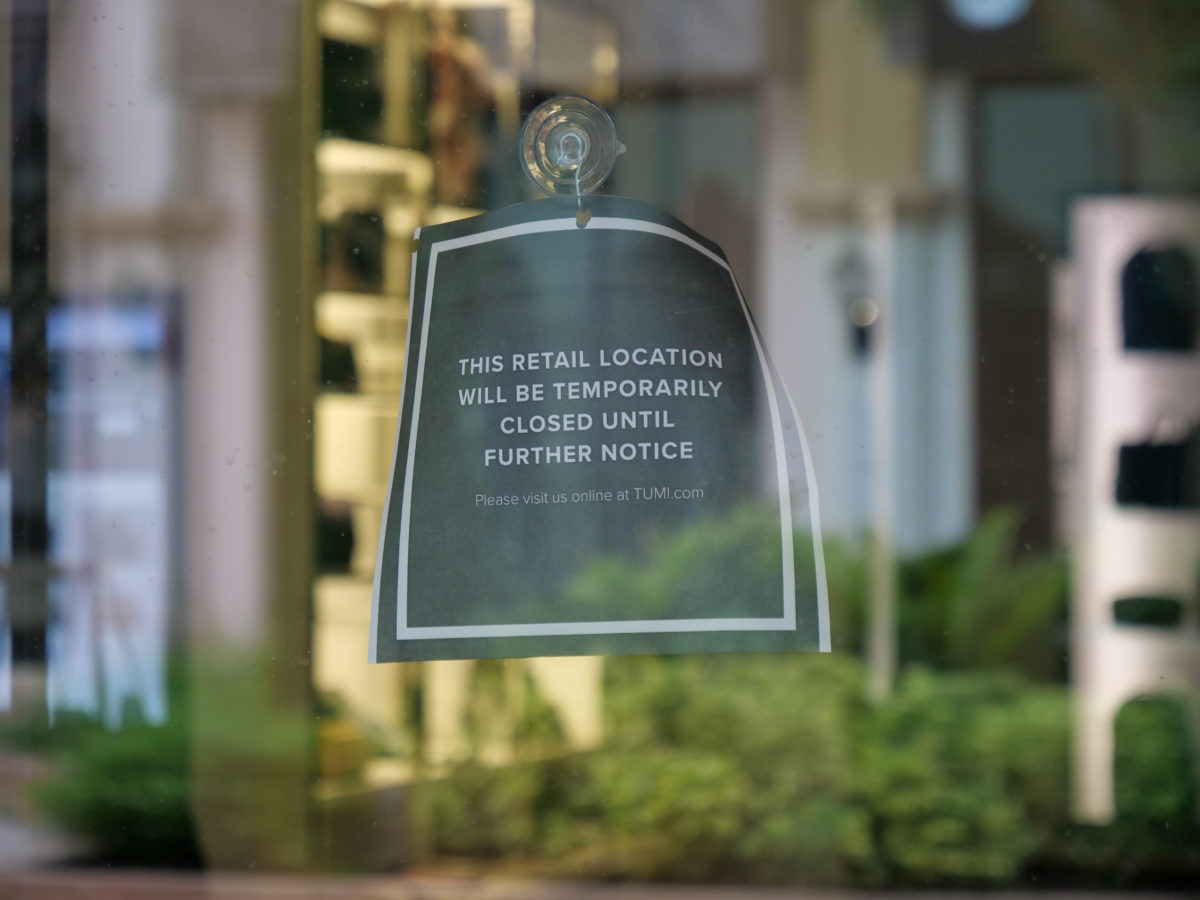 Generally, our first stop is World of Disney, which means walking through the Town Center portion of Disney Springs. This morning we noticed a new sign in TUMI's window, stating that the location will be temporarily closed. Unlike the other stores and restaurants with signs like this in their windows, TUMI had reopened for a time.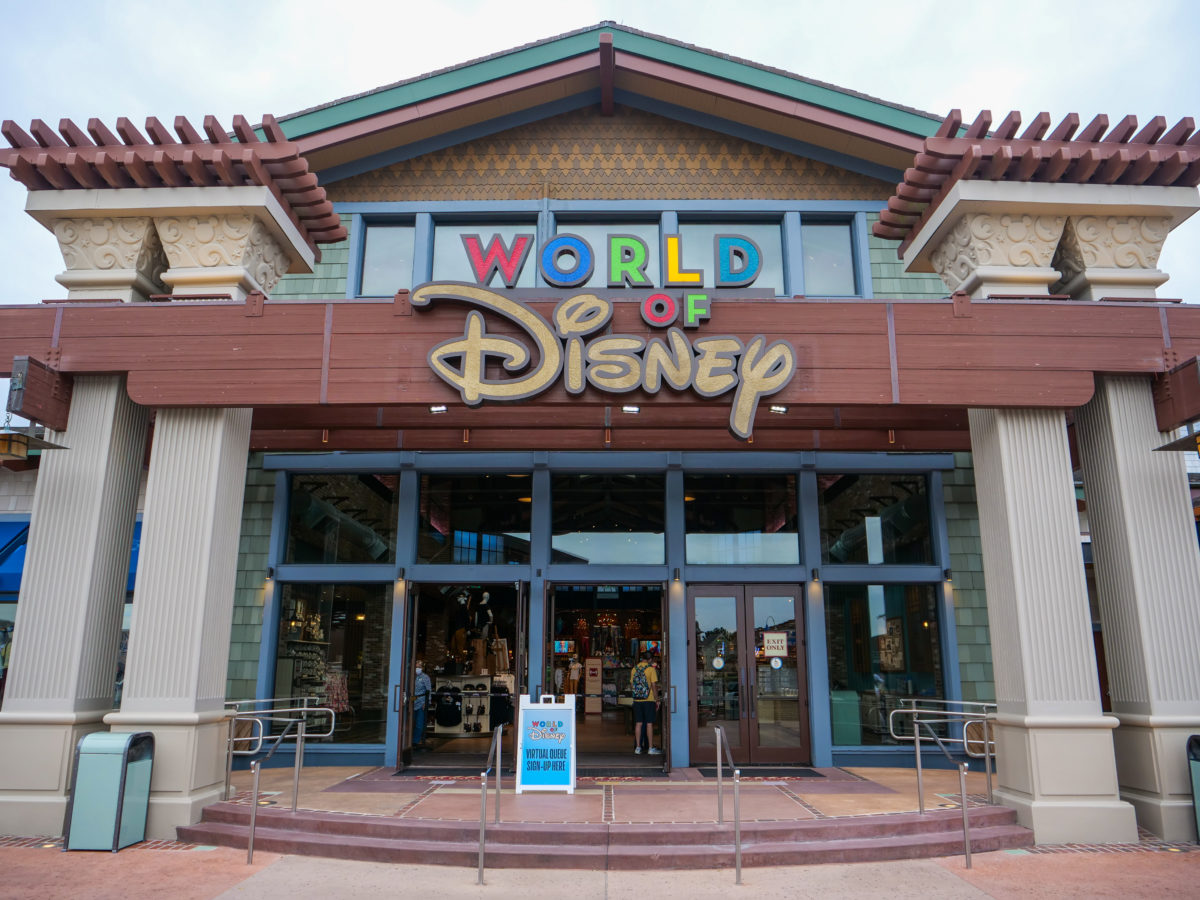 At World of Disney, guests are now directed to the exit next to Starbucks in order to sign up for the virtual queue before the store opens at 10:00am.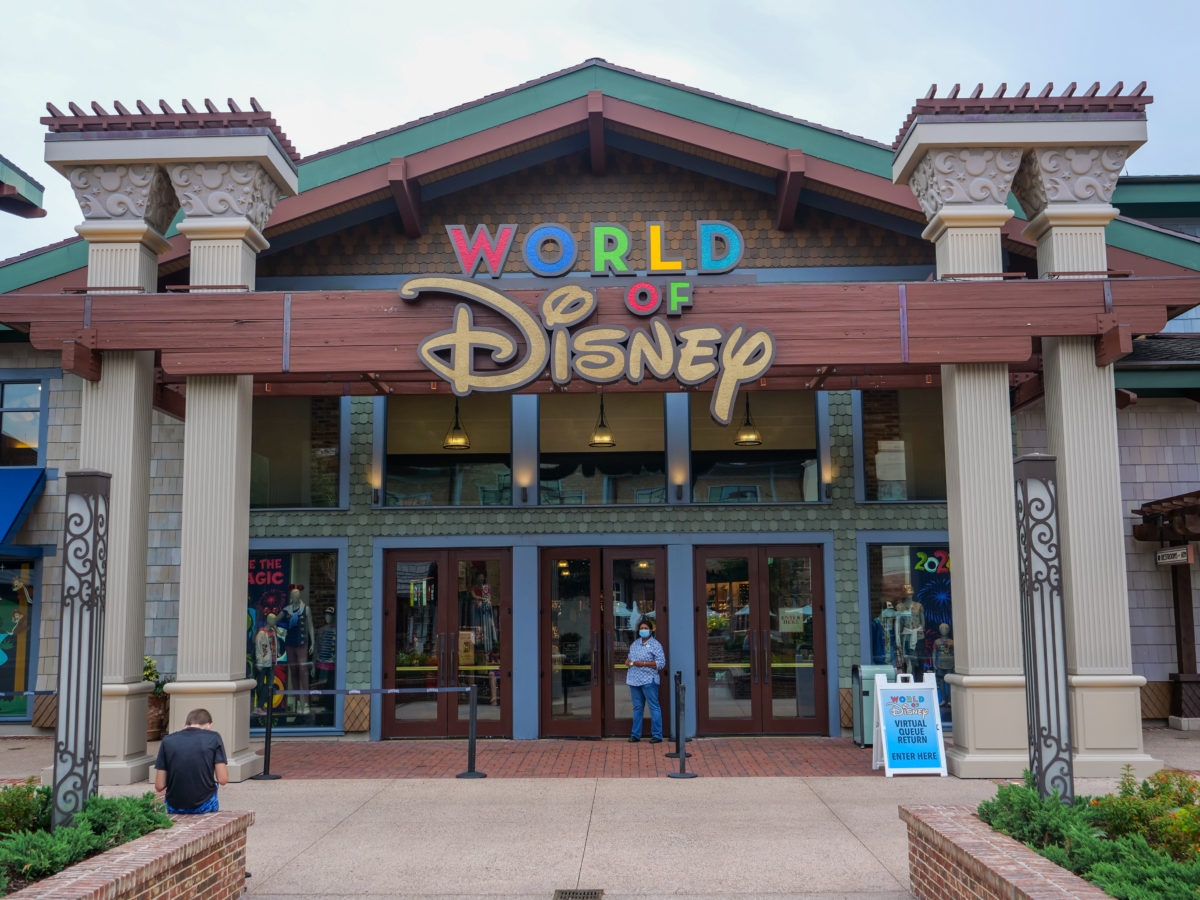 The entrance, whether using virtual queue return or simply as a walk-in, is still located on the west side of the building near The Daily Poutine. Much like most other days since World of Disney reopened, that virtual queue spot was totally unnecessary through the afternoon. Guests were allowed to walk-in without a reservation shortly after opening once the virtual queue guests had been processed.
In addition to World of Disney and Marketplace Co-Op, Once Upon A Toy reopened today and joined the ranks of retail locations offering a virtual queue signup. Like World of Disney, that reservation was not needed to enter Once Upon A Toy or Marketplace Co-Op at opening.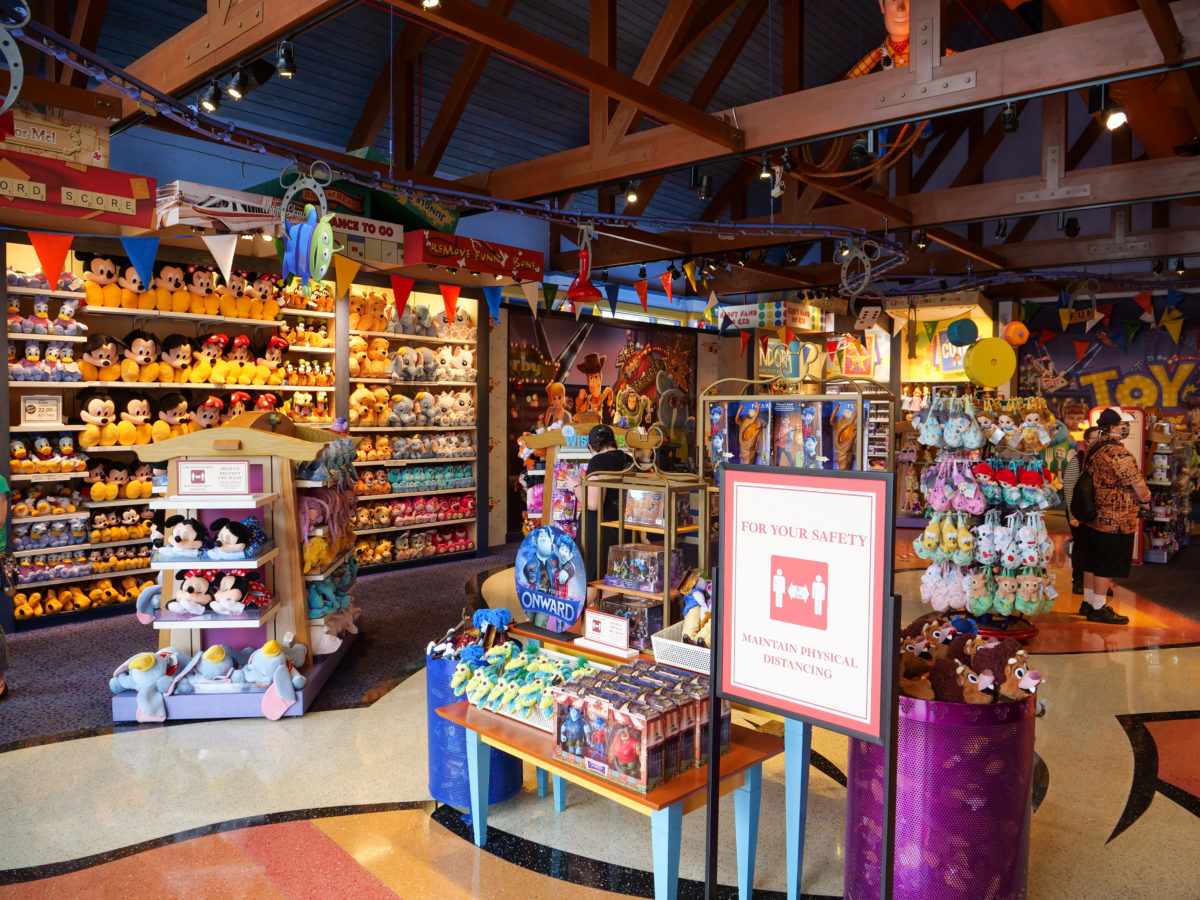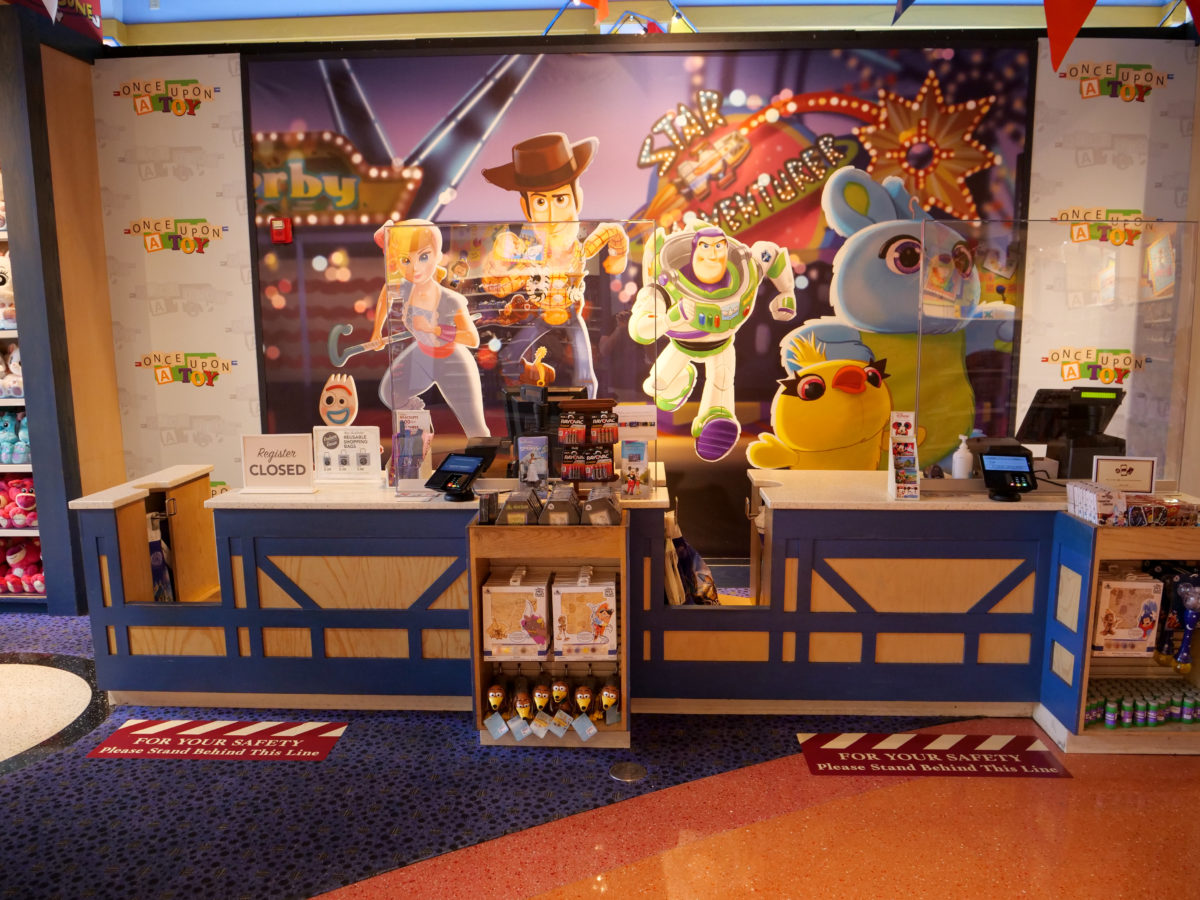 Once Upon A Toy has many of the same changes as you'll see at every other store in Disney Springs – physical distancing markers, limited capacity, and plastic shields at the registers.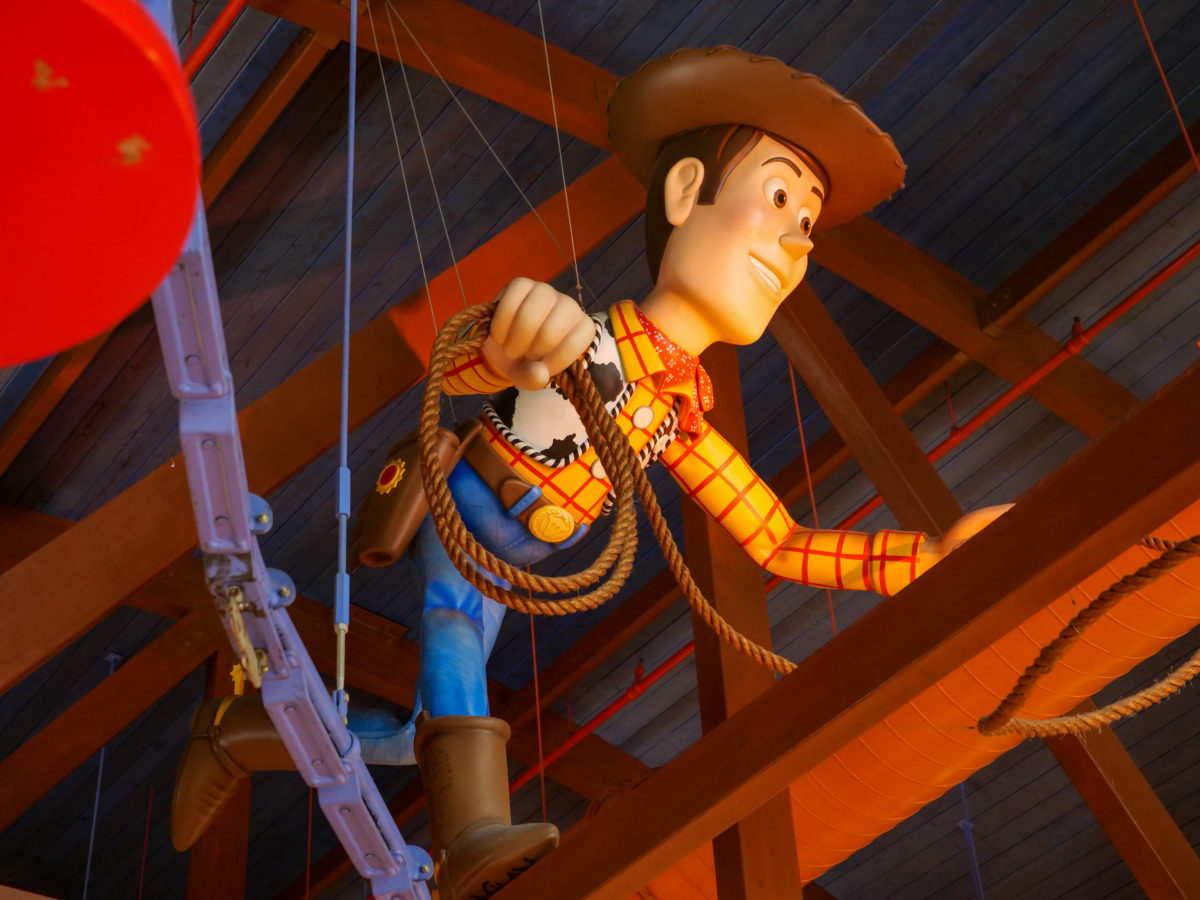 Thankfully, Woody is still hanging around inside the toy shop to keep an eye on shoppers. For more information on the reopening with a bunch more pictures, check out our full post on the event.
Once Upon A Toy was not the only significant opening today, as Cookes of Dublin also made a glorious return.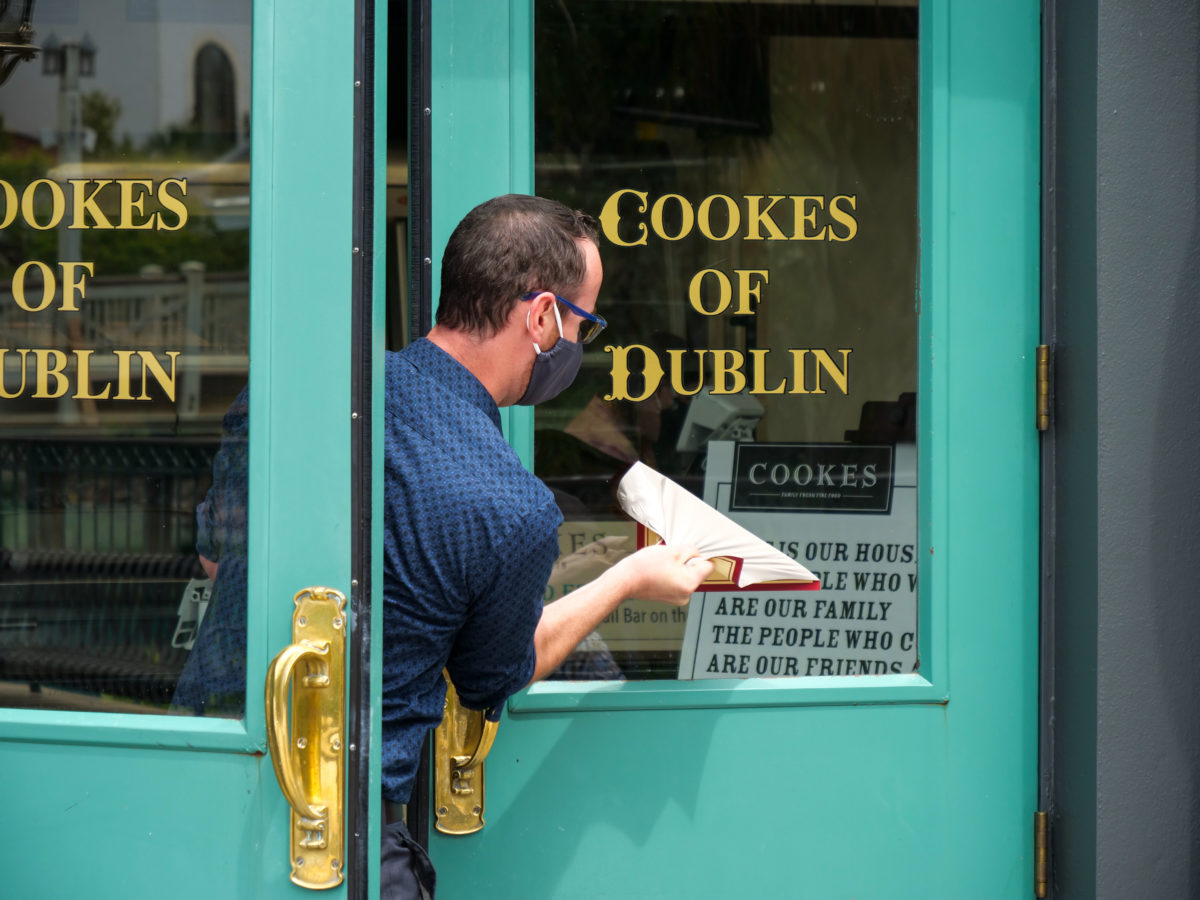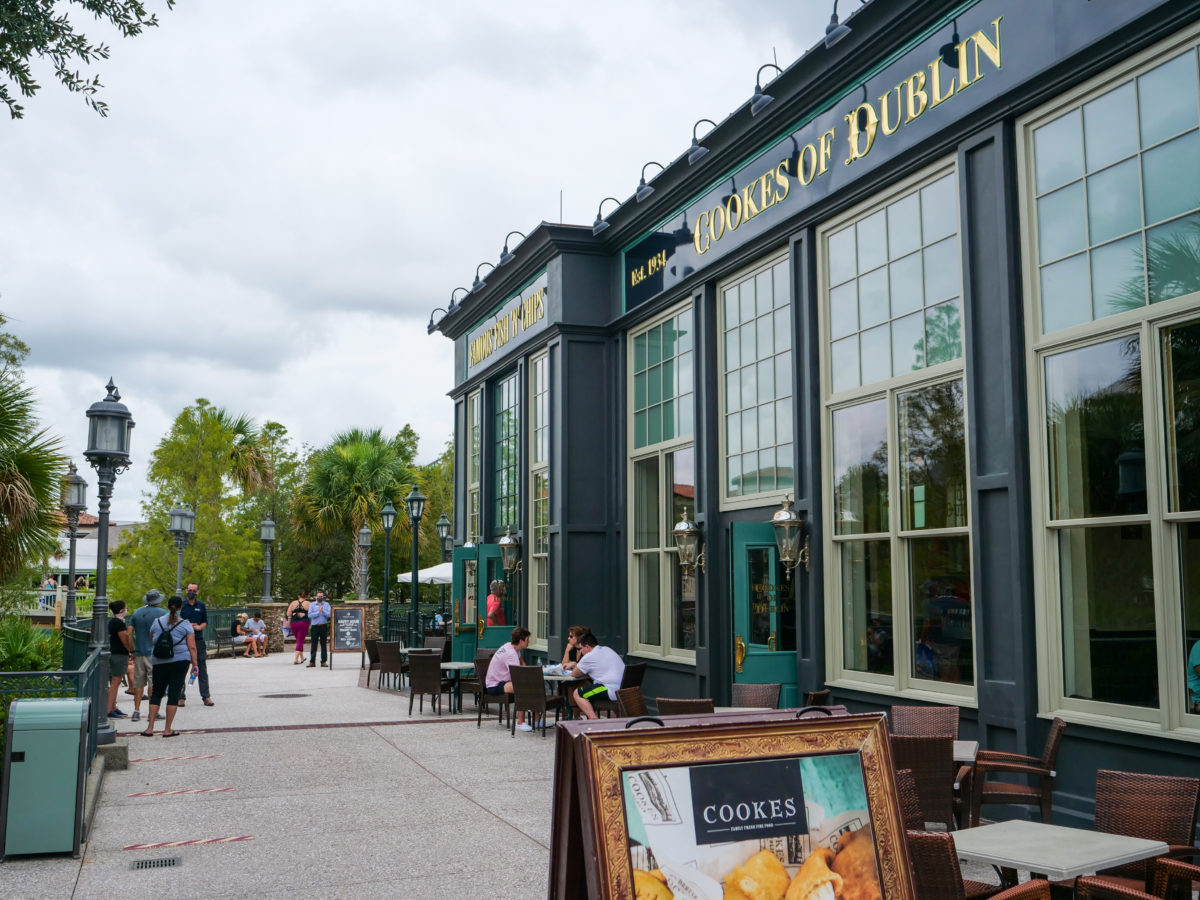 The quick-service restaurant opened at noon to decent line of guests awaiting some of their Irish favorites.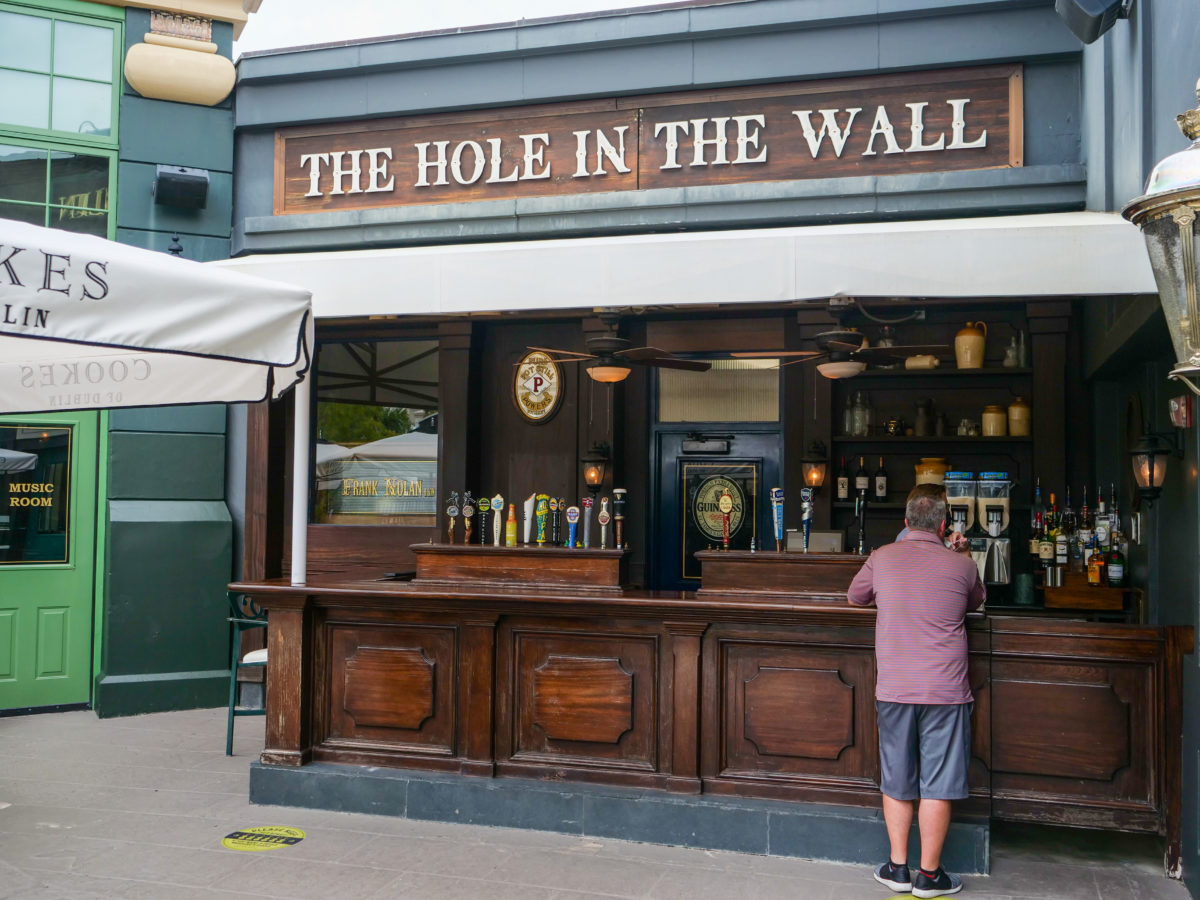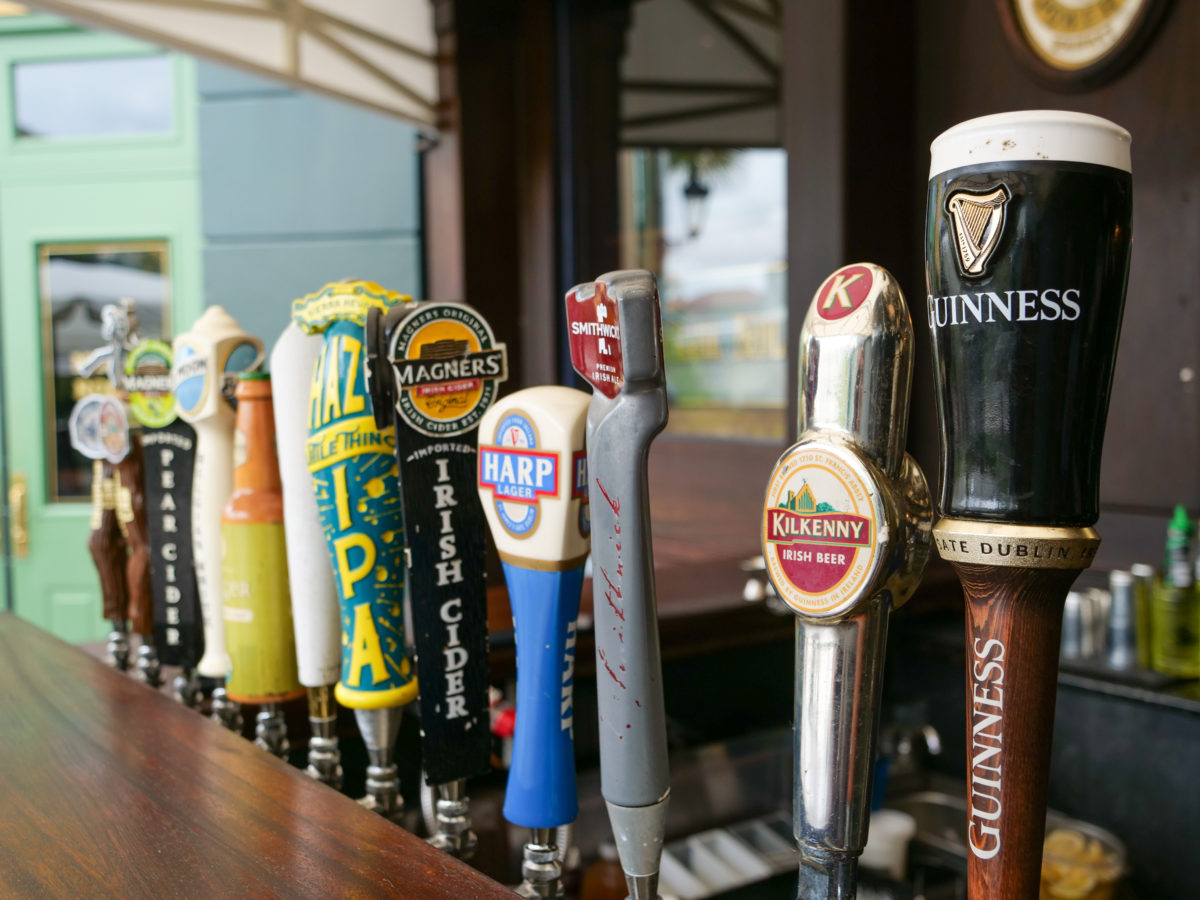 The Hole In The Wall bar, which sits between Cookes of Dublin and Raglan Road, also reopened to serve up a nice selection of both domestic and Irish beers. Speaking of Raglan Road, it should be opening soon as well. Head on over to our post detailing the expected opening dates to learn more.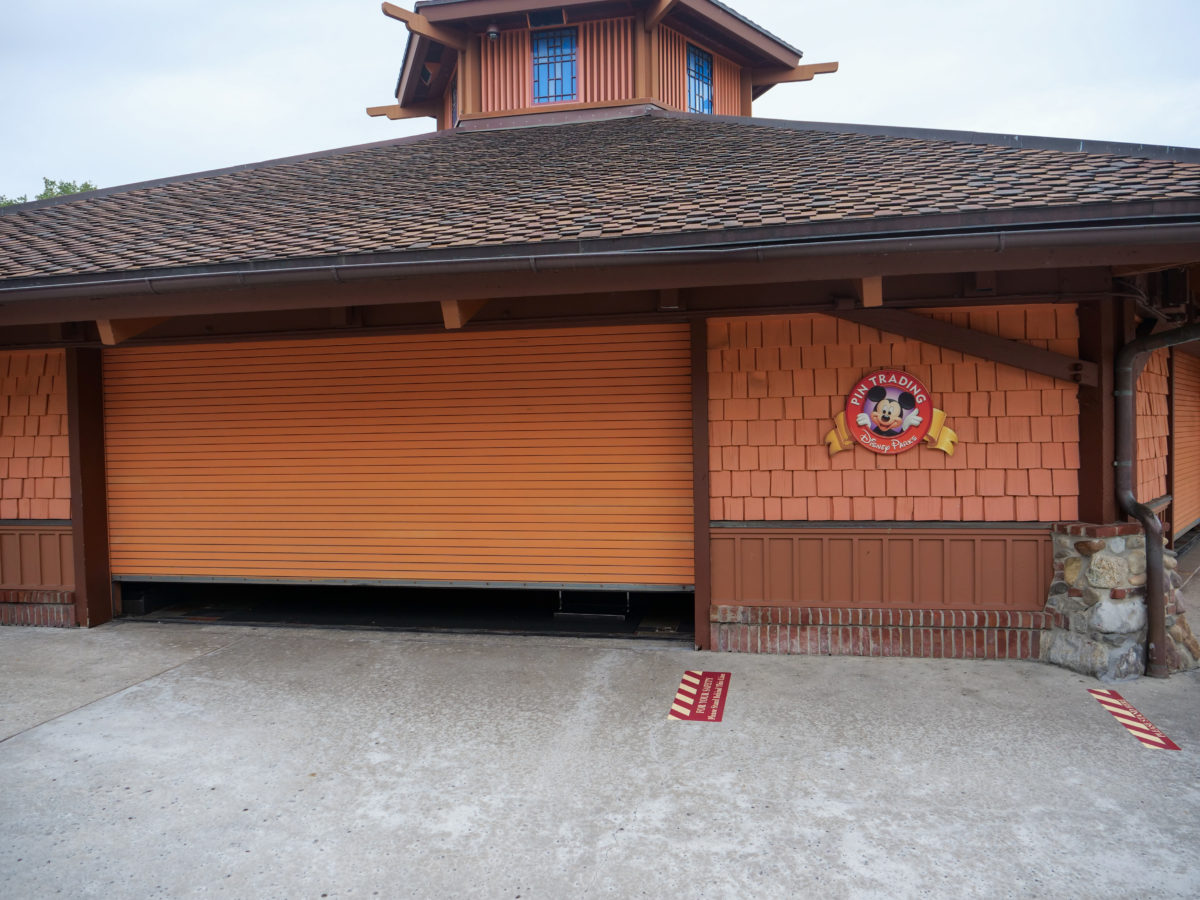 For a moment, we thought Disney's Pin Traders might be reopening today, but the slightly-open doors didn't roll up any further today.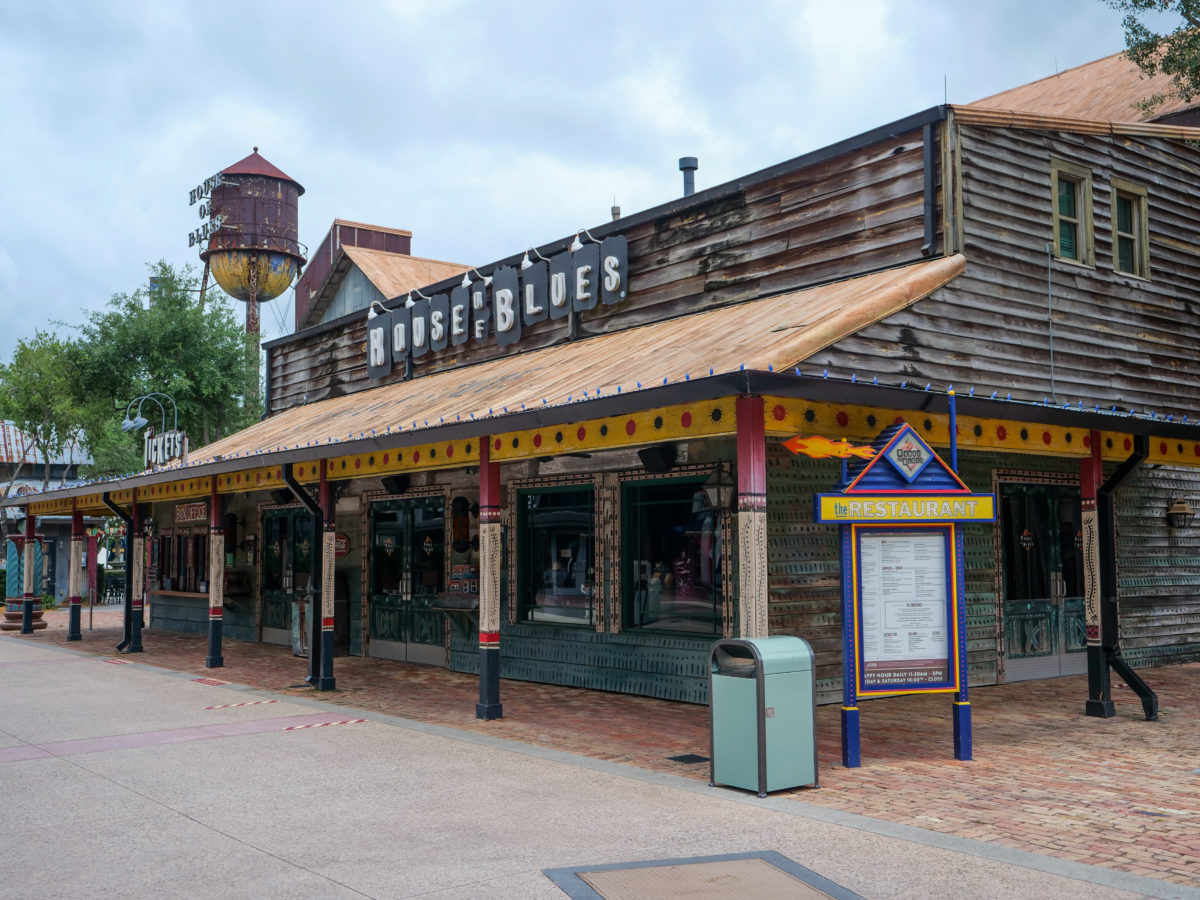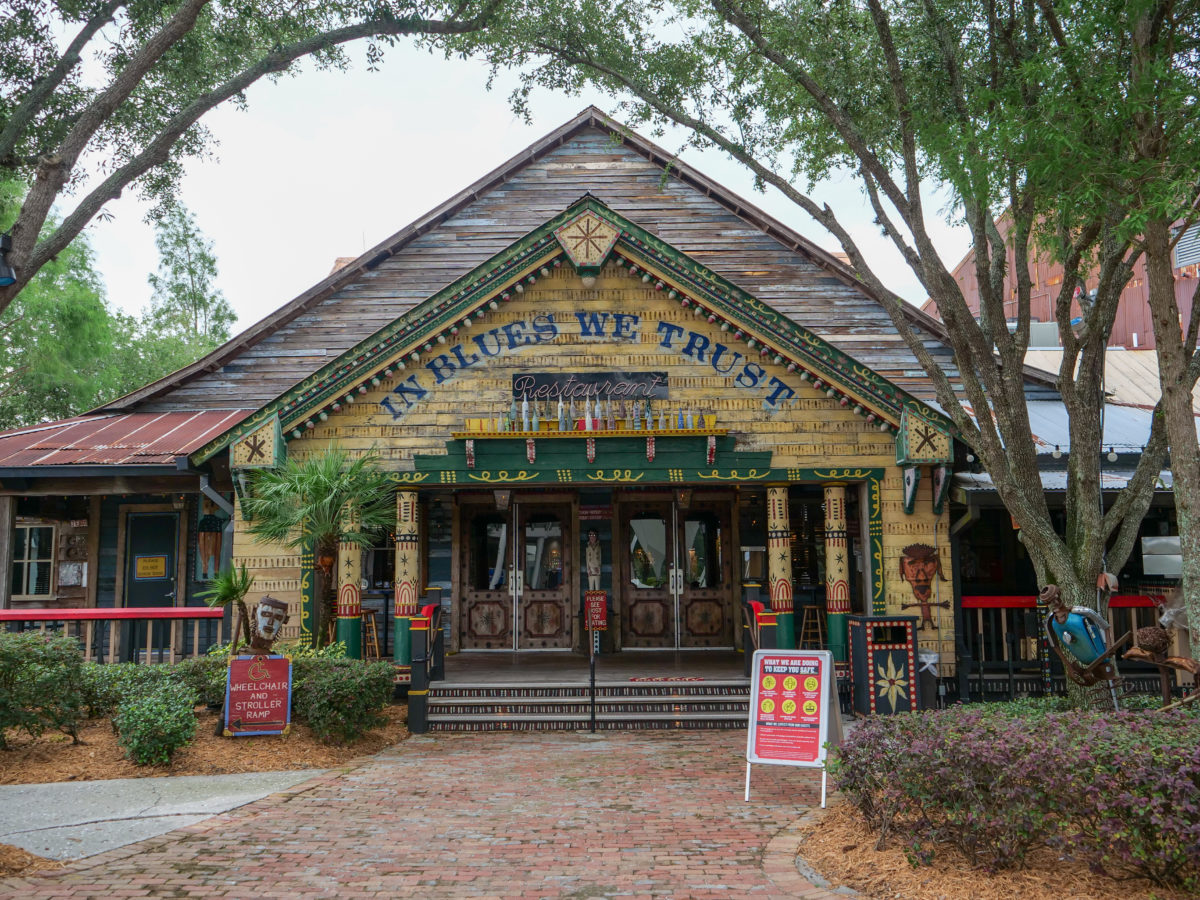 The House of Blues Company Store also teased us a bit, having reopened for a brief time last night, but was not open in the morning or early afternoon today.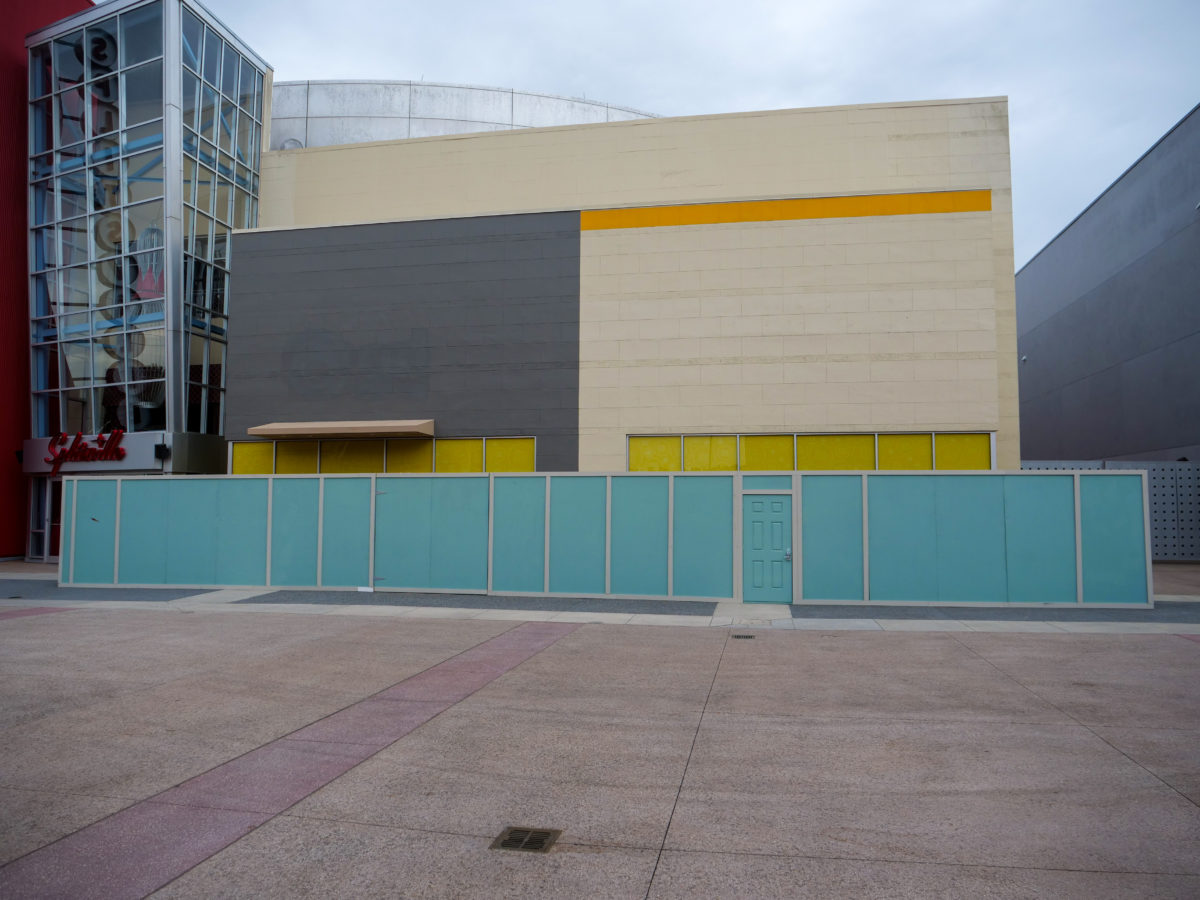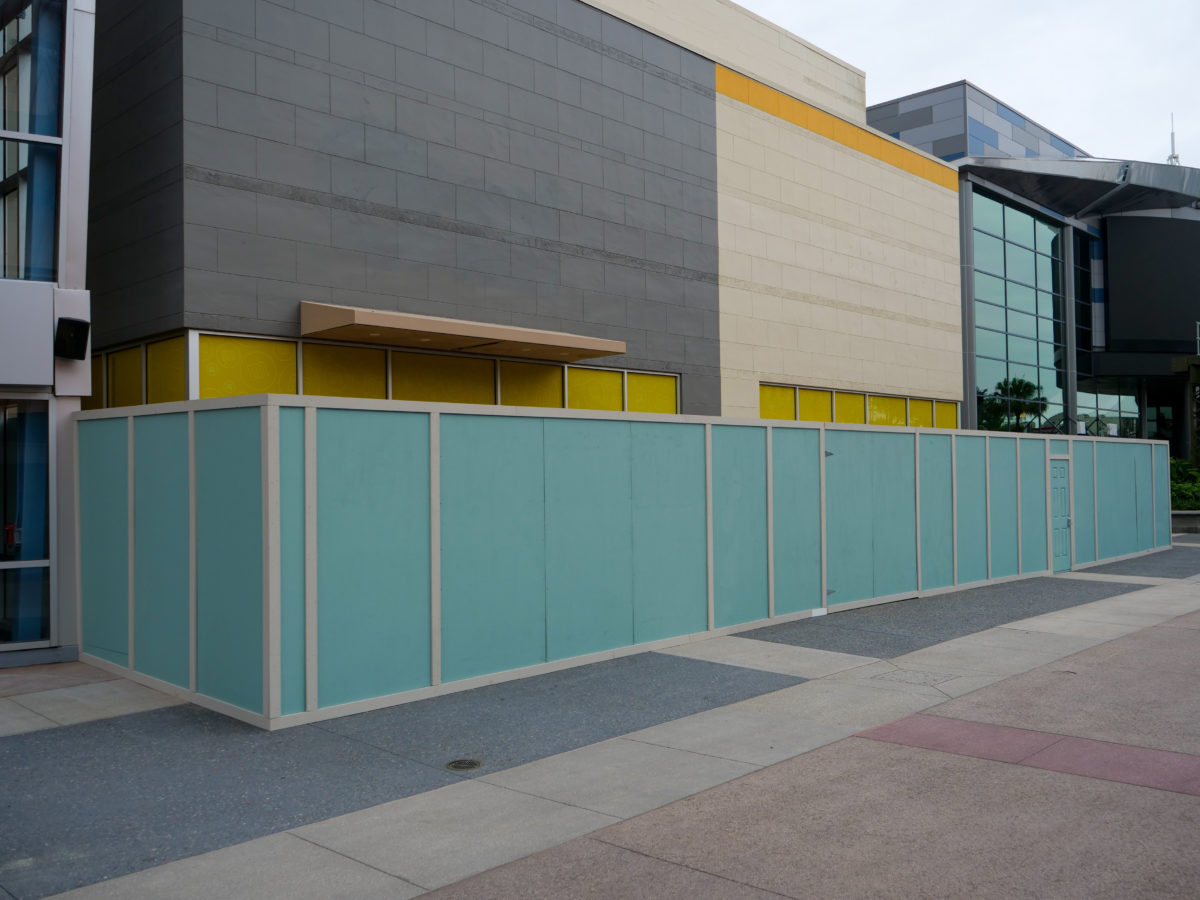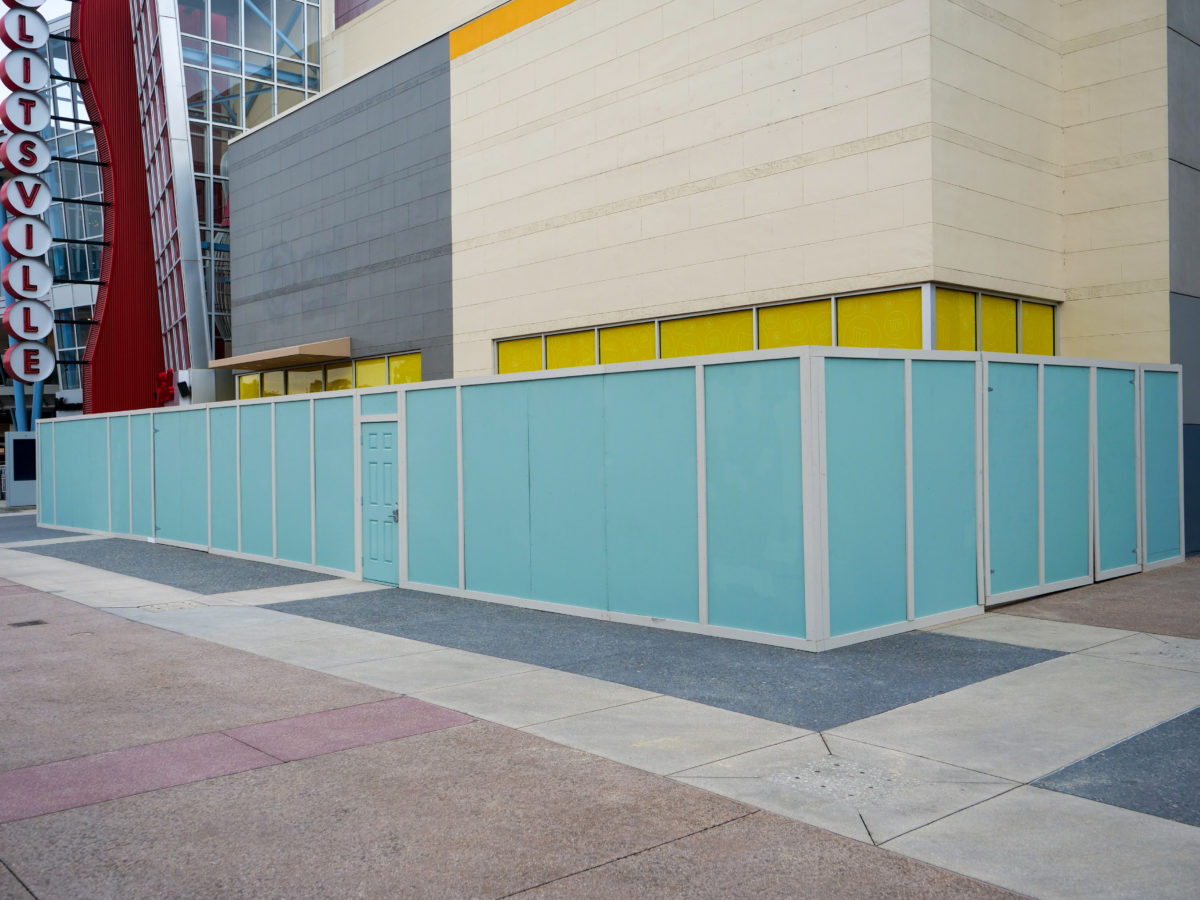 There was, however, action over at the future location of the M&M'S Store. These walls went up overnight around the the windows and doors which are covered with yellow decals.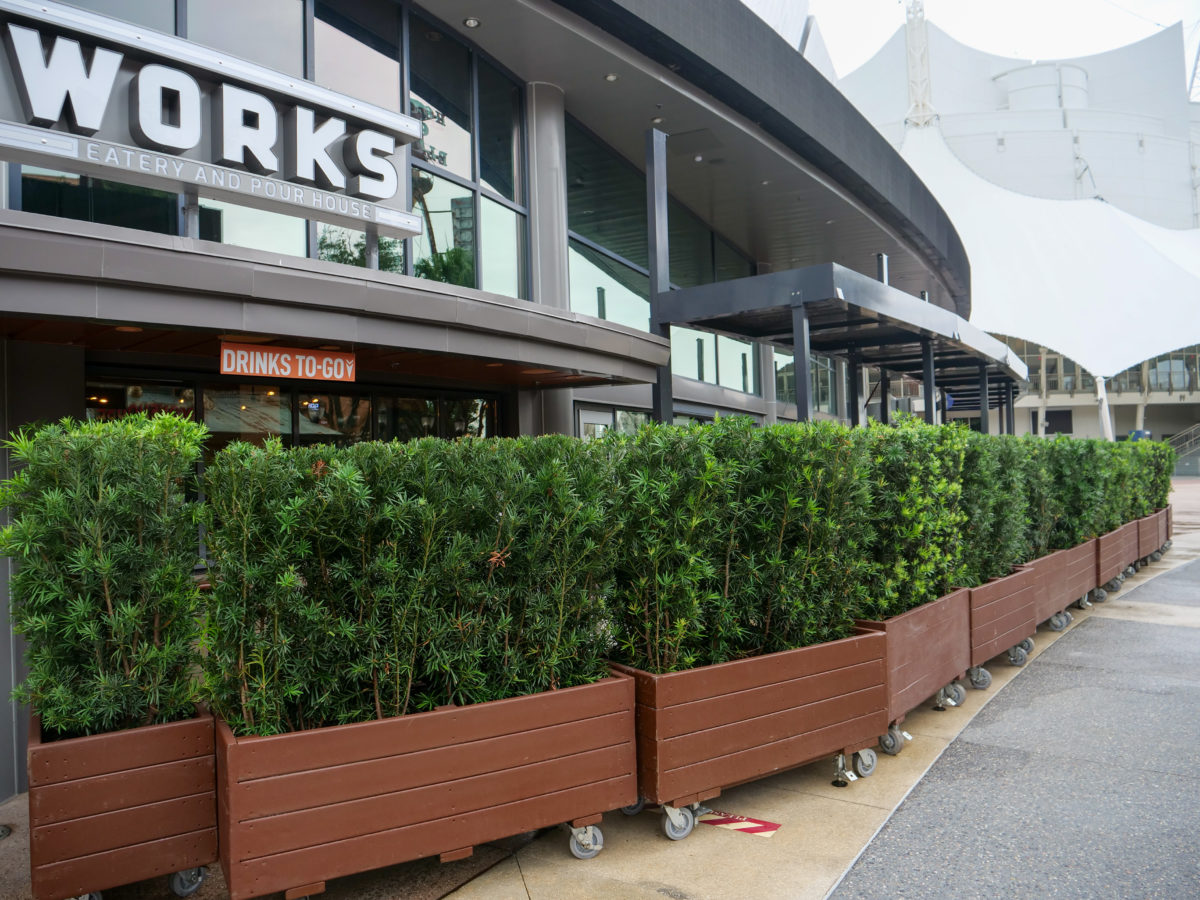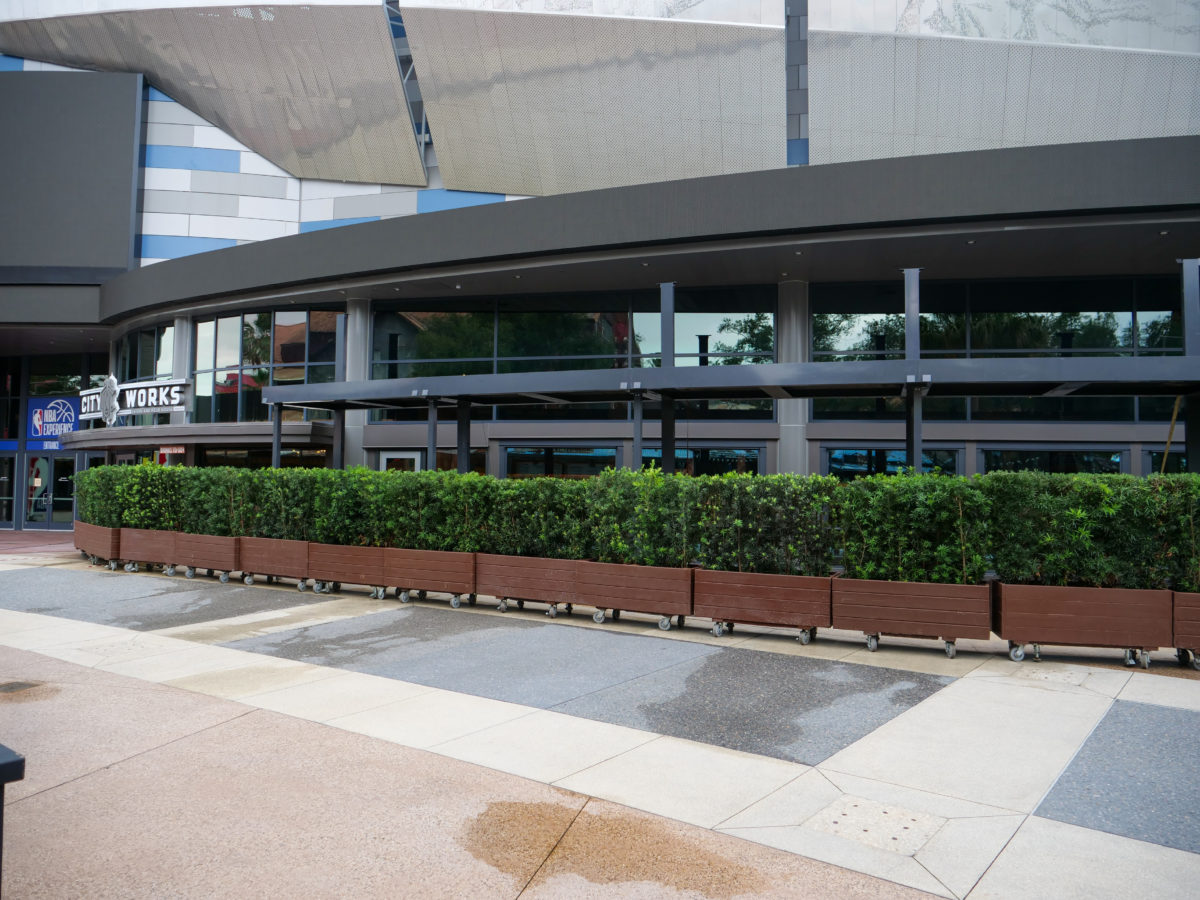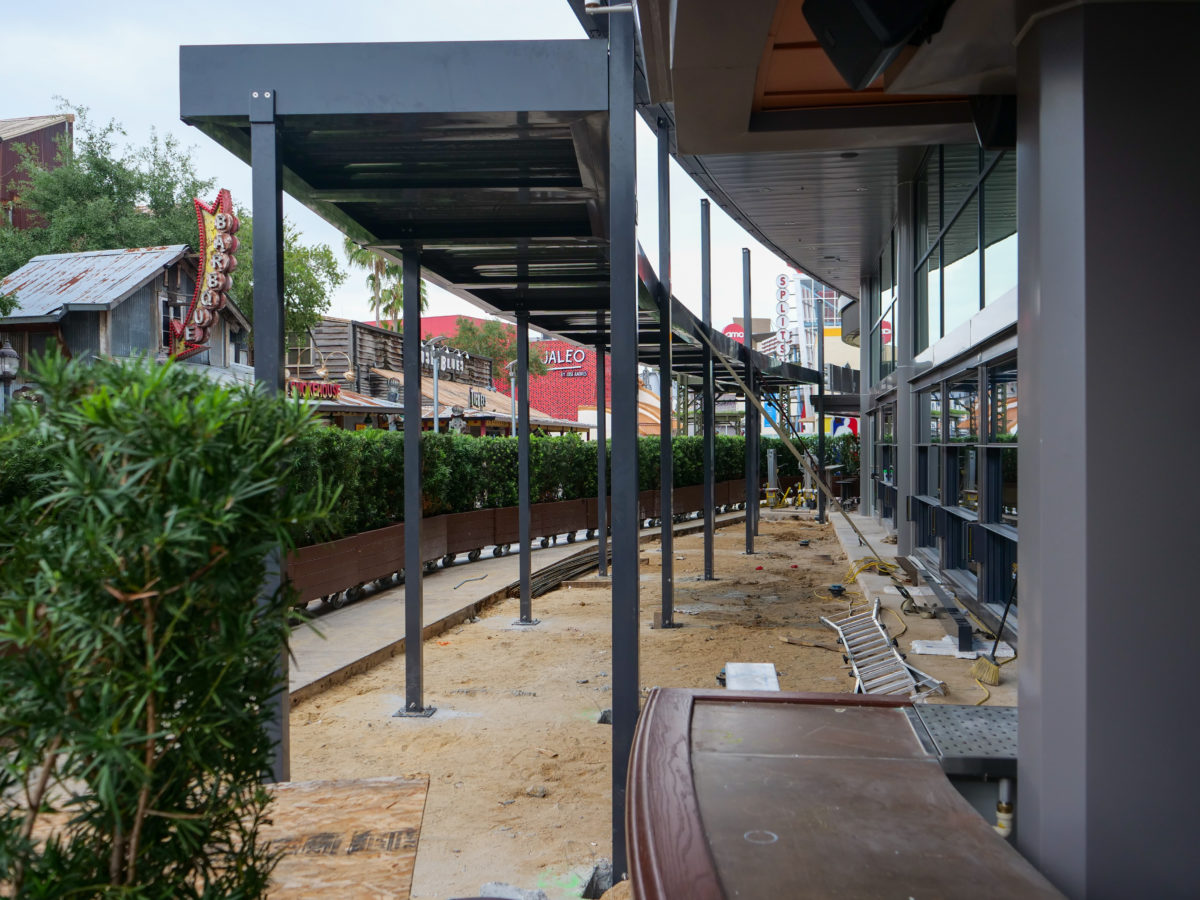 City Works Eatery & Pour House's construction was a bit quiet today. We've become accustomed to seeing a full crew working on this canopy addition, but today things were silent. We recently posted a detailed update on the project – click here to see that post.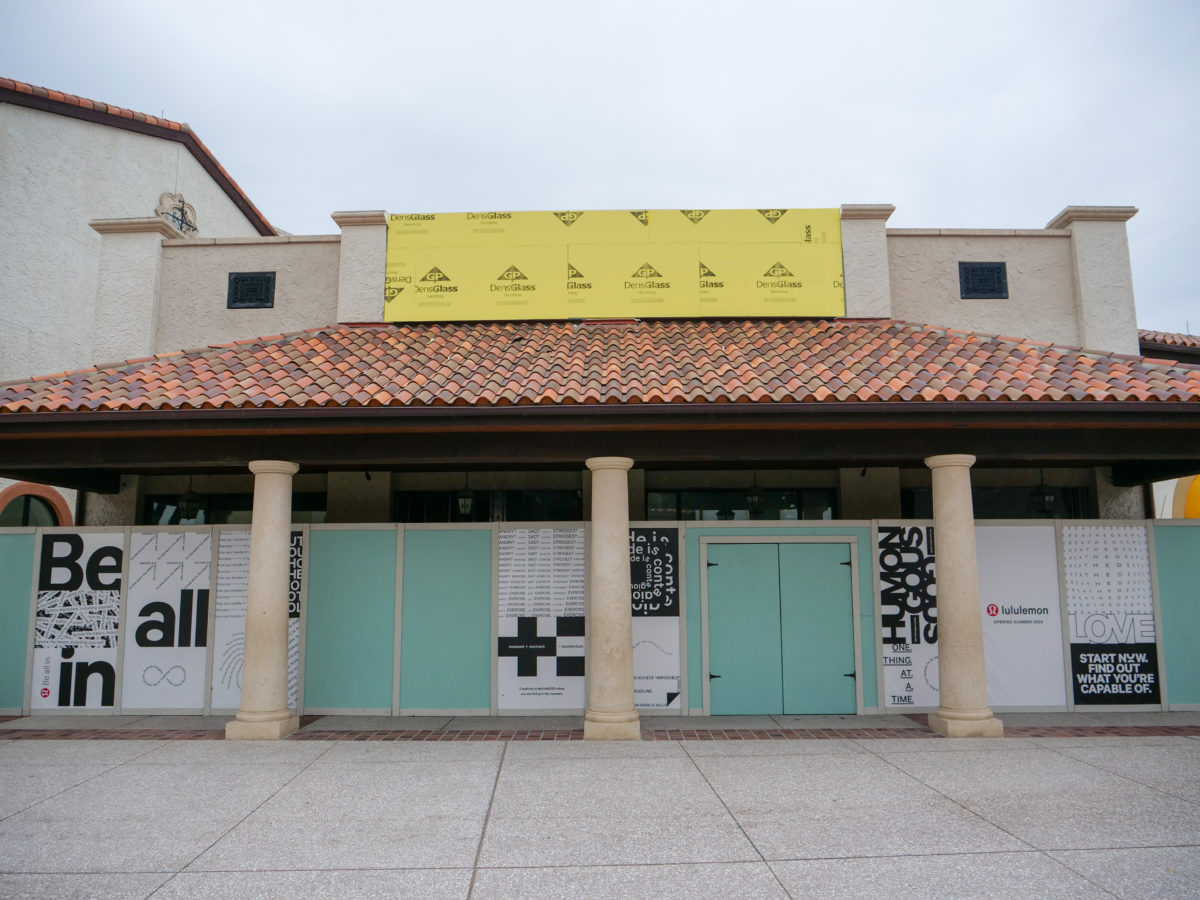 Work at lululemon's future store was anything but quiet – guests can often hear a lot of work going on behind those walls.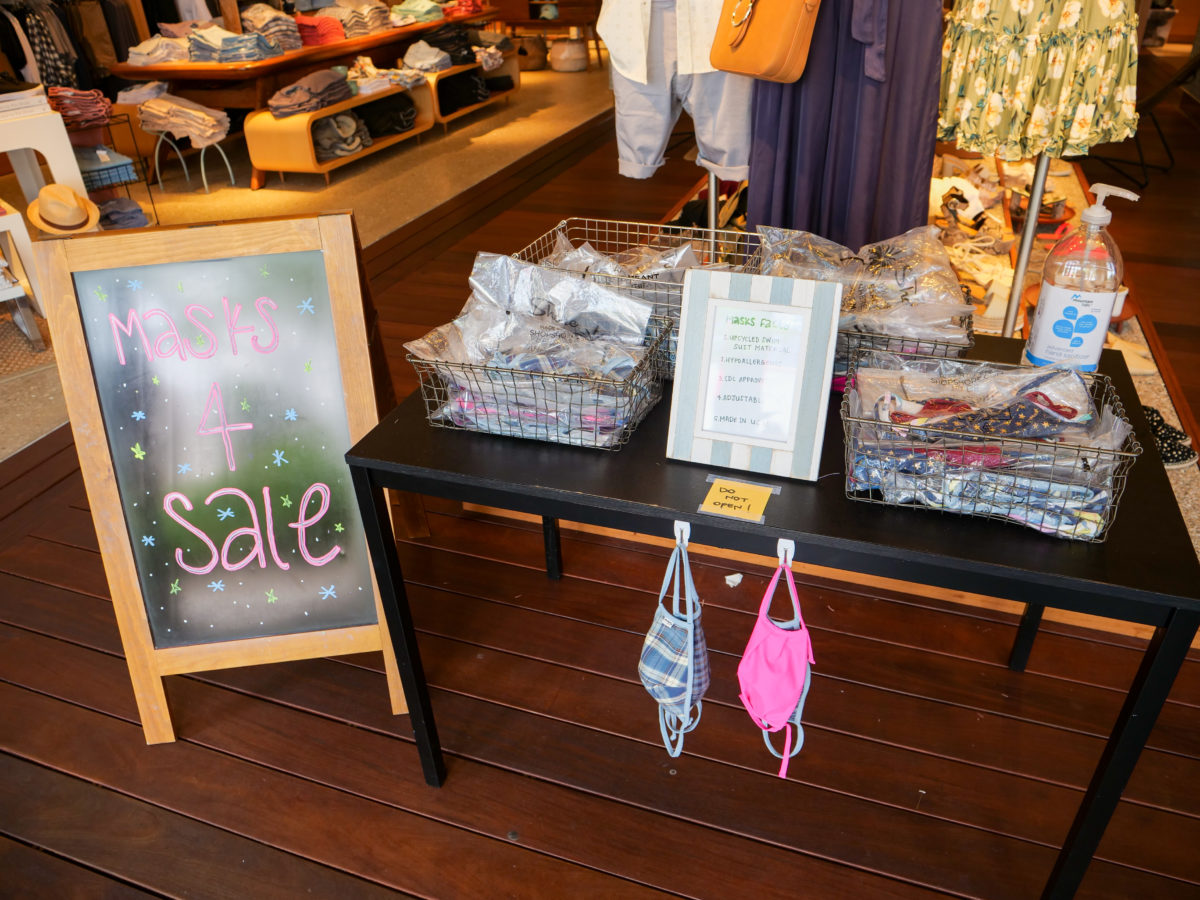 Shore continues to keep their mask selection well-stocked at the display just inside the entrance of their store.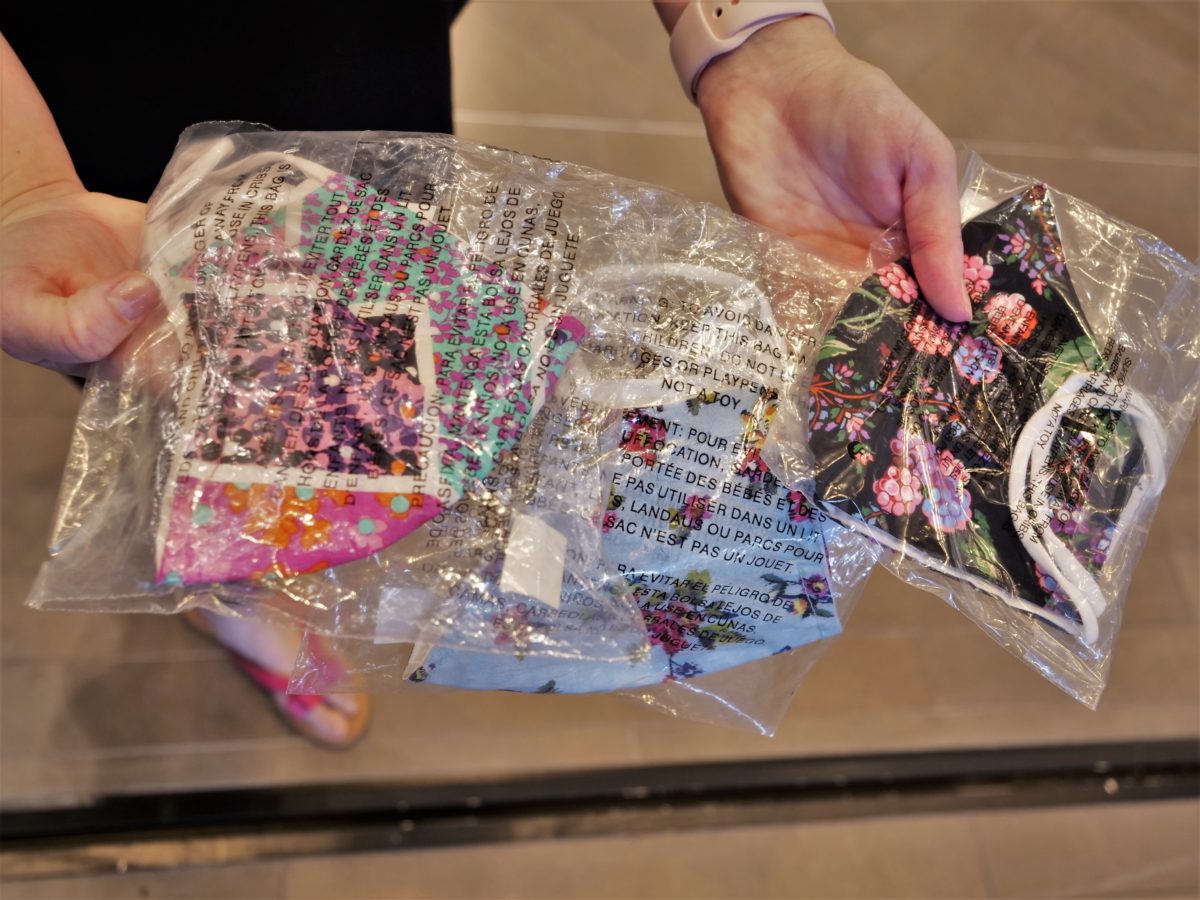 As usual, Vera Bradley has a different selection of masks each day in a wide variety of different colorful styles.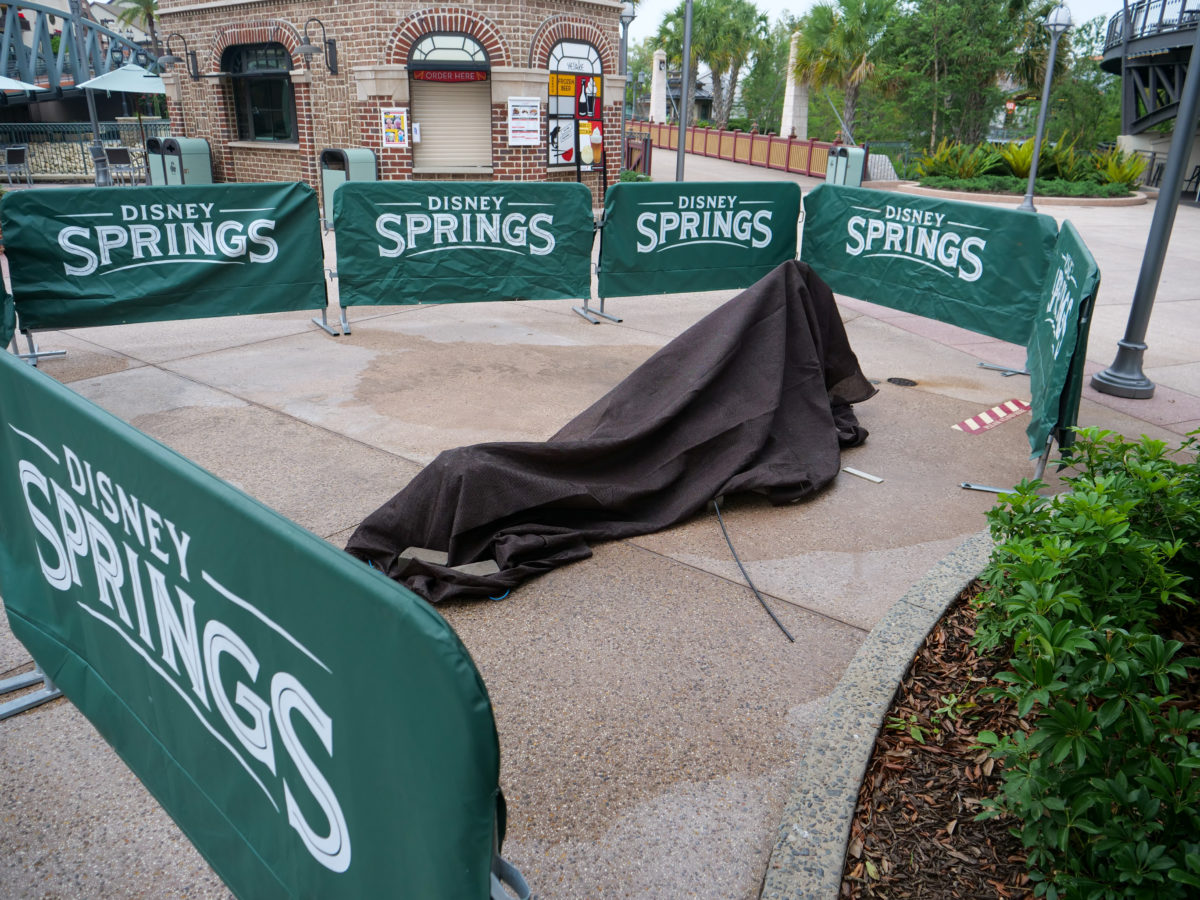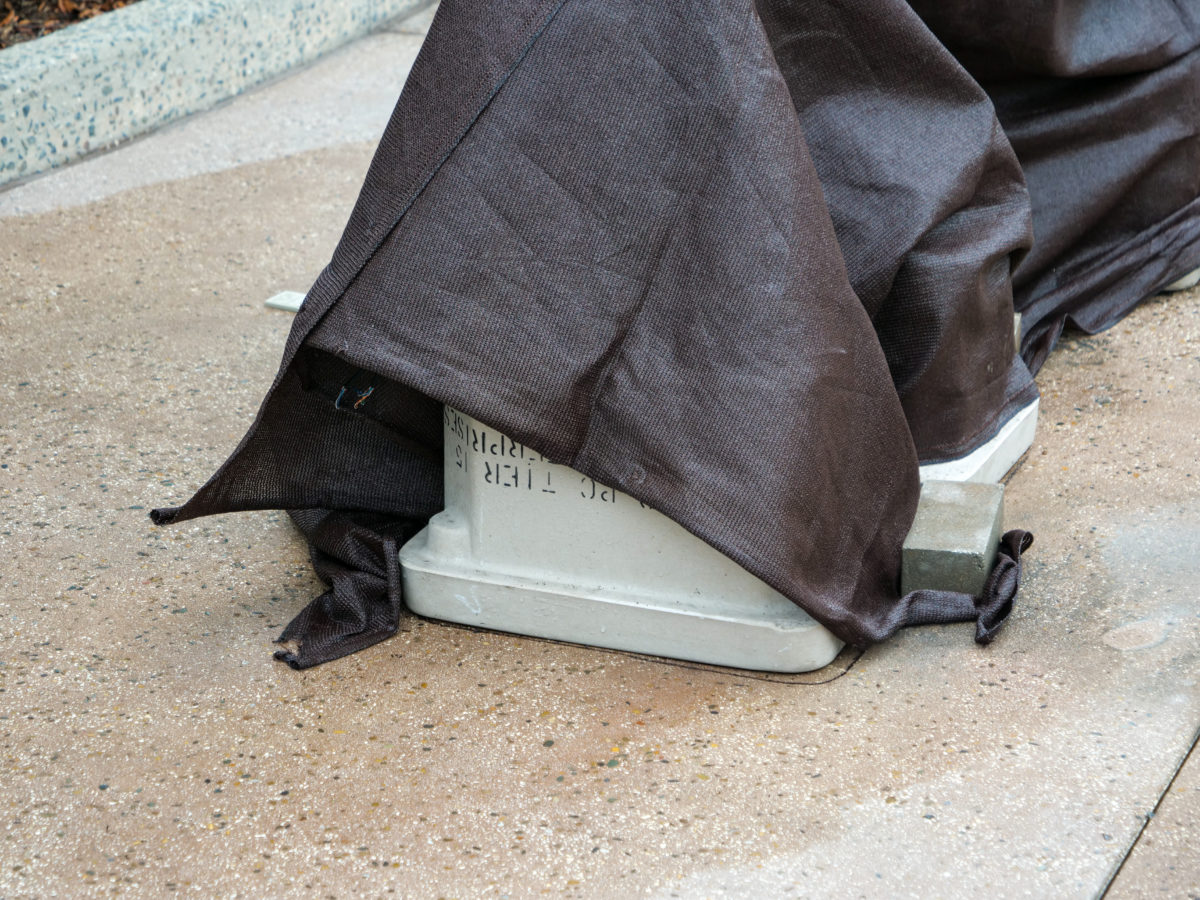 Nearby those two retail stores, this unknown object was covered and fenced off in the courtyard near Wetzel's Pretzels, just outside of the Orange garage.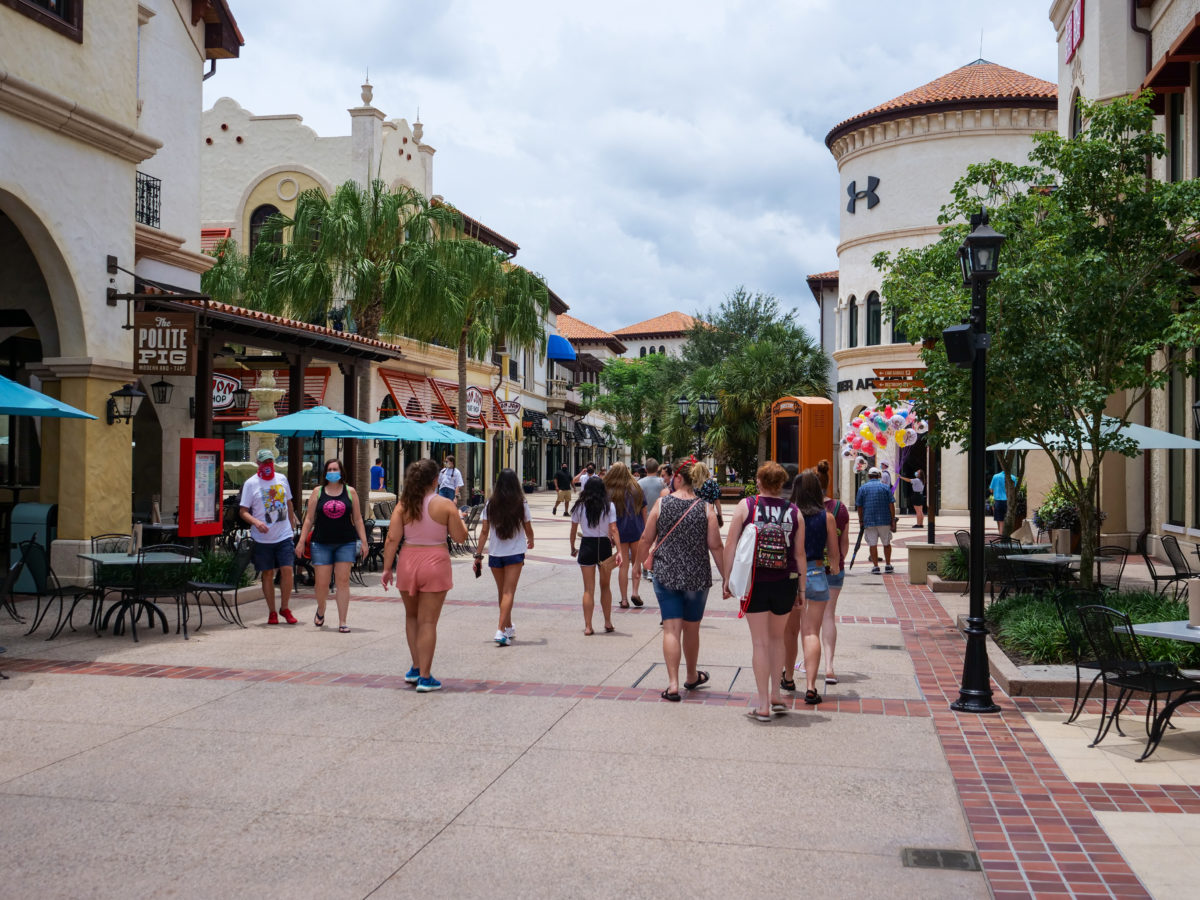 In the afternoon, crowds started to pick up a little bit as the sun attempted to make an appearance. Today would not be the sun's day, though, and rain would move in within a couple of hours.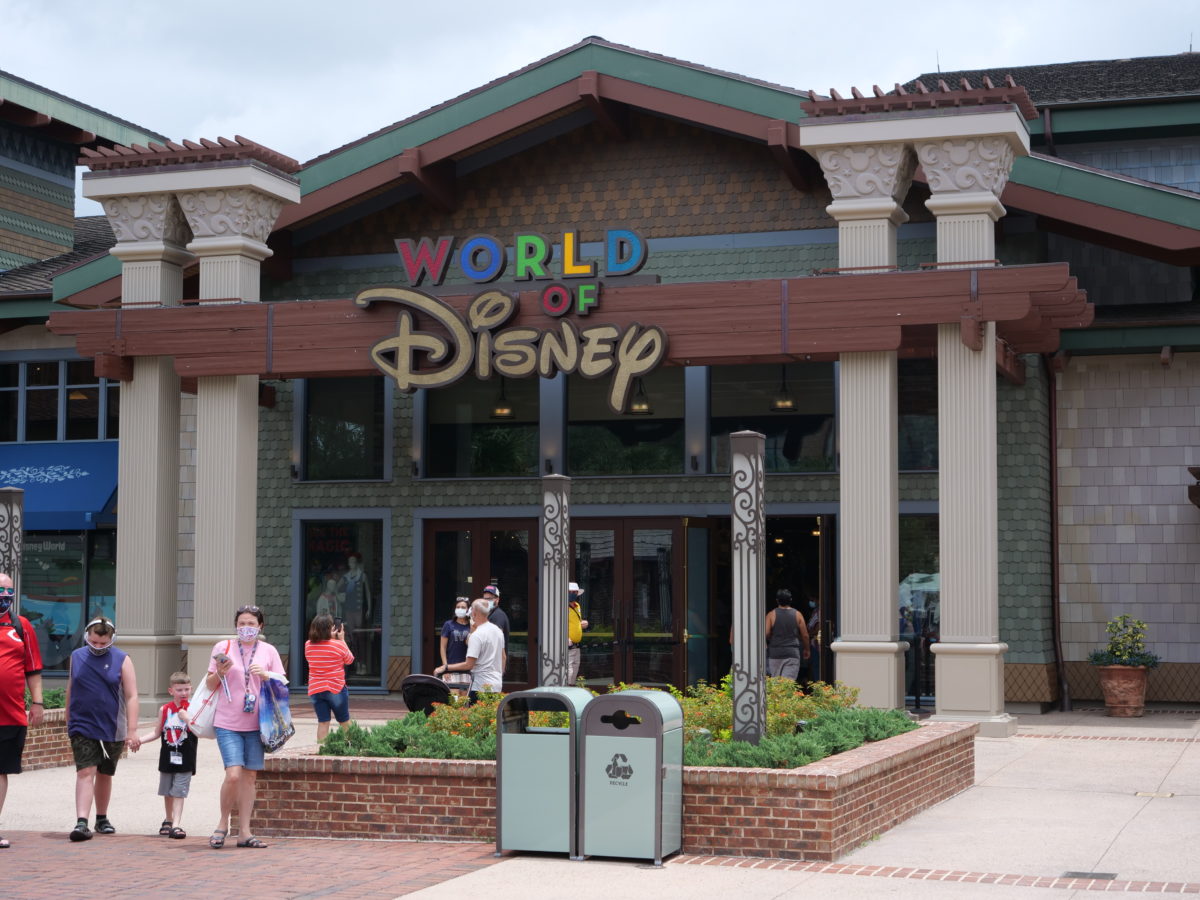 At World of Disney, guests could still enter without any kind of reservation at 1:00pm. We decided to pop into the store one last time for the day to see if anything new had arrived.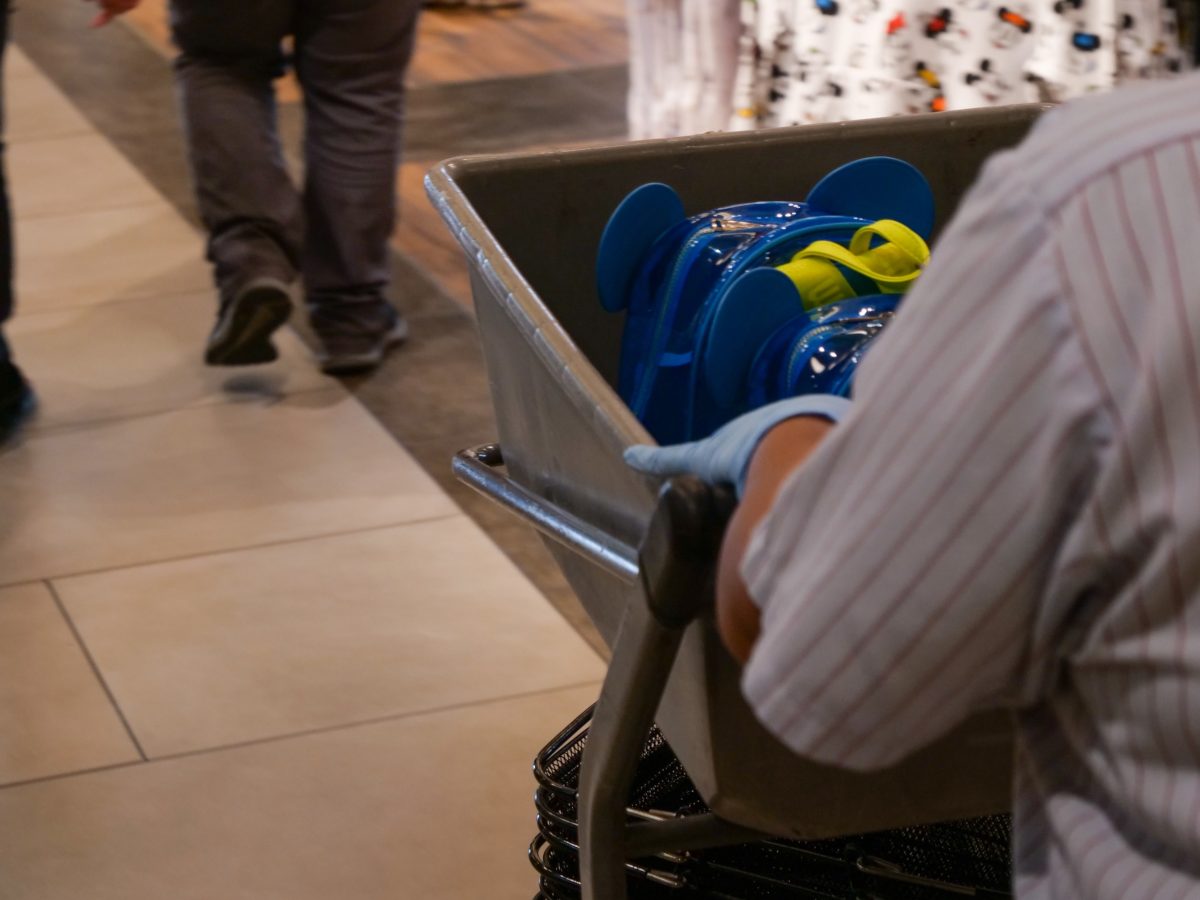 Wouldn't you know it, we spotted an elusive item being wheeled to its display.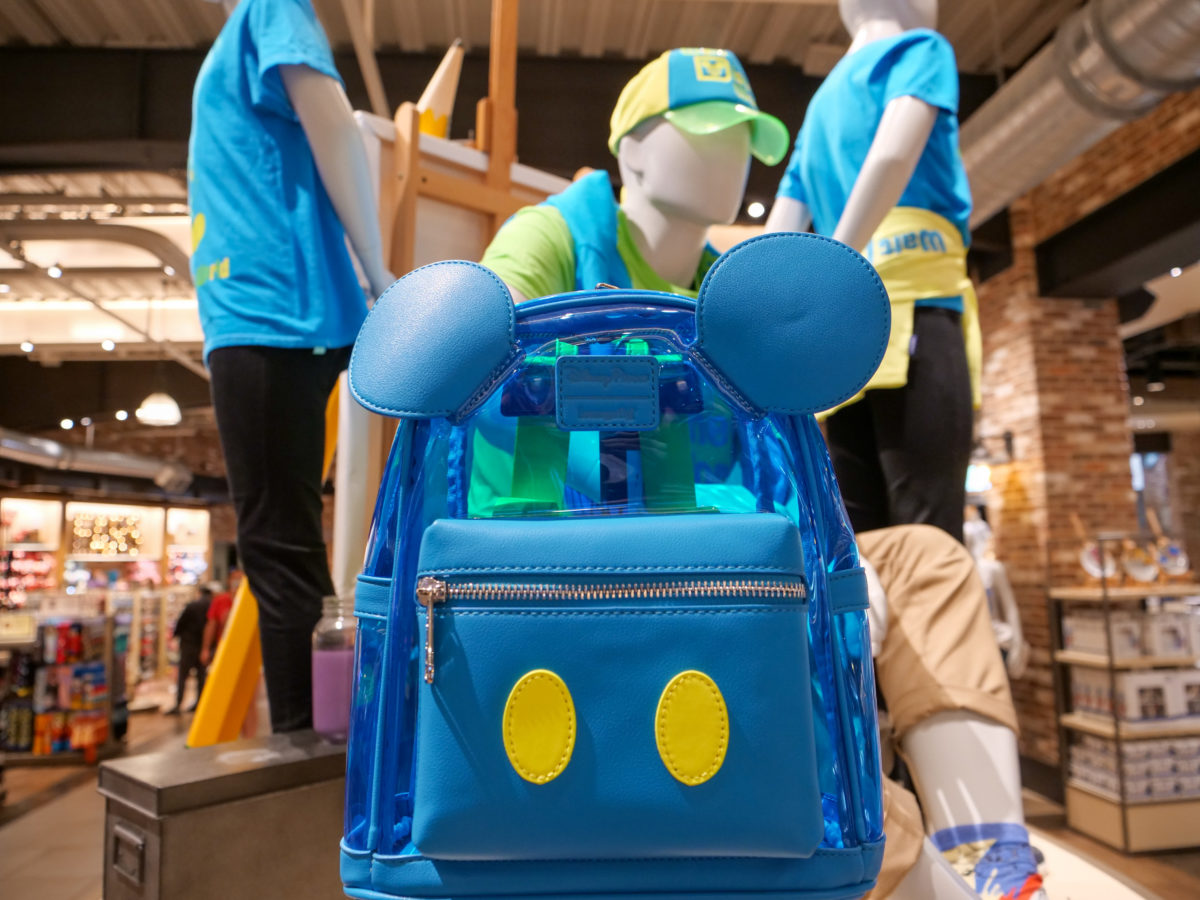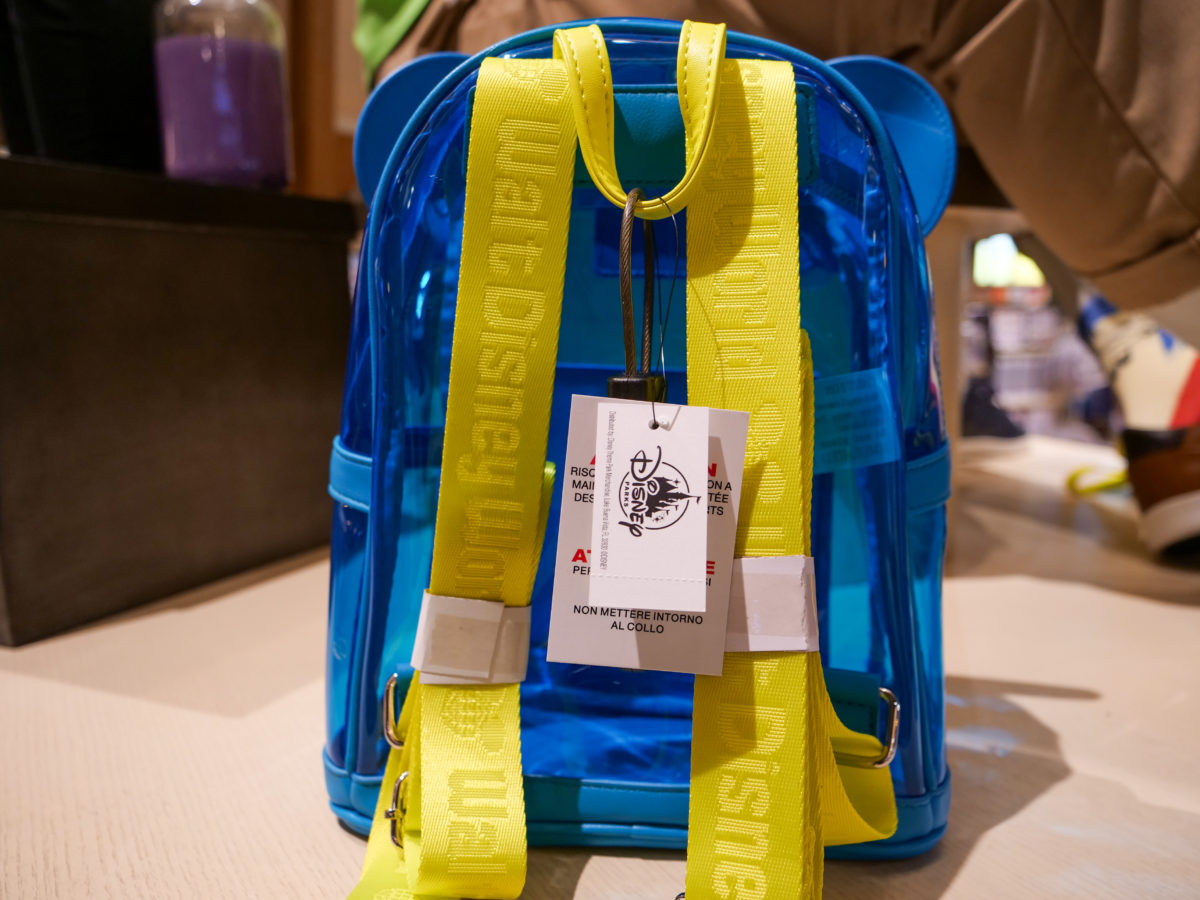 This new translucent blue Loungefly bag, part of the Disney Parks Neon Summer Collection, has had extremely limited stock. To date, any time the bag has made an appearance it has sold out within minutes, if not seconds.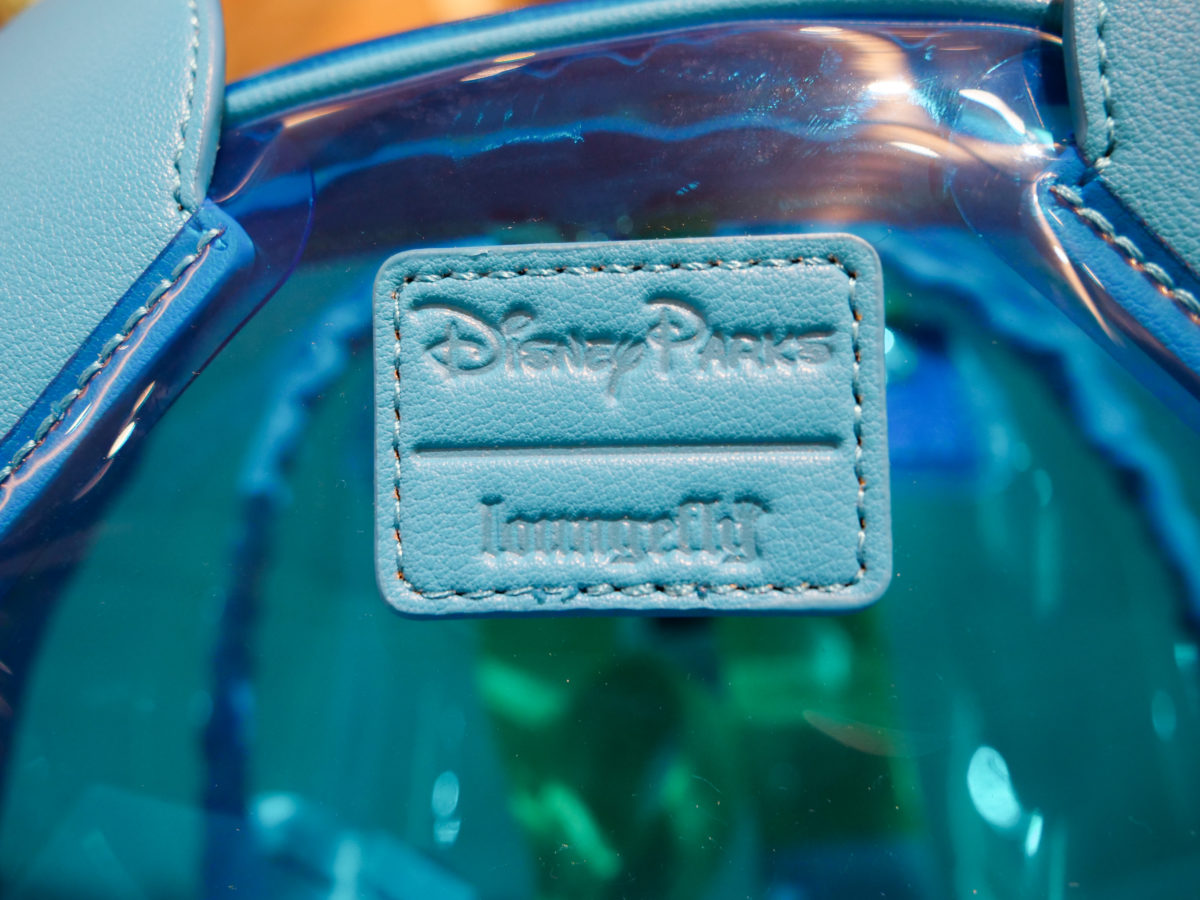 We have a full post detailing the rest of Neon Summer items – click here to take a look at the collection.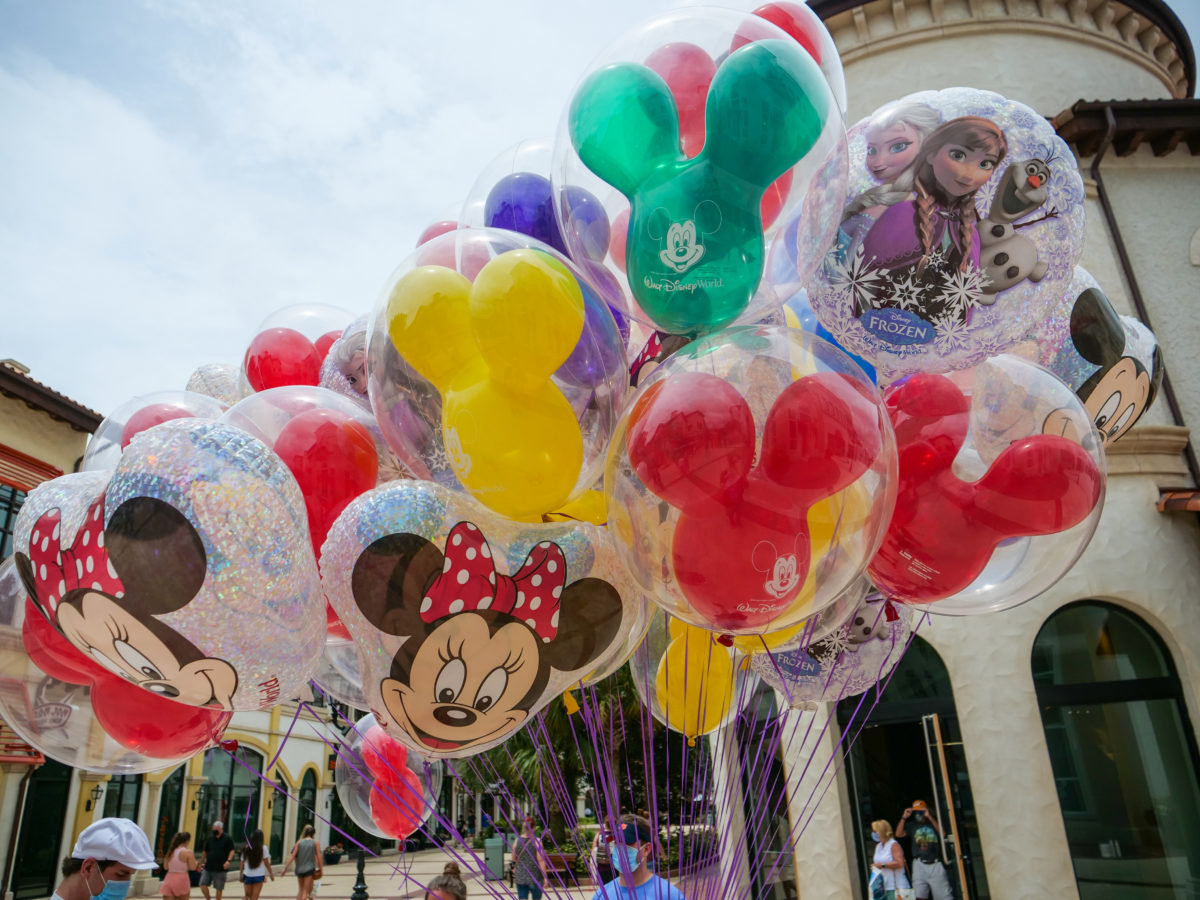 As has become tradition lately, we rounded out our day by locating the balloons being sold in the Town Center area. The balloons sell for $14.00, but seem to be pretty popular (even at Disney Springs) despite the price tag.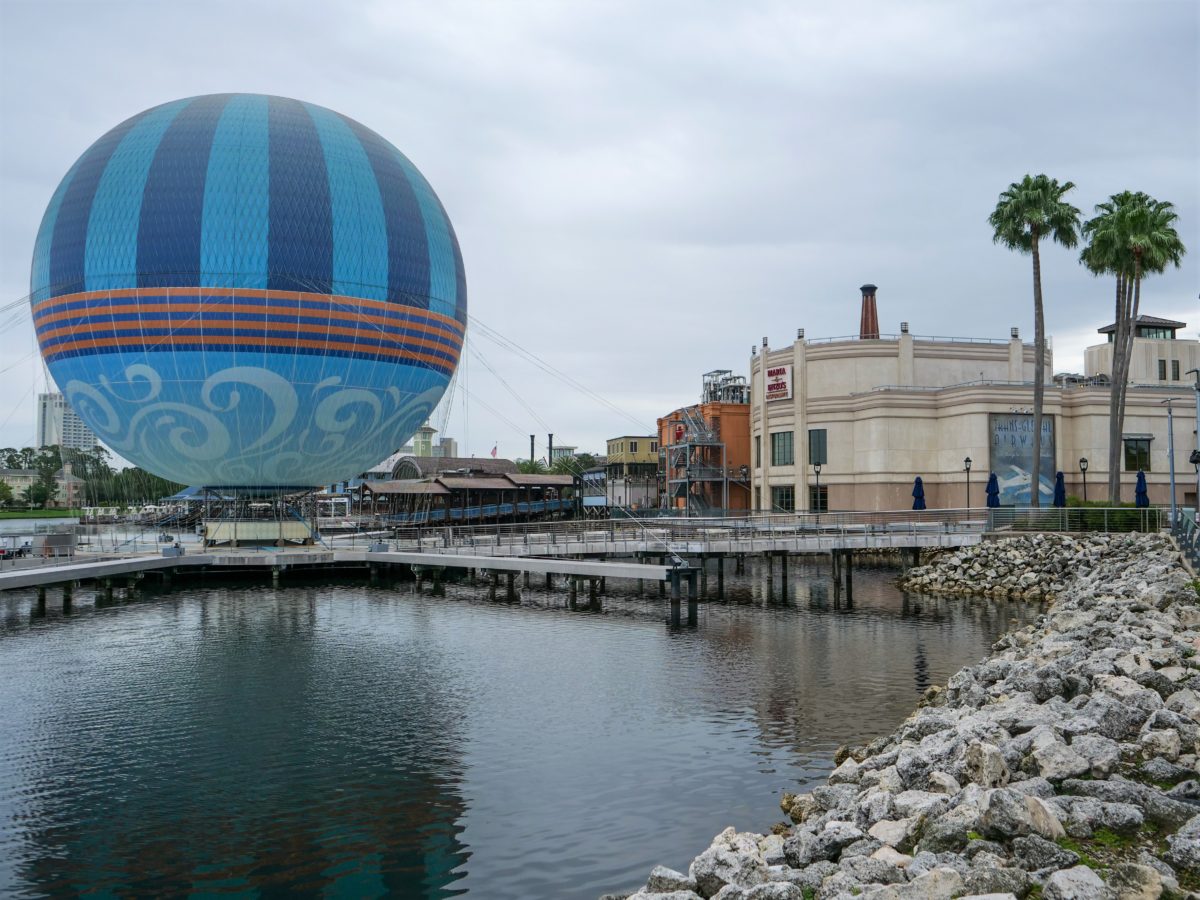 Finally, it was time to head back towards the Orange garage and for our departure.
We hope you've enjoyed all of the updates and news from Disney Springs. If you'd like to be among the first to know when there's news from the Disney parks, follow @WDWNT on Twitter by clicking this link and selecting "Follow".