We're at Disney's Old Key West Resort for its grand reopening this week, giving us a taste of sunny Florida after months of being on lockdown. The resort's table-service restaurant, Olivia's Cafe, is a cozy and quaint eatery that makes you feel like you're actually dining at one of the breezy, dockside restaurants of Key West. But how does this homey restaurant fare with the new health and safety guidelines? Let's head on down and see.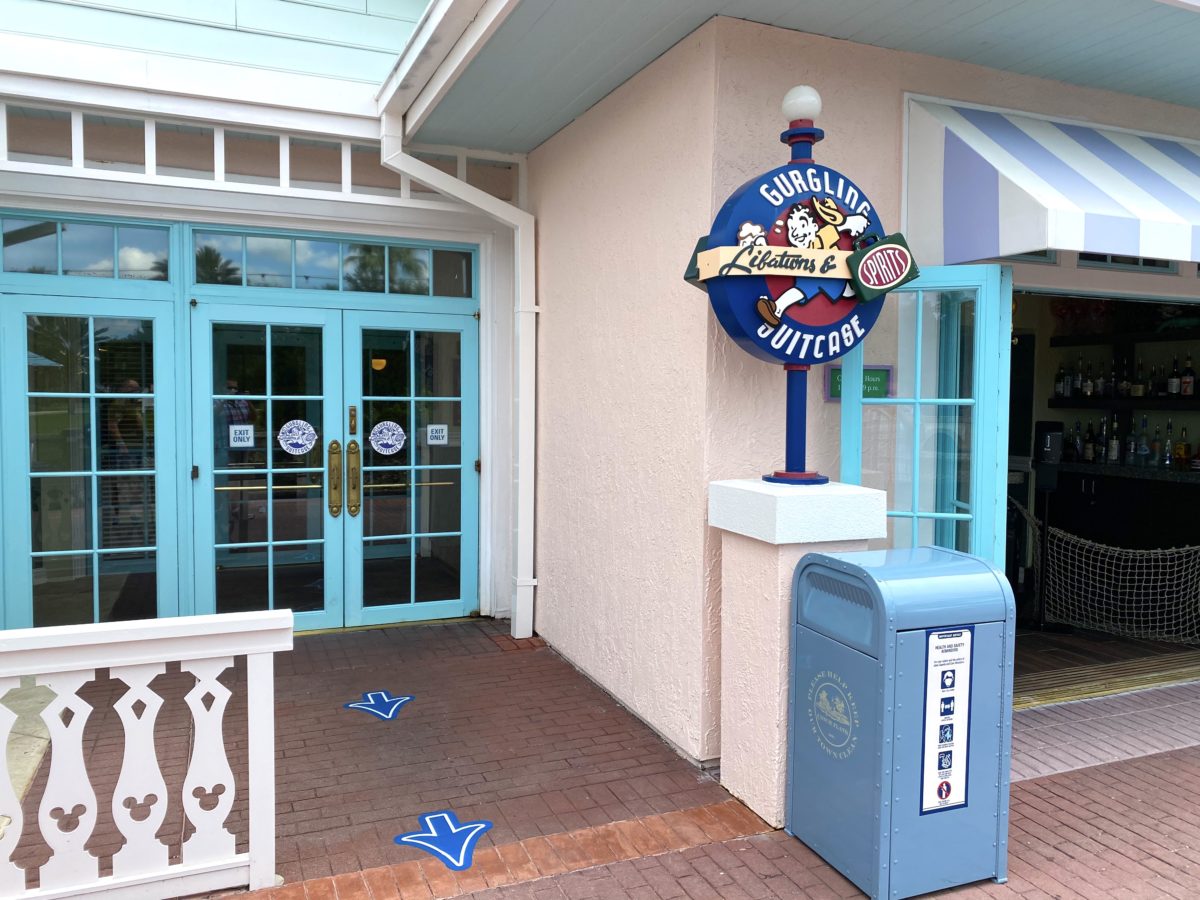 Before we head on into Olivia's, some quick notes on everyone's favorite watering hole. The Gurgling Suitcase is only doing to-go drinks at this time, but there's seating still available outside.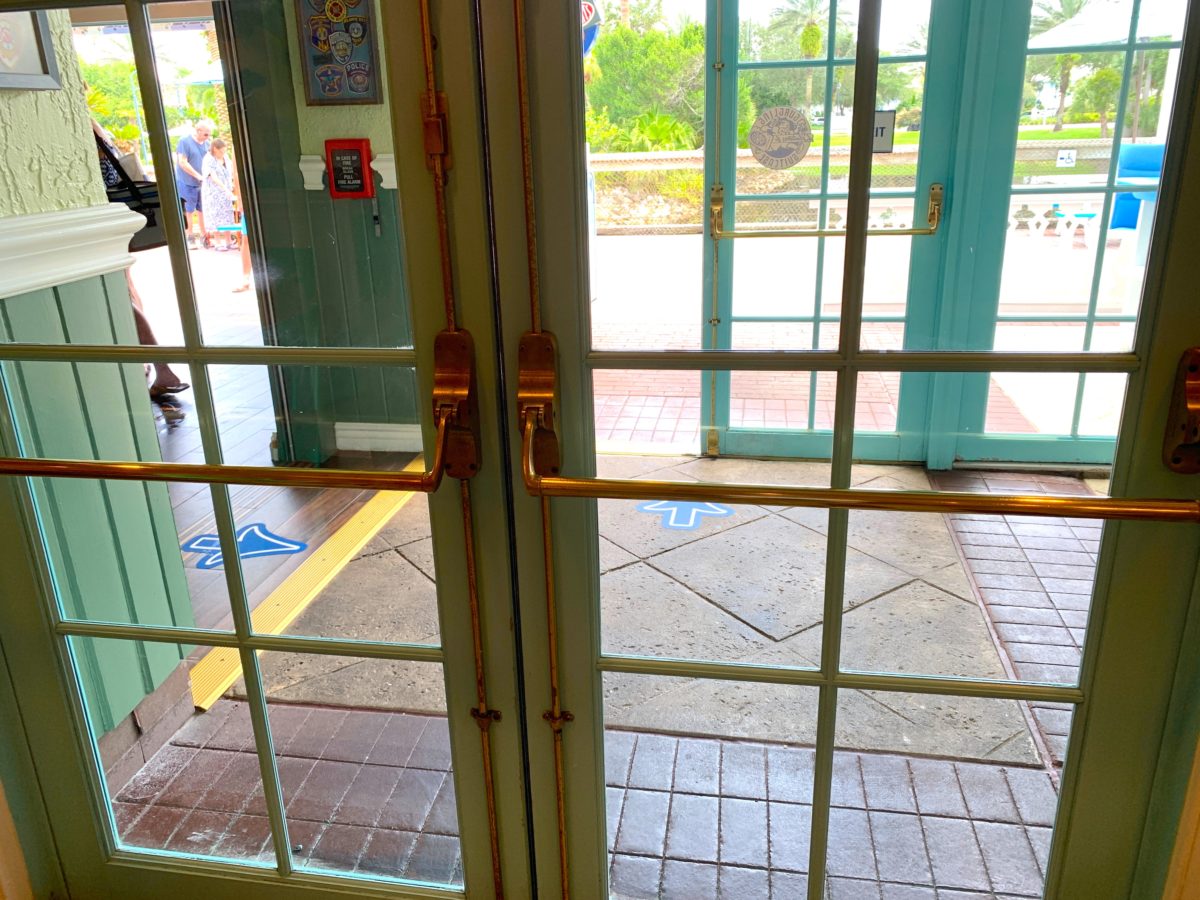 As you can see by the arrows and door signage, a dedicated entrance and exit has been established.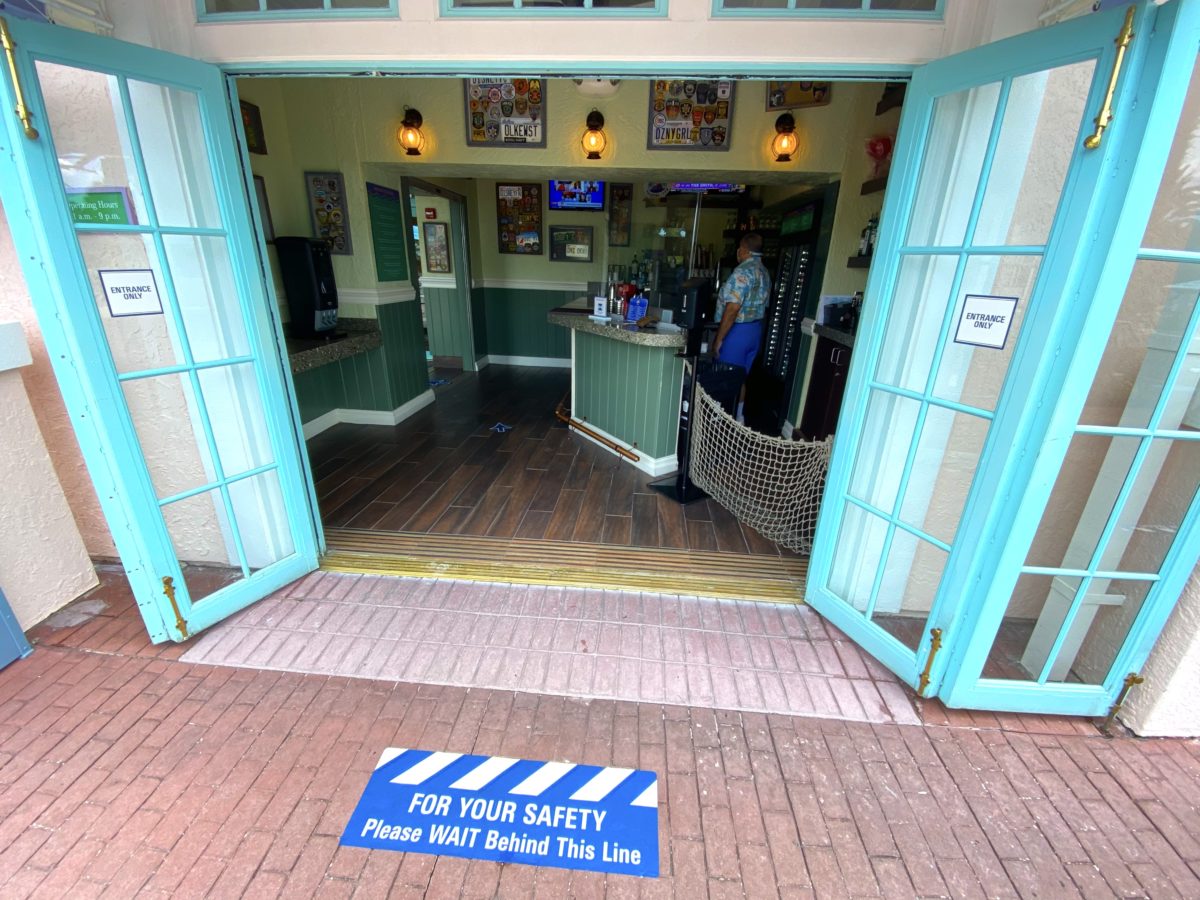 Social distancing markers are set up along the floor for guests to wait at. You can access Olivia's through this entrance.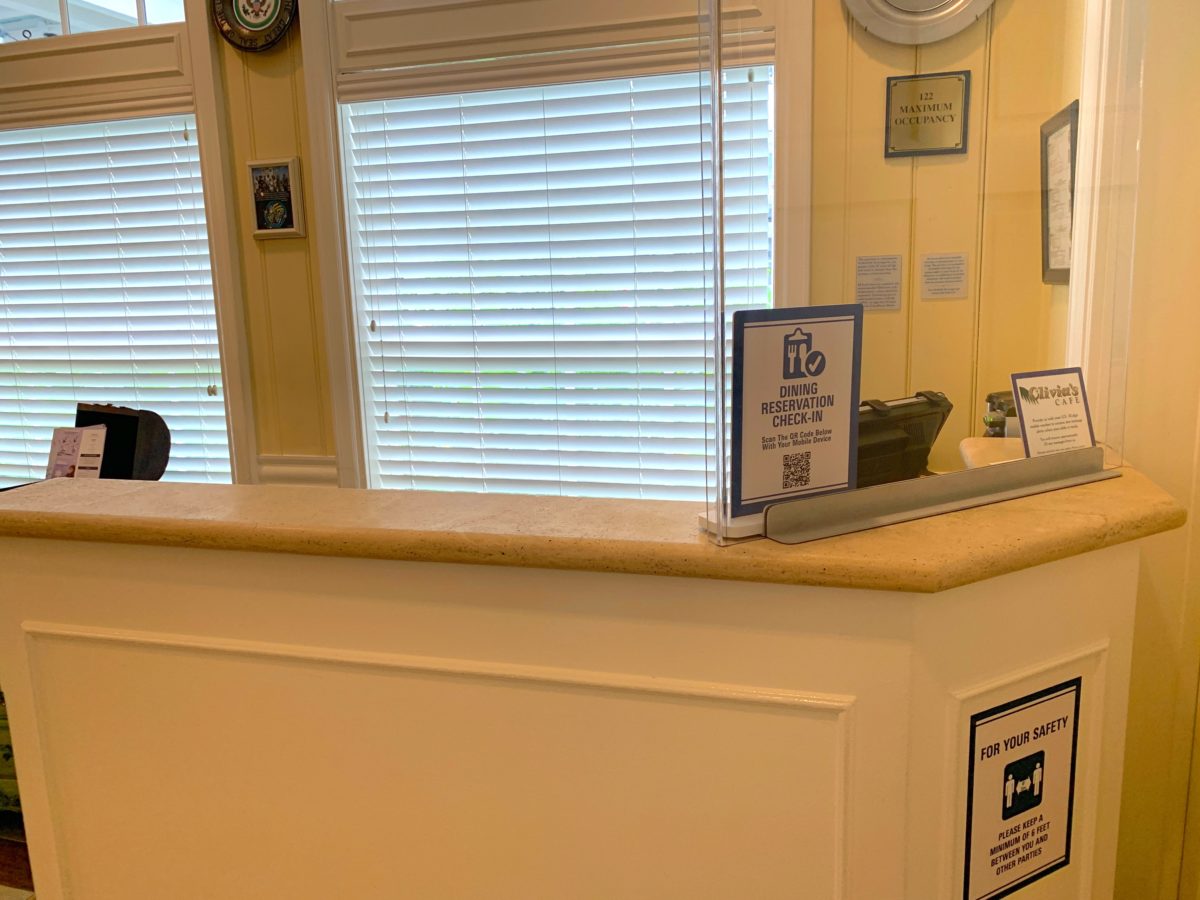 Plexiglass barriers are set up at the check-in desk for the restaurant.
Olivia's Cafe also participates in the new Mobile Dine Check-In Service available on My Disney Experience. On the app, you can check in for your dining reservation, make seating requests and note any dietary restrictions, as well as note any special celebrations. Upon completion, you'll get a text that says you've been successfully checked in! You'll be notified once your table is ready.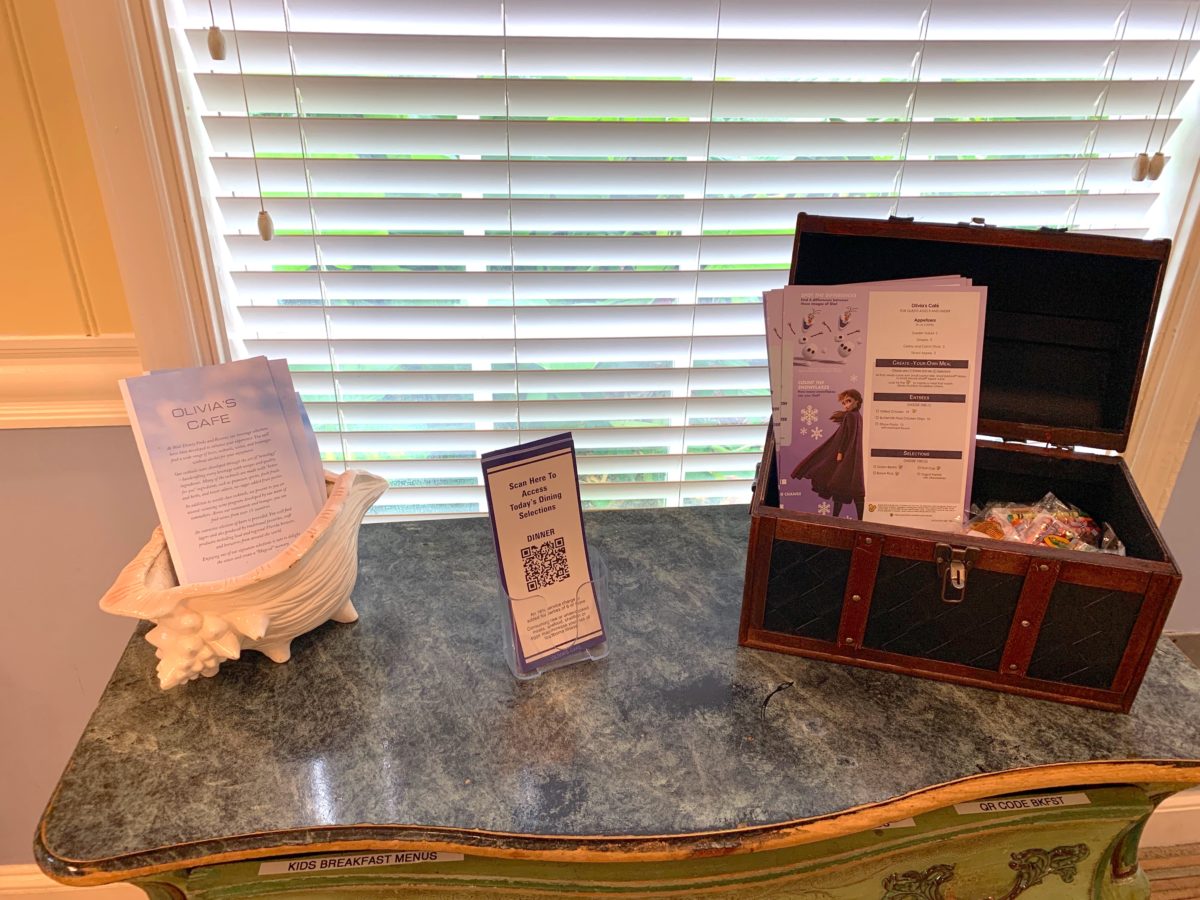 While paper menus are available (out of a fancy conch shell, of course), guests are encouraged to scan a mobile QR code to view a digital menu. Paper kid's menus are also available, with pre-packaged crayons.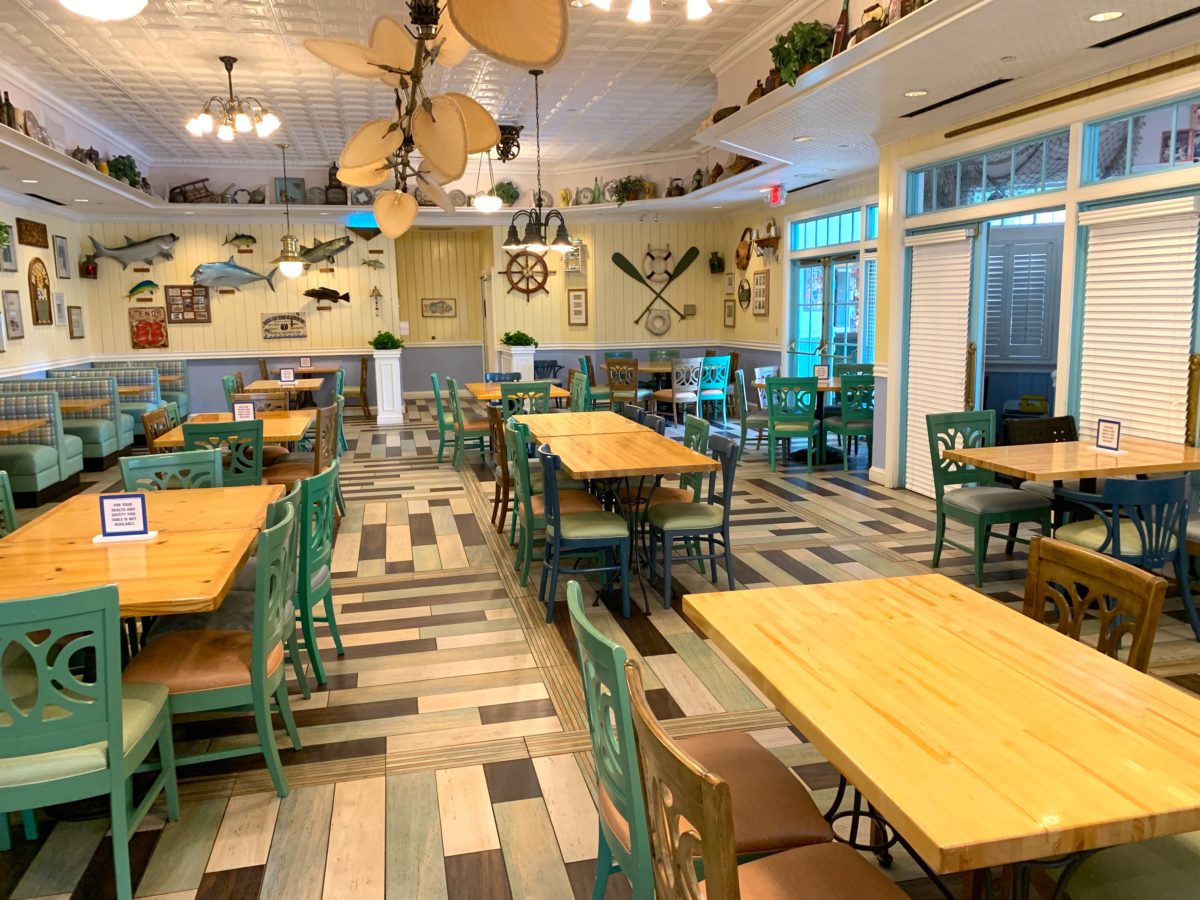 Throughout the restaurant, tables are set out slightly more apart to comply with the new guidelines.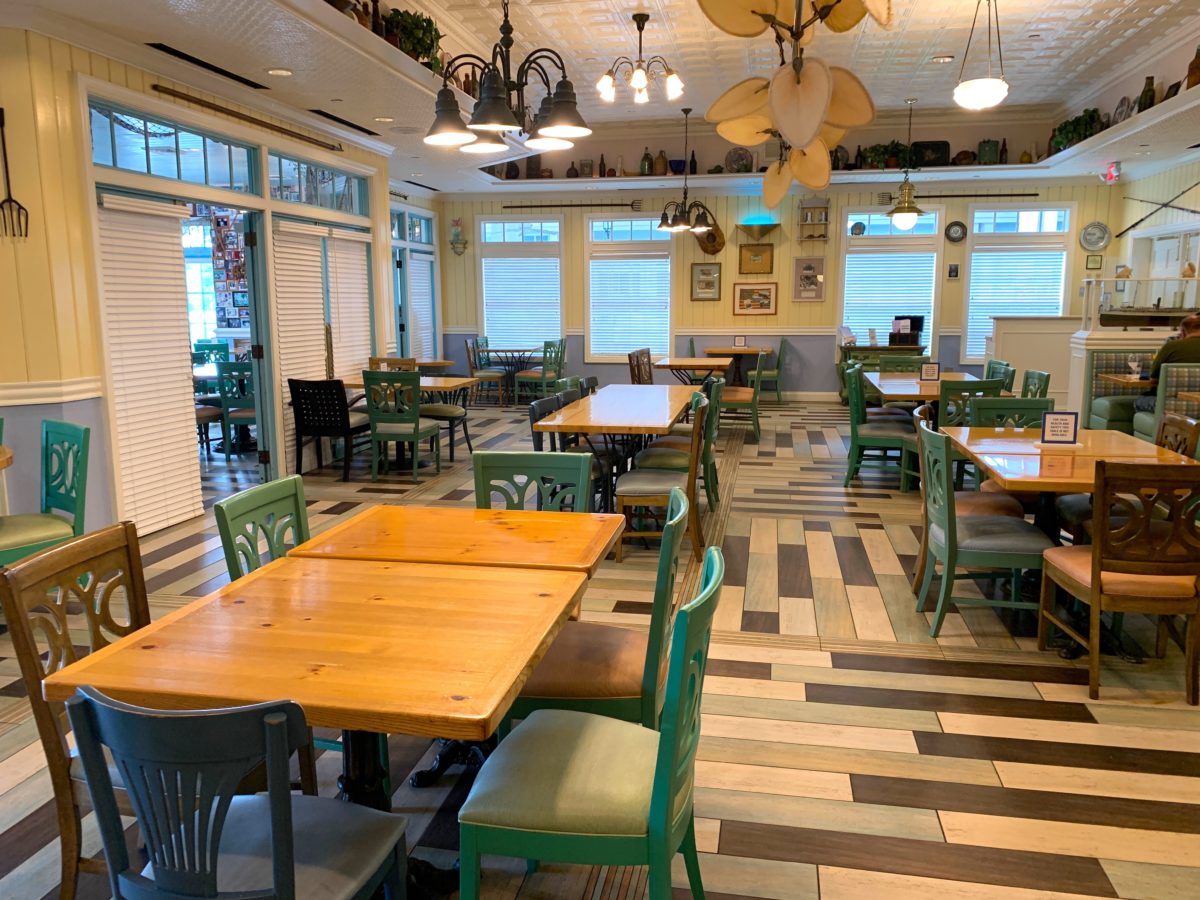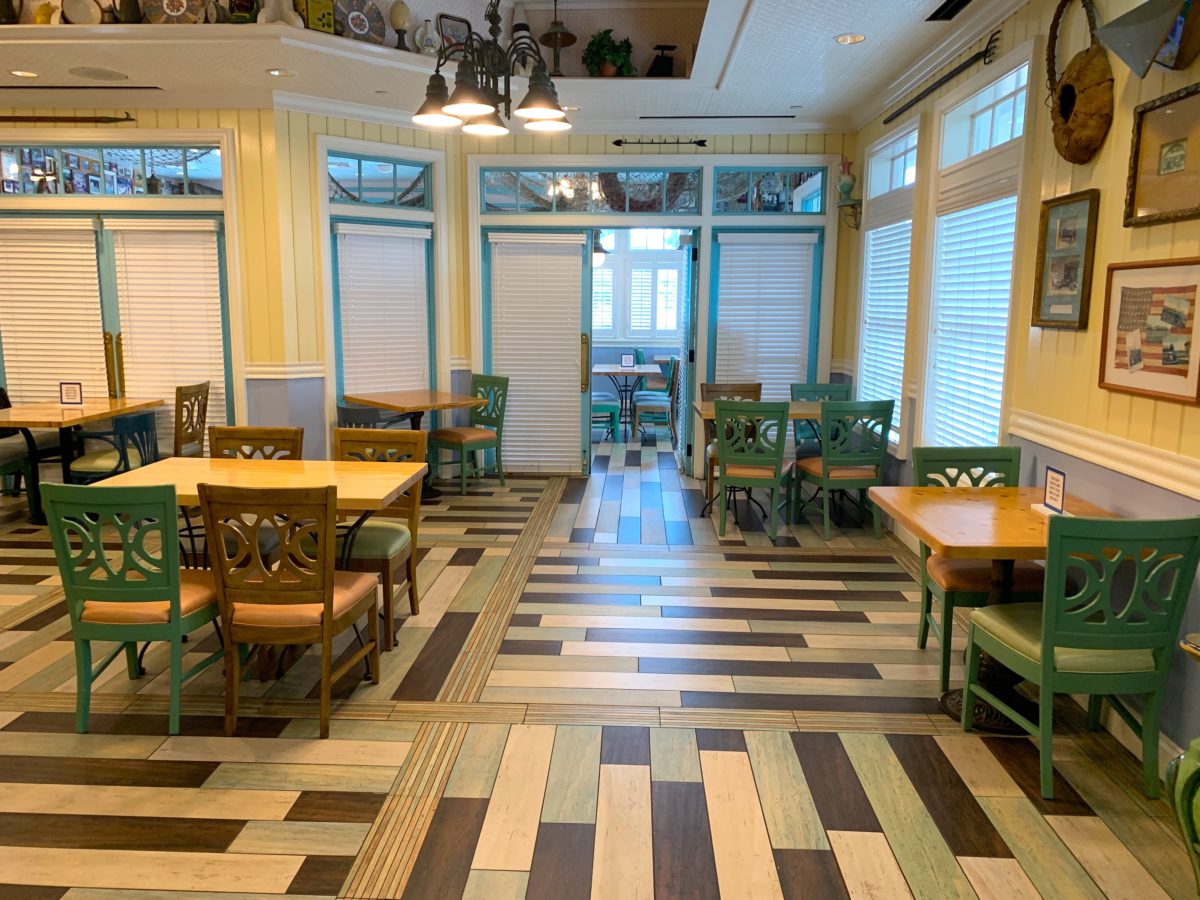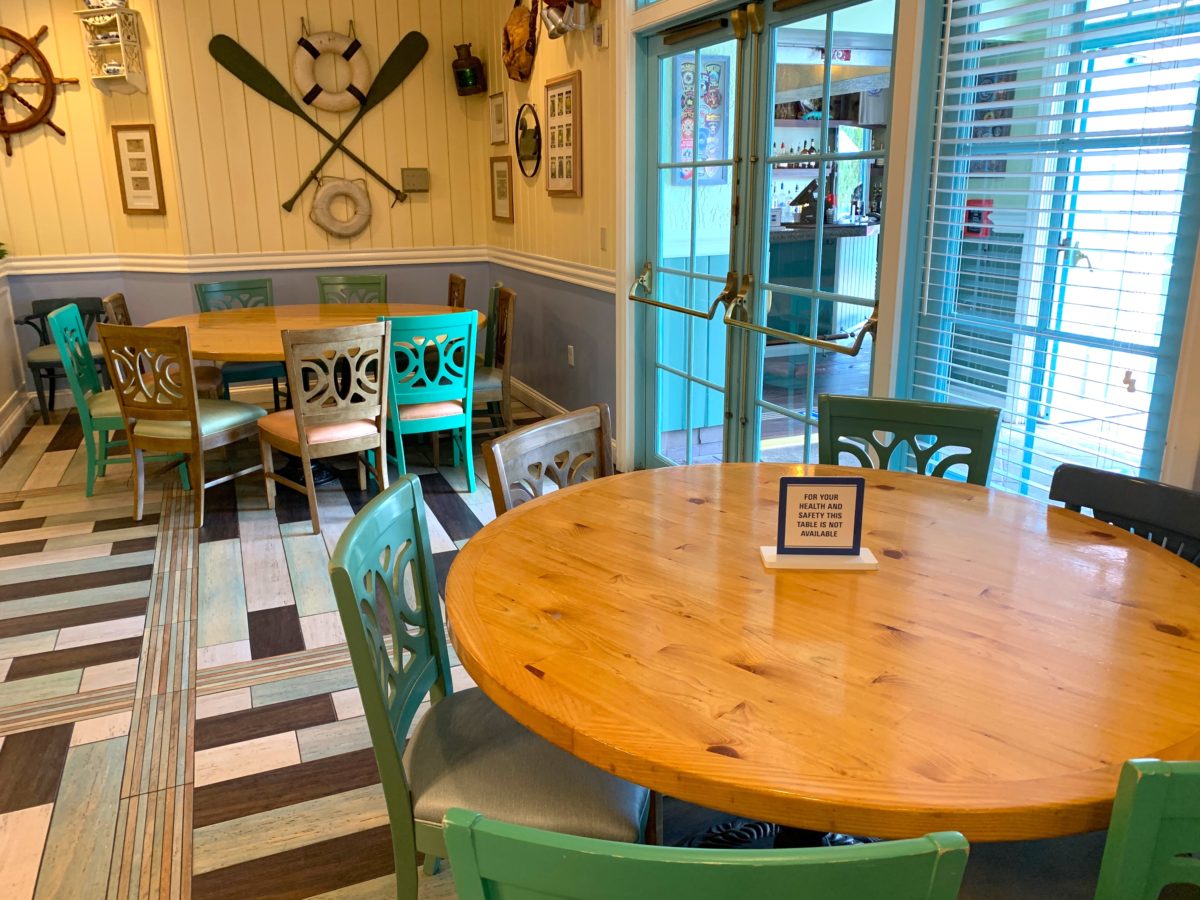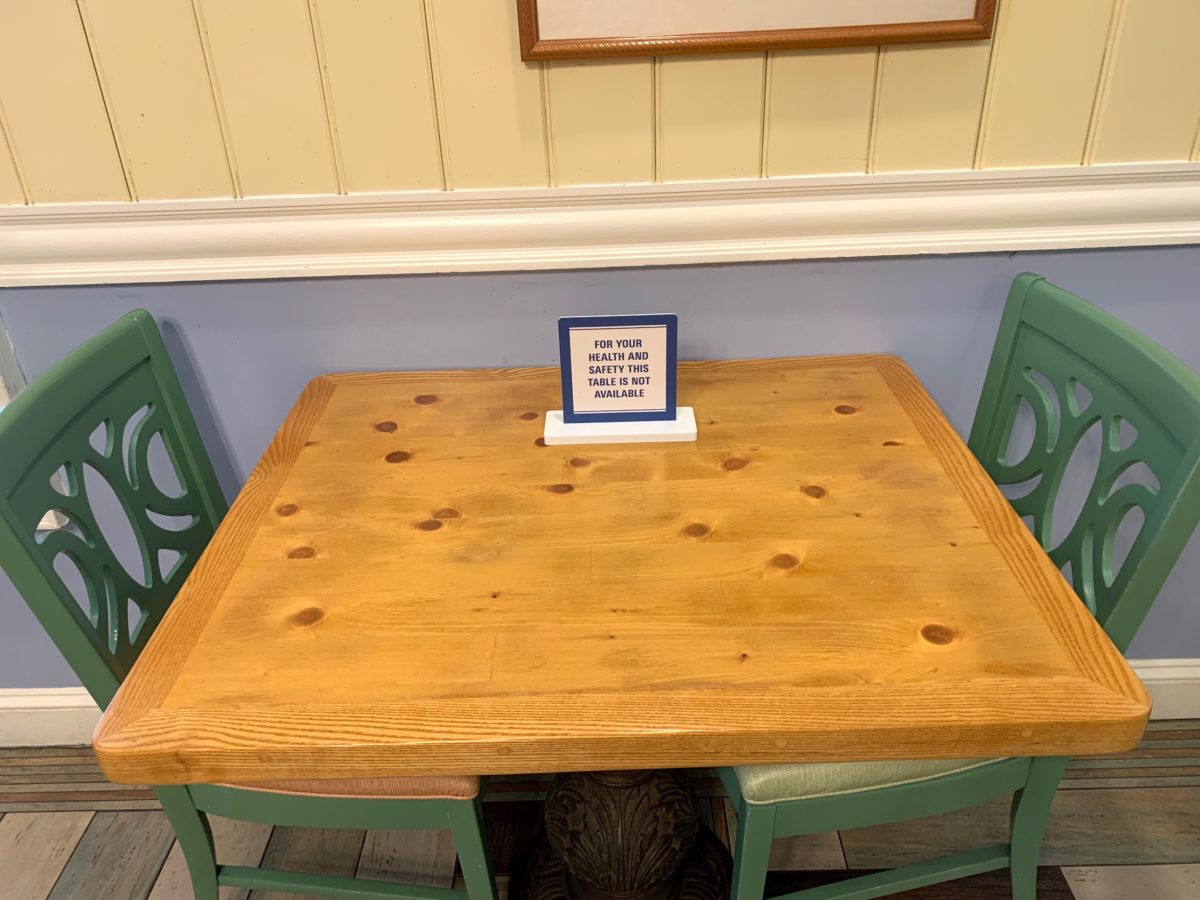 Some tables have been marked as unavailable, to keep occupancy low and ensure there's enough space in between parties.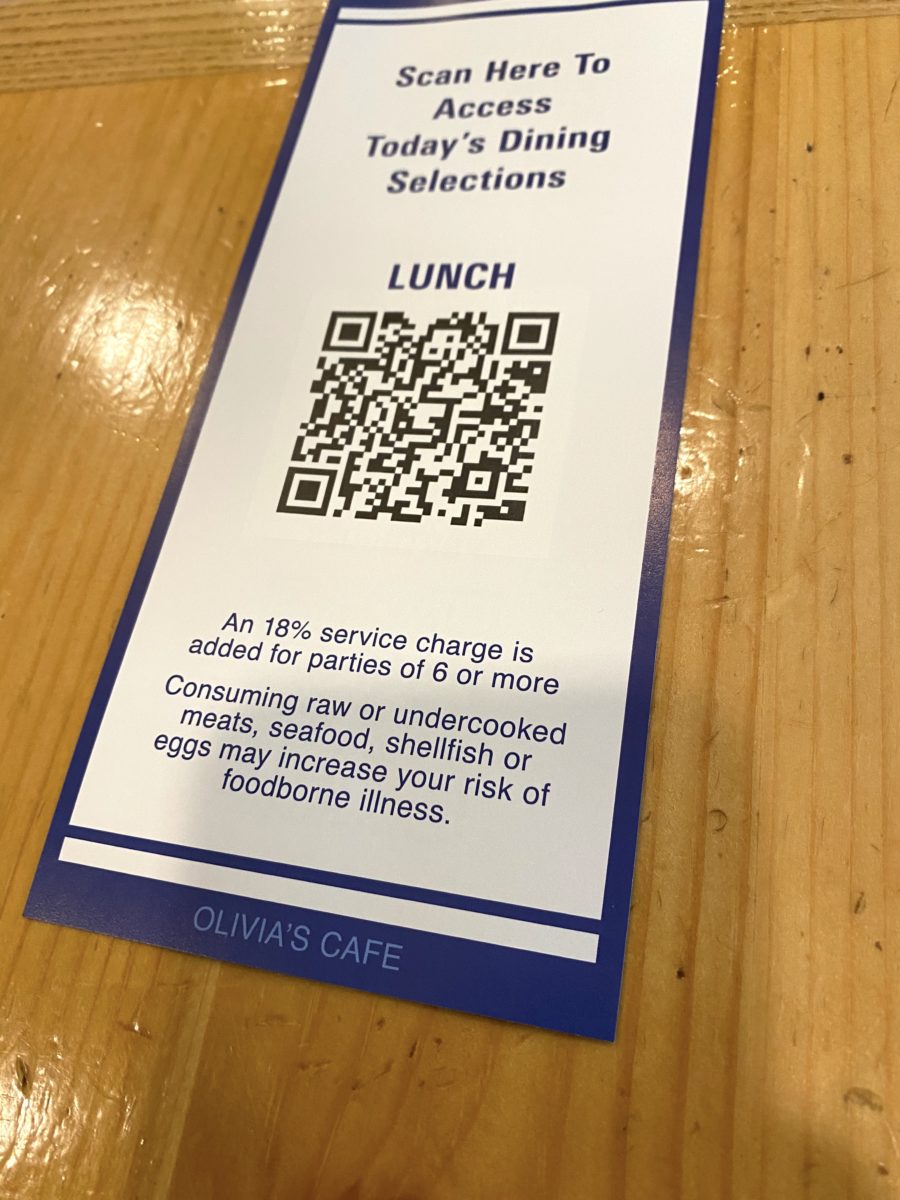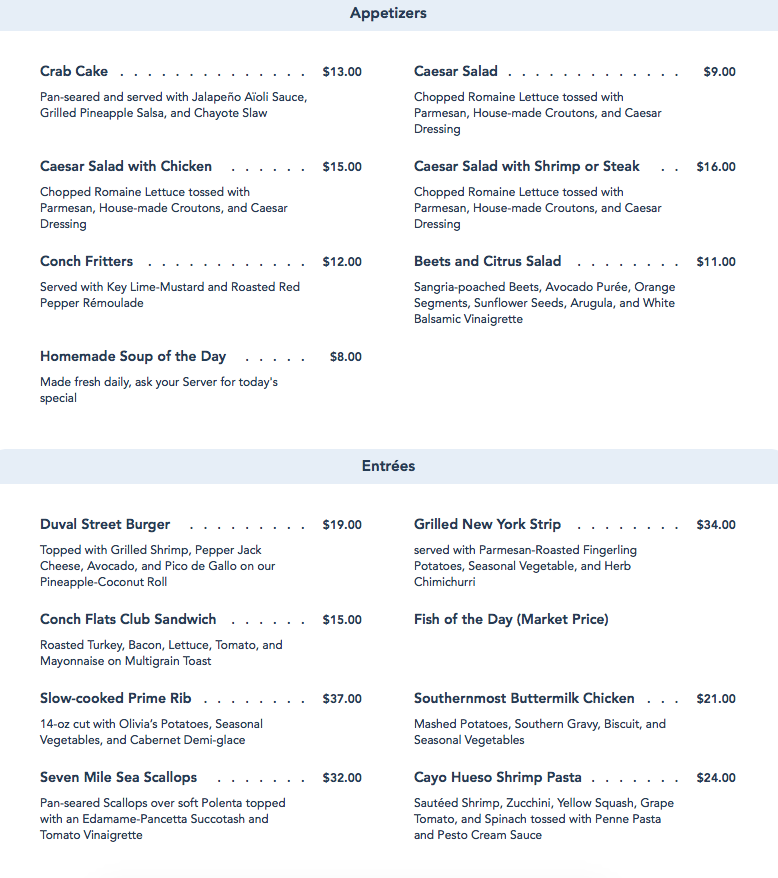 After perusing the digital menu, we went ahead and ordered some of our favorites, starting with some cocktails:
Papa's Den – $13.00
Jack Daniel's, Peach Schnapps, Cherry Brandy, Orange Juice, Pineapple Juice, and Grenadine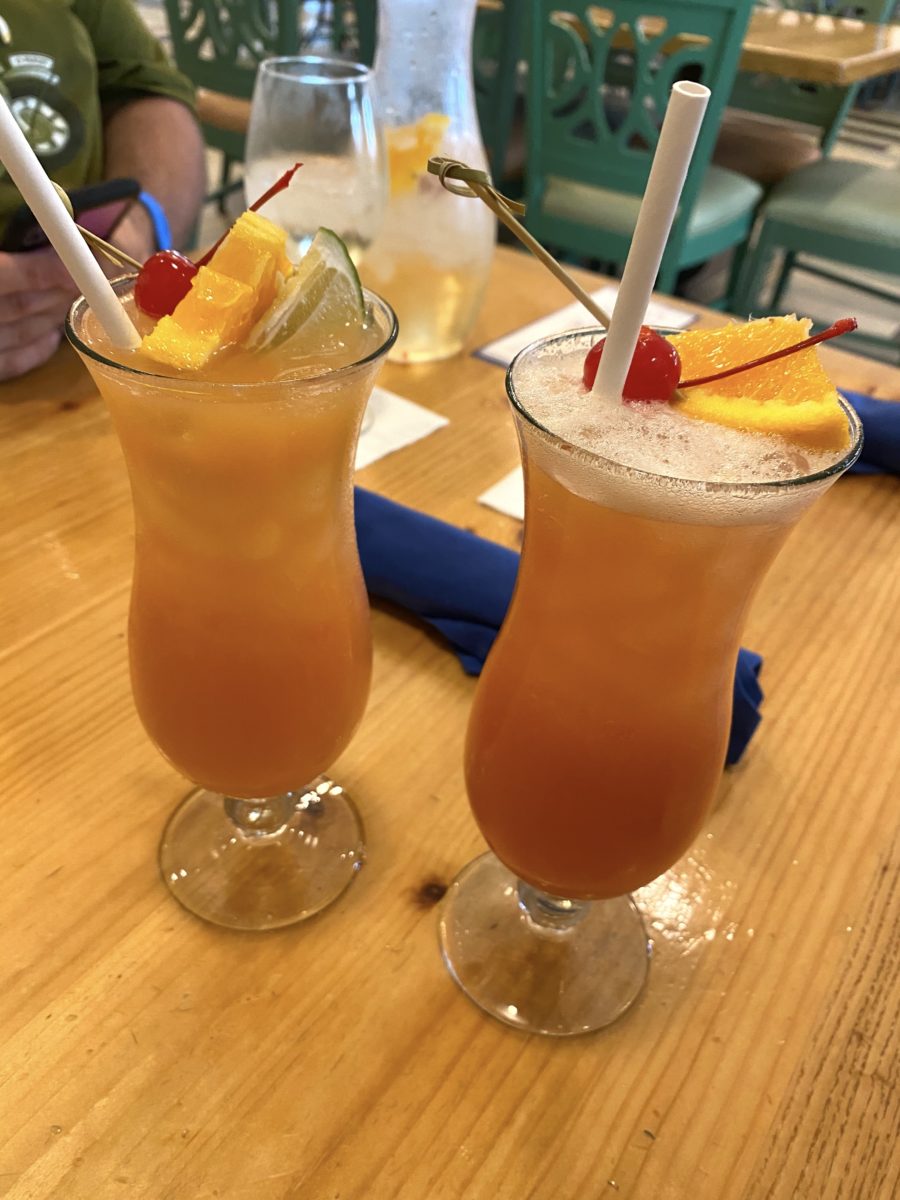 Turtle Krawl – $12.00
Siesta Key White Rum, Parrot Bay Coconut Rum, and Sailor Jerry Spiced Rum with Grenadine, Pineapple, Orange, and Key Lime Juices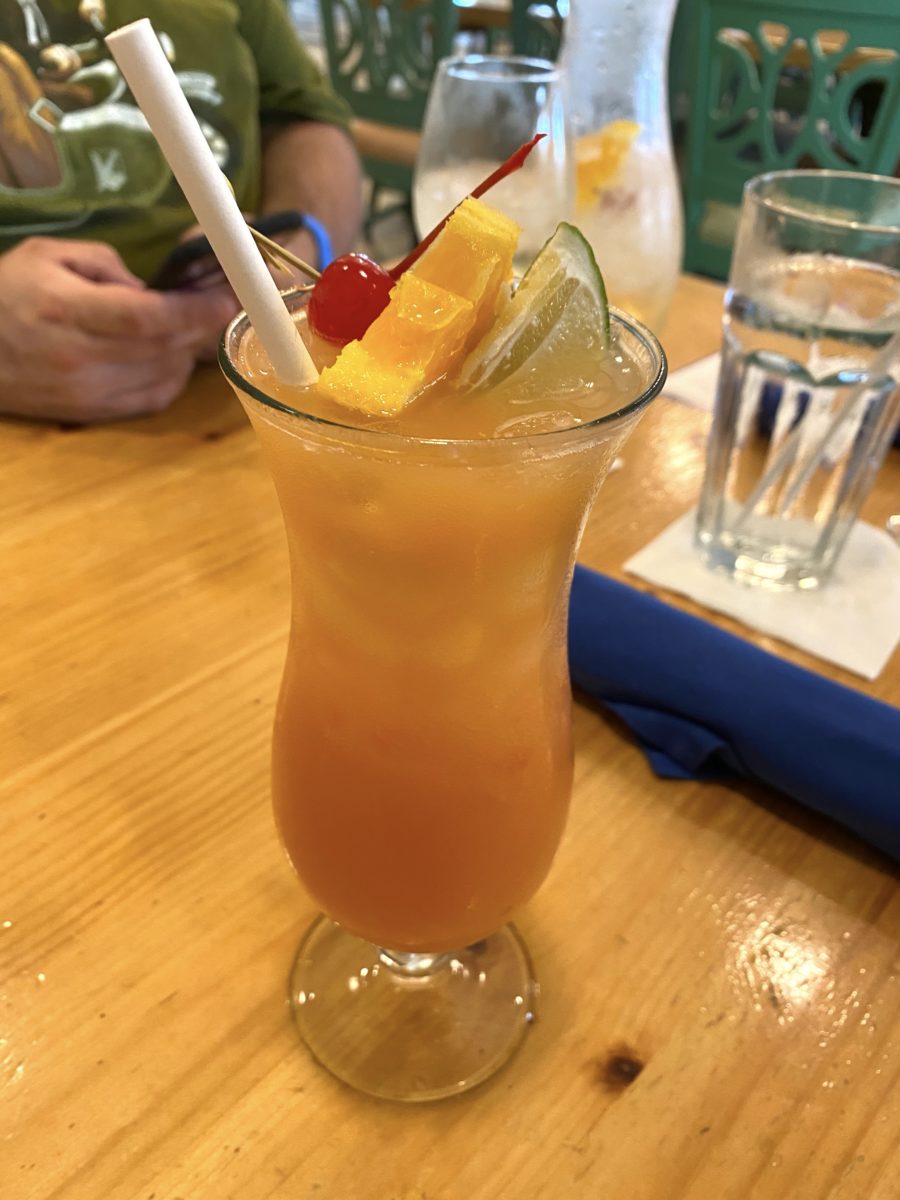 Both the Papa's Den and the Turtle Krawl are some our favorite cocktails since they're super refreshing and fun takes on rum punch drinks. If you're more of a coconut person, go for the Krawl, but if you're looking for a perfect, light and juicy cocktail for brunch or lunch, go for Papa's Den. These are two of our go-to's at Olivia's and we highly recommend them.
Conch Fritters – $12.00
Served with Key Lime-Mustard and Roasted Red Pepper Rémoulade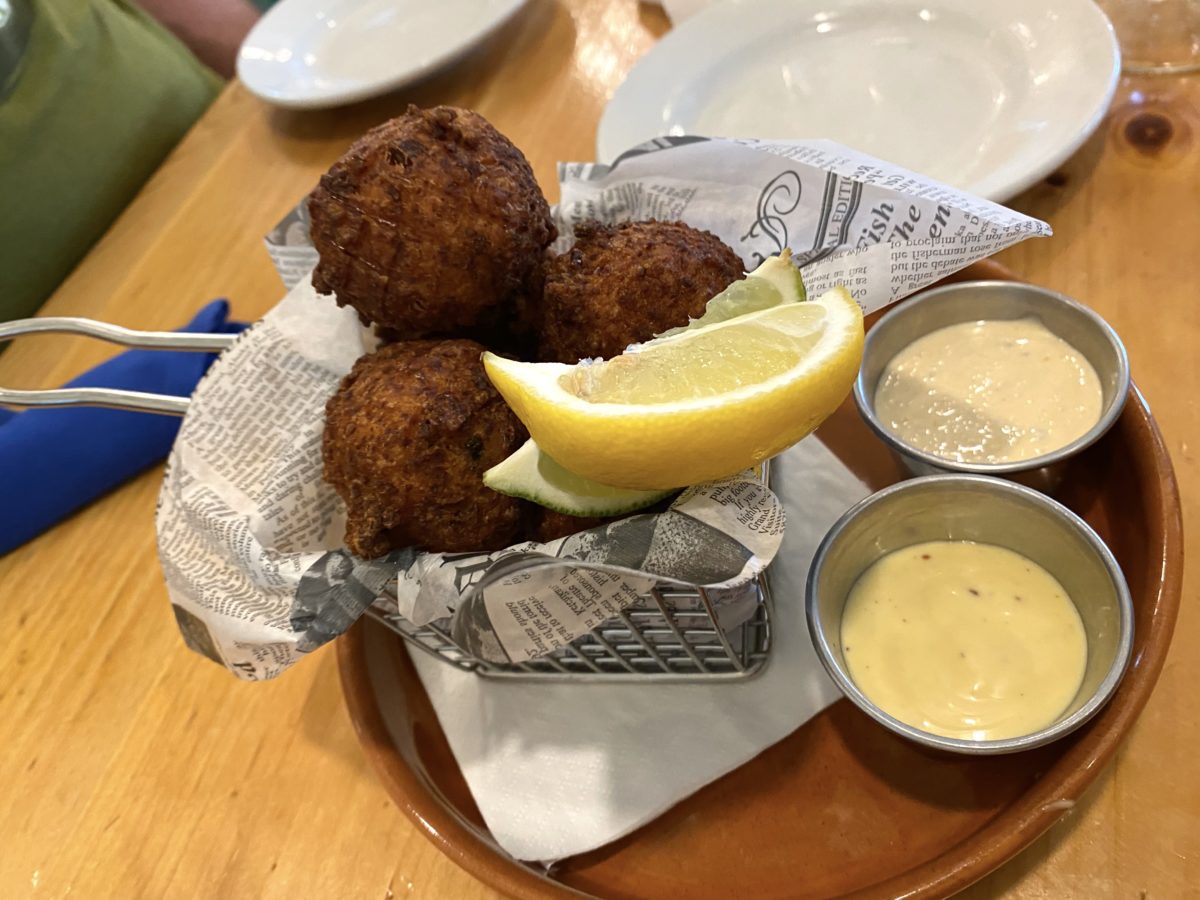 A must-try for seafood fans.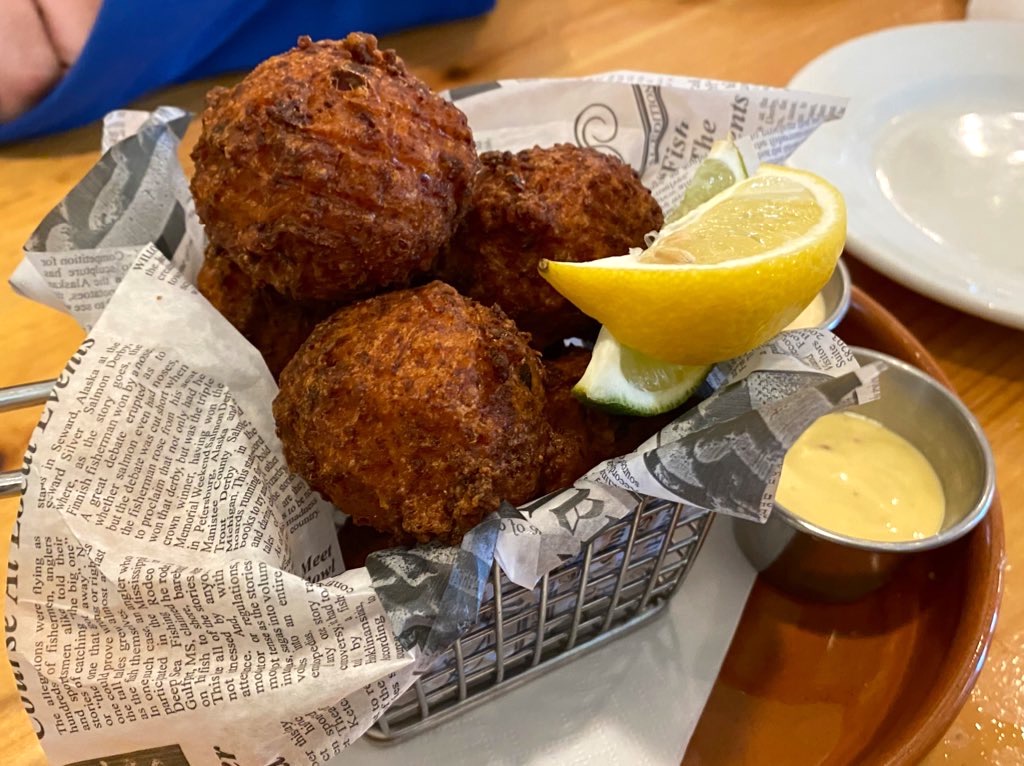 Conch Fritters are another classic must-get for us at Olivia's, and they're kind of like hush puppies since they're bready and filled with veggie bits. They're not for everyone given the slightly chewy texture, but squeeze a lemon over these and dip them in the savory remoulade and you'll be surprised how good these are.
Duval Street Burger – $19.00
Topped with Grilled Shrimp, Pepper Jack Cheese, Avocado, and Pico de Gallo on our Pineapple-Coconut Roll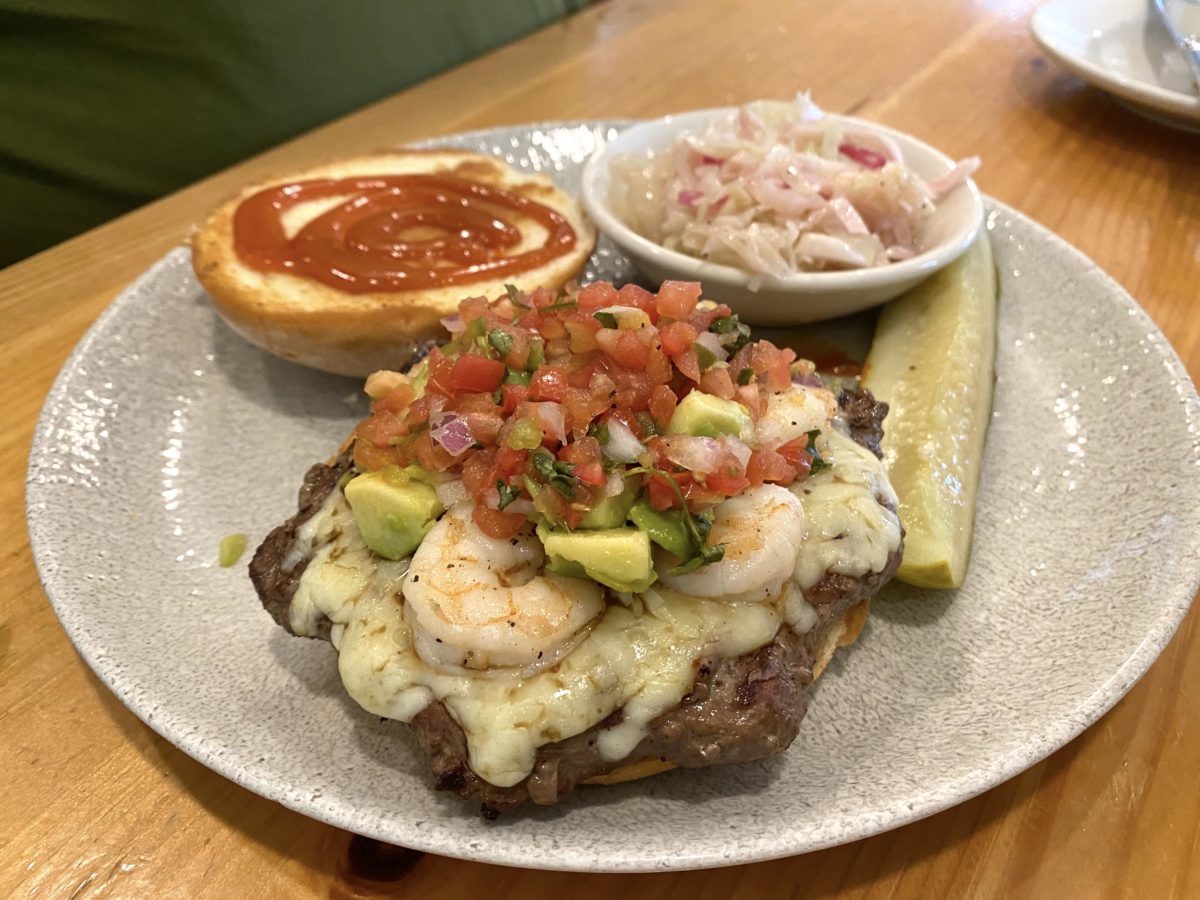 While this burger looks incredible, many of its ingredients are a hit-or-miss. The beef patty was unfortunately one of the lower-quality ones, lacking in flavor and overly dry. The grilled shrimp, avocado, and pico de gallo however, were excellent on their own and would've turned a better burger base into a great overall burger. Unfortunately, the cheese and bun were also somewhat lacking in flavor.
We did enjoy the cole slaw as it was very good, and a great alternative to fries on a hot day. It was a vinegar-based slaw instead of a creamy one, but very refreshing and a great summer option.
Beets and Citrus Salad – $11.00
Sangria-poached Beets, Avocado Purée, Orange Segments, Sunflower Seeds, Arugula, and White Balsamic Vinaigrette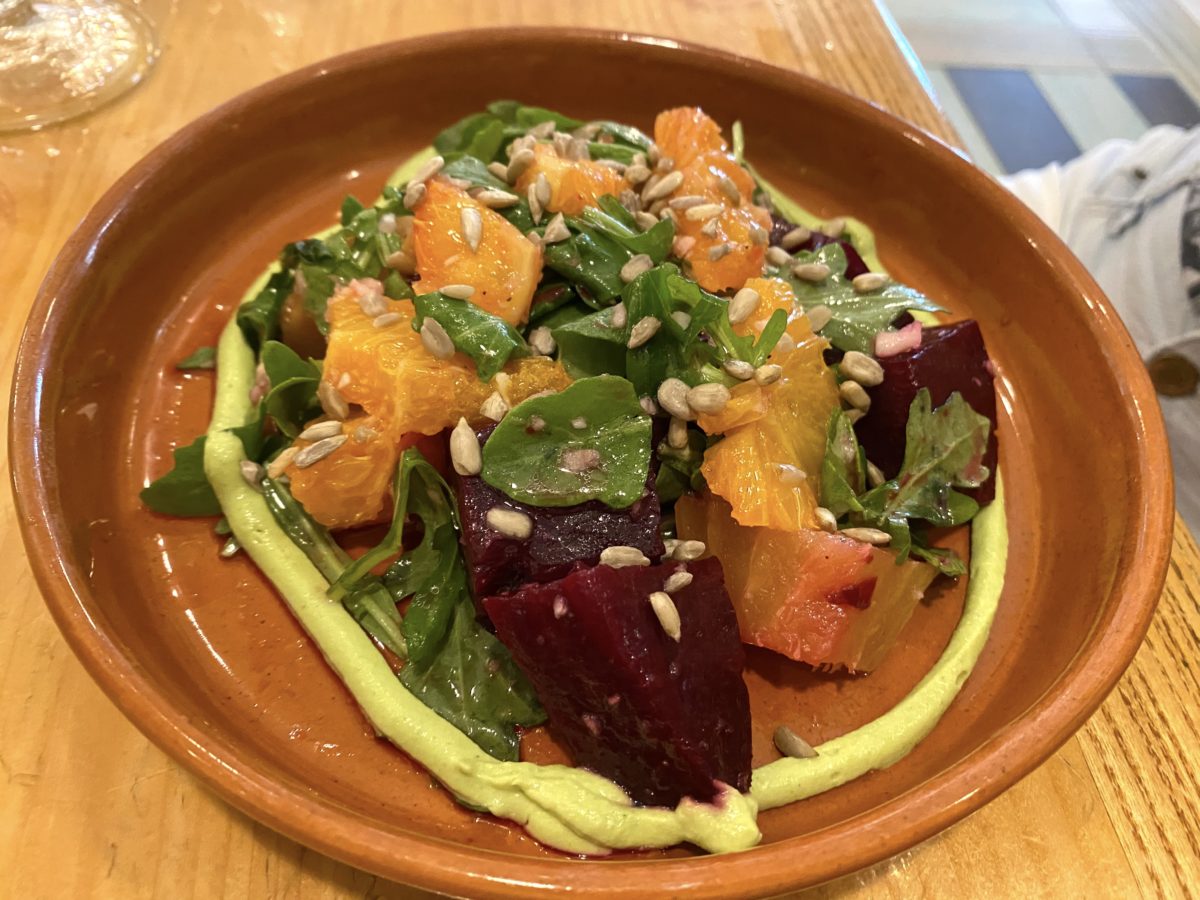 The beets in this salad were marinated in sangria, which gave them a refreshing twist as opposed to their usual earthy flavor. The orange segments were perfectly juicy as well. While this salad is small, it's a fair serving if you plan on having it as an appetizer and don't want to fill up before your entree.
Conch Flats Club Sandwich – $15.00
Roasted Turkey, Bacon, Lettuce, Tomato, and Mayonnaise on Multigrain Toast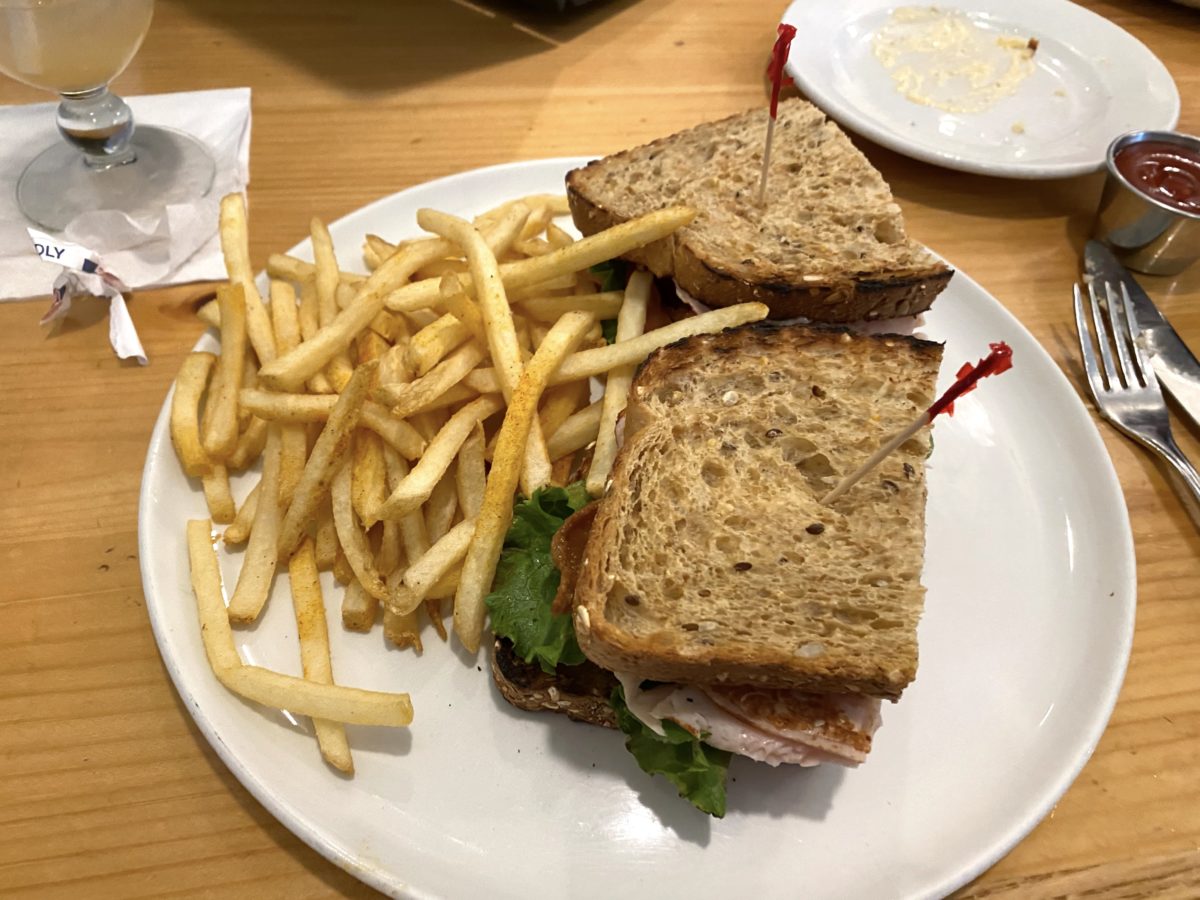 The turkey club here is always a classic, albeit a standard option compared to the heartier entrees on the menu.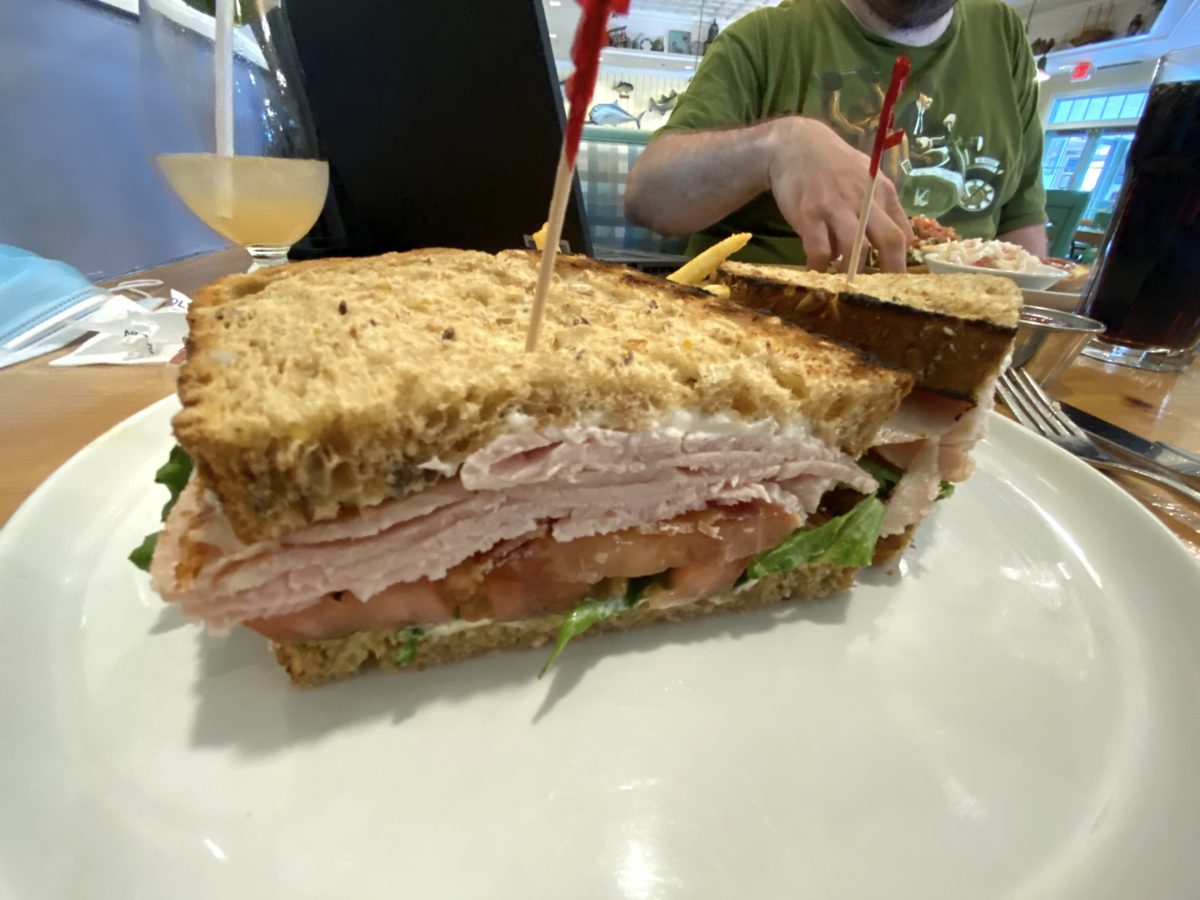 If you're in the mood for something light, this should be your go-to. It's also great for picky eaters who just want a simple sandwich.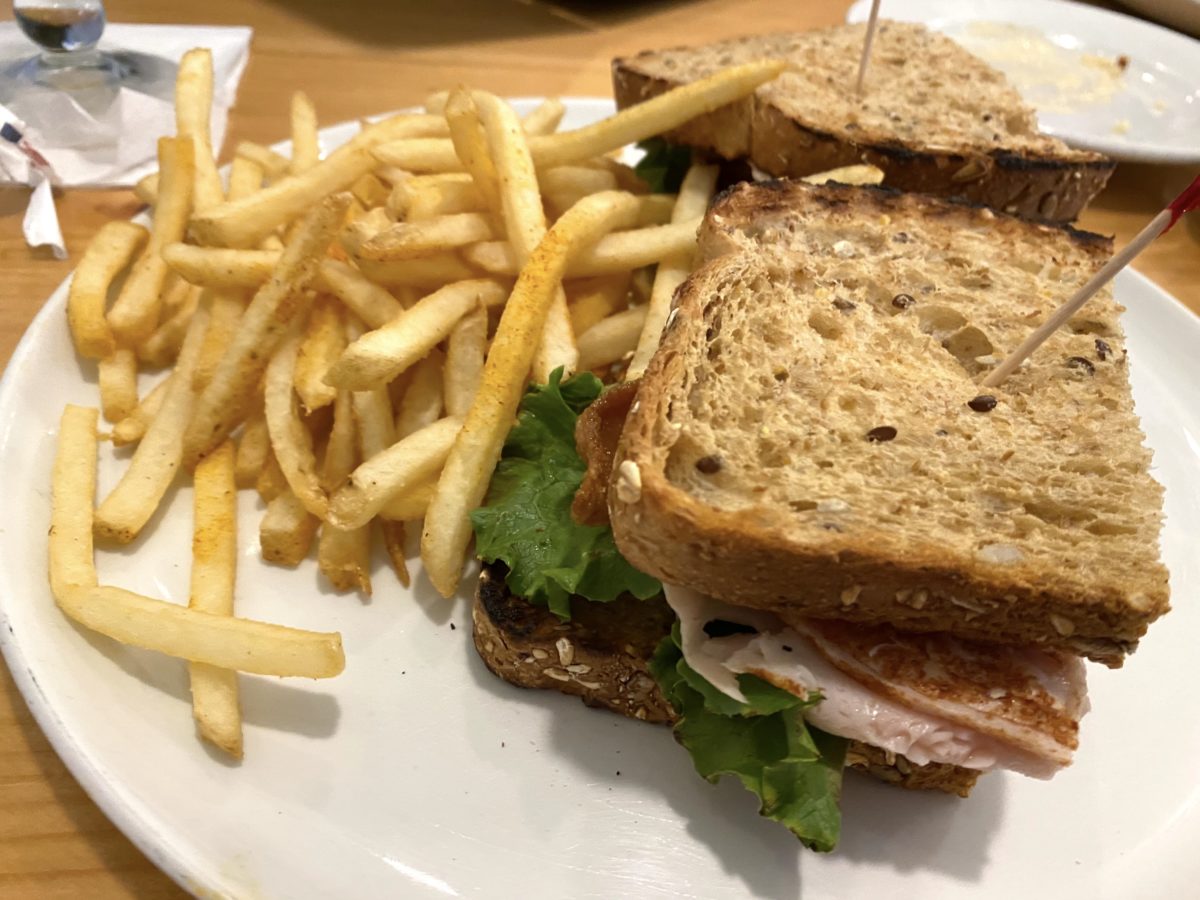 We've had some great fries here at Olivia's, but we found that today, these could've been seasoned a bit better.
Key Lime Tart – $7.00
with Mango and Raspberry Sauce
Olivia's has a variety of tarts on their dessert menu, and as excited as we were about this Key Lime Tart, we felt it was a waste. If you're expecting something fresh or homemade-tasting, this isn't it, as it tasted like it was straight from the grocer's freezer. Our recommendation for dessert? Head on over to the Conch Flats General Store and buy a loaf of their deliciously moist Banana Bread to munch on while out on the balcony of your resort room.
So, what do you think of the new, modified dining changes at Olivia's Cafe? Will you be returning to Disney's Old Key West Resort anytime soon? Let us know in the comments.