Earlier this week, Universal Studios Japan became the first major park in Japan to announce its reopening. Soft openings for Osaka Prefecture residents with Annual Passes begin on June 8th, while the park will reopen to Guests in the Kansai region of Japan on June 19th. Since concerns are still high regarding COVID-19 in Japan despite its relative decline, USJ will institute several policies designed to prevent the spread of infection across the park. They were kind enough to provide us with in-depth details, so let's take a look! You can watch their video below (in Japanese), or keep scrolling for an English translation with pictures.
Park Entrance & Admission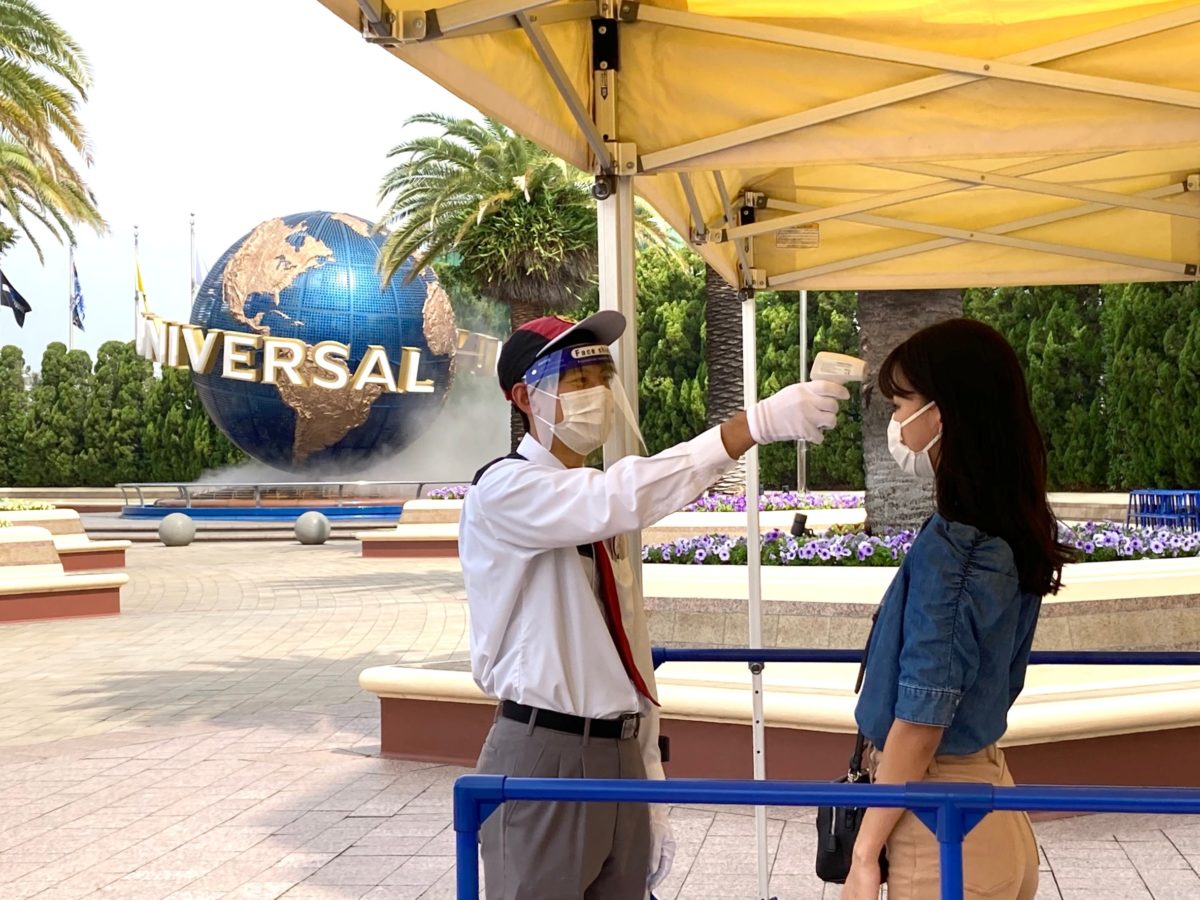 Guest temperatures will be checked before admission to the park. Guests with temperatures above 37.5 degrees Celsius will be denied entry. Team Members taking temperatures are equipped with face masks and face shields.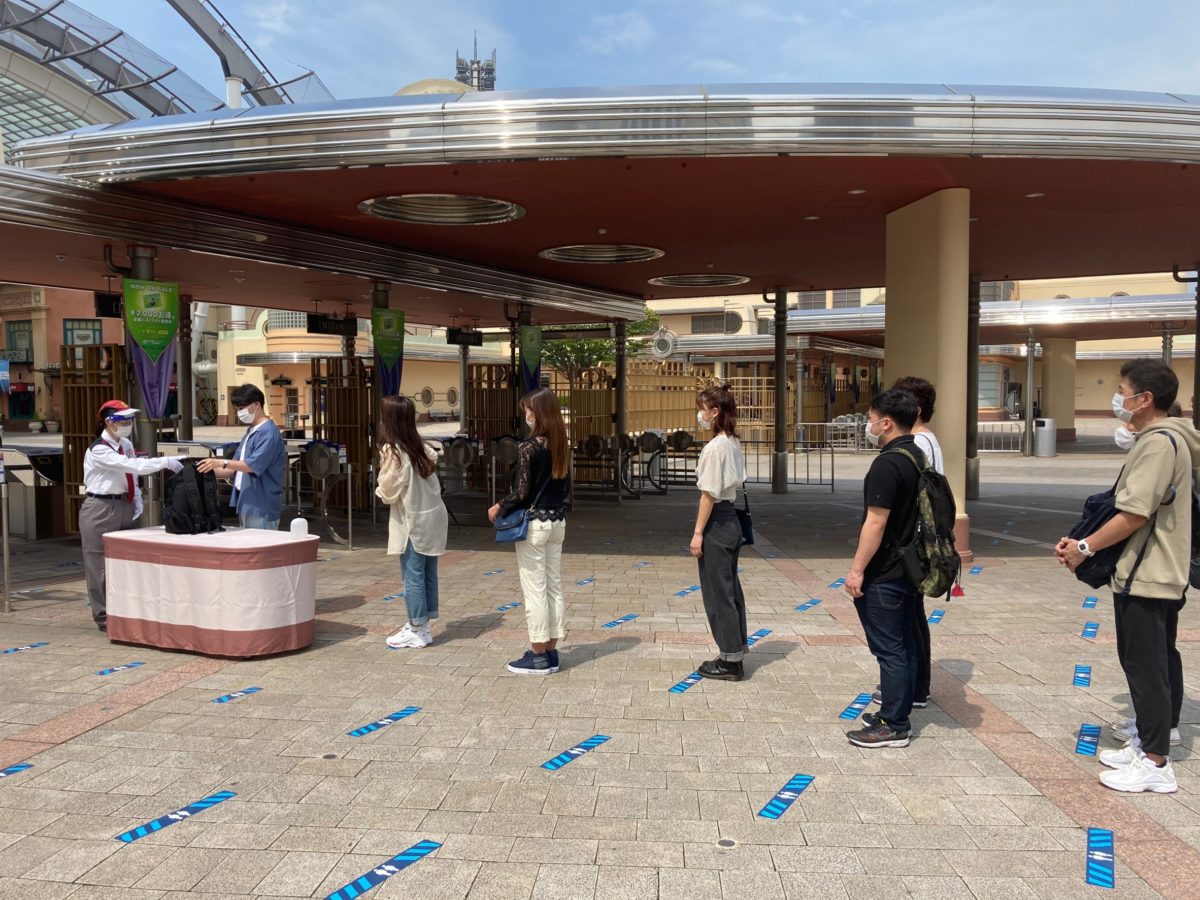 Physical distancing measures are in place at the park entrance. Guests are asked to stand 1 meter apart while waiting for admission and bag inspection. Team Members checking bags are also equipped with face masks and face shields.
At ticket booths, same-day tickets will not be sold for the time being. Guests must purchase their tickets to the park in advance.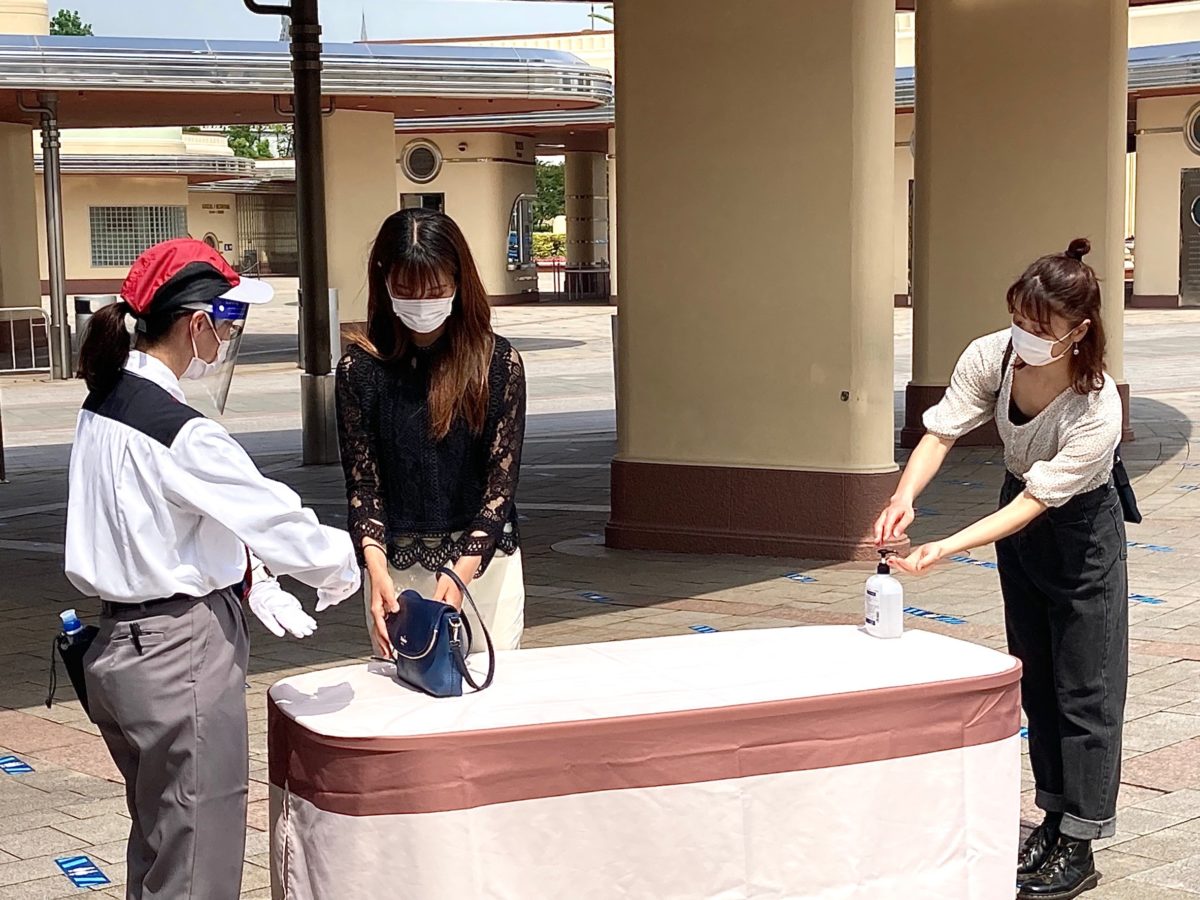 Guests will be required to sanitize their hands before entering the park. All Guests are also required to wear masks at all times except while eating or drinking.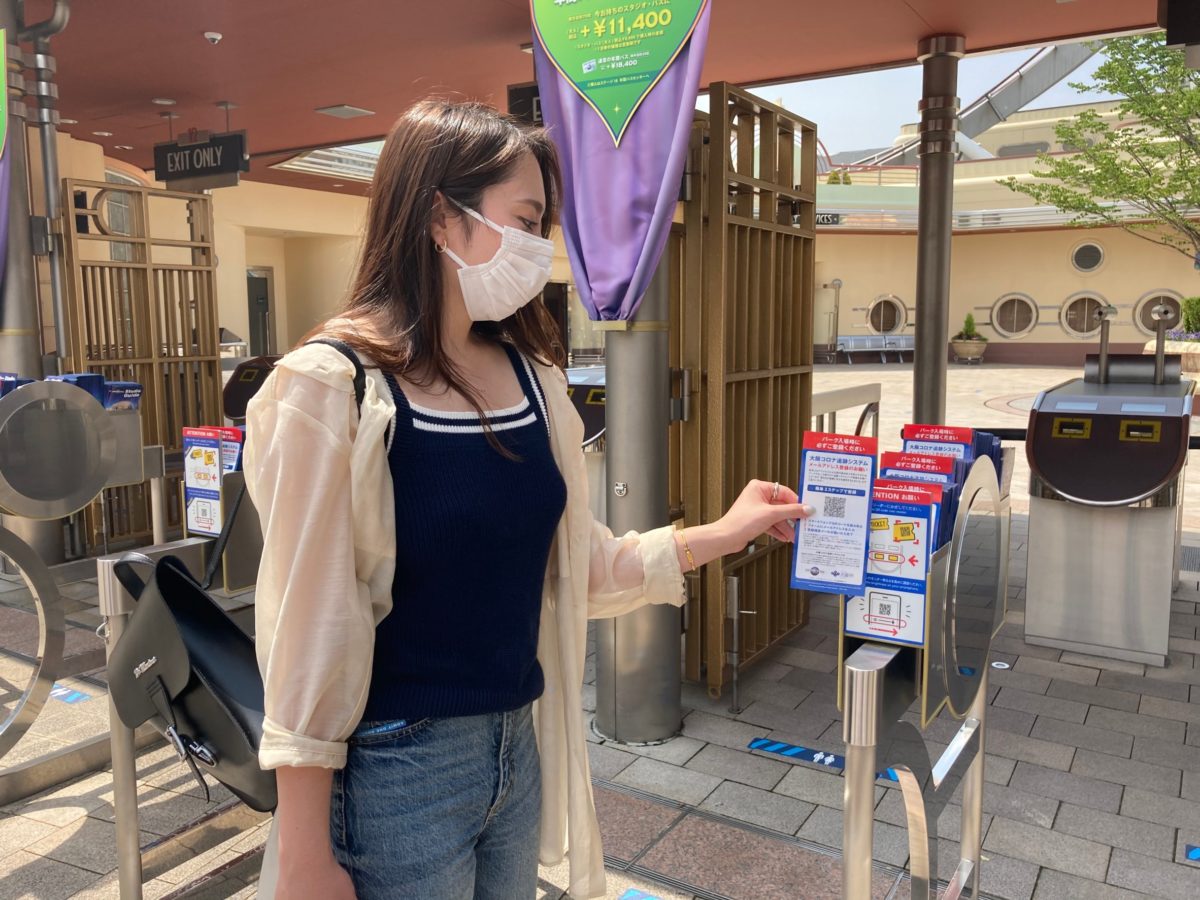 Once inside Universal Studios Japan, Guests are asked to register for the Osaka Coronavirus Tracking System. Pamphlets with a QR code for registration are available at the entrance.
Ride Experience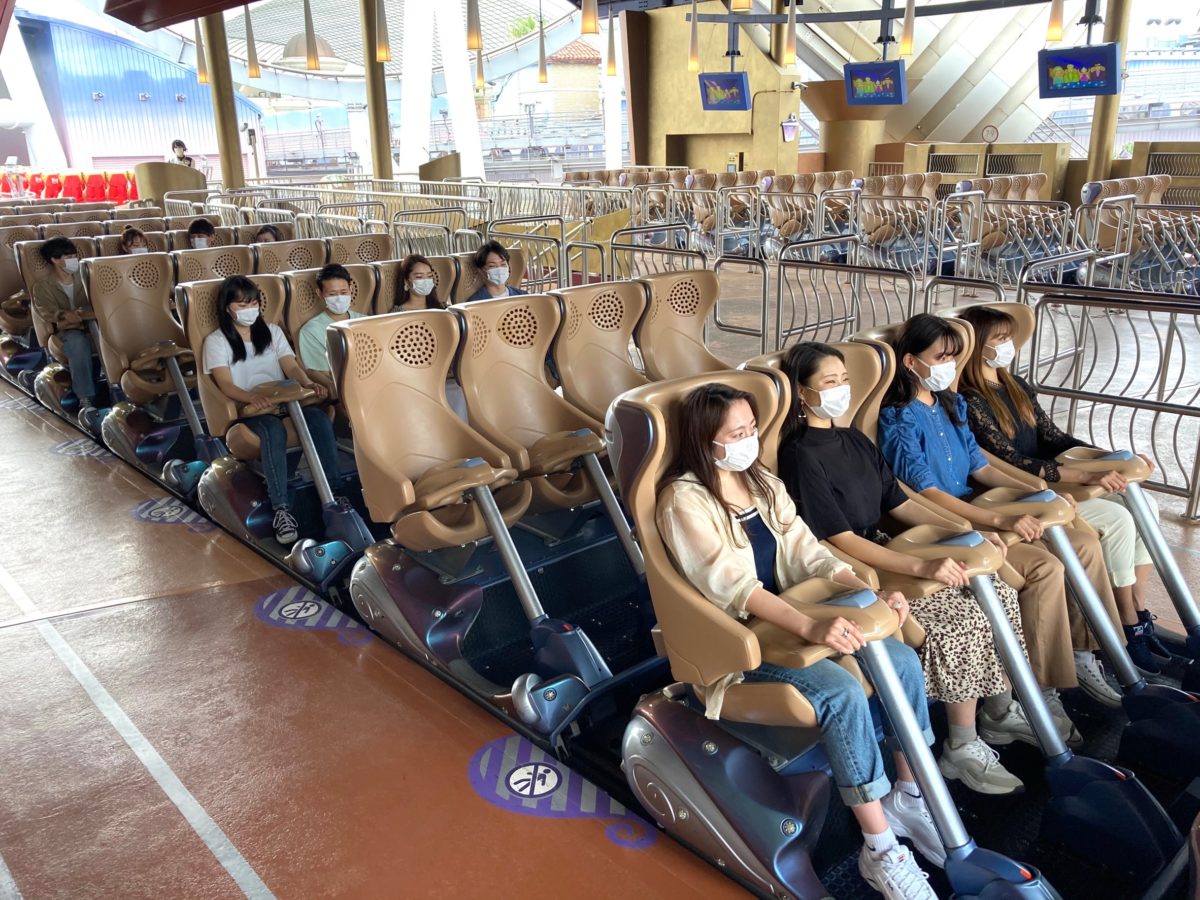 Hand sanitizers are available at all attraction and ride entrances. Just like the rest of your visit, you must wear a mask while aboard attractions. Queues are divided with social distancing markers, like at the entrance. Aboard rides like Hollywood Dream: The Ride, Guests are physically distanced apart as seen above. Seats and safety bars are regularly disinfected.
Show Experience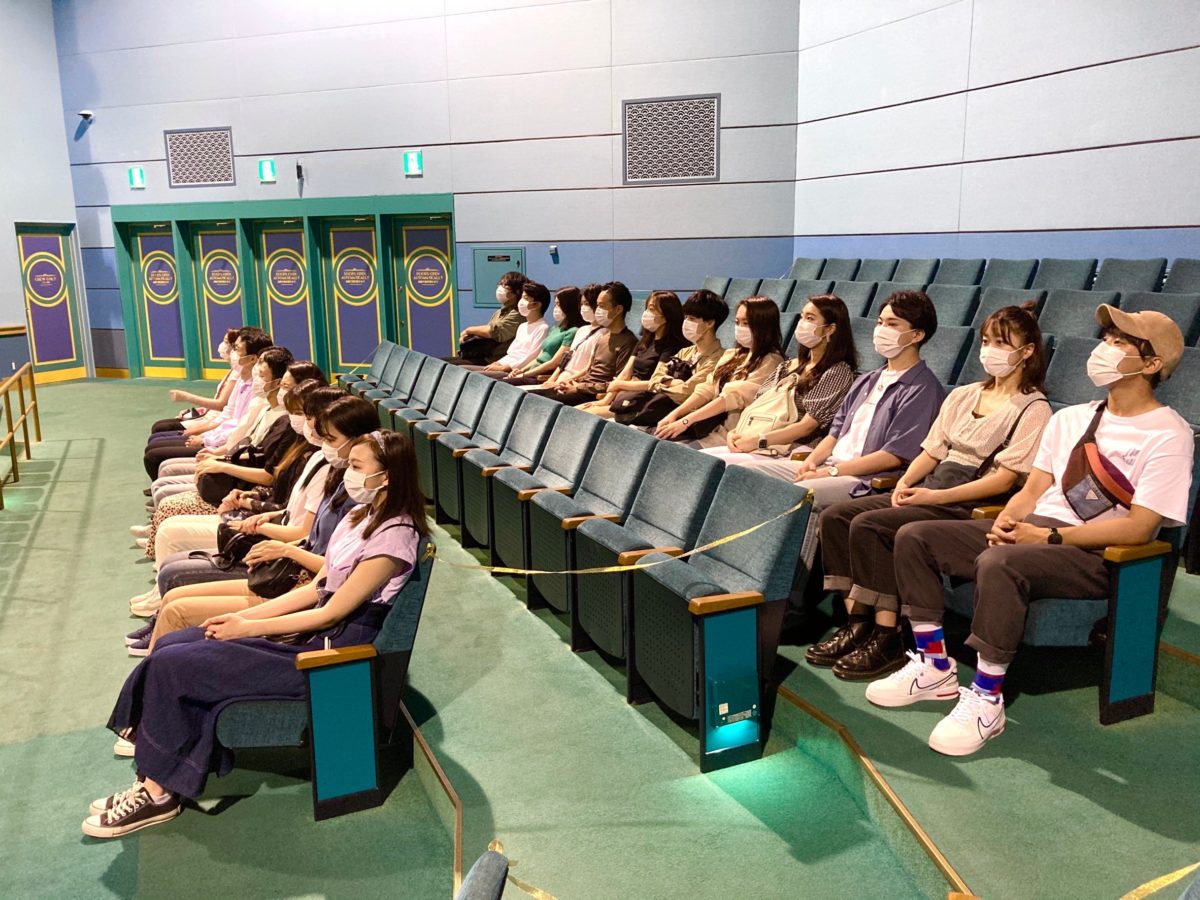 Just like at rides, hand sanitizer is available at all theater entrances. Just like the rest of your visit, you must wear a mask while aboard attractions. Queues are divided with social distancing markers, and seating rows are staggered to maintain social distancing.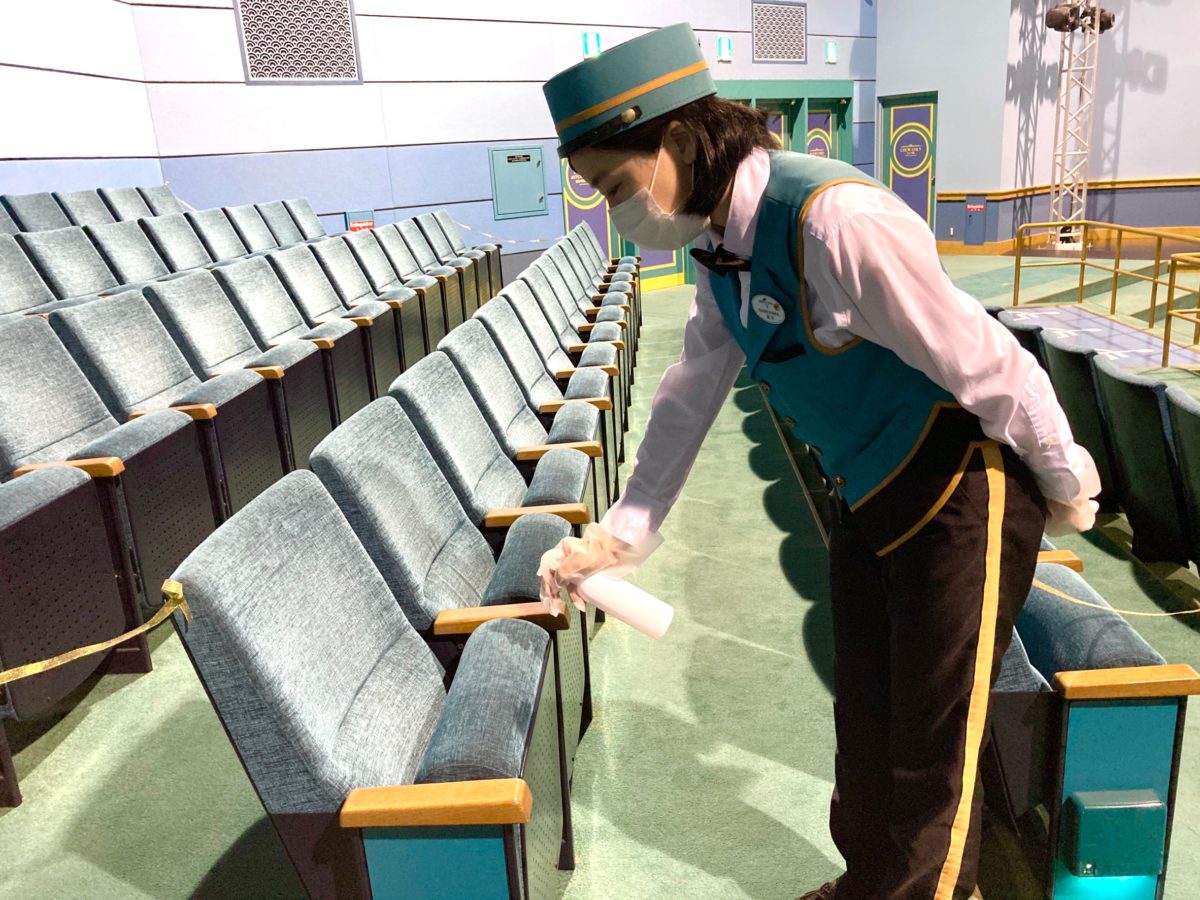 Show seats are also regularly disinfected by Team Members.
Restaurant Experience
Like at attractions and shows, hand sanitizer stations are available at every restaurant entrance. Masks will be required at all times, except while eating or drinking. Social distancing markers will be in place at restaurant queues, and Guests will be encourage to sit side-by-side rather than across from one another. Cash trays will be used to reduce contact, and cashless payments will be highly encouraged. Team Members will sanitize their hands between each transaction.
Entertainment Experience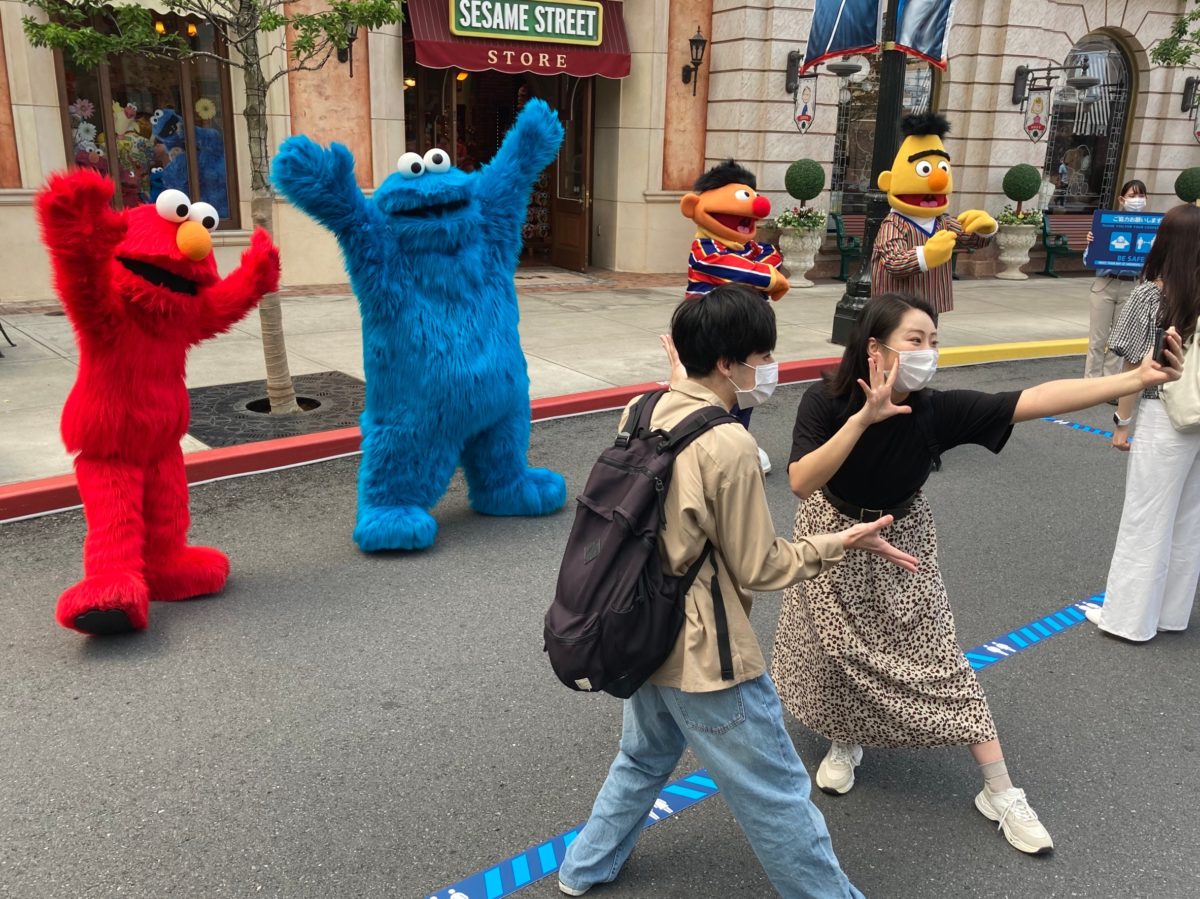 While meeting characters like the Sesame Street friends, Guests may not remove their masks for pictures. Additionally, socially distanced pictures with your favorite friends at Universal Studios Japan are encouraged, as seen above. It'll certainly make for a memorable photo!
Statements from Universal Studios Japan
Junichi Arita, General Manager of Operations at Universal Studios Japan had the following to say in a Q&A with the press:
We have decided to implement this plan to enhance cleanliness, with the highest priority given to ensuring the health and safety of our Guests and Team Members. All Guests are asked to wear a mask at all times in the park, and we will guide them to ensure proper social distancing. To that end, we have installed hand sanitizer stations at all facilities, and specially-assigned Team Members will continuously disinfect the park. We look forward to carefully restarting park operations while ensuring the safety of our Guests and Team Members.

Universal Studios Japan participated in the establishment of the "Guidelines for Infectious Disease Control in Theme Parks/Amusement Parks" in cooperation with industry companies and associations across Japan. In addition, we will regularly seek guidance from health agencies and medical professionals regarding the situations both in Japan and overseas. Our top priority is the health and safety of our Guests and Team Members. As such, we've created our park operation plan based on thorough hygiene enhancement measures. We will continue to carefully and rigorously enhance this plan in order to contribute to society by delivering theme parks that meet the needs of the present era and deliver our Guests peace of mind as they enjoy their visit to Universal Studios Japan.
You can review the Guidelines for Infectious Disease Control here.
It's exciting to see theme park operations resuming across the world! Universal Studios Florida made its grand reopening just the other day, and its Japanese counterpart isn't far behind! We look forward to seeing how theme parks adapt to the new normal, so stay tuned to WDWNT and Universal Parks News Today for the latest news!
Photos courtesy of Universal Studios Japan.