Walt Disney World has updated its Restaurant Reopening and Dining page with new information for guests looking to make dining reservations.
Guests with dining reservations cancelled during the closure can make new dining reservations starting on June 30. It had been previously stated that guests with prior (cancelled) reservations would receive priority in re-booking new reservations, and they are among the first to gain access after the initial wave of Disney Resort guests.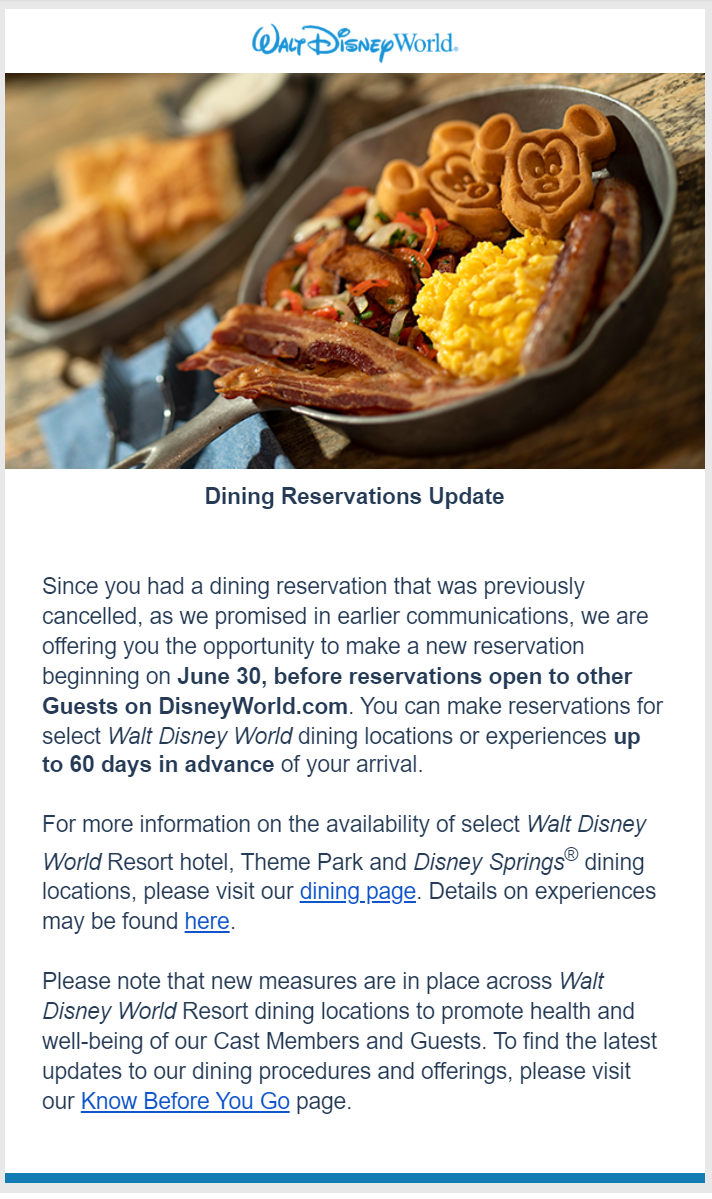 No additional details are currently available regarding when the reservations will go live, but based on our experience with making dining reservations as resort guests, your best bet is to call (407) 824-1391 as early as possible at 7:00 AM (ET). Reservations will also be available online via My Disney Experience:

You can read the full dining update from Walt Disney World below:
Reservations for Guests Staying at Disney Resort Hotels
Guests with Disney Resort hotel reservations for arrivals through July 10, 2020 can make dining reservations for select Walt Disney World Resort hotel and available Disney Springs dining locations. Call the Disney Reservation Center at (407) 824-1391 to check availability and make reservations. A valid Resort reservation for this time will be required to book your reservation. Guests under 18 years of age must have parent or guardian permission to call.
If you're a Disney Vacation Club Member with a Resort reservation for an arrival through July 10, 2020, call Member Services at (800) 800-9800.
Online reservations will not be available during this time for this audience and will reopen at a later date for all Resort Guests.
Eligible Guests with Dining Reservations Cancelled During the Closure
If you had an active dining reservation on or before September 2, 2020 that was cancelled as of May 28 due to the temporary closure of Walt Disney World Resort, you'll have the opportunity to make new dining reservations beginning on June 30 up to 60 days in advance of your arrival.
Reservations for All Guests
Online reservations for all Guests will reopen at a later date. Please continue to check back for details.
In-Park Dining
When in-park dining initially becomes available, you'll need valid park admission, a reservation for park entry and a dining reservation to dine at an in-park, table-service restaurant. Dining reservations do not guarantee admission to the park.
Disney Springs Dining
Select dining locations at Disney Springs are currently accepting reservations for all Guests up to 60 days in advance.