Good morning from the Most Magical Place on Earth! We're so happy to be back in the Magic Kingdom, and back in the Walt Disney World theme parks in general. We had an exciting day here, so let's get started!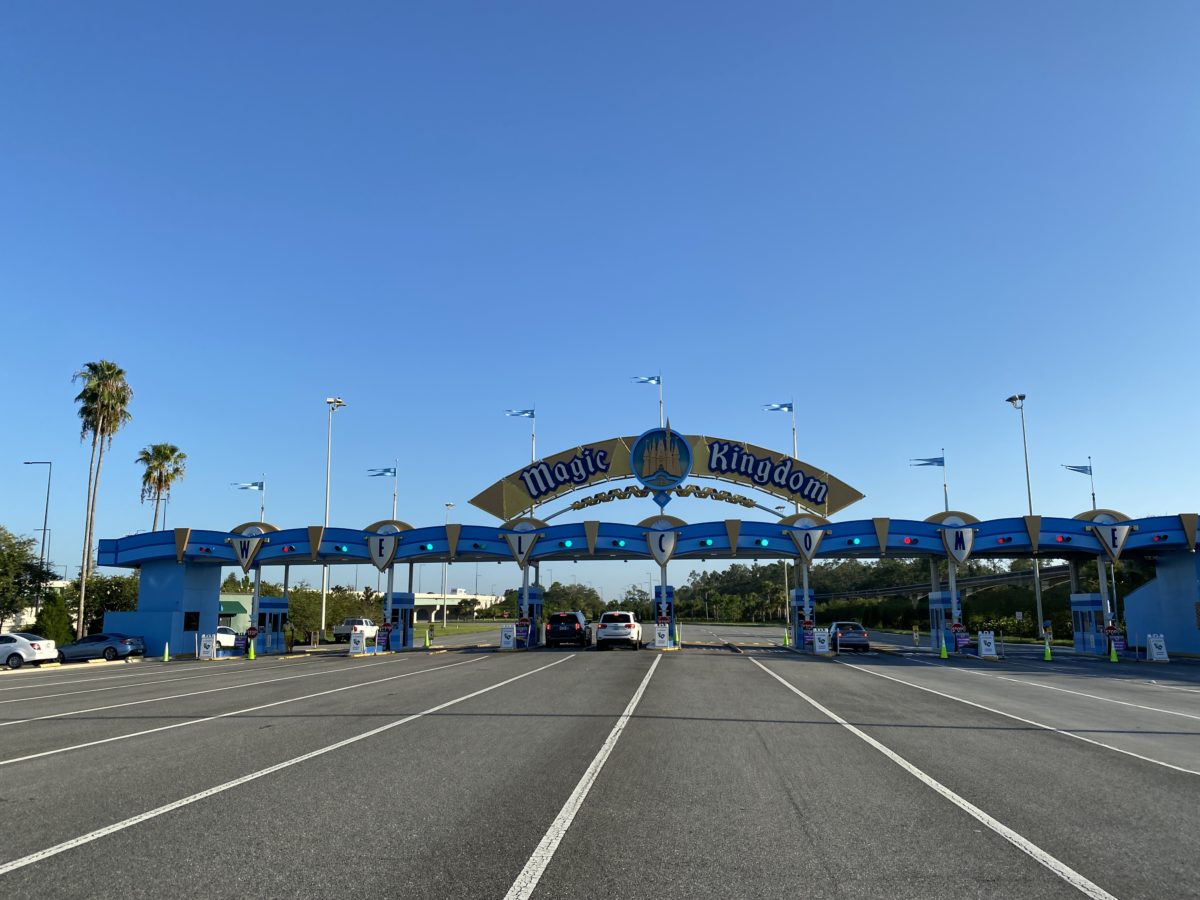 There was a minor shakeup at the parking booths this morning. While it's not published anywhere, we've noticed that the parking booths have been turned red except for two lanes, which are turned green prior to one hour before opening. If you drive up to those two lanes, you are directed through to the exit and told to come back later. The return time varies depending on the park and the Cast Member. At one hour before park opening, all the lights turn red, and cones are put out in front of all of the lanes in the road. Cars are then allowed to line up at all of the windows. At 45 minutes prior to park opening, cars are allowed through into the parking lot. Today, at the Magic Kingdom, 70 minutes prior to opening all the lanes were green, but they were just sending cars through to the exit. Cars were no longer permitted to park on the shoulder and wait for the hour mark.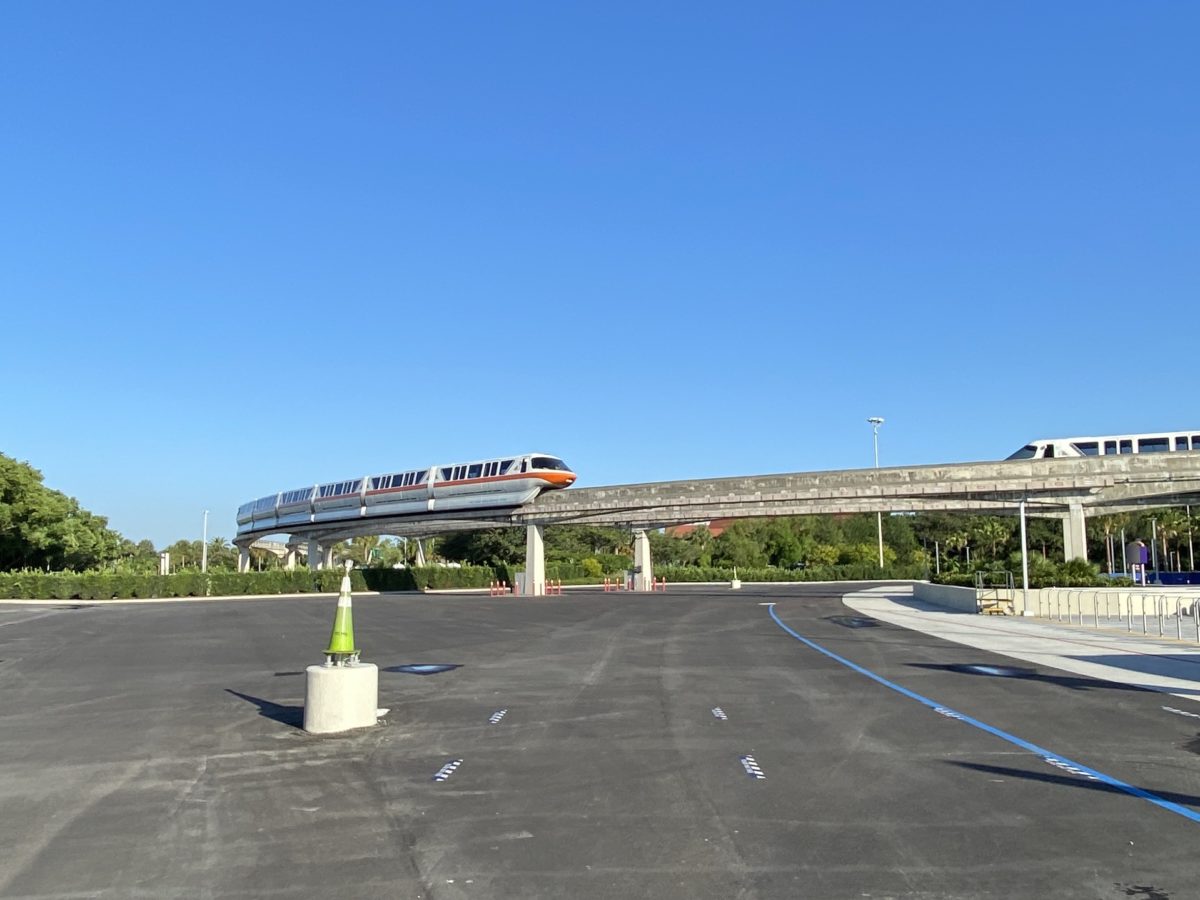 Once we parked and walked into the Transportation and Ticket Center, we saw this Monorail stopped on the line just outside of the station. It was likely holding for further traffic clearance, but it was a fun sight to see.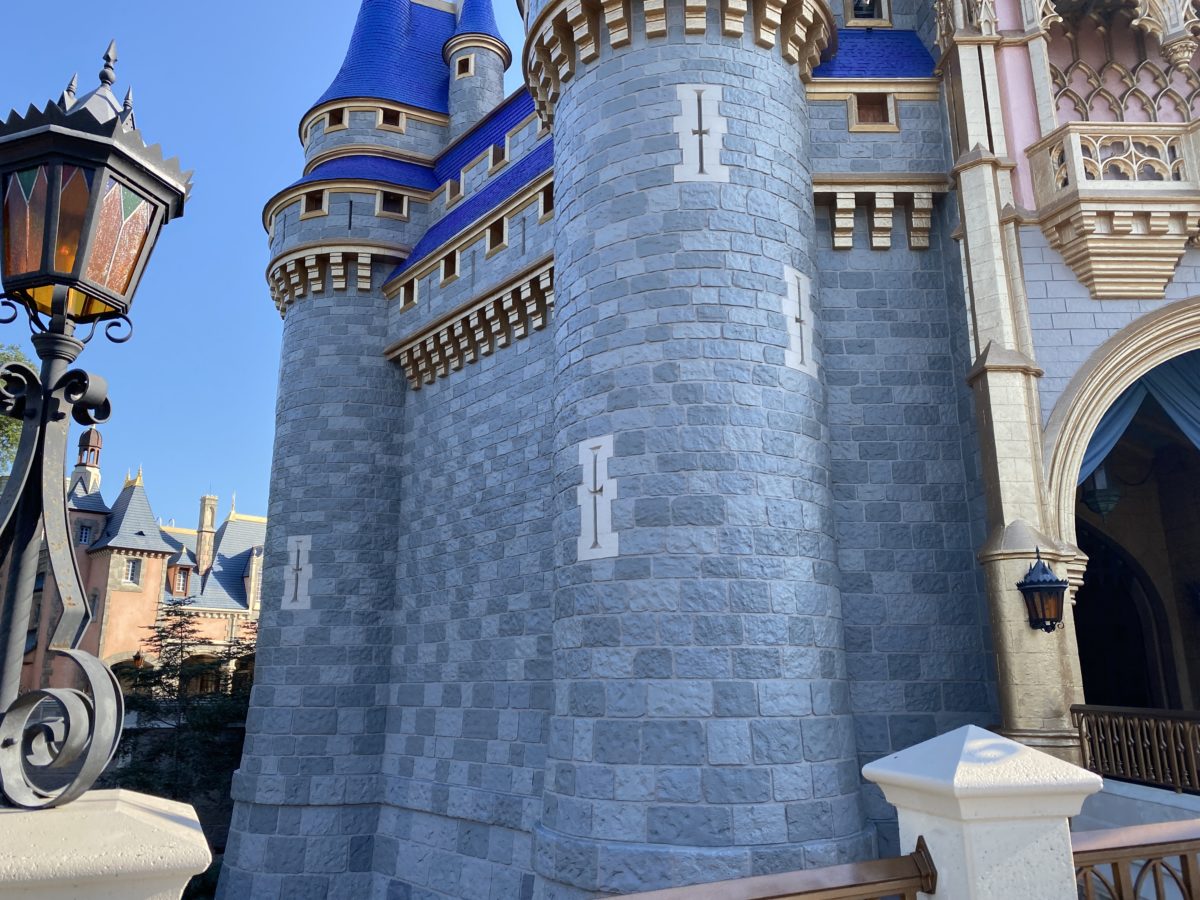 We checked in with Cinderella Castle first thing to see how the "paint by numbers" progress was coming along, and it looks like it's almost complete! The numbers on the west side have been painted over.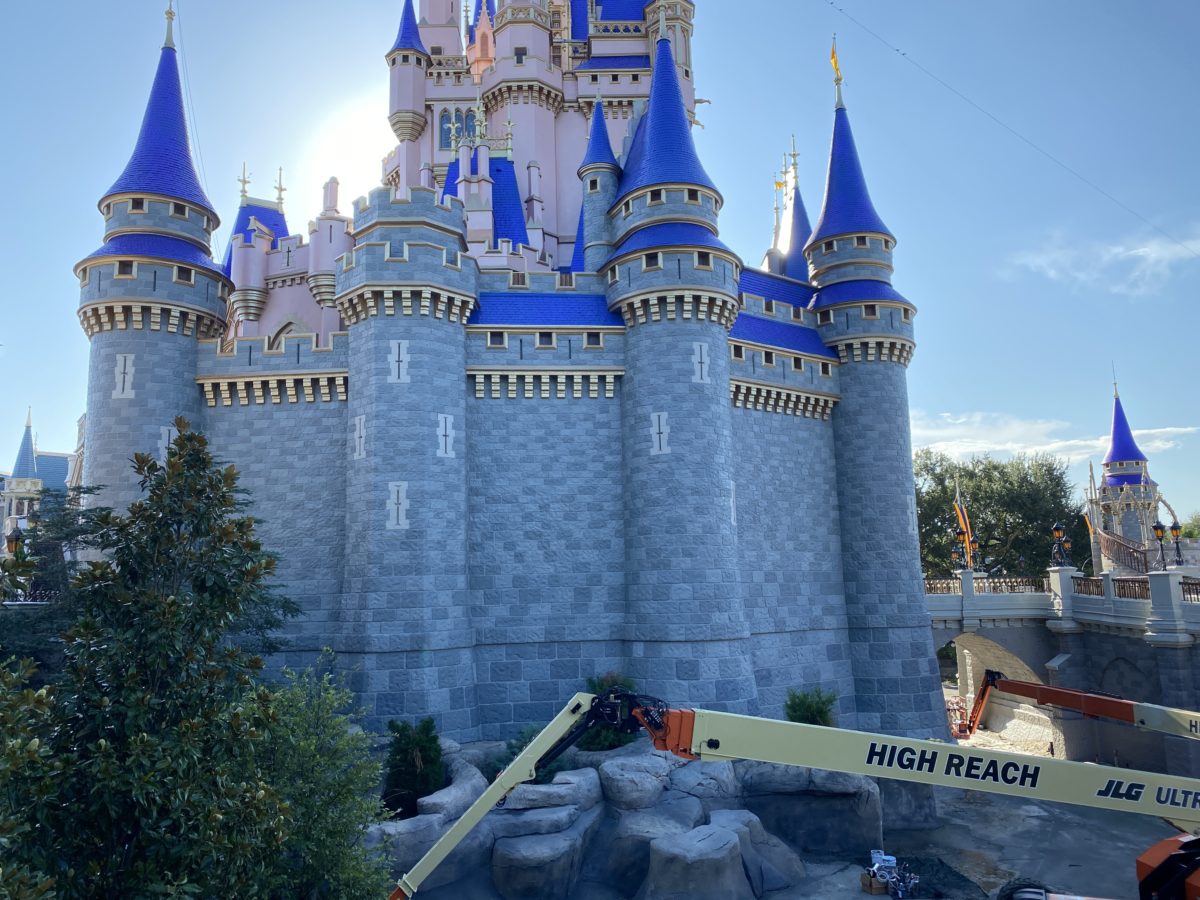 Further around the west side, you can see a larger expanse of the completed texturing. It's amazing the depth that the different colors provide.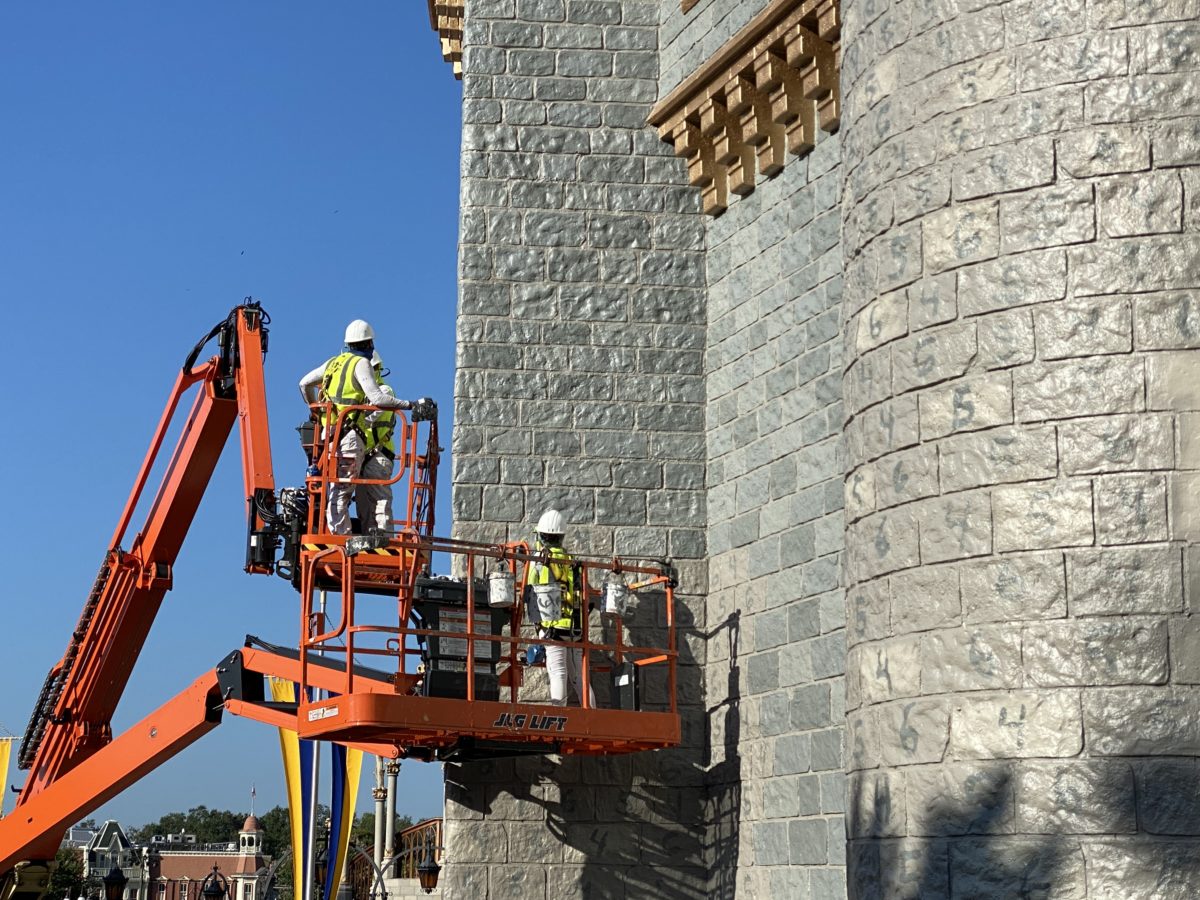 Work continues on the east side, where numbers are still visible. The painters have been friendly, sometimes even telling us what number they're working on.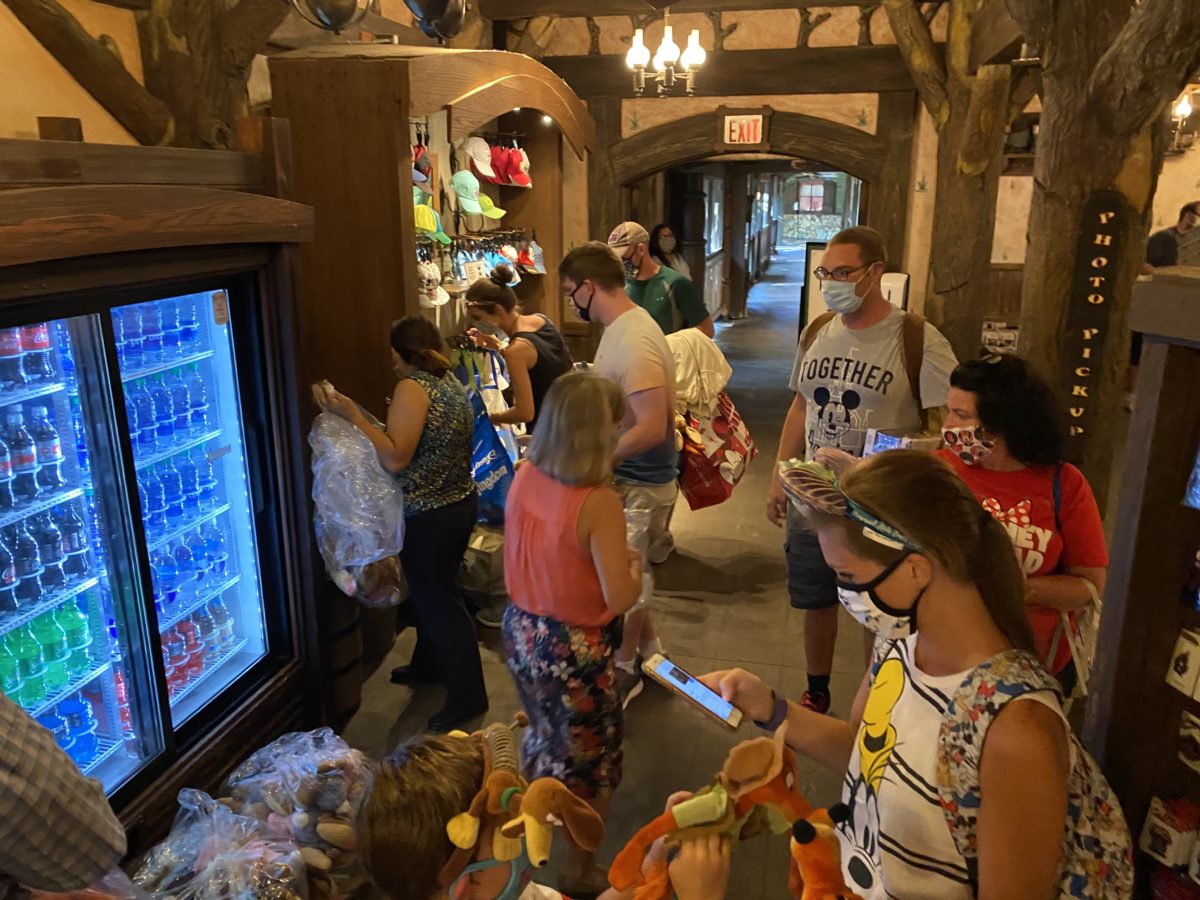 Next, we headed to Splashdown Photos, where they had received a restock of Splash Mountain attraction merchandise. Cast Members were bringing out plush by the bag, and the shelves were being cleared as fast as they could be stocked. They had all three plush characters, pins, pictures frames, a zip-up hoodie, a Funko POP! set, and Park Pals. By the time we left, Cast Members had activated the Virtual Queue to enter the store, and there was a line to enter.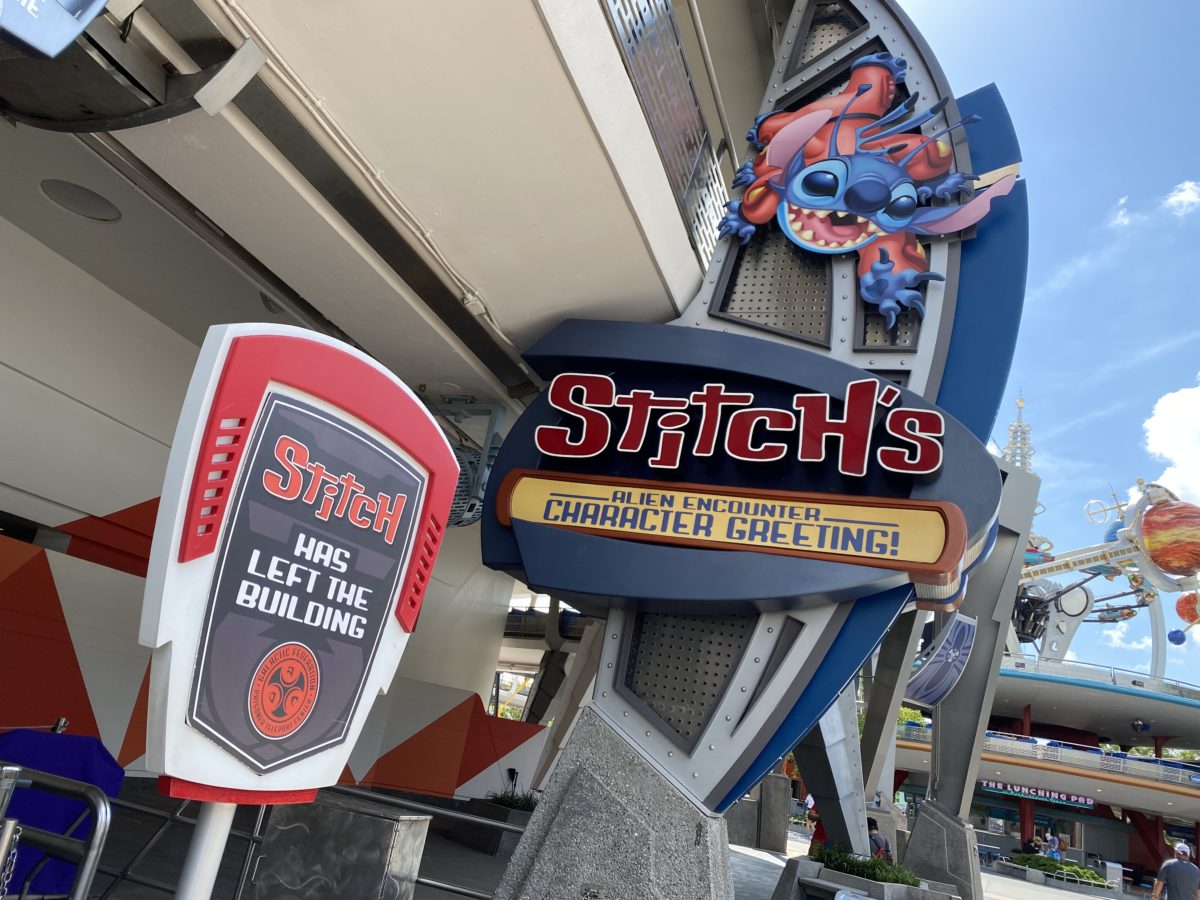 The recent closure has had some lasting repercussions, one of which we knew was coming, but we were still sad to hear. It was announced that Stitch's Great Escape would not be returning from its "temporary closure." For more information, see our article here.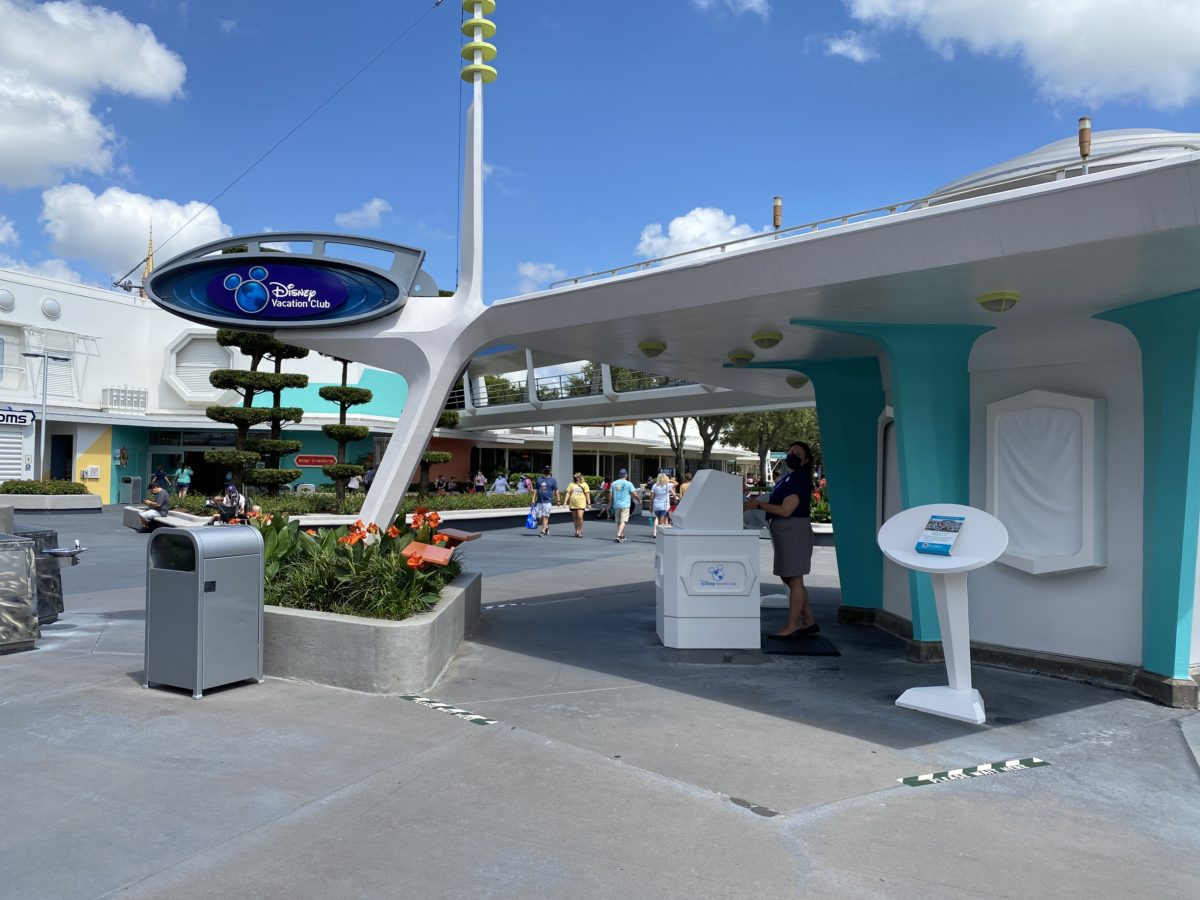 Since the reopening of Disney Springs on May 20, 2020, all Disney Vacation Club kiosks have been closed, and have not had social distancing markers installed. Yesterday, we saw ground markers installed at a DVC booth in Disney's Hollywood Studios, and today we saw this booth open at the Magic Kingdom. Upon talking to the Cast Member, we learned that today was their first day back, that they had a presence in every park and Disney Springs, although only one kiosk was open in each location, and that they had discontinued tours. All interactions have become digital or phone-based, there is a QR code you can scan at the booth. Welcome home, DVC Cast Members!
The construction walls at "it's a small world" were removed today, returning the entrance to the attraction to the center under its iconic artwork.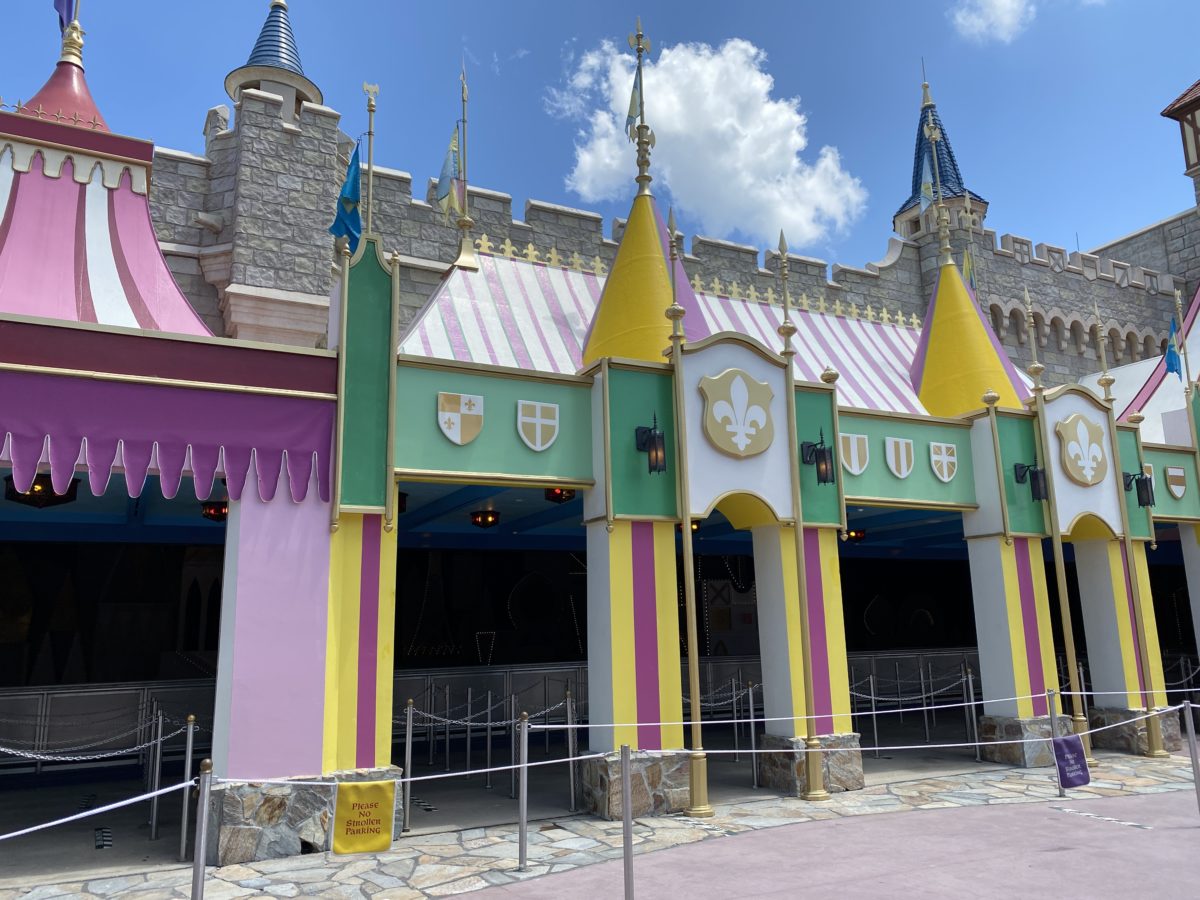 The construction walls had been fitted into the spaces in between the upright pillars, allowing there to be a wall where there is normally an open archway.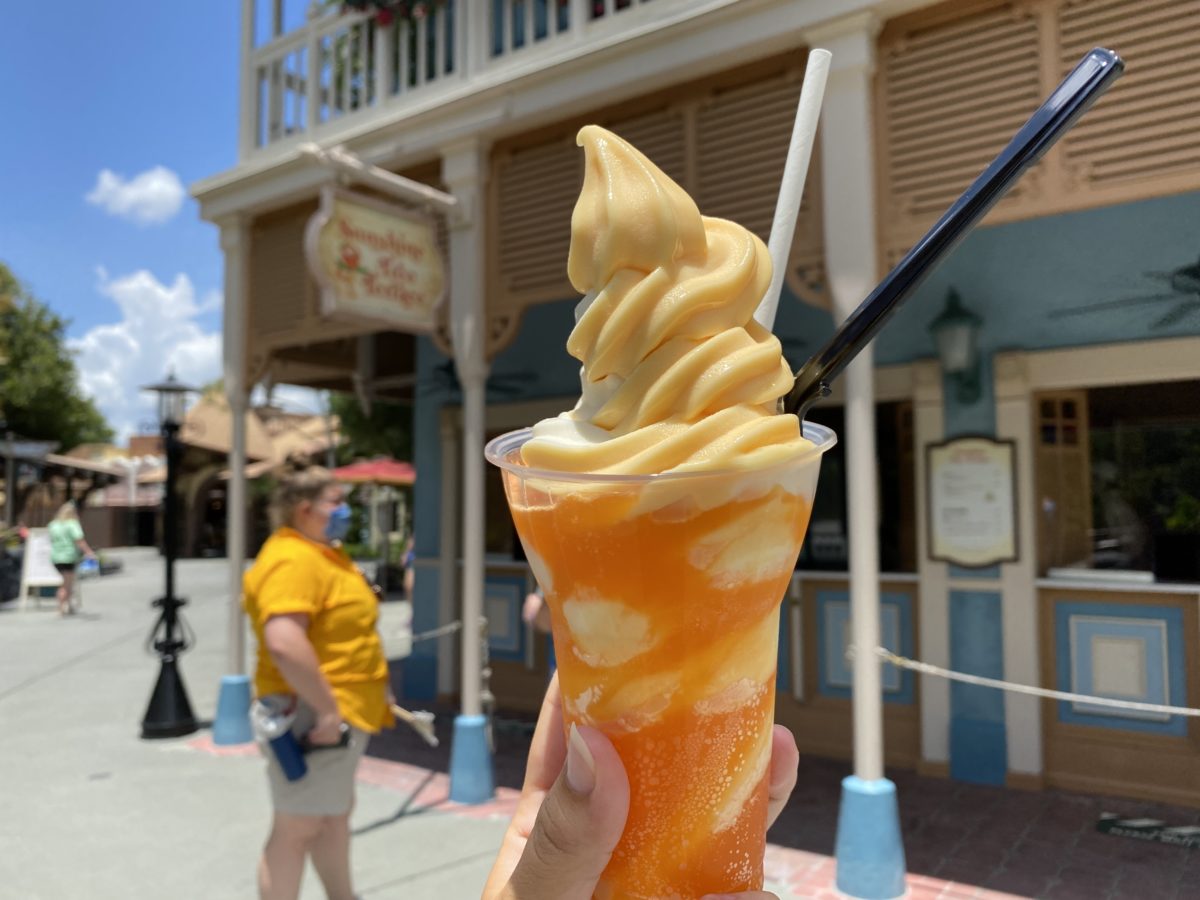 With several of our favorite snacks missing from the menu upon reopening, we've been trying new things in an attempt to find new favorites. This is a Dole Whip Orange Swirl float using orange soda that we concocted at Sunshine Tree Terrace. We like it, but we might try it with Sprite next time to let the Dole Whip Orange really shine.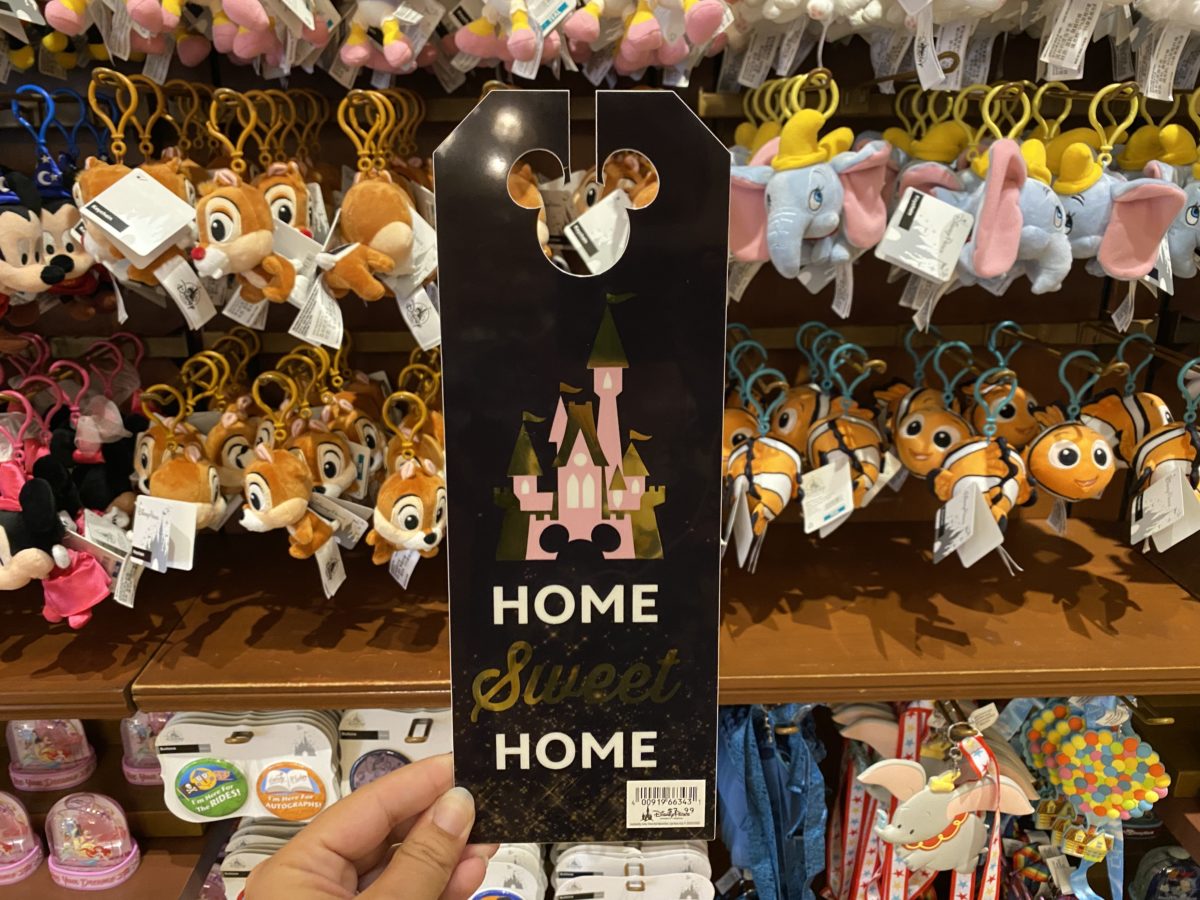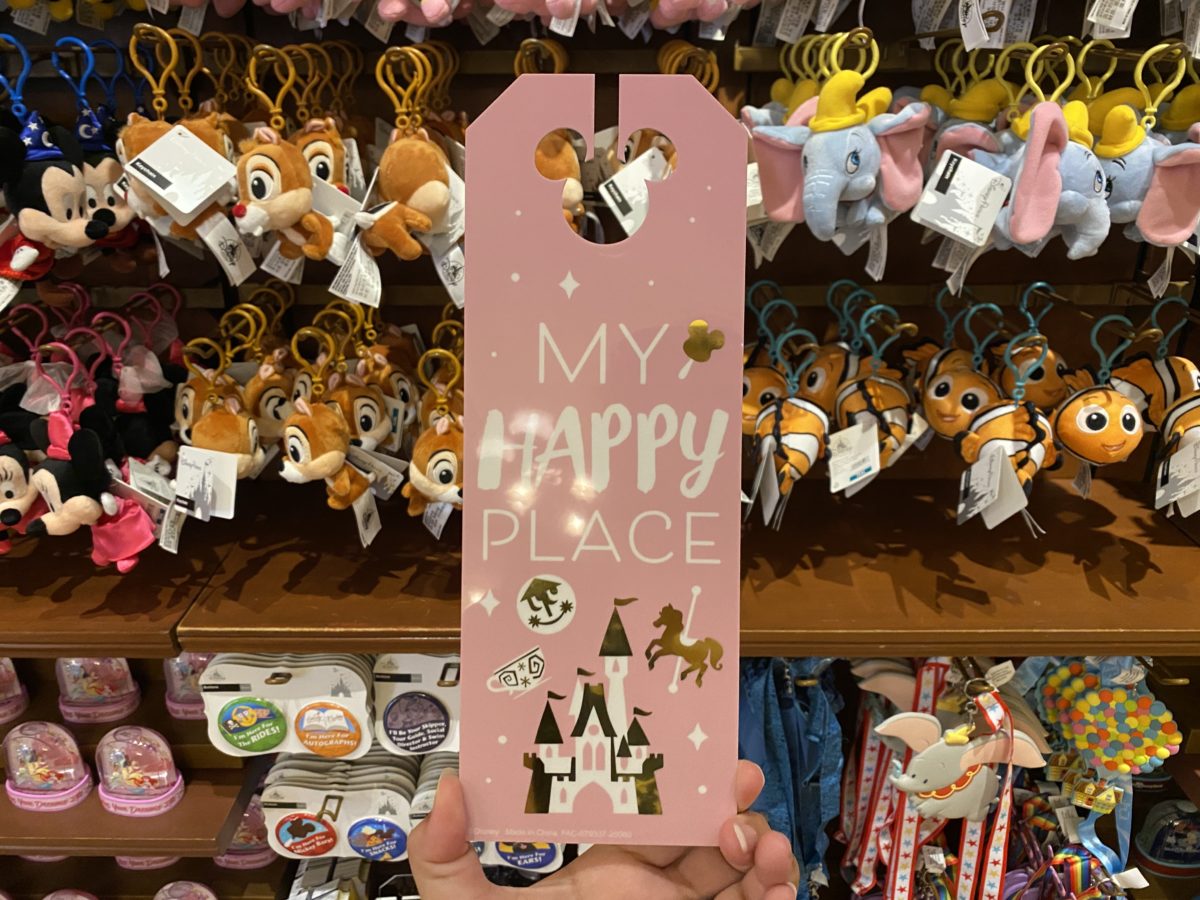 We found this fun new door hanger at The Emporium and love that it matches the new pink vibes from Cinderella Castle. It certainly is our happy place!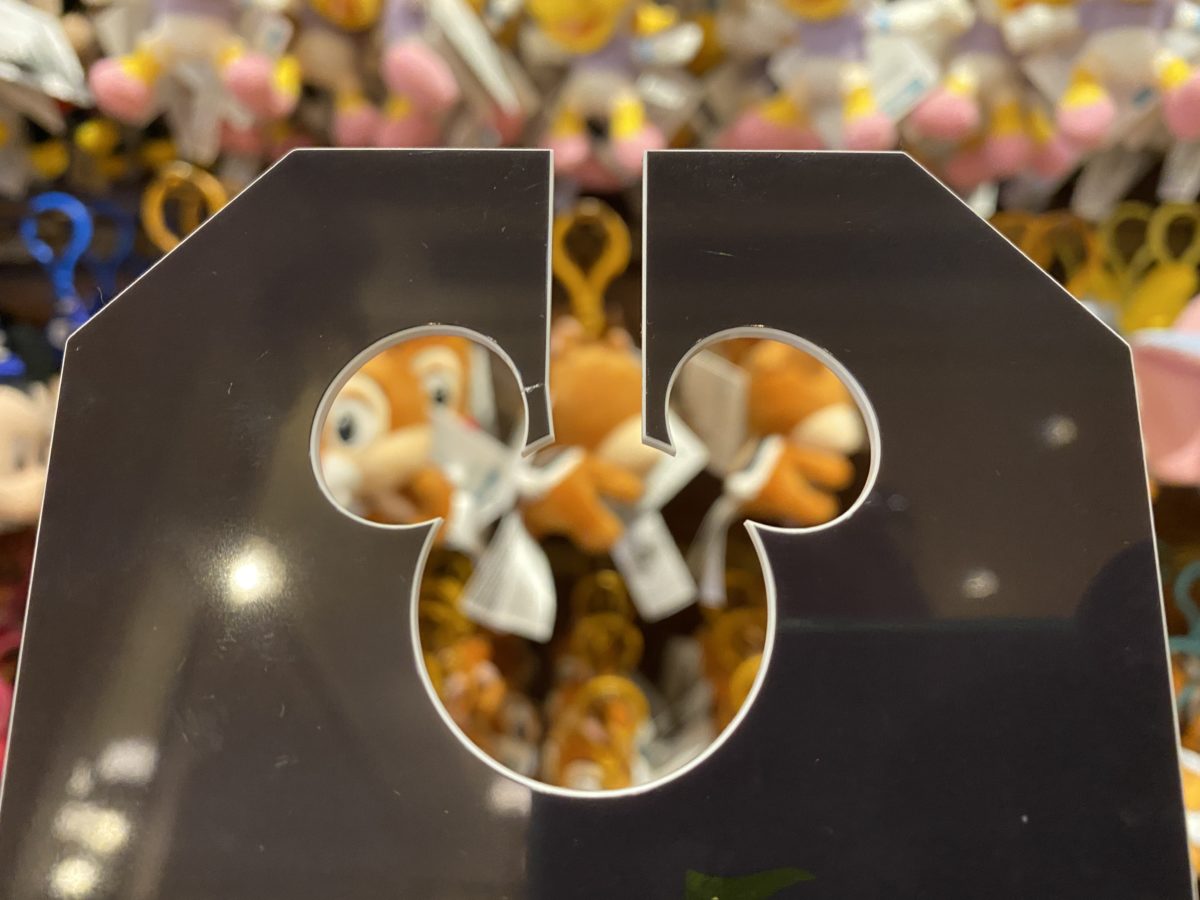 There's even a not-so-hidden Mickey in the cutout for the door knob. We love it!
We had a great day at the Magic Kingdom, we hope you enjoyed coming along with us. Have a magical day!