It was an overcast day at the Magic Kingdom, with cooler temperatures and the threat of rain looming all morning, but nothing lifts our spirits like checking in on the Disney Parks. It was a quiet day for the most part, but we found some fun merchandise, and got to check in on some construction projects. Let's get started!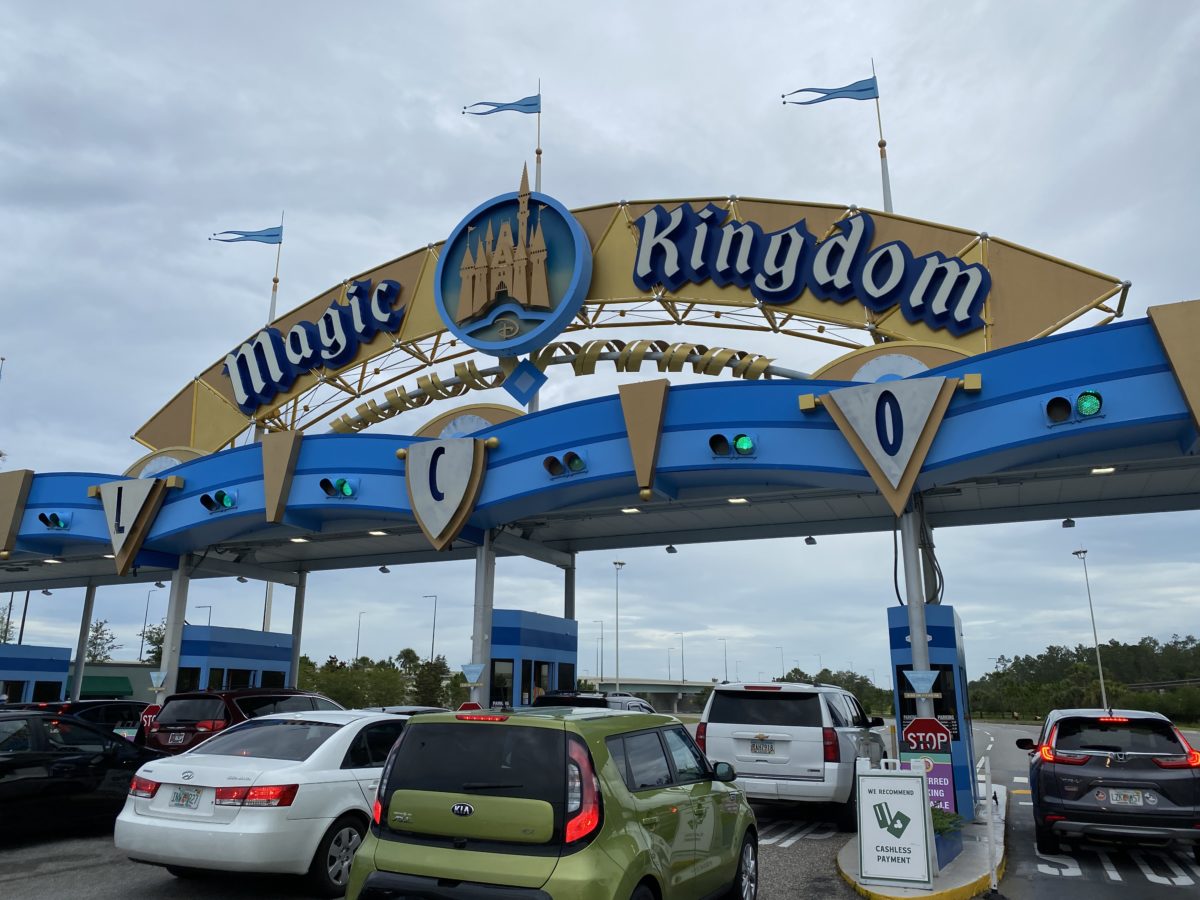 There weren't as many cars lined up as usual at 8:00am waiting to enter the park. See this sign still gives us a thrill though, even though it's only the parking lot.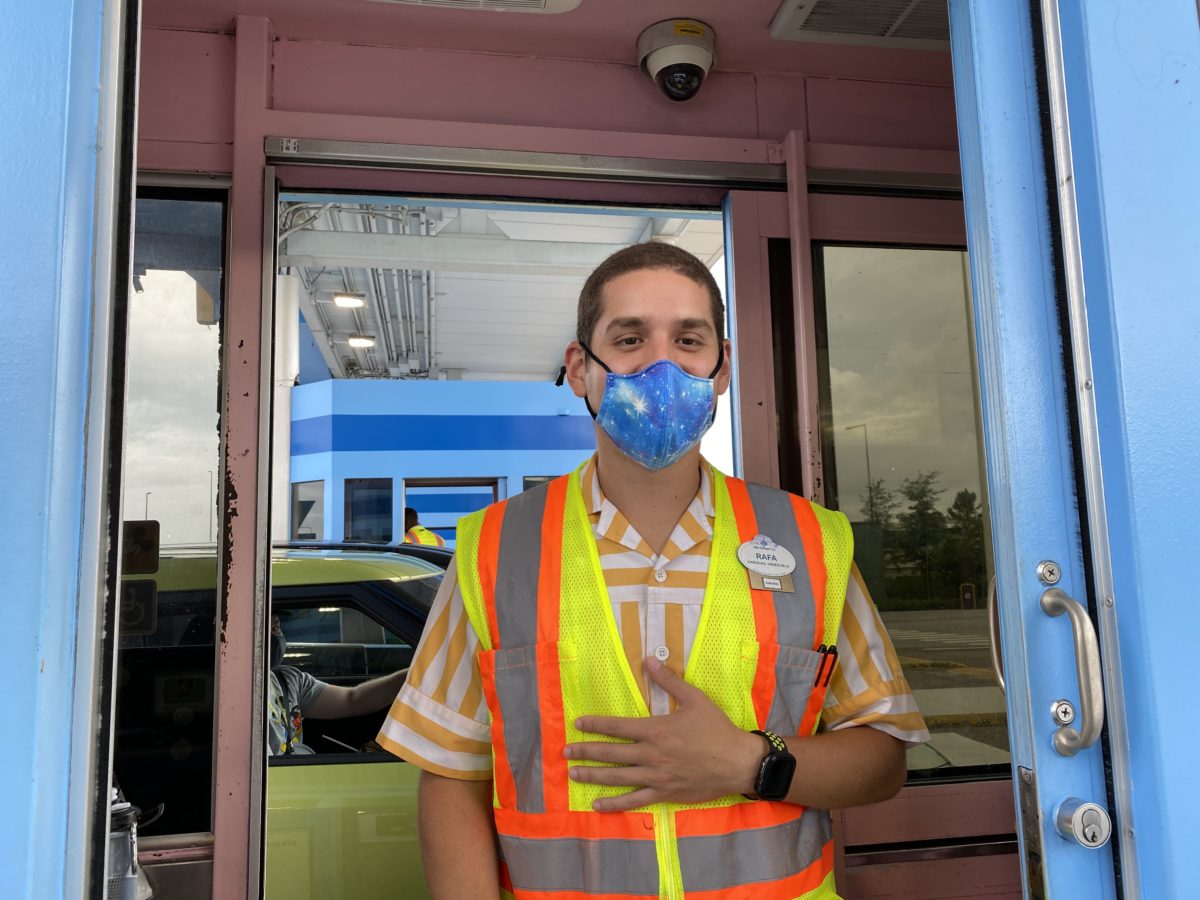 While we were waiting to enter the park we noticed that all of the parking lot Cast Members had new matching face masks with a fun space print on them. We love the new look! This Cast Member kindly agreed to have his photo taken. We think he looks dashing in his new mask!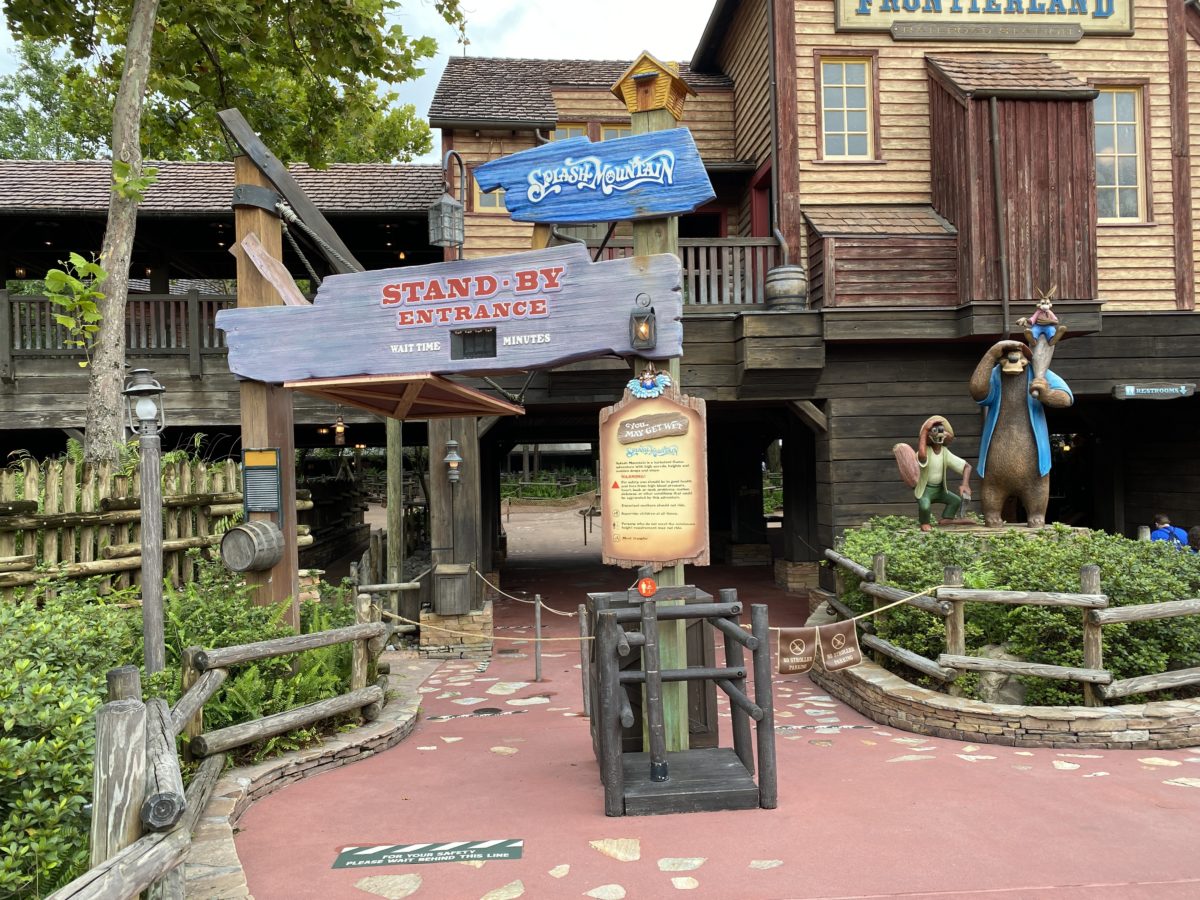 Once in the park, we headed straight for the hot topic recently- Splash Mountain and Splashdown Photos, current home to the only Splash Mountain merchandise in Walt Disney World. Splash Mountain was down for technical issues, and the Cast Members did not know when it would come back up.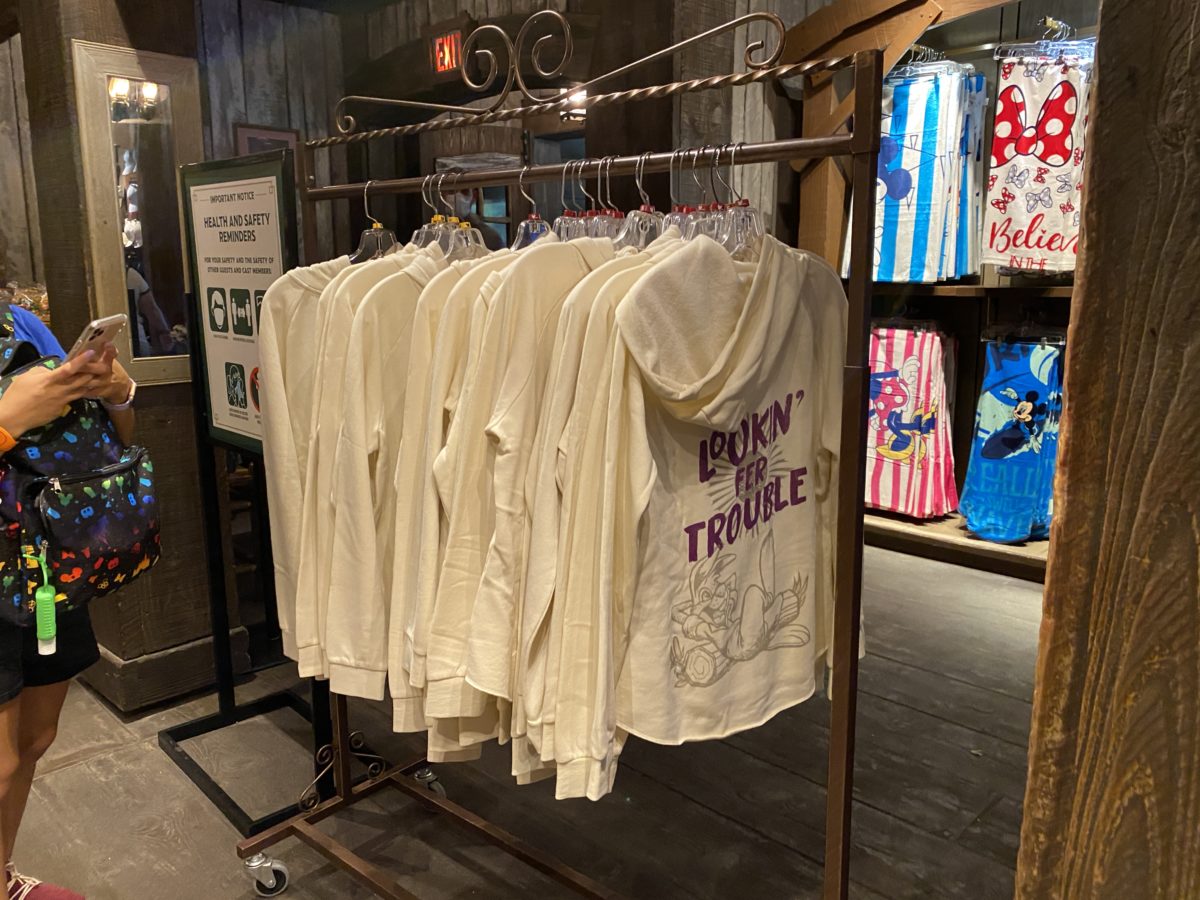 At Splashdown Photos, the only piece of Splash Mountain merchandise in stock was this zip up hoodie, and they only had size small and medium in stock. The rest of the shop was stocked with non-themed merchandise, available at other stores in the park.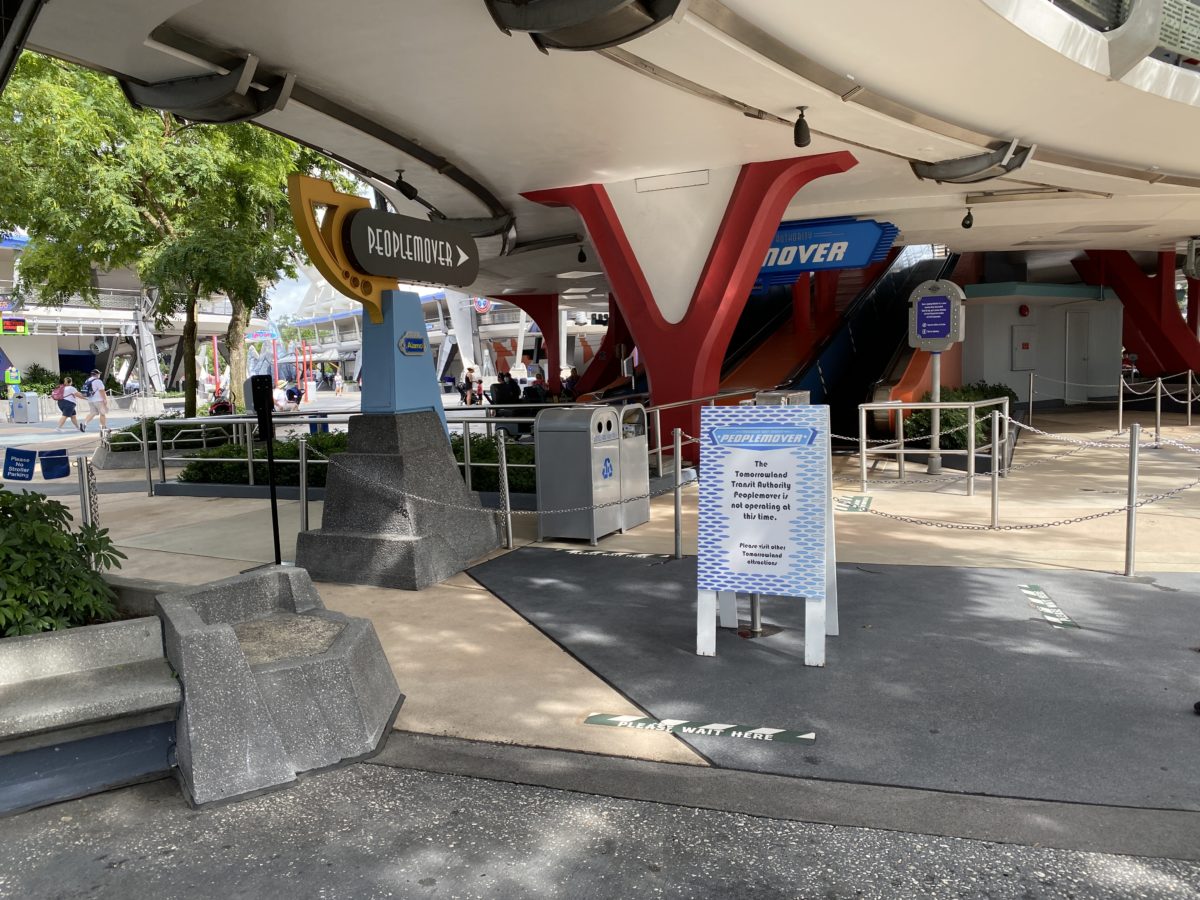 We checked in next at the Tomorrowland Transit Authority Peoplemover and found it, well, not moving people. Originally scheduled to reopen with the park on July 11, 2020, the popular attraction has not been operational since early March. We spoke with a Cast Member about it and they said engineers have been working on repairing the ride daily, but they have not been given any indication of when it may return to operation.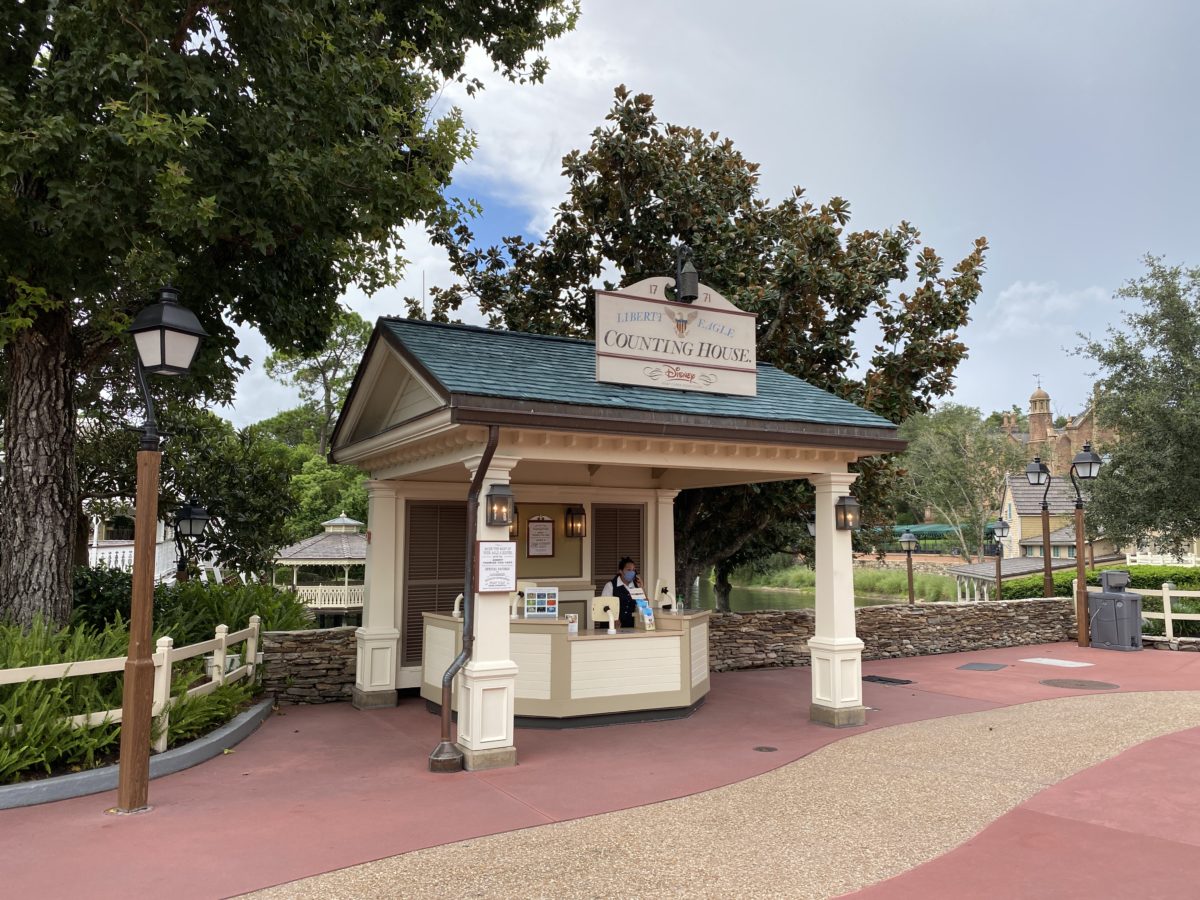 Disney Vacation Club kiosks across the parks have begun to reopen, although only one kiosk per park will be open at a time for the present. In addition to DVC, today we saw the Liberty Eagle Counting House location open, a Disney Visa Card Information Kiosk. We have been advised that DVC tours will no longer be given, but information can still be obtained through these kiosks and over the phone or online.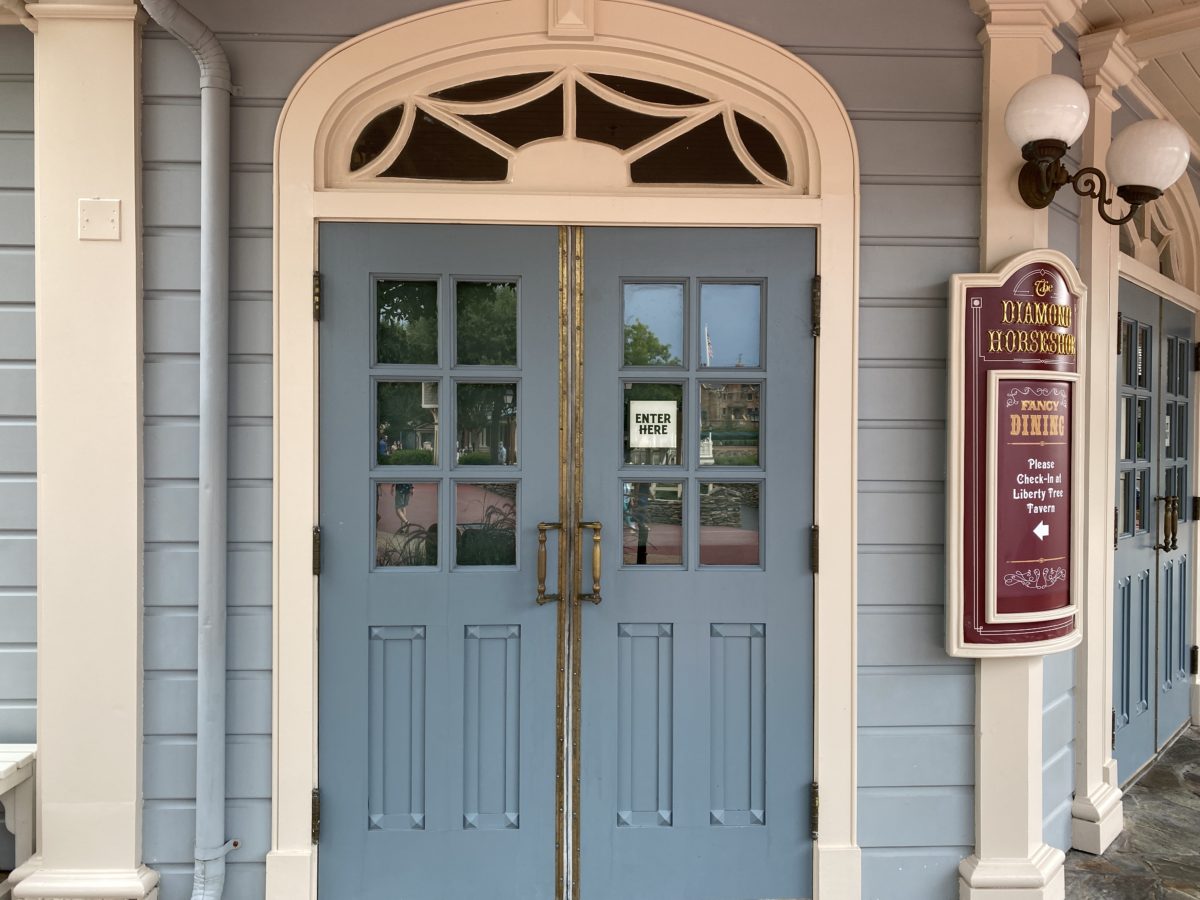 The Diamond Horseshoe, though still closed, is being used as additional seating for the Liberty Tree Tavern's guests to accommodate social distancing needs. We were hoping to take a look inside, but this dining room was not in use today.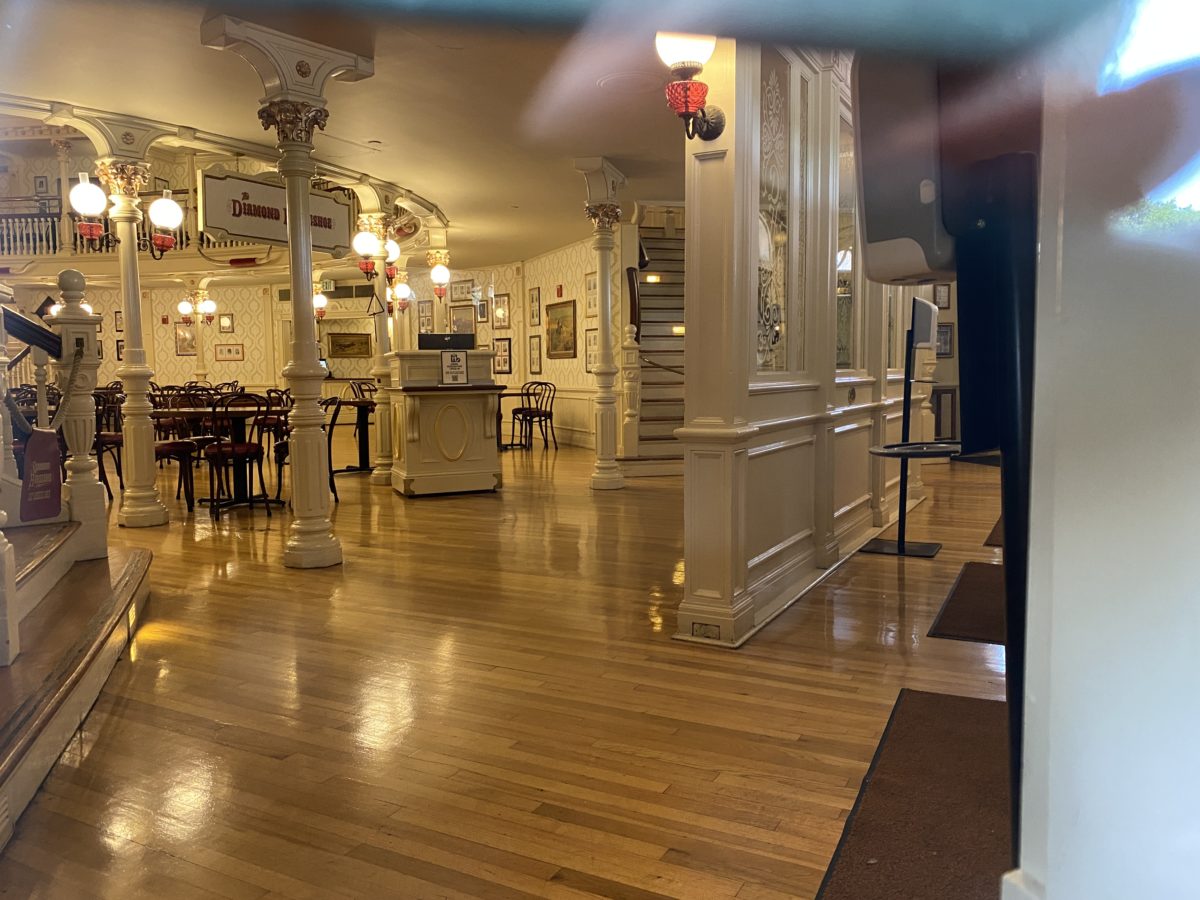 We were able to peek in the window and could see that a hand sanitizer station has been placed by the door, and that the tables appear to be spread out in the dining area. There is also plexiglass installed on the check in kiosk and a contactless check in QR code sign available for guests checking in for their reservation.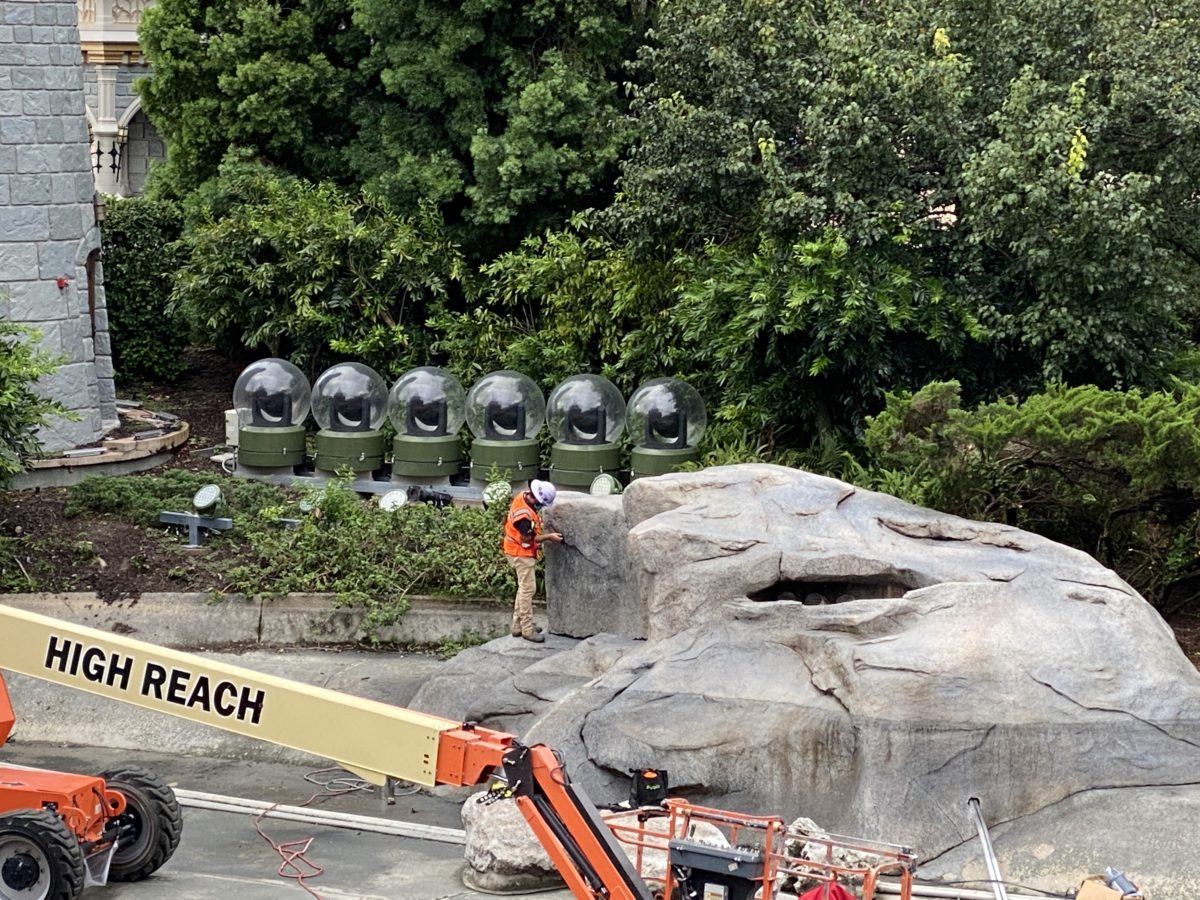 Taking a look at construction projects, over at Cinderella Castle painting work has begun on the rock work lining the moat which surrounds the castle. Workers could be seen using sprayers and hand brushes to touch up the paint on the rocks.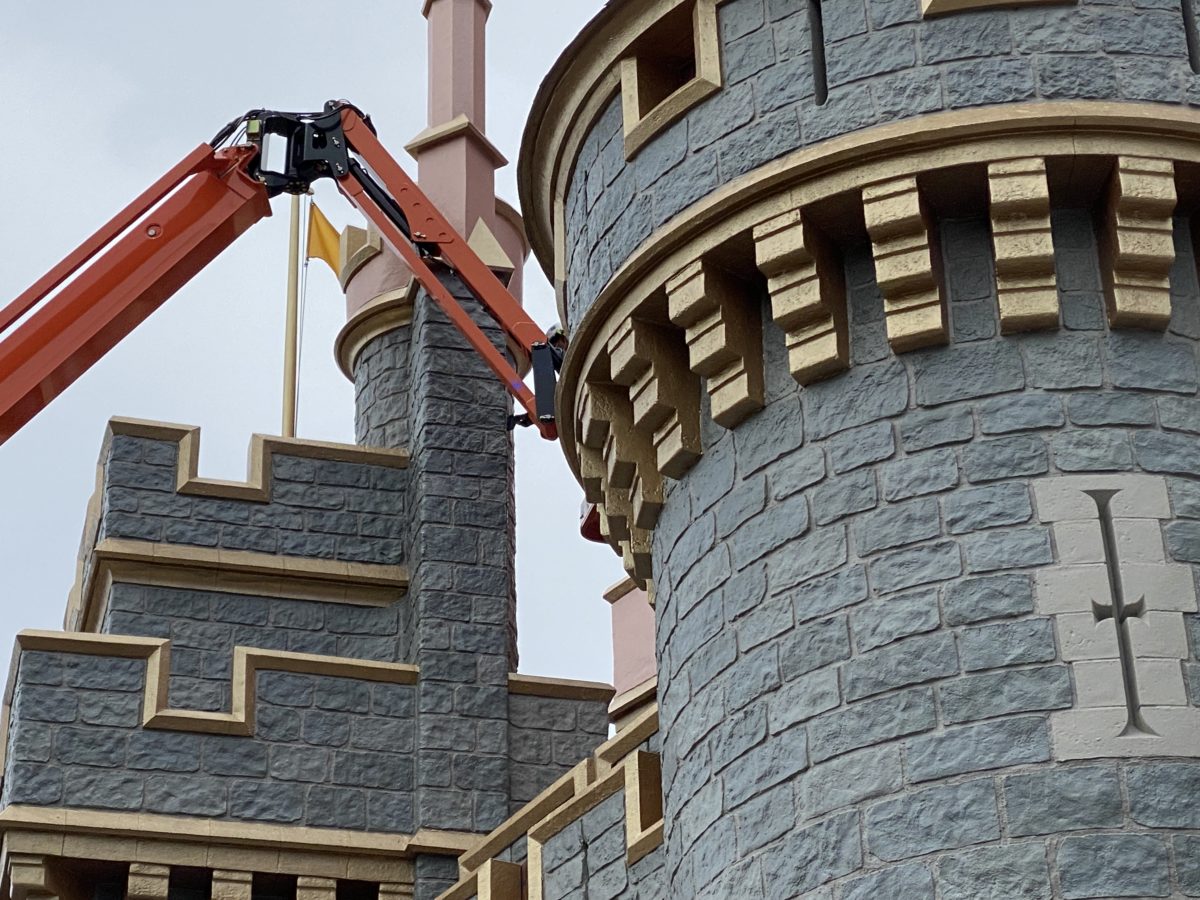 On the castle itself, a painter was applying some finishing touches to this wall face.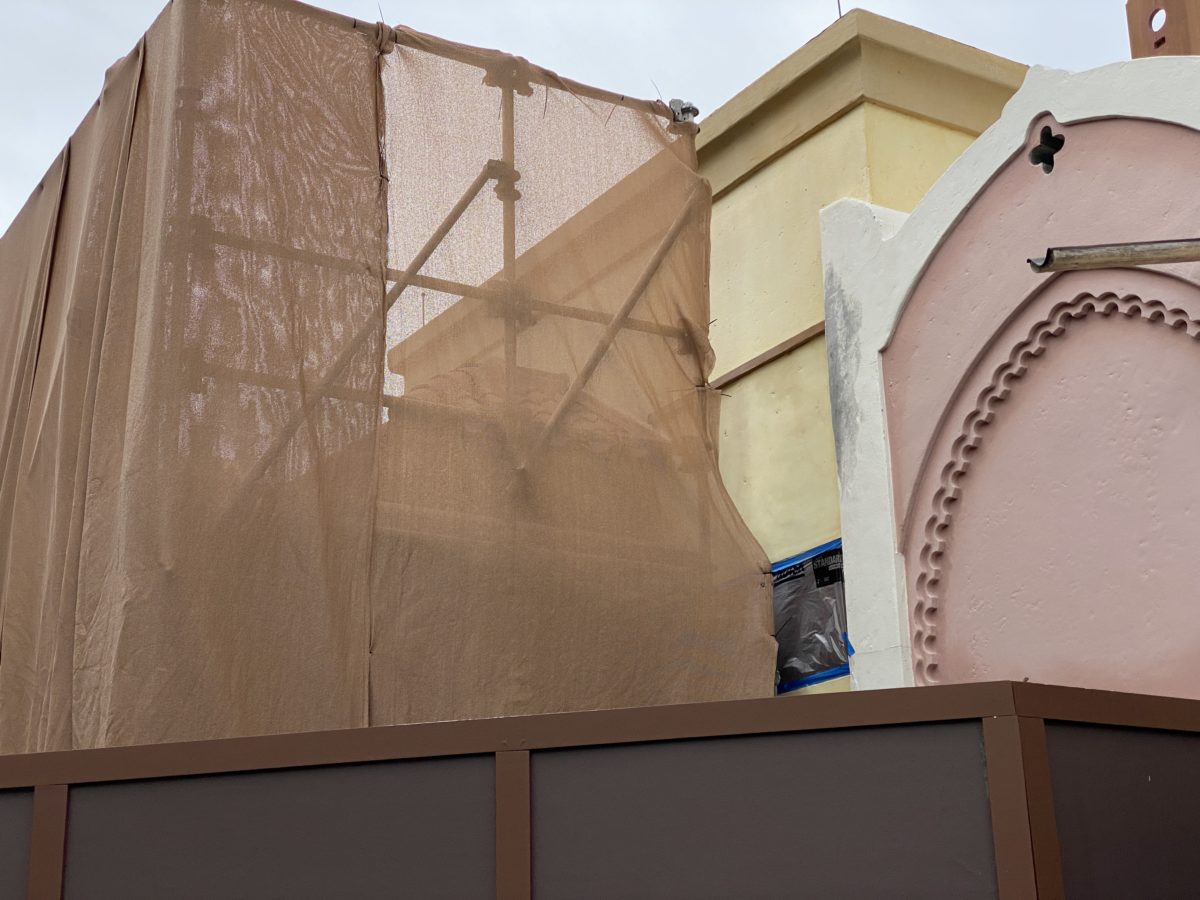 In Adventureland next to Island Supply by Sunglass Hut, this covered scaffolding which appeared shortly before the closure has finally shown some progress. The small cut out square on the lower right is new, and is covered in plastic. The light today allowed us to see through the scrim material to see that the cut out area appears to continue horizontally and is blocked from view by the scrim.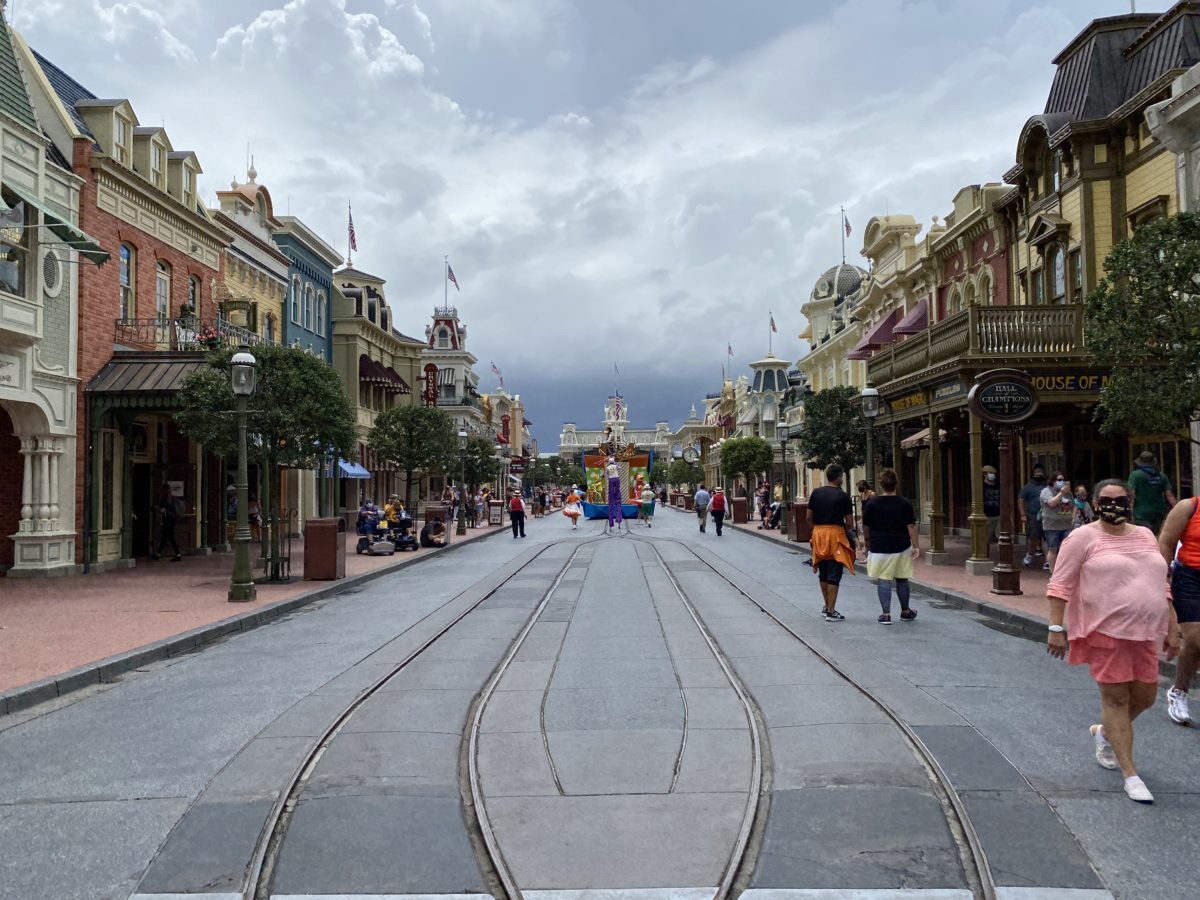 On our way out we followed Goofy's Cavalcade down Main Street, USA and were struck by how different it looks now compared to what parades used to look like in this same spot. The circumstances are certainly different, but the it's still amazing to compare the two experiences.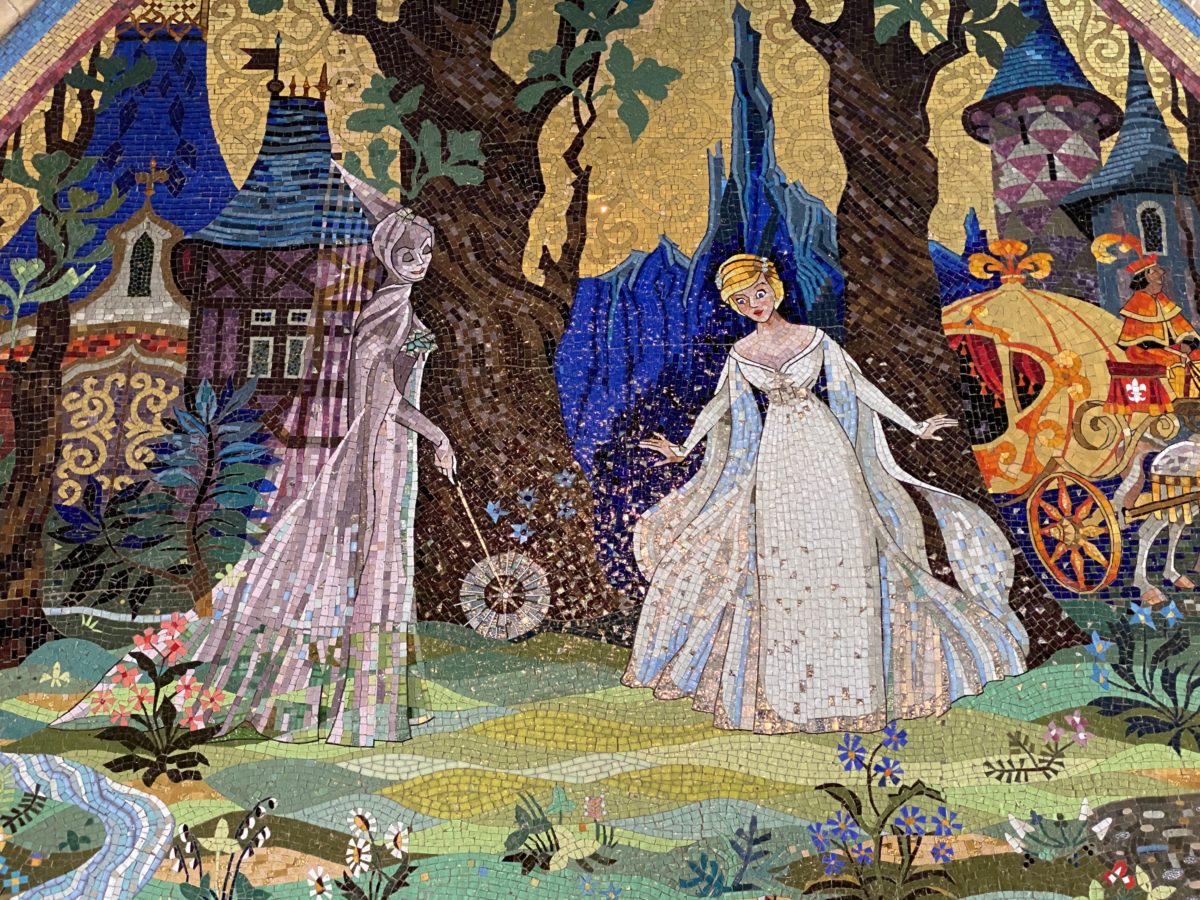 We had a great time at the Magic Kingdom today, we hope you enjoyed coming along with us. Have a magical day!