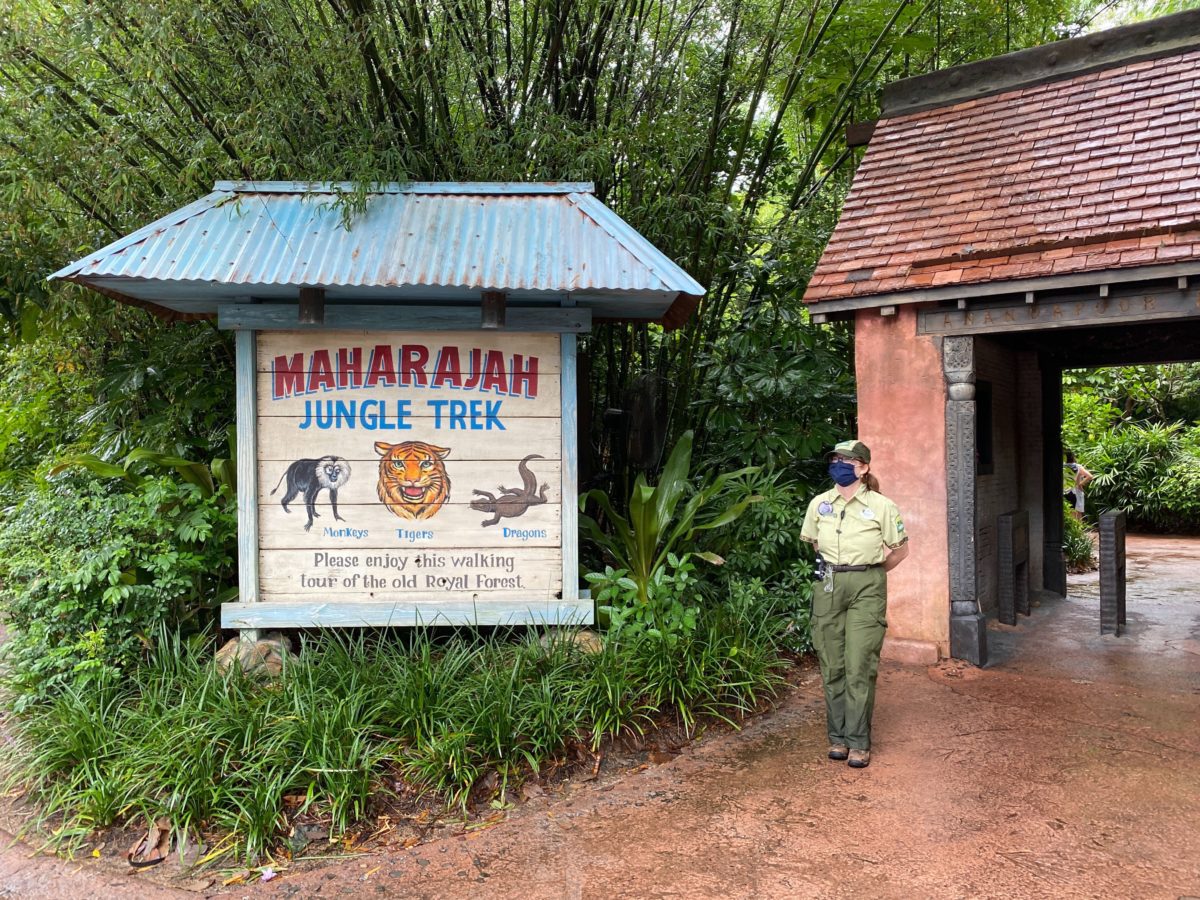 Monkeys and tigers and dragons, oh my! We are ready to visit and learn about some of our favorite animals here at Maharajah Jungle Trek! Join us for this walk-through as we discover some animals and see what changes were made to this experience at Disney's Animal Kingdom.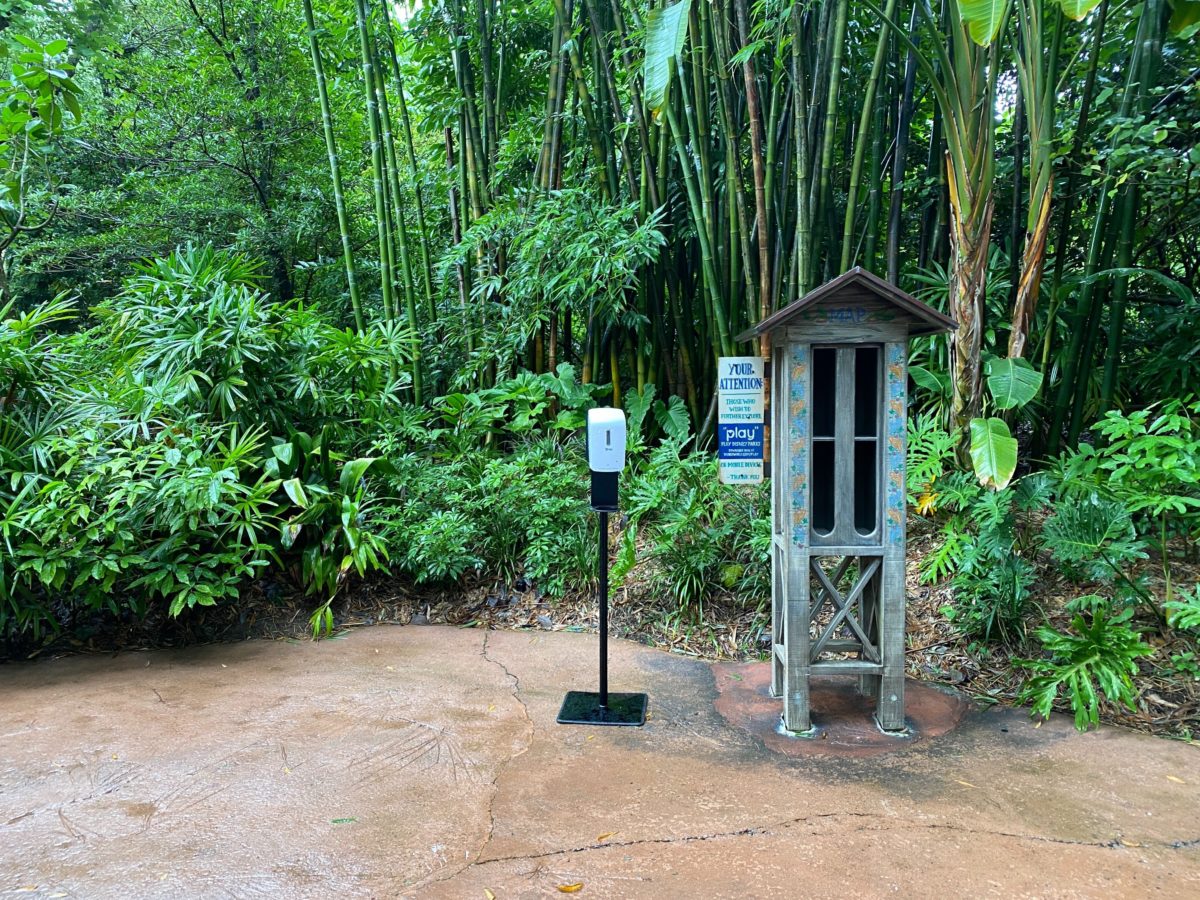 Don't forget to sanitize your hands!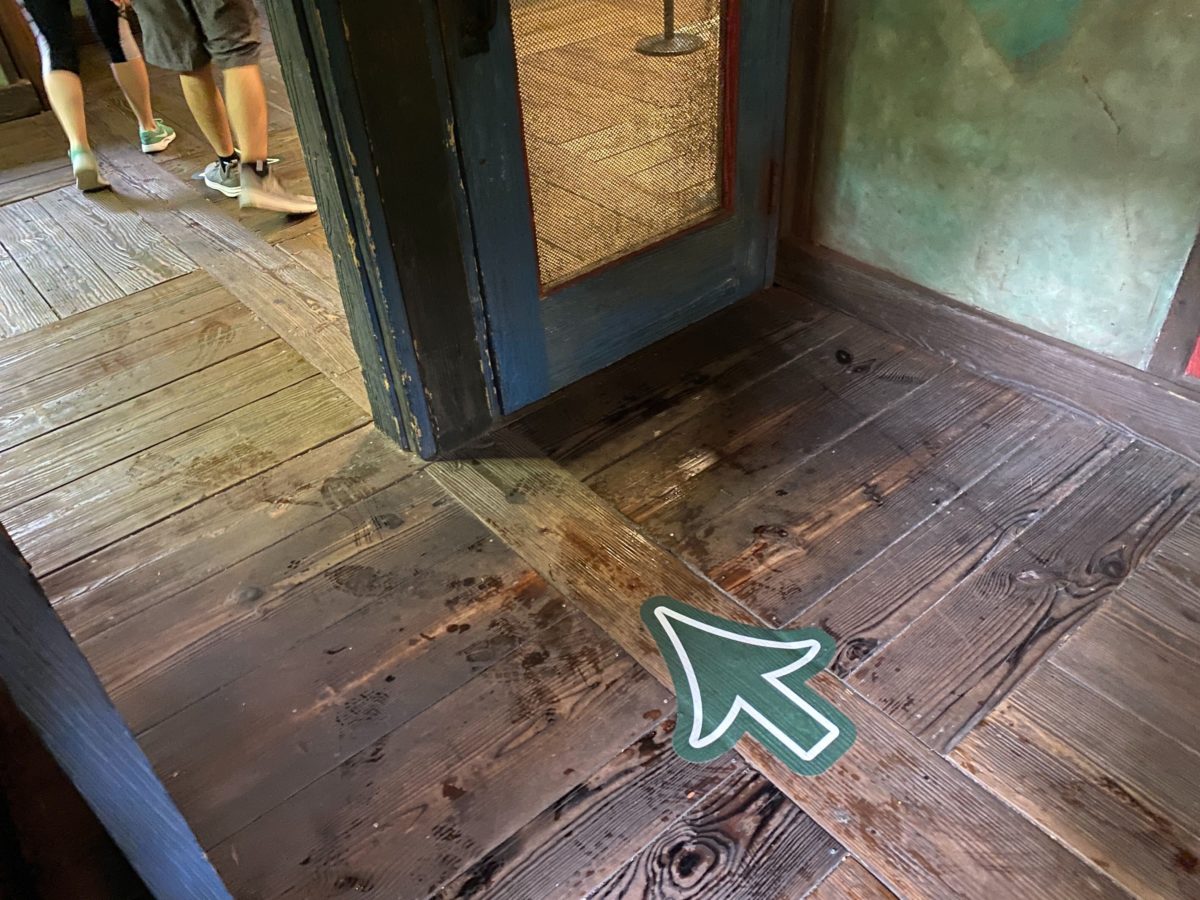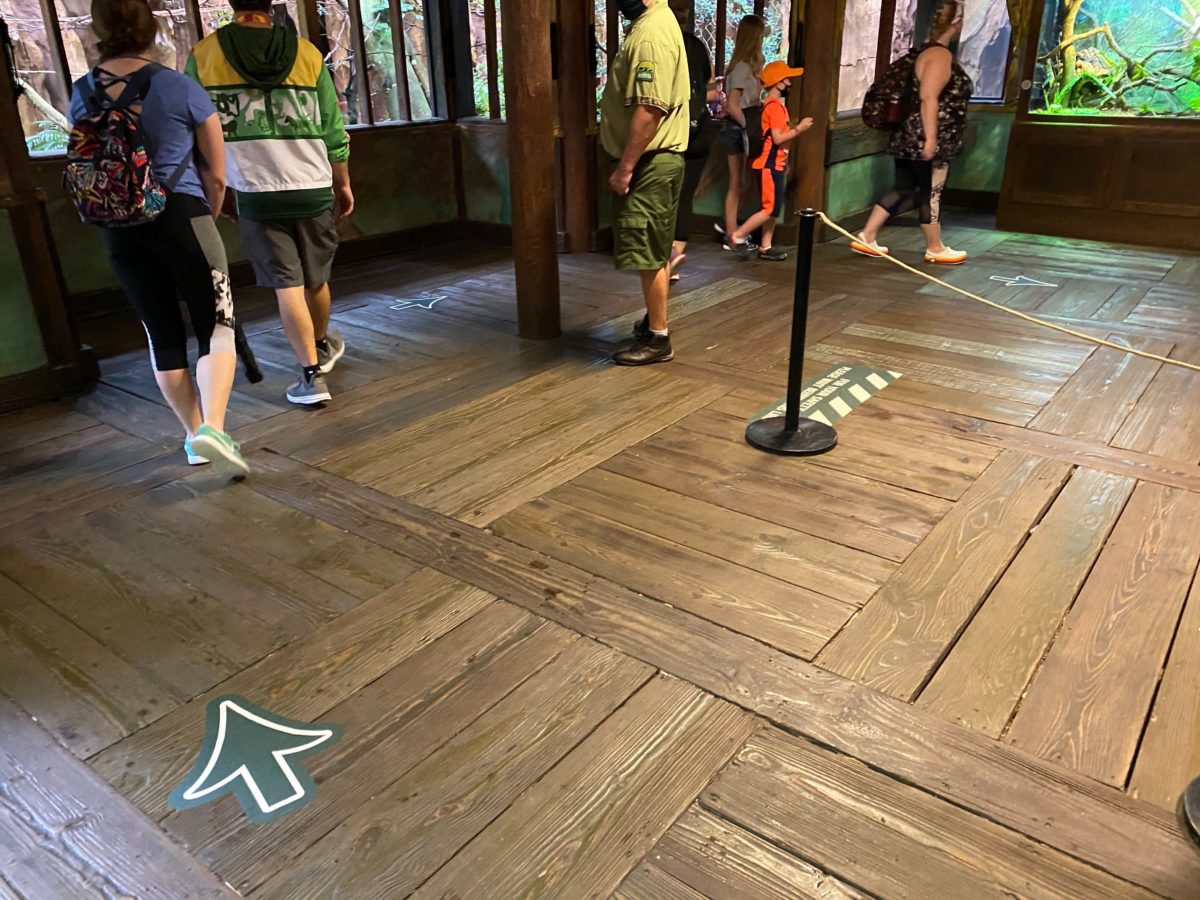 Arrows on the ground indicate to guests the direction you should follow while walking around the community hall building.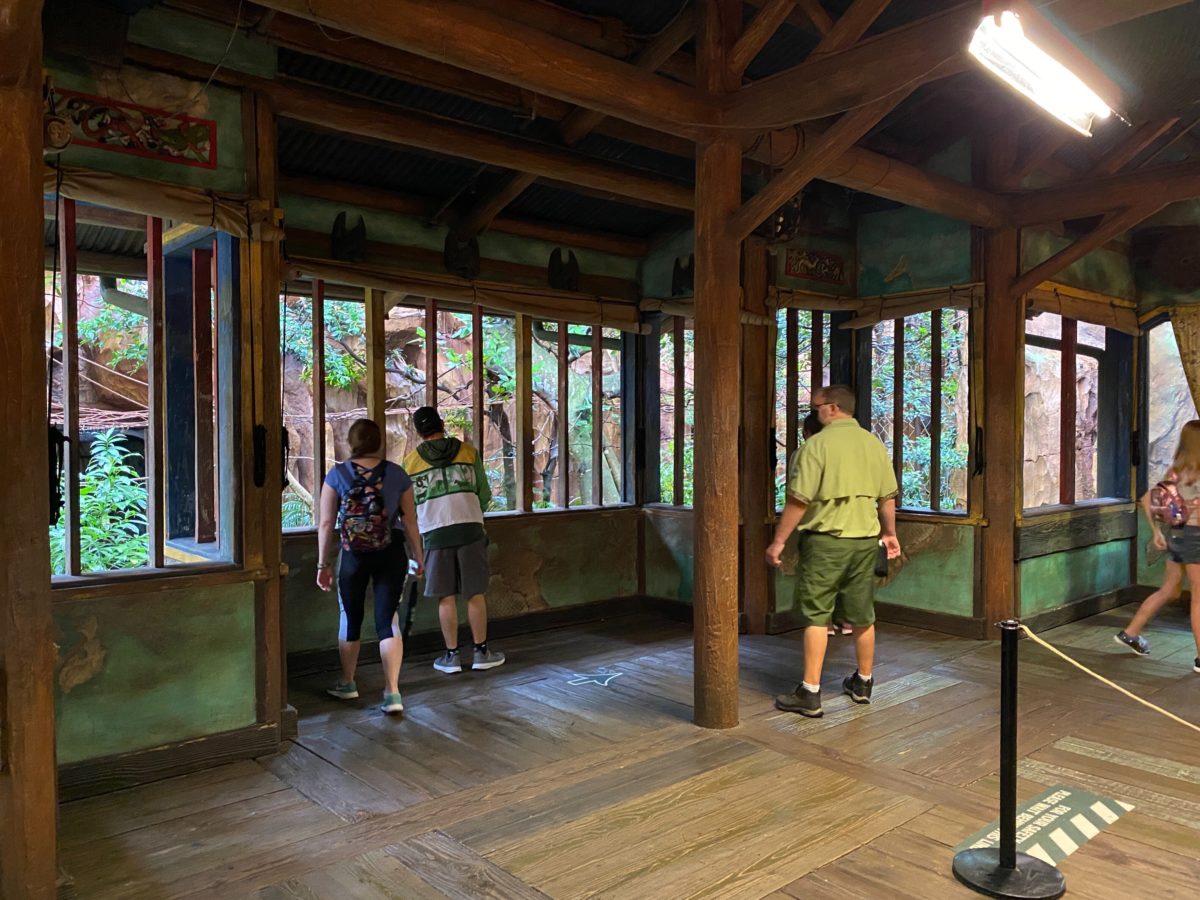 A guide can still be found in the community hall building. If you have any questions about their fruit bats, they will be happy to tell you! You may also notice to the right there are markers and a roped off line where guests can learn more about bats from a small display.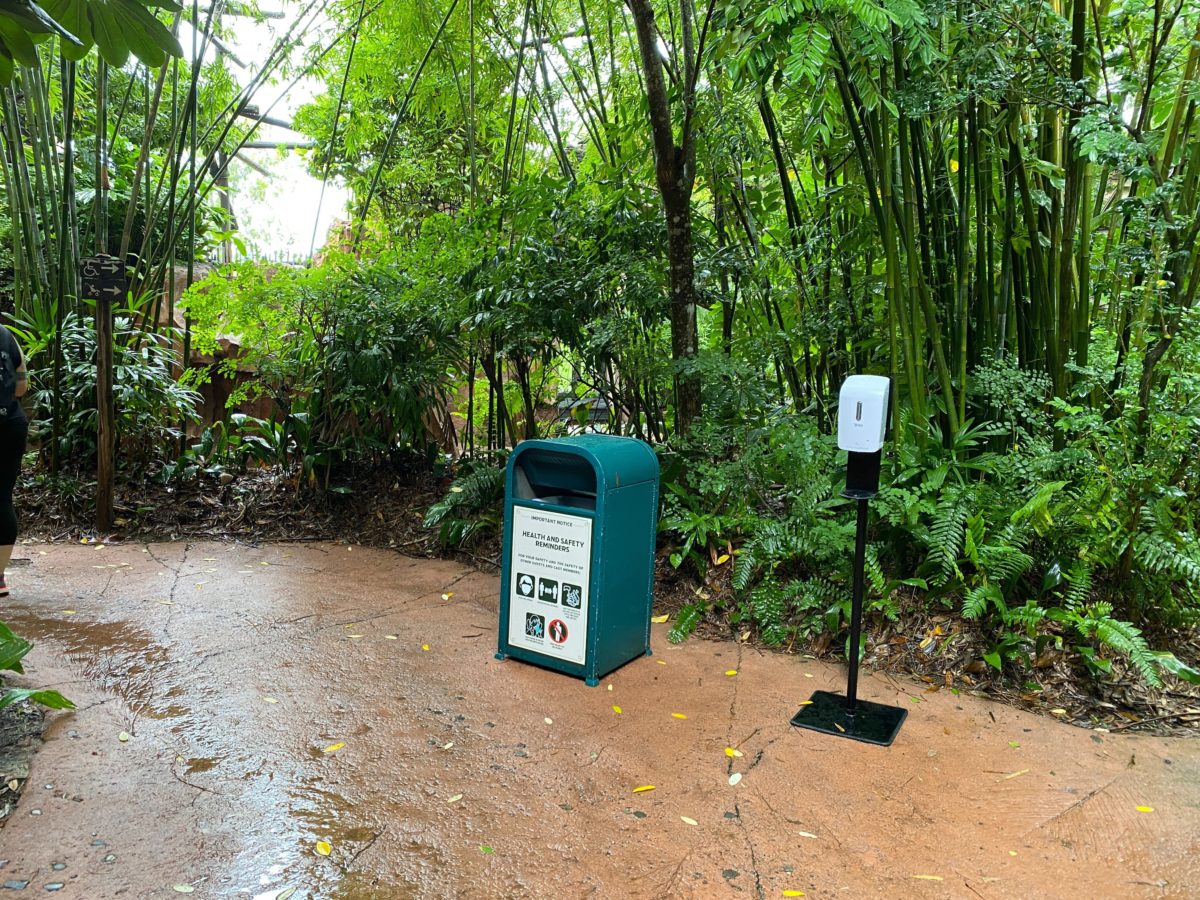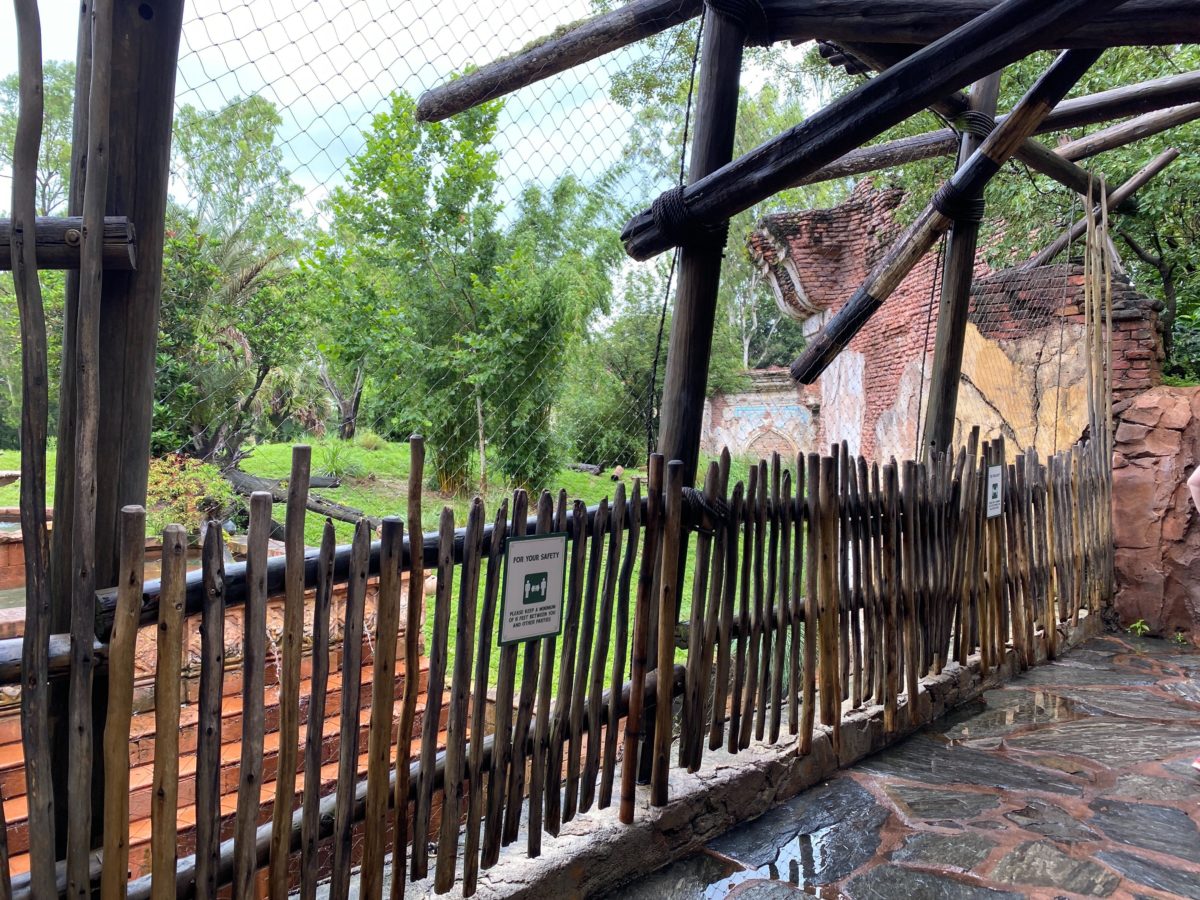 Maybe we'll be able to catch a glimpse of a tiger here. If not, I'm sure we'll be able to find one further down the path. Signs along the fence remind guests of the safety rules.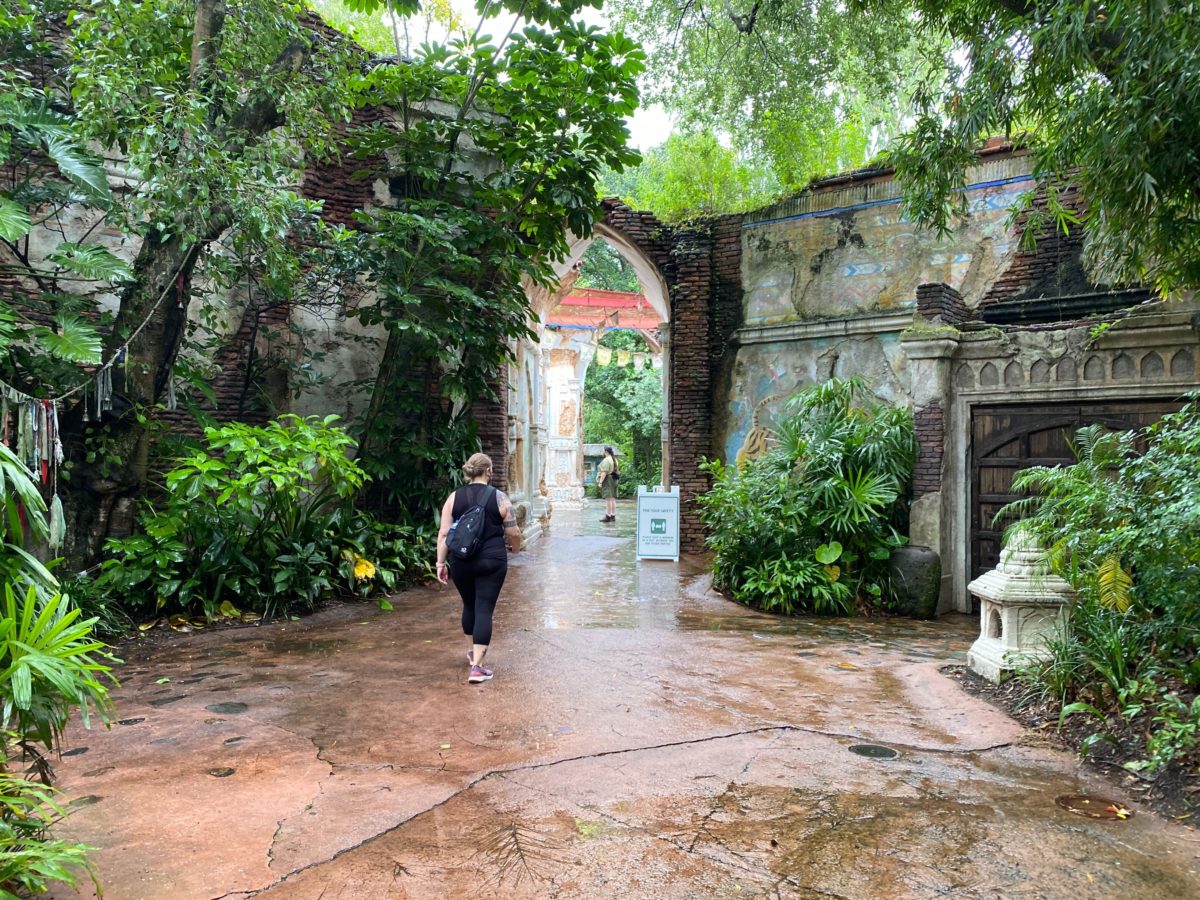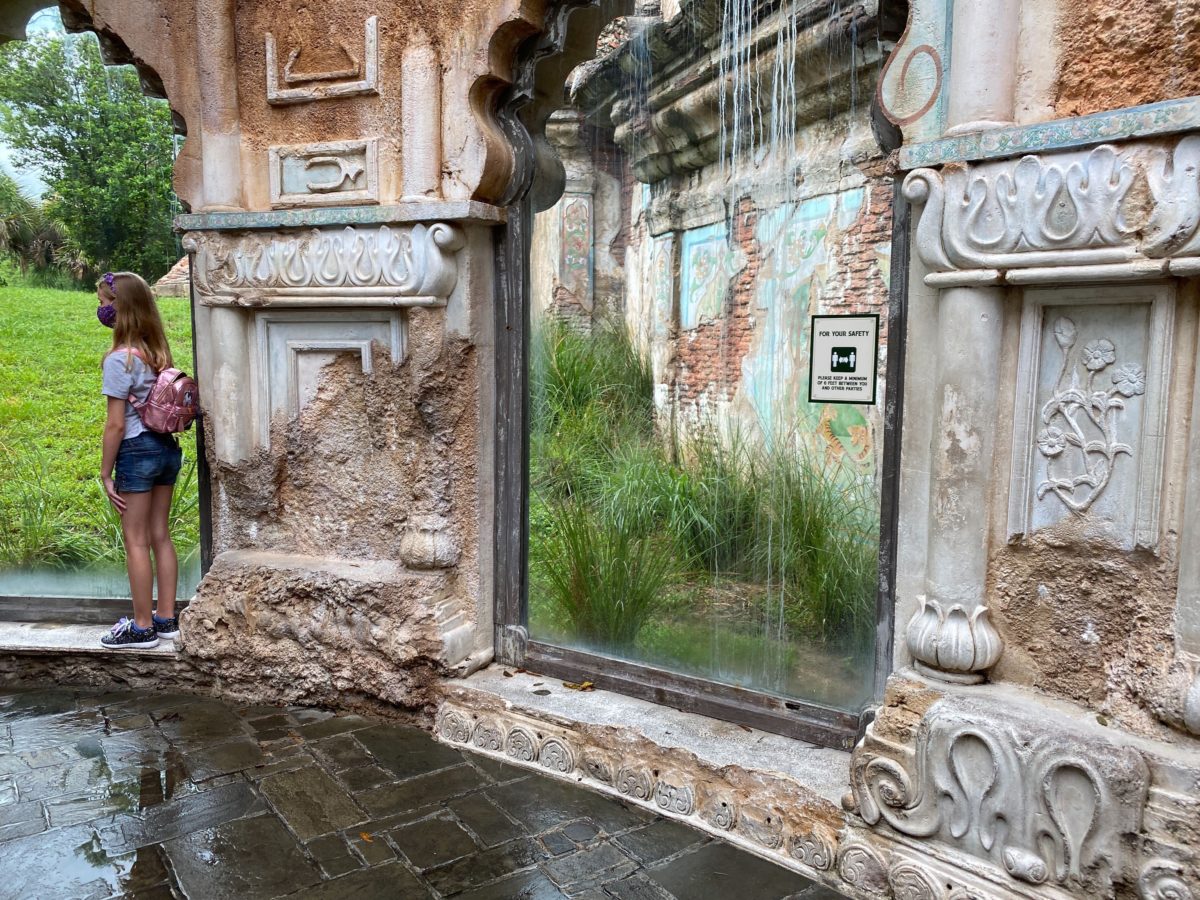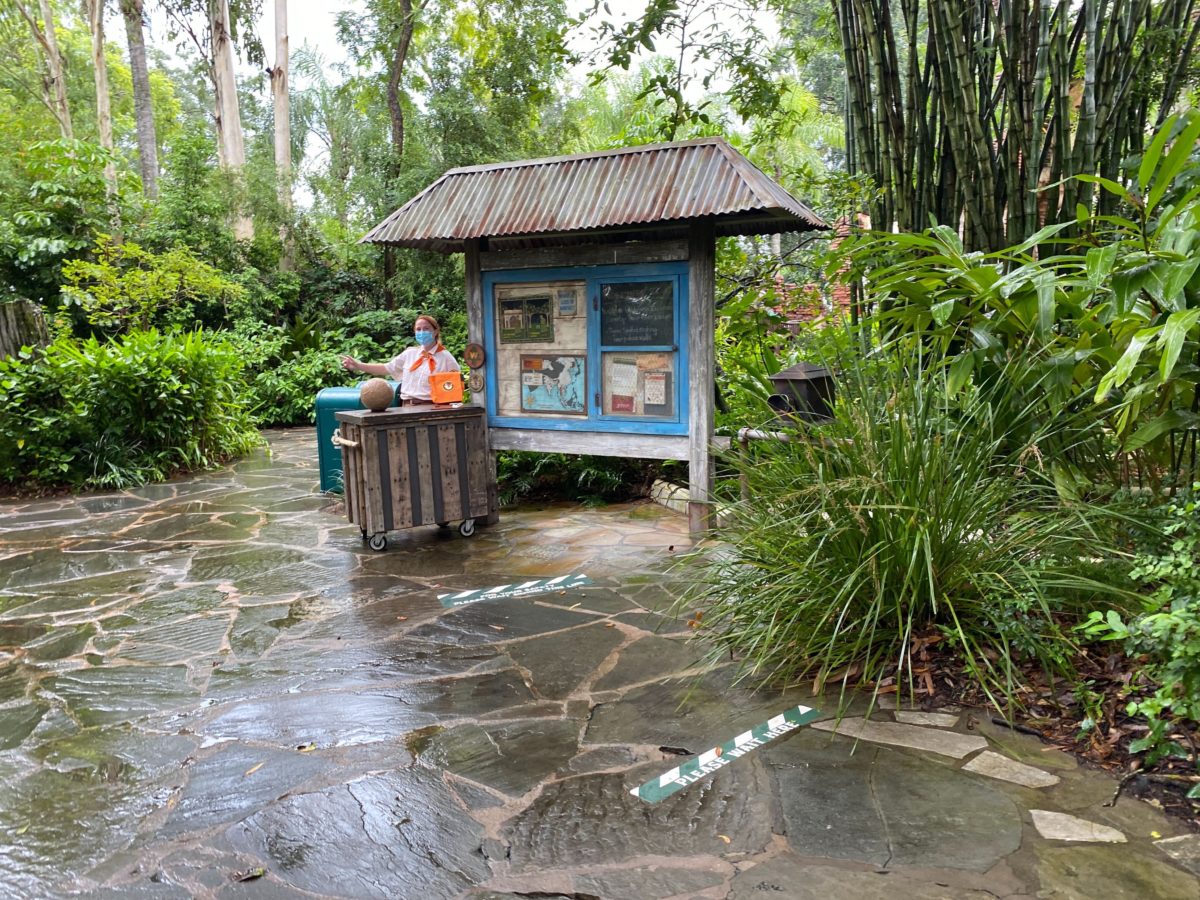 Here you can receive one of your Wilderness Explorer's badges! We reported on the new modifications to Wilderness Explorer's just this morning.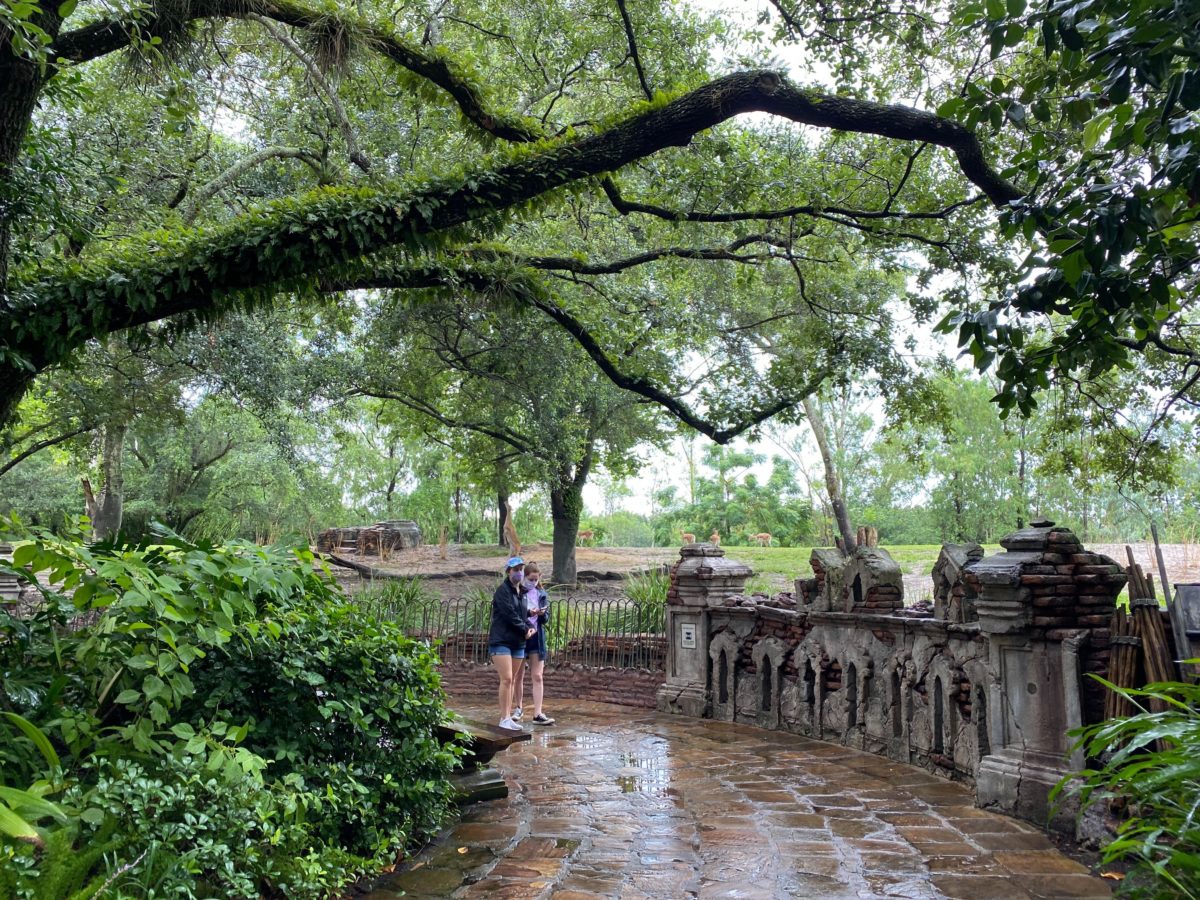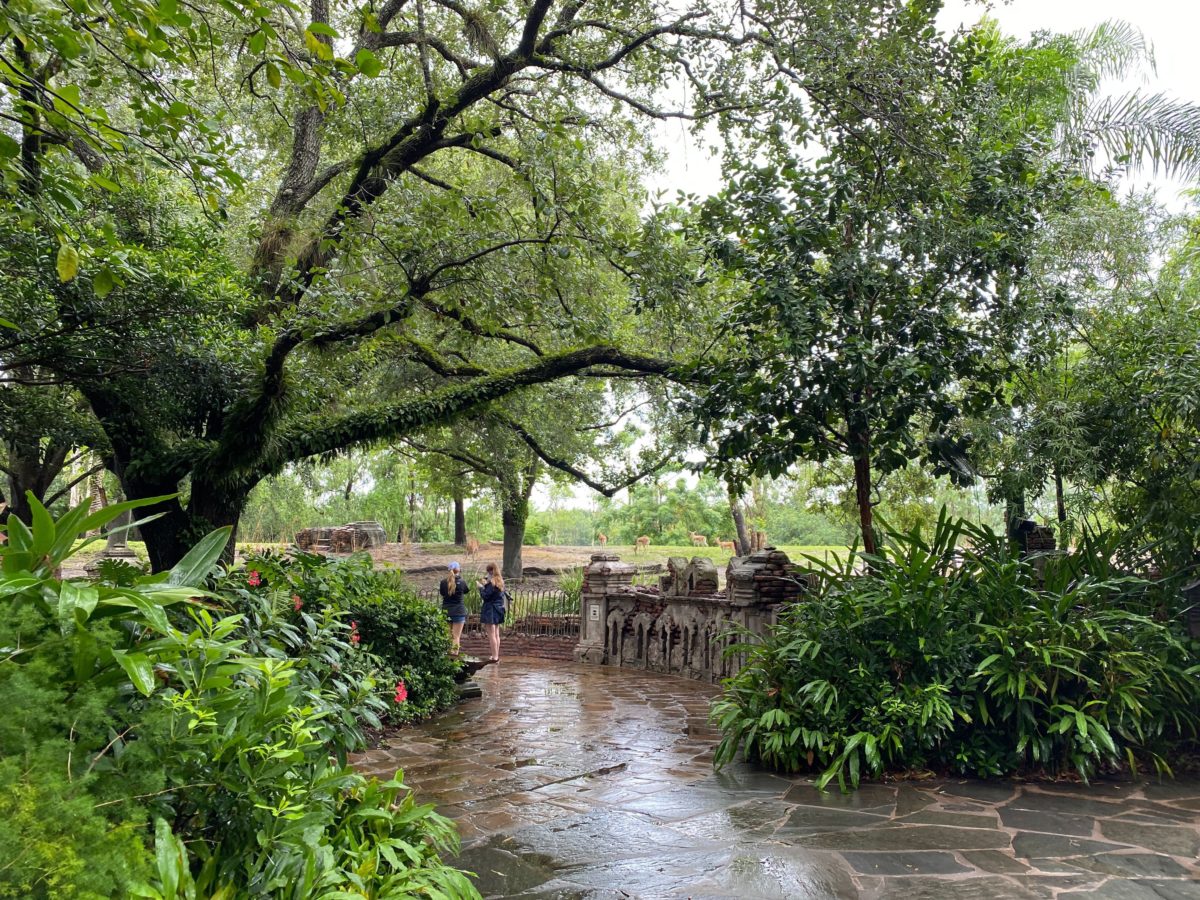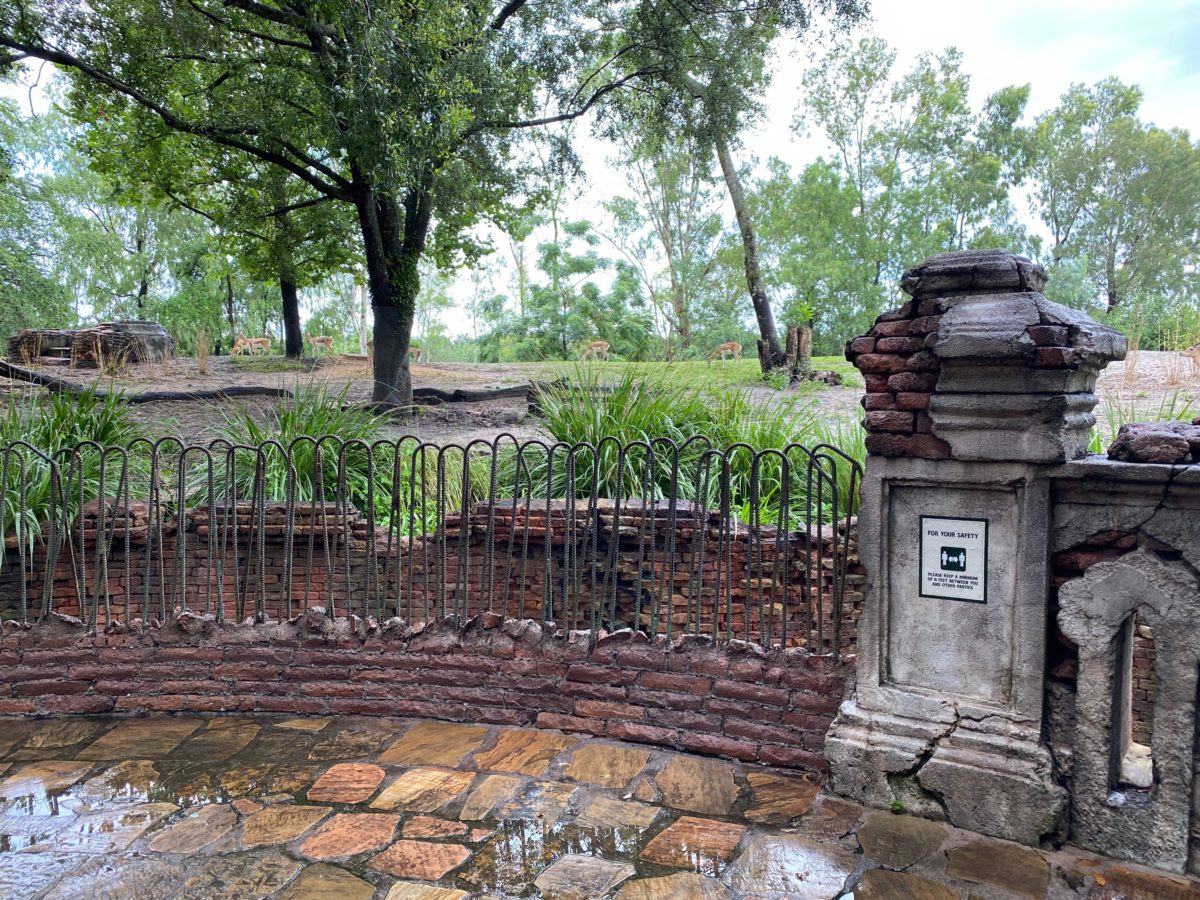 We spotted a group of these endangered ungulates while walking around. Ungulates are animals that walk on their toes and include the Eld's deer and blackbucks that can be seen in Anandapur.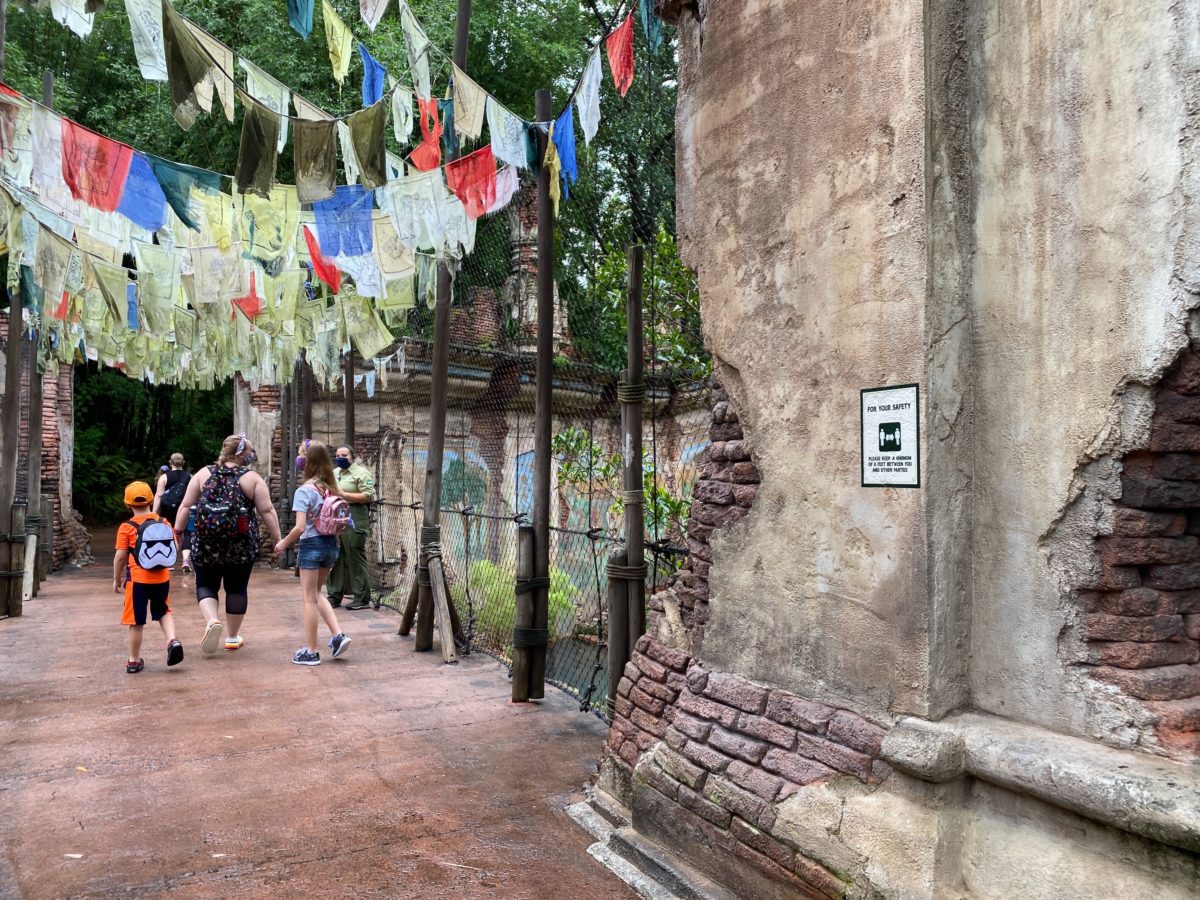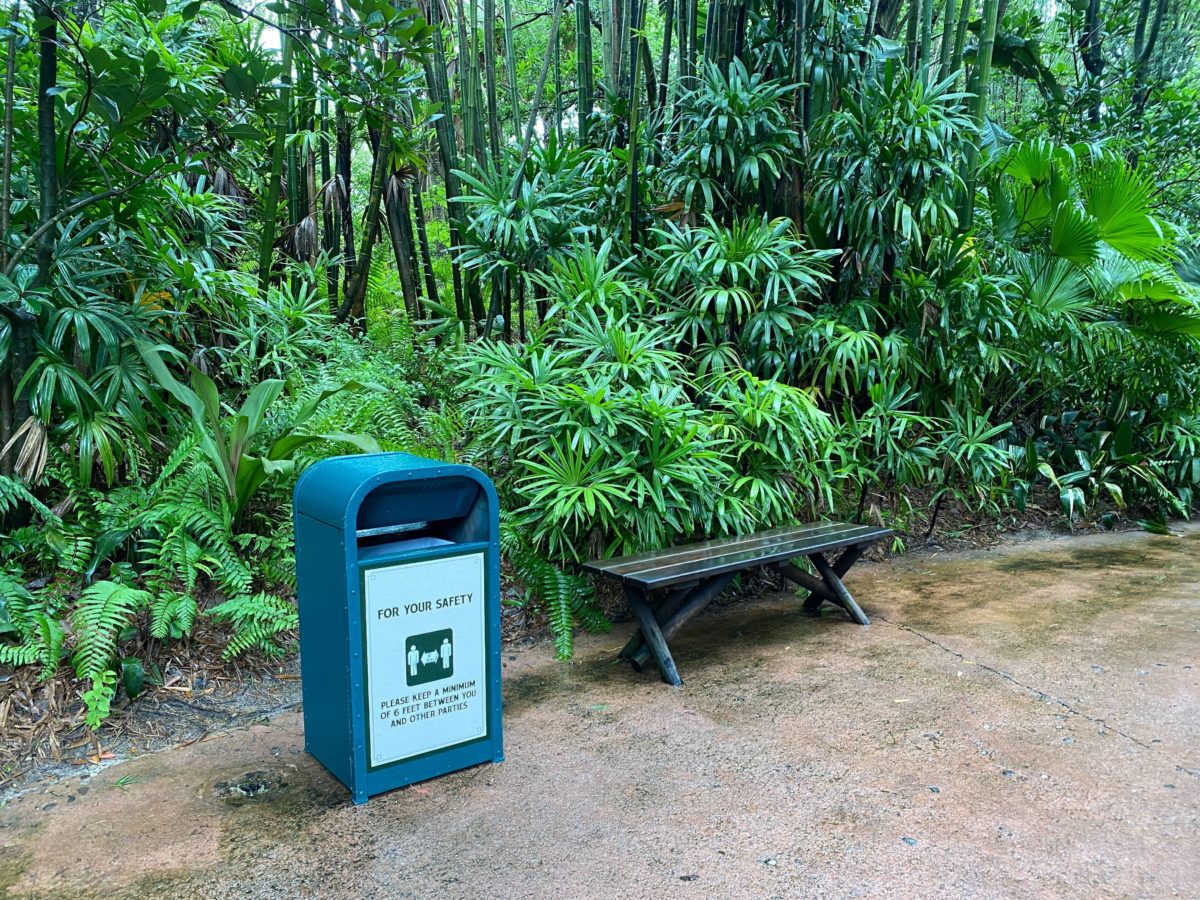 More reminders to stay fix feet away from the parties around you as you enjoy your trek.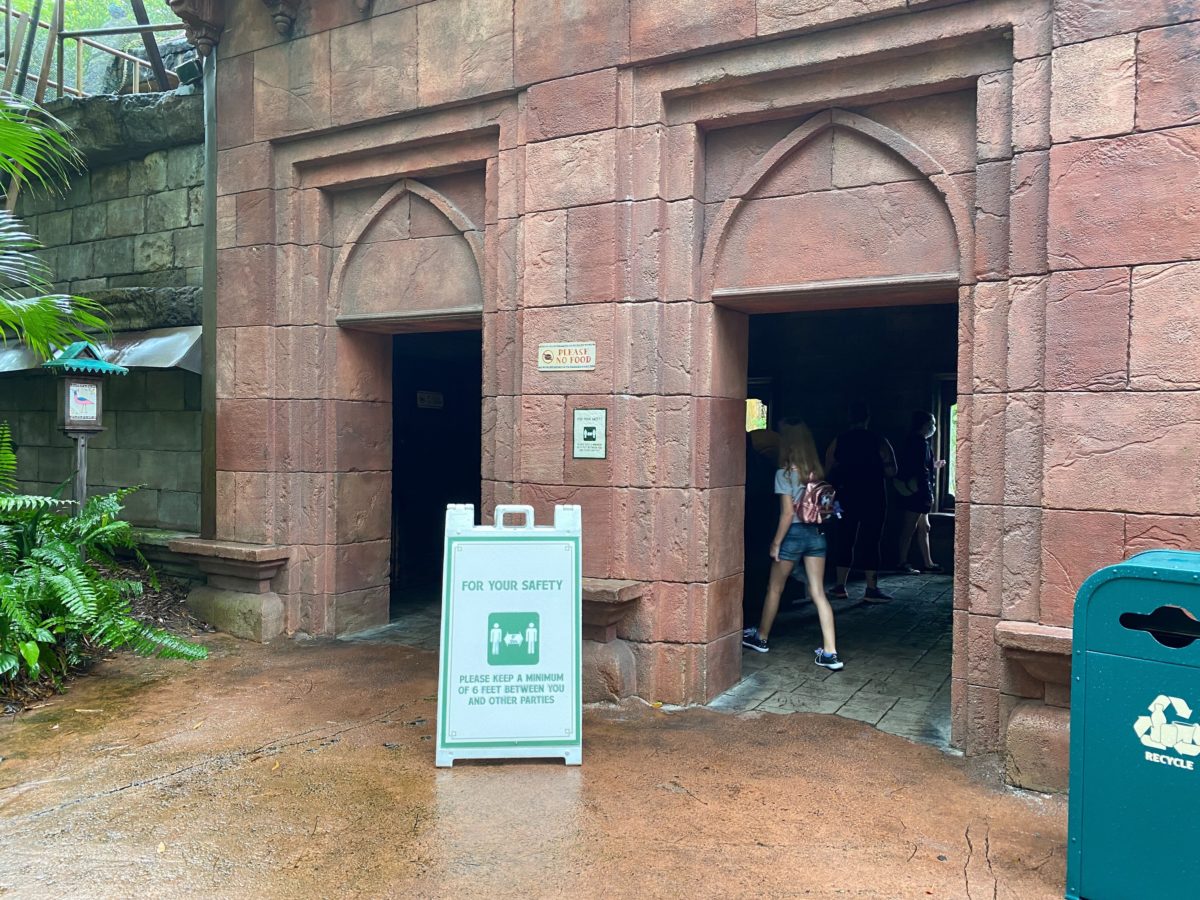 A sign reminds guests to maintain a minimum of fix feet between you and other parties while inside the temple ruins. If you are lucky, you may be able to find some tigers sauntering about!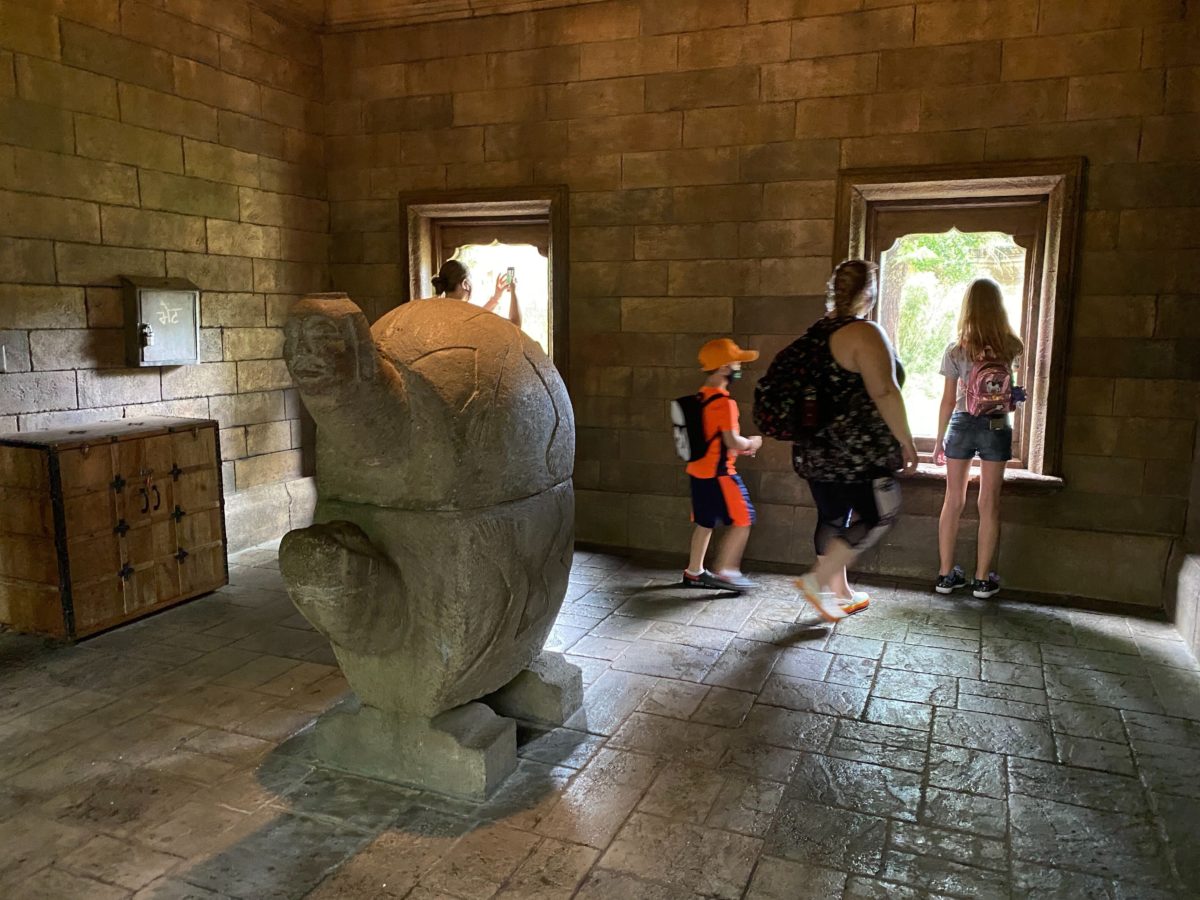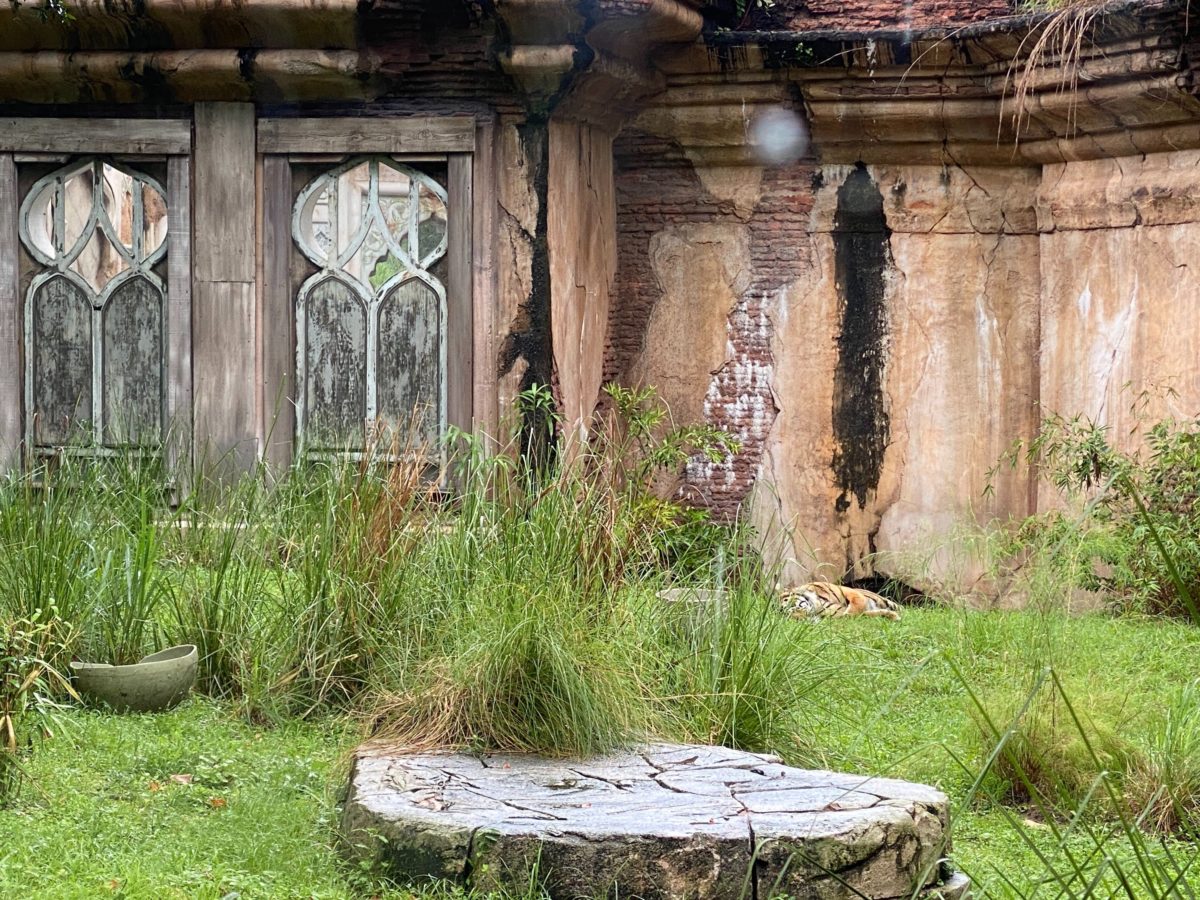 An Asian tiger takes a late morning nap. Did you know that the stripes of a tiger help it to camouflage with the tall grasses of its environment?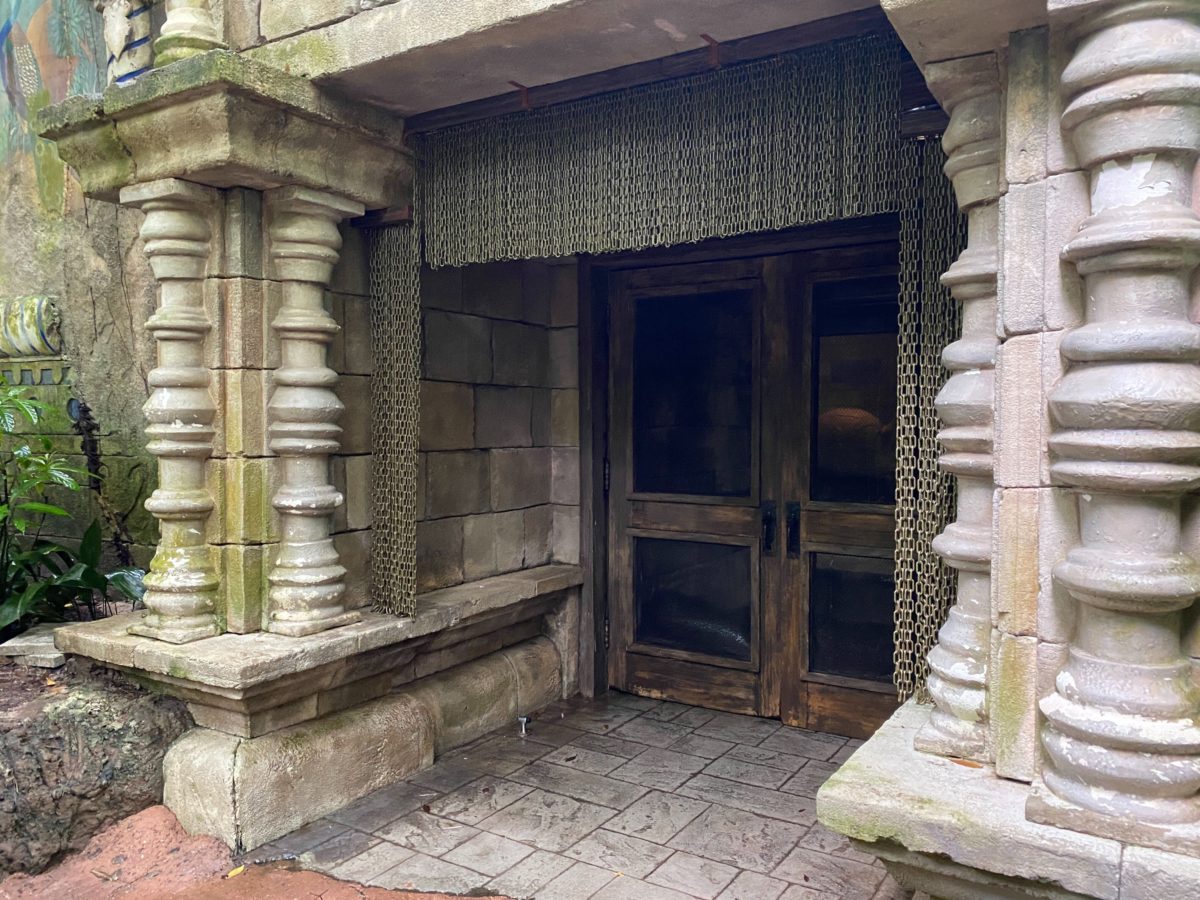 A noticeable change can be seen at the entrance to the Royal Forest aviary. Previously, there would be long chains separating you from the entry door. Now, you can only see remnants of them at the sides and from above. These chains were an additional barrier to the doors in order to safely contain the birds found here. With their removal, we no longer have to worry about these touching the heads, faces, and hands of all guests walking through.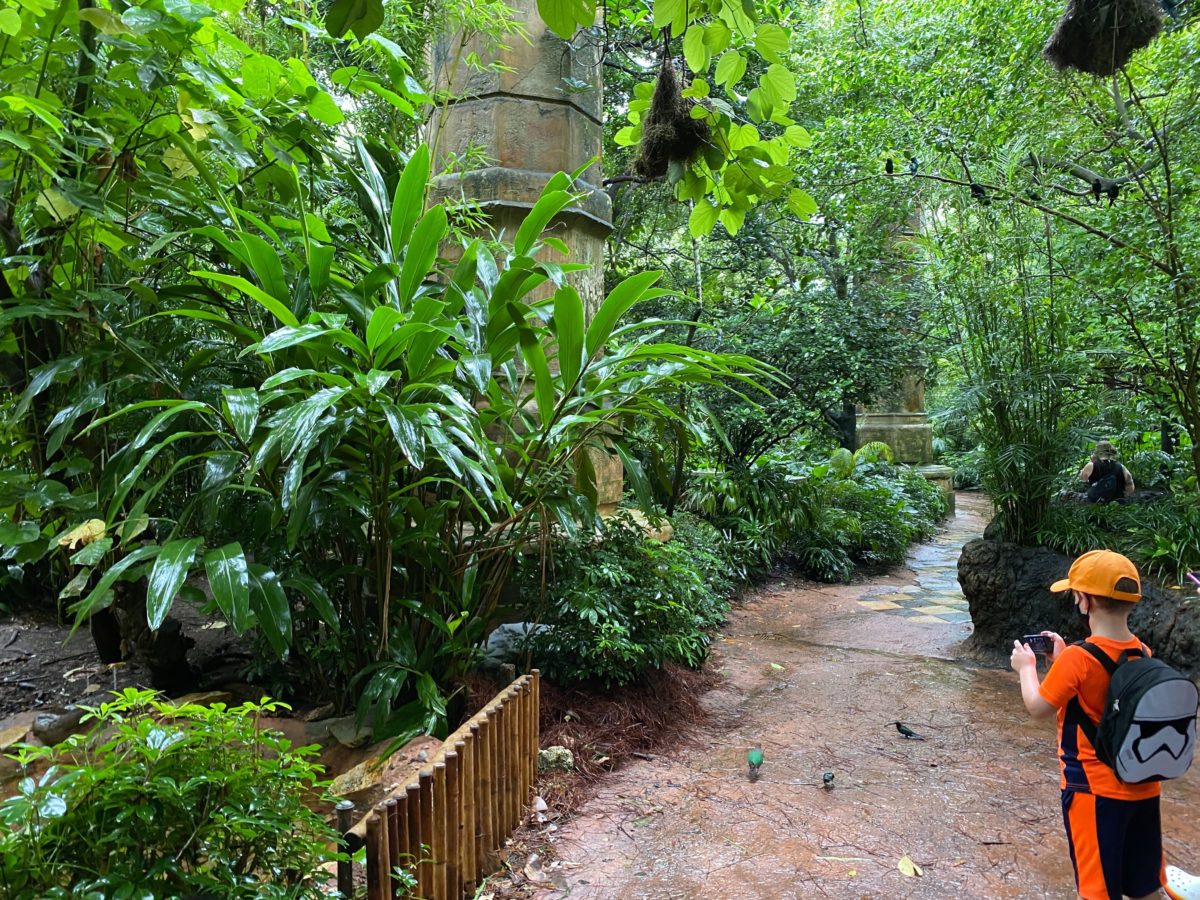 Even the birds are socially distancing from us! Take a look at some beautiful photos we took inside before the closure here.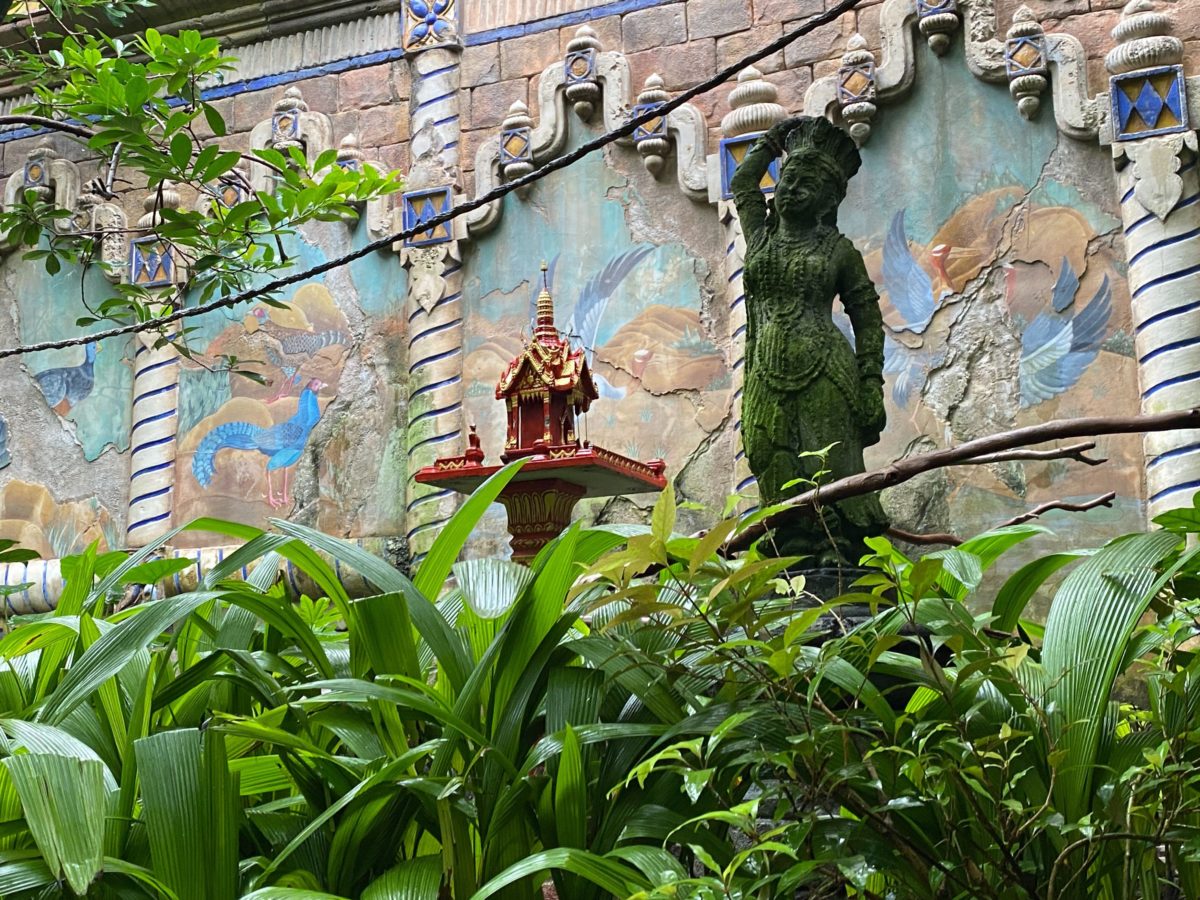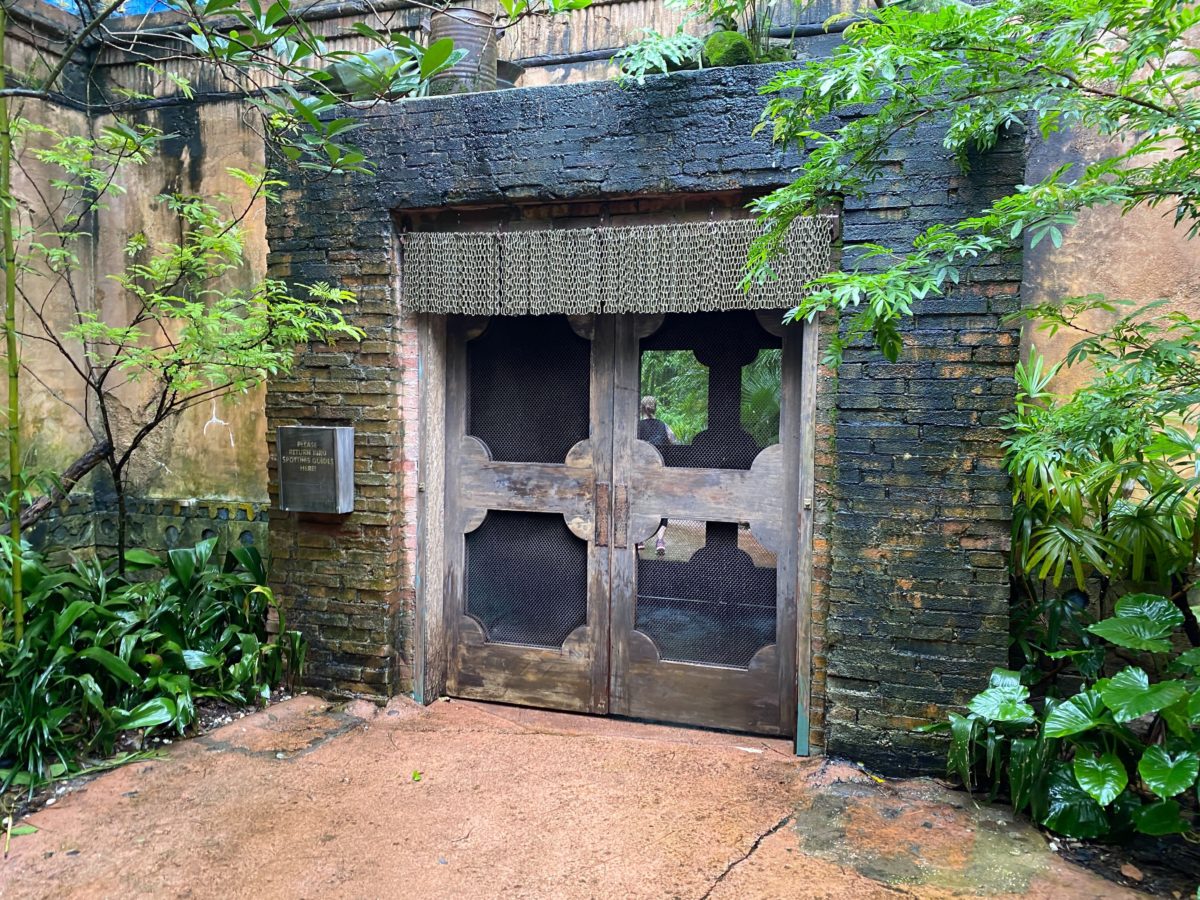 The chains have also been removed from the exit doors.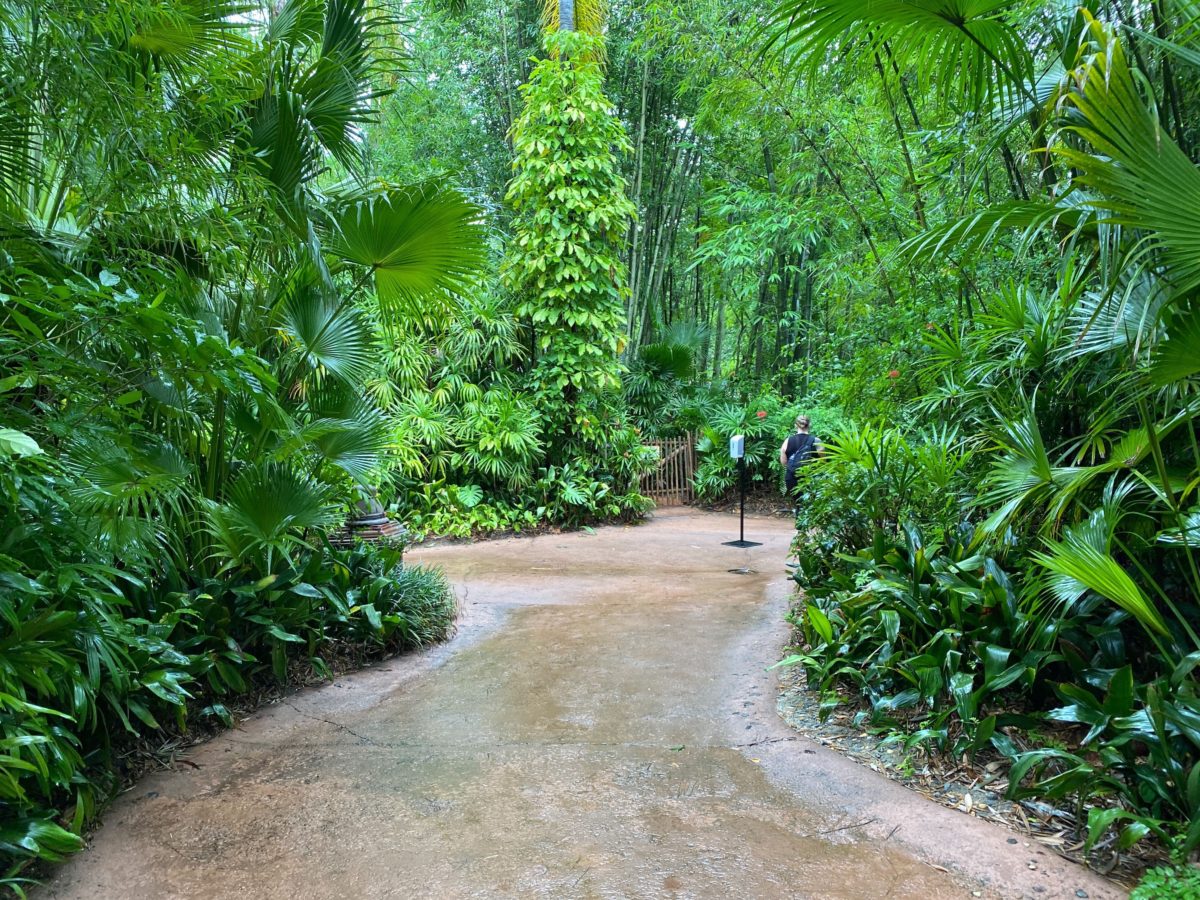 A hand sanitizer dispenser is spotted in the wild!
Aside from the addition of the hand sanitizer dispensers and floor markers, the biggest change to the Maharajah Jungle Trek is the removal of the animal spotting guides and curtains at the bird room entrance and exit. If you are unable to identify the animals throughout this walking trail without a guide then fear not! A Cast Member informed us that you will be able to view virtual guides on your phone by scanning a QR code and that functionally should be available soon.
One of our favorite things to do in Disney's Animal Kingdom is to walk around and see if we can spot as many animals as we can. A great place to do that is here at Maharajah Jungle Trek. Personally, my favorite one to spot here is the Malayan Flying Fox, which has a 6-foot wingspan! Which one is your favorite animal to see? Let us know in the comments!