A restaurant with some of the heaviest theming at Walt Disney World is the Sci-Fi Dine-In Theater Restaurant at Disney's Hollywood Studios. This special restaurant lets guests eat in stationary cars while watching some classic '50s drive-in commercials, cartoons, and sci-fi B-movies on a big screen. Pull up and park with us as we eat dinner in the theater during the Cast Member preview day.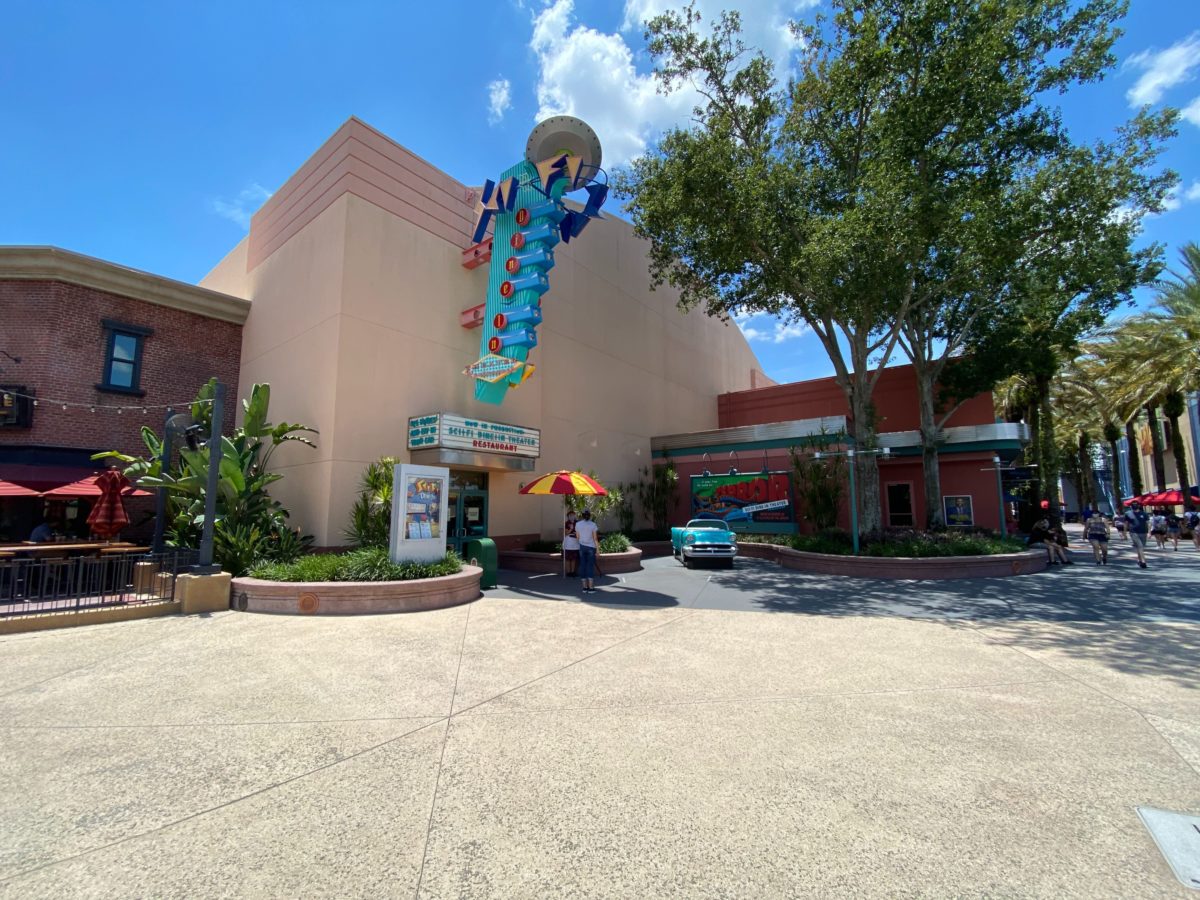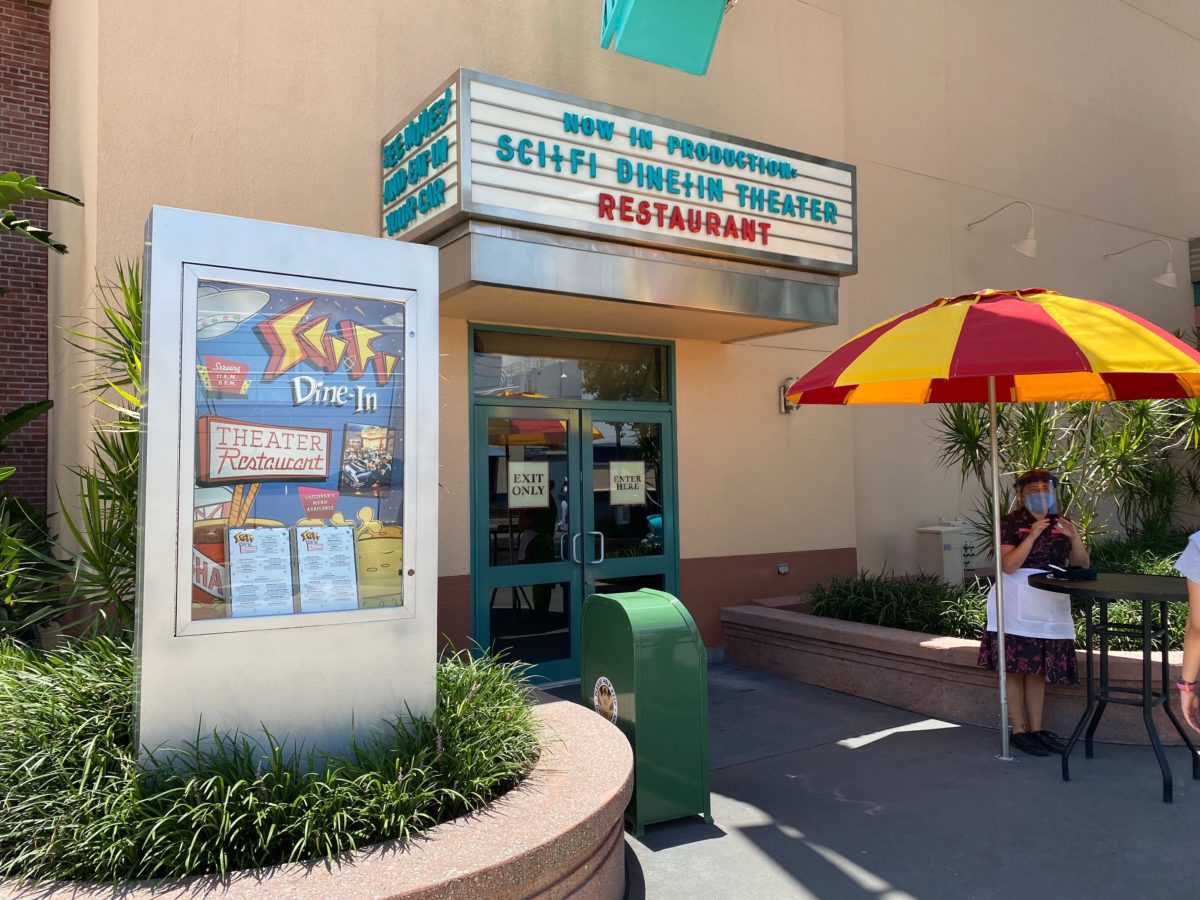 Labels on the front doors indicate if they are exit or enter only. Although given it is only one set of doors, this probably won't make much difference if multiple guests are entering and exiting at the same time.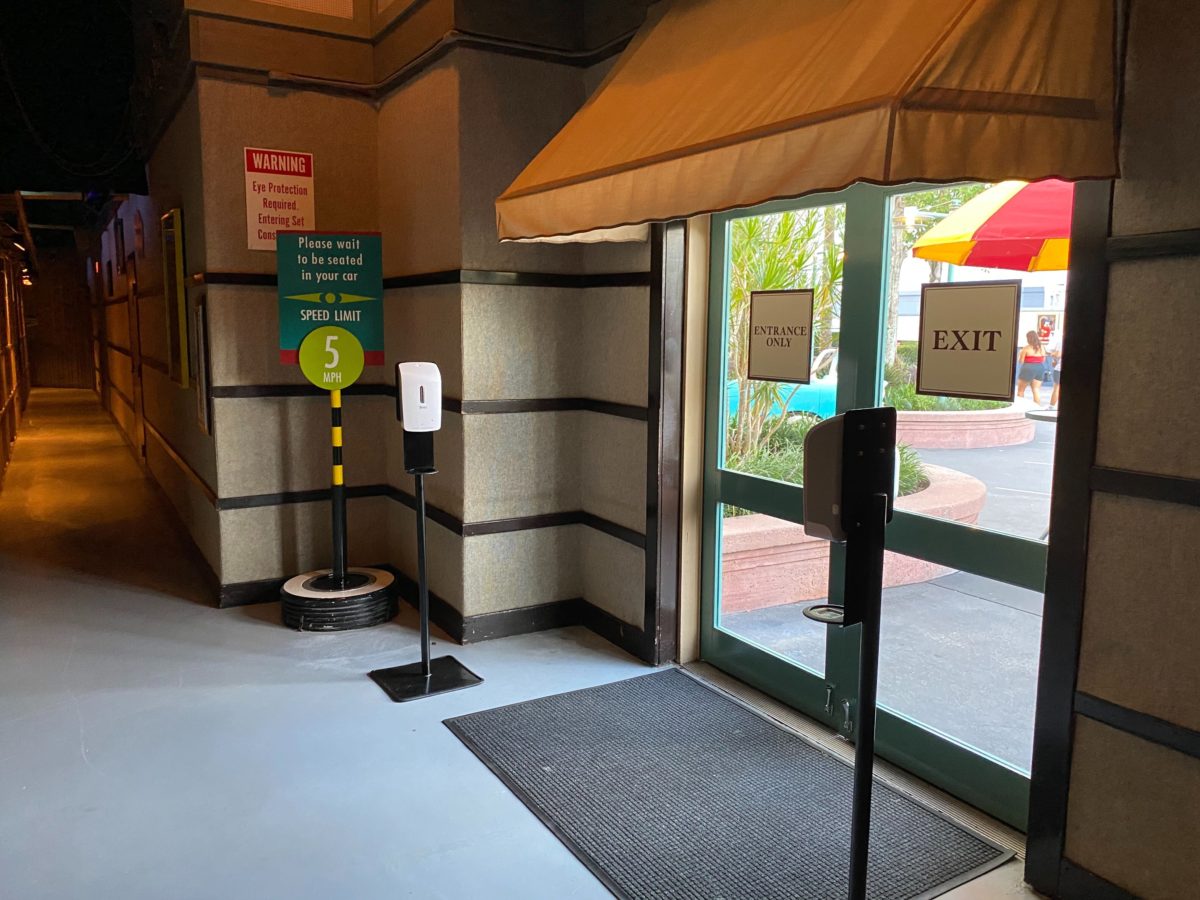 Hand sanitizer is on either side of the doors. Don't forget, the speed limit is 5 mph. Typically, a table with ice water would be available for diners to hydrate before being seated, but this has since been removed.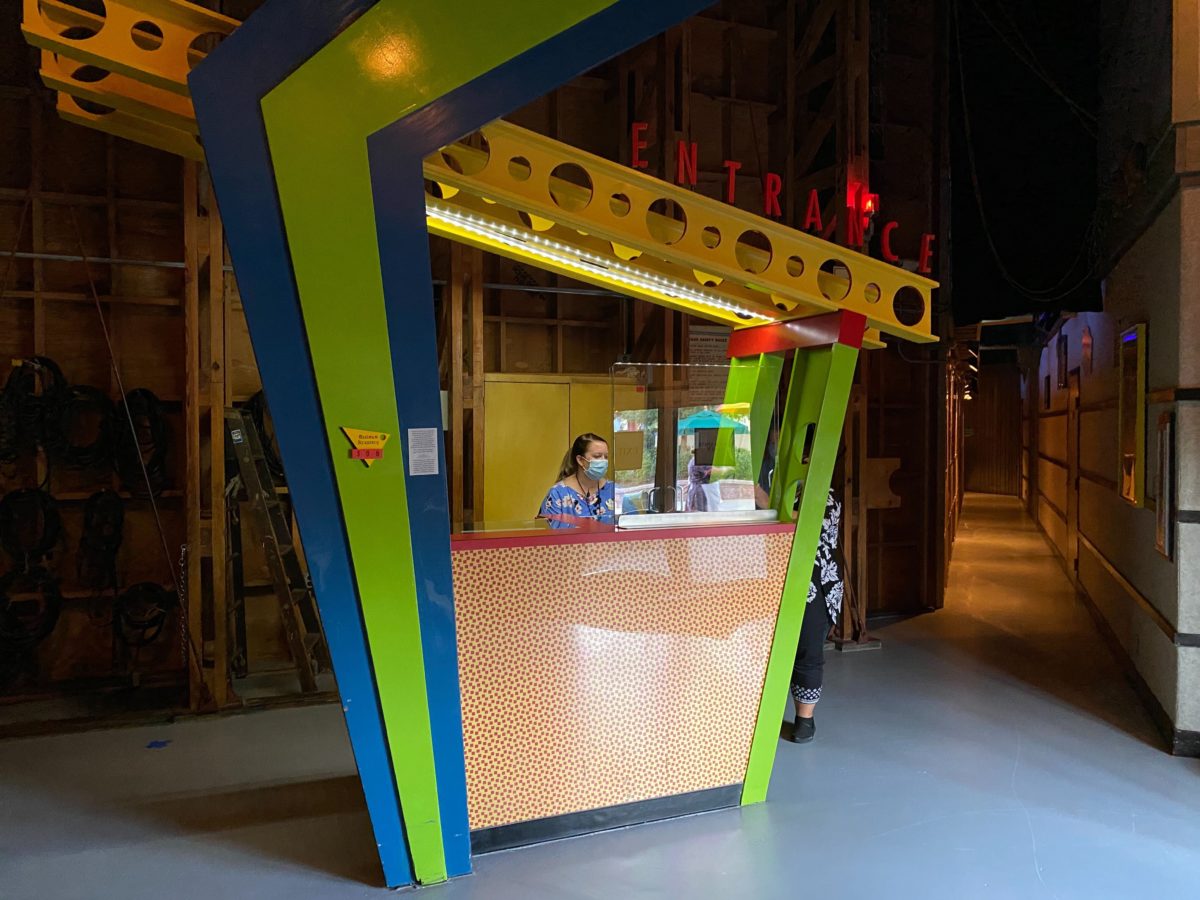 A Plexiglass window protects the Cast Members at the check-in counter.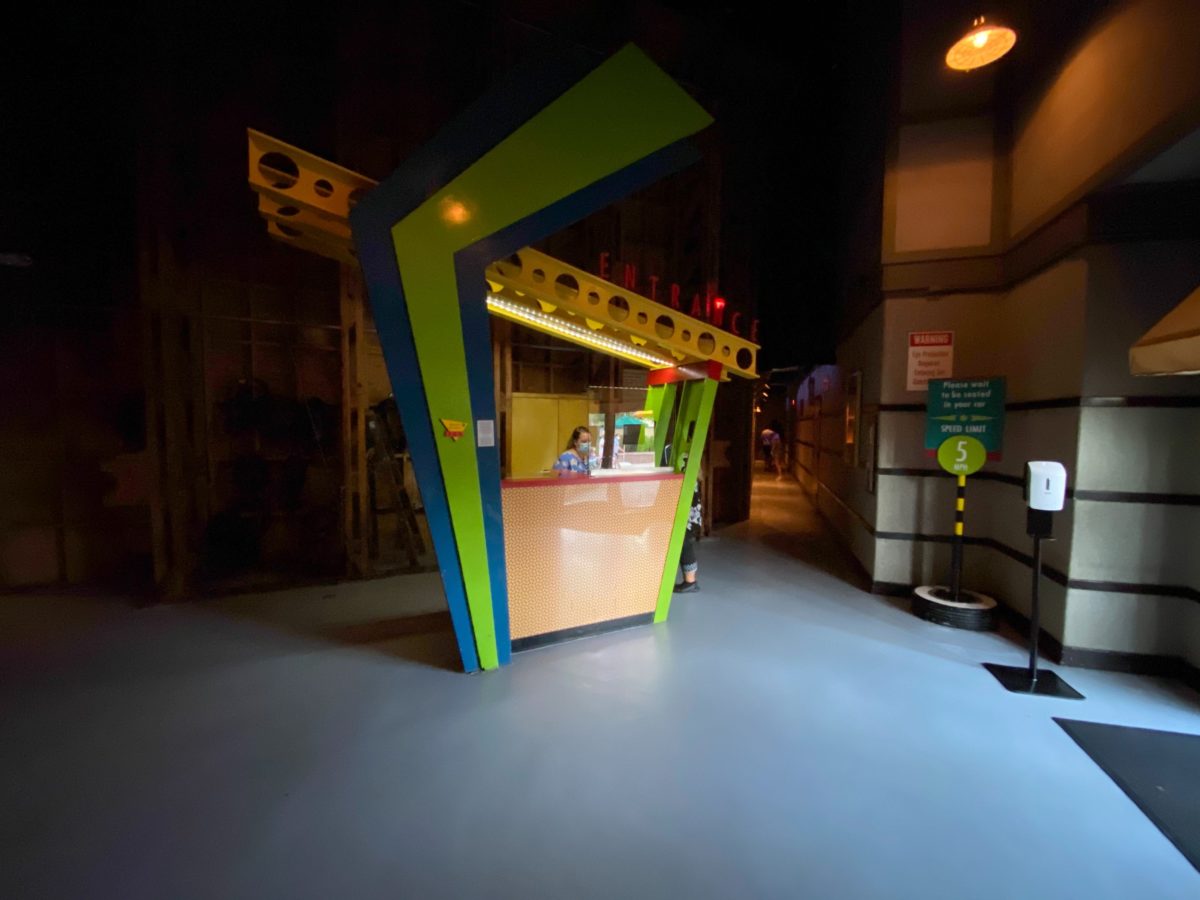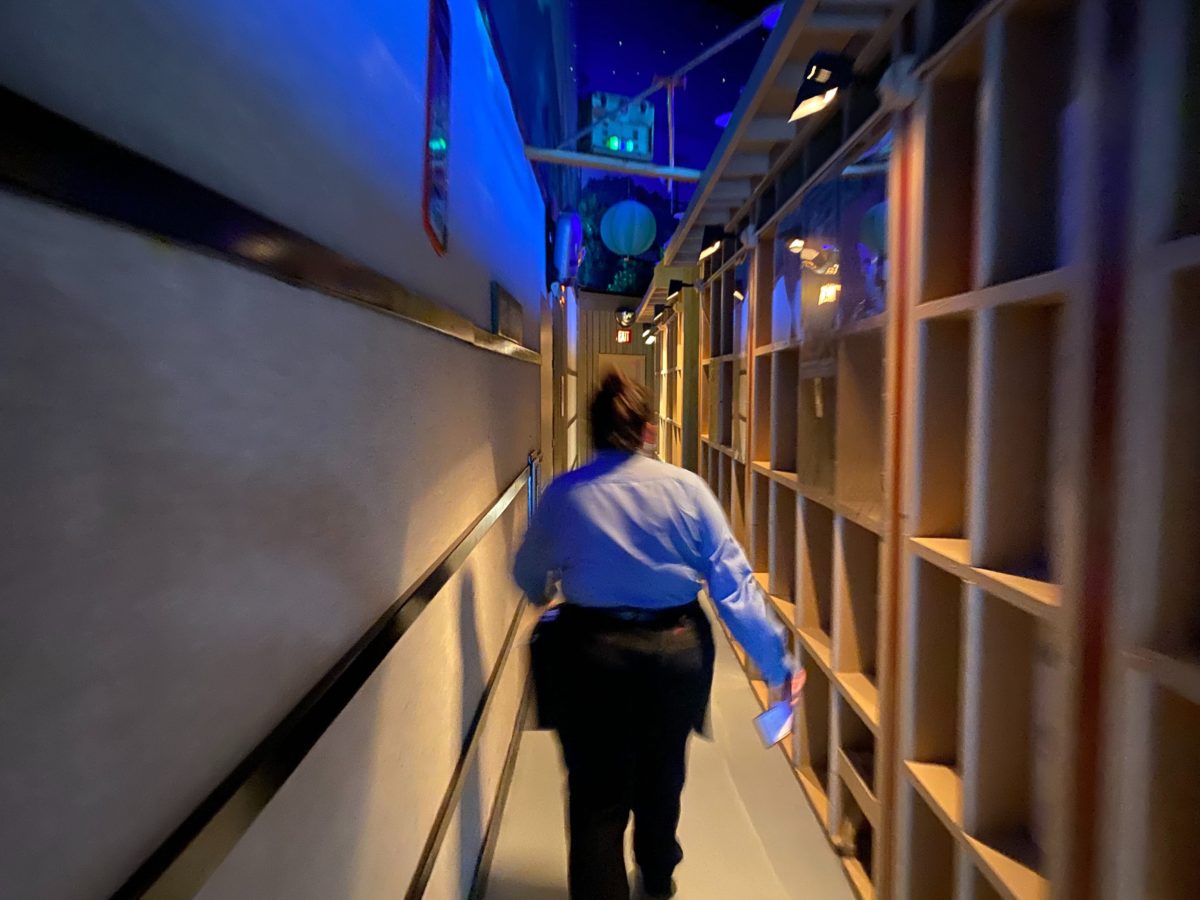 We didn't have to wait long before we were seated.
Some cars were entirely closed off to keep a distance between parties—no more hitchhikers here!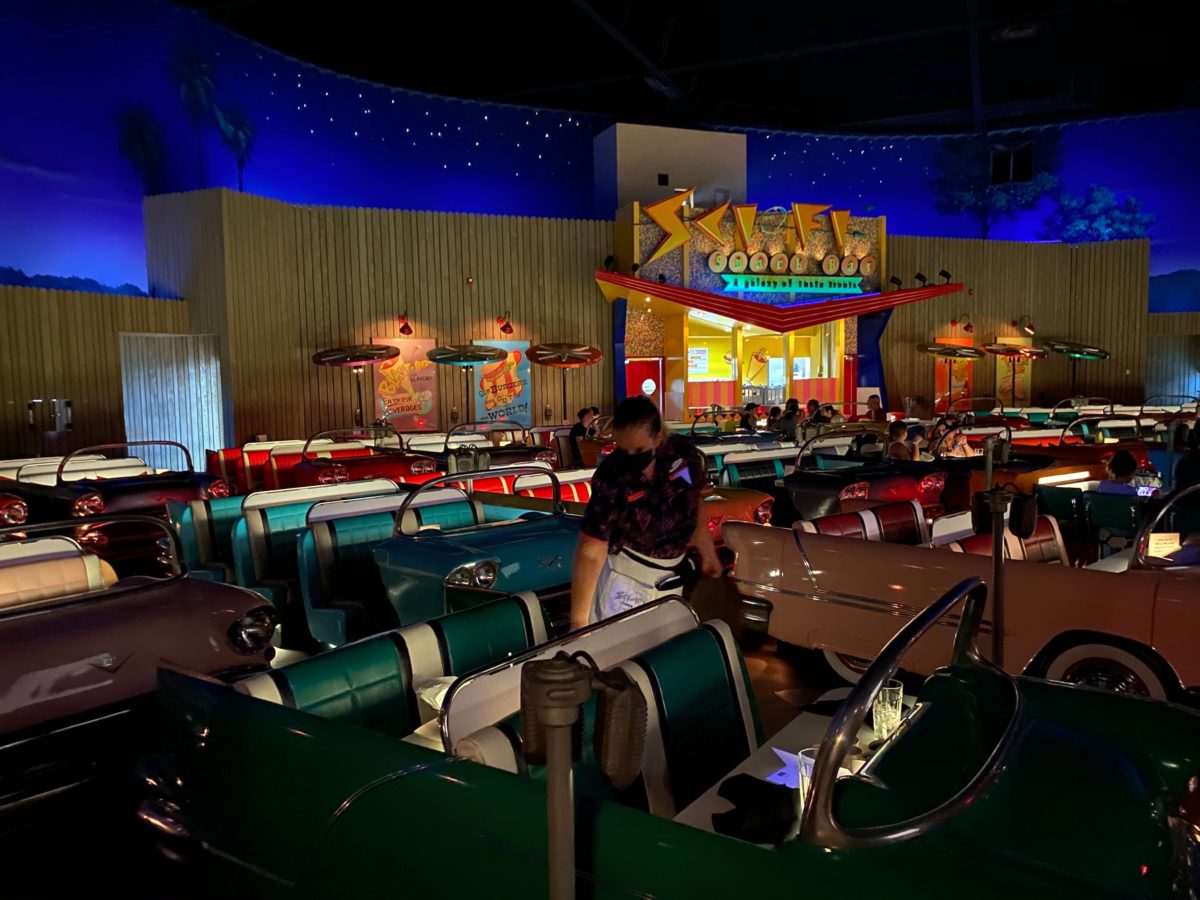 We saw a Cast Member cleaning up after some guests left.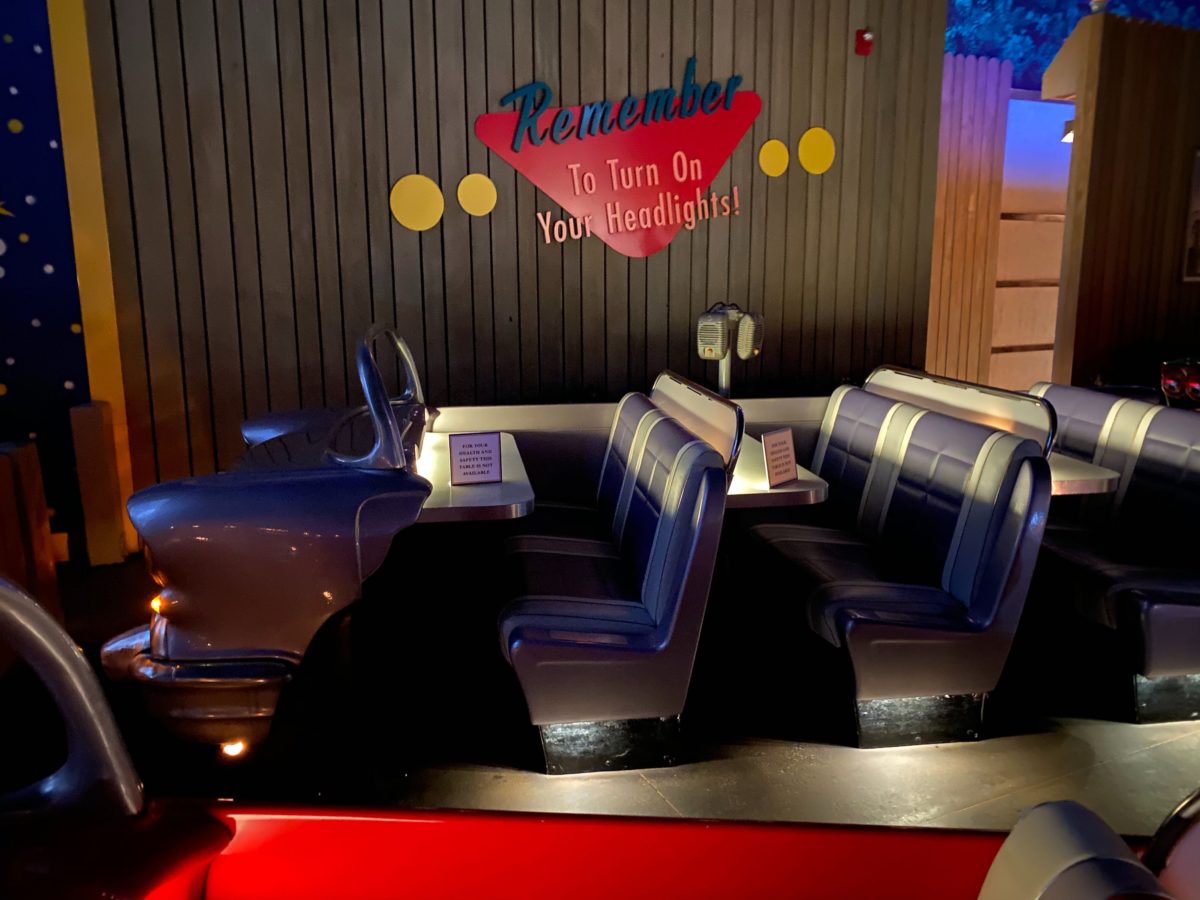 Sometimes Sci-Fi Dine-In will seat multiple small parties in one car, but this will probably not be the case for a while.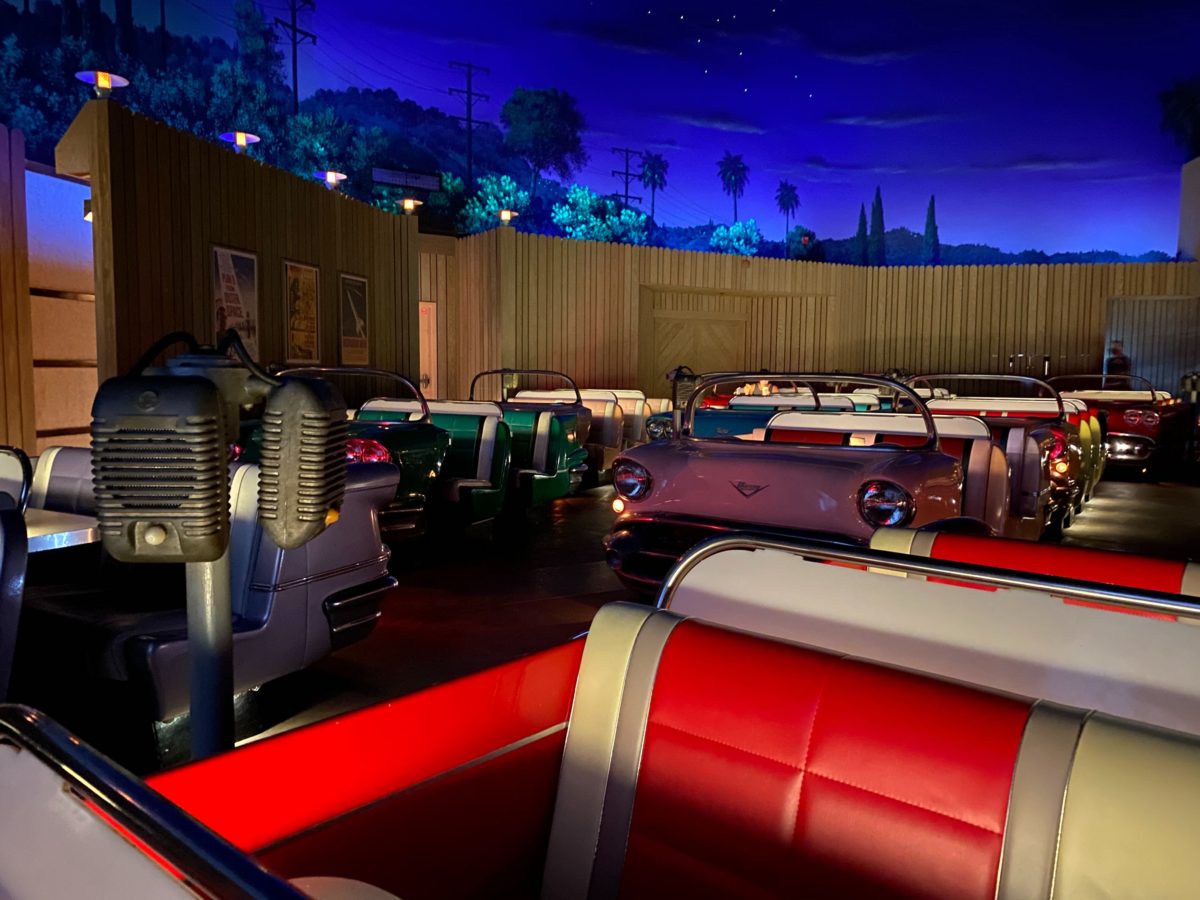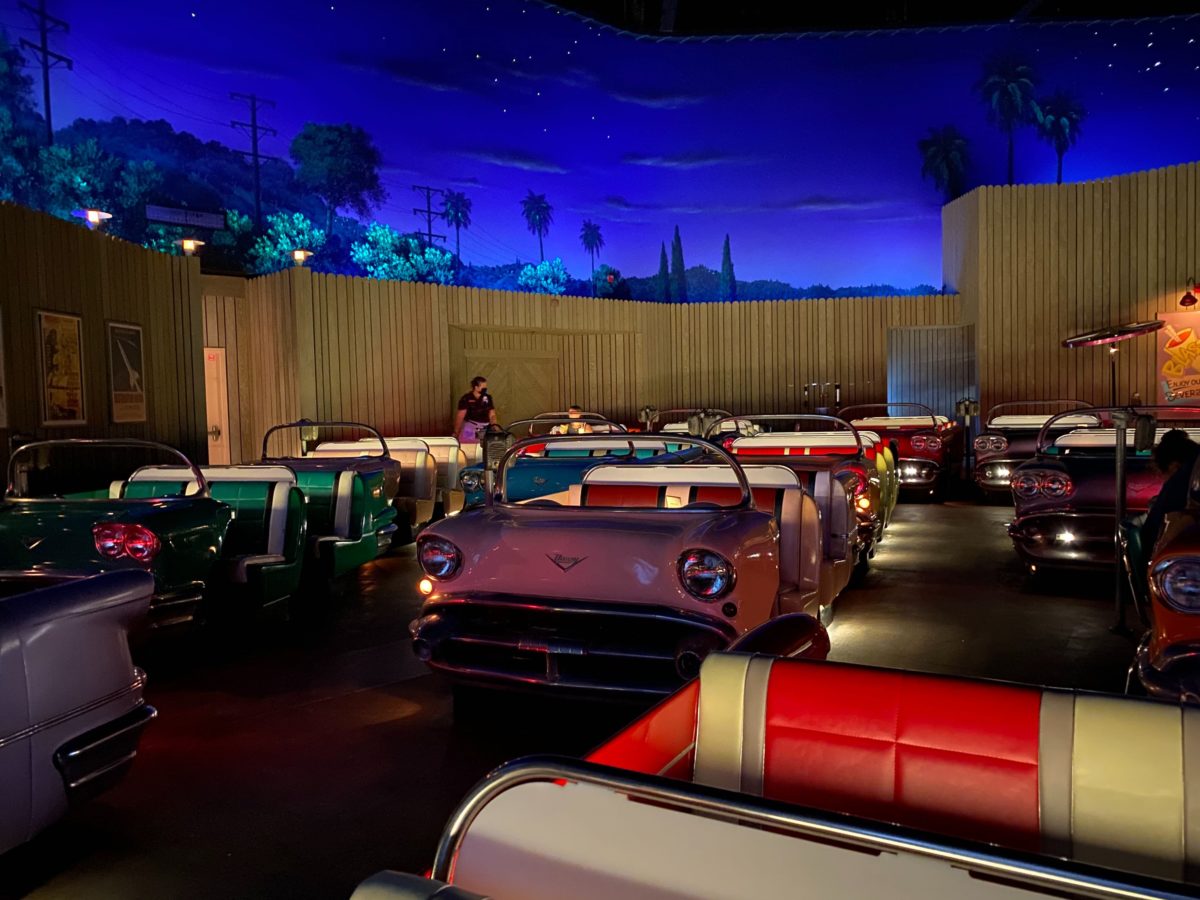 The restaurant was not very busy when we visited.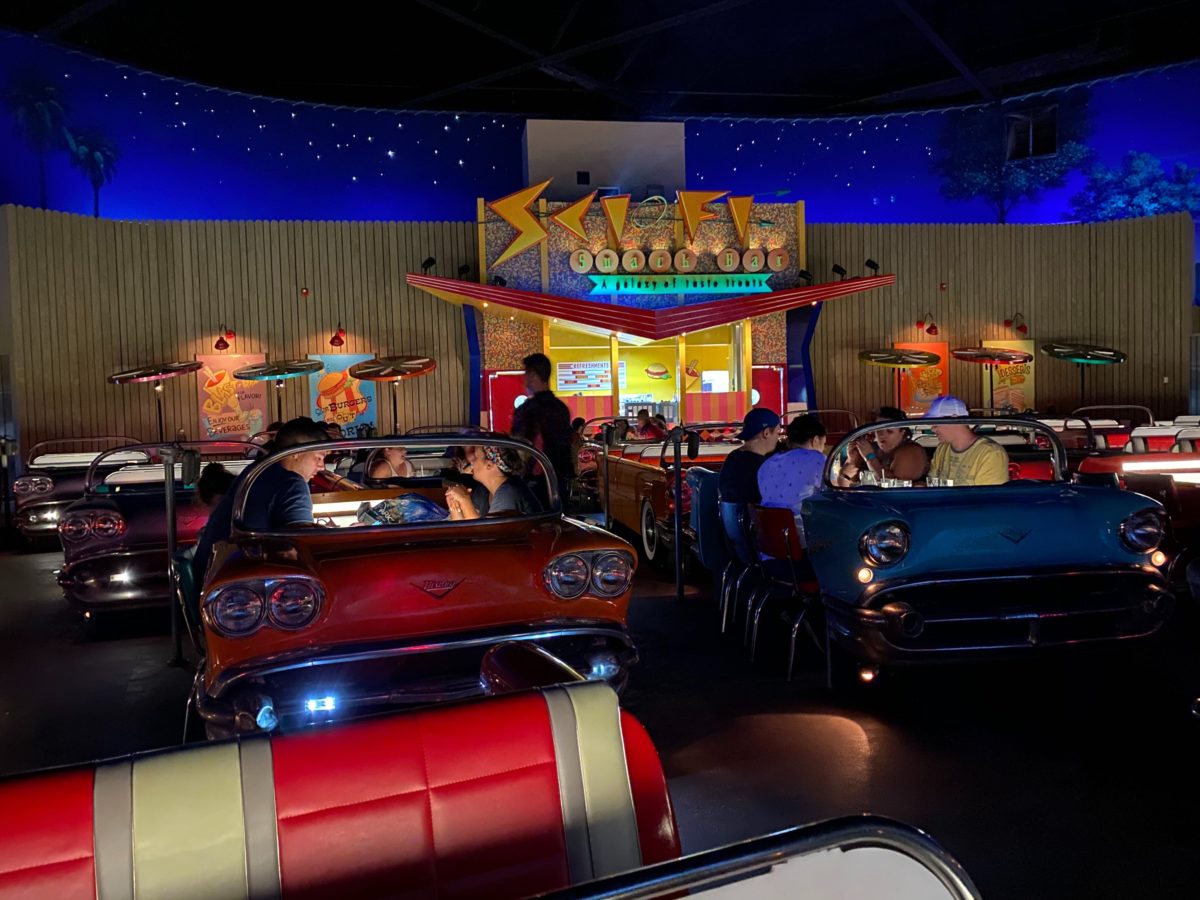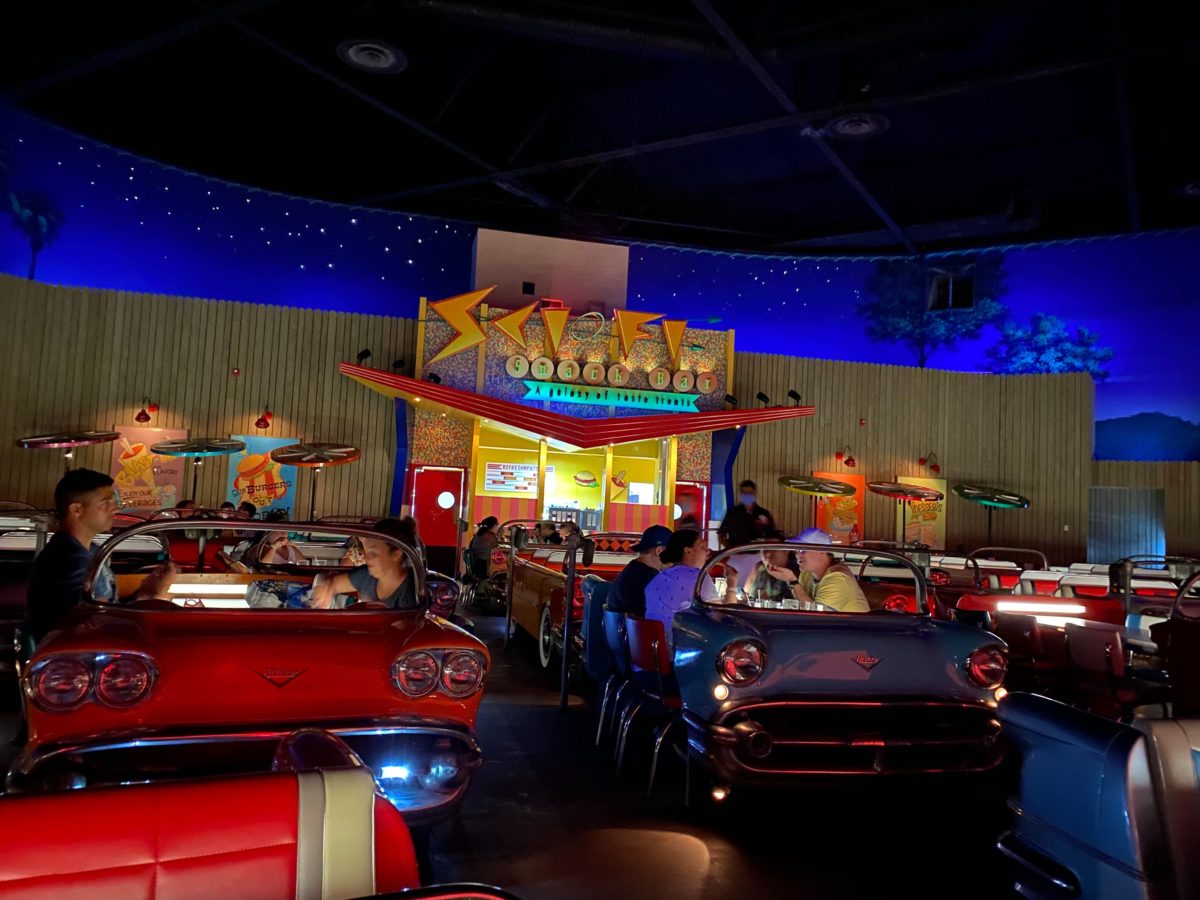 We were seated in the front-seat of our own front-row car.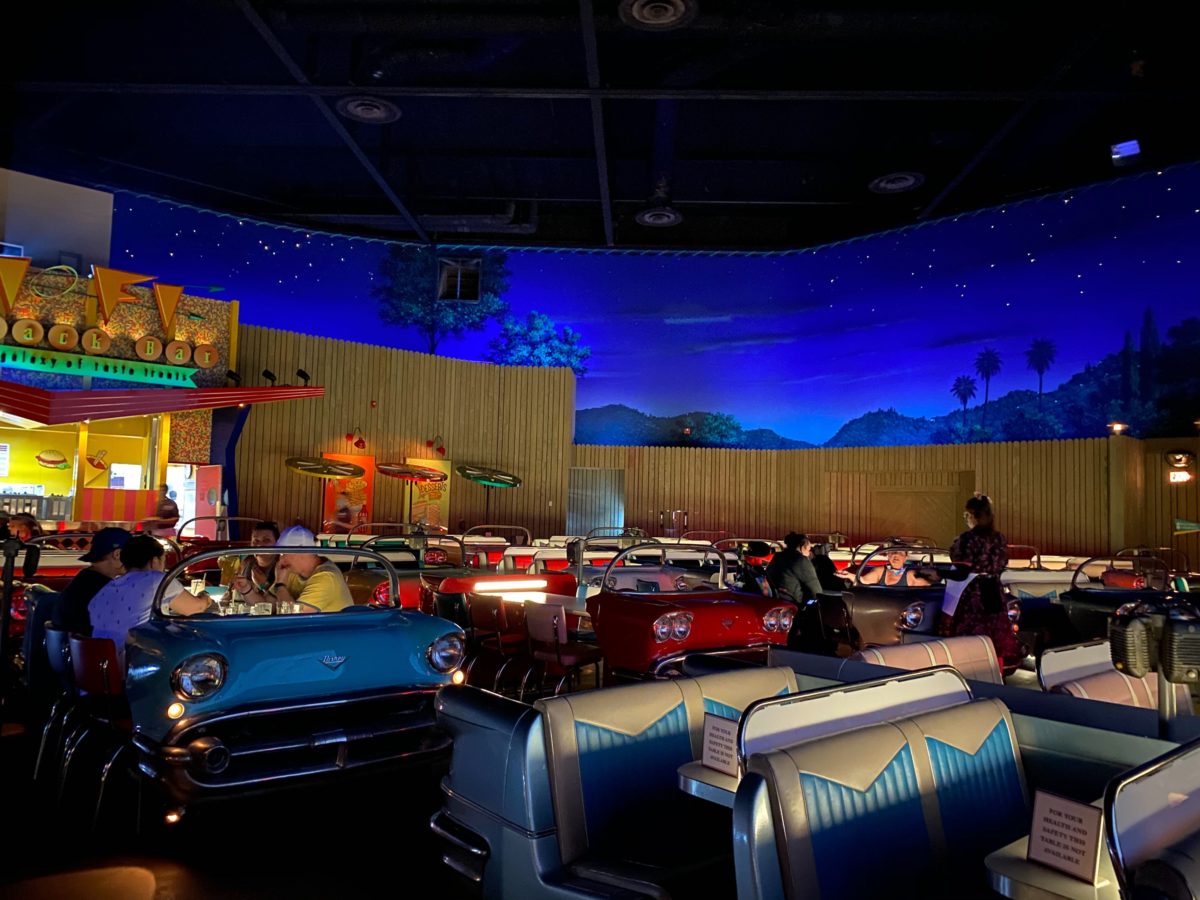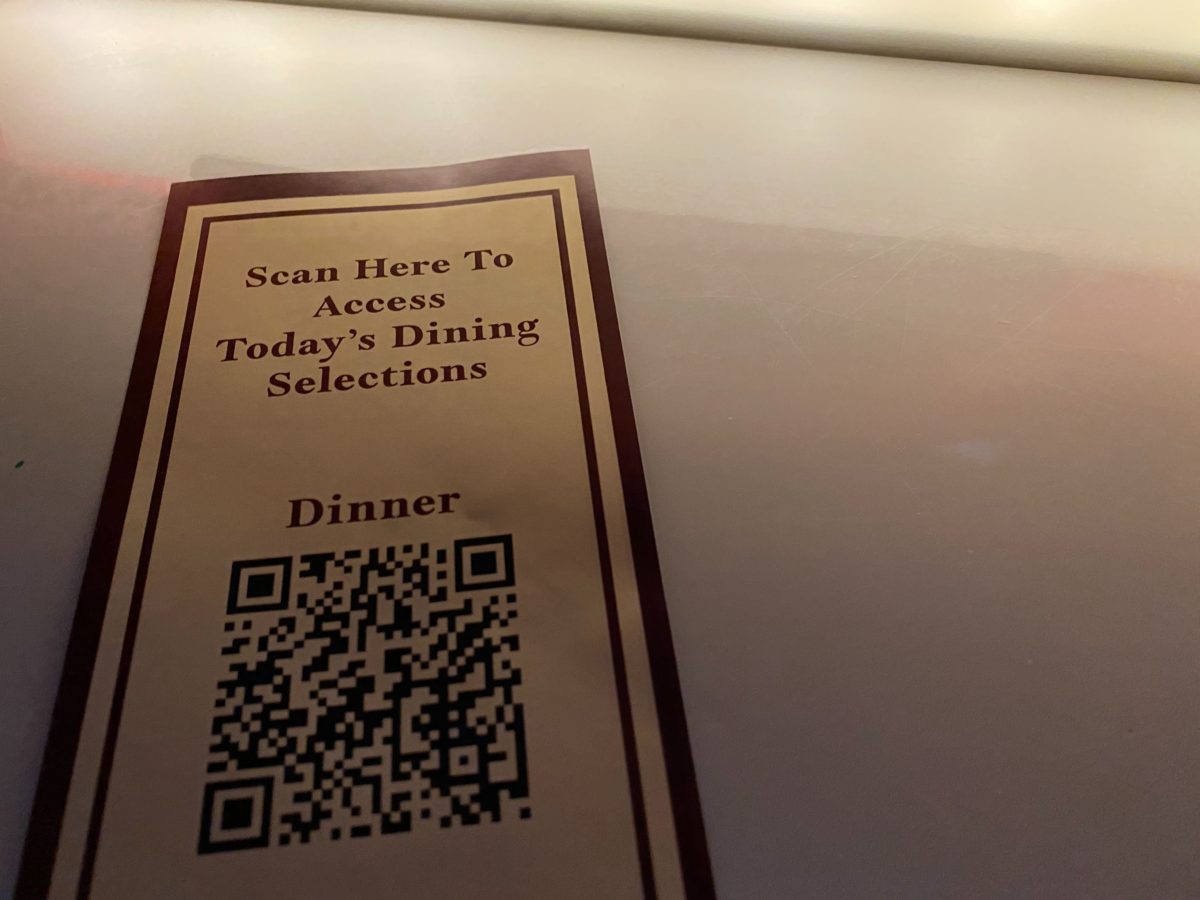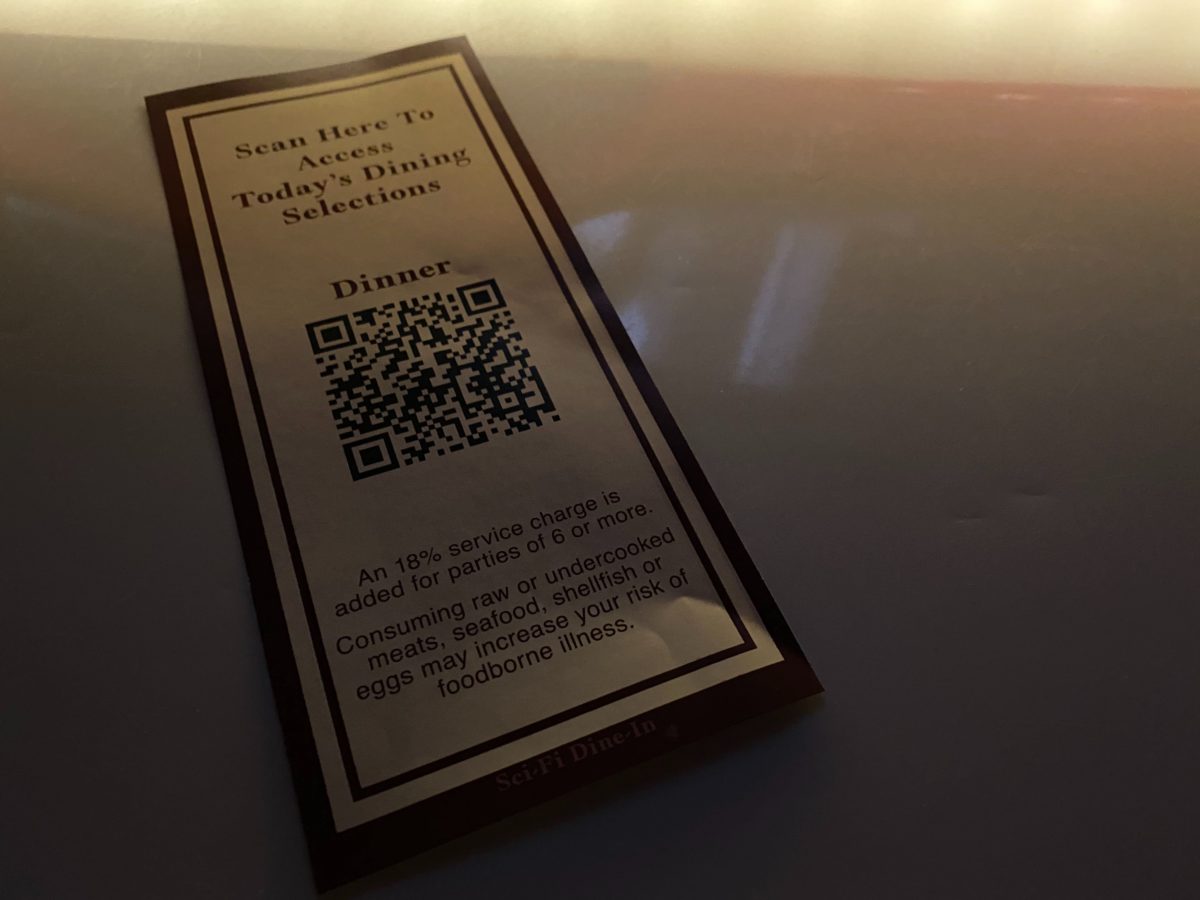 Like most restaurants, there was a flier with a QR code to access an online menu. We were also given a disposable paper menu.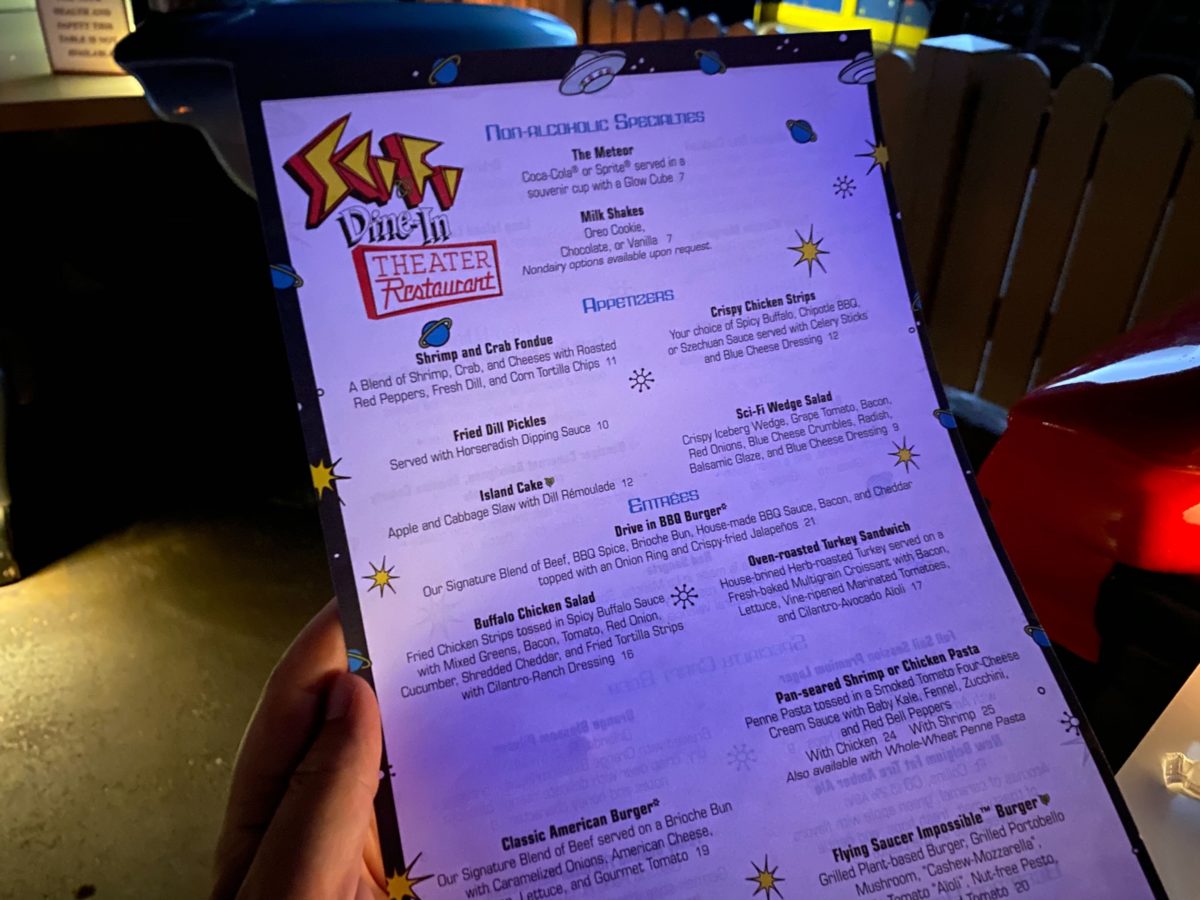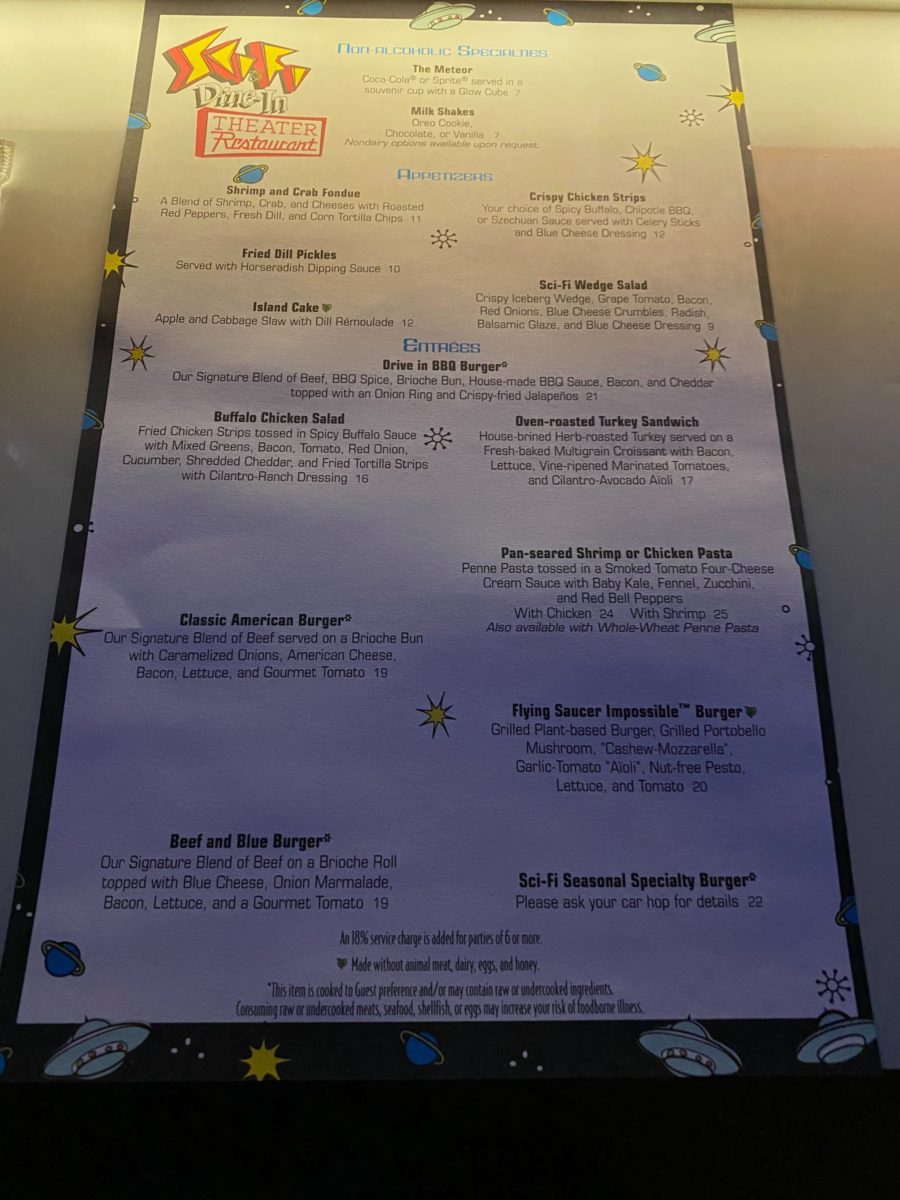 While usually not the most extravagant of menus, we did find some items missing, such as the popular appetizer sampler. There was no specialty milkshake flavor, either, which is usually a "secret menu" option if you ask your server.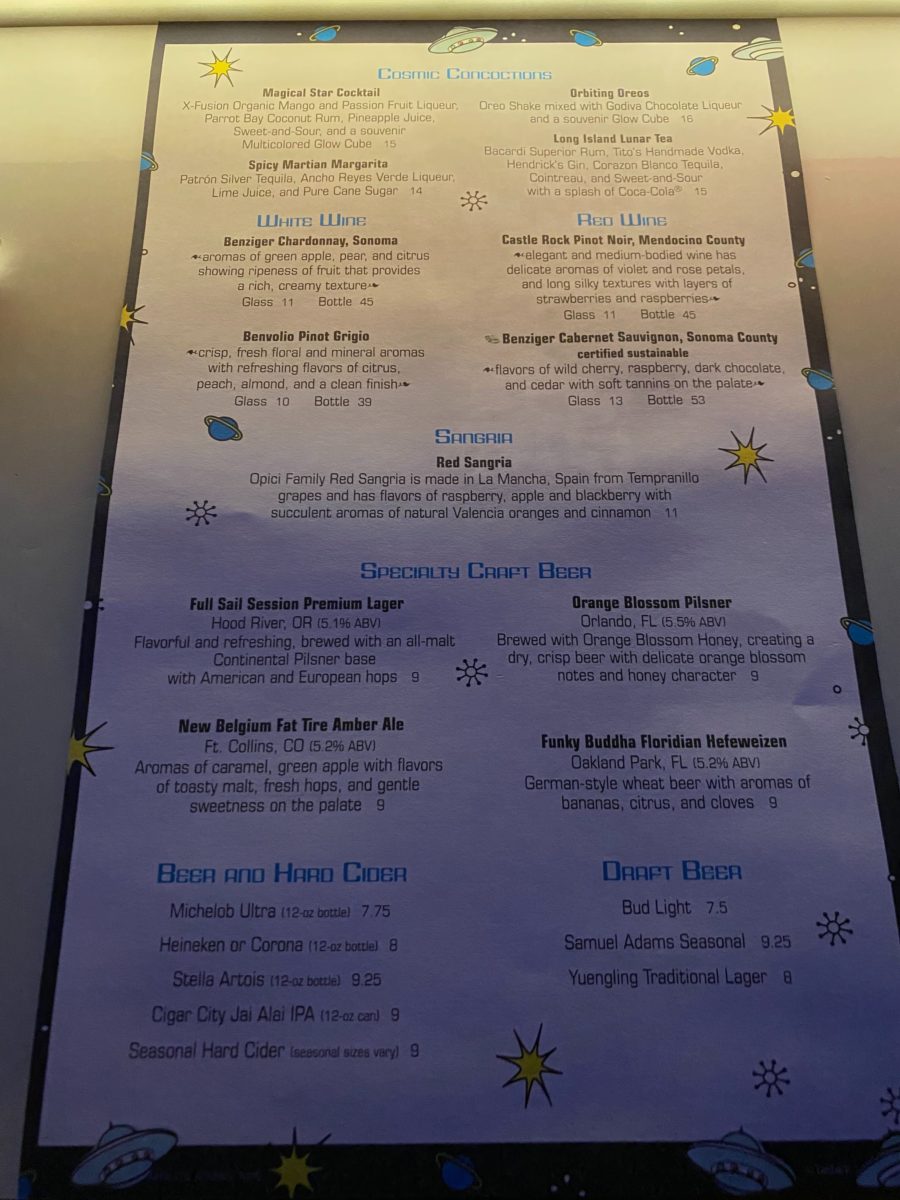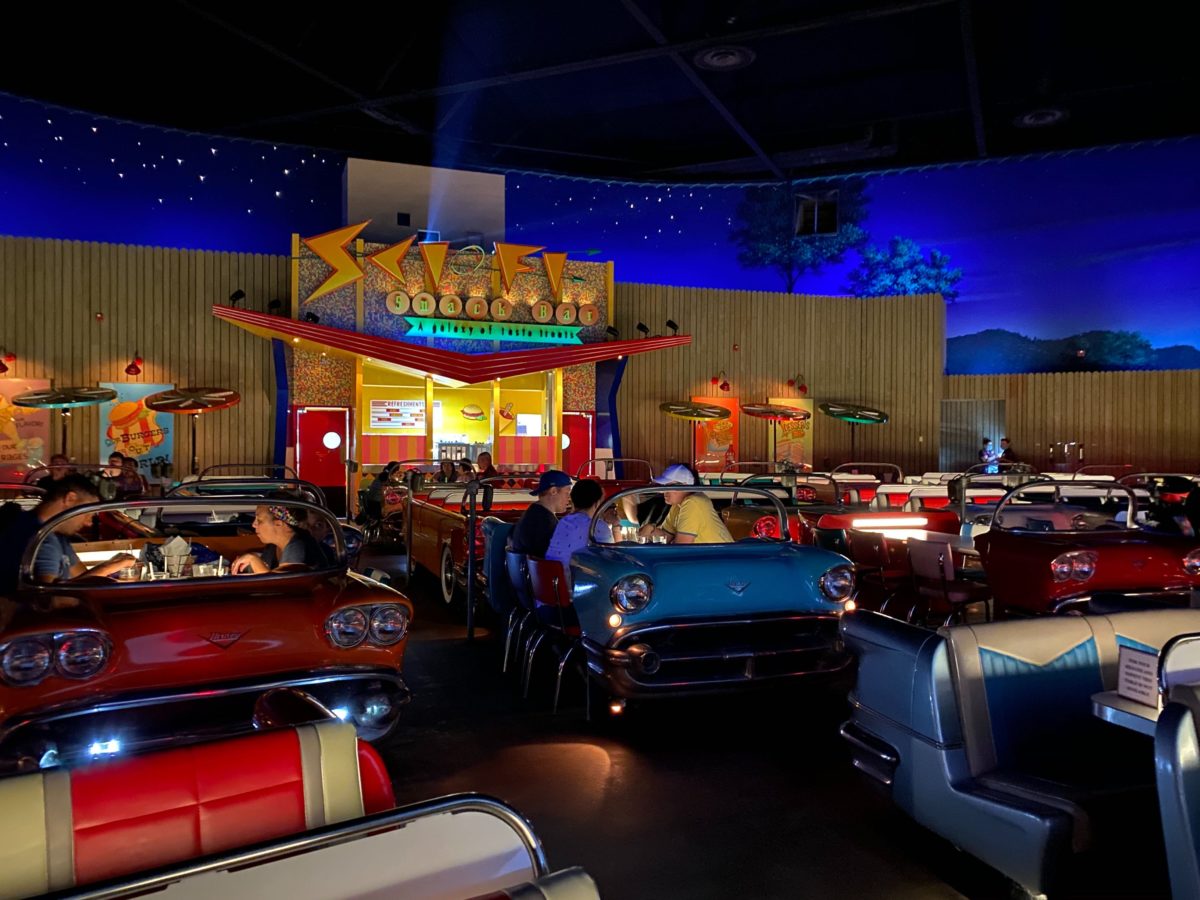 These two cars were full next to each other, but they might have been with the same party.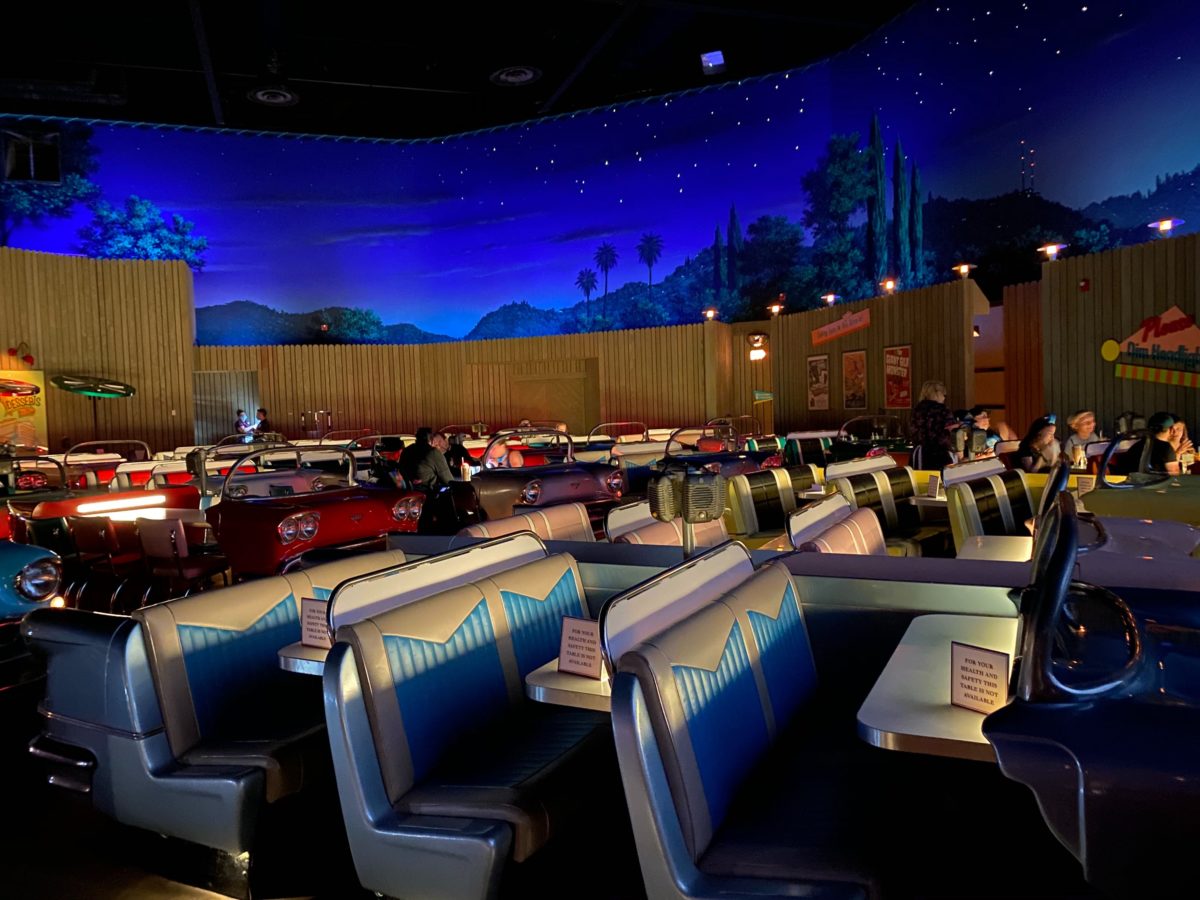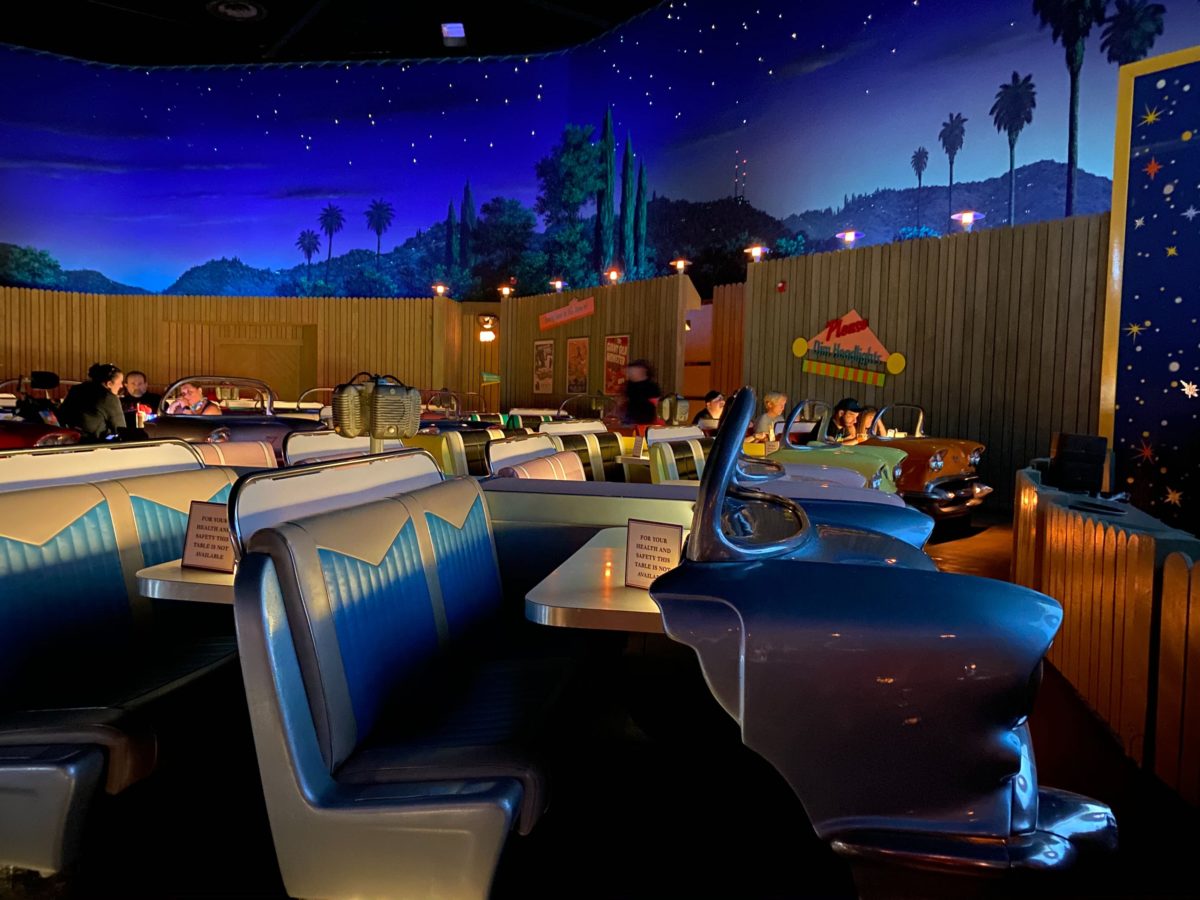 We felt safe surrounded by empty cars.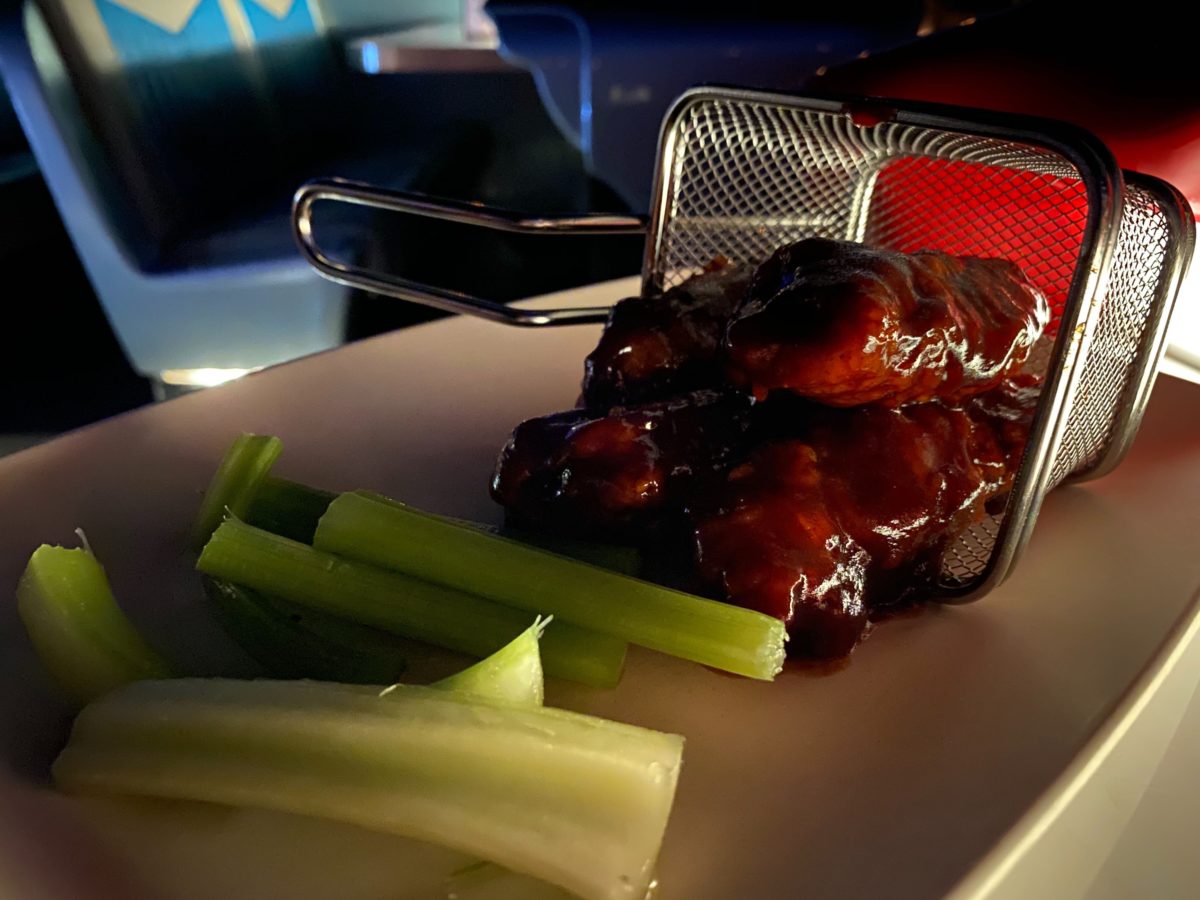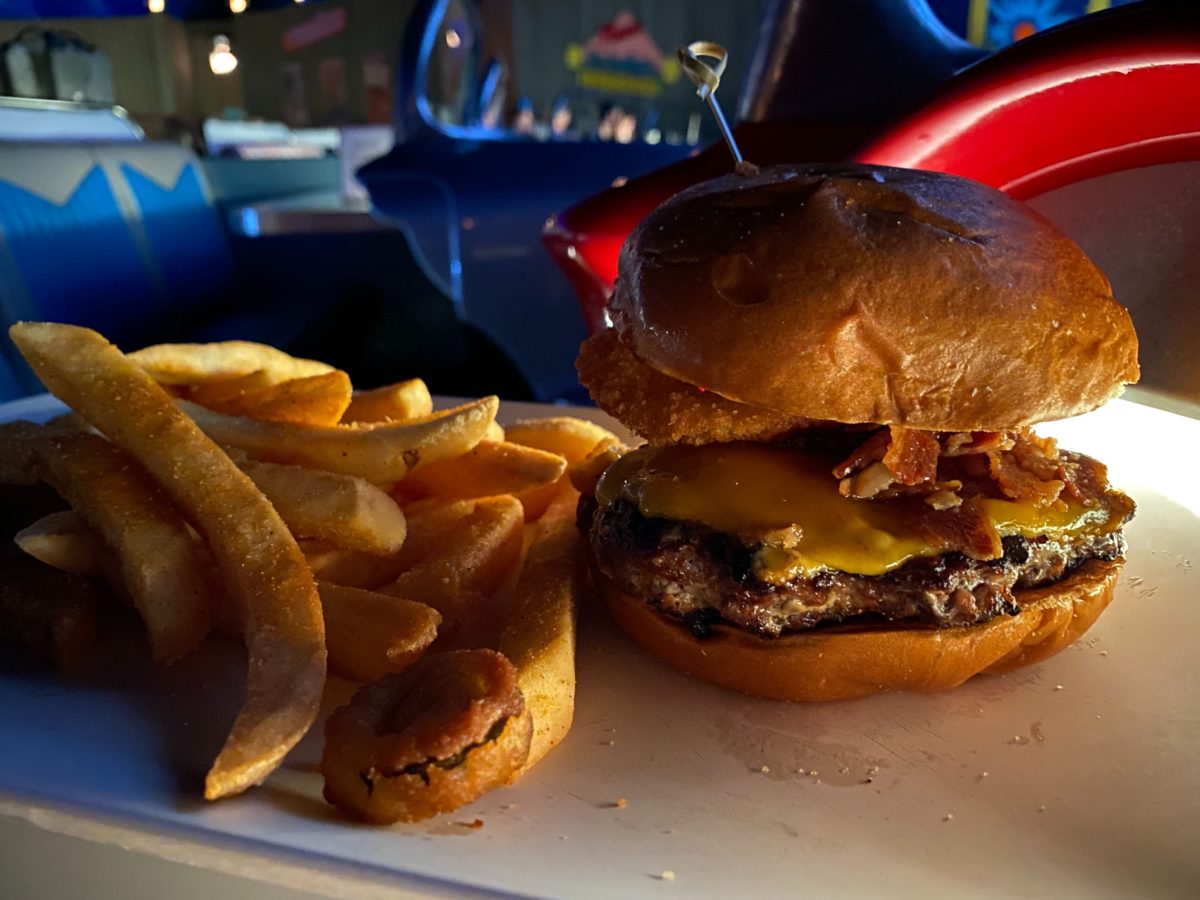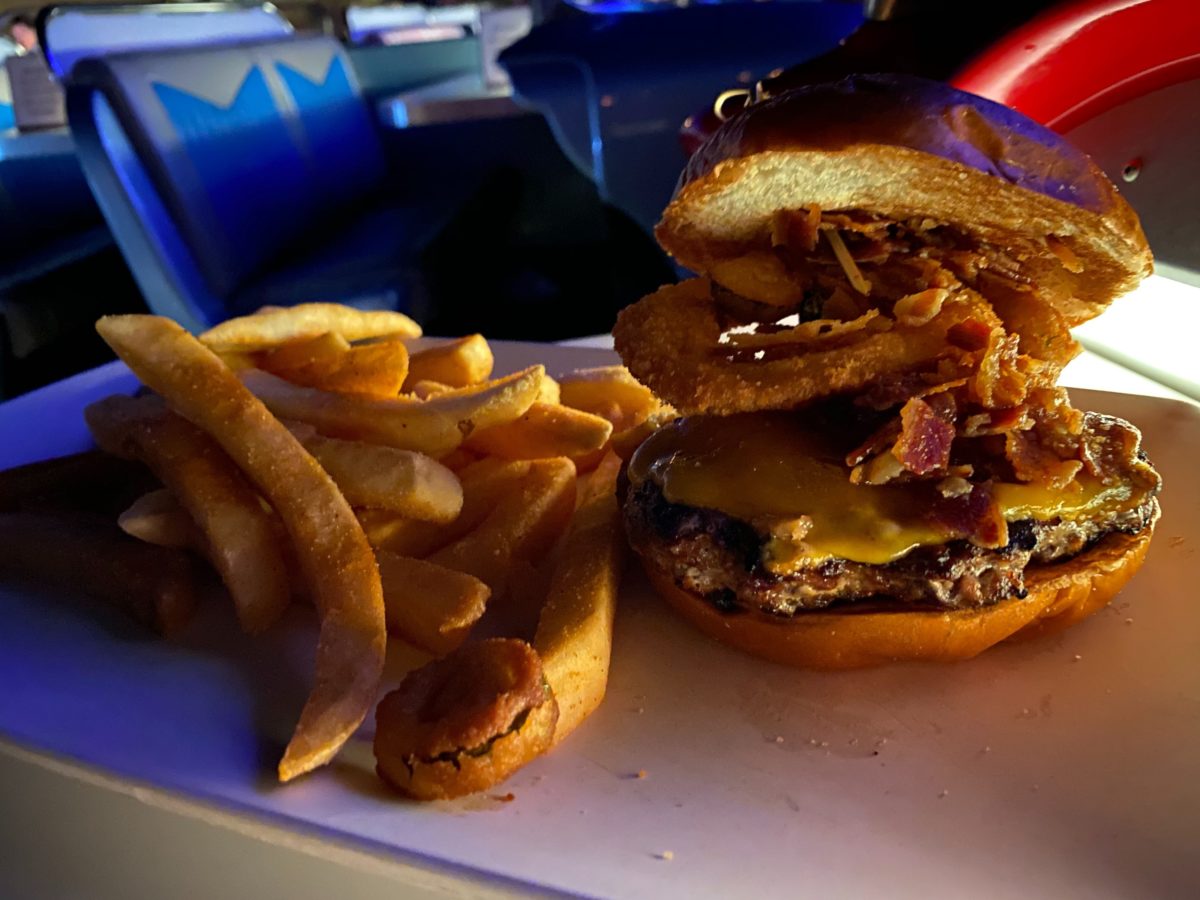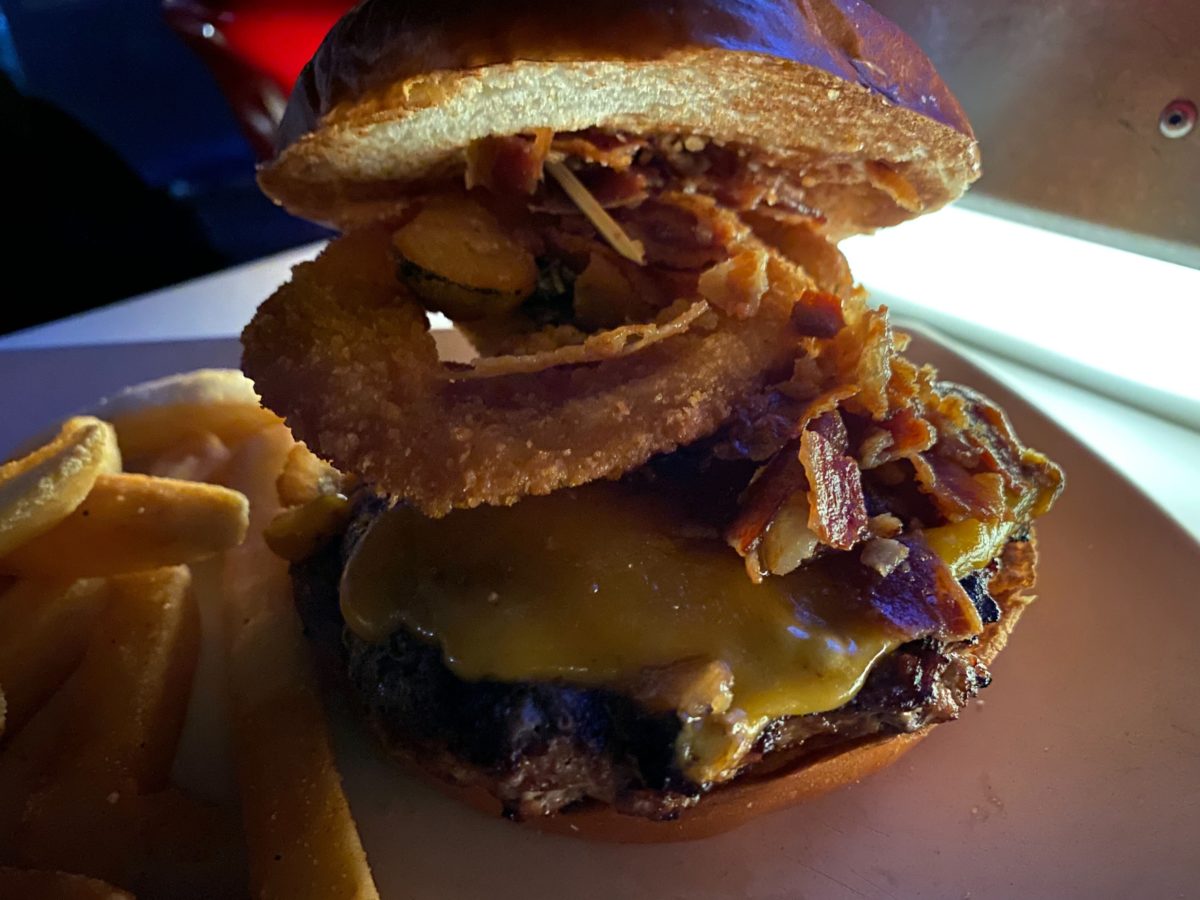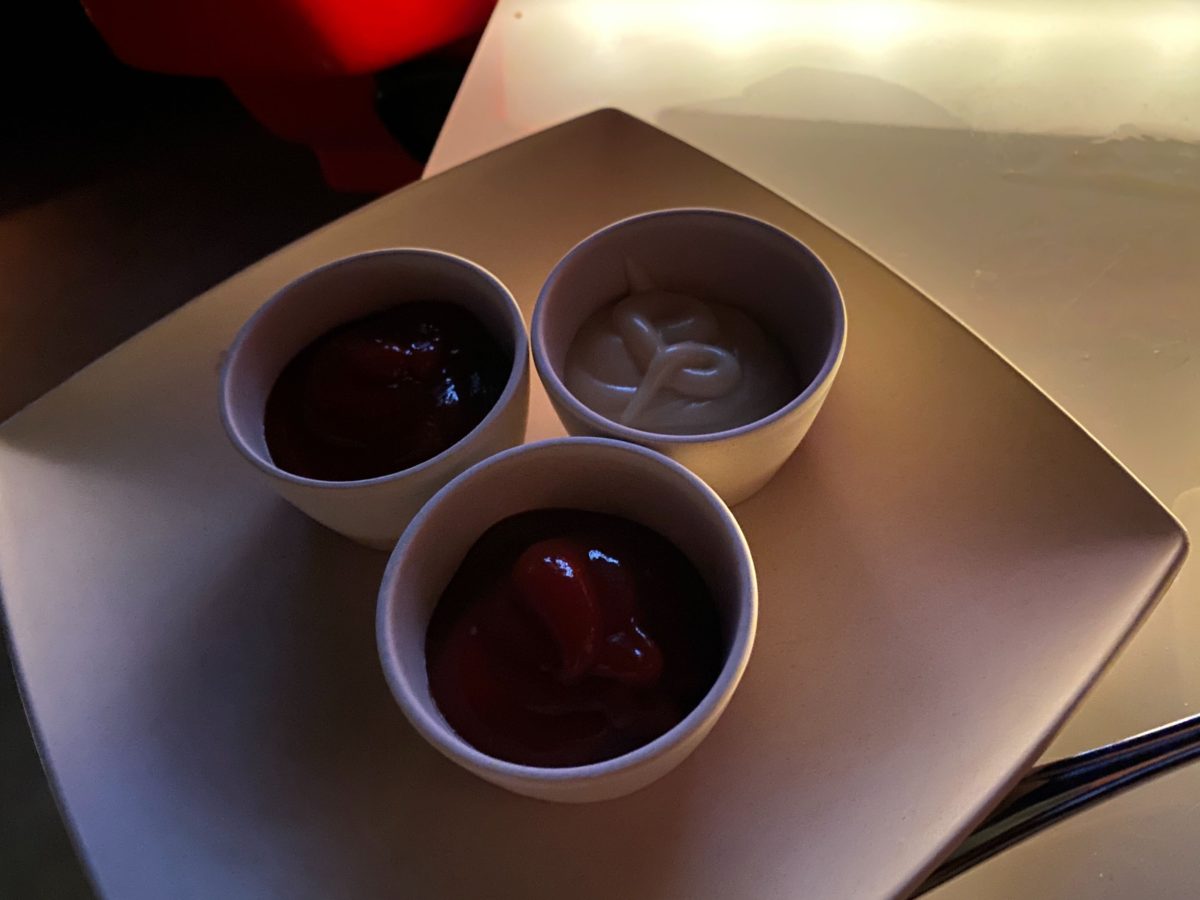 Our dinner arrived while we were watching this old clip of Walt himself. Condiments are served in pre-portioned cups.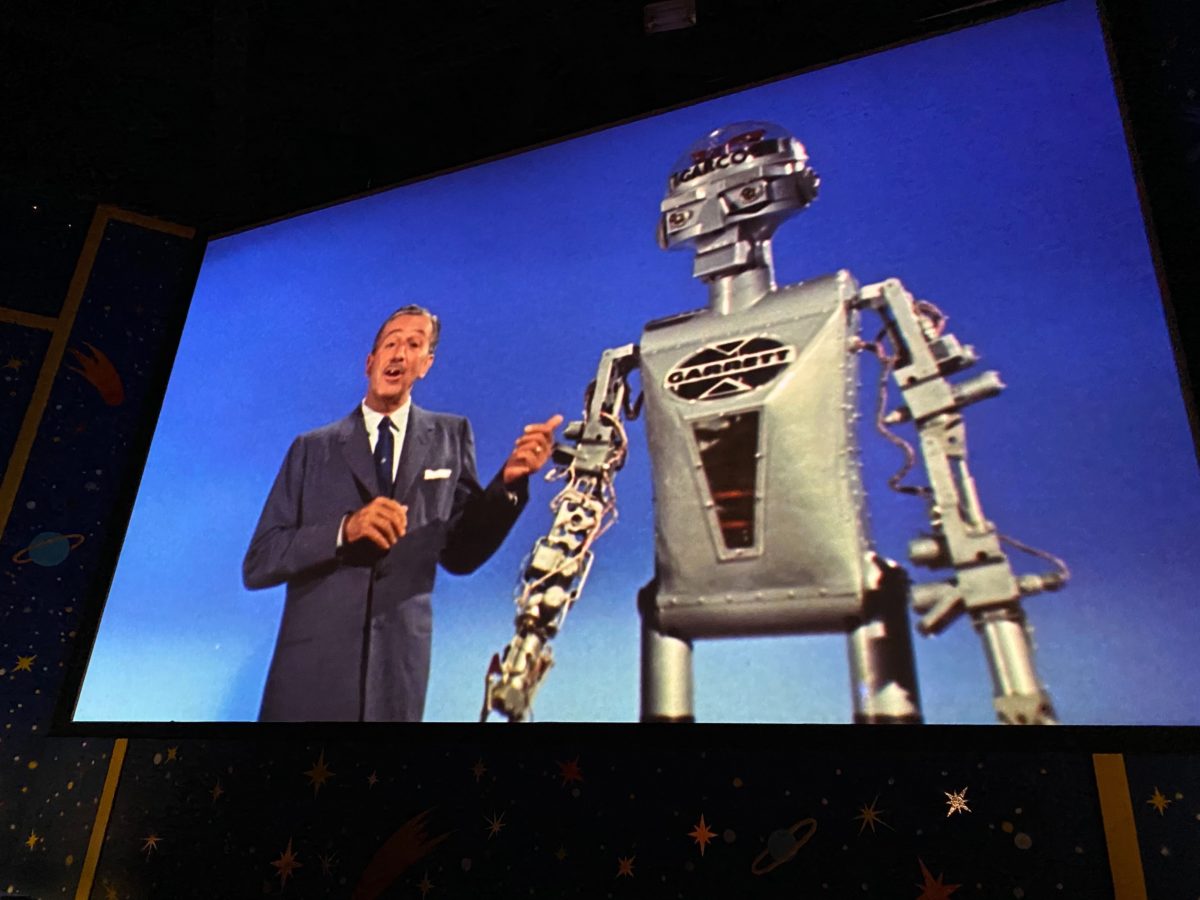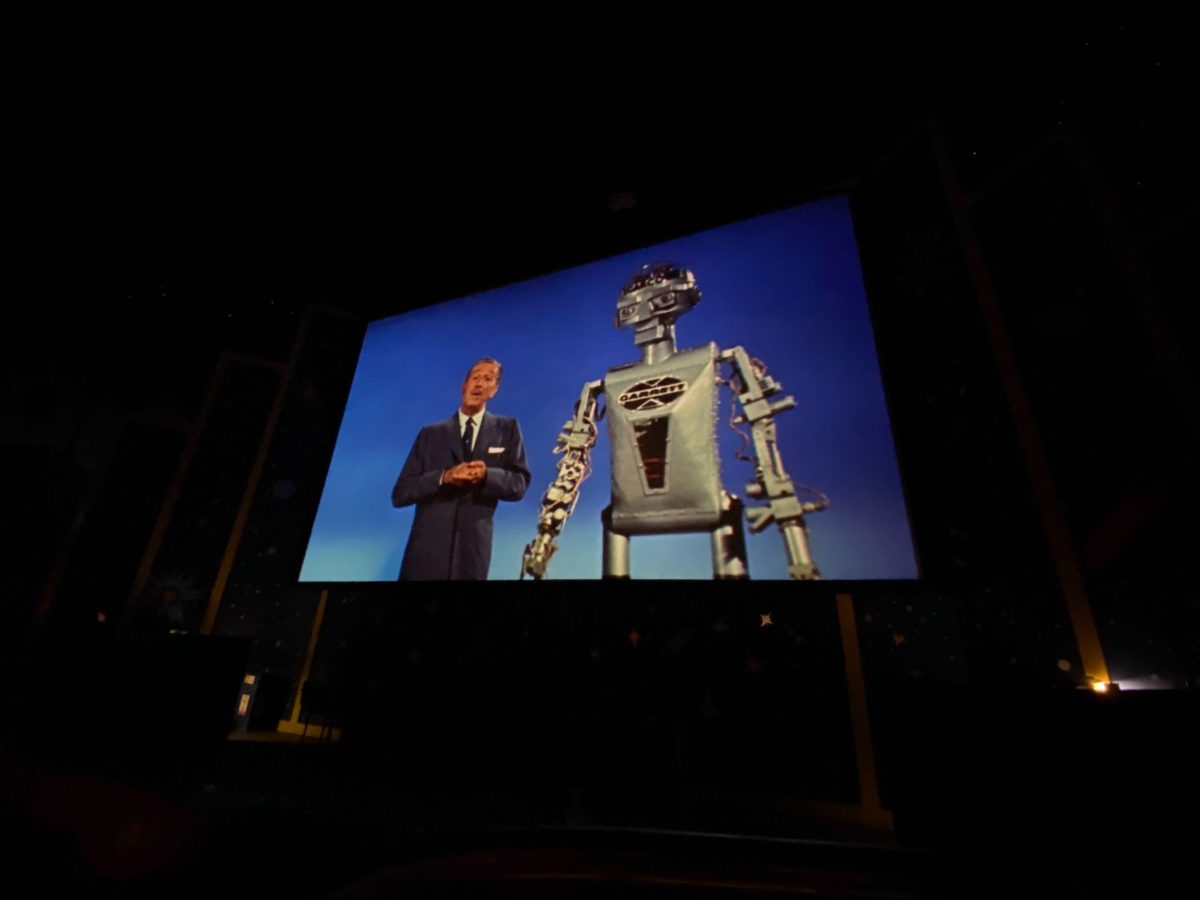 We noticed hand sanitizer for Cast Members in the fenced off area in front of our car.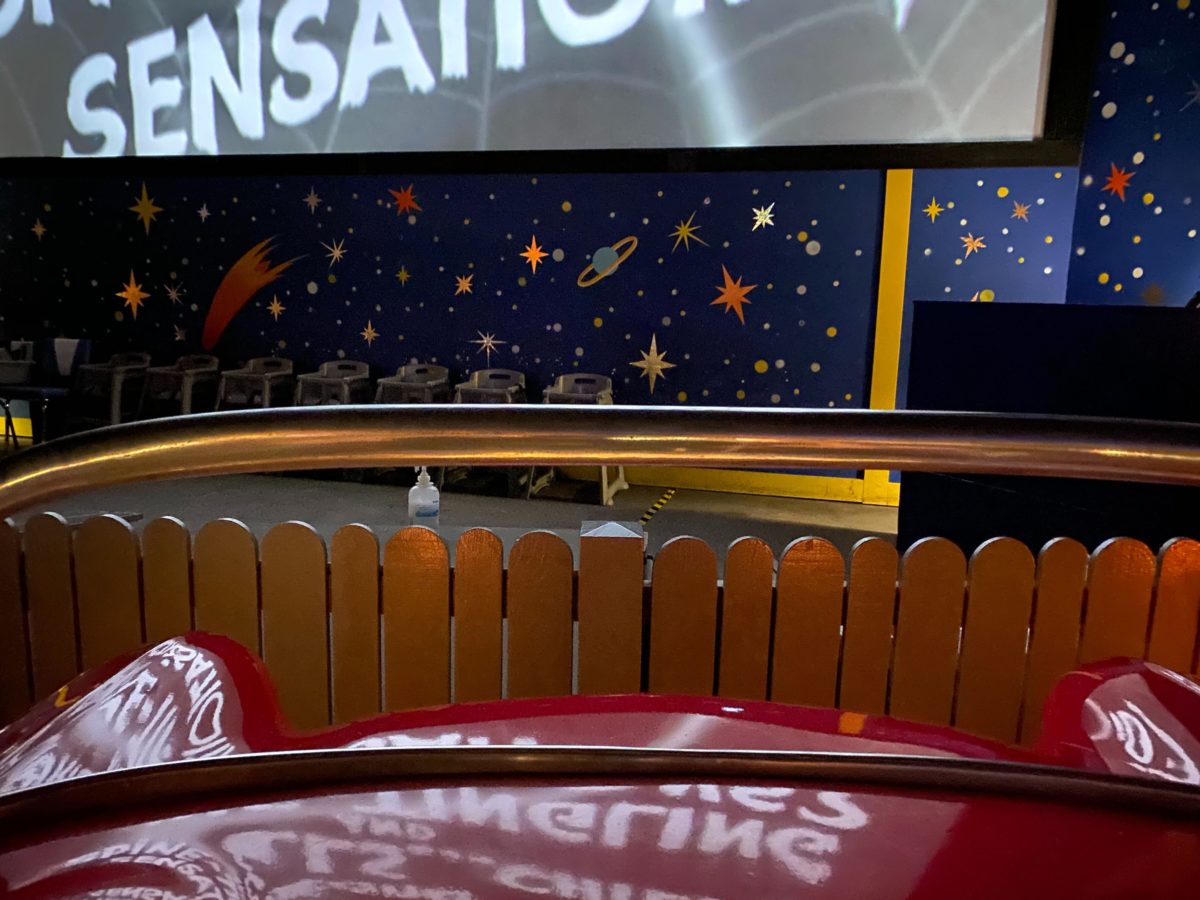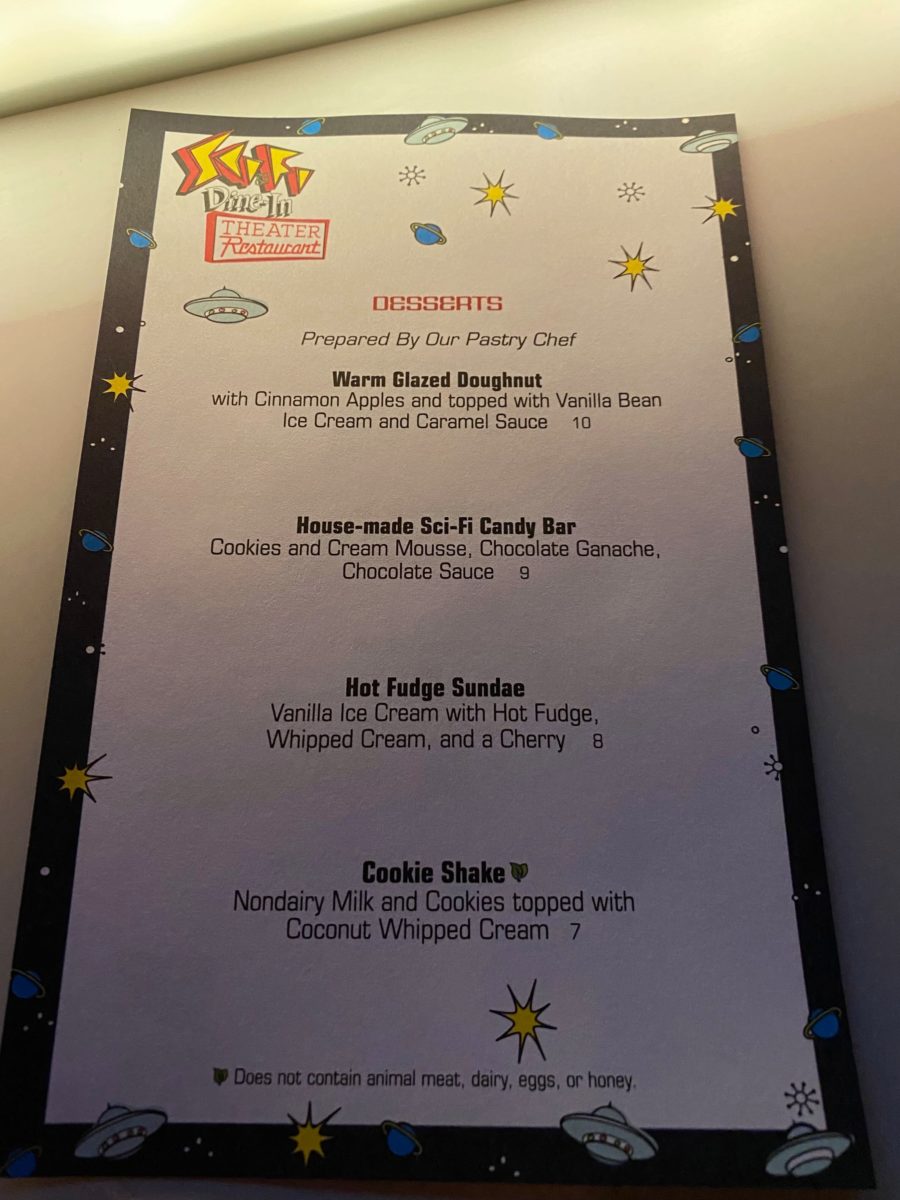 We received another paper menu with dessert selections.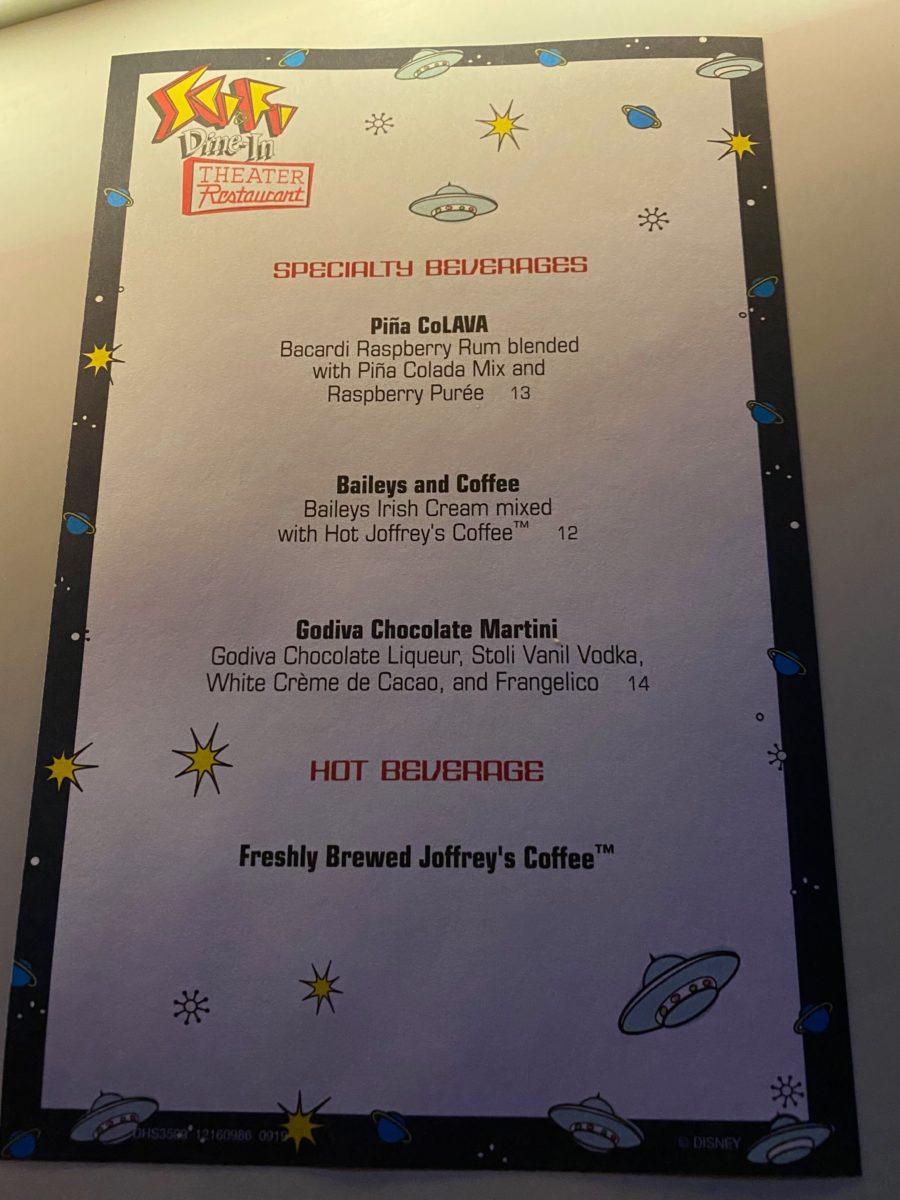 By the time we were ordering dessert, there were no other guests in the theater restaurant.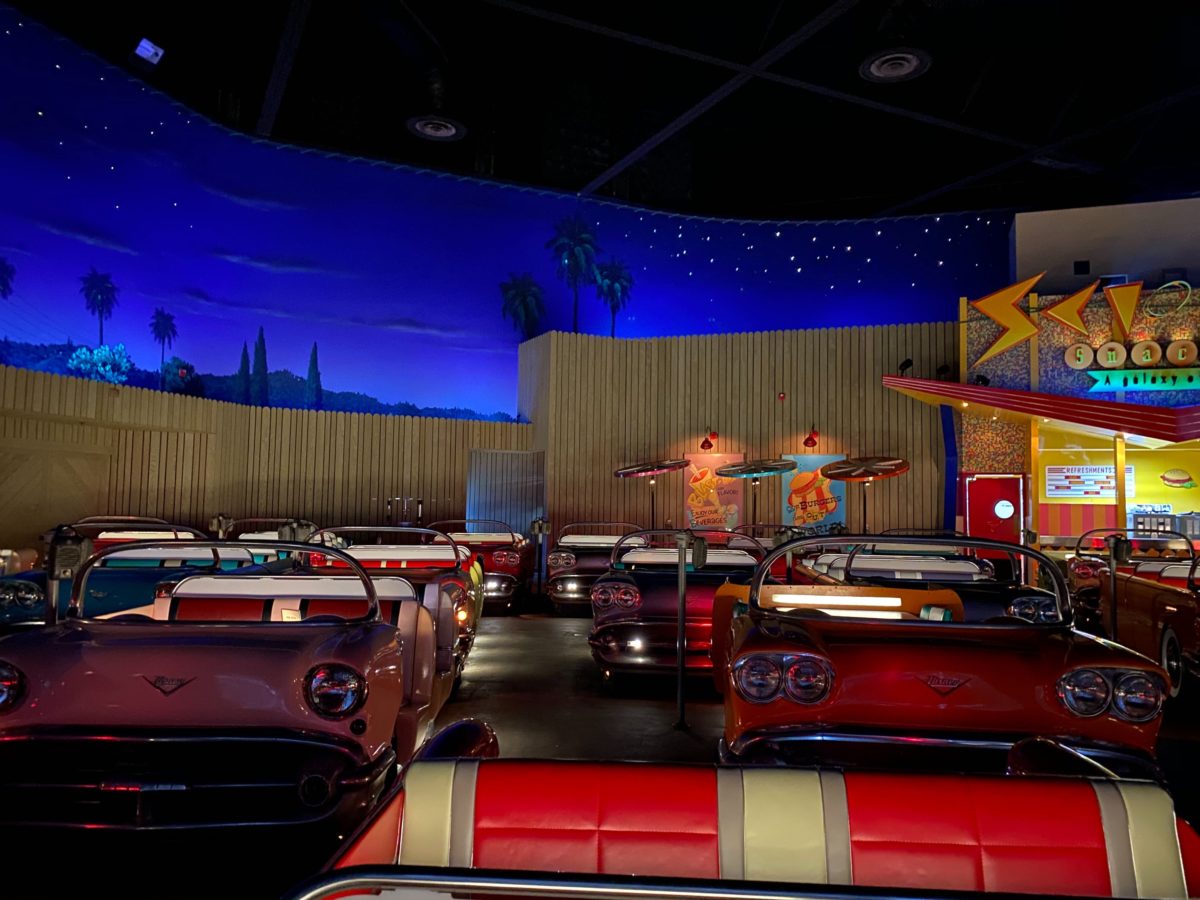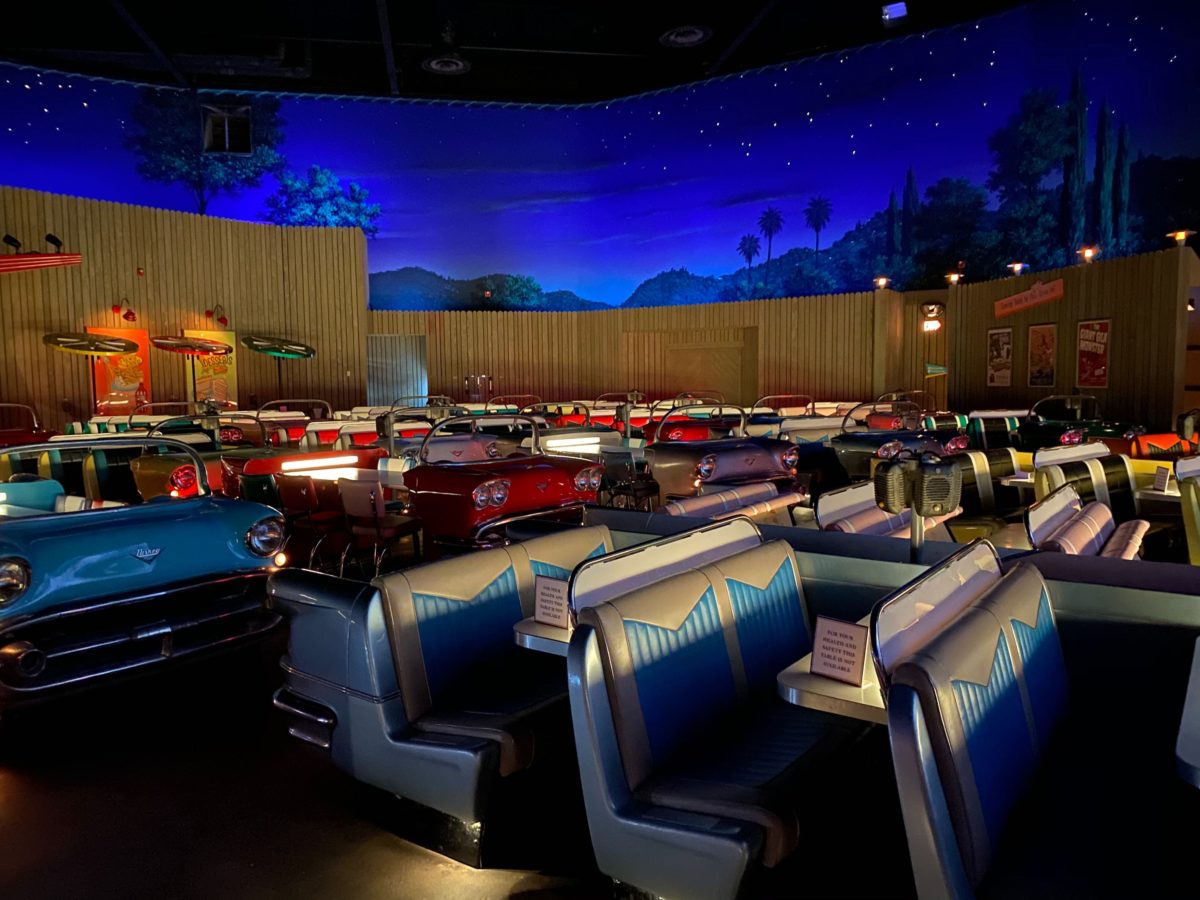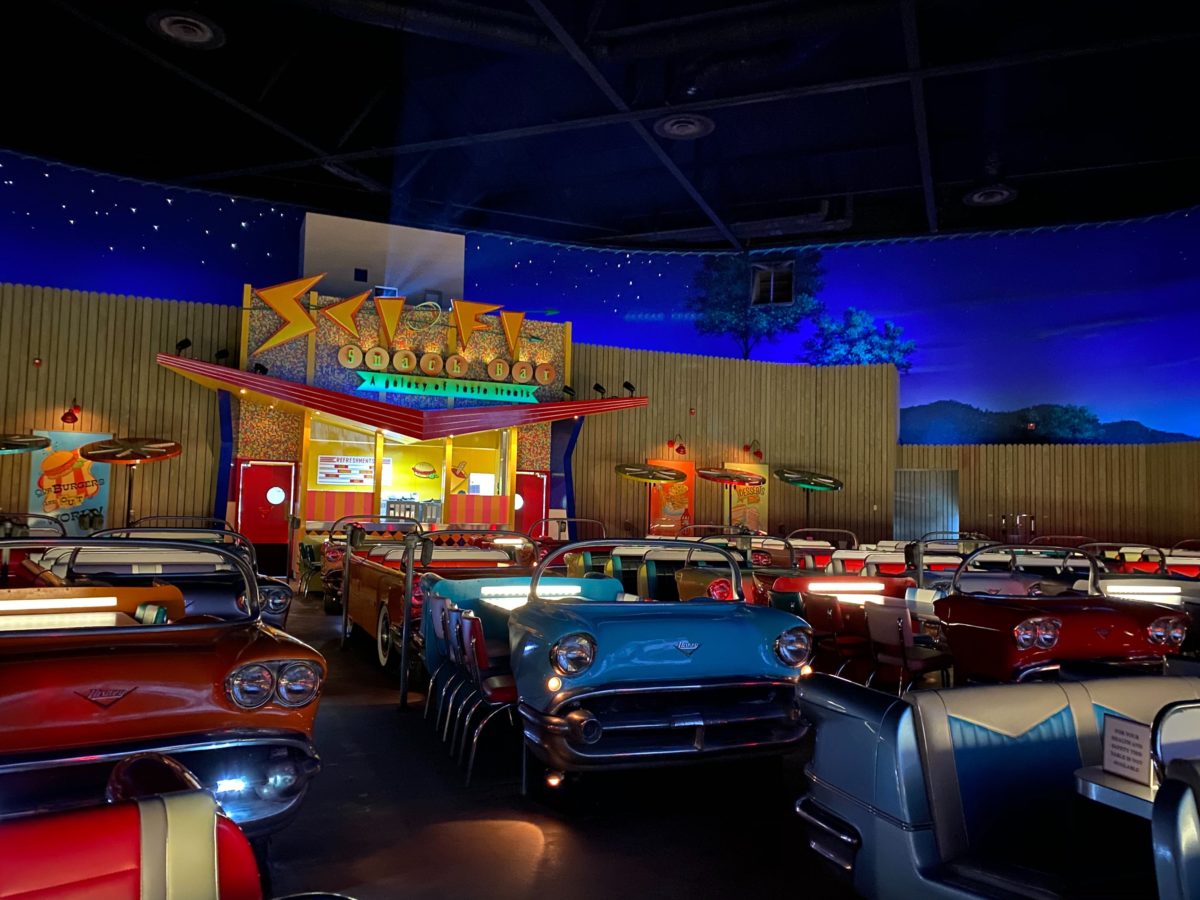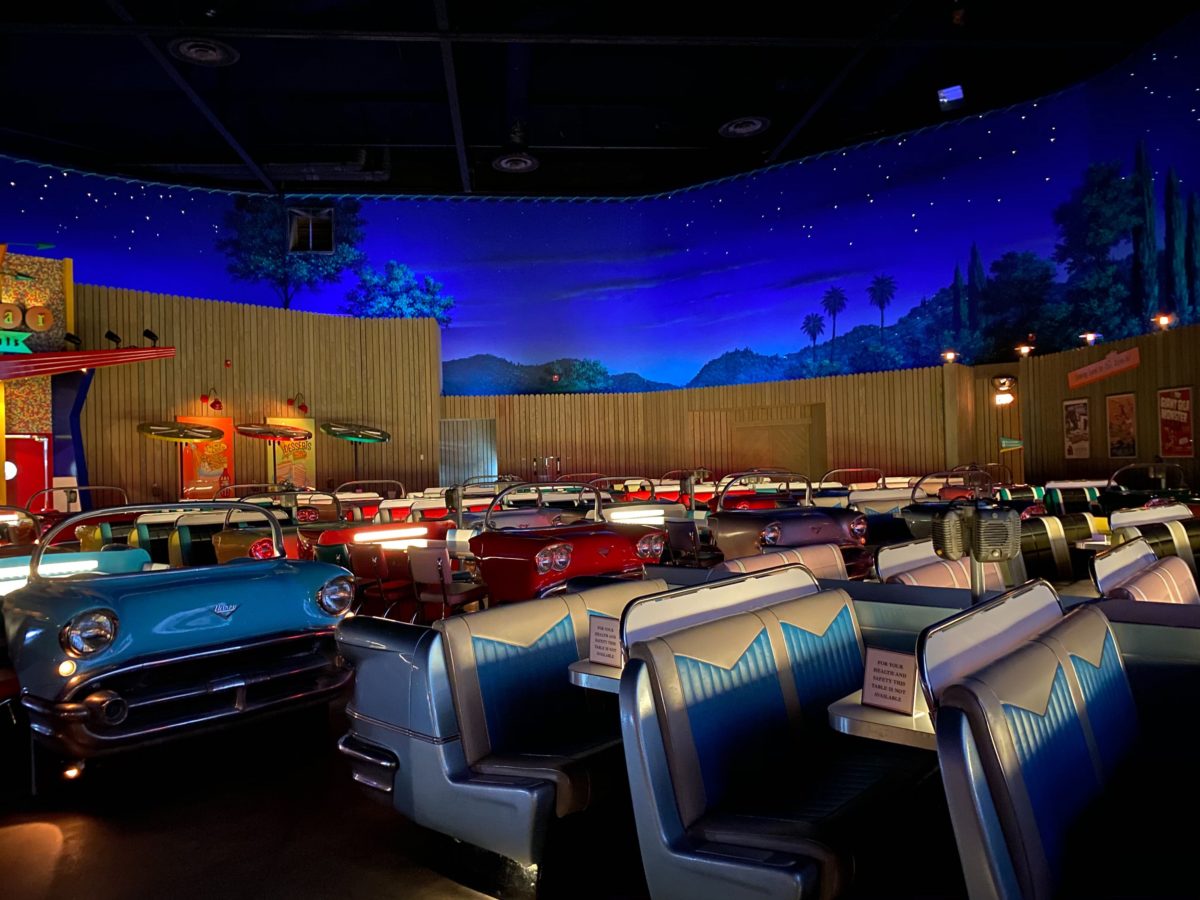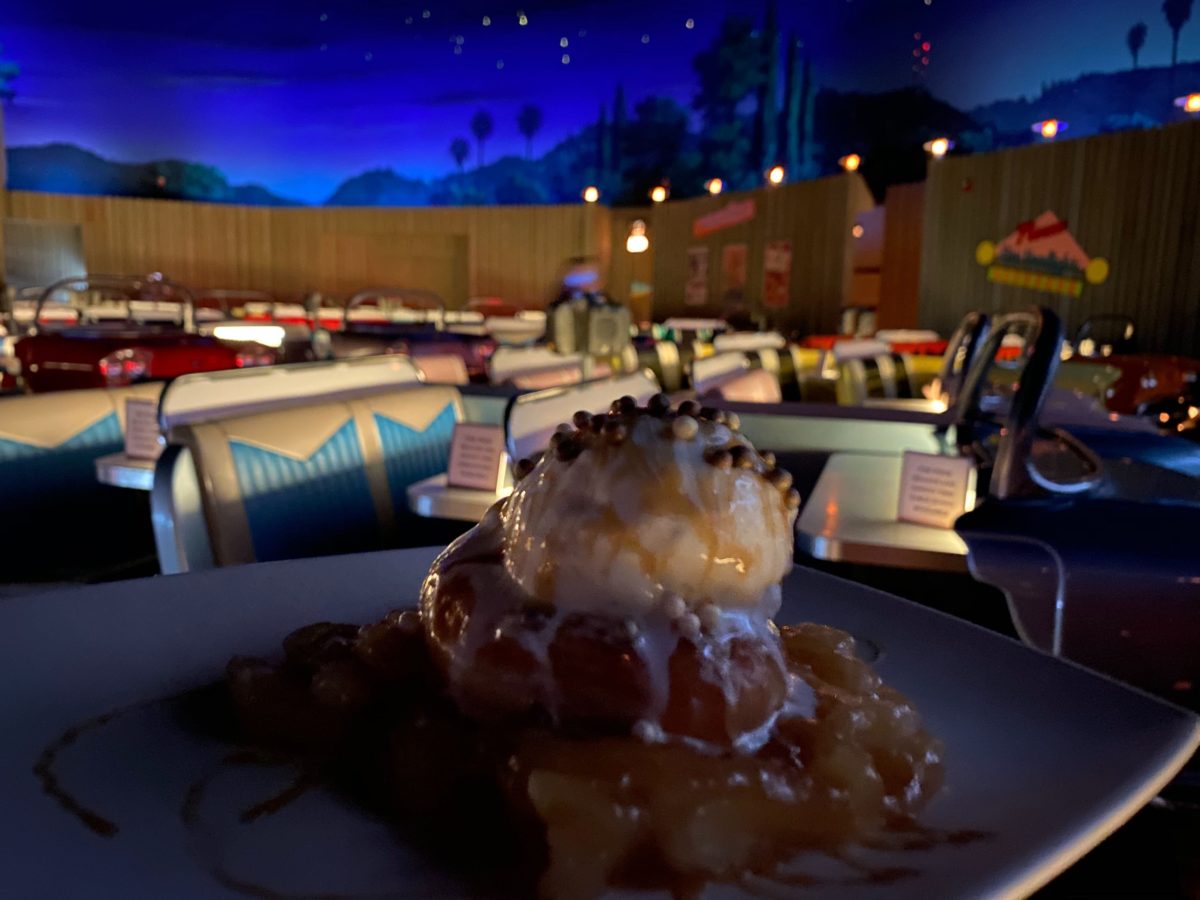 Then we received our yummy glazed doughnut, topped with ice cream.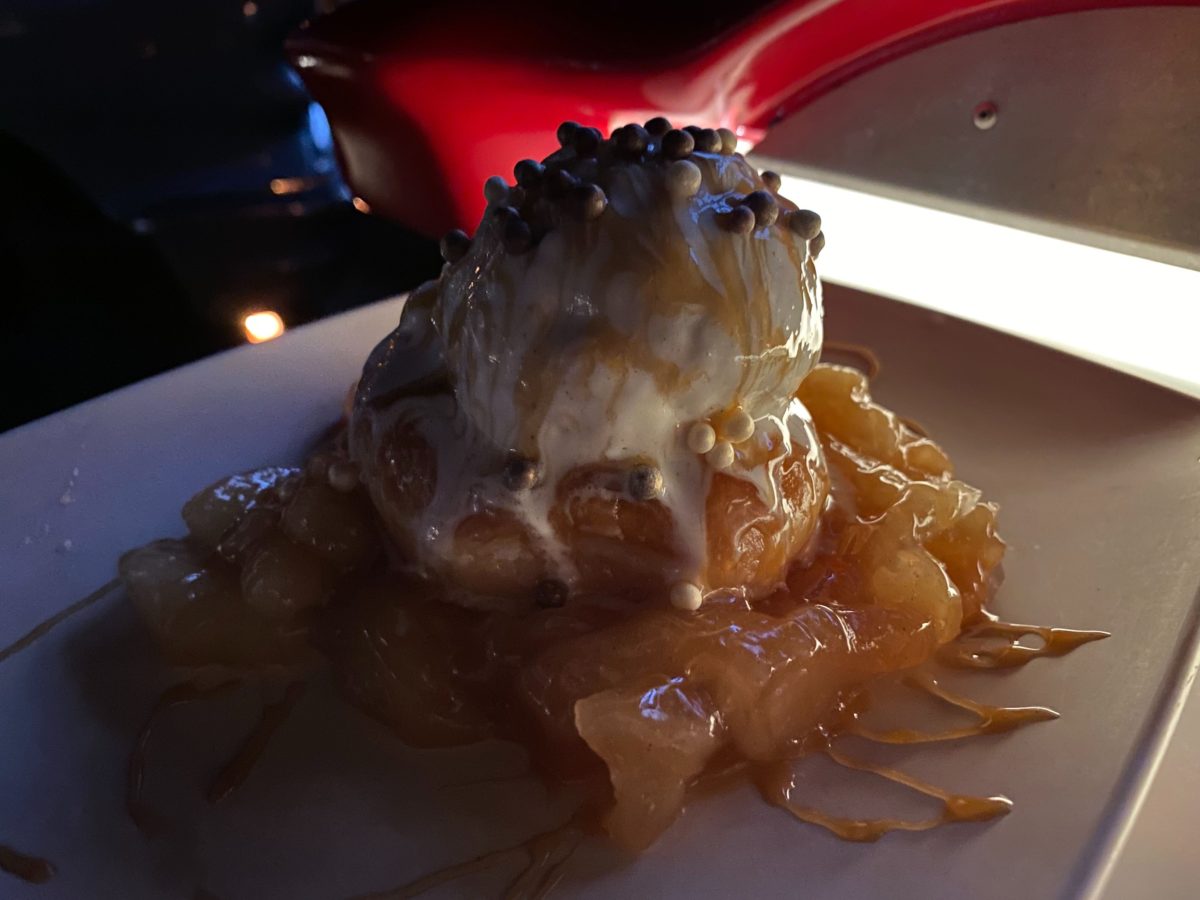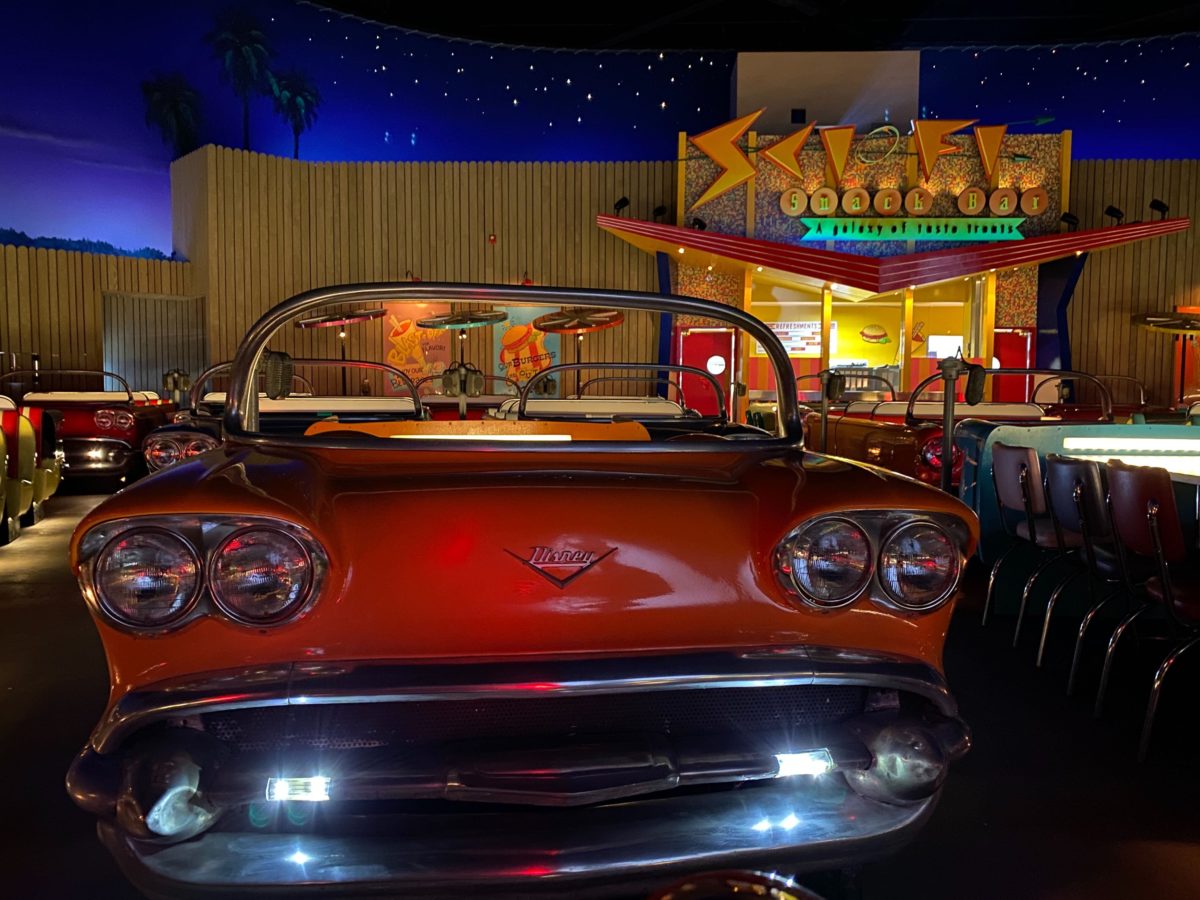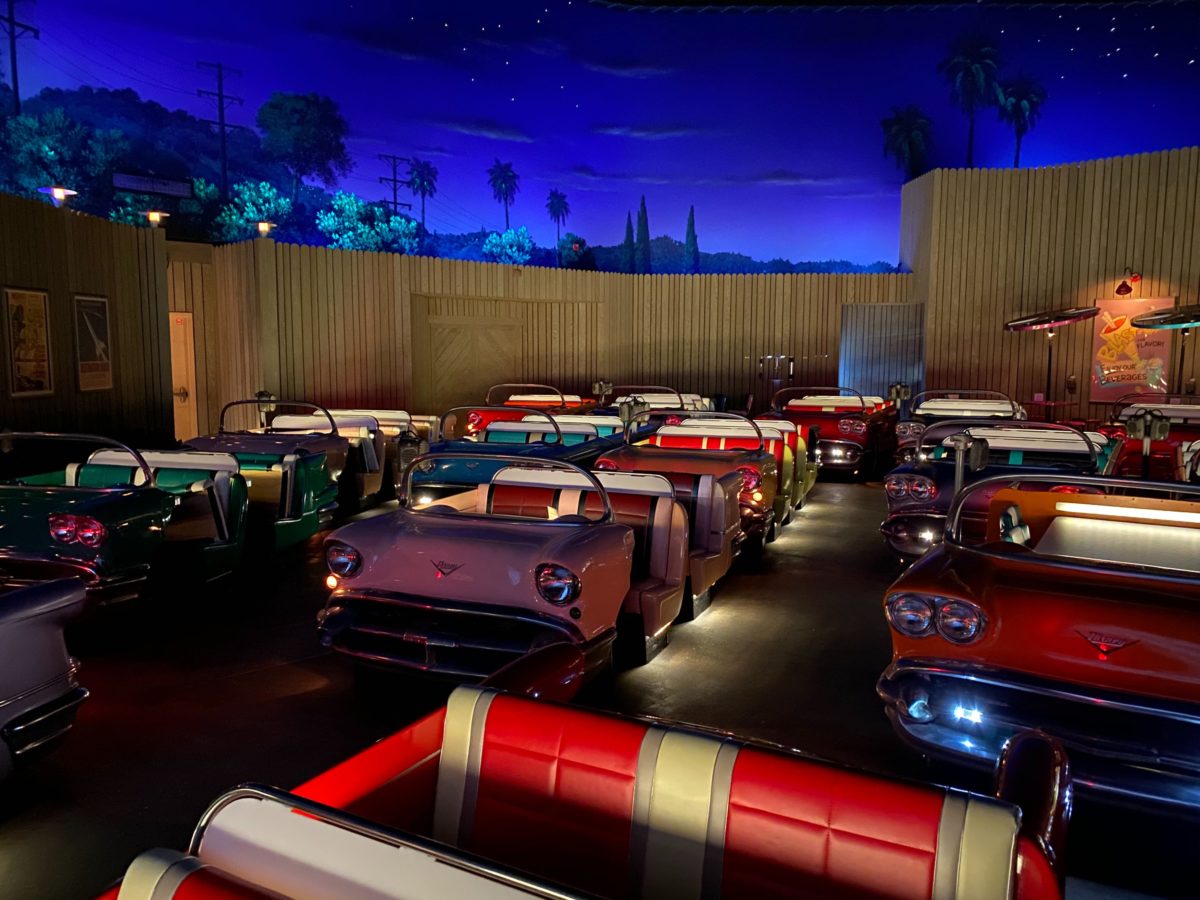 We've never seen the Sci-Fi Dine-in so empty, so we took plenty of pictures.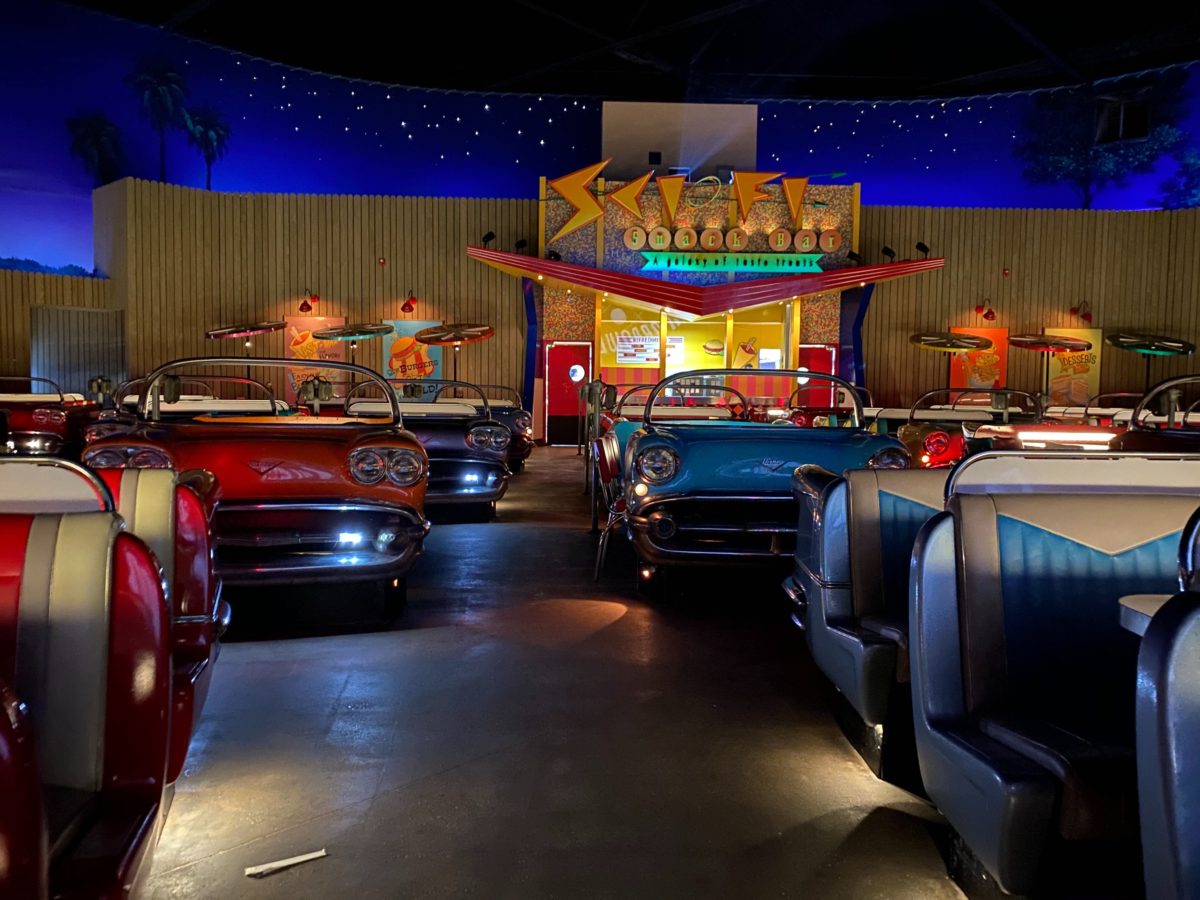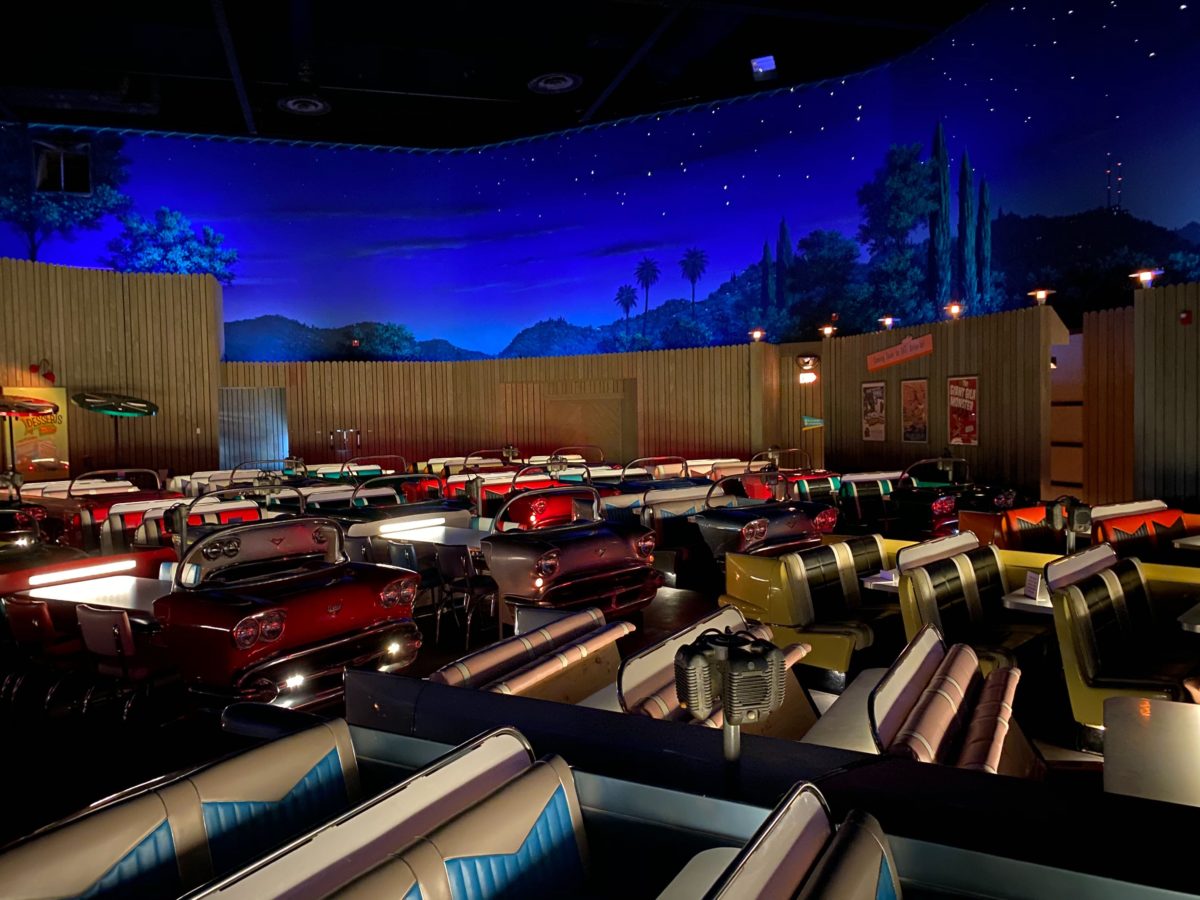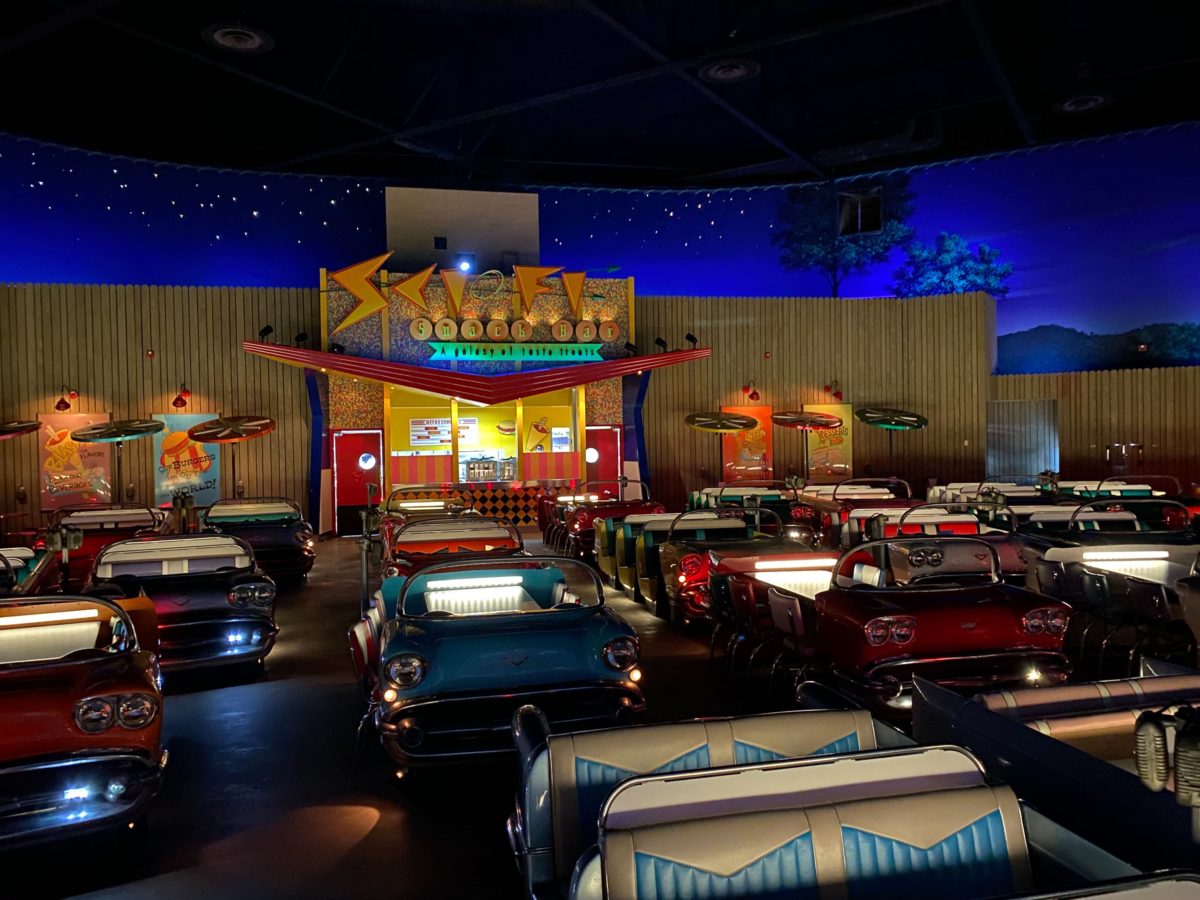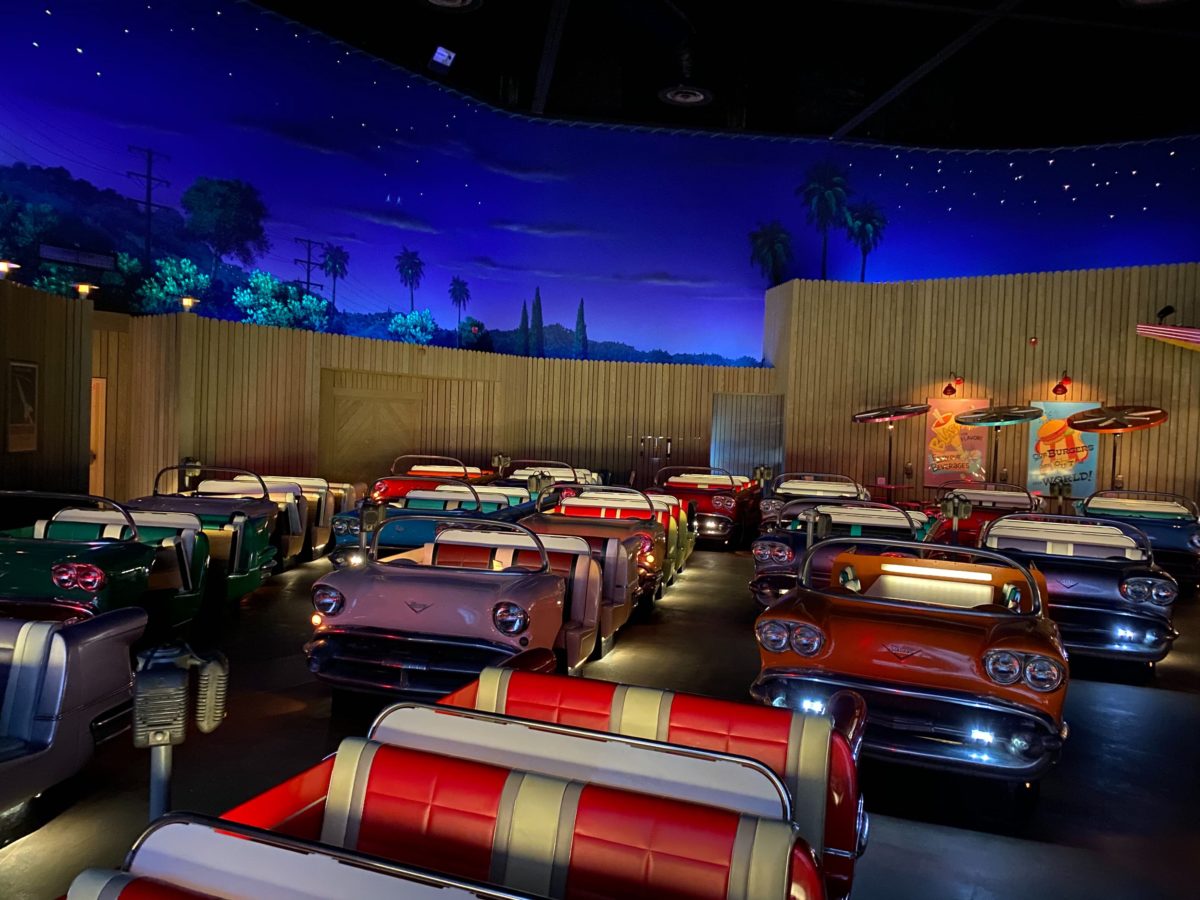 We were the last guests of the day. As a tip, if you're looking to book a Sci-Fi Dine-In reservation online, they begin at parties or 4 or more. So if you're a smaller party, your best bet may be either inviting some friends along or trying for walk-up seating.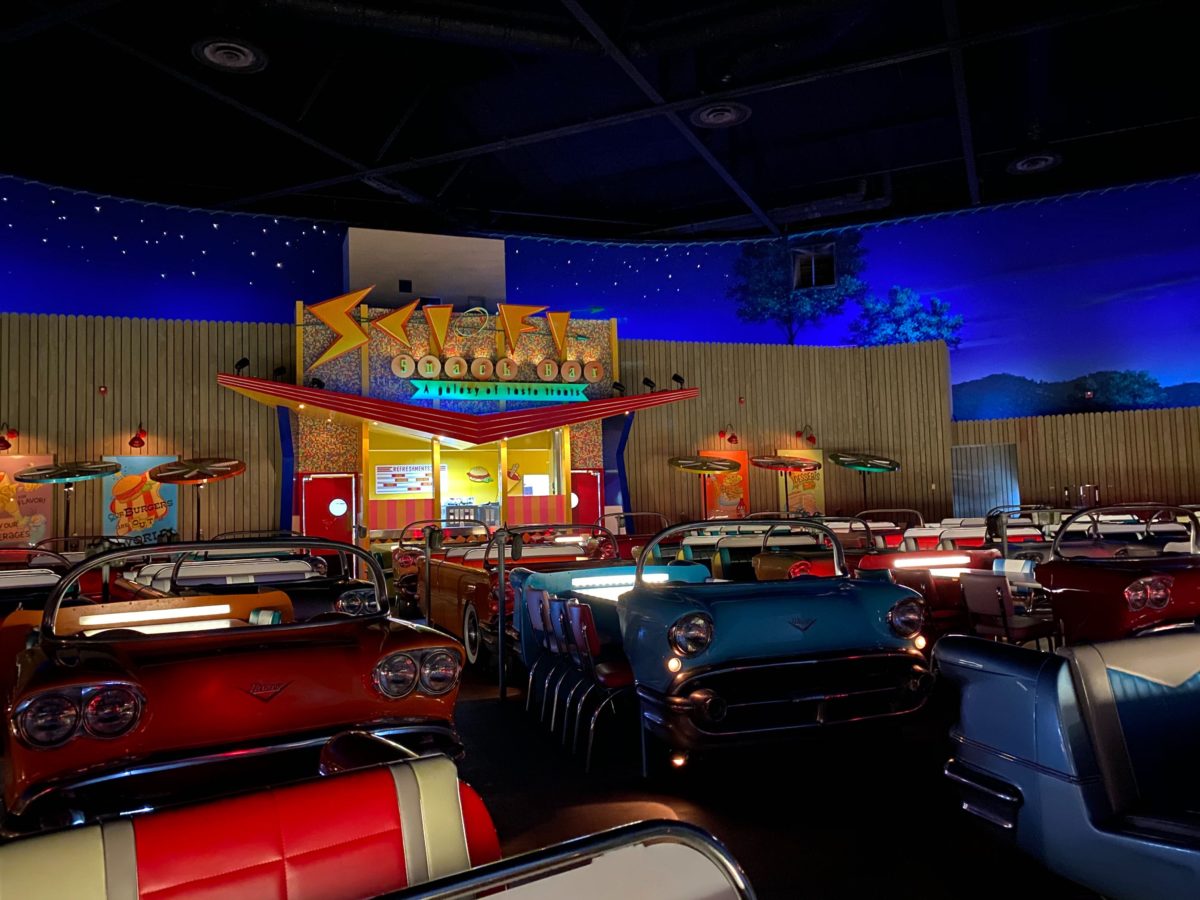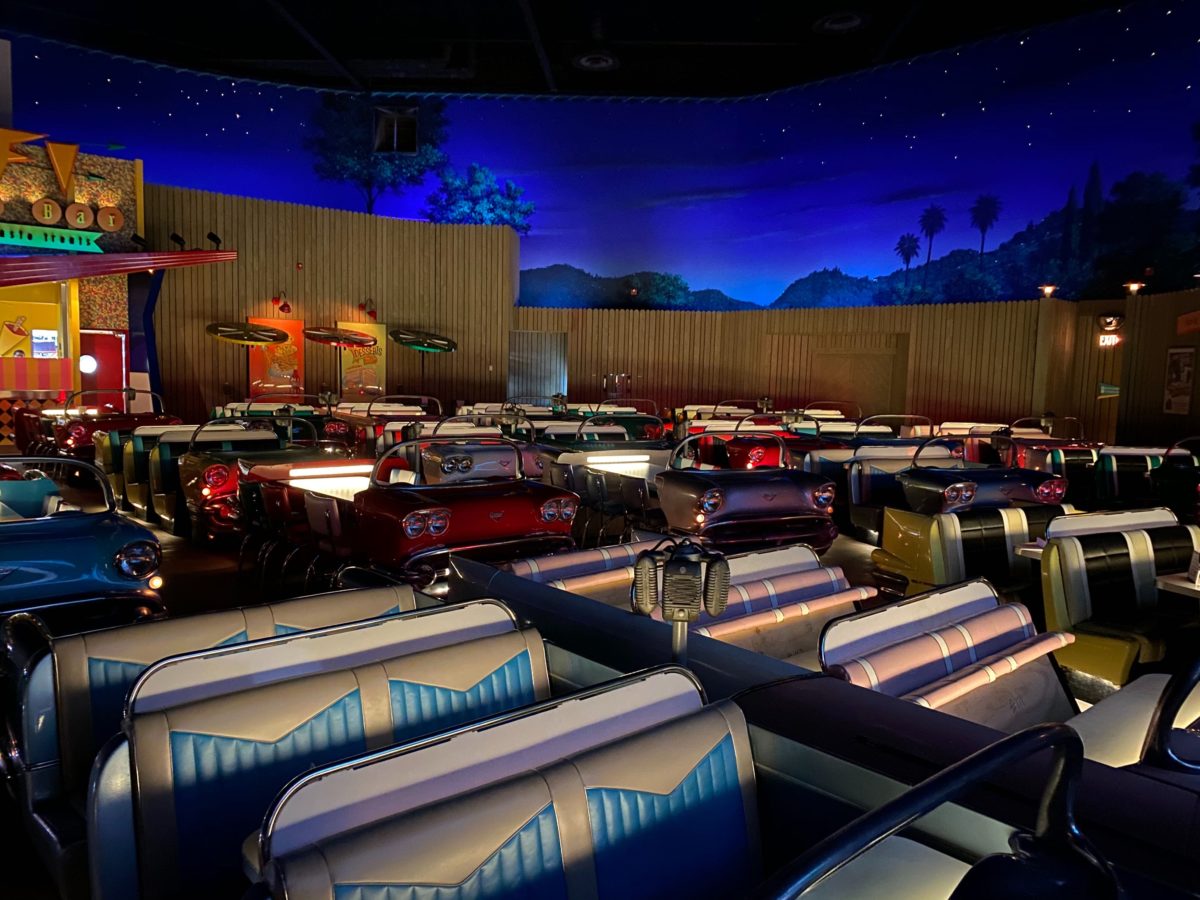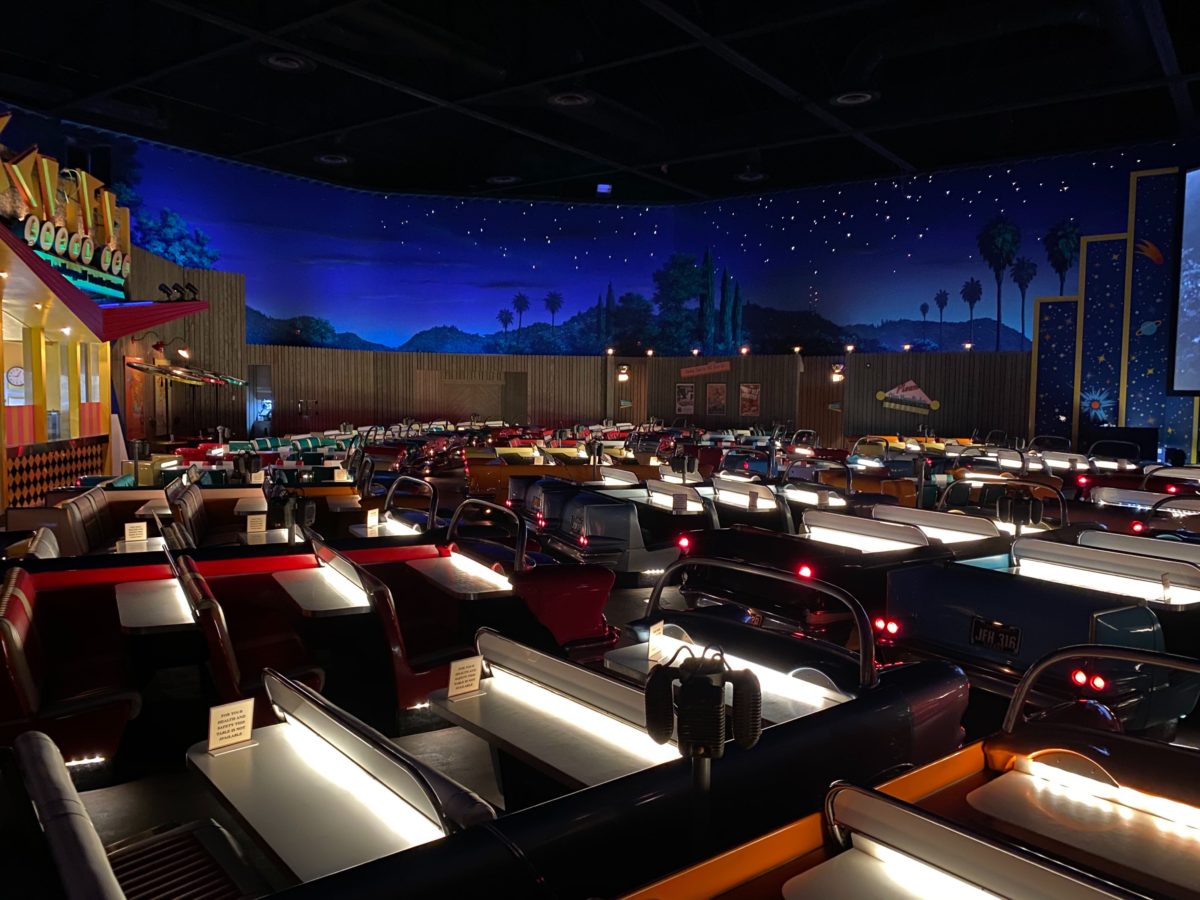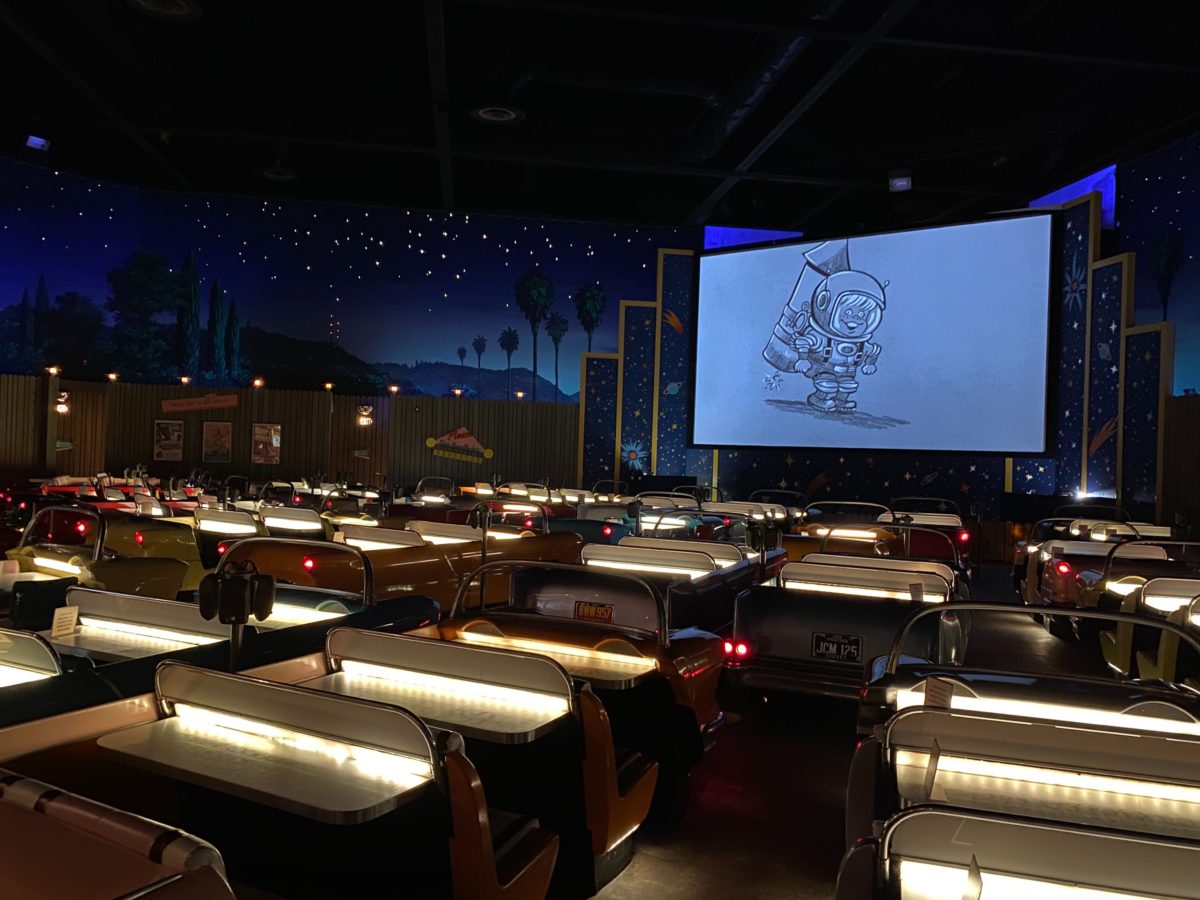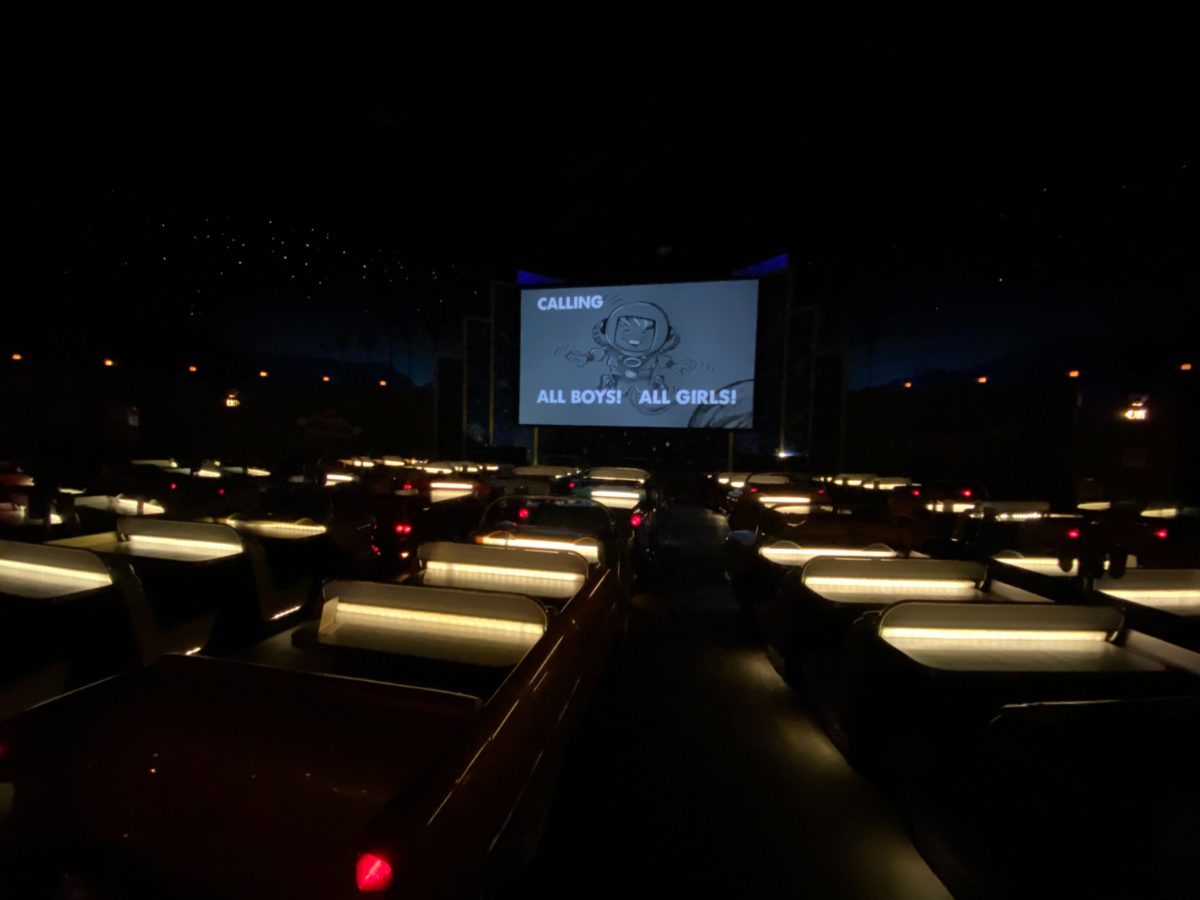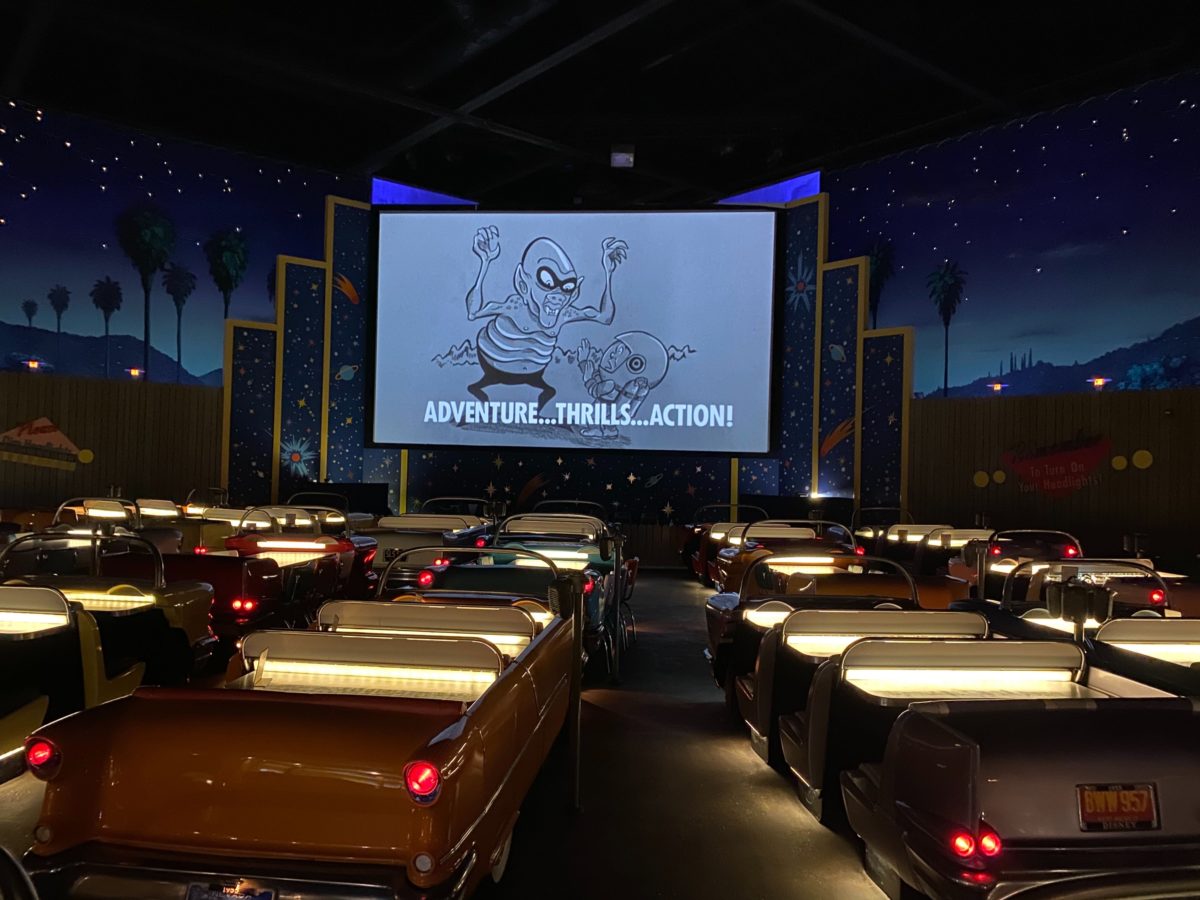 We hope you're enjoying the adventure…thrills…and action of our return to Walt Disney World this week. Keep watching WDWNT for more updates about social distancing and safety guidelines.