The Kitchen is located inside the Hard Rock Hotel at Universal Orlando Resort. With the reopening of the parks and resorts, we've been making our way around the restaurants, sampling a bit of everything off of their limited menus. At this time, many of the restaurants have a smaller, condensed version of their original menus. Before we dig into the food, let's take a quick look at the restaurant and a few of their social distancing measures.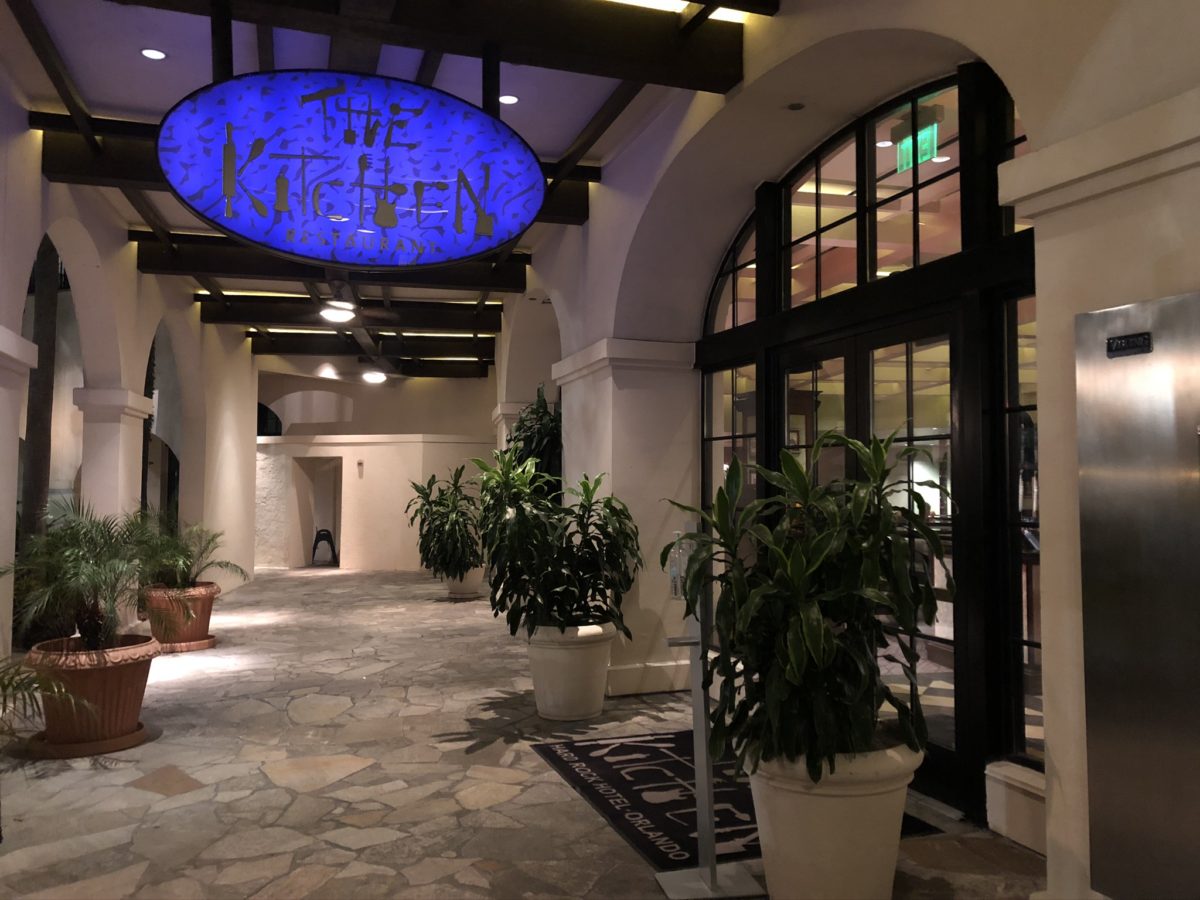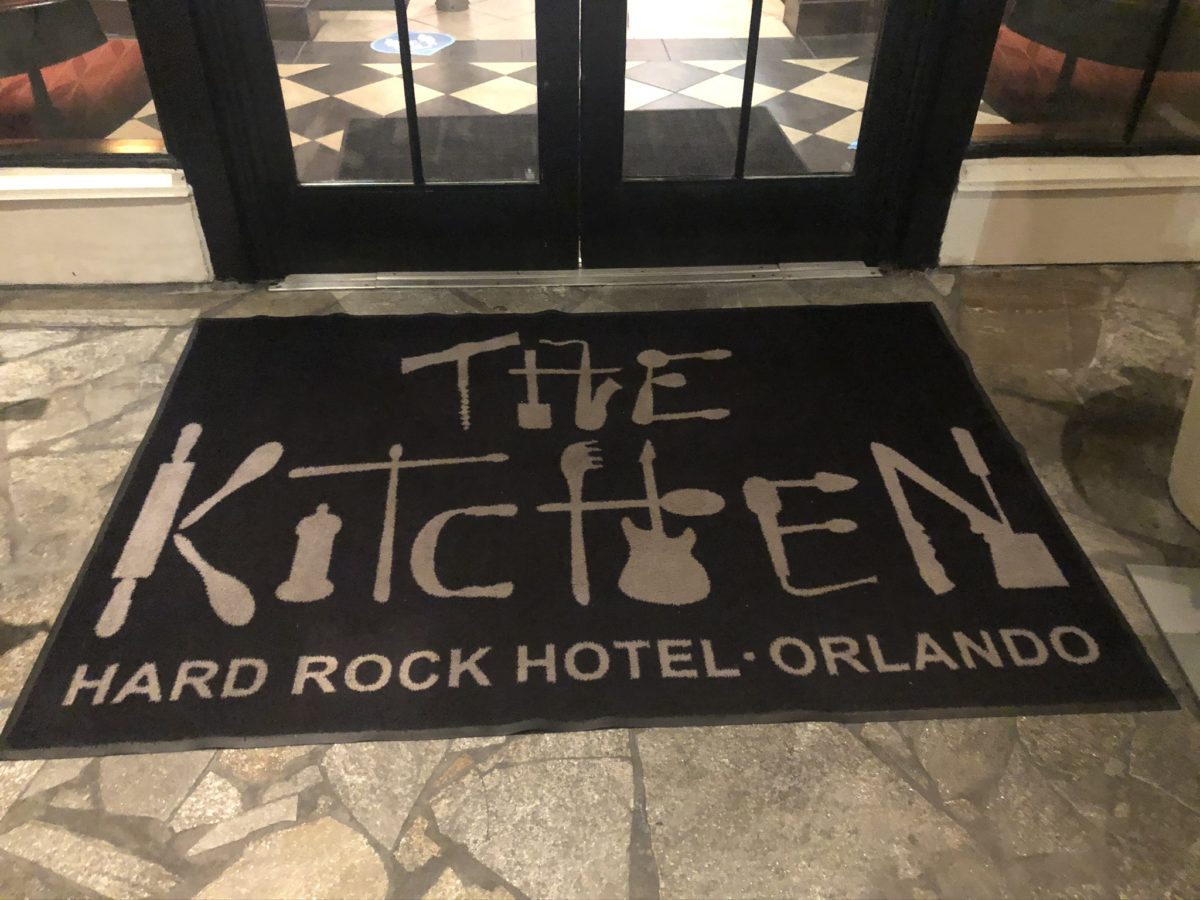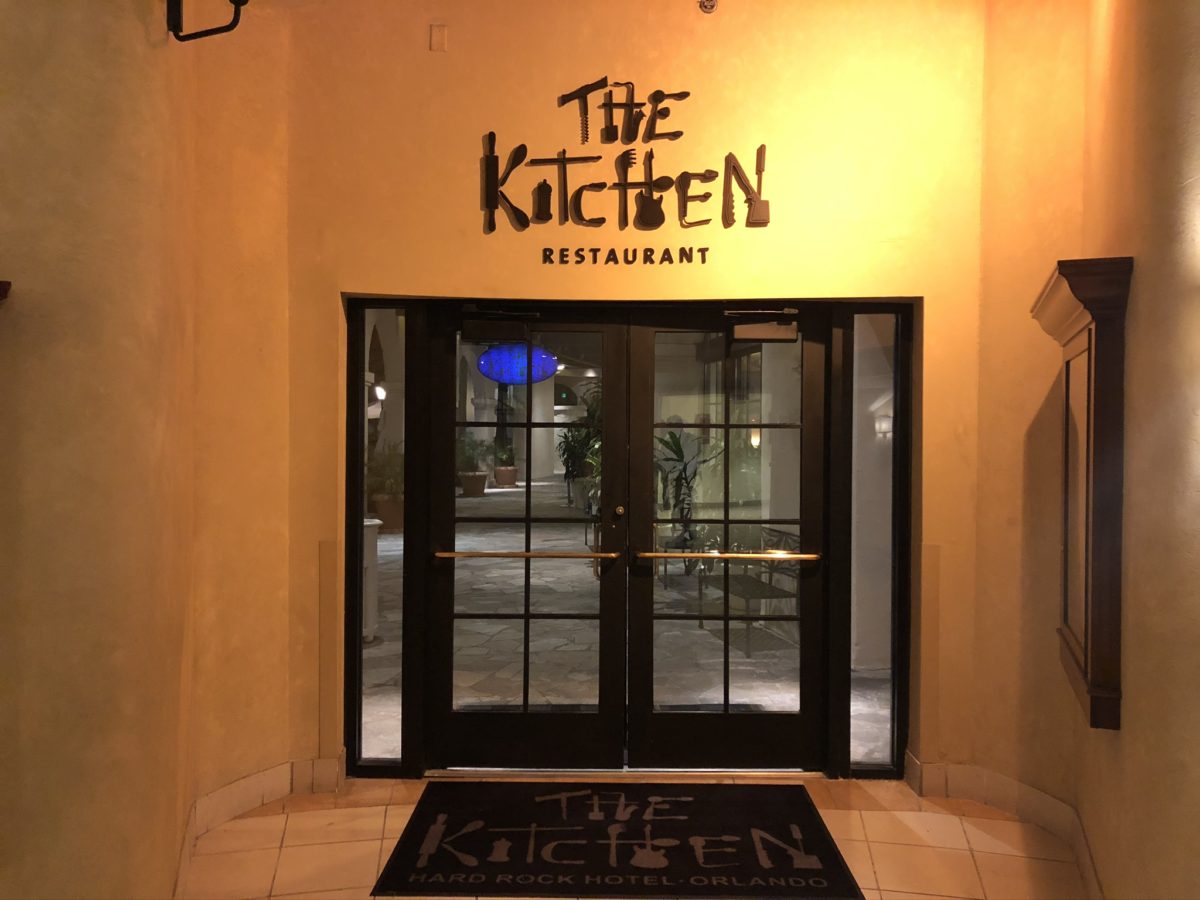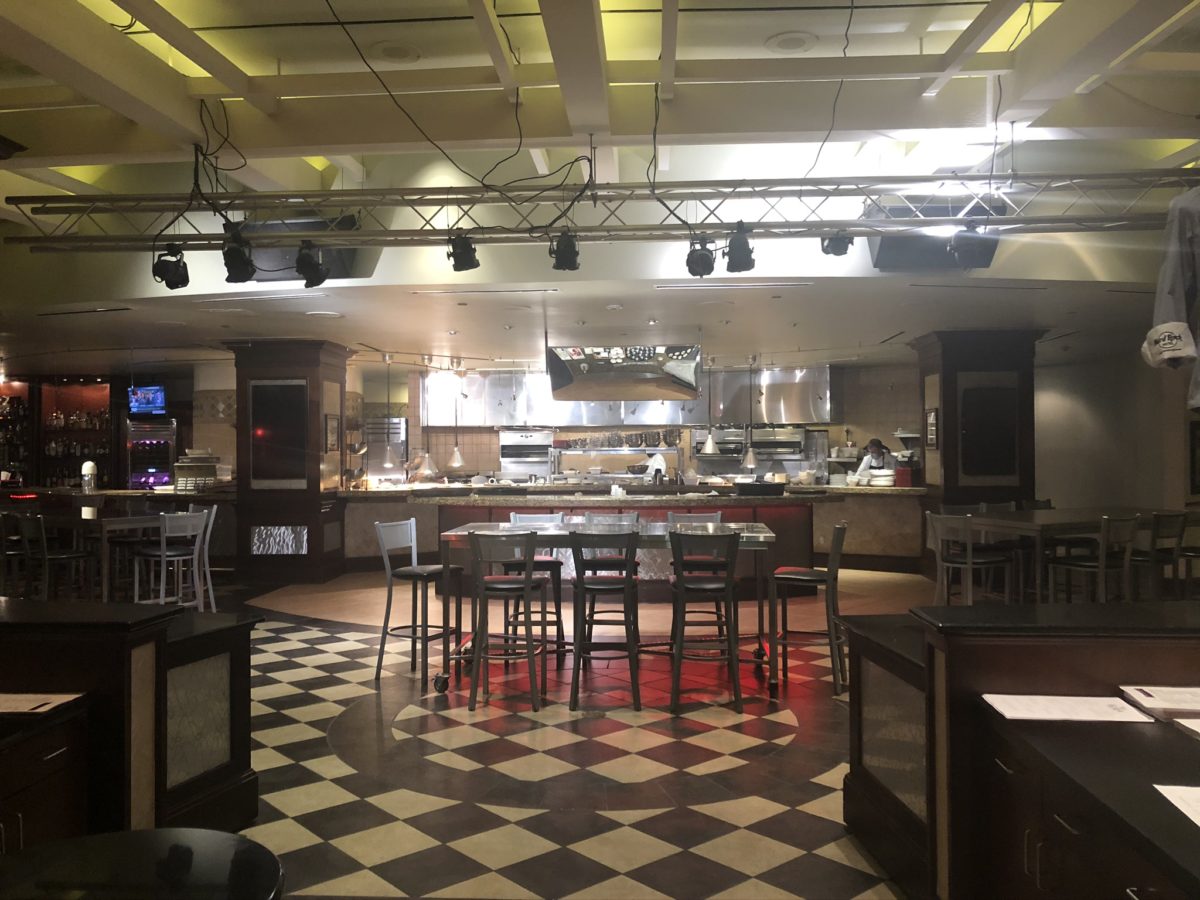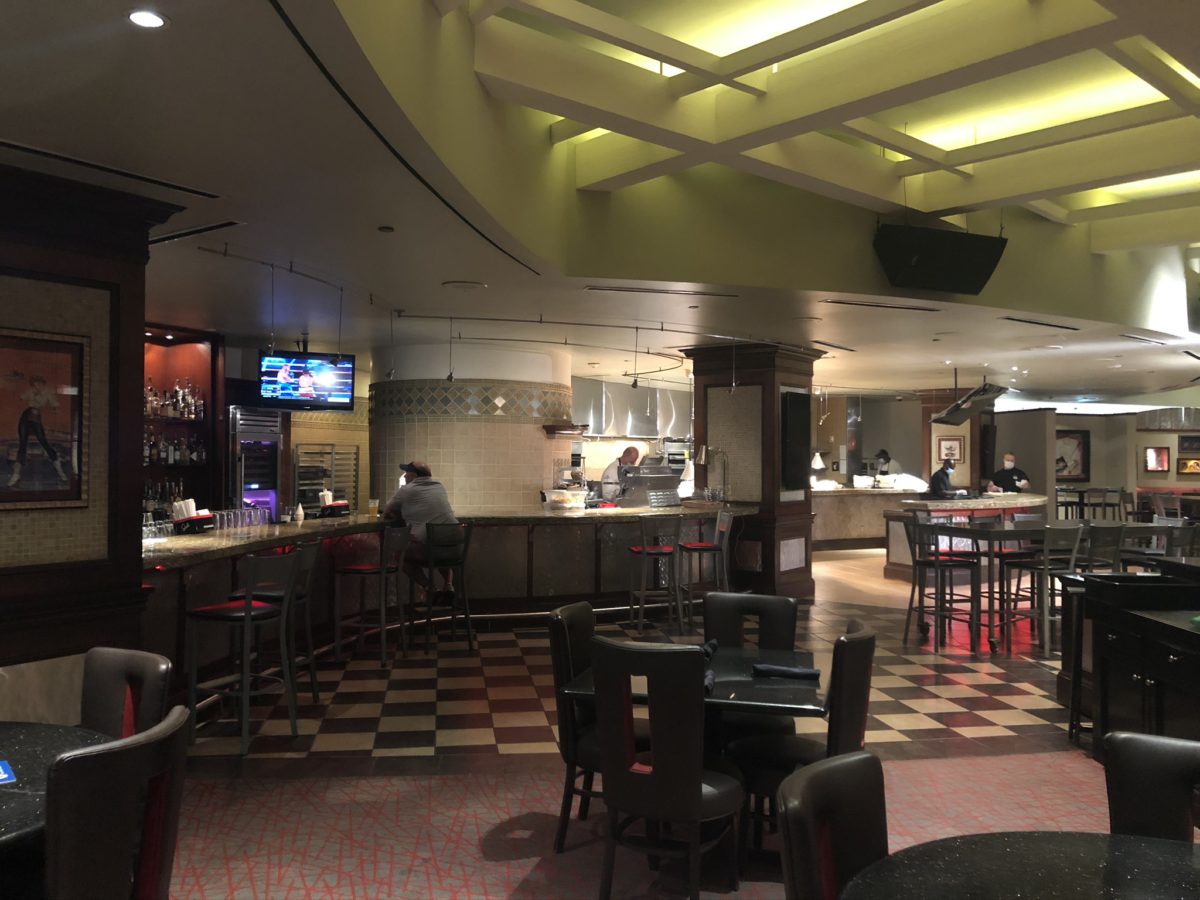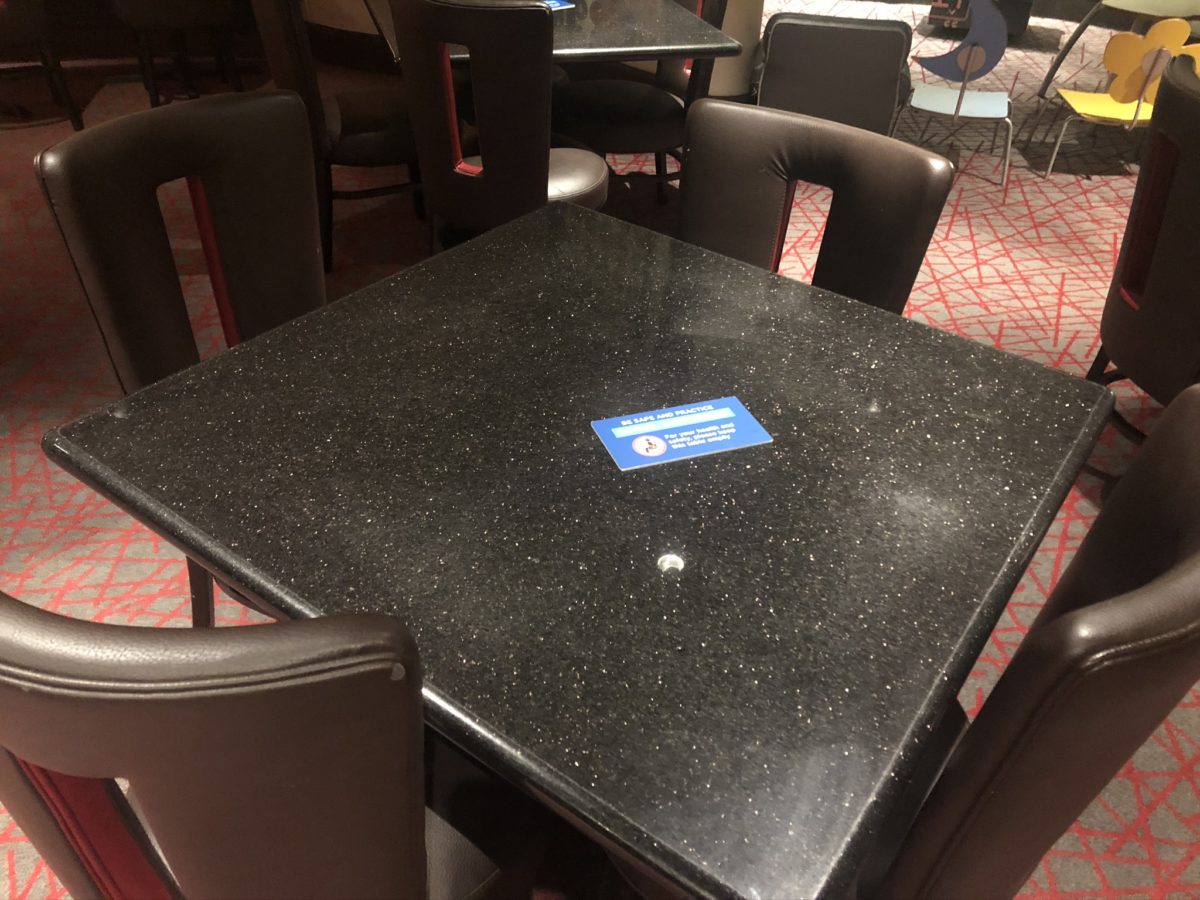 The restaurant has spaced out most of its tables to allow for plenty of distance between dining parties. In areas where tables are closer together, there are blue markers designating which tables are closed off.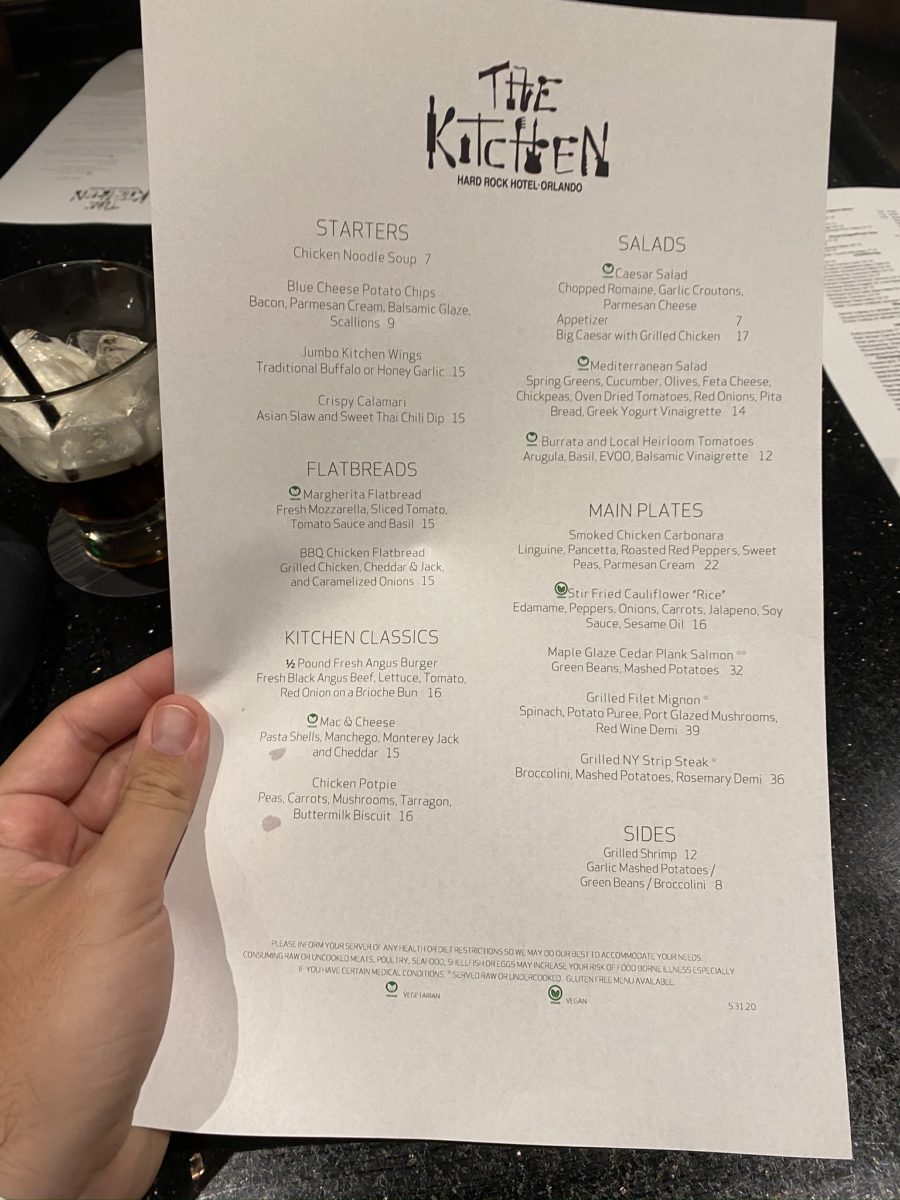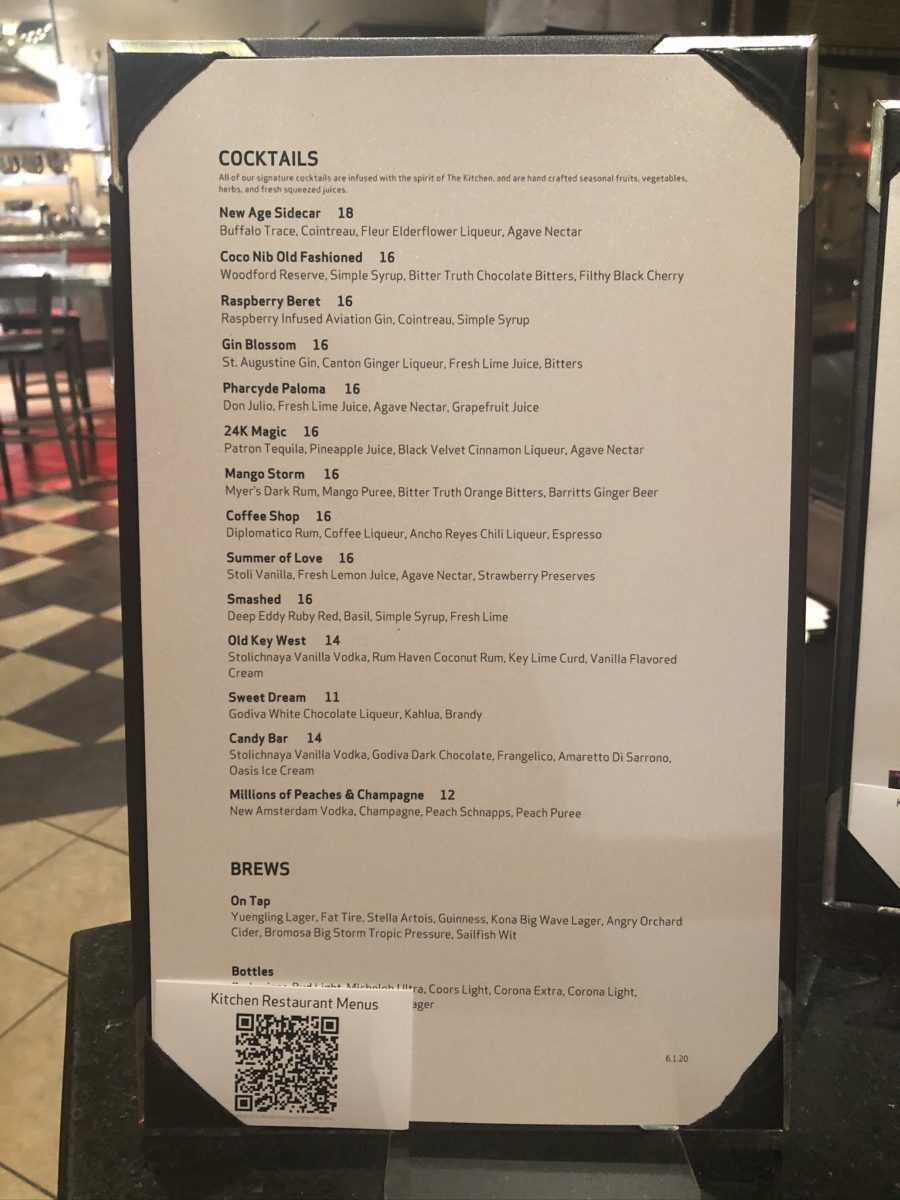 Every member of our party was given a paper menu offering a small variety of starters, flatbreads, salads, kitchen classics, entrees, and sides. After we ordered, they were collected and disposed of by our servers.
Starters
Blue Cheese Potato Chips – $9
Bacon, Parmesan Cream, Balsamic Glaze, Scallions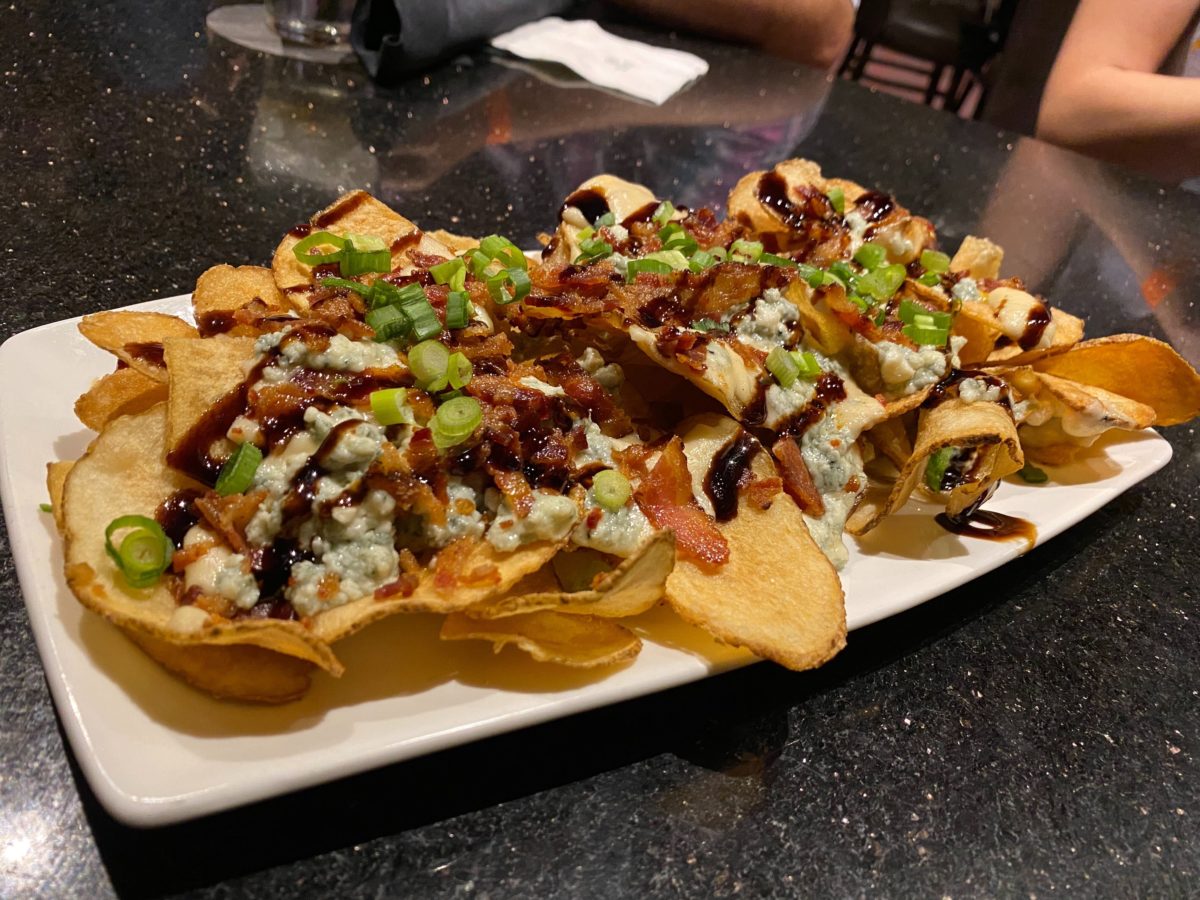 The Blue Cheese Potato Chips are topped with bacon, parmesan cream, blue cheese crumbles, scallions, and Balsamic glaze.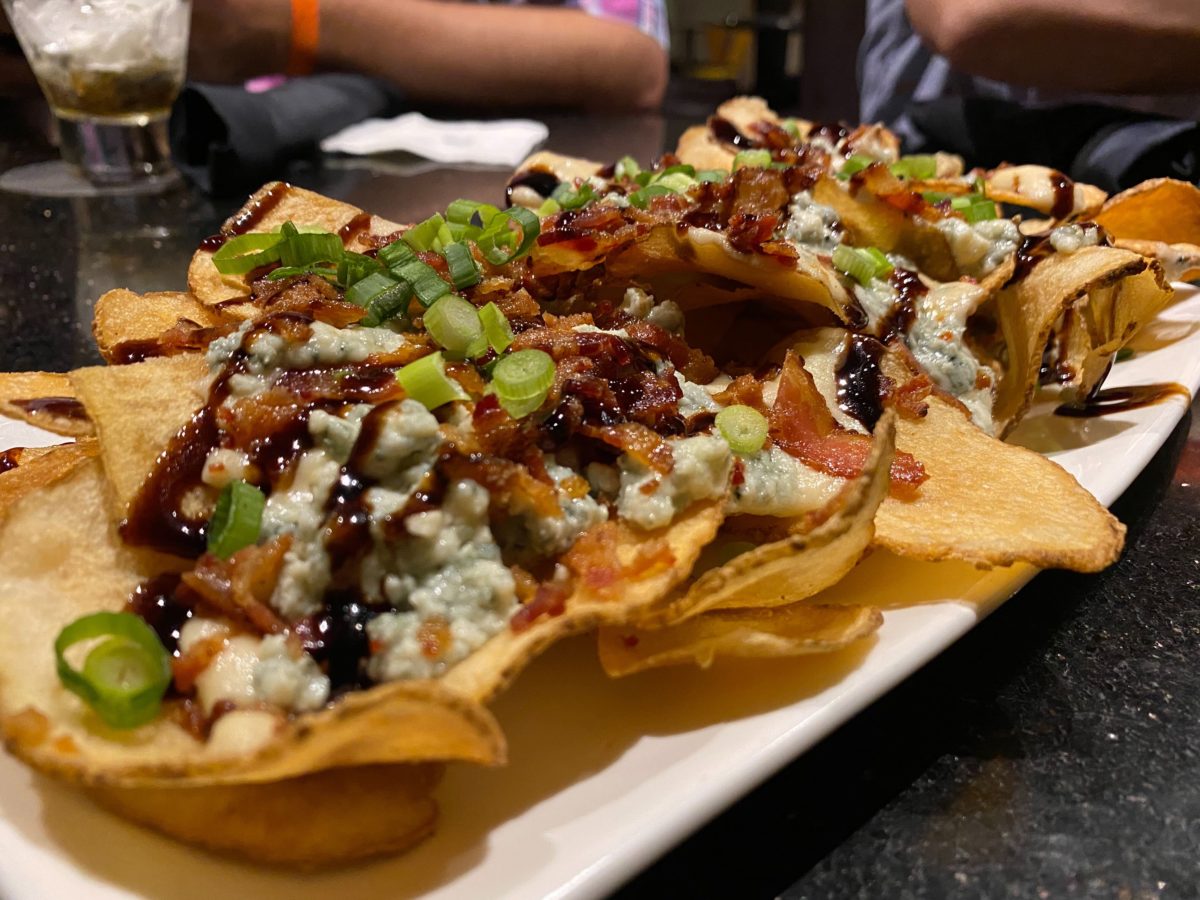 A generous portion of toppings covers a bed of crispy, crunchy potato chips. There was more than enough to last from the first chip to the last. This was one of the favorite starters that we ordered. The cheese sauce was a smooth, light parmesan cream that managed to hold its own even against the strong taste from the chunks of blue cheese. The balsamic glaze was thick and distributed across the dish to allow for that pop of sweet flavor with each bite. When everyone at the table had their fill, I made sure this plate worked its way back down to my end of the table so I could finish it off.
Jumbo Kitchen Wings – $15
Traditional Buffalo or Honey Garlic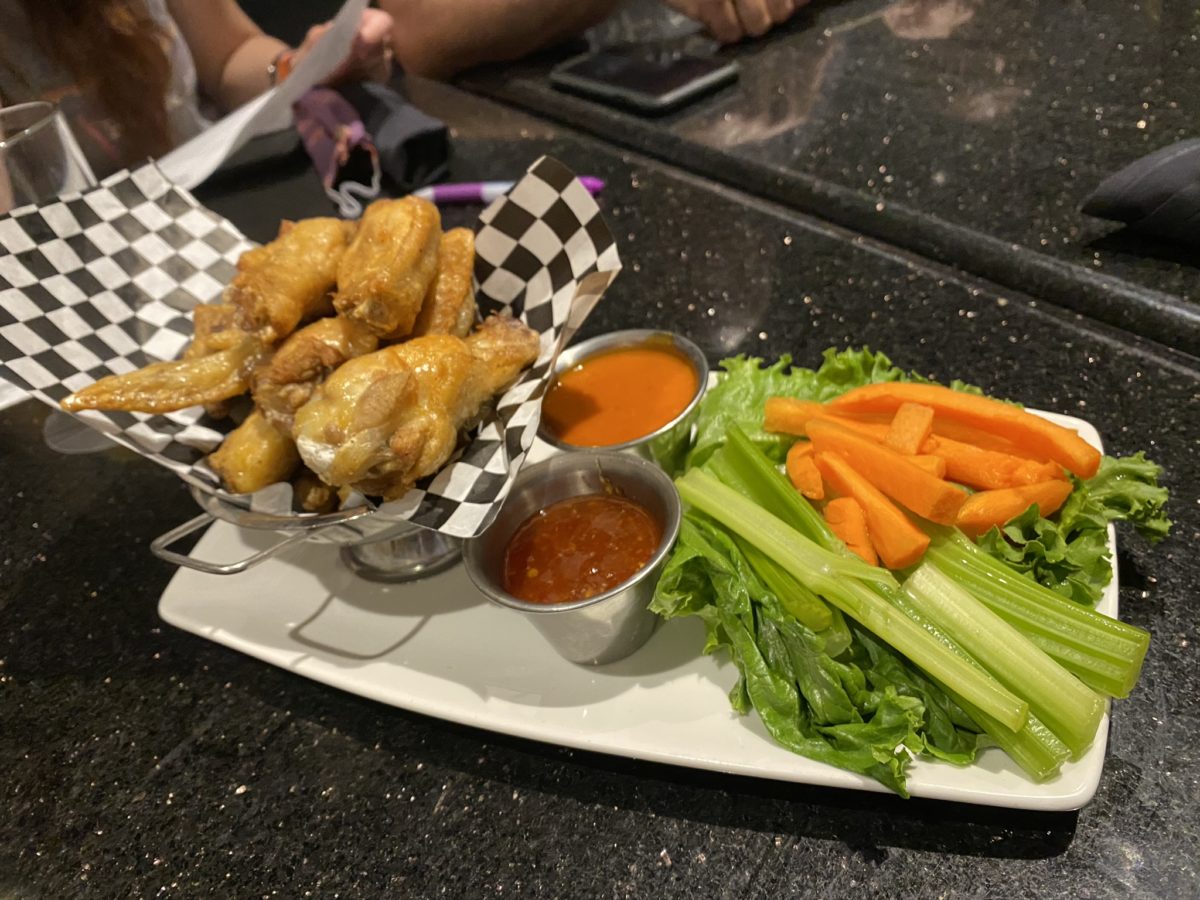 The Jumbo Kitchen Wings come with your choice of traditional buffalo or honey garlic. We asked for half and half, which resulted in a basket of wings with two large cups of sauce on the side. These didn't really seem to impress anyone, with the table agreeing they were good, but not worth ordering again.
Crispy Calamari – $15
Asian Slaw and Sweet Thai Chili Dip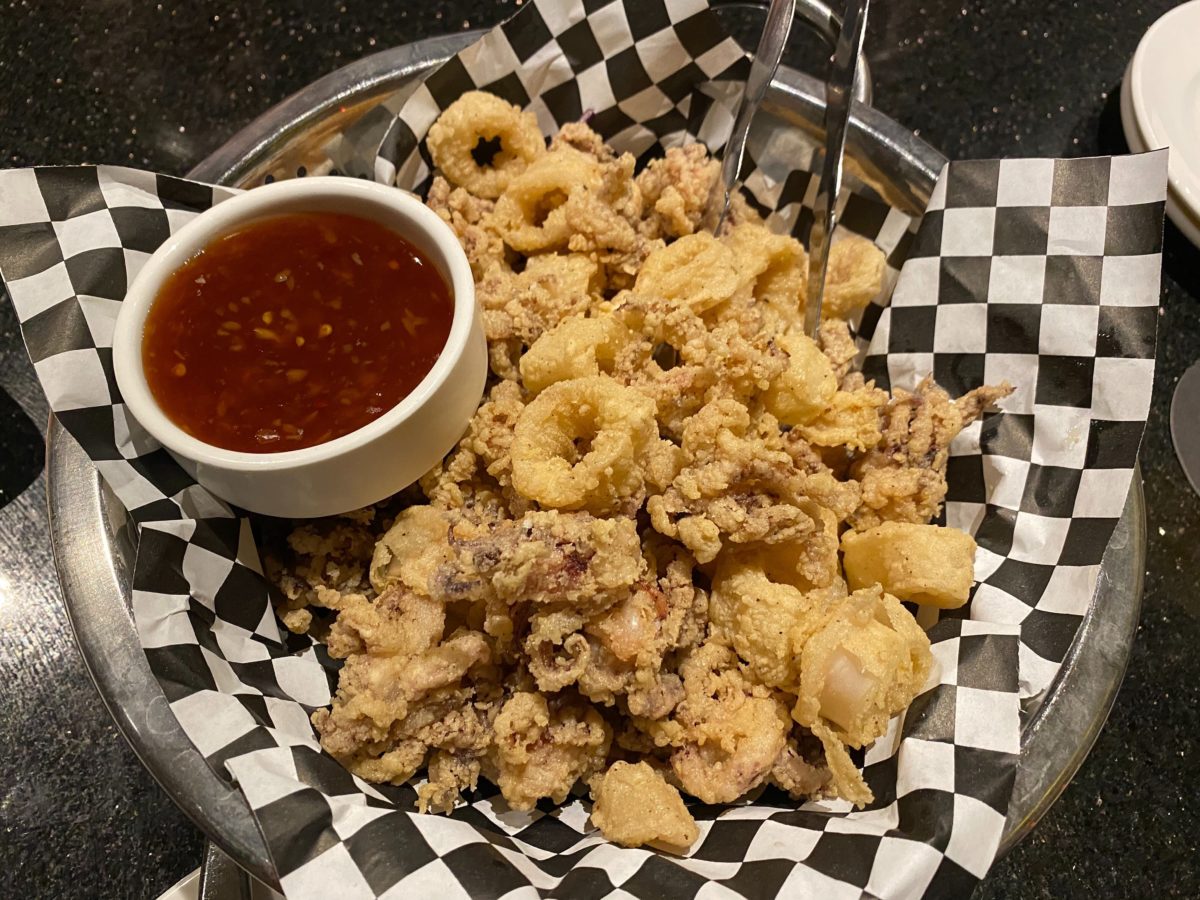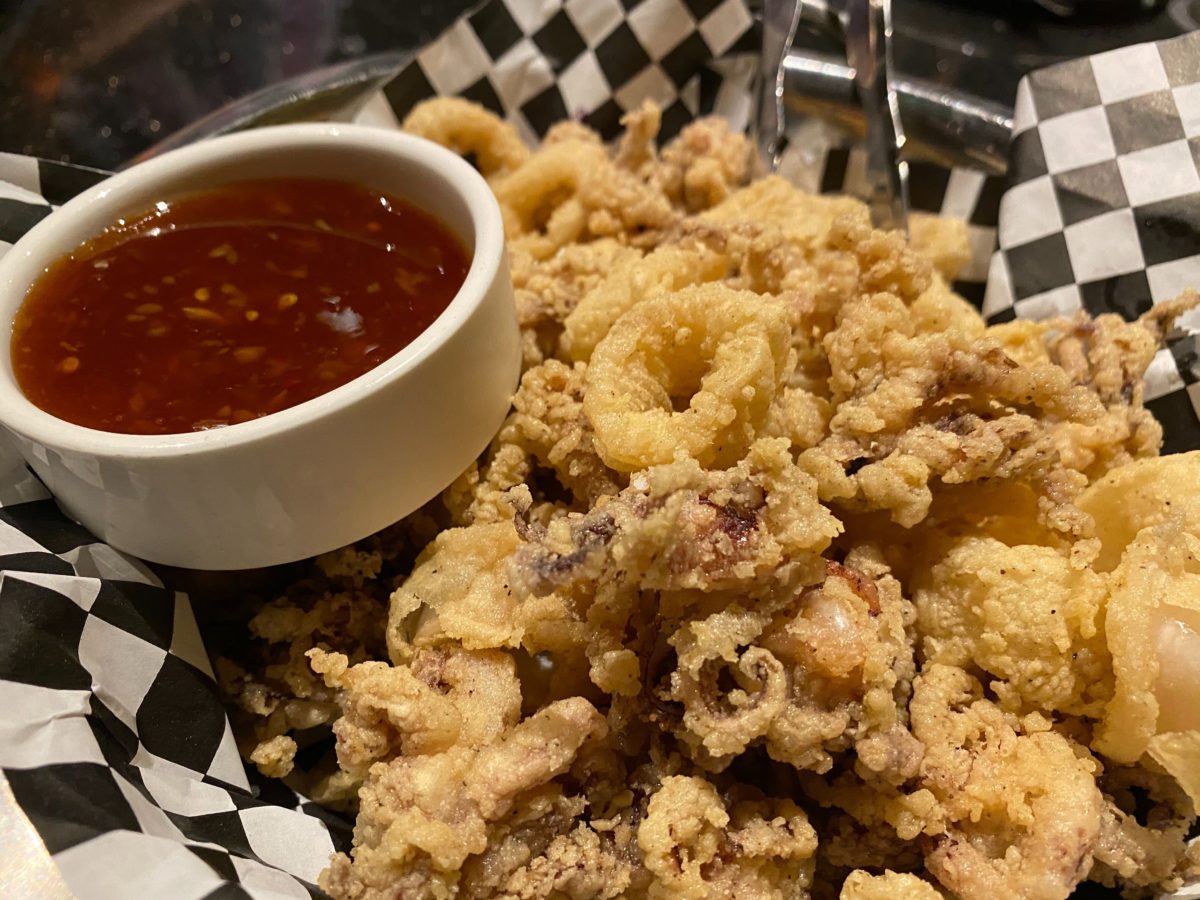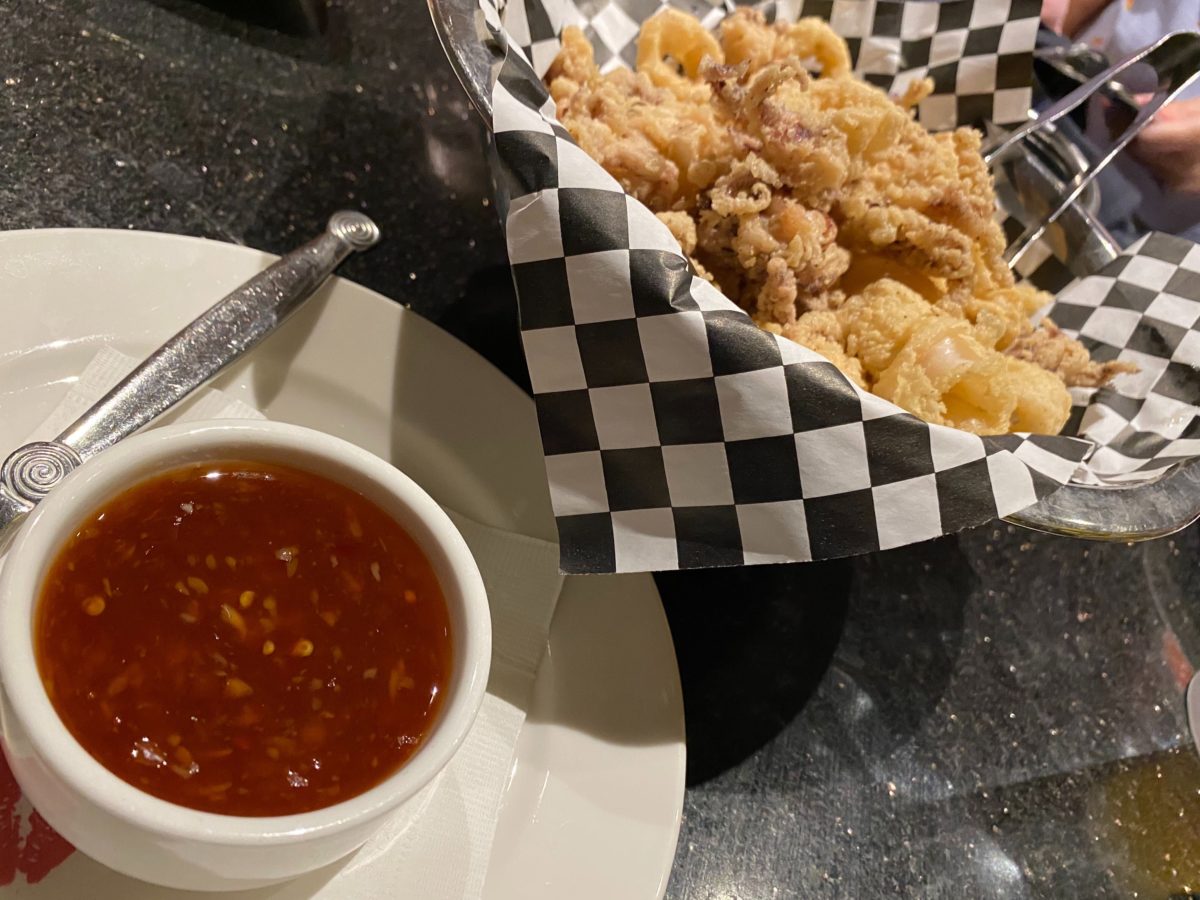 The calamari had a very nice portion size and is another starter that is great for sharing. There is a good amount of calamari and plenty of the sweet Thai chili dip to go around. Some of the calamari could have been a little crispier, but it was still a solid dish.
Salads
Caesar Salad (Appetizer – $7, Big Caesar with Grilled Chicken – $17)
Chopped Romaine, Garlic Croutons, Parmesan Cheese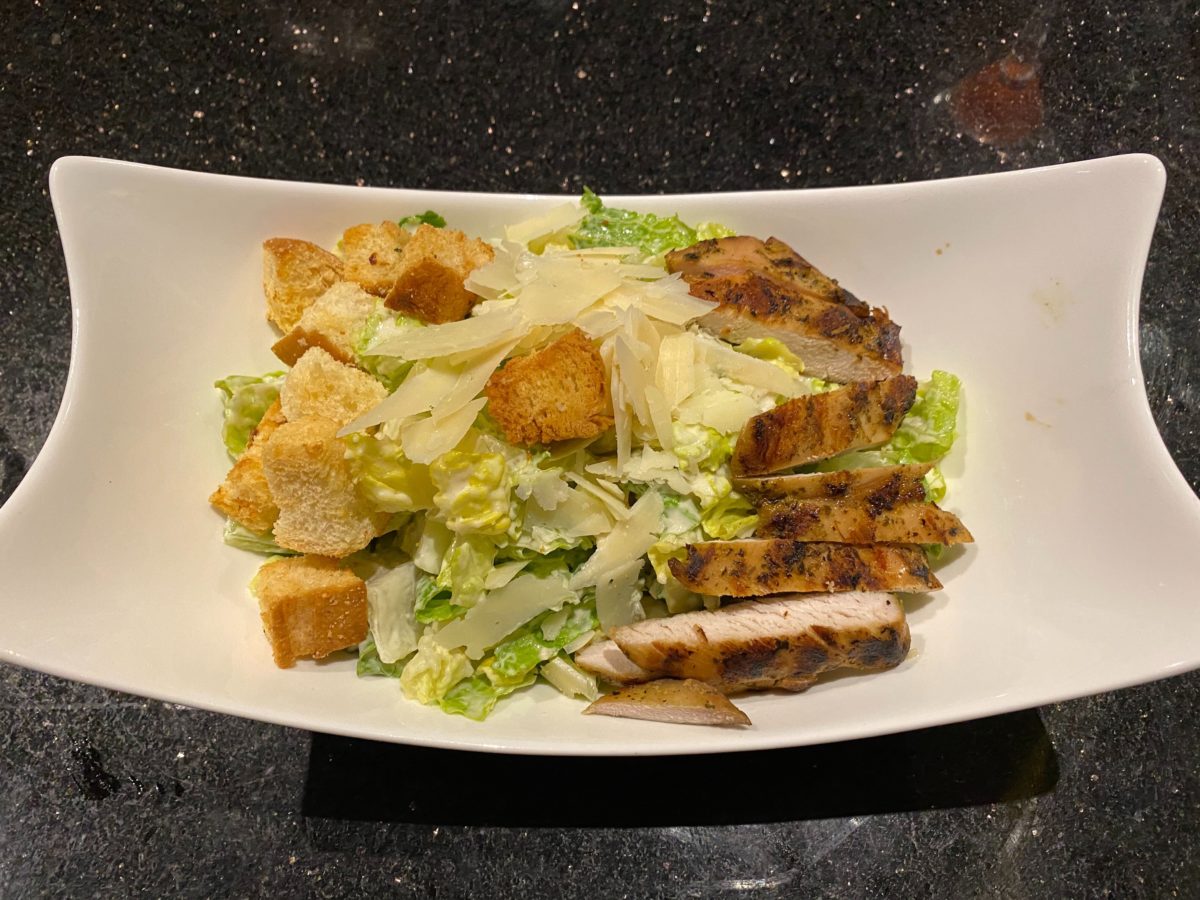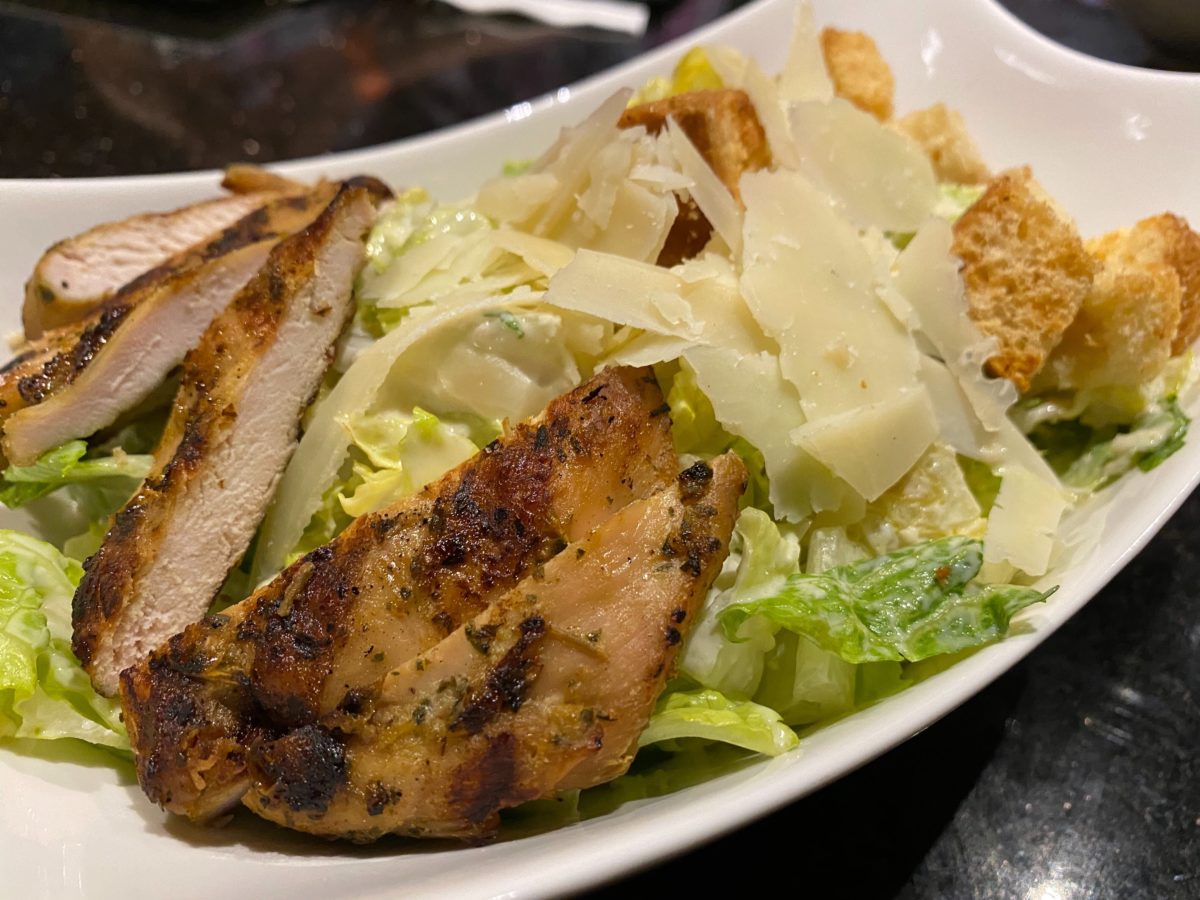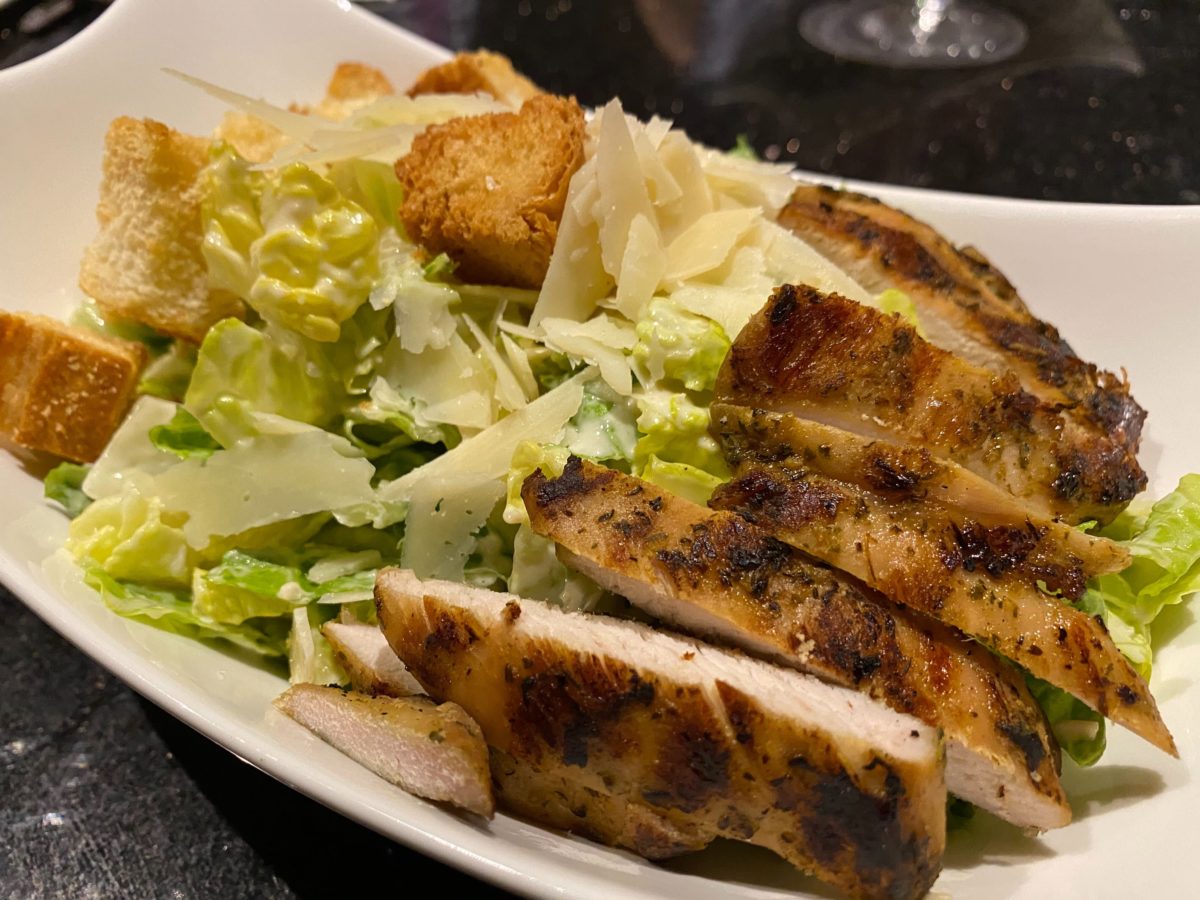 We went with the big salad with grilled chicken. The bed of greens were crisp and fresh and covered in thin slices of parmesan cheese and crunchy garlic croutons.
Mediterranean Salad – $14
Spring Greens, Cucumber, Olives, Feta Cheese, Chickpeas, Oven-Dried Tomatoes, Red Onions, Pita Bread, Greek Yogurt Vinaigrette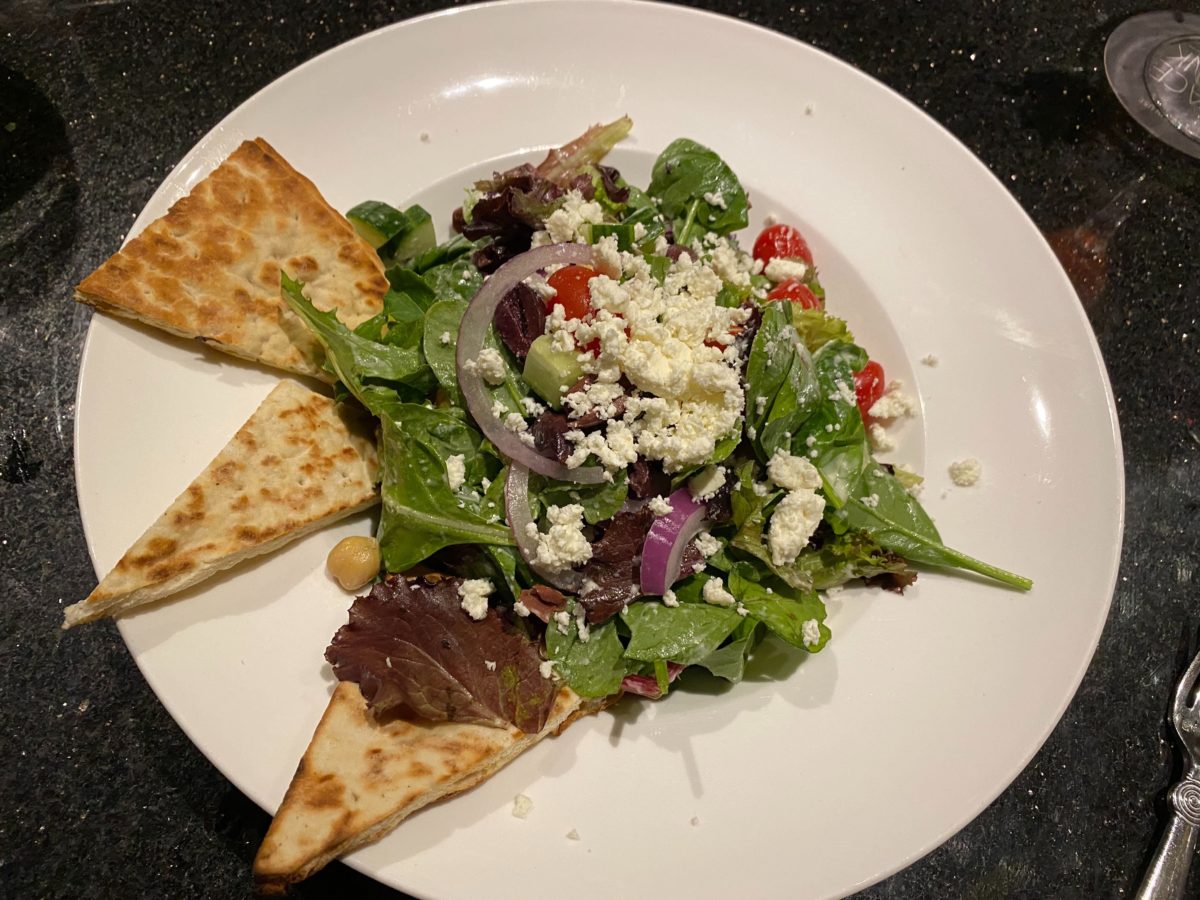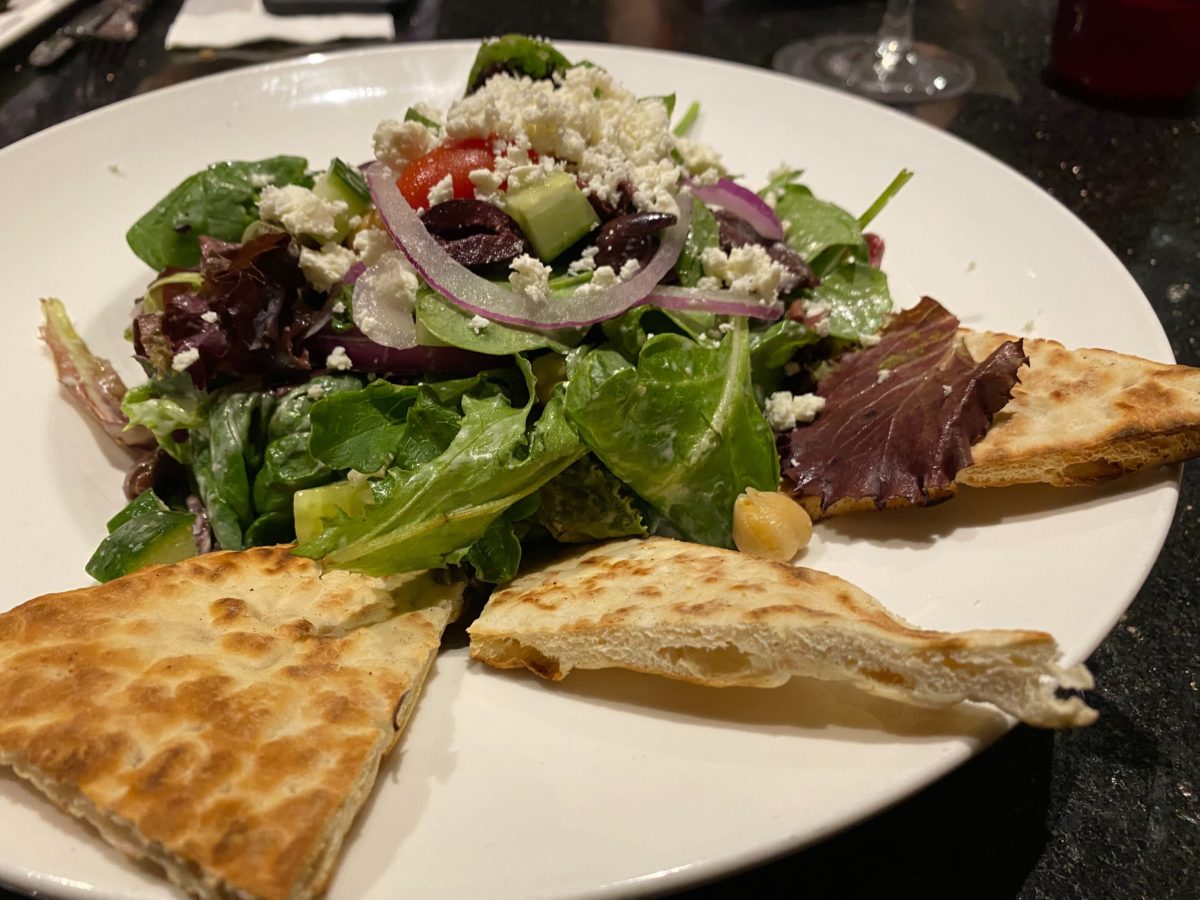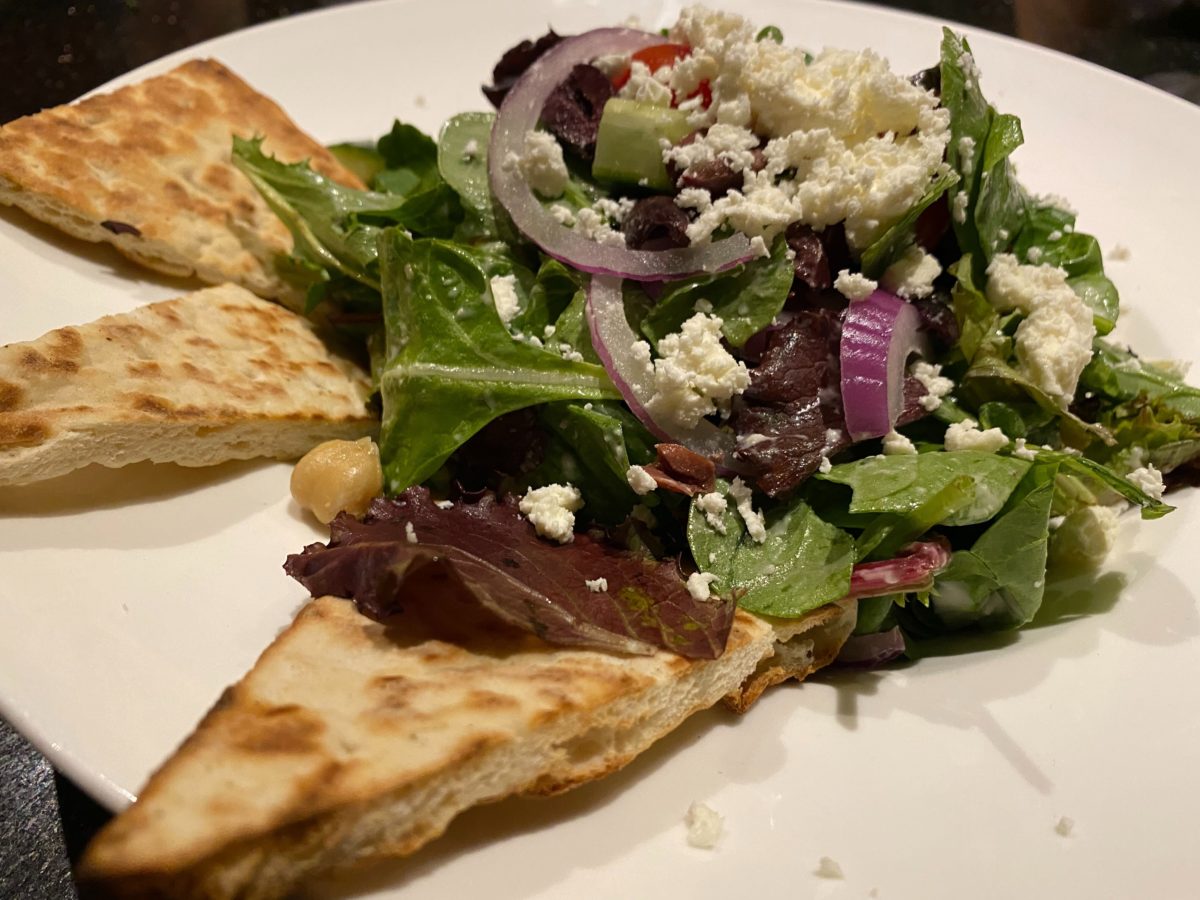 This Mediterranean salad was a lighter option on the menu, with Feta cheese, chickpeas, cucumbers, red onions, and olives. It's served with a Greek Yoghurt Vinaigrette and three slices of pita bread on the side. Nothing really amazed us, but it was still a nice alternative to some of the heavier entrees we've been eating lately.
Burrata and Local Heirloom Tomatoes -$12
Burrata and Local Heirloom Tomatoes, Arugula, Basil, EVOO, Balsamic Vinaigrette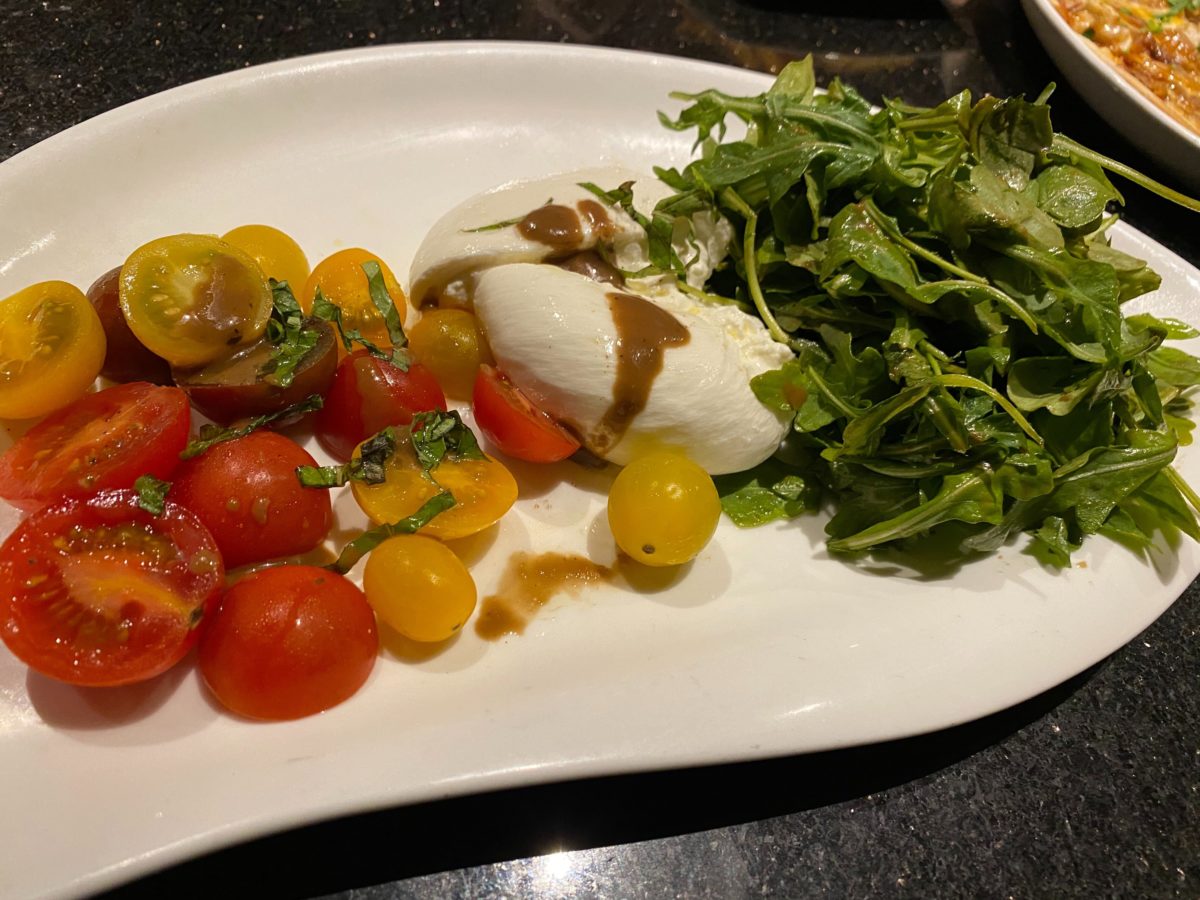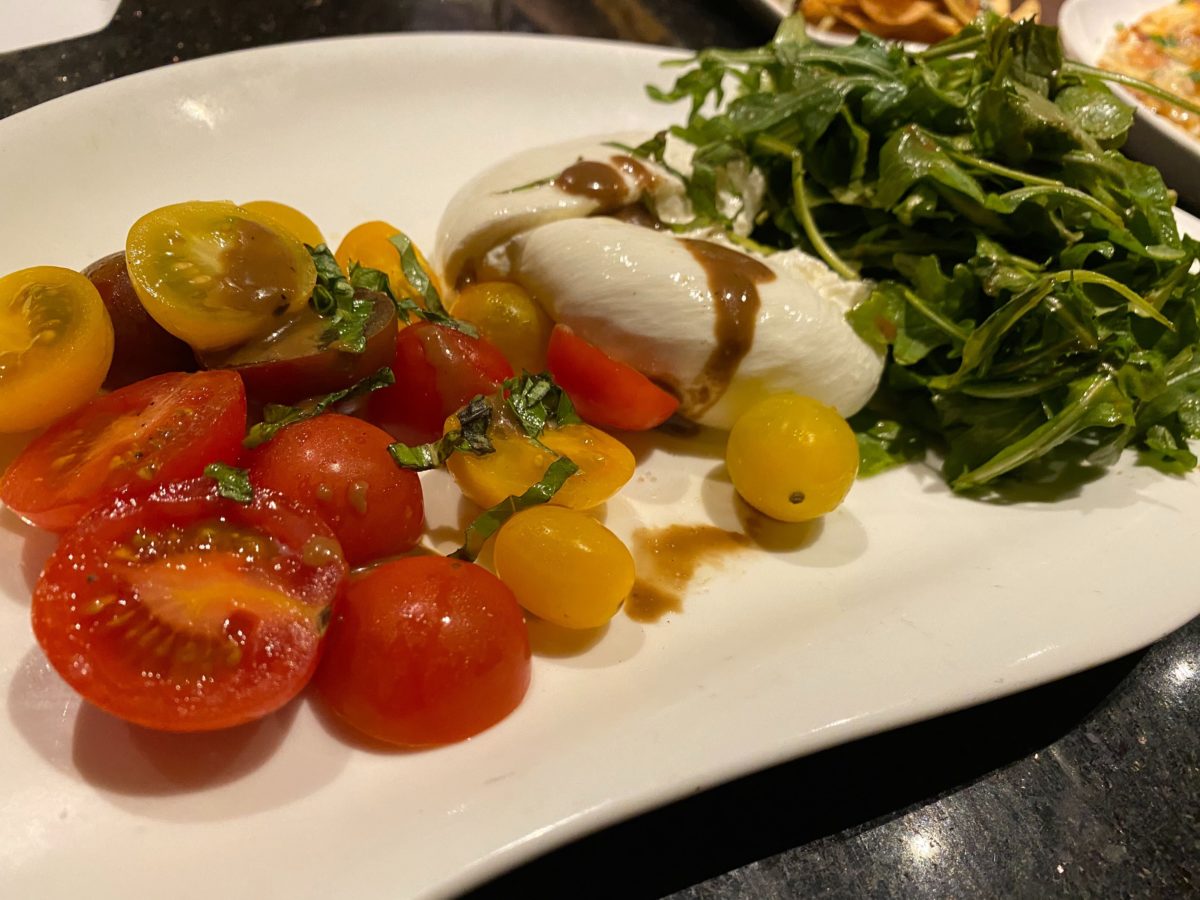 We ordered the burrata and local heirloom tomatoes for the table to share. The greens didn't look very appetizing, but the large chunks of burrata and tomatoes had more appeal. I didn't think there was enough flavor to the burrata, but the balsamic glaze made up for it. The table still seemed to enjoy this dish overall.
Flatbreads
Margherita Flatbread – $15
Fresh Mozzarella, Sliced Tomato, Tomato Sauce, and Basil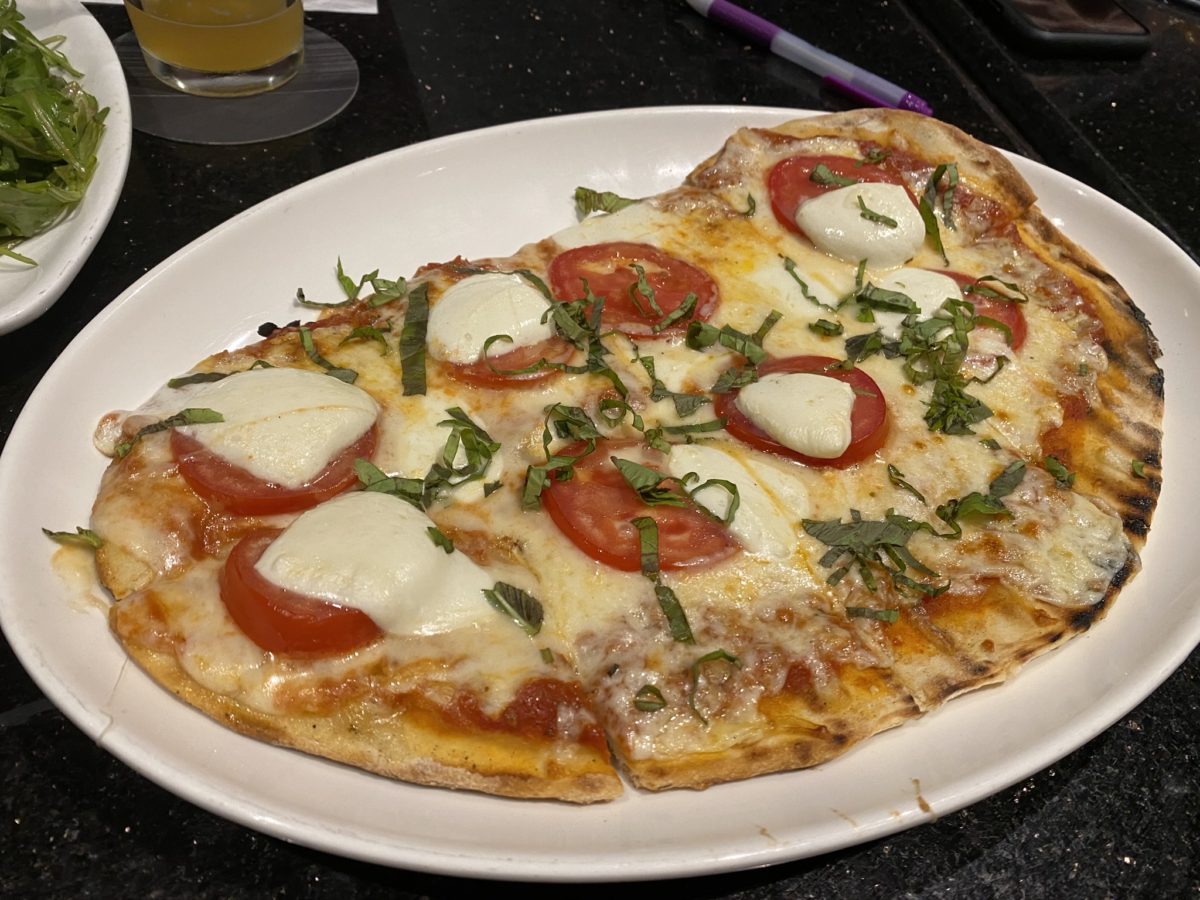 This had to be the most disappointing item we ordered from the menu. There wasn't anything really wrong with it, but nobody actually liked it. The sauce had a strange taste and the mozzarella didn't have enough flavor to mask it. We would suggest skipping the Margherita and if you must order a flatbread, we suggest the BBQ Chicken Flatbread, which you can read about below.
BBQ Chicken Flatbread – $15
Grilled Chicken, Cheddar & Jack, and Caramelized Onions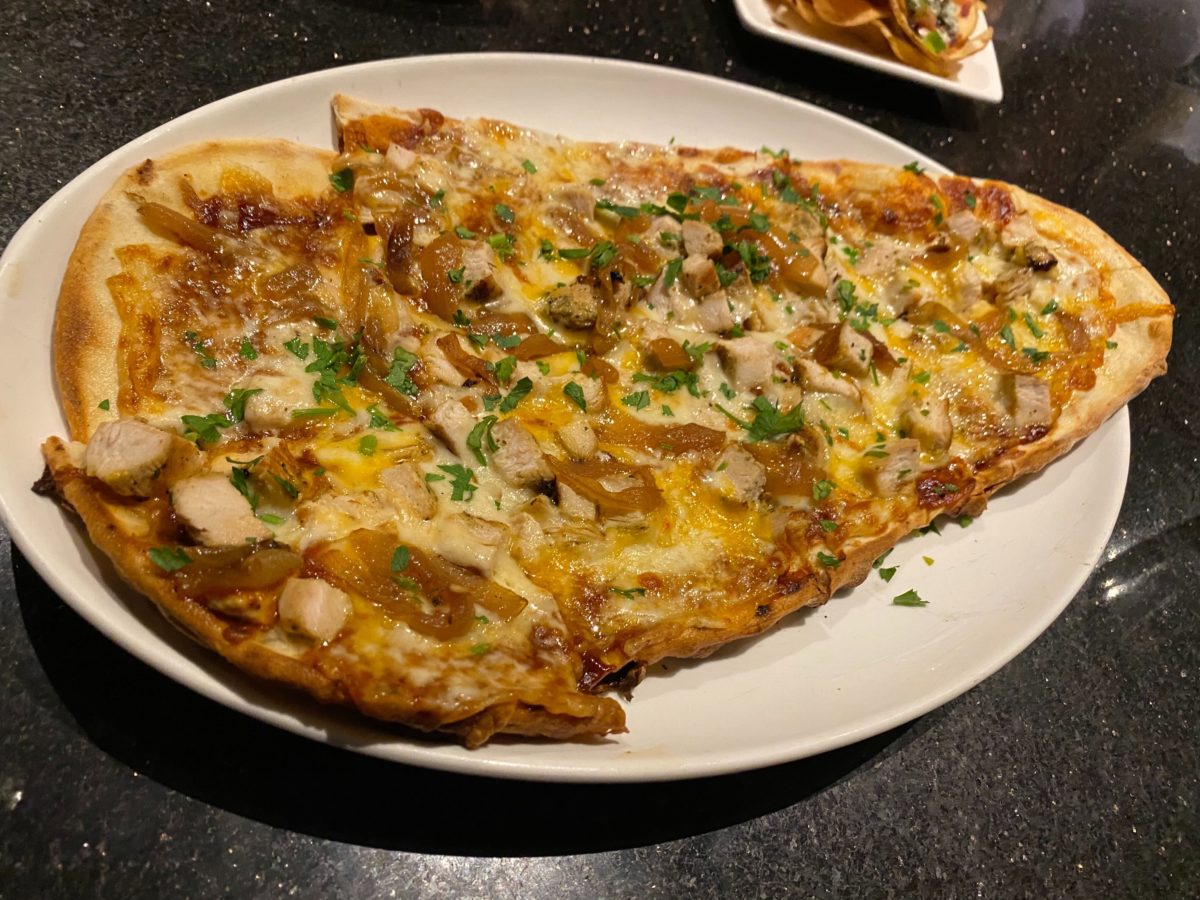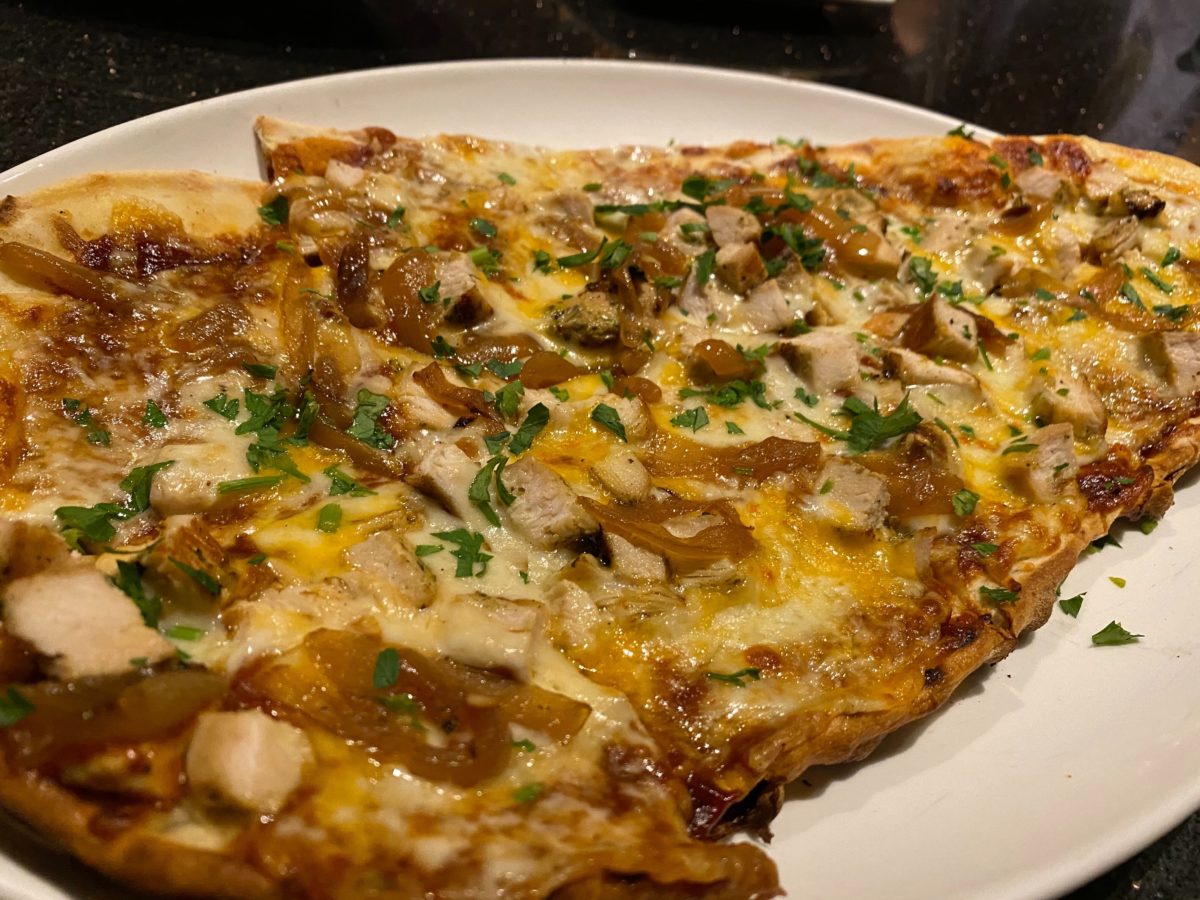 This flatbread was a winner with our table. It could have been a little crispier to support all the toppings, but we survived with our slightly messy flatbread. This was one of the most flavorful items we ordered and perfect for a meal or as an appetizer to share.
Kitchen Classics
1/2 Pound Fresh Angus Burger – $16
Fresh Black Angus Beef, Lettuce, Tomato, Red Onion on a Brioche Bun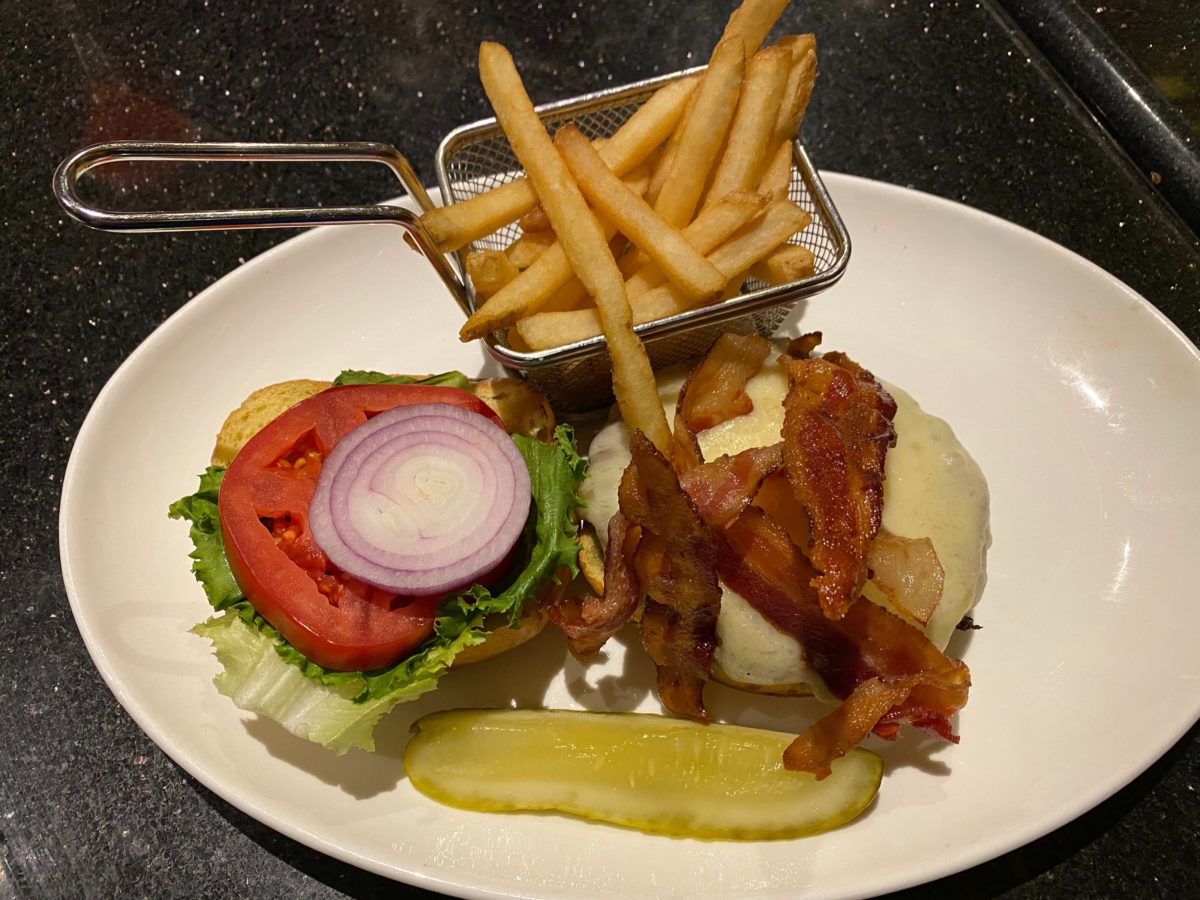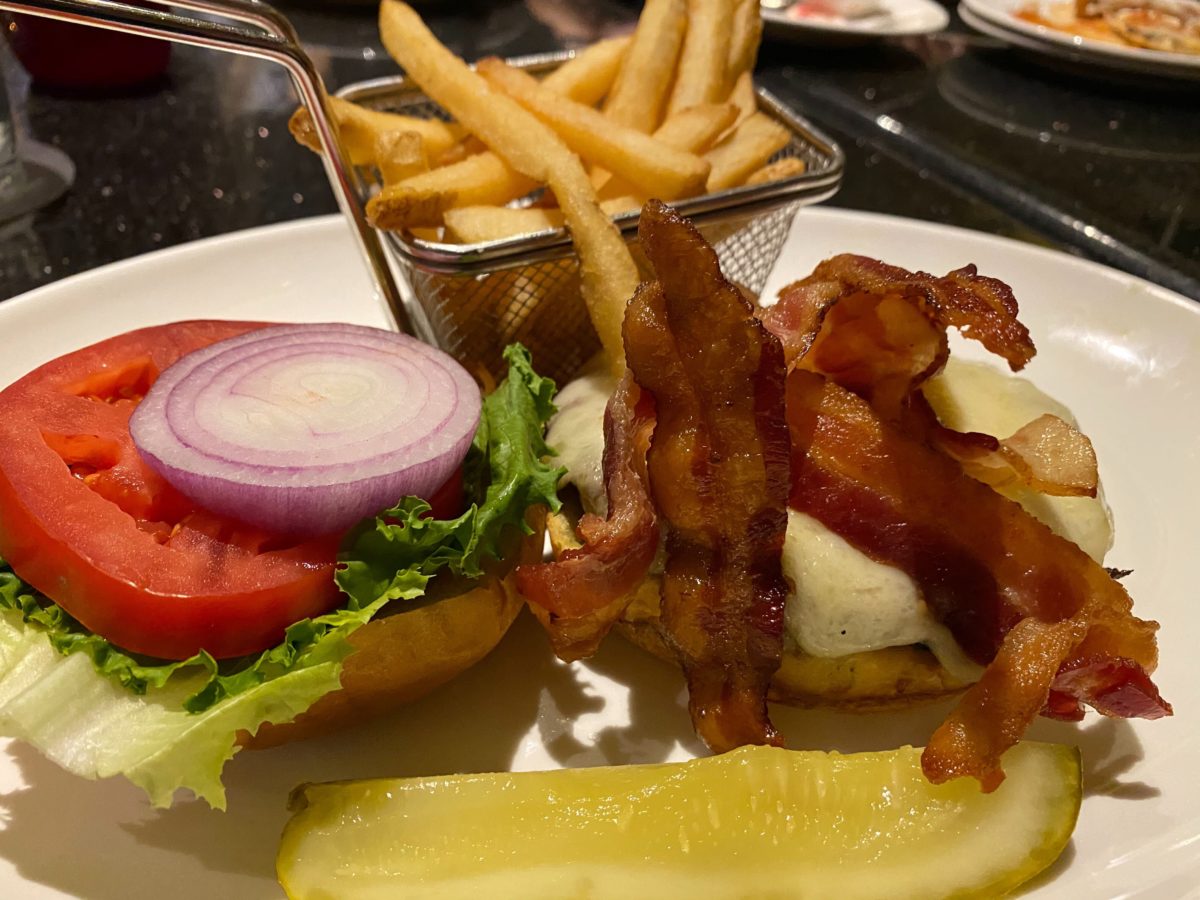 The burger is served open-faced, with your standard lettuce, tomato, and onion on one side on the bun, and the juicy, meaty goodness was held together with a slice of cheese on the opposite side. Beautiful strips of crispy bacon are all we could see when this order was placed in front of us (which explains why we didn't even bother to photograph the burger together). There are plenty of great burgers around Universal Orlando, and this one might be on the more forgettable side, but if you're really craving a bacon cheeseburger, this will do the trick. The fries were pretty basic, but they get bonus points for being served in the cute little fry basket.
Mac & Cheese – $15
Pasta Shells, Manchego, Monterey Jack and Cheddar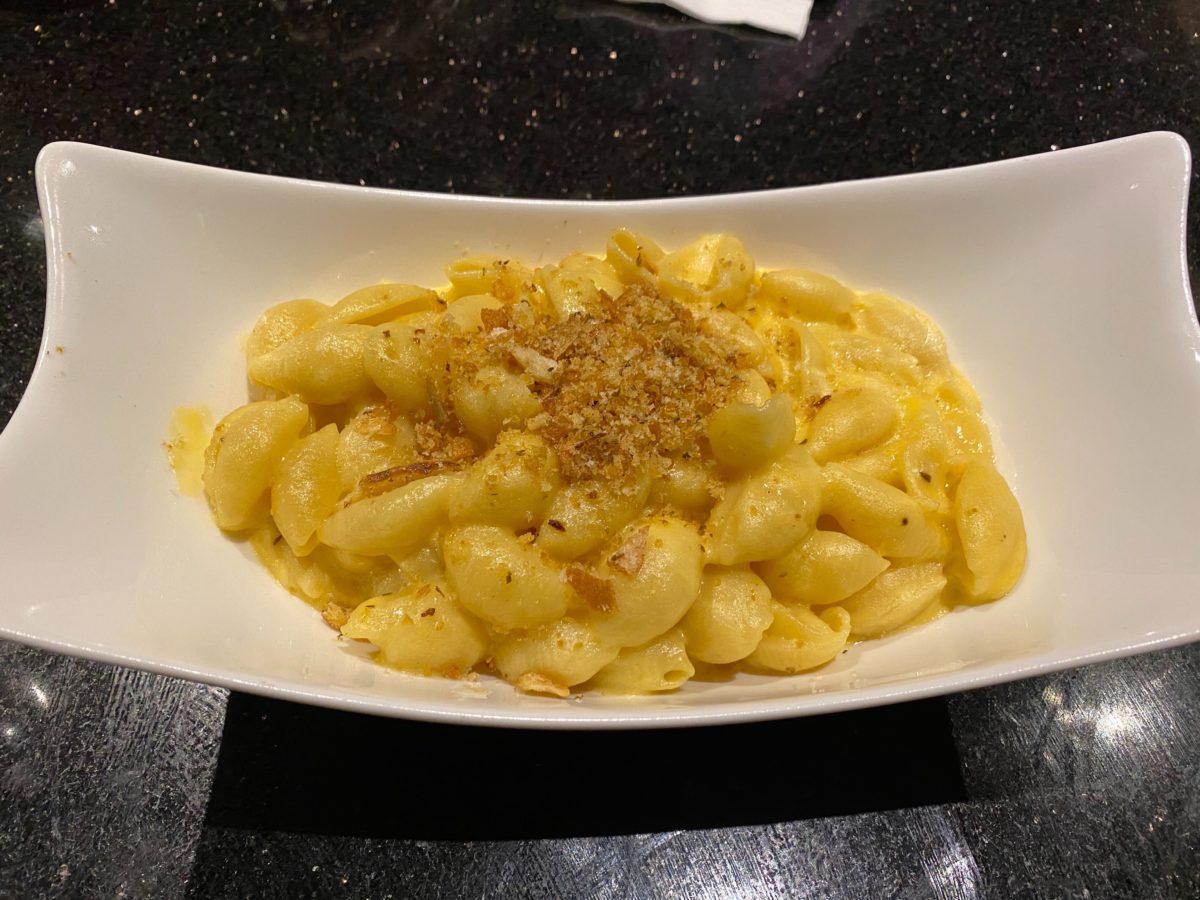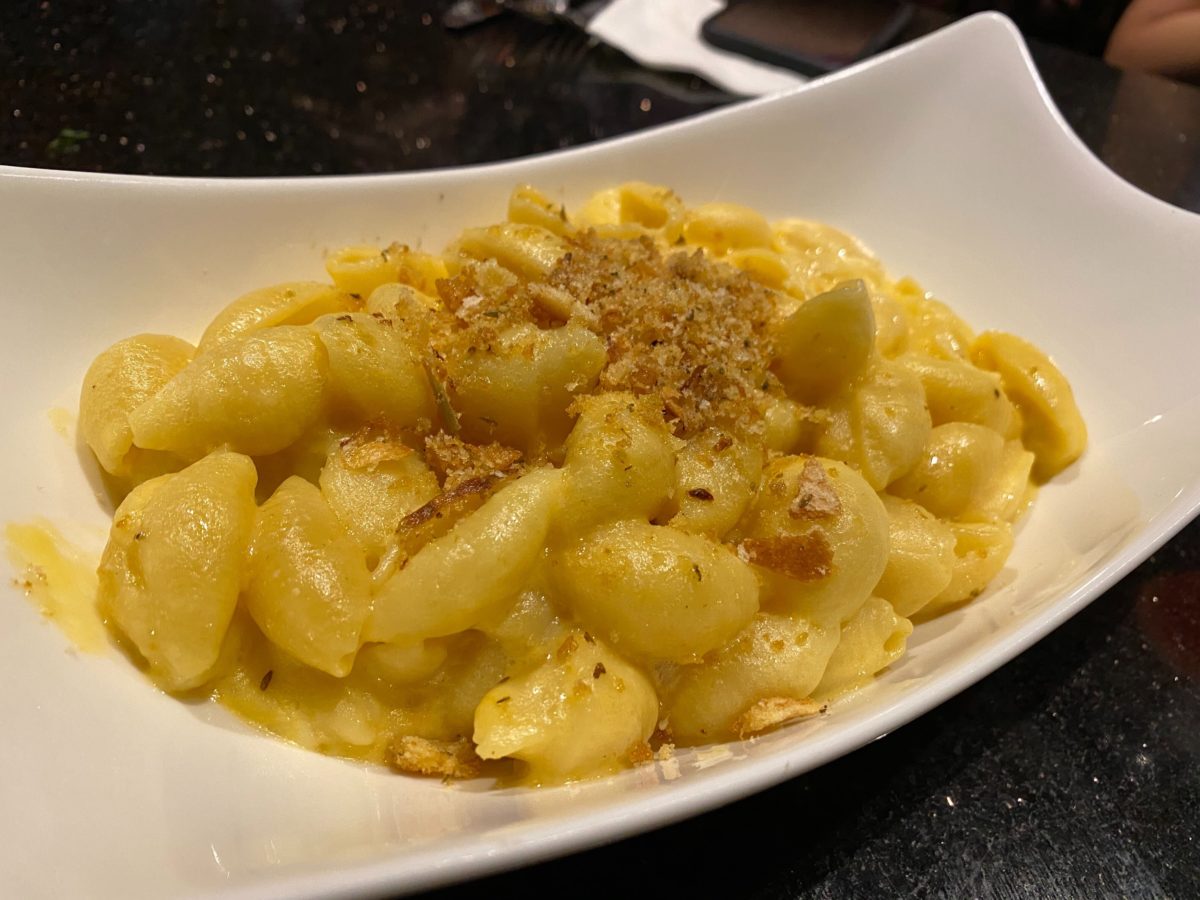 Another simple, kitchen classic is mac and cheese. Pasta shells are mixed with a thick sauce made from Manchego, Monterey Jack, and Cheddar. The bread crumbs sprinkled over the top help to elevate this dish from your basic mac and cheese.
Chicken Pot Pie – $16
Peas, Carrots, Mushrooms, Tarragon, Buttermilk Biscuit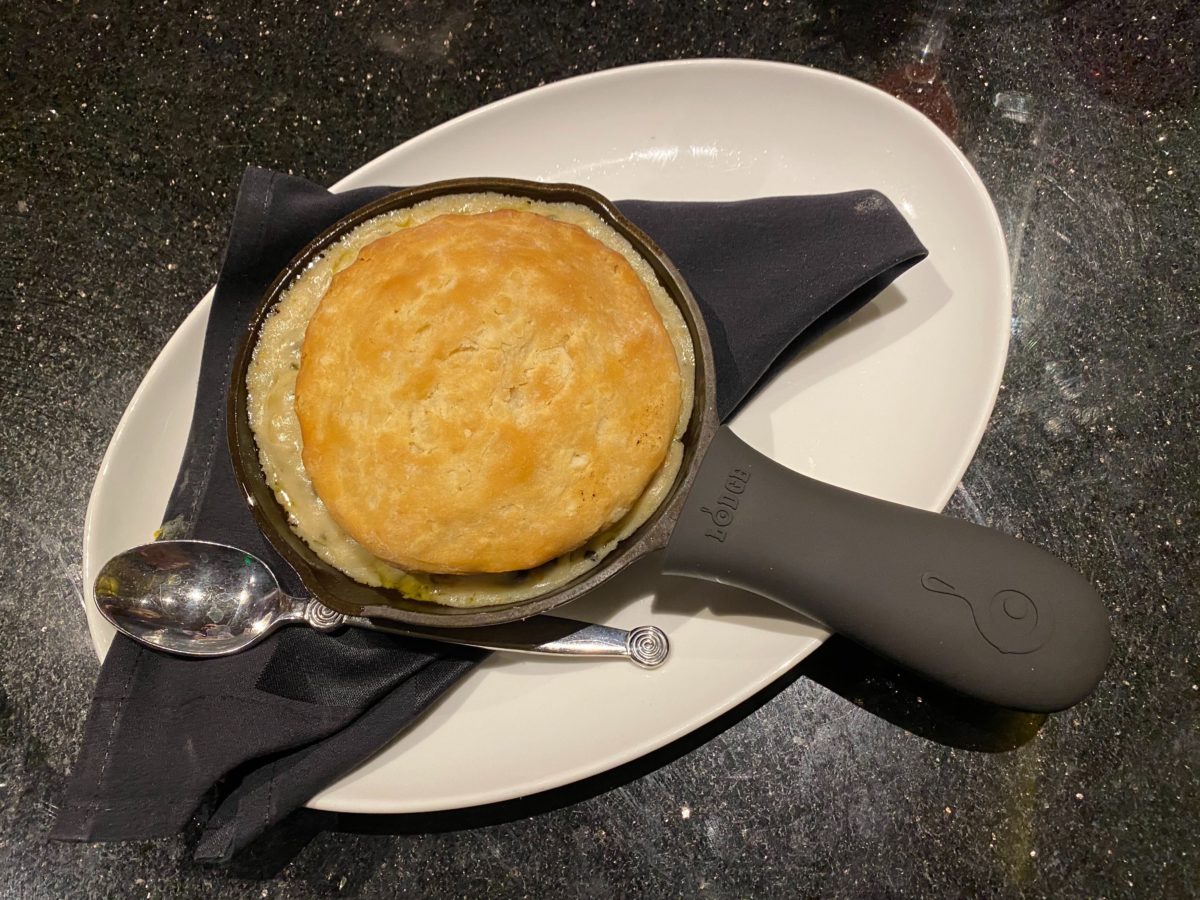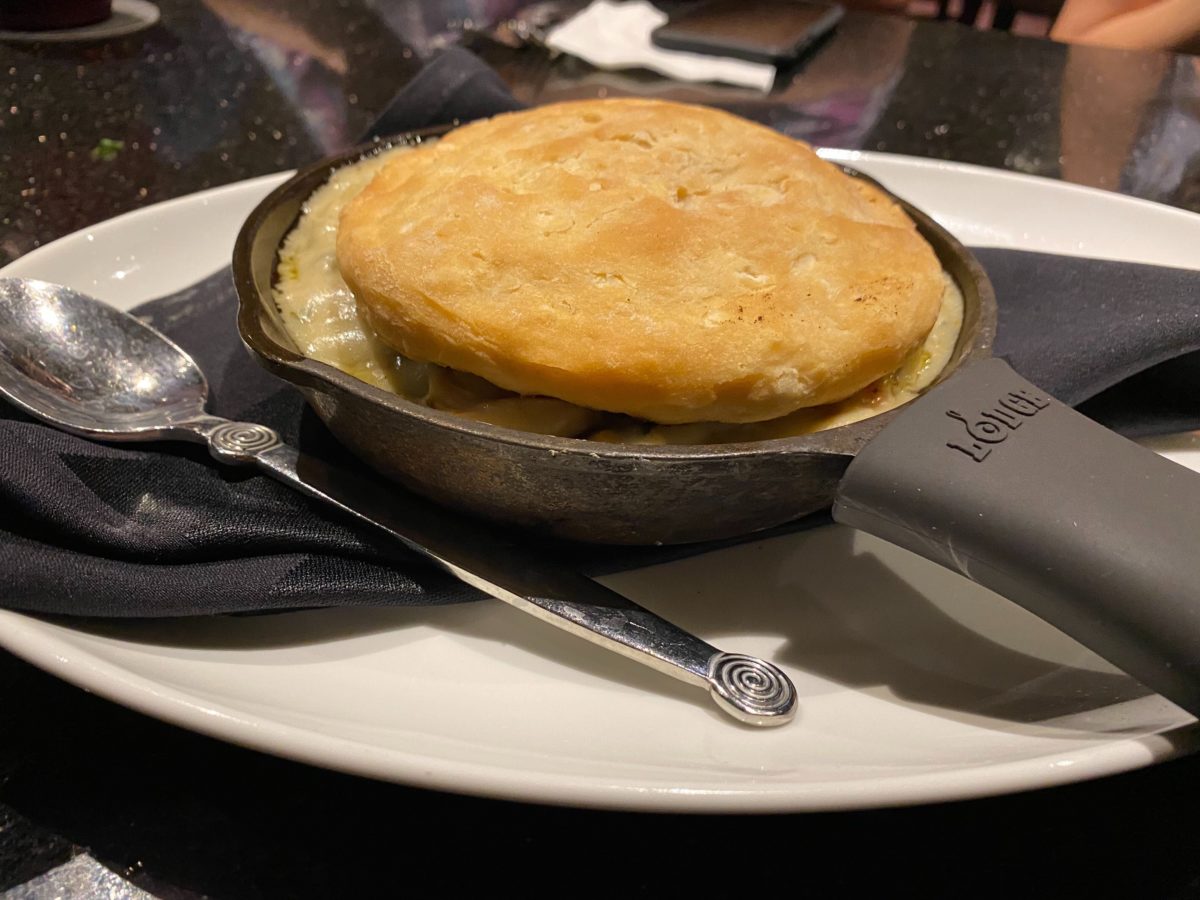 The chicken pot pie isn't your traditional pot pie. The Kitchen serves their chicken pot pie filling in a small skillet and then top it with a wide, flat buttermilk biscuit. The base was a hearty mixture of chicken, mushrooms, carrots, and peas in a creamy sauce. If you're looking for a twist on classic comfort food, this dish is worth a try. The only downside is that we had a lot of leftover chicken pot pie and wished we had an extra biscuit.
Main Plates
Smoked Chicken Carbonara – $22
Linguine, Pancetta, Roasted Red Peppers, Sweet Peas, Parmesan Cream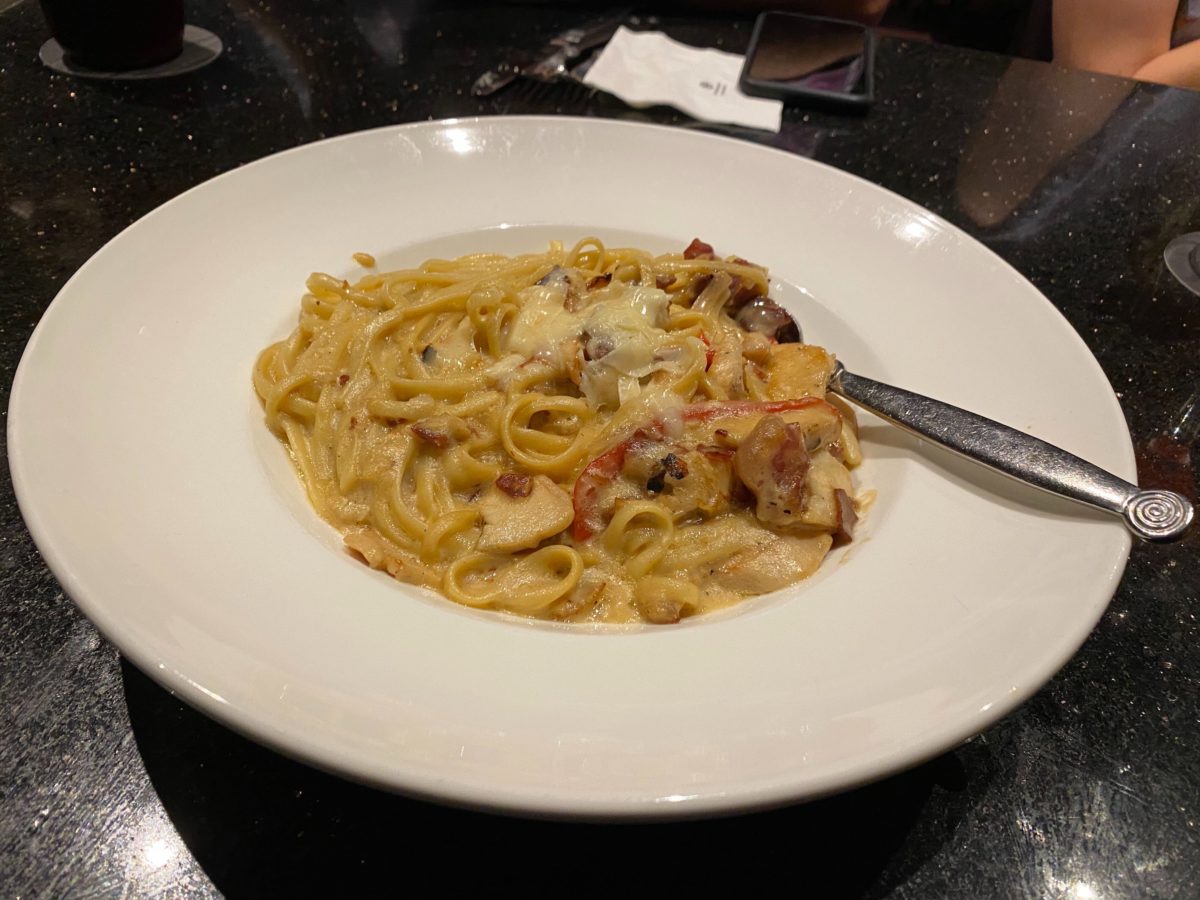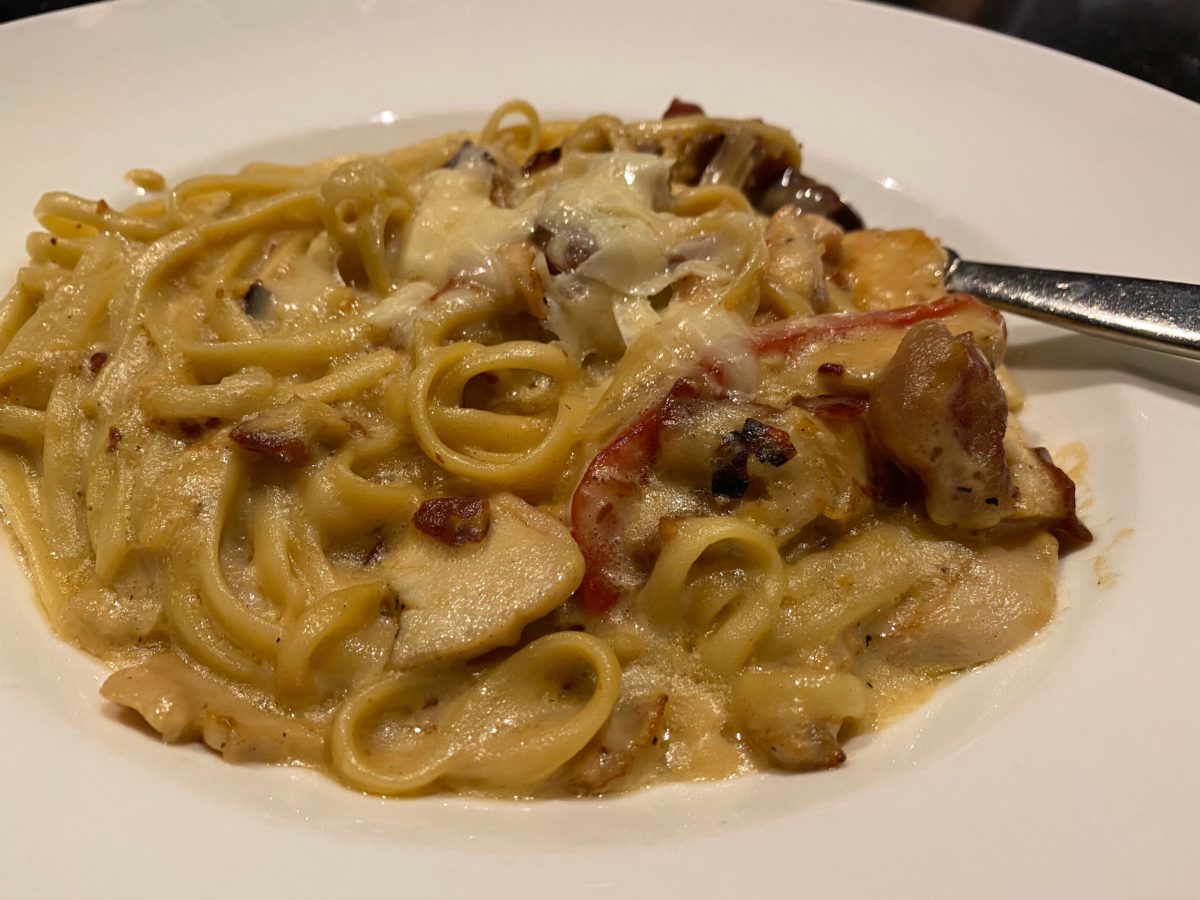 This pasta dish combines a thick sauce with chicken, pancetta, red peppers, and sweet peas. The flavors just aren't bold enough for this pasta dish to stand out, but it is a nice option if you're craving pasta.
Stir Fried Cauliflower "Rice" – $16
Edamame, Peppers, Onions, Carrots, Jalapeno, Soy Sauce, Sesame Oil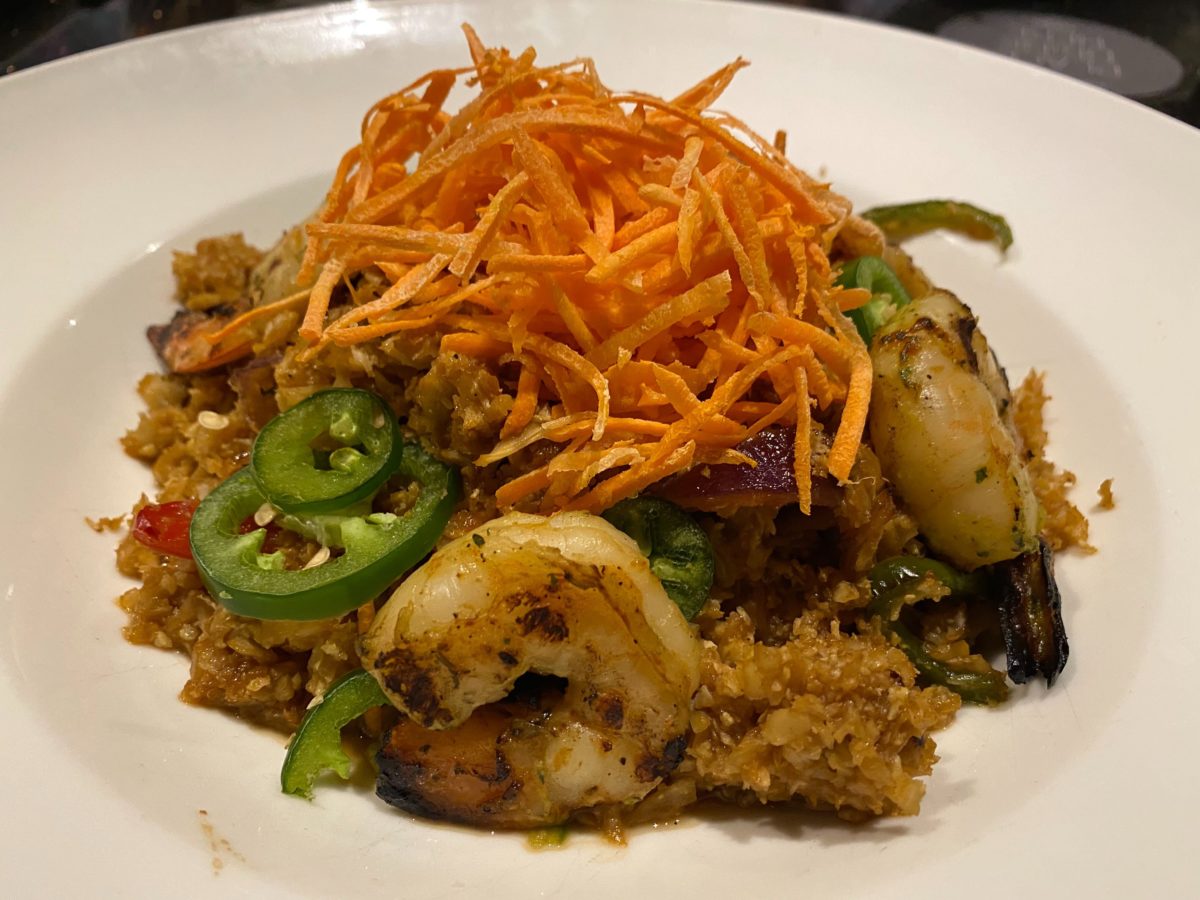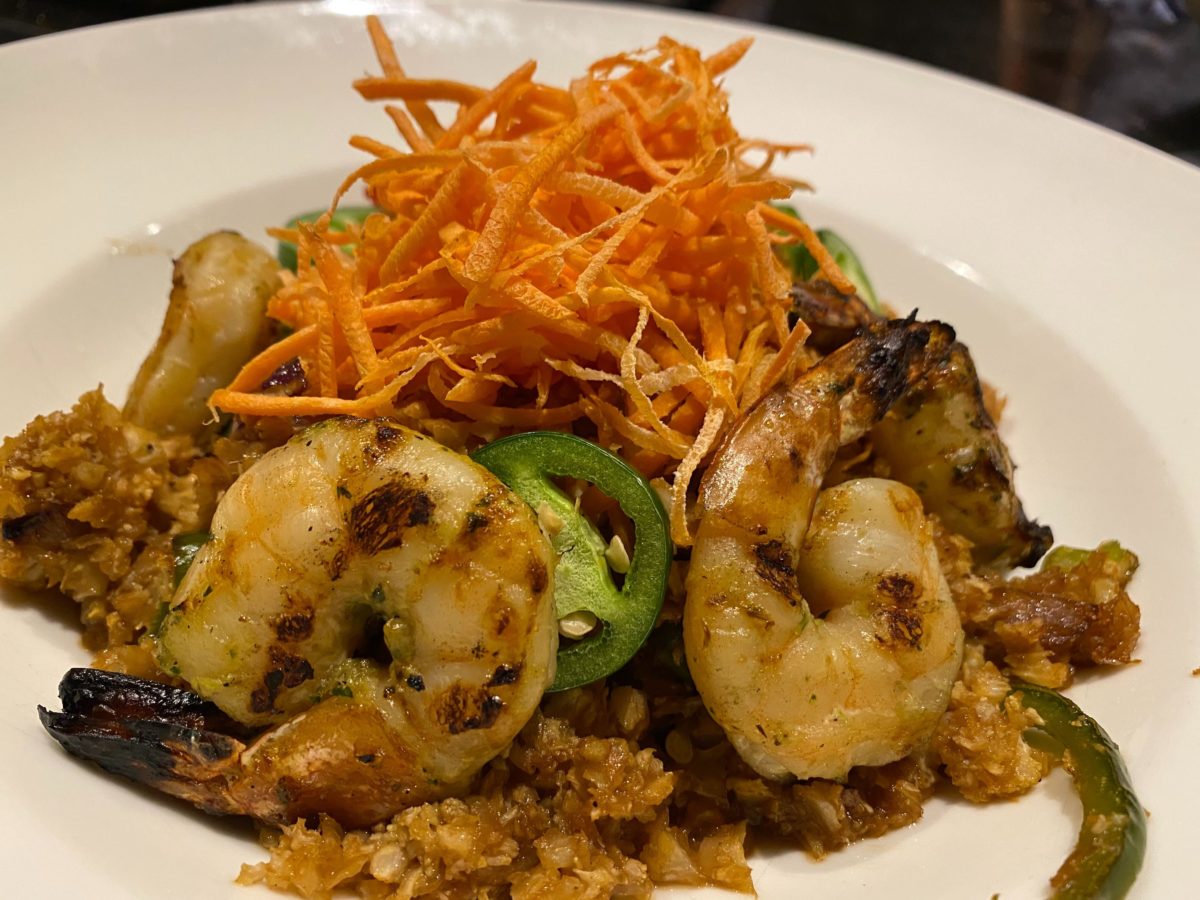 This dish, surprisingly, was one of the favorites. The stir-fried cauliflower rice was one of the more flavorful dishes that came across our table. The dish wasn't very fragrant, so we were surprised at first bite. It has a nice crunch with fresh vegetables. The jalapeños on top gave everything a nice kick, but they were in no way overpowering. This is a delicious all-veggie option that fills you up. We added grilled shrimp to the dish for a little something extra. They were perfectly fresh, lightly seasoned, and a great way to top off this entrée.
Maple Glaze Cedar Plank Salmon – $32
Green Beans, Mashed Potatoes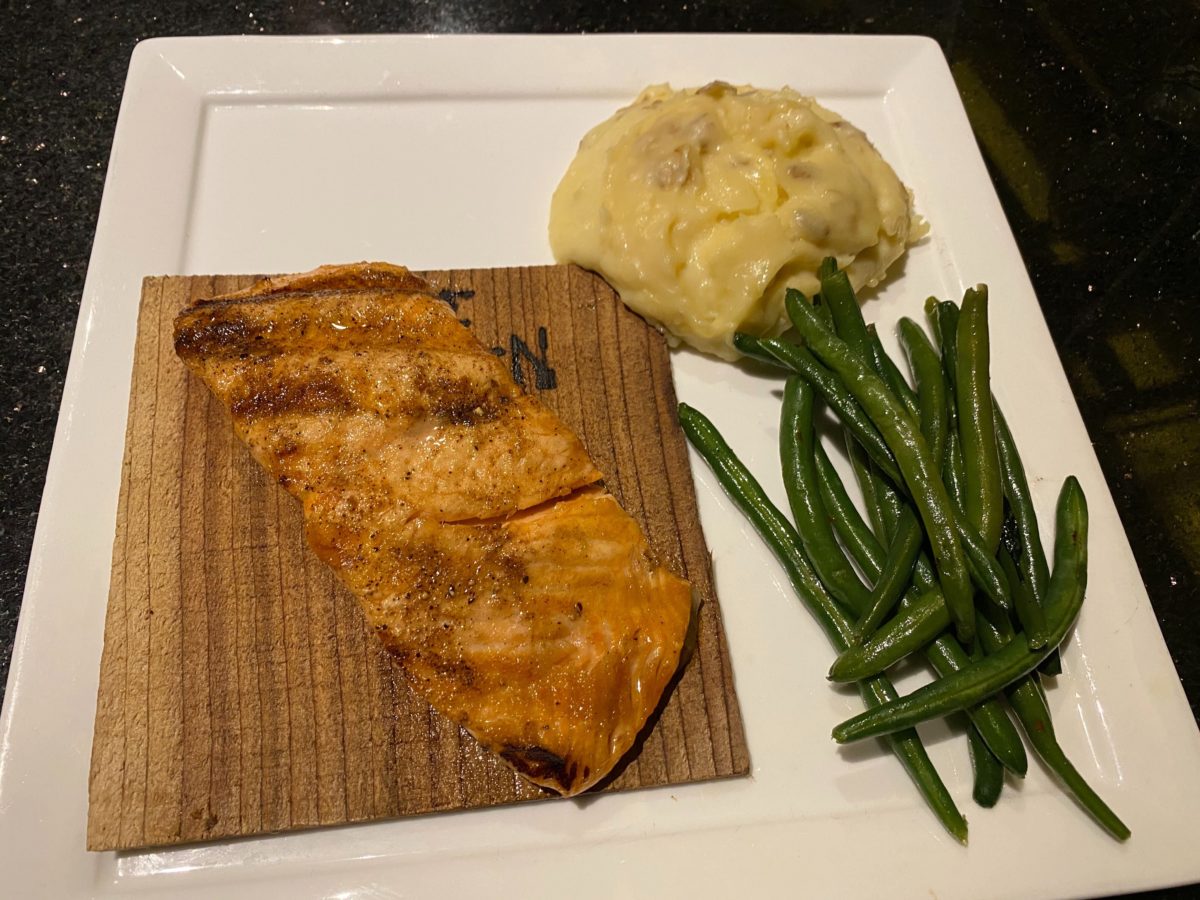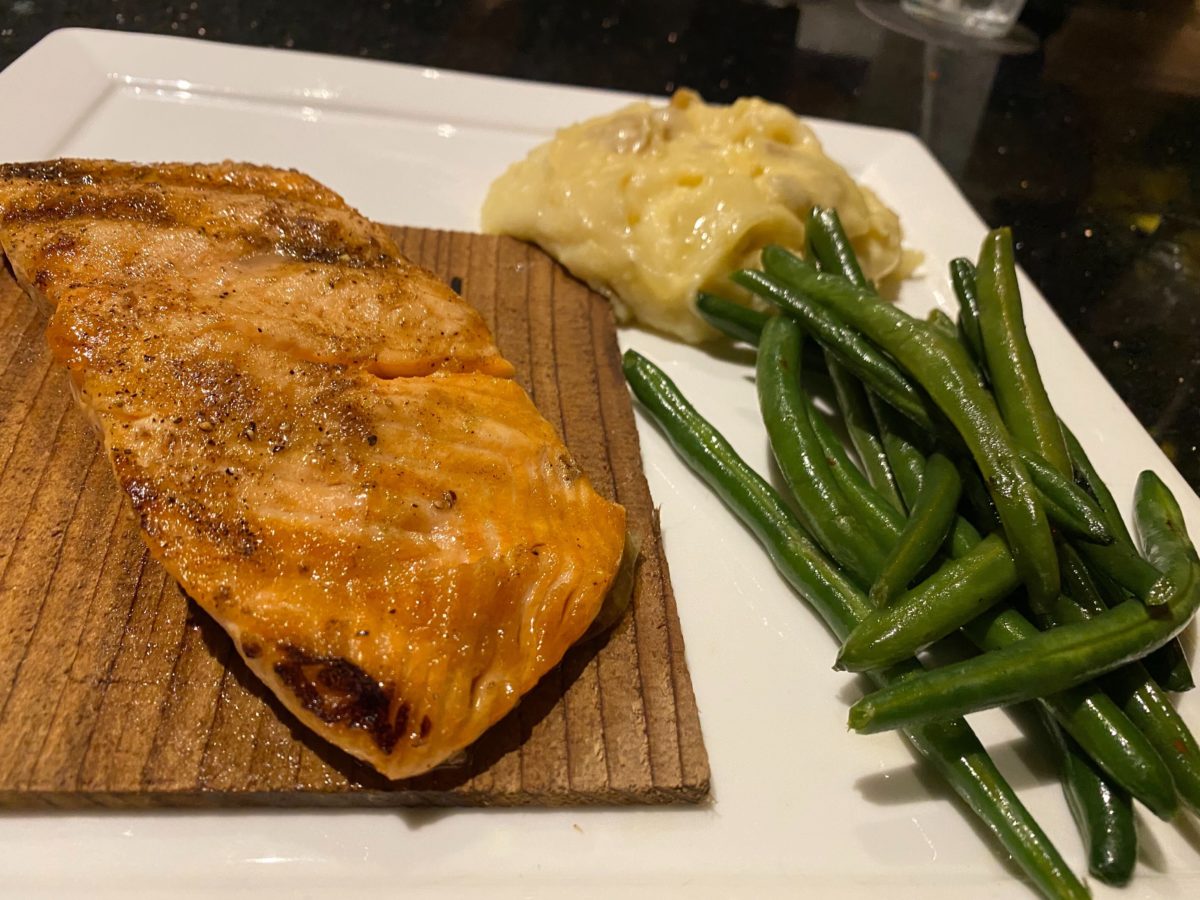 The salmon was presented on a small cedar plank, complete with the restaurant logo. It was a nice portion size, and a decent piece of salmon, but we expected the maple glaze was going to make it much sweeter than it was. We also weren't fans of the green beans as they had almost no seasoning, which was a bit of a disappointment. Luckily, the mashed potatoes made up for them! They were creamy, buttery, and perfectly delicious.
Grilled Filet Mignon – $39
Spinach, Potato Puree, Port Glazed Mushrooms, Red Wine Demi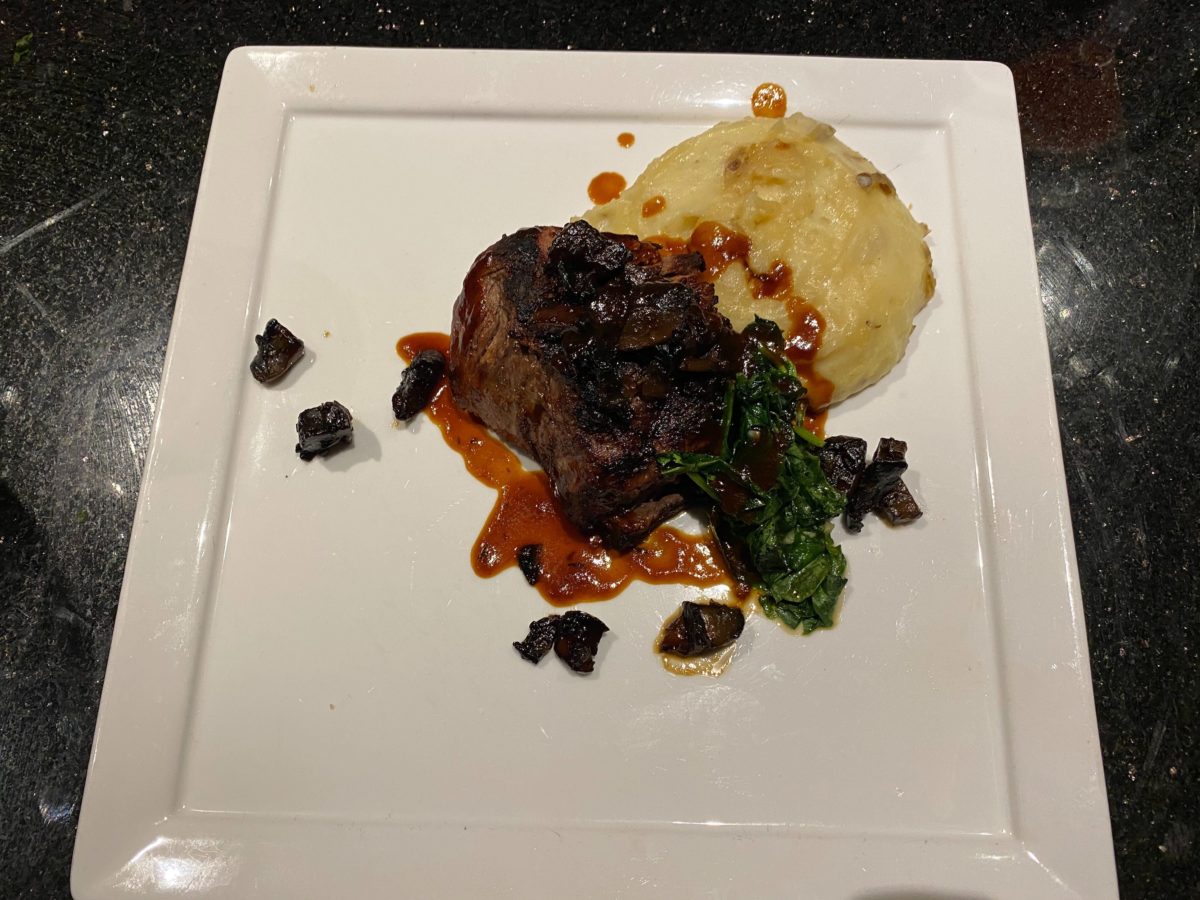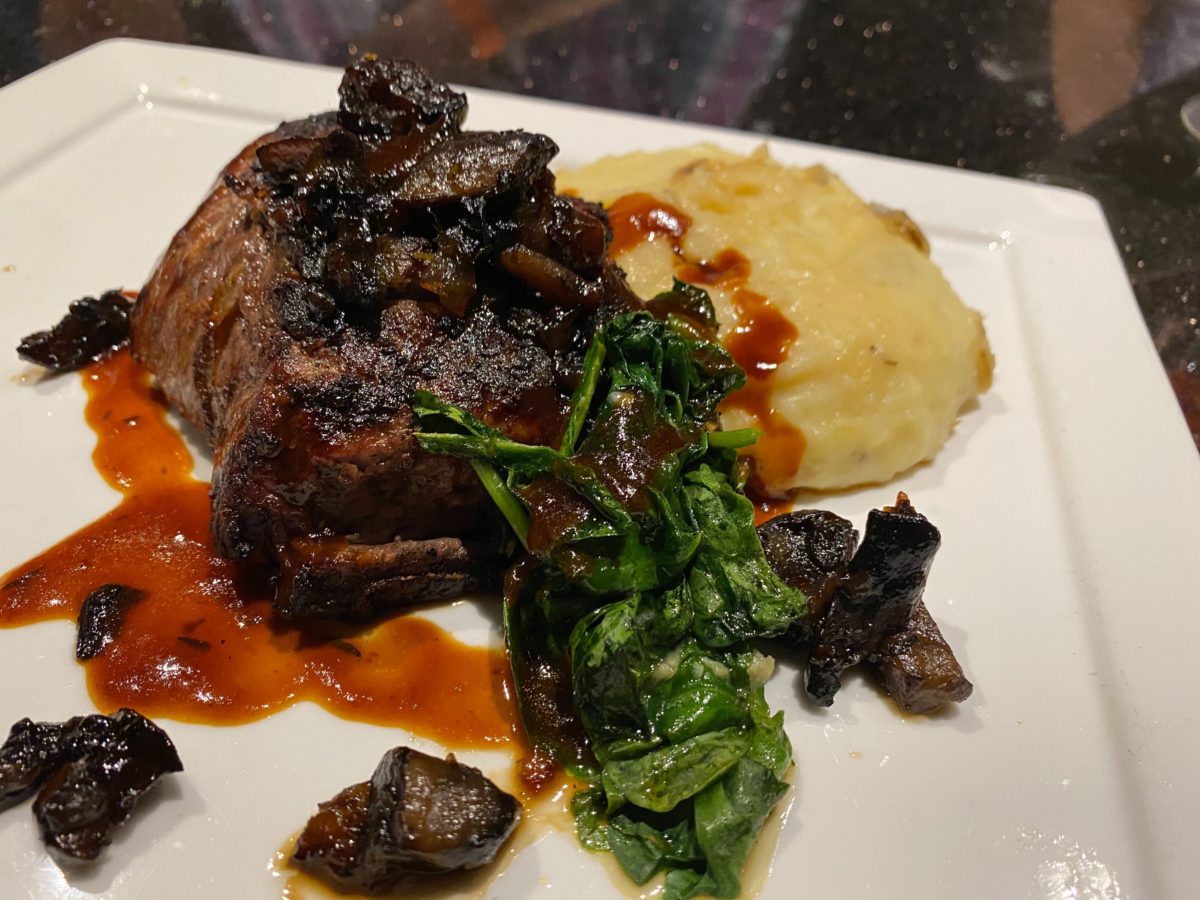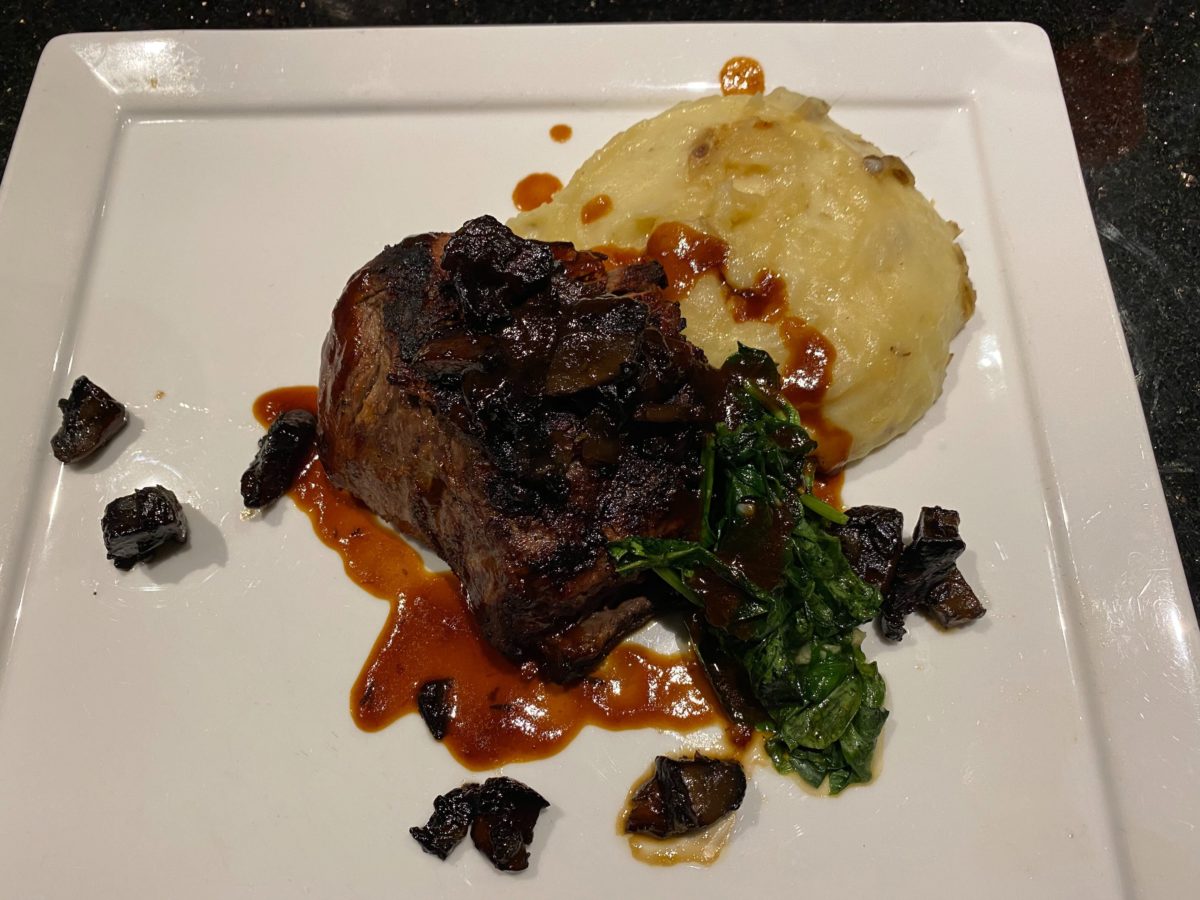 The filet mignon came with a side of spinach and pureed potatoes, along with port glazed mushrooms, and was covered in a red wine demi. We quite enjoyed the mushrooms in this dish and found the filet to be tender, juicy, and well cooked.
Grilled NY Strip Steak – $36
Broccolini, Mashed Potatoes, Rosemary Demi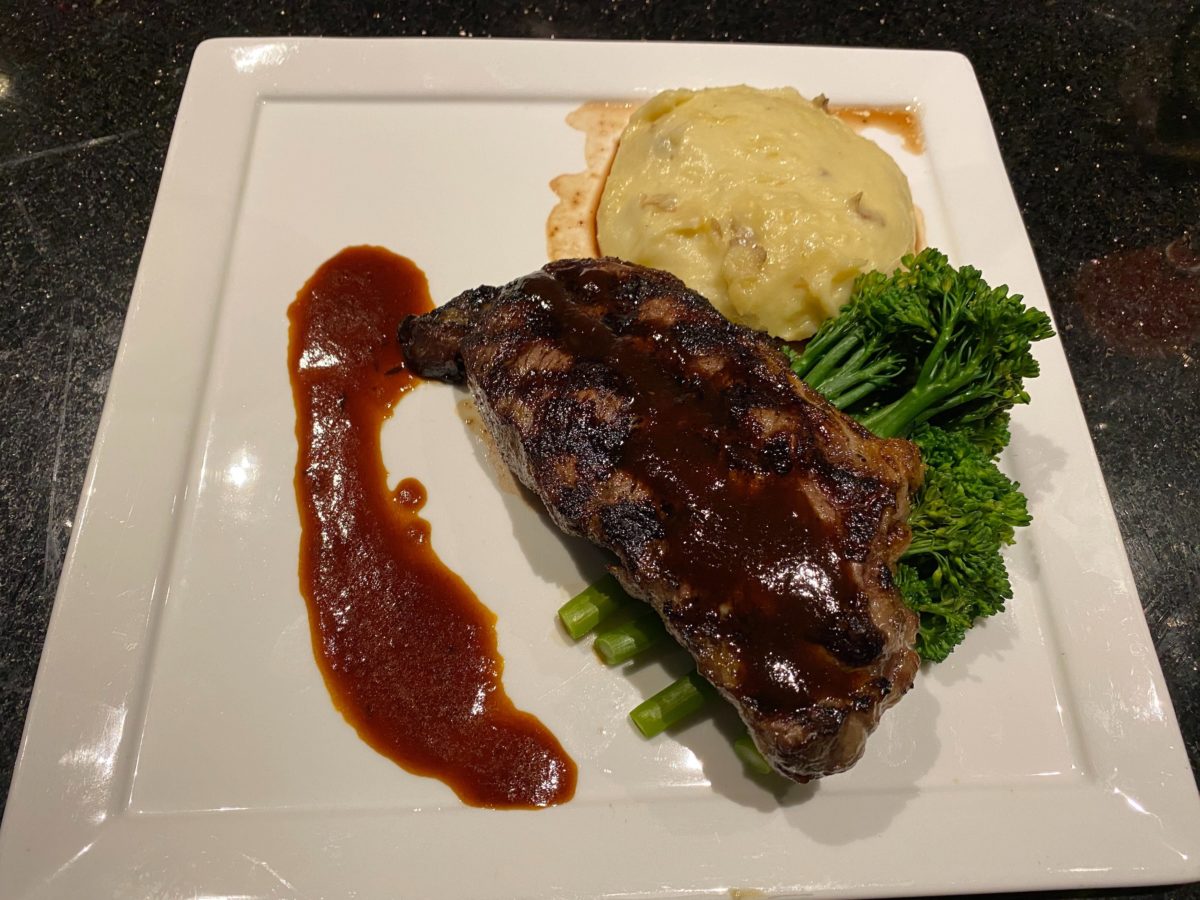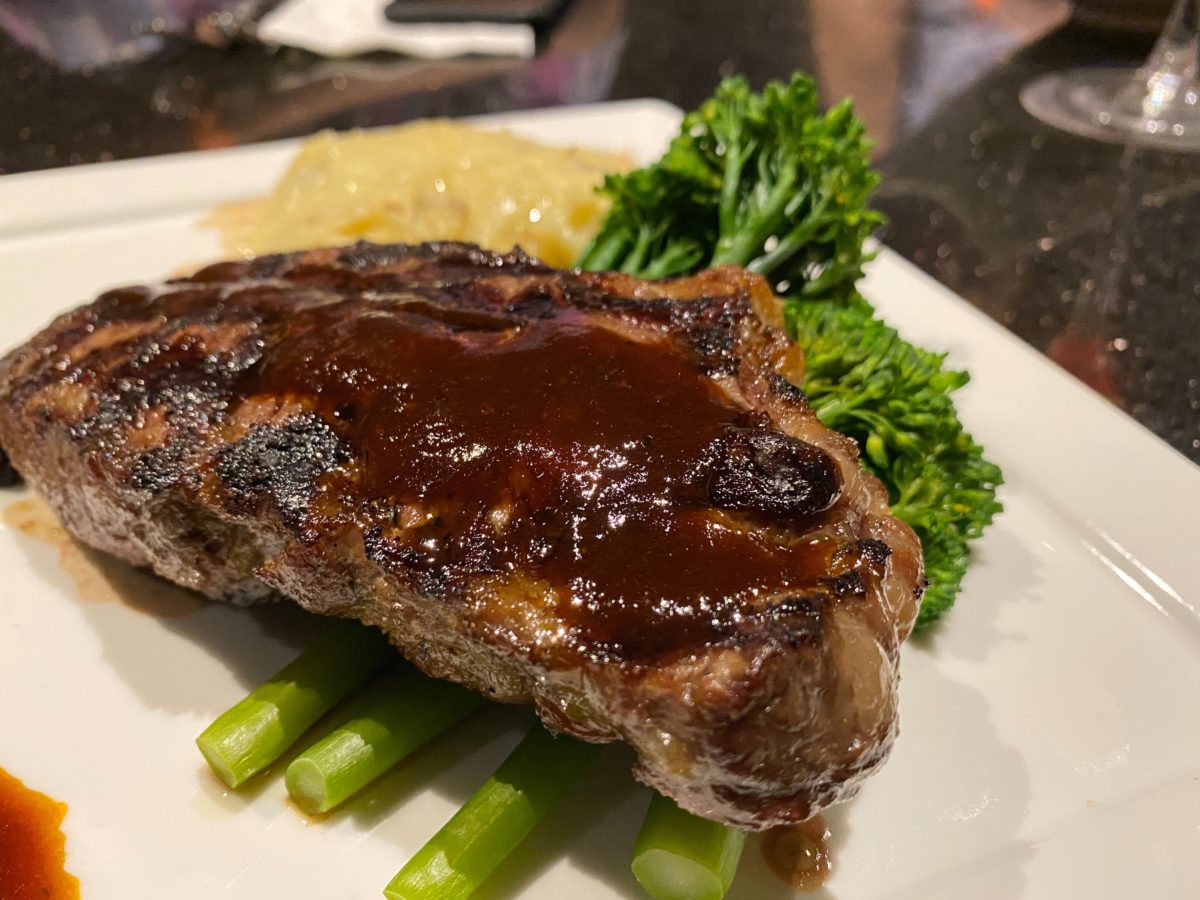 The Grilled NY Strip Steak comes served over broccolini with creamy, buttery mashed potatoes on the side. A rosemary demi is spread across the plate to add to the presentation. The Strip is not the best cut of beef at The Kitchen, ours was quite tough. I would not recommend trying this.
Drinks
Summer of Love – $16
Stoli Vanilla, Fresh Lemon Juice, Agave Nectar, Strawberry Preserves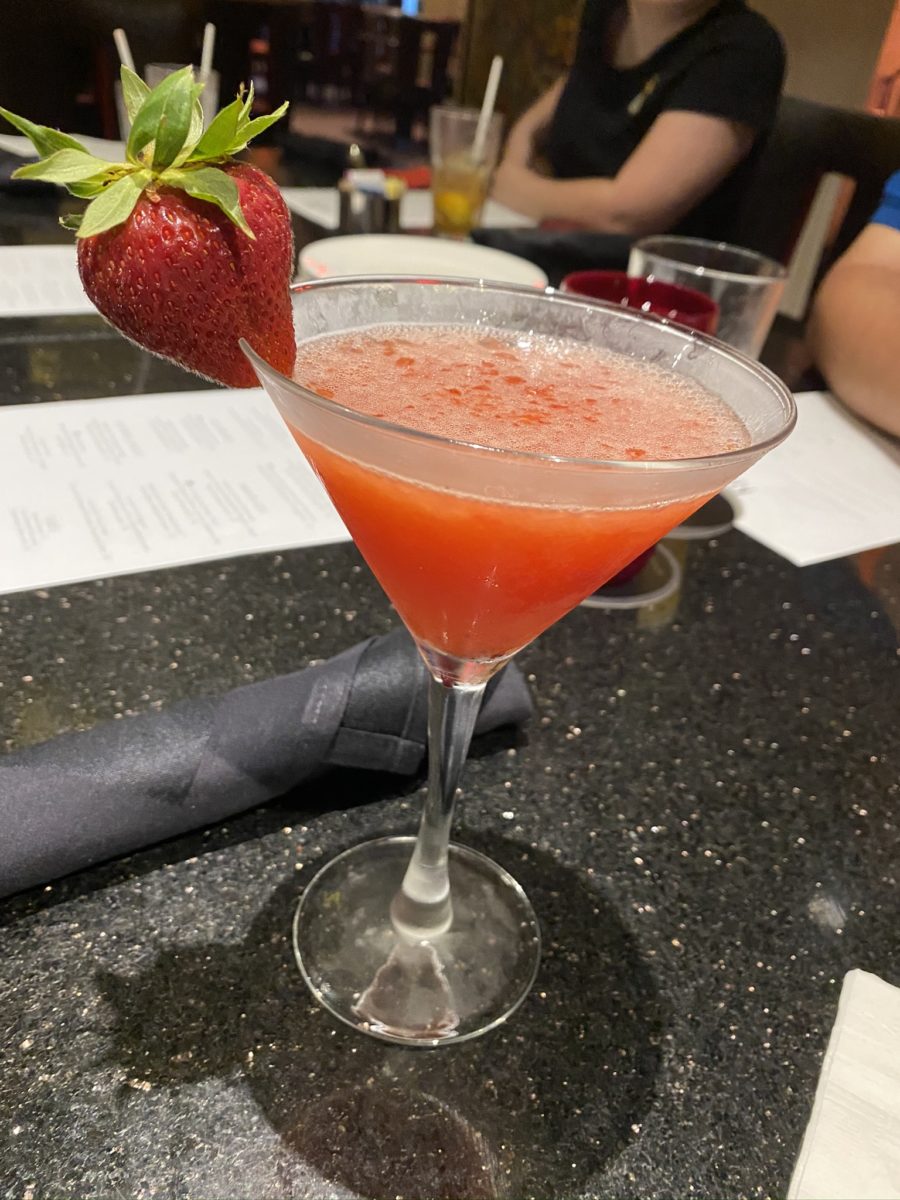 New Age Sidecar – $18
Buffalo Trace, Cointreau, Elderflower Liqueur, Agave Nectar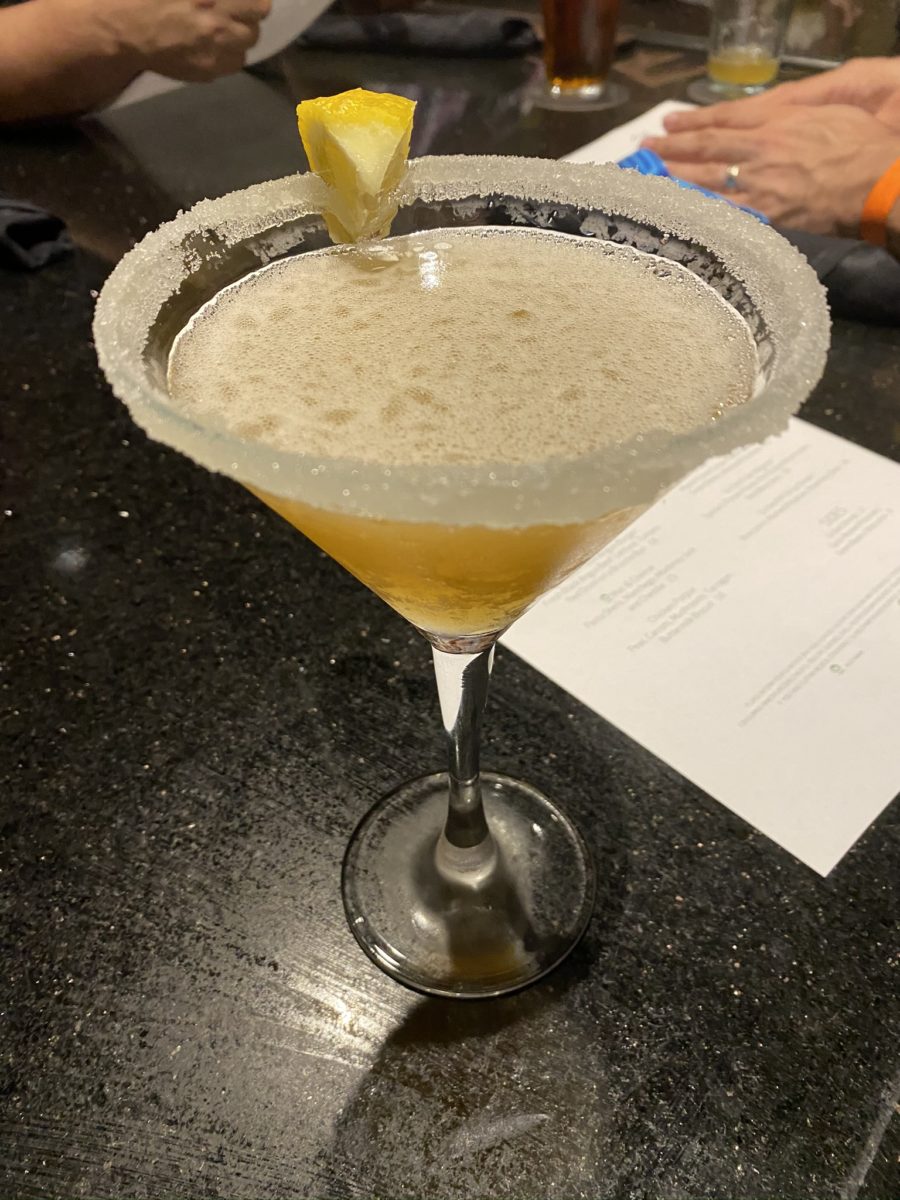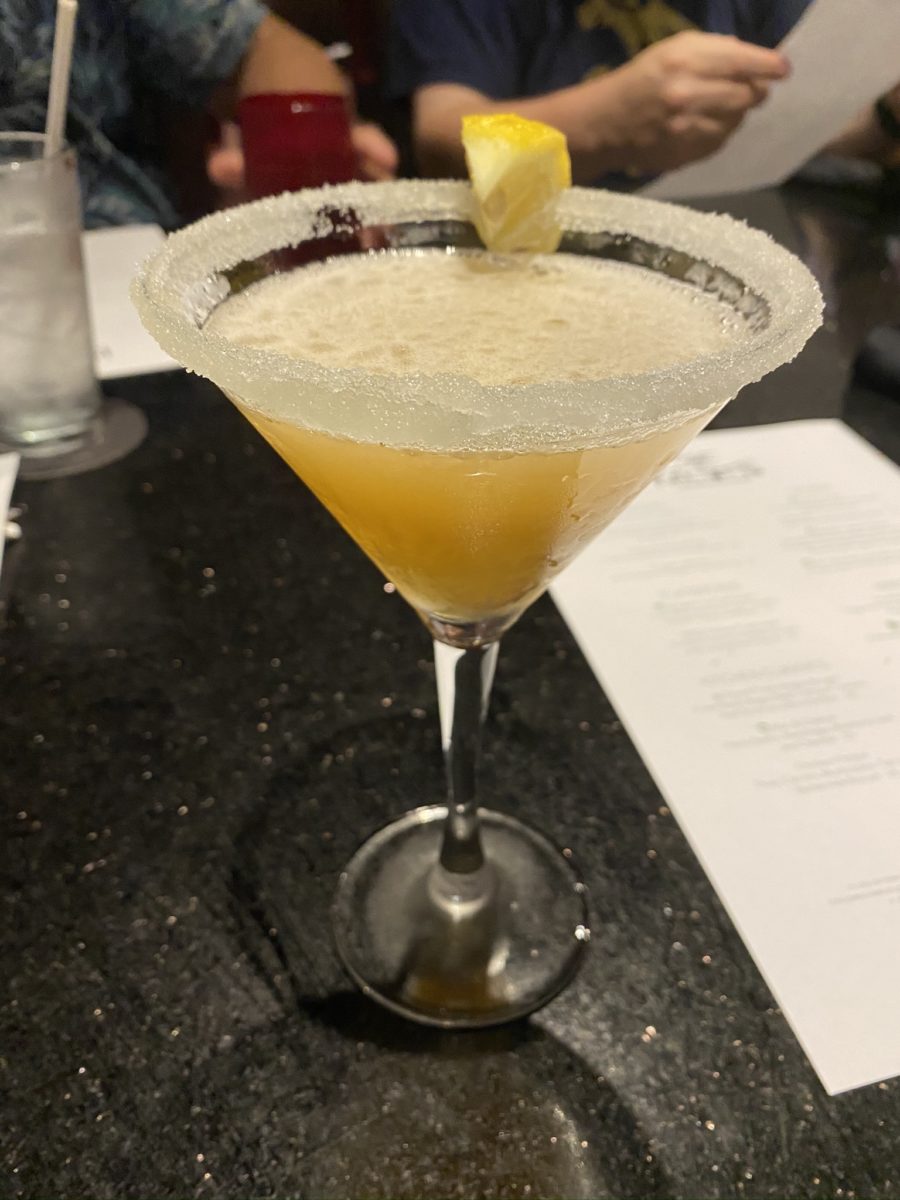 This was a finely mixed cocktail with a refreshing combination of liquor and fruit juice. The fine sugar on the glass really added to the enjoyment of the drink. This one was absolutely delicious.
Coco Nib Old Fashioned – $16
Woodford Reserve, Simple Syrup, Bitter Truth Chocolate Bitters, Filthy Black Cherry
This was a bit of a watered-down version of an old fashioned, but with a slight chocolate flavor from the bitters.
Coffee Shop – $16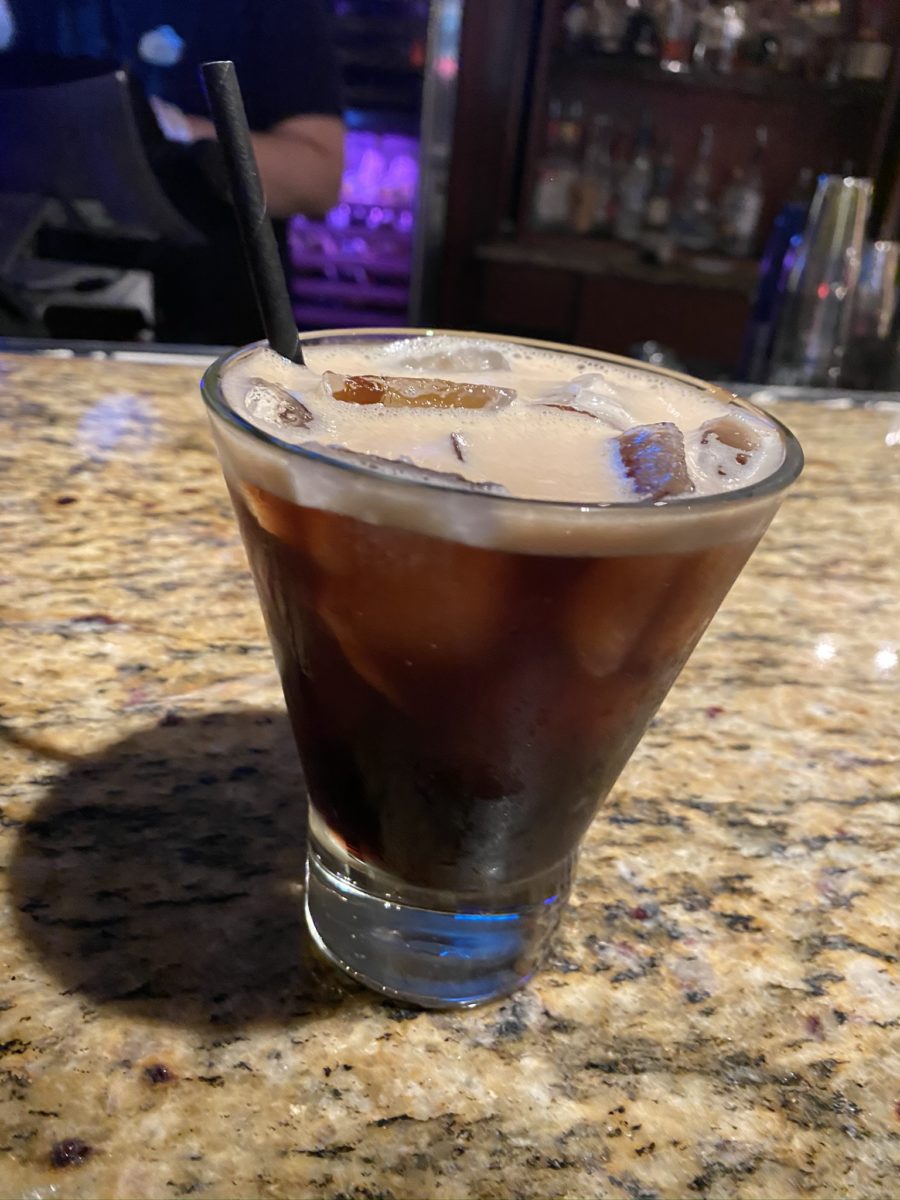 As a fan of coffee cocktails, I will say this is one of the more unique, as you might surmise from the description. It's a bit heavy, but the creamy coffee flavors make this a nice after dinner drink.
Mango Storm – $16
Myer's Dark Rum, Mango Puree, Bitter Truth Orange Bitters, Barritts Ginger Beer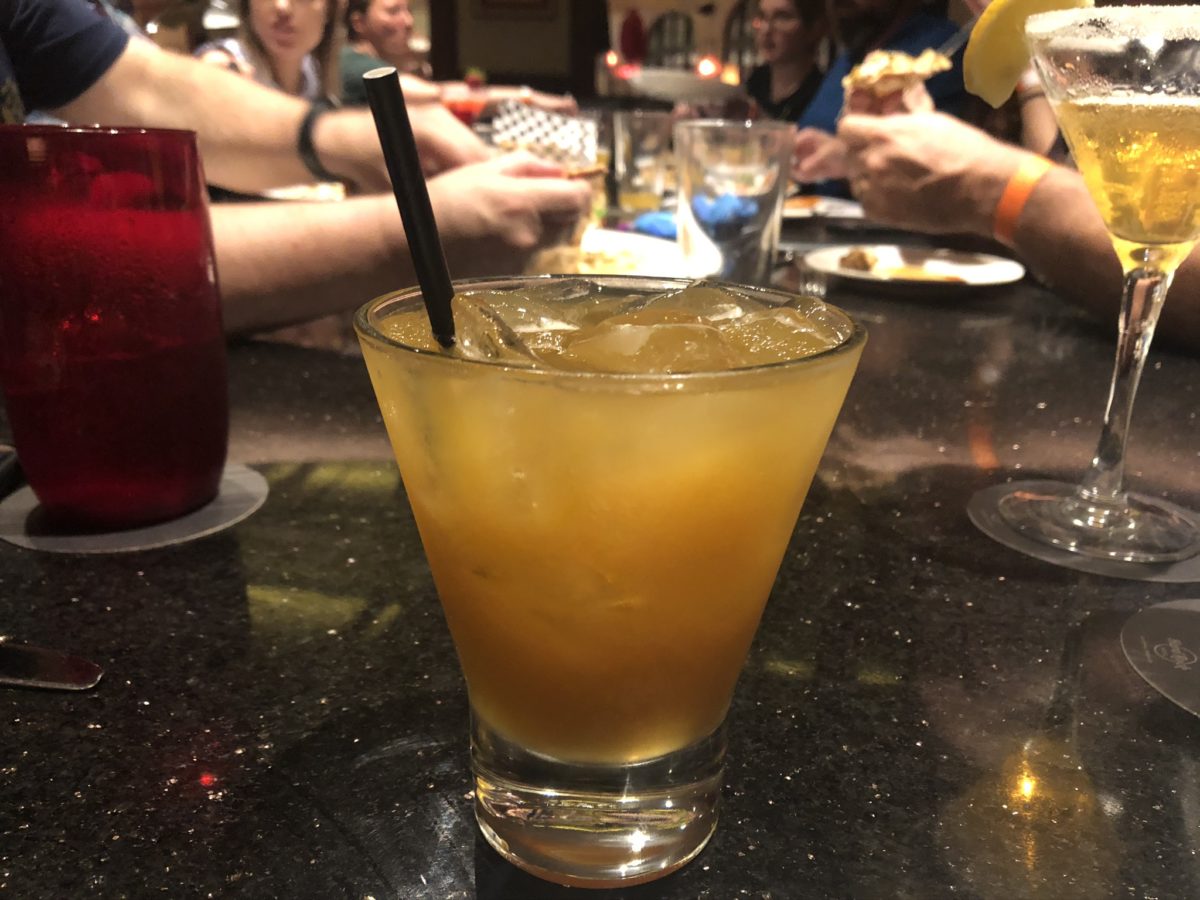 This drink had a slightly fruity taste without being too sweet. The ginger beer was very mild and almost undetectable under the mango and rum. This was a winner we would gladly order again.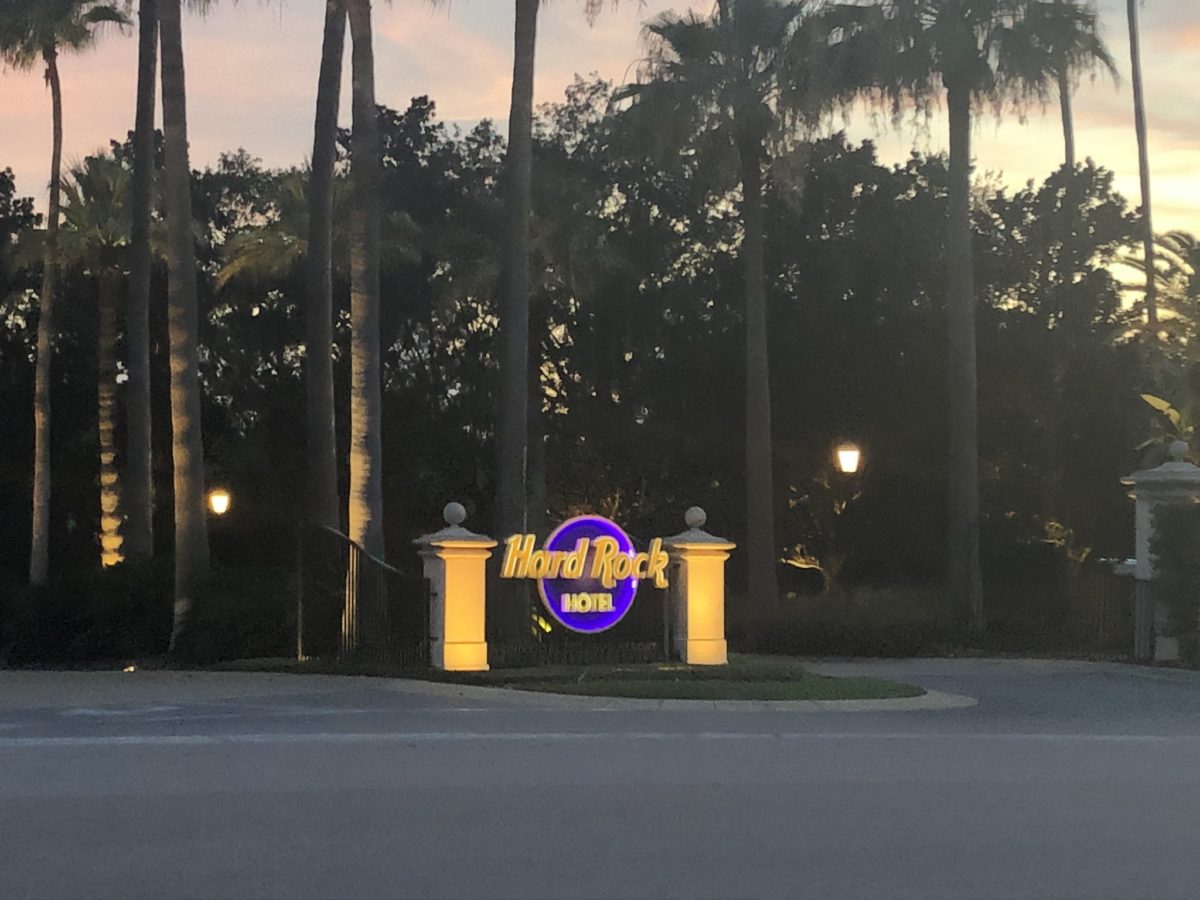 If you're hanging at the resort or spending the day by the pool, this is a good place to grab a substantial meal. The food is "fine", but we won't be running back anytime soon.
Overall, The Kitchen is basically like me raiding my own kitchen at home- I can find something that I'm willing to eat, but it doesn't really have the "wow" factor that would have me talking about it the next day. We suggest grabbing drinks and maybe apps from The Kitchen, but rock and roll out of there before the main course.