This post may contain affiliate links; please read the disclosure for more information.
Contempo Café in Disney's Contemporary Resort, Disney's Contemporary Resort, Walt Disney World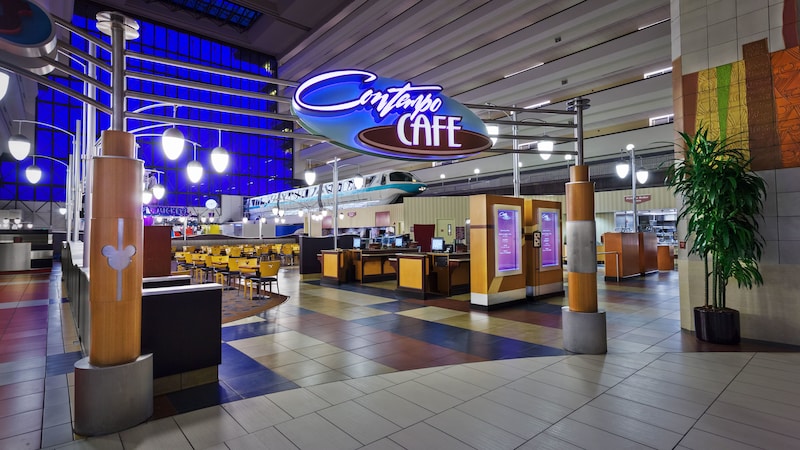 Details, tips, and information for Contempo Café
Order using a high-tech touch screen, which will compute the cost of your meal as you go. Hot breakfasts, bakery items, fresh salads, hot and cold sandwiches, flatbreads and pasta entrées are served. Grab 'n' go items are also available.

Cuisine:
American

Details:
Disney Dining Plan Accepted
WDWNT Reviews
Coming soon!
Menus for Contempo Café
Breakfast
Experience: Quick Service Restaurant
Price level: $ ($14.99 and under per adult)
Average entrée price: $8.81
Entrées
Bounty Platter – $11.99
Scrambled Eggs, Bacon, Pork Sausage, Breakfast Potatoes, Seasonal Fruit and mini Mickey Waffle
Grilled Breakfast Sandwich – $7.79
Egg, Ham and Three-Cheese Blend on Toasted Challah
Scrambled Hash Bowl – $8.99
Eggs and Sauce, Bacon, Sausage, Cheese and Potatoes
Mickey-shaped Waffle – $9.99
served with a choice of Fruit Topping and Bacon or Pork Sausage
Steel-cut Oatmeal – $5.29
topped with fresh Berries and Brown Sugar
Pancakes – $8.79
served with Bacon or Pork Sausage
Sides
Bacon – $3.29
Pork Sausage – $3.29
Cheesy Grits – $3.79
topped with Shredded White Cheddar
Breakfast Potatoes – $3.29
Self-Serve Bakery
Bagels – $3.49
Danish – $3.99
Cinnamon Bun – $4.29
Croissant – Plain – $3.49
Chocolate Croissant – $3.99
filled with Chocolate
Sliced Bread – $0.99
two Slices of White or Wheat
English Muffin – $1.19
Assorted Cookies – $3.29
Chocolate-Chip, Oatmeal Raisin or Sugar
Gourmet Cupcake – Range Min – $4.99 / Range Max – $5.99
Assorted Muffins – $3.49
Kids' Disney Check Meals
Breakfast Sandwich – $6.69
Eggs and Low-sodium Turkey served on Honey-Wheat Goldfish Bread with Grapes and Dannon Danimals Smoothie with choice of small Lowfat Milk, small Dasani Bottled Water or Minute Maid Apple Juice. Meets Disney Nutrition Guidelines for Complete Meals without substitutions
Breakfast Platter – $6.99
served with Scrambled Eggs, mini Mickey-shaped Multigrain Waffle, Pork Sausage, Grapes and Dannon Danimals Smoothie with choice of small Lowfat Milk, small Dasani Bottled Water or Minute Maid Apple Juice. Meets Disney Nutrition Guidelines for Complete Meals without substitutions
Kids' Meals
Mini Mickey-shaped Waffles – $6.69
served with Grapes and Dannon Danimals Smoothie with choice of small Lowfat Milk, small Dasani Bottled Water or Minute Maid Apple Juice
Silver Dollar Pancakes – $6.69
includes Dannon Danimals Smoothie and served with Bacon and Sausage, Grapes and choice of small Lowfat Milk, small Dasani Bottled Water or Minute Maid Apple Juice
Grab 'n' Go Treats
Ice Cream Novelties – Range Min – $4.99 / Range Max – $5.39
Caramel Corn – $5.69
Mickey's Crisp Rice Treat – $4.49
Assorted Bars – $2.99
Assorted Candy – $2.29
Fruity Bears – $2.49
Assorted Cookies – $3.29
Chocolate-Chip, Oatmeal Raisin or Sugar
California Trail Mix – $3.19
Beverages
Assorted Fountain Beverages – $4.19
Refillable Mug – $18.99
eligible for refills at self-service beverage islands at Quick-Service locations at any Disney Resort Hotel during the length of your stay
Dasani Bottled Water – Small – $2.50
Dasani Bottled Water – Large – $3.50
smartwater – $5.50
vitaminwater – $4.49
POWERade – $4.69
Milk – $3.79
Milk (Half-Pint) – $1.99
Soy Milk – $2.59
Nestlé Nesquik Chocolate Milk – Small – $2.99
Nestlé Nesquik Chocolate Milk – Large – $3.79
Nestlé Nesquik Strawberry Milk – $3.79
Apple Juice Box – $2.69
Simply Orange Orange Juice – $4.99
Minute Maid Apple Juice – $3.99
Minute Maid Cran-Apple Raspberry Juice – $3.99
Coffee – $3.29
Purchase Cup from Cashier
Monster Energy – $5.29
Bottled Iced Tea – $4.19
Honest Assorted Flavors – $4.49
Bottled Beverages – $4.19
Lunch
Experience: Quick Service Restaurant
Price level: $ ($14.99 and under per adult)
Average entrée price: $11.49
Pasta
Cheddar and Bacon Macaroni & Cheese – $8.99
Blistered Tomatoes, Caramelized Onions, Bacon, Cheddar Sauce and Cheesy Breadcrumbs
Signature Sandwiches
"Chicago-style" Italian Beef Sub – $12.99
Shaved Italian Beef, Mozzarella, Crusty Baguette and Seasoned Jus served with Vegetable Slaw
Concourse Cuban – $10.99
Slow-roasted Pork Loin, Shaved Ham, Dill Pickles, Dijon Mayonnaise and Swiss served with Vegetable Slaw
Hot Turkey Sandwich – $11.99
Roasted Turkey, Smoked Bacon, Arugula, Tomato and Cranberry Aïoli served on a Toasted Multigrain Bread and served with Vegetable Slaw
Contempo Smokehouse Burger – $12.99
Angus Chuck Burger, Smoked Bacon Marmalade, Fried Onion Ring and Cheddar on a Brioche Bun served with Vegetable Slaw
Entrées
Grilled Salmon Rice Bowl – $12.49
Chef's Specialty Rice, Soy-Ginger Vinaigrette and Market Vegetables
Seared Chicken Rice Bowl – $10.49
Chef's Specialty Rice, Cilantro-Lime Vinaigrette and Market Vegetables
Soup
Soup of the Day – $3.79
Flatbreads
Barbecue Chicken Flatbread – $11.49
Crispy Chicken, Barbecue Sauce, Triple-Cheese Blend, Caramelized Onions and Kale-Apple Slaw
Vegetarian Flatbread – $11.49
Hummus, Balsamic Roasted Vegetables, Arugula and Feta
Meat Lovers' Flatbread – $11.49
Italian Sausage, Pepperoni and Smoked Bacon topped with Mozzarella
Specialty Salads
Contempo Caesar Salad with Chicken – $11.49
House-made Croutons, Shredded Parmesan and Cheesy Breadcrumbs
Contempo Caesar Salad with Salmon – $12.99
House-made Croutons, Shredded Parmesan and Cheesy Breadcrumbs
Power Greens Salad – $8.99
Hearts of Palm, Slow-roasted Tomatoes, Charred Corn, Sunflower Seeds and White Balsamic-Citrus Vinaigrette
Kids' Disney Check Meals
Turkey Pasta Marinara – $7.49
served with Dannon Danimals Smoothie and Grapes with choice of small Lowfat Milk, small Dasani Bottled Water or Minute Maid Apple Juice. Meets Disney Nutrition Guidelines for Complete Meals without substitutions
Turkey Sandwich – $7.19
served with Dannon Danimals Smoothie and Grapes with choice of small Lowfat Milk, small Dasani Bottled Water or Minute Maid Apple Juice. Meets Disney Nutrition Guidelines for Complete Meals without substitutions
Seasonal Catch Sandwich – $7.99
served with Dannon Danimals Smoothie and Grapes with choice of small Lowfat Milk, small Dasani Bottled Water or Minute Maid Apple Juice. Meets Disney Nutrition Guidelines for Complete Meals without substitutions
Kids' Meals
Cheese Flatbread – $7.19
served with Dannon Danimals Smoothie and choice of one side item: GoGo squeeZ Applesauce, Apple Slices, Carrots or Grapes and choice of small Lowfat Milk, small Dasani Bottled Water or Minute Maid Apple Juice
Pepperoni Flatbread – $7.19
served with Dannon Danimals Smoothie and choice of one side item: GoGo squeeZ Applesauce, Apple Slices, Carrots or Grapes and choice of small Lowfat Milk, small Dasani Bottled Water or Minute Maid Apple Juice
Chicken Breast Nuggets – $7.99
served with Dannon Danimals Smoothie and choice of one side item: GoGo squeeZ Applesauce, Apple Slices, Carrots or Grapes and choice of small Lowfat Milk, small Dasani Bottled Water or Minute Maid Apple Juice
Hamburger – $7.99
served with Dannon Danimals Smoothie and choice of one side item: GoGo squeeZ Applesauce, Apple Slices, Carrots or Grapes and choice of small Lowfat Milk, small Dasani Bottled Water or Minute Maid Apple Juice
Cheeseburger – $7.99
served with Dannon Danimals Smoothie and choice of one side item: GoGo squeeZ Applesauce, Apple Slices, Carrots or Grapes and choice of small Lowfat Milk, small Dasani Bottled Water or Minute Maid Apple Juice
Kid's Power Pack – $6.19
Grab 'n' Go Treats
Ice Cream Novelties – Range Min – $4.99 / Range Max – $5.39
Caramel Corn – $5.69
Mickey's Crisp Rice Treat – $4.49
Assorted Bars – $2.99
Assorted Candy – $2.29
Fruity Bears – $2.49
Assorted Cookies – $3.29
Chocolate-Chip, Oatmeal Raisin or Sugar
California Trail Mix – $3.19
Beverages
Assorted Fountain Beverages – $4.19
Refillable Mug – $18.99
eligible for refills at self-service beverage islands at Quick-Service locations at any Disney Resort Hotel during the length of your stay
Dasani Bottled Water – Small – $2.50
Dasani Bottled Water – Large – $3.50
smartwater – $5.50
vitaminwater – $4.49
POWERade – $4.69
Milk – $3.79
Milk (Half-Pint) – $1.99
Soy Milk – $2.59
Nestlé Nesquik Chocolate Milk – Small – $2.99
Nestlé Nesquik Chocolate Milk – Large – $3.79
Nestlé Nesquik Strawberry Milk – $3.79
Apple Juice Box – $2.69
Simply Orange Orange Juice – $4.99
Minute Maid Apple Juice – $3.99
Minute Maid Cran-Apple Raspberry Juice – $3.99
Coffee – $3.29
Purchase Cup from Cashier
Monster Energy – $5.29
Bottled Iced Tea – $4.19
Honest Assorted Flavors – $4.49
Bottled Beverages – $4.19
Beer and Wine
Budweiser – $7.75
Bud Light – $7.75
Miller Lite – $7.75
Michelob Ultra – $8.25
Schöfferhofer – $10.00
Jai Alai – $8.75
Assorted Craft Beer – Range Min – $8.75 / Range Max – $9.75
Heineken – $8.50
Coors Light – $7.75
Corona Extra – $8.50
Sutter Home Merlot – $9.00
Woodbridge Chardonnay – $9.00
Beringer White Zinfandel – $9.00
Parducci Chardonnay – $15.00
Parducci Merlot – $15.00
Dinner
Experience: Quick Service Restaurant
Price level: $ ($14.99 and under per adult)
Signature Entrées
Cheddar and Bacon Macaroni & Cheese – $8.99
Blistered Tomatoes, Caramelized Onions, Bacon, Cheddar Sauce and Cheesy Breadcrumbs
Seared Chicken Dinner – $10.99
Chef's Specialty Rice, Cilantro-Lime Vinaigrette and Seasonal Vegetables
Slow-roasted Beef – $12.99
Chef's Cottage Fries, Roasted Tomato Vinaigrette and Seasonal Vegetables
Griddled Salmon – $13.99
Chef's Specialty Rice, Soy-Ginger Dressing and Seasonal Vegetables
Signature Sandwiches
Contempo Smokehouse Burger – $12.99
Angus Chuck Burger, Smoked Bacon Marmalade, Fried Onion Ring and Cheddar on a Brioche Bun served with Vegetable Slaw
"Chicago-style" Italian Beef Sub – $12.99
Shaved Italian Beef, Mozzarella, Crusty Baguette and Seasoned Jus served with Vegetable Slaw
Hot Turkey Sandwich – $11.99
Roasted Turkey, Smoked Bacon, Arugula, Tomato and Cranberry Aïoli served on a Toasted Multigrain Bread and served with Vegetable Slaw
Soup
Soup of the Day – $3.79
Flatbreads
Barbecue Chicken Flatbread – $11.49
Crispy Chicken, Barbecue Sauce, Triple-Cheese Blend, Caramelized Onions and Kale-Apple Slaw
Vegetarian Flatbread – $11.49
Hummus, Balsamic Roasted Vegetables, Arugula and Feta
Meat Lovers' Flatbread – $11.49
Italian Sausage, Pepperoni and Smoked Bacon topped with Mozzarella
Specialty Salads
Contempo Caesar Salad with Chicken – $11.49
House-made Croutons, Shredded Parmesan and Cheesy Breadcrumbs
Contempo Caesar Salad with Salmon – $12.99
House-made Croutons, Shredded Parmesan and Cheesy Breadcrumbs
Power Greens Salad – $8.99
Hearts of Palm, Slow-roasted Tomatoes, Charred Corn, Sunflower Seeds and White Balsamic-Citrus Vinaigrette
Kids' Disney Check Meals
Turkey Pasta Marinara – $7.49
served with Dannon Danimals Smoothie and Grapes with choice of small Lowfat Milk, small Dasani Bottled Water or Minute Maid Apple Juice. Meets Disney Nutrition Guidelines for Complete Meals without substitutions
Turkey Sandwich – $7.19
served with Dannon Danimals Smoothie and Grapes with choice of small Lowfat Milk, small Dasani Bottled Water or Minute Maid Apple Juice. Meets Disney Nutrition Guidelines for Complete Meals without substitutions
Seasonal Catch Sandwich – $7.99
served with Dannon Danimals Smoothie and Grapes with choice of small Lowfat Milk, small Dasani Bottled Water or Minute Maid Apple Juice. Meets Disney Nutrition Guidelines for Complete Meals without substitutions
Kids' Meals
Cheese Flatbread – $7.19
served with Dannon Danimals Smoothie and choice of one side item: GoGo squeeZ Applesauce, Apple Slices, Carrots or Grapes and choice of small Lowfat Milk, small Dasani Bottled Water or Minute Maid Apple Juice
Pepperoni Flatbread – $7.19
served with Dannon Danimals Smoothie and choice of one side item: GoGo squeeZ Applesauce, Apple Slices, Carrots or Grapes and choice of small Lowfat Milk, small Dasani Bottled Water or Minute Maid Apple Juice
Chicken Breast Nuggets – $7.99
served with Dannon Danimals Smoothie and choice of one side item: GoGo squeeZ Applesauce, Apple Slices, Carrots or Grapes and choice of small Lowfat Milk, small Dasani Bottled Water or Minute Maid Apple Juice
Hamburger – $7.99
served with Dannon Danimals Smoothie and choice of one side item: GoGo squeeZ Applesauce, Apple Slices, Carrots or Grapes and choice of small Lowfat Milk, small Dasani Bottled Water or Minute Maid Apple Juice
Cheeseburger – $7.99
served with Dannon Danimals Smoothie and choice of one side item: GoGo squeeZ Applesauce, Apple Slices, Carrots or Grapes and choice of small Lowfat Milk, small Dasani Bottled Water or Minute Maid Apple Juice
Kid's Power Pack – $6.19
Desserts
Soft-serve Ice Cream – $4.99
Purchase Cup from Cashier, Single Serving, No Refills
Grab 'n' Go Entrées and Snacks
Assorted Wraps – Range Max – $8.99 / Range Min – $8.49
Hummus Meal Pack – $6.99
Kids' Power Pack – $6.19
Hard-boiled Egg Combo – $2.99
Two Hard-boiled Eggs – $3.99
Hummus and Vegetables – $4.49
Hummus and Pretzels – $4.39
Mixed Greens Salad – $4.39
Rockit Apple – $4.69
Cuties Mandarins – $4.19
Cereal with Milk – $4.99
Cereal – $2.99
Garden Vegetables with Ranch – $3.99
Pineapple Cup – $4.19
Yogurt and Berry Parfait – $5.79
Fruit Cup – $3.99
Dannon Yogurt – Range Min – $2.39 / Range Max – $3.19
Uncrustables – $3.49
Mini Babybel Cheese – $3.49
Assorted Chips – $2.99
Assorted Rice Chips – $6.49
Fiesta Lime, Sea Salt or Honey Dijon
Whole Fruit – $1.99
Fresh Fruit – $2.29
Grab 'n' Go Treats
Ice Cream Novelties – Range Min – $4.99 / Range Max – $5.39
Caramel Corn – $5.69
Mickey's Crisp Rice Treat – $4.49
Assorted Bars – $2.99
Assorted Candy – $2.29
Fruity Bears – $2.49
Assorted Cookies – $3.29
Chocolate-Chip, Oatmeal Raisin or Sugar
California Trail Mix – $3.19
Beverages
Assorted Fountain Beverages – $4.19
Refillable Mug – $18.99
eligible for refills at self-service beverage islands at Quick-Service locations at any Disney Resort Hotel during the length of your stay
Dasani Bottled Water – Small – $2.50
Dasani Bottled Water – Large – $3.50
smartwater – $5.50
vitaminwater – $4.49
POWERade – $4.69
Milk – $3.79
Milk (Half-Pint) – $1.99
Soy Milk – $2.59
Nestlé Nesquik Chocolate Milk – Small – $2.99
Nestlé Nesquik Chocolate Milk – Large – $3.79
Nestlé Nesquik Strawberry Milk – $3.79
Apple Juice Box – $2.69
Simply Orange Orange Juice – $4.99
Minute Maid Apple Juice – $3.99
Minute Maid Cran-Apple Raspberry Juice – $3.99
Coffee – $3.29
Purchase Cup from Cashier
Monster Energy – $5.29
Bottled Iced Tea – $4.19
Honest Assorted Flavors – $4.49
Bottled Beverages – $4.19
Beer and Wine
Budweiser – $7.75
Bud Light – $7.75
Miller Lite – $7.75
Michelob Ultra – $8.25
Schöfferhofer – $10.00
Jai Alai – $8.75
Assorted Craft Beer – Range Min – $8.75 / Range Max – $9.75
Heineken – $8.50
Coors Light – $7.75
Corona Extra – $8.50
Sutter Home Merlot – $9.00
Woodbridge Chardonnay – $9.00
Beringer White Zinfandel – $9.00
Parducci Chardonnay – $15.00
Parducci Merlot – $15.00
Related