Trail's End Restaurant in The Campsites at Disney's Fort Wilderness Resort, The Campsites at Disney's Fort Wilderness Resort, Walt Disney World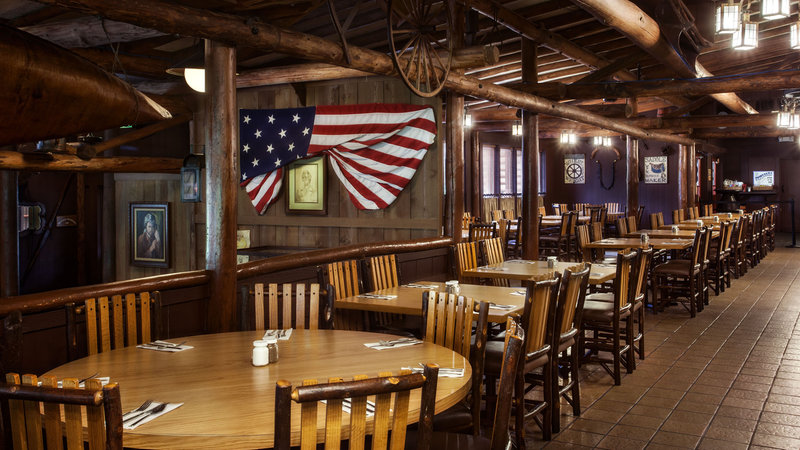 Details, tips, and information for Trail's End Restaurant
Today's Hours
EMPTY api-answer: No JSON received - is the API down? Check the URL you use in the shortcode!
Feast on a down-home buffet for breakfast or dinner and lunch à la carte at Disney's Fort Wilderness Resort & Campground.

Cuisine:
American

Details:
Disney Dining Plan Accepted
WDWNT Reviews
Coming soon!
Menus for Trail's End Restaurant
[mks_tabs nav='horizontal']
[mks_tab_item title='Brunch']
Experience: Casual Dining
Price level: $$ ($15 to $34.99 per adult)
Brunch Offerings
Mickey Waffles –
Cheese Grits –
Vegetable Frittatas –
Bacon and Sausage –
Hash Brown Potatoes –
Pasta –
Chili –
Smoked Salmon –
Pulled Pork Benedict –
Fried Chicken –
Baked Macaroni & Cheese –
Mashed Potatoes and Gravy –
Shrimp –
Assorted Pastries –
Assorted Fruits –
Yogurt –
Bread Pudding –
Red Velvet Cake Cookies –
Apple Cobbler –
[/mks_tab_item]
[mks_tab_item title='Breakfast']
Experience: Casual Dining
Price level: $$ ($15 to $34.99 per adult)
Breakfast Buffet
Fresh Fruit –
Chili –
Sausage and Bacon –
Breakfast Pizza –
Breakfast Hash –
Mickey Waffles –
Eggs Benedict –
Biscuits and Sausage Gravy –
Specialty Country Pork Dish –
French Toast-Custard Pudding –
Cheese Grits –
Oatmeal –
Yogurt –
Freshly-baked Pastries –
Vegetable Frittata –
Allergy-Friendly Offerings
Allergen Guides available upon request –
[/mks_tab_item]
[mks_tab_item title='Lunch']
Experience: Casual Dining
Price level: $ ($14.99 and under per adult)
Average entrée price: $15.44
Appetizers
Smoked Cheese-stuffed Jalapeño – $9.00
wrapped in Country Bacon with Peach-Pepper Jelly
Soup of the Day – $7.00
Ask your Server for Today's Soup
Trail's Chili – $8.00
Cup of Beefy Chili topped with Cheddar Cheese
House-made Cornbread – $4.00
Fried Pimento Cheese Fritters – $10.00
Crispy Pimento Cheese and Dipping Sauce
Country Dips with Chips – $9.00
House-made French Onion Dip, Southwest Salsa, and Chips
Entrées
Angus Chuck Cheeseburger – $16.00
with Candied Bacon, Hickory-smoked Sharp Cheddar, and Fried Onion Ring served with French Fries
Grilled Chicken Sandwich – $15.00
with Candied Bacon, Hickory-smoked Sharp Cheddar, and Fried Onion Ring served with French Fries
Southern Fried Catfish Sandwich – $16.00
with Lettuce, Tomato, and spicy Rémoulade on a Kaiser Roll served with French Fries
Barbecue Pulled Pork Sandwich – $13.00
Slow-smoked Barbecue Pulled Pork with Country Slaw and Pickled Green Tomatoes served with French Fries
Grilled Portabella Mushroom – $14.00
Vidalia Onion Jam, Blue Cheese, and Balsamic Glaze on a Kaiser Roll served with French Fries
Beef Brisket Sandwich – $16.00
Sliced Beef Brisket, Caramelized Onions, and Blue Cheese Sauce served with French Fries
Chicken and Waffles – $16.00
Fried Chicken Fillets and Buttermilk Waffles with Warm ButteredRosemary-Maple Syrup
Spicy Shrimp and Grits – $18.00
with Andouille Sausage and Red-Eye Gravy
Smoked Meatloaf – $15.00
Mashed Potatoes, Vidalia Onion Gravy, and Chef's choice of Vegetables
Sweet Southern Endings
Trail's S'mores Tart – $6.00
Layers of Chocolate and Marshmallow Custard and topped with a Toasted S'more
Chocolate Peanut Butter – $7.00
Brown Butter-Chocolate Mousse and a Peanut Butter Cream
Key Lime Pie – No Sugar Added Dessert – $6.00
House-made Key Lime Pie with fresh Whipped Cream
Warm Sticky Bun Sundae – $5.00
A warm Pecan Sticky Bun layered with Butter Pecan Ice Cream, Caramel Sauce, and Whipped Cream
Strawberry Shortcake – $7.00
Shortcake with Strawberries and a Grand Marnier Chantilly
Non-Alcoholic Beverages
Assorted Fountain Beverages –
Coca-Cola, Diet Coke, Coca-Cola Cherry, Sprite, Barq's Root Beer, Minute Maid Light Pomegranate Lemonade, or Pibb Xtra
Iced Tea (Sweet/Unsweet) –
Freshly Brewed Joffrey's Coffee –
Bottled and Draft Beers
Blue Moon, Corona, Corona Light, or Heineken – $6.50
Samuel Adams or Samuel Adams Seasonal – $6.50
Bud Light Lime or Michelob Ultra – $7.25
Stella Artois – $7.50
Angry Orchard Crisp Apple Hard Cider – $7.75
O'Doul's (Non-alcoholic) – $5.25
Bud Light Draft – $7.25
Yuengling Draft – $7.75
Kids' Appetizers
Garden Salad – $3.00
with Fat-free Ranch Dressing
Sliced Apples – $3.00
Kids' Mickey Check Meal
Kids' Mickey Check Meal – Baked Chicken Drumette – $10.00
with Brown Rice, Vegetables, and Sliced Apples served with choice of Small Lowfat Milk or Small Dasani Water. Meets Disney Nutrition Guidelines for Complete Meals without substitutions
Kids' Mickey Check Meal – Grilled Salmon – $11.00
with Brown Rice, Vegetables, and Sliced Apples served with choice of Small Lowfat Milk or Small Dasani Water. Meets Disney Nutrition Guidelines for Complete Meals without substitutions
Kids' Meals
Cheeseburger – $10.00
Choice of one (1) Beverage and one (1) Dessert
Macaroni & Cheese – $9.00
Choice of one (1) Beverage and one (1) Dessert
Chicken Nuggets – $8.00
Choice of one (1) Beverage and one (1) Dessert
Grilled Cheese – $8.00
Choice of one (1) Beverage and one (1) Dessert
Kids' Desserts
Sliced Apples –
Ice Cream Sundae –
Chocolate Chip Cookies –
Kids' Beverages
Small Lowfat Milk –
Small Dasani Water –
Small Minute Maid Apple Juice –
Specialty Character Drink – $8.00
Minute Maid Light Lemonade served in a souvenir Character Cup with a glowing Character Clip-on Light
Allergy-friendly Offerings
Allergy-Friendly menus available upon request –
Brunch Carving Station
Brown Sugar-glazed Applewood-smoked Bacon (available until 11am) –
Glazed Bone-In Ham –
Brunch Soup Station
Chili –
Grits –
Brunch Offerings
Mickey Waffles –
Cheese Grits –
Vegetable Frittatas –
Bacon and Sausage –
Hash Brown Potatoes –
Pasta –
Chili –
Smoked Salmon –
Pulled Pork Benedict –
Fried Chicken –
Baked Macaroni & Cheese –
Mashed Potatoes and Gravy –
Shrimp –
Assorted Pastries –
Assorted Fruits –
Yogurt –
Bread Pudding –
Red Velvet Cake Cookies –
Apple Cobbler –
Brunch Cold Offerings
Sliced Cheddar Cheese –
Sliced Salami –
Smoked Salmon –
Strawberry Yogurt –
Fresh Fruit –
Shrimp –
Caesar Salad –
Coleslaw –
Mixed Green Salad –
Potato Salad –
Brunch Dessert Island
French Toast Bread Pudding –
Assorted Pastries –
Red Velvet Cake –
Cookies –
Apple Cobbler –
Corn Muffins –
[/mks_tab_item]
[mks_tab_item title='Dinner']
Experience: Casual Dining
Price level: $$$ ($35 to $59.99 per adult)
Dinner Buffet
Seasonal Vegetables –
Smoked Pork Ribs –
Fried Chicken –
Pasta –
Hand-carved Roasted Meat –
Fresh Catch of the Day –
Cheese Pizza –
Soup of the Day –
Chili –
Peel-n-Eat Shrimp –
Baked Macaroni & Cheese –
Sundae Bar –
Red Velvet Cake –
House-made Fruit Cobbler –
Allergy-Friendly Offerings
Allergen Guides available upon request –
[/mks_tab_item]
[/mks_tabs]
Related