When we broke the news that Celebrate the Magic at the Magic Kingdom was going away, a fair number of you went to social media and the comments section below and let the world know how upset you were and just how much you loved that show. While I wasn't quite as heartbroken, I did love the Celebrate the Magic projection show, and certainly more than "The Magic, The Memories, and You" which preceded it. When we found out it would be a version of the Once Upon a Time show that performs at Tokyo Disneyland, I became a bit concerned that we were in for a downgrade. Let me explain…
I know I'll have hell to pay from the Tokyo fanboys, but Once Upon a Time in Tokyo is boring. It is drawn out, has long segments that I refer to as the GTS portions (Go To Sleep), and can be a bit wonky at moments. It fits the preferences of guests there, but could never work in Orlando… unless you cut the boring parts, tighten up the show, put in some sensible pyro, and plop in segments developed for seasonal iterations of the program. Disney did all of this.
The Snow White and Tangled portions of the original version of the show were removed completely. While I lament not having the Tangled lantern scene in this style of show, it feels right. The Snow White portion absolutely needed to be cut as it just didn't have the right pacing for a nighttime spectacular. They did keep the Cinderella portion, which was a concern of mine, but it was tightened up and comes early enough in the show where it doesn't kill any of the momentum. You would be amazed how hard it is to keep children awake after 10pm, which for some reason is when they are running this show on most nights.
While the double-song FROZEN portion was unexpected, it works. The two times I have seen the show, the entire crowd was signing along to both "For the First Time in Forever" and "Let It Go". Whether you love or hate Frozen, this segment is fantastic and is certainly a crowd pleaser.
The best scene, in my opinion, is the Peter Pan flight over London. All of the chills and warm feelings I got the first time I saw the Mickey's Philharmagic segment of the same nature came back to me, and I dare say were amplified by the presentation style of the London flight in this show. Bursting through the Big Ben clock and out over the vast city skyline is amazing, and is in fact so good that it gets revisited again in the finale portion of Once Upon a Time.
The pyrotechnics in the show are spot on and only used when absolutely needed. That being said, there is a ton more pyro in this show than there ever was in any other Magic Kingdom projection show. The moments where fireworks erupt from the castle are overwhelming, and the addition of spotlights flanking the Castle throughout the show make for some truly jaw dropping effects. It reminds me in many ways of Disneyland Forever (look it up kids).
I want to have one negative about Once Upon a Time as not to seem like a "Pixie Duster" and I have a valid one: they didn't reanimate Mrs. Potts and Chip. Despite being your hosts for the show and appearing on the Castle several times, the mouth movements and what the characters are saying never line up. It's like watching an animated Godzilla movie that was translated to English. I suppose it is not a big deal, but it is really noticeable if you are standing in the front portion of the hub area.
Once Upon a Time delivers, despite being seemingly set up to fail. It replaces a beloved show, is presented once nightly, 30 minutes after the end of Wishes (supposedly the main nighttime attraction for the park), and park crowd control cast members don't even really stick around to wrangle and direct guests in the time leading up to, during, and after this show, despite their being sizable crowds for it. With all of that being said, the show is quintessentially Disney, combing past and contemporary animated favorites with stunningly clear projections, awe-inspiring pyrotechnics and lighting, and a soundtrack that weaves together wonderful sing-along moments with a fantastic original score and theme.
Once Upon Time is a must see the next time you visit the Magic Kingdom (and it is actually playing, it does not perform nightly as of right now).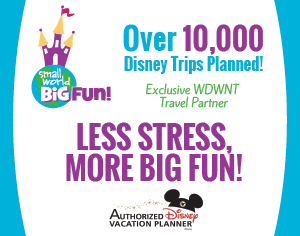 I don't know about you, but there are times when planning a Disney vacation can be overwhelming! There are so many options, where to stay, when to go, is this the best price. So, I want to introduce you all to Cindy Minor and the team at Small World Big Fun. They will help you plan your Disney vacation for FREE. Contact them today!