Welcome back to Neverland! We will continue our tour of Disney's newest theme park, Neverland. If you are joining us for the first time on this tour, welcome! If you didn't join us on our first tour, to Failed California, back in February, you can go back and check out our inaugural visit. And earlier this week we arrived at the Land of Forgotten Countries, where we'll continue our tour today. What is Neverland, you ask? Here's the explanation from our first visit:
Neverland is a fictional place in Disney's "Peter Pan," where pirates rule the seas, mermaids lurk the waters, fairies are real, and you never grow up. It's a place of "never." For a moment, let's pretend that it is the year 2078. In this time period, Disney has just announced plans for their 6th theme park which would be 500 acres – their biggest park yet. This park would be called Neverland. This park is filled with shows, rides, concepts, ideas and many other things that Disney had plans for, but never fully put into effect. Let me be your VIP tour guide and show you what would be in this fictional Disney park of things that have "never" happened.
On today's tour, we will journey across the world and explore lost continents. Pack your suitcase, get your passport, and buy your plane ticket, because we're heading to the Land of Forgotten Countries! This particular tour will be separated into multiple parts to ensure you don't get jet lag!
Land of Forgotten Countries (World Showcase, EPCOT)
---
MT. FUJI COASTER (JAPAN)- The Mt. Fuji roller coaster was one of the attractions planned for the Japan pavilion. EPCOT's Mt. Fuji would have been a replica of the actual mountain in Japan, and would have been located in the back of the pavilion. The ride would predominantly take place inside of the mountain, but also have some parts outside. As we have discussed last time, budget and sponsorships are important for EPCOT attractions to get build. You might imagine that a Mt. Fuji ride might have a perfect sponsor in a company of the same name, FujiFilm. However, the official film and camera sponsor of Walt Disney World was Kodak. At this time, Kodak was still solvent and not interested in giving up sponsorship rights, nor sharing with another film company. Thus, FujiFilm was denied the opportunity to sponsor the ride, and that is why we have no Mt. Fuji. If this plan did come to fruition, it would have been the first roller coaster at Epcot. However, that title may go to the highly rumored Guardians of the Galaxy Roller Coaster.
BULLET TRAIN (JAPAN)- The Bullet Train ride was another ride planned for the Japan pavilion. This would not be an actual train 'ride.' It would have been a film-based ride that simulates a train ride through Japan. Riders would enter a compartment of the bullet train, and as the ride begins the floor would vibrate to simulate the motion of the train. Out the panoramic windows of the 'train car' riders would be treated to scenes of Japan. Again, this attraction was most likely cut due to budget/sponsorship issues.

Japan Bullet Train Concept Art
RHINE RIVER CRUISE- According to "Walt Disney's EPCOT Center" by Richard Beard, the ride would have guests boarding a "cruise boat" for a ride down the Rhine and other rivers, with the trip affording a visual impression in miniature of the cultural heritage of Germany's past and highlights of its present. Among the detailed models envisioned were scenes in the Black Forest, the Oktoberfest, Heidelberg, and the industrial Ruhr Valley. Of all the rides here in the Land of Forgotten Countries at Neverland, this is the one that came closest to actually being built. The ride was planned and green lit, and construction had almost started on the show building behind the Biergarten restaurant before the plug was pulled.

Rhine River Cruise entrance

If we take a look from the air at the Germany Pavilion at Epcot as it is today, we can clearly see where the show building was going to be placed. Notice the open space in the back right side of the otherwise rectangular pavilion?

Germany from the air

This open space would have contained the show building. Guests would exit the attraction overlooking the Biergarten restaurant and entertainment.

Rhine River Cruise planned ride path. The entrance would be on the right side and Biergarten is on the left. I thank ImagineeringDisney.com for allowing me to use their photos.

This ride's front entrance was actually constructed, as shown by the photo below. During the 80's, there were two highly visible giant wooden doors which were to be the ride entrance. Today, this area features a giant mural. That mural actually covers the location of those doors.
THAMES RIVER CRUISE- Not much is known about the Thames River Cruise other than that it was going to be in the United Kingdom Pavilion, it would be a boat ride possibly like the Rhine River Cruise, and riders would explore the landmarks and sights of London, include a replica of Big Ben. Concept art is pictured below.
This concludes today's tour in Neverland. I hope you have enjoyed this tour! If you have enjoyed this series so far, and are looking for more, fear not! In the coming weeks our Neverland tour will pay a visit to The Broken Kingdom – rides and lands never built at the Magic Kingdom!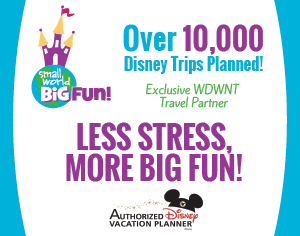 I don't know about you, but there are times when planning a Disney vacation can be overwhelming! There are so many options, where to stay, when to go, is this the best price. So, I want to introduce you all to Cindy Minor and the team at Small World Big Fun. They will help you plan your Disney vacation for FREE. Contact them today!