This post may contain affiliate links; please read the disclosure for more information.
We recently spotted a new line of Americana apparel, which included a new Spirit Jersey and sparkly ears, but wait! There's more! On a trip through World of Disney at Disney Springs, we were overwhelmed by the red, white, and blue merchandise. Let's take a look at what's new.
Light-Up Necklace – $17.00
My favorite time to be in the park is after the sun goes down. The red, white, and blue Mickey light-up necklace is the perfect late night accessory for the summer. You can adorn yourself in flashing lights for the price of Orange.
Half-Zip Sweater – $59.99
In case of cool weather, there are plenty of options! This half-zip long sleeved top has hidden Mickeys in the stars. A small Walt Disney World tag is on the pocket.
Zip Up Hoodie – $59.99
There's a full zip pocket hoodie with Mickey in red, white, and blue shorts. The back of the sweatshirt has the stars, hidden Mickeys, and stripes.
Americana Dress – $44.99
The sun dress is probably the most appropriate for the Florida weather. It's layered in the front. I love the combination of stars, castle, and Mickeys. I also noticed this was available in 1X and 2X sizes.
Mickey and Minnie Tee – $34.99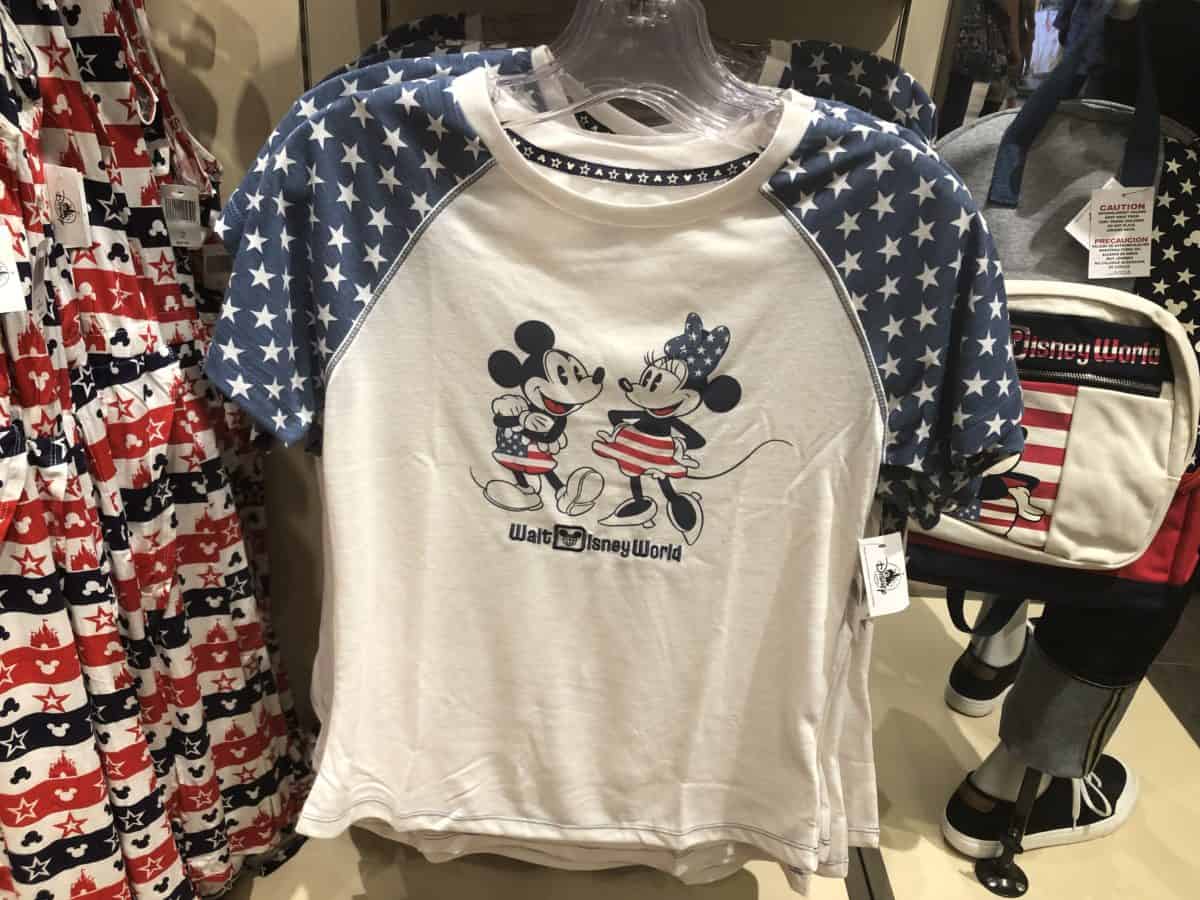 I think the cutest piece in this collection is the Mickey and Minnie tee shirt. The sleeves are beautiful blue color with white stars. Pie-eyed Mickey and Minnie, dressed in their own Americana apparel, look adorable above the Walt Disney World logo.
USA Tank Top – $24.99
This red and white striped tank top has patched on letters. Minnie's silhouette stands out against the U.S.A. on the front. The back has a giant navy bow on the straps. It wouldn't be a Minnie top if there weren't a bow somewhere, right?
Youth Minnie Dress – $34.99
Minnie sparkles and shines on this little dress. "Love the USA" and "Walt Disney World" stand out against the glittery red heart. The skirt has a really fun mix up of patterned stars, Mickeys, and castles.
Youth Mickey Hoodie – $34.99
There is a youth hoodie with the a patriotic Mickey silhouette. The sleeves has cute patches, too. One side has an American flag Mickey face, and the other says Walt Disney World 2019. It's so cute that they're using Mickey for the 1 in the year.
Americana Backpack – $44.99
Looking for a new backpack? Say no more. This Walt Disney World bag has an adorable pie-eyed Mickey on the front. The straps are my favorite part.
Americana Waist Bag – $19.99
A Minnie Mouse hip pack is also available, for those who carry a little less to the parks.
Americana Throw Blanket – $39.99
The reversible throw blanket is super soft. One side is blue with white Mickeys and stars and the other side is white with blue Mickeys and stars.
All of this new Americana merchandise has joined the other red, white, and blue merchandise that was recently spotted at Epcot. Will you be adding any of these to your wardrobe?