City Works is now open at Disney Springs, and we were able to be among the first guests to dine there. Between  the warm welcome reception at the grand opening, the friendly staff, and the equally expansive dining space and menu, it's great to finally have this section of Disney Springs alive again.
The space features both indoor and outdoor seating, with an interior doorway leading into the adjacent NBA Experience.
Between the copper and wood accents, and large windows all along the exterior, I particularly enjoyed daytime seating, as at night it can get very dark and cacophonous with loud music blasting.
A blessing for beer connoisseurs, City Works features over 70 craft beers on tap, with some seasonal rotating selections and even a custom brew just for the restaurant.
If you aren't a sports fan, the screens also show running memes and funny videos (we saw lots of The Chive while we were there.) There's even a fun interactive element where you can tag your social media posts on Twitter and Instagram with #CityWorksDisneySprings and have them instantly featured (pending approval) on the big screen inside the restaurant.
(We obviously couldn't help ourselves.)
If the weather's nice, or you simply want to stroll through Disney Springs with a craft beer, there is even a to-go stand at the outside bar. For now, let's venture inside and show you how our massive meal went:
Full Menu
City Works has an expansive menu that tailors to a number of dietary needs. As a guide, V is Vegetarian, VG stands for Vegan, and GF is Gluten-free. For the full text-only version of the menu, click here.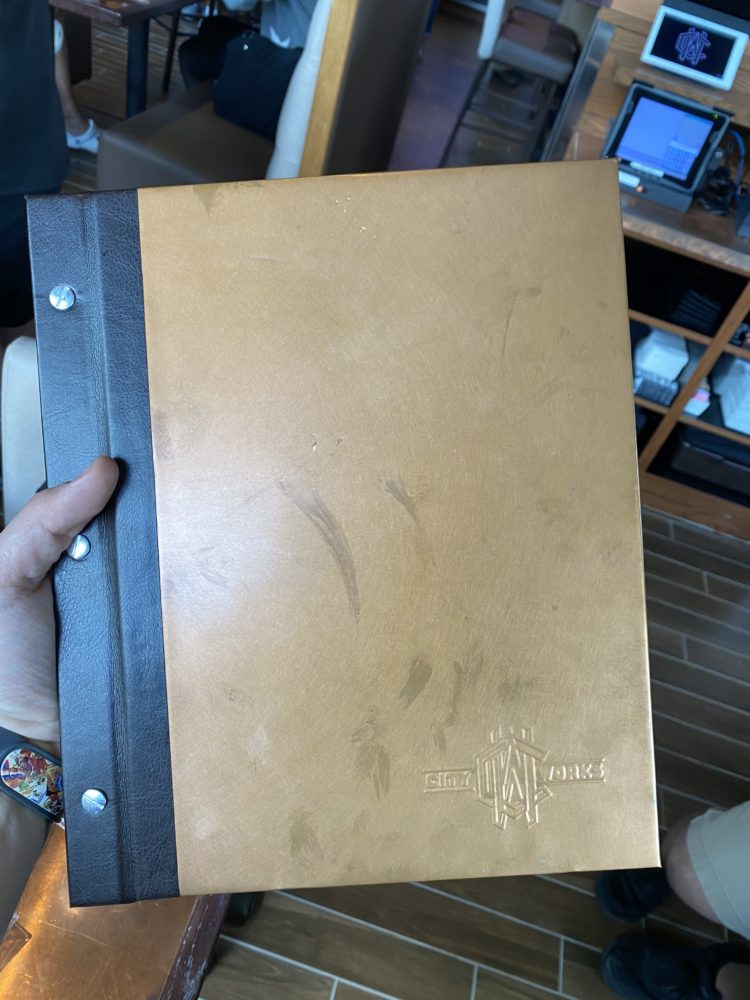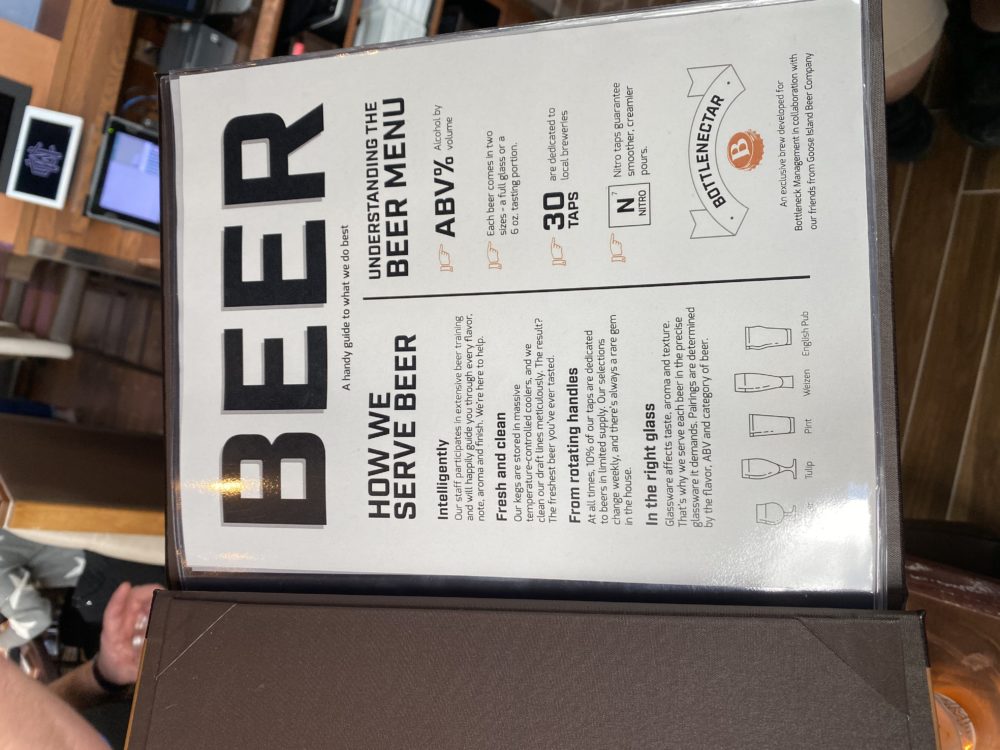 Bar Bites
(Available for $7 during Happy Hour: Monday – Thursday, 3 – 6 p.m)
Pretzel Bites – $11
Sea salt, IPA cheese sauce (V)
Pretzel bites were pretty basic, but there's nothing wrong with that. The cheese is much smoother than the plastic cheese from the parks, so this is definitely a better version of what you can get at most carts.
We wouldn't get these normally, but if you're here during happy hour and looking to round out your order, these make a good, simple and salty snack.
Cheese Curds – $11
White cheddar, cornmeal battered, smoked tomato coulis (V)
If you've never had cheese curds before, definitely try these, because they're life-changing. These were my first introduction to fried cheese curds, and they were absolutely delicious. If you receive a piping hot basket of these, don't wait to eat them or they'll get rubbery and hard.
They also pair really well with the tomato sauce that comes with them, but I enjoyed just popping them plain. The sauce is smoked tomato coulis, but it's basically a more toned-down marinara. This is a must-have app.
Popcorn Chicken – $10
Nashville Hot or Southern Fried, ranch dressing
We had high hopes for the chicken, but it was pretty flavorless, from the dry interior to the breading. Many at the table remarked that it the hot sauce was likely the hottest thing they've tried on property. For me and a few other hot food fiends at the table, though, the Nashville Hot sauce was lacking––spicy, but not packing enough heat or body. I ended up sticking with the ranch, which even then seemed watery and vaguely cafeteria-like.
If you like bland foods, though, you'll find these to be tasty. They also don't feel as heavy since they're lightly breaded.
Firecracker Rolls – $10
Marinated spicy Cajun chicken, vegetable medley, avocado cream
We didn't know what to expect with these, but they had a weird southwestern flavor to them, and far too much veg to chicken ratio. These were also spicy. 
Overall, there were far better apps at the restaurant, and these are so forgettable, we wouldn't recommend them.
Fried Pickles – $10
Kosher dill, beer battered, ranch dressing (V)
The fried pickles were just okay. If you like fried pickles, this wouldn't be a bad option, especially at the Happy Hour price of $7.00. These are lightly battered, almost like a tempura, but they lack flavor.
Maybe if they tried a spicy ranch instead of just plain ranch, it could make them a little more memorable (like the spicy horseradish sauce at Sci-Fi Dine-In Theater Restaurant in Disney's Hollywood Studios.)
Shareables
Buffalo Shrimp – $18
Crispy jumbo shrimp, bleu cheese crumbles, bleu cheese dressing, buffalo sauce
I was somewhat surprised by the presentation of this dish, as it featured the most artistic plating. Unfortunately, that also meant you got only five (5) shrimp, albeit rather large, plump ones.
These shrimp are coated in very spicy buffalo sauce, meant to be counteracted by the dense layer of chunky cool blue cheese dipping sauce. These were almost too intense, but a good option if you love shrimp and don't mind heavy spice.
Duck Nachos – $18
Pulled confit duck, pepper jack cheese sauce, pickled jalapeños, smoked tomatoes, red onion, white beans, avocado, micro cilantro, queso fresco, wonton chips
I had the blessing of having these set down right next to me, and despite my hesitation about duck meat, between the oozing white cheese and fresh avocado chunks, I couldn't resist taking a layer… and then another, and another…
These nachos are comprised of fried wonton chips instead of tortilla chips, making for a different take on the beloved snack. Some layers end up getting soggy after a while, but if you get a warm chip with the right combination of cheese, tomatoes, avocado, greens, it's an amazing bite.
For the price, this is a great appetizer, and the one item I'm dying to come back for. The duck is smokey, the jalapeños offer just enough spice, and the mix of melted cheese with flecks of queso fresco and fresh toppings makes for true flavor magic. Once we had our entrees (which are further down in this review), we realized that the general way to go here is to just load up on apps (I recommend these, and some $7 happy hour cheese curds) and beer flights. As you'll come to see, this and most other shareables were executed far better than most entrees, so this is the way to go.
BBQ Chicken Flatbread – $14
House-smoked BBQ chicken, mozzarella, Gouda, red onion, housemade BBQ sauce, cilantro
We got to try these during a grand opening preview of City Works, where a small spread of snacks were laid out for media guests and hungry bloggers alike.
This was arguably better than most flatbreads on property, with just the right amount of smokiness coming from the chicken. The gouda and mozzarella offer a different flavor profile than just the usual basic cheese, and the fresh cilantro gave it a nice herby kick. This would be a good app to share, or even an entree if you're in the mood for an entire pizza.
Kung Pao Cauliflower – $15; add chicken +$4, add shrimp +$5
Roasted cauliflower, sweet peppers, green onions, garlic, ginger, arbol chiles, fried peanuts, chili oil, sweet and spicy tamari (GF/VG)
I wasn't sure how well a sports bar could do Asian-inspired food, but this Kung Pao cauliflower was delicious. My only complaint was that I didn't have a bowl of steamed white rice to dump this into. From the texture of the cauliflower, to the slight kick from the arbol chilies, this was the perfect mix of savory and spicy.
Many of us were impressed by this dish, even curious as to what it'd be like to plus it with shrimp and chicken. Honestly, I'd get this as an entree or as part of a shareable feast with another person.
Buffalo Chicken Dip – $14
Pulled buffalo chicken, bleu cheese cream, housemade giardiniera, corn tortilla chips (GF)
This was another great option, and probably one of ones I'd generally recommend the most, since it's likely to satisfy virtually everyone at the table. By the time we got around to trying this dip, we'd had super spicy shrimp, underwhelming popcorn chicken, and lots of other dishes with way too many flavors going on. While I normally  like food that's spicy or packed with flavor, this was a welcome respite from all the other dishes, since it was simple, but still surprisingly tasty.
This was a solid mound of shredded chicken doused in creamy, savory buffalo sauce. You'd scoop up some of the dip with the spoon and slather it onto a tortilla chip, making for a perfectly crunchy, savory bite.
Burgers
Burgers are fresh USDA prime beef patty, served on a toasted brioche bun. Served with olive oil parsley fries or side salad. Guten-free/vegan bun available. Sub cup of soup for $1.50. Sub Impossible Burger for any burger for $2.
Scorpion – $18
Habanero pepper jack, jalapeños, five pepper jam, arugula, vine-ripened tomato, scorpion pepper aioli
The Scorpion Burger, as you might imagine, has a bit of a sting to it. The burger is cooked to order, and topped by habanero pepper jack cheese, jalapeños, scorpion pepper aioli, and 5 pepper jam, as well as tomato and arugula. Although the description has two types of sauce listed, we only really noticed one.
The burger is cooked perfectly, and even throughout. On the bottom of the bun, mixed in with the tomato and arugula, was a sweet and spicy sauce. It had a really sweet taste with a hint of heat behind it. The appearance and taste was similar to a sweet and sour sauce, with more of a kick. The jalapeños seem to be the hottest part of the burger, so if you can handle those, then you can handle this hot little bite. We might also add that the bun of the burger was nice and soft, making this a pretty solid burger to go along with the wide variety of beers available.
Salmon – $18
Thai-marinated Atlantic salmon, sesame bell pepper slaw, green onion, cilantro, lemon ginger aioli
The salmon burger wasn't the best out of the burgers we tried (that would be the Scorpion Burger), but between the crunchy slaw and the buttery bun, it made for an interesting pescatarian option.
Between this and the Ahi Tuna, we'd go with the tuna merely because it felt slightly less mushy. After a while, the juicy salmon soaked through the bottom bun, making for a soggy experience. Do note that this is cooked to order, and we ordered ours to be done medium well.
Ahi Tuna – $18
Soy-marinated ahi tuna, napa cabbage, pickled carrots, bell peppers, scallions, sriracha garlic aioli
Next up is the aforementioned Ahi Tuna burger, which was well-seared, and surprisingly meaty despite it being a fish option.
As opposed to the bell pepper-dominated slaw of the salmon burger, this was a carrot and napa cabbage slaw that was decidedly more crunchy. For the record, the parsley fries were just okay. Sprinkled with herbs and garlic, they were slightly more dressed up than plain fries, but not as savory as say, truffle fries.
Handhelds
Sandwiches come with olive oil parsley fries or side salad.
Fried Chicken Sandwich – $18
Buttermilk breaded crispy chicken, spicy bread and butter pickles, Carolina mustard BBQ sauce, shredded iceberg, brioche bun
This sandwich was all-around disappointment, and ordered by none other than our fried chicken sandwich connoisseur. In his words:
Lettuce, pickles, chicken and a bun. How can you go wrong? The components of the fried chicken sandwich are classic, but bland. The chicken had no flavor itself and was masked by the Carolina mustard BBQ sauce, which had an overpowering flavor. The chicken was thin, and not juicy like good fried chicken should be. The coating of the fried chicken also lacked flavor. Overall, even a bit of salt and pepper would have added something to this sandwich. If you're craving a really good fried chicken sandwich, head down further into Disney Springs for Homecomin'.
If you didn't like the popcorn chicken, you won't like this. Like Eric said, it was just painfully plain, and something you could get a much better version of elsewhere in Disney Springs, if not cheaper at virtually any fast food joint.
Filet Mignon Sliders – $21
Two grilled filet medallions, caramelized onions, horseradish cream, pretzel roll
At City Works, you can get filet mignon at a sports bar. Opt for these sliders and you get two juicy medallions cooked to order and sandwiched between two tasty, soft pretzel rolls.
As you would expect, the meat was very good and cooked to the perfect temperature, but it was difficult to bite into these sliders since the meat would just slide out.
We could cut these in half for the best experience. Flavor-wise, we did feel that the onions and horseradish cream overpowered the flavor of the meat.
Pulled Pork Sandwich – $18
Hand-pulled house-smoked pork shoulder, housemade BBQ sauce, cider mustard, coleslaw, spicy bread and butter pickles, kaiser roll
We were slightly disappointed by the Pulled Pork Sandwich.
It was oddly chewy, slightly dry as you got towards the middle, and piled high with far too much coleslaw, more so than actual pulled pork. While the flavor was good, there are far better options on the menu.
Tacos
Fish – $19
Cornmeal beer battered mahi-mahi, chipotle coleslaw, pico de gallo, cilantro lime cream, micro cilantro, white corn tortillas, corn and black bean salad
The table was divided on these tacos. I think the restaurant deserves some credit for offering a selection of taco options, especially given what a popular bar snack this is. I found the taco I tried to be extremely dry and overly fishy, but others at the table strongly stand by the fact that if you got a well-topped bite with sauce, it was delicious. I probably wouldn't get these specific tacos again, but I'm curious about the Chicken Tinga ones, as they seem saucier and more flavorful (and less reliant on whether you get a mouthful of cilantro lime cream.)
Entrees
Cajun Linguine – $22
Blackened chicken, andouille sausage, bell peppers, red onion scallions, sriracha cream, linguine pasta
This was my dish, as I'm always curious about spicy cajun pasta dishes. Ordered without sausage, the pasta packed mild heat and was coated in a lightly creamy spicy sauce. I was somewhat disappointed by the chicken, expecting more blackened seasoning or charred chicken bits, but it was still cooked well and made for a comforting forkful when twirled with pasta, some peppers, and green onions.
At $22, I'm not sure I'd get this again, opting for the classic Rainforest Cafe Pastalaya on the opposite end of Disney Springs instead. However, if you're pregaming a movie at the AMC or worked up an appetite as the only two people at the NBA Experience, this would make a great meal. It's also huge enough to be split between two people.
Drinks
Before we delve into drinks, it's helpful to know that you can request a sample of any of the beers and drinks on tap in case you want to try one before actually ordering it. That being said, the best way to properly sample the beers here is by getting a Beer Flight, which comes in a cute caddy.
Watermelon Hard Seltzer – $4/8
3 Daughters Brewing – St. Petersburg, FL (4.5%)
This hard seltzer offers a slightly spicy aroma with notes of tropical fruit and watermelon
Considering Eric's strong emotions on the chicken sandwich, I figured I'd let his opinion on the watermelon seltzer make it onto the review as-is:
Let me start off by saying I read and understood that this was a cider when ordering this drink. However, this ended up being a seltzer, much like a White Claw. With that said, the flavor of watermelon wasn't overpowering, but refreshing. A hint of mint would have been a great addition here, but not essential. You can't really taste the alcohol in this, which is both a good and bad thing. In any case, it's nothing special, but I didn't hate it, either.
Strawberry Orange Mimosa – $4.50/9
South Beach Brewing Co. – Miami Beach, FL
The mimosa is brewed with 100% Florida orange juice combined with flavors of strawberries and champagne
Much like the seltzer, there was a bit of an identity crisis with this fruity beer––it really tasted like a mimosa! There were strong flavors of orange and strawberry here, but it wasn't overpoweringly fruity, which we enjoyed. This was one of our favorite options.
Frose – $14
Rose wine, strawberries, lemon juice, simple syrup
I ordered this curious to try a Frose for the first time, and quickly realized what a mistake it was to order a frozen beverage at a craft beer bar. I imagined something more along the lines of a slush, but this reminds me of a half- defrosted juice pop, and not in a good way. It definitely looked and tasted natural, with tiny strawberry specks throughout, but it still had this overly sweet syrupy taste to it. If you're in the mood for something fruity, don't waste your time with these cocktails and just pick a fruit-forward beer.
The French – $14
Tito's Handmade Vodka, St. Germain, sparkling wine, fresh lemon juice, simple syrup
This was among the better-tasting cocktails, but was still too tiny and forgettable for us to ever get it again. It's vaguely lemony, and not very carbonated.
Burnt Orange Old Fashioned – $15
Devil's River Rye, Cointreau, charred syrup, orange bitters
Despite the chic presentation, this looked better than it tasted. It was among the stronger drinks, but you could still taste the orange in it, with a slight fruity aftertaste. We polished this off, but wouldn't necessarily recommend it. Again, if you're looking for something stronger, just order a strong beer.
Peach Cooler – $14
Maker's Mark, peach schnapps, orange juice, fresh lemon juice, fresh lime juice, simple syrup, lemon-lime soda
This was extremely sweet, but if you like sweet cocktails, you'll enjoy this. Do note that there was a hefty pour of Maker's Mark in this, but you couldn't taste it at all. This was more along of a generalized fruity cocktail than a peachy cocktail, despite the name.
Bottlenectar – $4/8
Goose Island Beer Co. – Chicago, IL 5.5%
City Works' very own collaboration with Goose Island is brewed exclusively for Bottleneck restaurants; this light-bodied pale ale showcases the unique Huell Melon hops, giving the beer a sweet melon aroma.
In this pale ale, the hops are used twice—once in the kettle while brewing, and a second time for dry hopping. This gives Bottlenectar its melon-y aroma and a delightful finish. We all tried this brew and almost everyone in our group liked it.
Build Your Own Beer Flight – $17
While we all got to sample the Bottlenectar, we left the flights and beer reviews to our specialist Pete Carney.
Here are our collective thoughts on what City Works does best––beer:
Aperion Belgium IPA
Infinite Ale Werks – Ocala, FL (7.2%)
This medium-bodied beer is a more balanced version of an IPA. The five different hops used to make this Belgium-Style IPA compliment the malts nicely. Packed with IBU's, yet nicely balanced with flavorful notes. This is a good version of a European-style IPA.
Cherry Lime Burst
Wicked Weed Brewing – Asheville, NC (4.5%)
In this beer, you get big tart fruit flavor right up front. Vibrant colors, fresh fruits, and a delicious tartness make this one of our favorite beers we had.
Raspberry Witfinite
Infinite Ale Werks – Ocala, FL (5.5%)
This two time Best Florida Beer Medal winning Belgian Wit-bier. During mid-fermentation, it gets a huge treatment of fresh raspberry. The combination of the traditional wit-bier flavors and the raspberry tartness is an interesting one. Some of us liked it, some thought it wasn't the best beer.
Tank 7
Boulevard Brewing Co. – Kansas City, MO (8.3%)
This is a great beer to pair with almost any food item, and its very popular because for that. With fruity aromatics and grapefruit hop notes, it is a well-balanced beer for all levels of beer drinkers.

Sunrise City – $4/8
Sailfish Brewing Co. – Fort Pierce, FL (7.0%)
With pineapple, lemon, mango, and pine flavors. Sunrise City has an aroma of fragrant citrus, tropical fruit, and orange blossom honey.
It is brewed in the West coast style IPA with Columbus, Amarillo, and Mosaic hops. Having it dry hopped with Mosaic hops adds that great bitter, hoppy taste which is great for IPA drinkers, but maybe not for everyone's palate.
Beach Hippie – $4/8
Persimmon Hollow Brewing Co. – Deland, FL (7.2%)
This IPA has a pronounced aroma and flavor, balanced by a strong malt presence.
This East Coast style IPA had a more subtle hop character with hints of fruit. There was also a malt presence that you see more often in East Coast IPAs.
Skyway Hazy – $4.5/9
Green Bench Brewing Co. – St. Petersburg FL (8.2%)
This New England-style IPA offers a tropical and hoppy aroma, smooth fuller body, and a slightly sweet grapefruit taste with citric hop bitterness.
This double IPA coming in at 8.2% is very well done. It is a hazy New England Style that grew in popularity a few years ago. It is double dry-hopped with five different hops giving a perfect blend between that resin state and tropical taste IPA drinkers crave.
Hakuna Matata Tropical IPA – $4.50/9
D9 Brewing Co. – Cornelius, NC (6.6%)
This tropical IPA is brewed using multiple hops from five different countries around the world, resulting in a balanced IPA with hints of mandarin orange, pine-apple, grapefruit and elderflower. We really enjoyed "no worries" beer.
3 Wise Guys – $4.50/9
Persimmon Hollow Brewing Co. – Deland, FL (6.6%)
Strong, bold flavor with solid coffee accents, a touch of licorice, and sweet baking chocolate.
3 Wise Guys is a American Porter style beer brewed in nearby Deland, FL. I normally don't drink a lot of porters and stouts in this beautiful Florida hot weather, but this porter was great. It was not heavy and had beautiful, robust malt notes.
Dessert
Peanut Butter Snickers Pie – $10
Oreo cookie crust, peanut butter mousse, whipped cream, Snickers, chocolate and caramel sauce (V)
I'm typically not huge on dessert (or even a Snickers fan), not to mention I'm decidedly over all of the mousse desserts at Walt Disney World, but this dessert changed me.
Between the fluffy whipped cream, slight crunch of the candy bar topping, the slightly salty, silky peanut butter mousse, and the chocolate base and syrup, this was amazing. In fact, while the whole table was divided on apps and entrees, the general consensus was that these desserts were better than they had any right to be. If you love peanut butter, then this is a no-brainer, and even if you don't, the salty-sweet combination here makes for a surefire treat.
Baked Cookie Dough – $10
Chocolate chip cookie dough, caramel, chocolate sauce, vanilla bean ice cream, whipped cream (V)
Melty cookie dough and a giant scoop of ice cream. If it sounds simple and gratuitously good, it's because it is.
This tiny cast iron skillet comes packed with a barely-baked cookie dough and vanilla bean ice cream. While small, we all took turns scraping away at it, picking up globs of warm cookie dough and cold ice cream. I'd be hard pressed to pick between this or the Peanut Butter Snickers Pie, so my only recommendation here is to simply order both.
S'mores Dip – $10
Hershey's chocolate, marshmallows, graham crackers (V)
While cute in presentation, this was the most straightforward dessert, as it was literally a skillet of chocolate topped with broiled marshmallows, surrounded by a handful of pre-made graham crackers.
If you really like s'mores, we'd probably recommend this. It's also fun for kids, in case you're bringing them along to the bar, which at Walt Disney World, is likely.
Compared to the other two desserts, though, we'd probably skip this.
Overall
Not only does City Works help revitalize this somewhat dead corner of Disney Springs, it's also nice to have a dedicated sports bar. That being said, there are plenty of other bars with TVs at Disney Springs, and with some amazing celebrity-chef run restaurants just down the boulevard, City Works doesn't really stand out in terms of food or even cocktails. However, it does excel in what it does best, which is beers and bar food. We were even pleasantly surprised by the desserts, which were all excellent.
If you're at Disney Springs and want to watch sports in a warm, communal environment, run, do not walk to City Works. If you don't need to interact with people, however, there are plenty of other places to do that on property. There's even the ESPN Club at the Boardwalk, which does get extremely busy during major sporting events, so it's nice to have an alternative.
The restaurant, while beautiful, has a less than optimal layout. While plenty of seating faces the TV wall, some of the screens are somewhat small, and besides the main center bar, the other bar islands don't have much of a view of them. In fact, the outdoor bar doesn't have any TVs at all, requiring patrons to look past the bar itself, past the windows, and over to a TV a few yards away.
City Works isn't perfect, but a number of guests will find value in it. There are a number of items we'd be happy to come back and get again. And if you're looking for beer on property, there really isn't as good a selection anywhere else, especially not on tap, so again, for beer lovers, this is paradise. They even take Tables in Wonderland, so you can get 20% off on your total alcohol and food bill with that. (They also take Annual Passholder, DVC, and Cast Member discounts.)
Under the right circumstances, City Works is the perfect eatery, like before or after a movie or the NBA Experience, or during a sporting event, but it won't change your plans at Disney Springs… not while Morimoto Asia, Homecomin', and The Boathouse are still standing.
Have you been to City Works yet? Let us know in the comments. If you're heading there, make sure you get the duck nachos… and a flight or two.