If there's anything that has us absolutely giddy about the New Fantasyland expansion at Tokyo Disneyland, it's the whole Beauty and the Beast area, including the amazing new modern trackless ride, "The Enchanted Tale of Beauty and the Beast". And now, new attraction poster art has been released!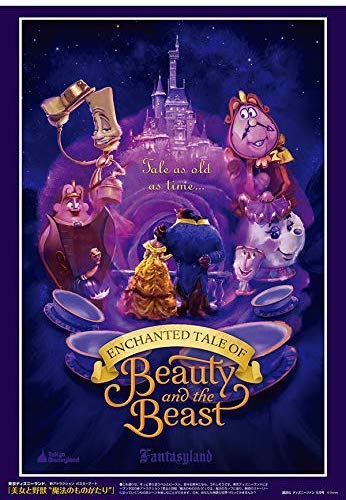 Soaring to a height of around 100ft (30m), Beast's Castle is the headliner attraction of this new expansion! The ride will be a trackless experience, building on technologies from the nearby Pooh's Hunny Hunt and the new Star Wars: Rise of the Resistance attraction at Disneyland and Disney's Hollywood Studios. The attraction will be approximately 8 minutes long and offer Disney FastPass, single rider (thank goodness!), and Happy 15 Entry perks. I fully expect this to become the first FastPass of the day to run out.
OLC offered the following synopsis:
Guests step into the Beast's castle located deep in the forest to experience the enchanted tale. In the first scene, the beautiful Belle encounters a prince who has been transformed into a beast by a powerful enchantress. Aboard enchanted cups that move and turn as if they are alive, guests travel through various scenes to experience the world of the film. There's the banquet where they "dance" together with the dishes and cutlery to Lumiere's singing; the snow-covered garden where they glide over the ice as Belle and the Beast find themselves growing closer. The castle is filled with magical moments and surprises, so guests will discover something new each time they visit. Will Belle and the Beast find love and thus break the spell before the last petal of the enchanted rose falls? Guests can look forward to the magical romance of The Enchanted Tale of Beauty and the Beast.
This sounds like the ultimate ride-through of a film, and we can't wait to experience this for the first time! That concept art above actually has me immensely excited to experience Be Our Guest and other notable moments from the classic film!
While the opening of the New Fantasyland expansion has been temporarily delayed due to closures related to the Coronavirus (COVID-19) pandemic, the land is now scheduled to open mid-May, with the park expected to reopen sometime in early April.
Are you excited to see more photos and concept art for the attraction? Be our guest and check out all of our "The Enchanted Tale of Beauty and the Beast" coverage, like new themed FastPass kiosks, by clicking here.