With Disney Parks around the world closed for the foreseeable future, WDWNT is dipping into our archives of vintage parks materials for a look back into parks history! And in celebration of Hollywood Studios Appreciation Week, all this week, we're peeking into the studio vault with items from the early years of the Disney-MGM Studios! Today, we're decking the halls with Hollywood glamour and vintage merchandise with the Holiday 1989 edition of The Disney Catalog!
Note: This article will detail the catalog page by page, but WIGS Members will have access to download a full-resolution PDF of the entire thing. Head on over to Patreon.com/wdwnt to join WIGS, the WDWNT Inner Globe Society, for as little as $2 a month and unlock access to great content like this, and much more!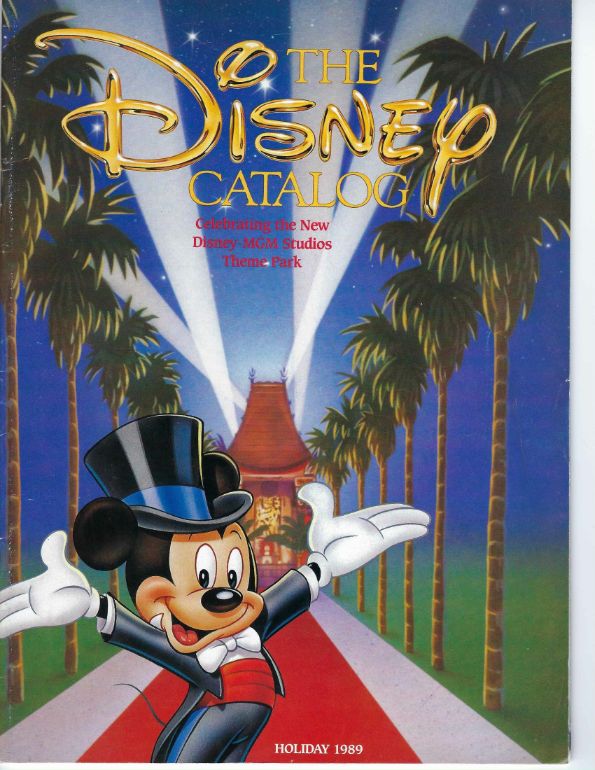 Celebrating the newest addition to the lineup of Disney Parks, the cover features Mickey decked out in a tuxedo in front of the Chinese Theater. While there's only a small amount of items specifically for the Disney-MGM Studios, descriptions of the park's offerings are scattered throughout the catalog.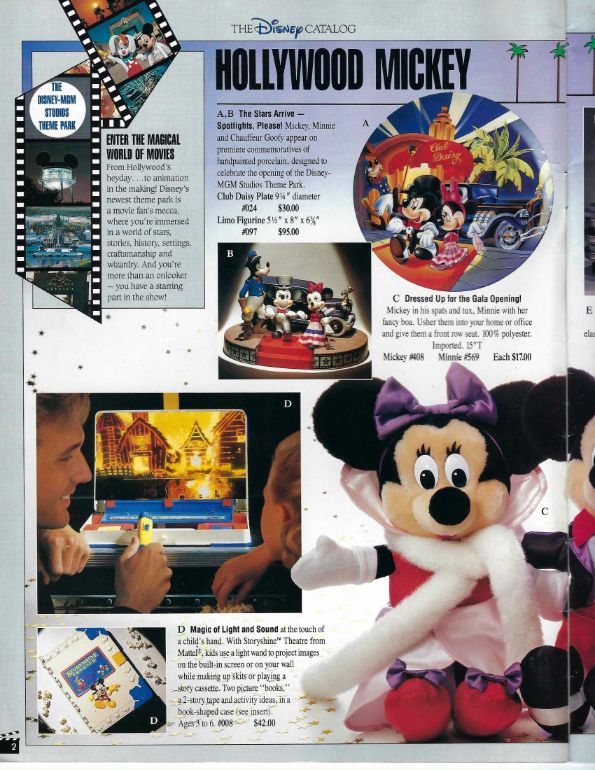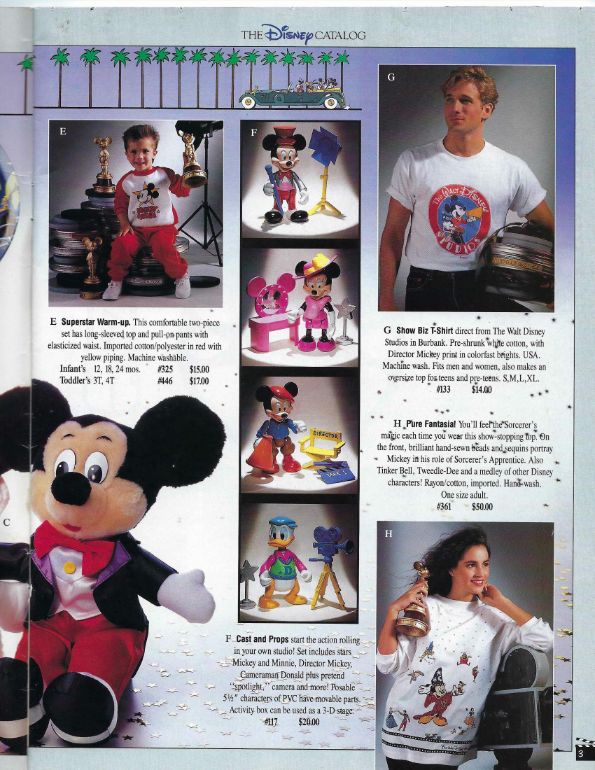 Get ready to "Enter the Magical World of Movies" with a section of Mickey and Minnie experiencing the wonder of Hollywood. The park is also introduced: "From Hollywood's heyday… to animation in the making! Disney's newest theme park is a movie fan's mecca, where you're immersed in a world of stars, stories, history, settings, craftsmanship and wizardry. And you're more than an onlooker – you have a starring part in the show!" The items commemorating the park's opening are a porcelain plate and figurine showing Mickey and Minnie stepping out for a Tinseltown premiere, with Goofy standing as their trusty chauffeur. You could also order a t-shirt straight from the home of Disney's movie-making, The Walt Disney Studios in Burbank, California.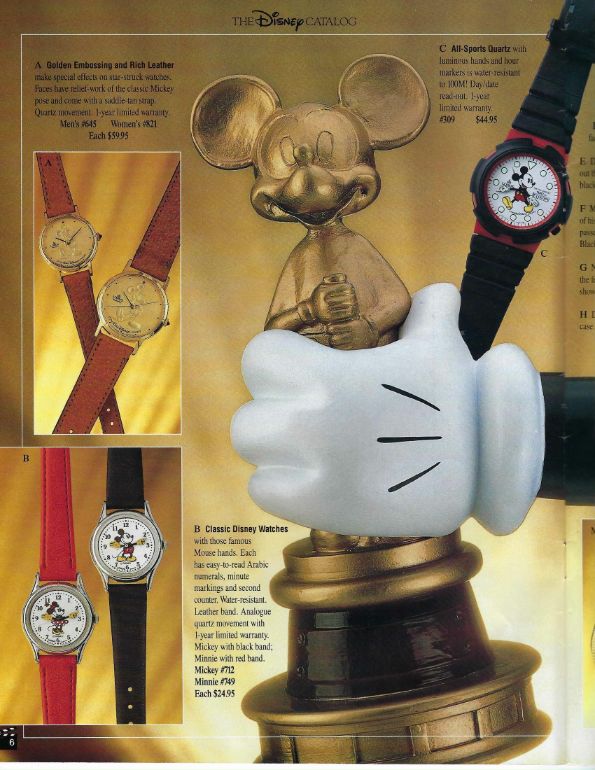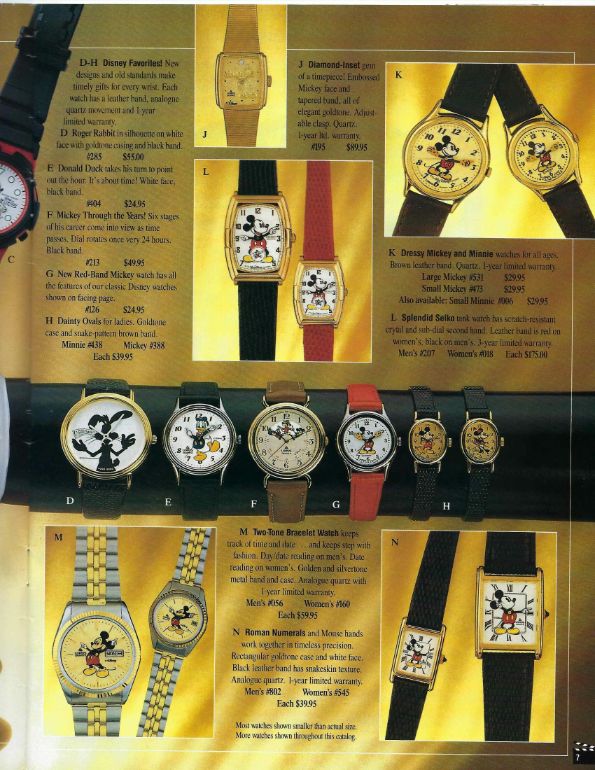 For a true Disney look, it's all in the wrists with a selection of Mickey Mouse watches ranging from classic to trendy (with cameos by Donald Duck and Roger Rabbit).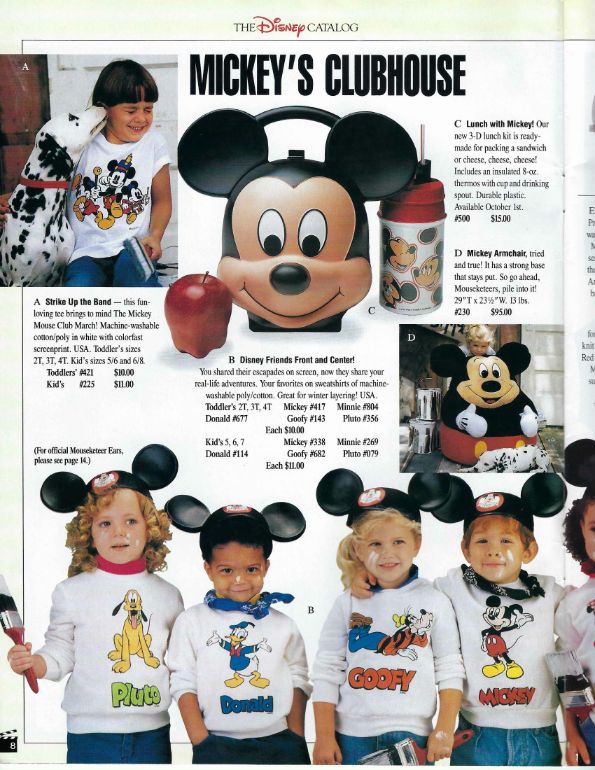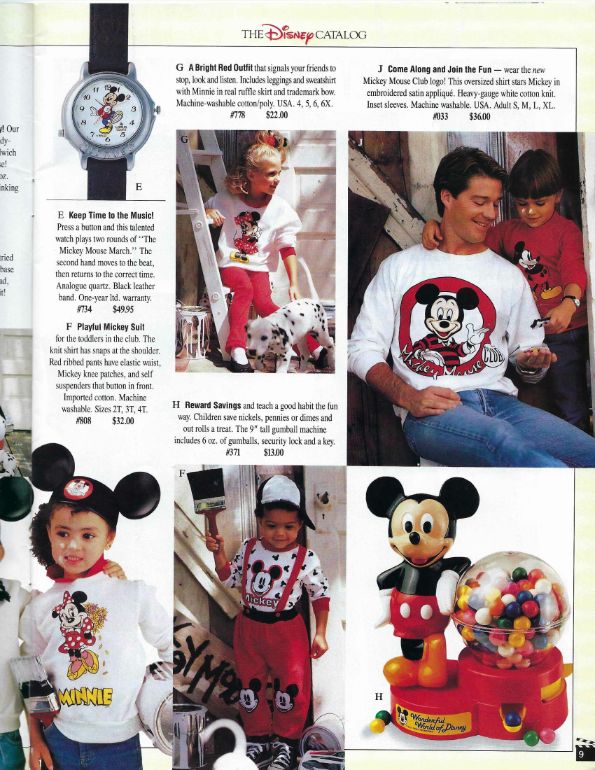 1989 also saw the return of a Disney television favorite with the premiere of "The All-New Mickey Mouse Club," and there was a line of merchandise to match!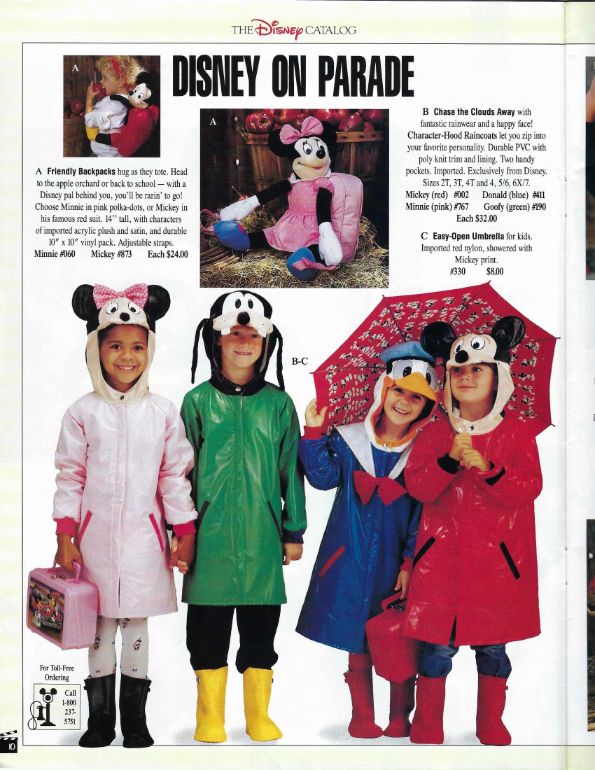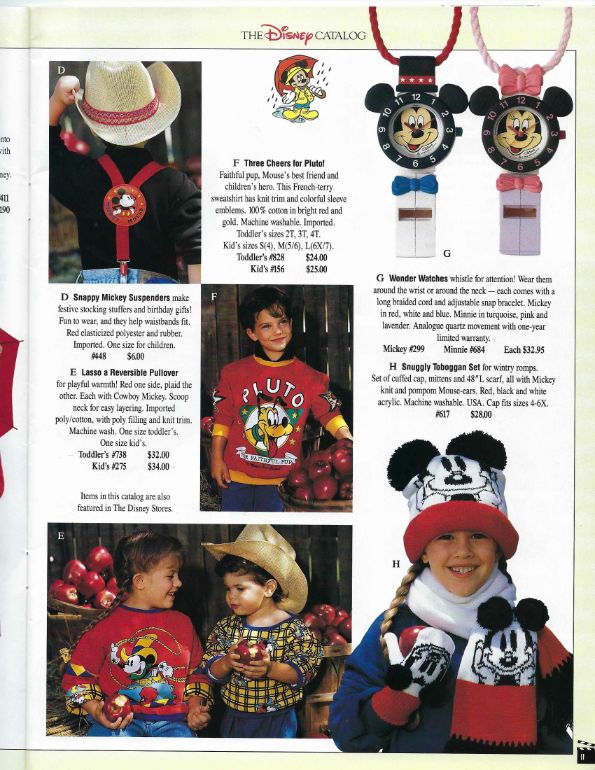 With raincoats and snow gear, you can show your Disney love in all sorts of weather!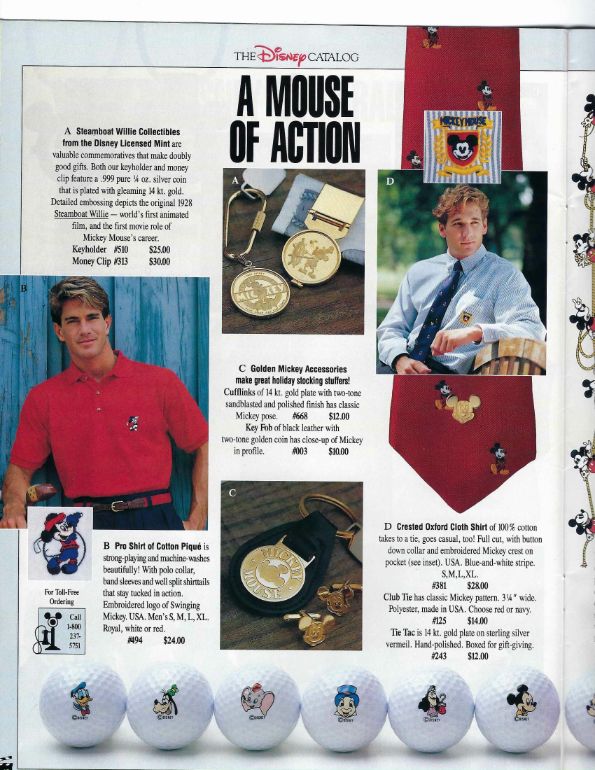 Menswear and golf gear is the focus of the next section. Those still looking to get into the party for Mickey Mouse's sixtieth anniversary (celebrated the year prior) could still get a commemorative Steamboat Willie keyholder or money clip.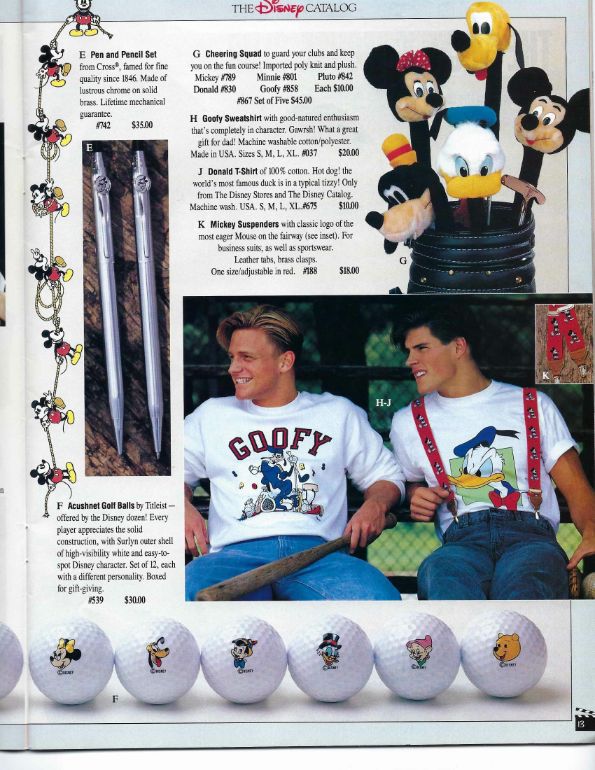 Who wouldn't want Mickey suspenders?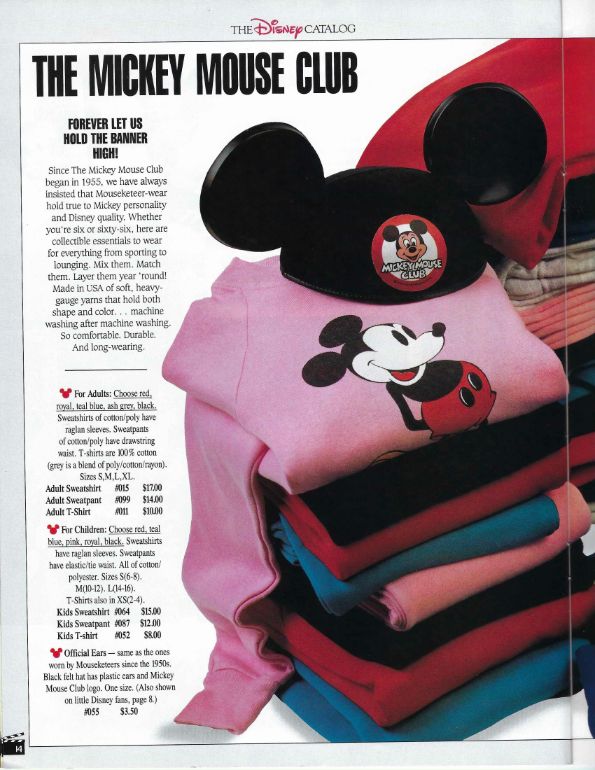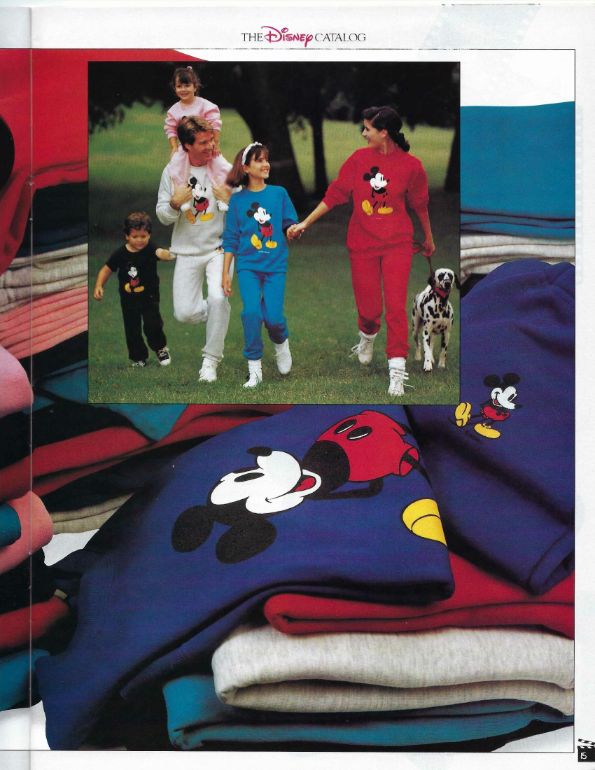 If a classic Mickey Mouse Club look is more your speed, there was a line of t-shirts, sweatshirts and sweatpants for that. You could even order mouse ears by mail!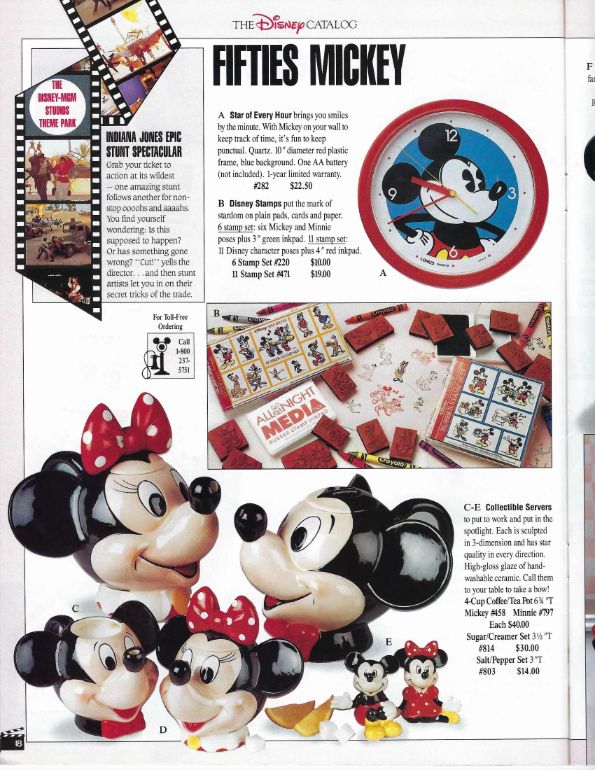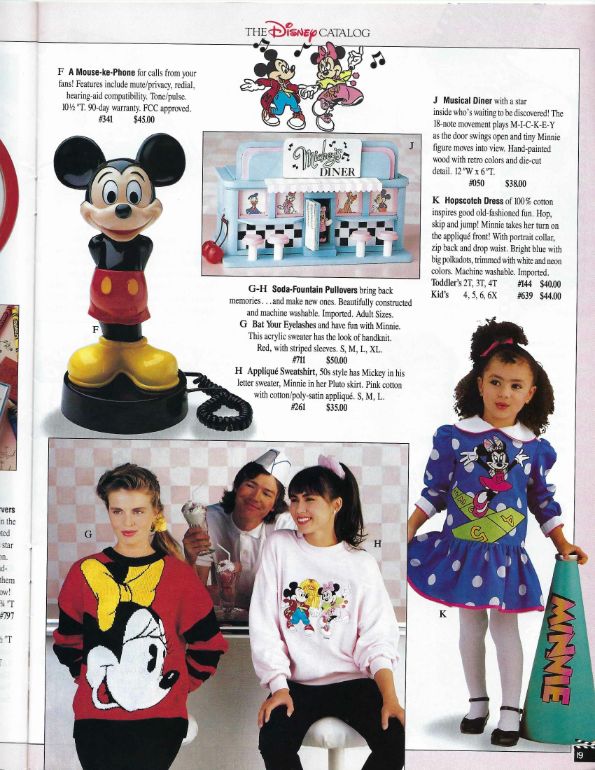 In the 1980's, nostalgia for the 1950's was hitting its peak, and Disney answered with a line of merchandise that included a clock, ceramics, and even a Mouse-ke-Phone. Meanwhile, the Indiana Jones Epic Stunt Spectacular gets its moment in the spotlight.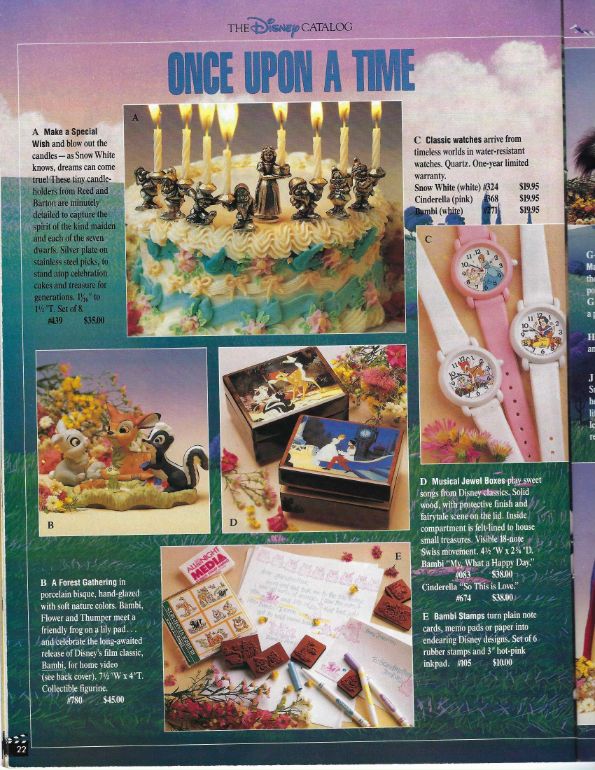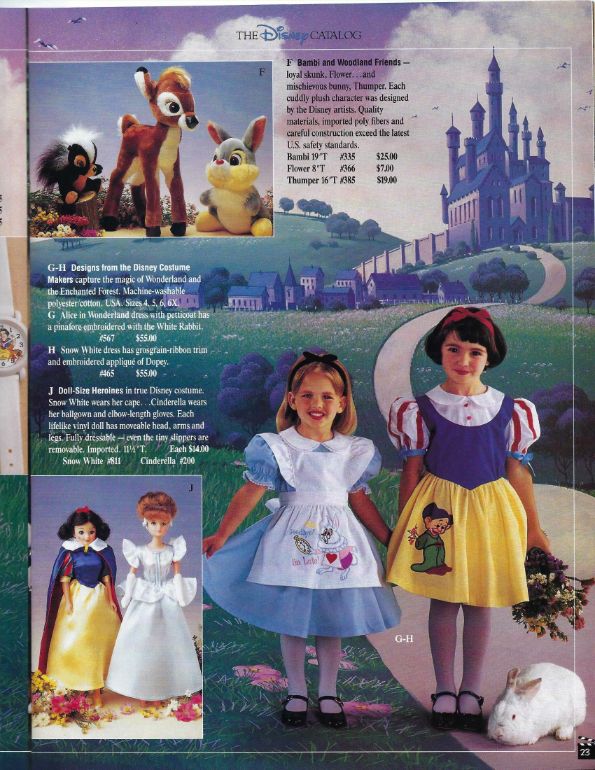 Next, there's merchandise celebrating three Disney animated classics: Snow White and the Seven Dwarfs, Bambi, and Cinderella. I particularly like the Snow White candle holders!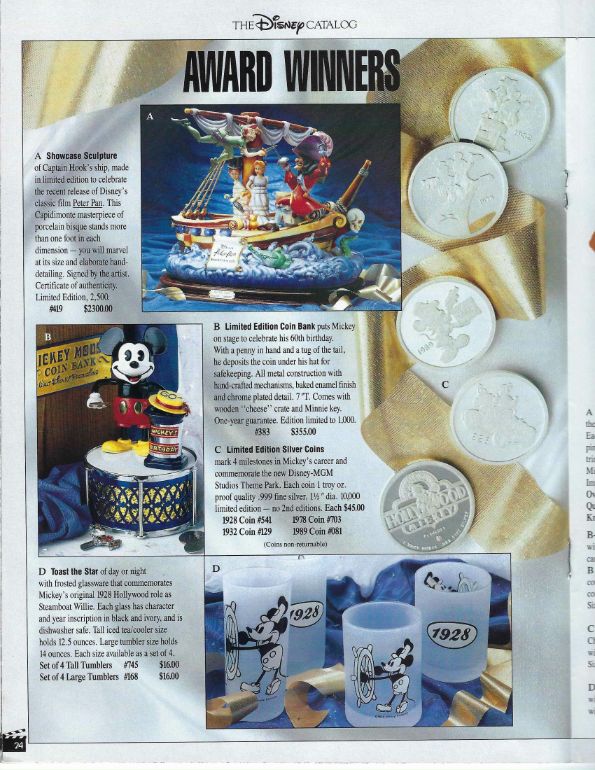 Some limited-edition collectibles feature classic Disney history. Most noticeable is the "Hollywood Mickey" coin set, created to commemorate the Disney-MGM Studios' opening.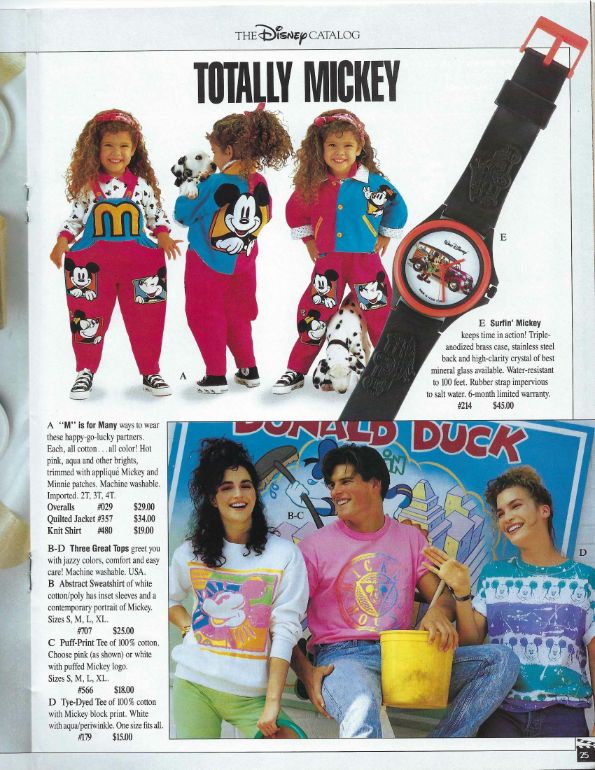 Jumping ahead, there are some totally 80's fashions in the next section.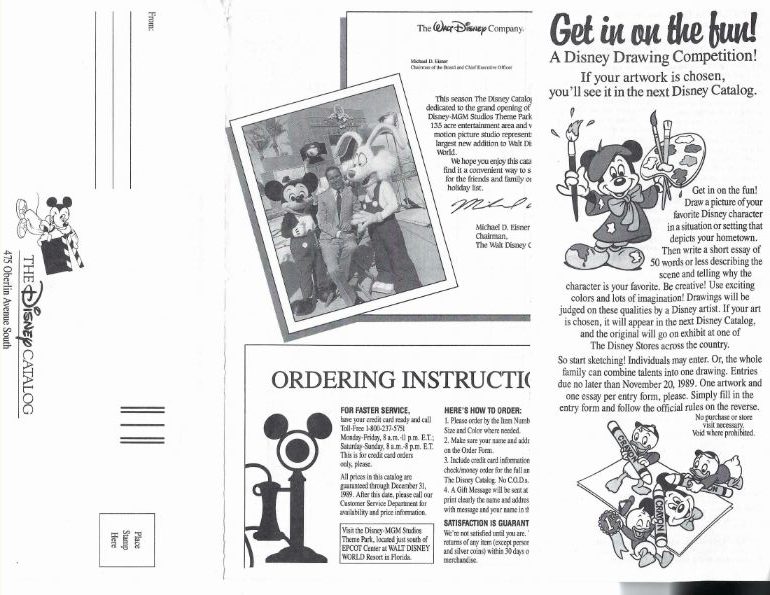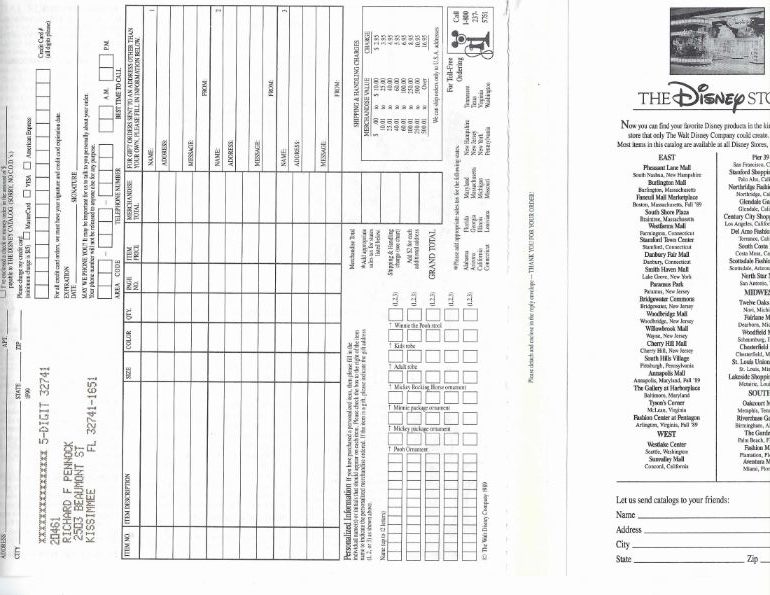 And what would a catalog be without an order form? This one includes a note from Michael Eisner himself!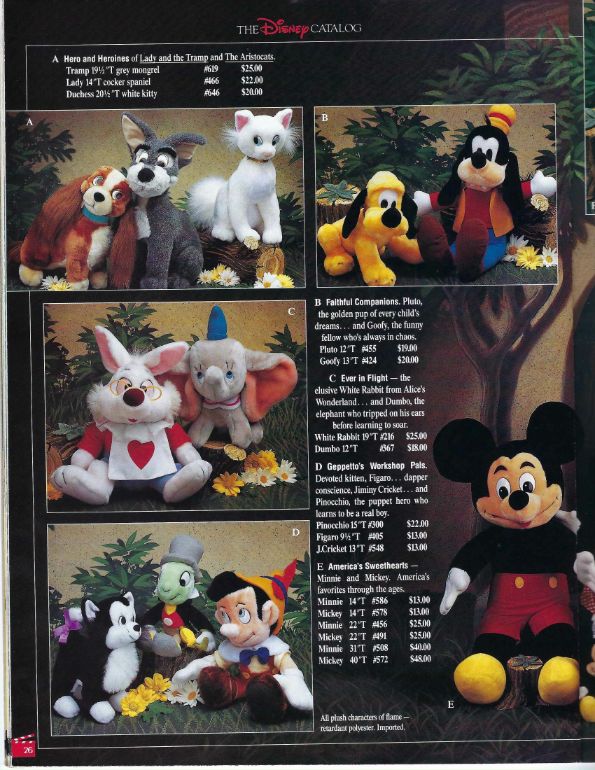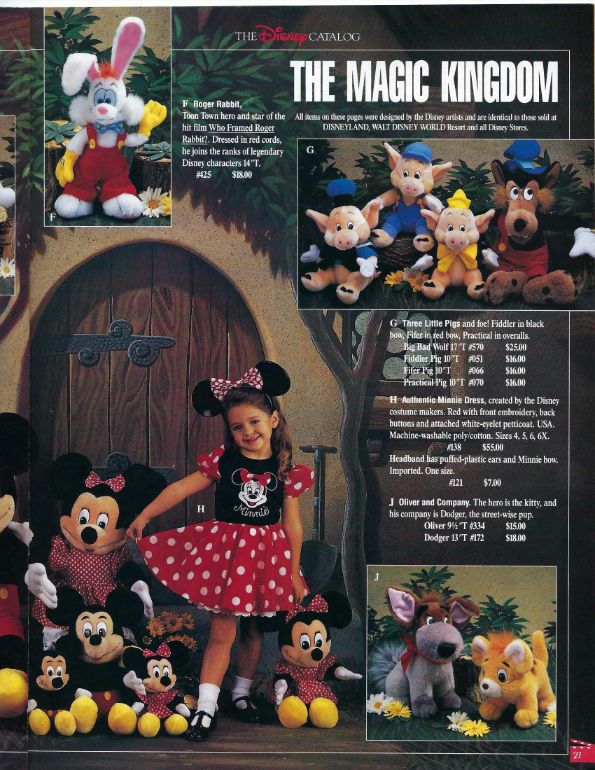 Another classic merchandise item, the plush, is featured on the next two pages. I totally want a plush Roger Rabbit!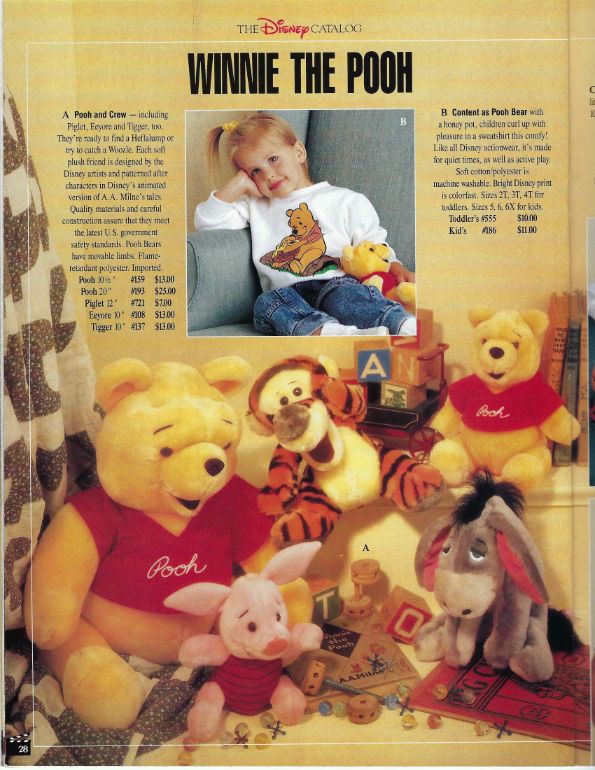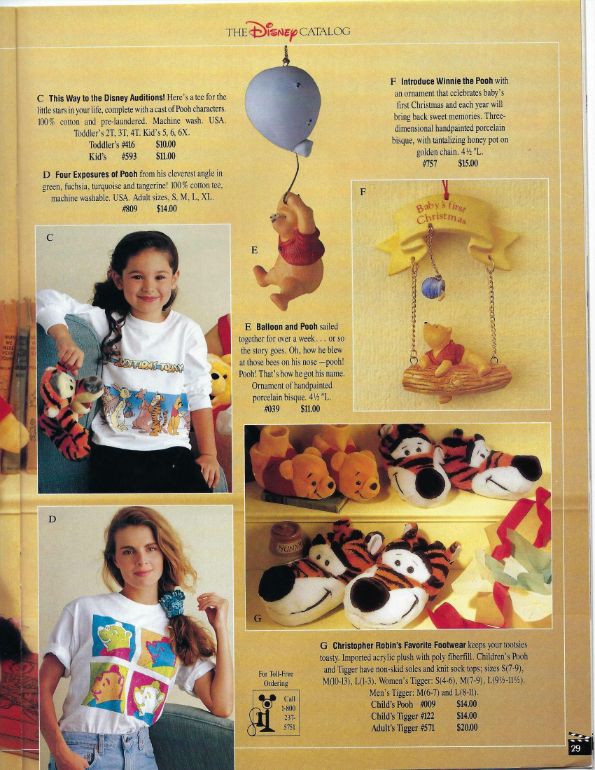 Next stop: the Hundred-Acre Wood, with items inspired by the world of Winnie the Pooh. Check out that "Four Exposures of Pooh" shirt!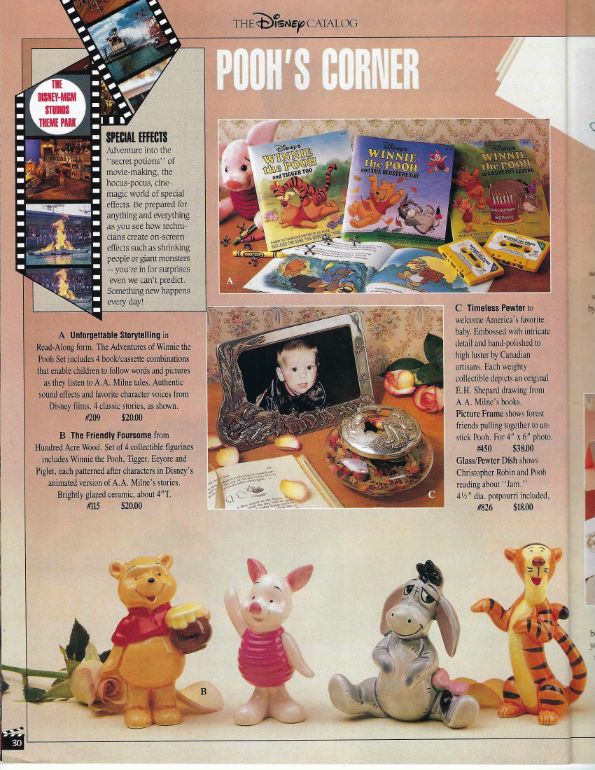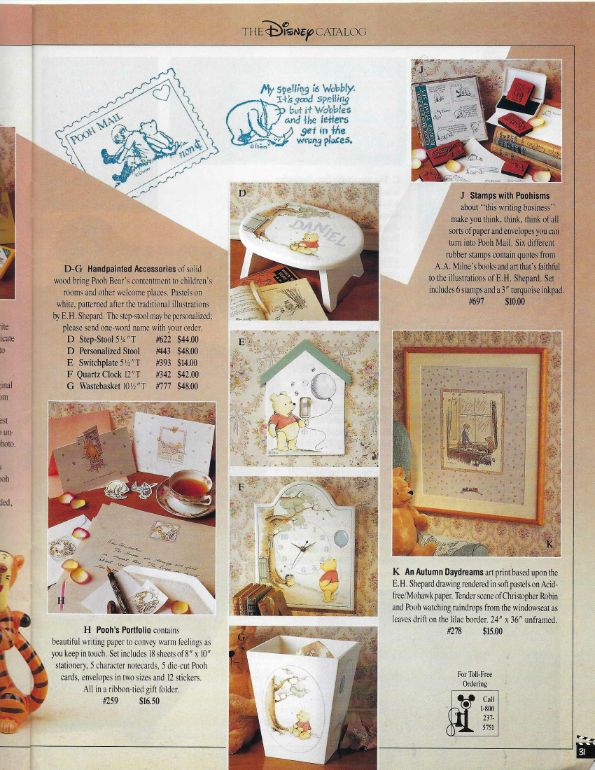 Continuing on with Winnie the Pooh, we also get a description of the Special Effects portion of the Backstage Studio Tour.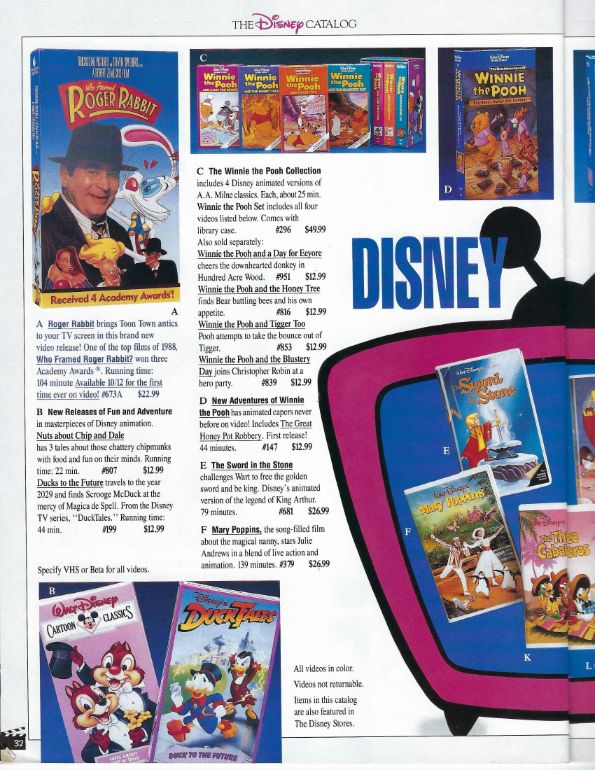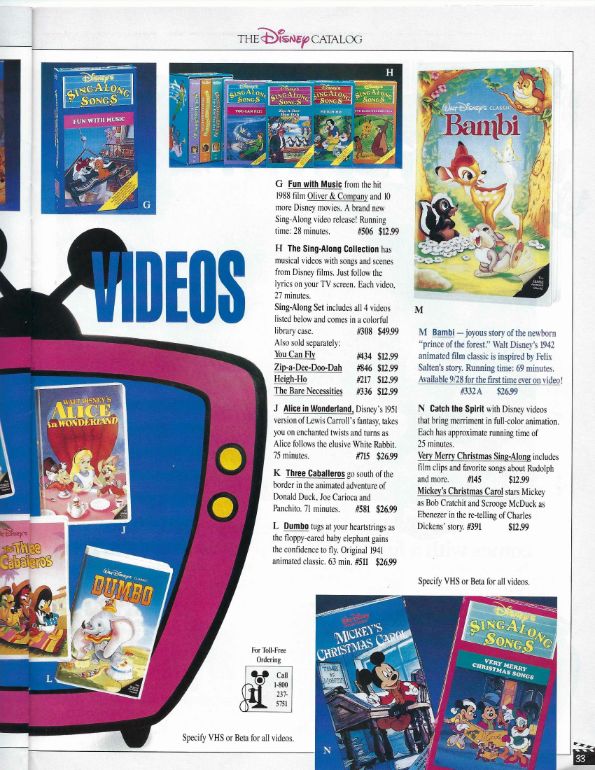 Up next, the thing that made Disney famous: movies! Fans could order VHS or Betamax copies of Disney classics like The Sword in the Stone, Mary Poppins, The Three Caballeros, Alice in Wonderland or Dumbo, or new favorites like Who Framed Roger Rabbit alongside shorts and television episodes.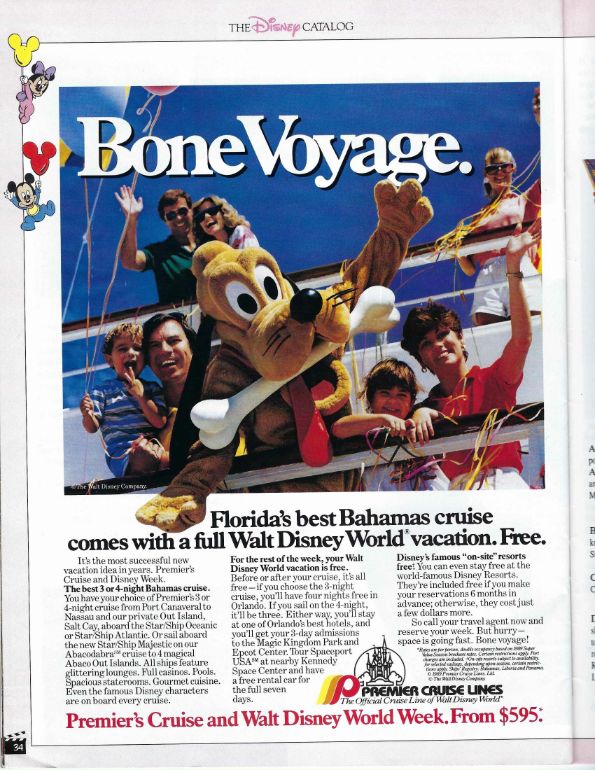 Before the days of Disney Cruise Line, guests could purchase a "land and sea" package with Premier Cruise Lines, as this ad explains.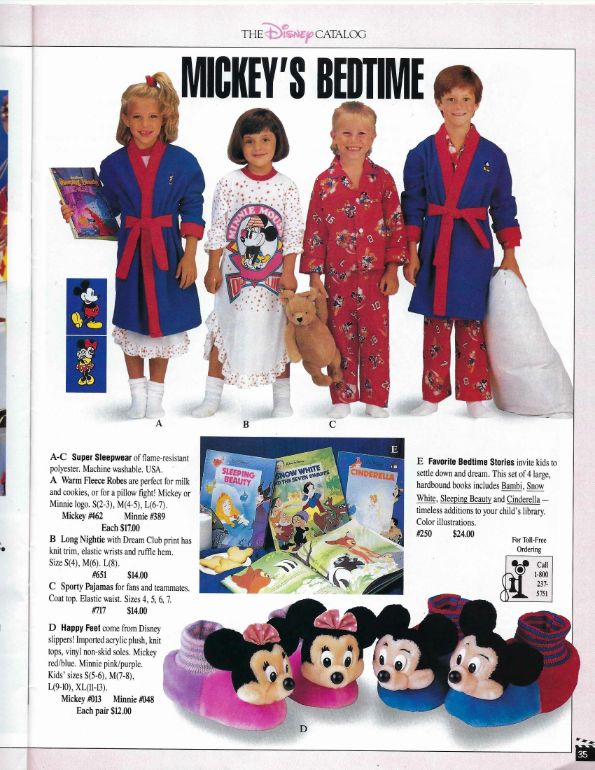 Sleepwear can be found in the next section, including robes, slippers, and even bedtime stories.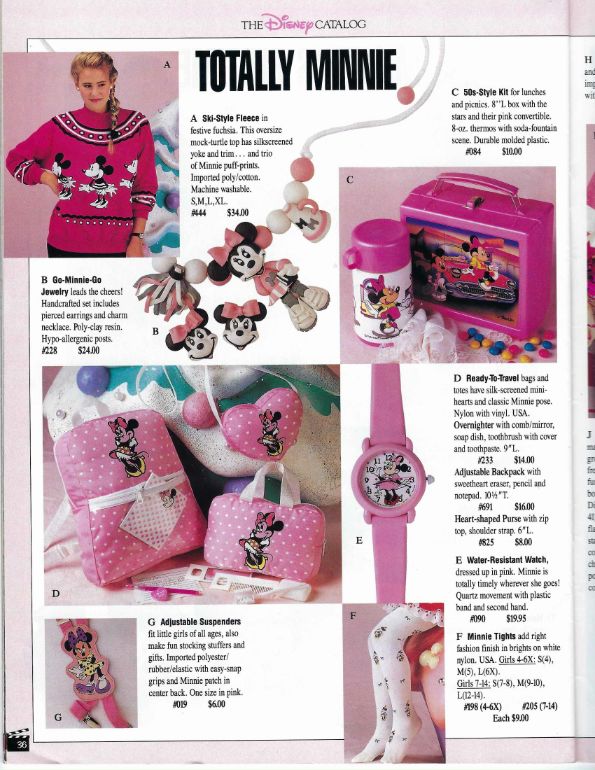 More tubular 80's fashions can be found in the "Totally Minnie" section! She's glammed up to the max!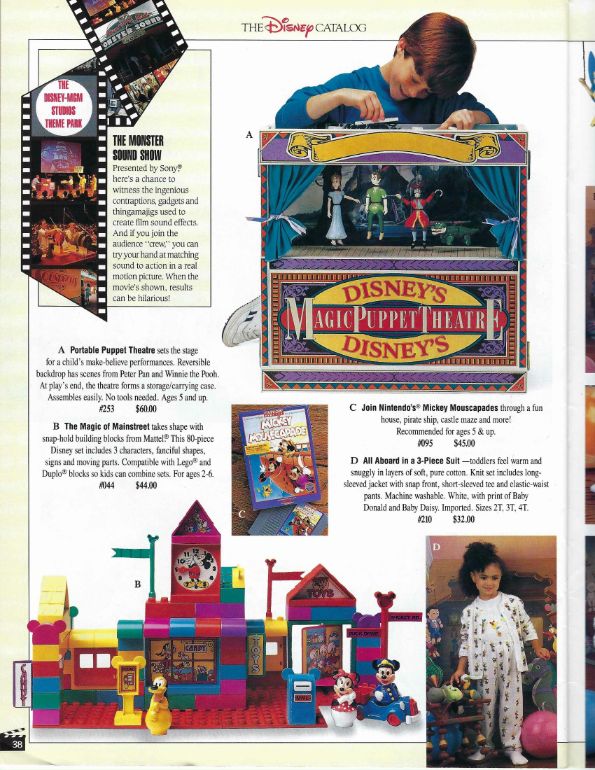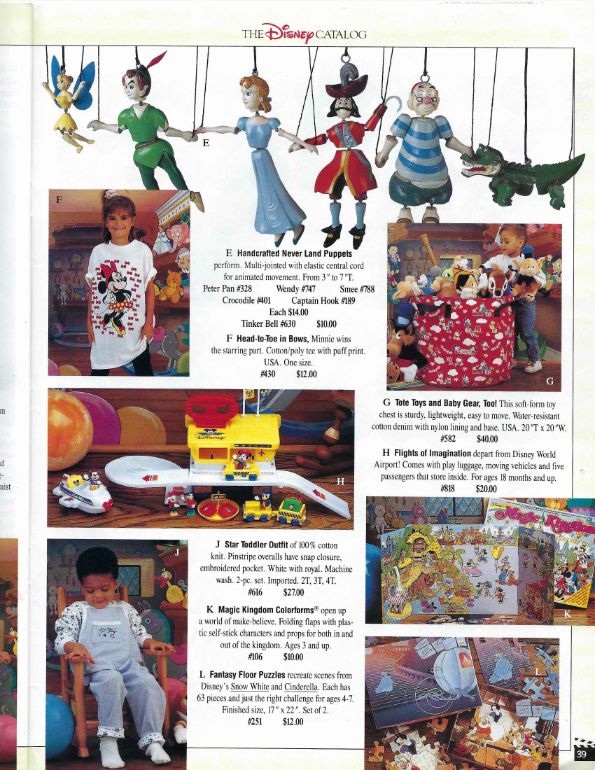 Toys, games and kids' apparel follow, along with a description of the Monster Sound Show.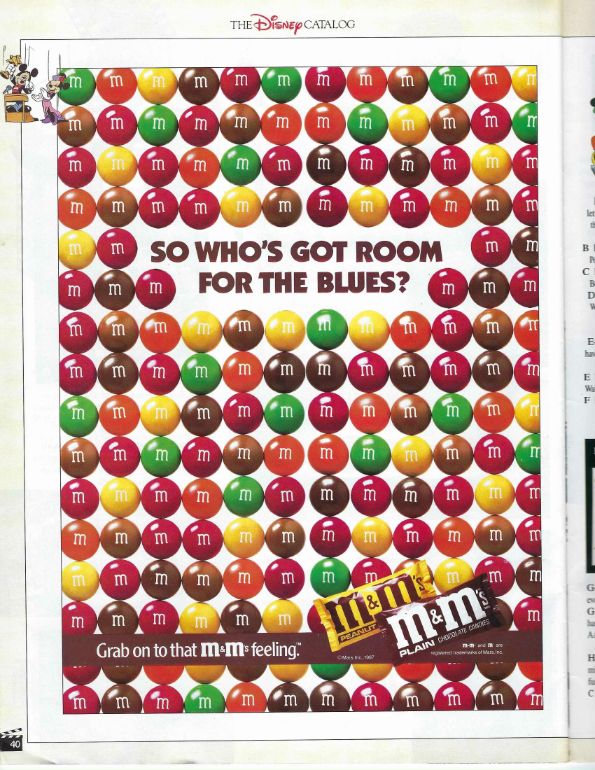 "Who's got room for the blues?" You will, M&M's, in about six years.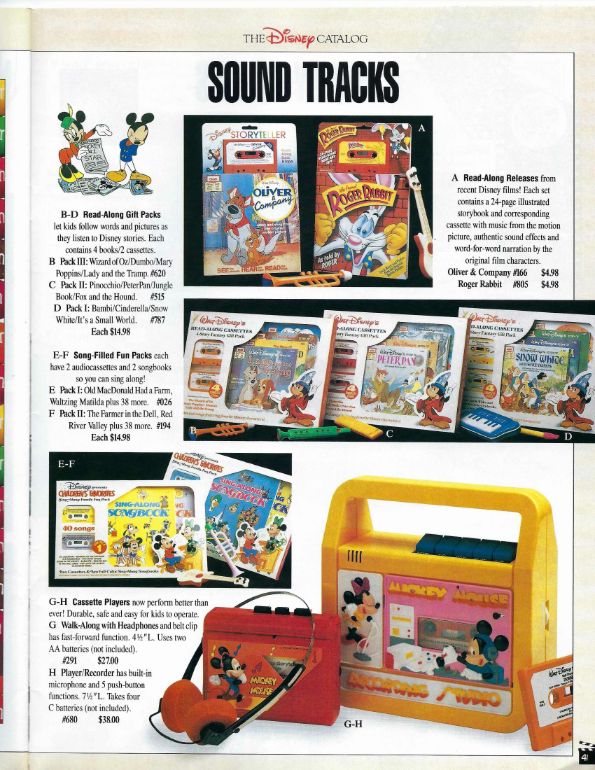 Can we get a sound check? We might need it with all these audio offerings.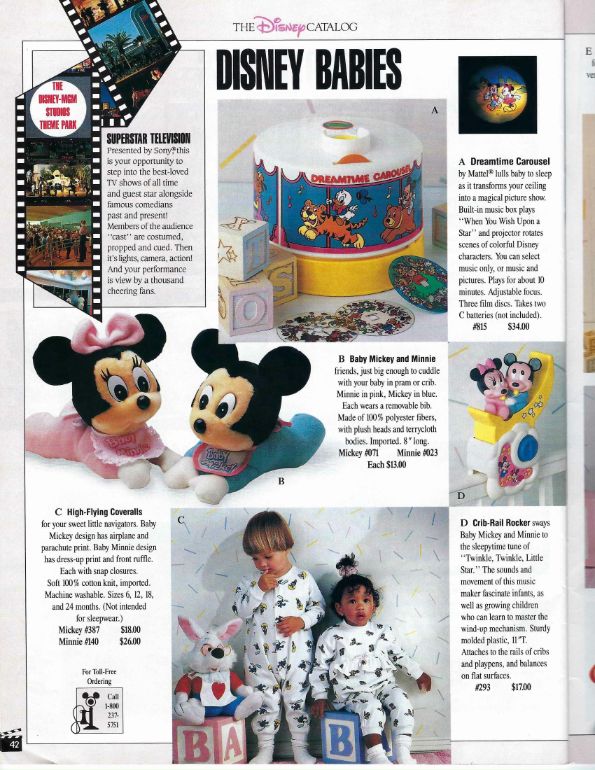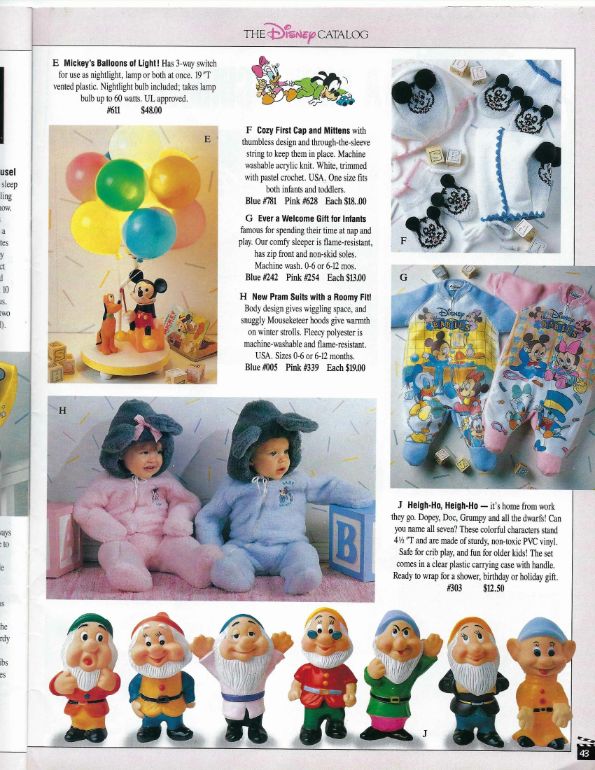 Baby products populate the next two pages, with a cameo appearance by Superstar Television.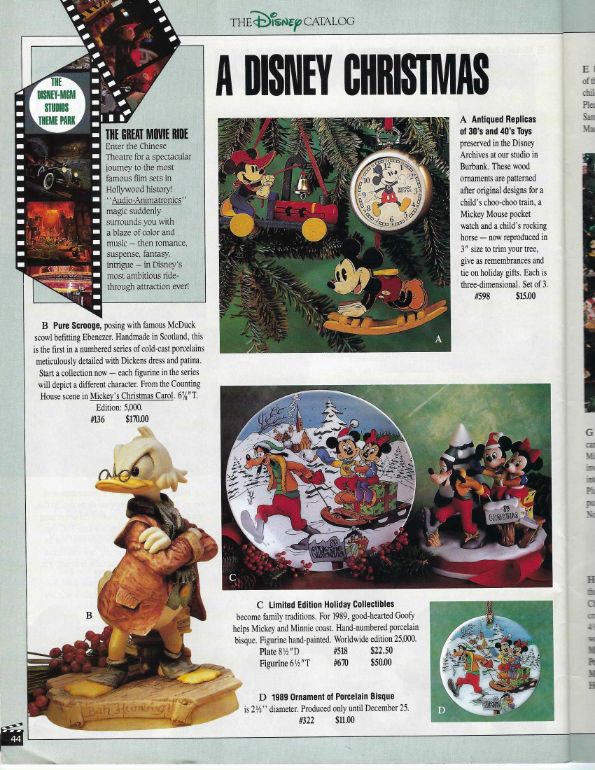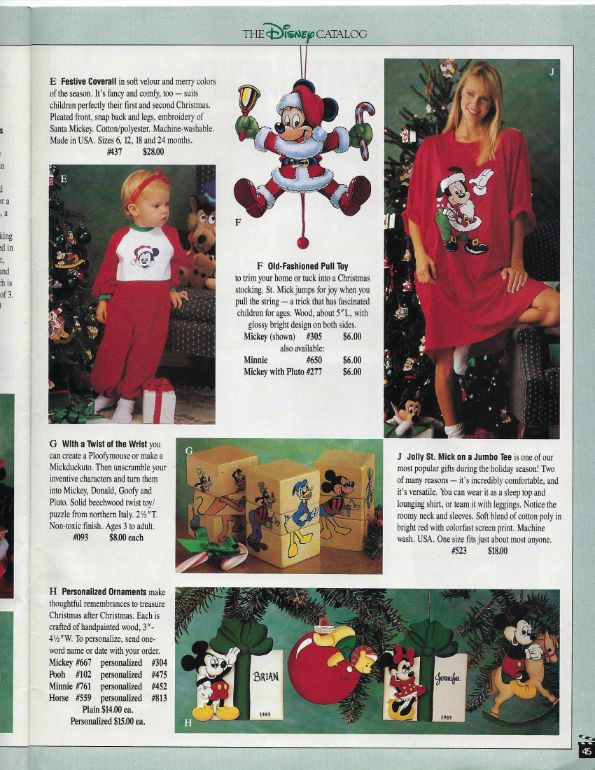 It's beginning to look a lot like Christmas with items like ornaments and yuletide decorations. But don't get so dazzled by the season that you miss the description of The Great Movie Ride!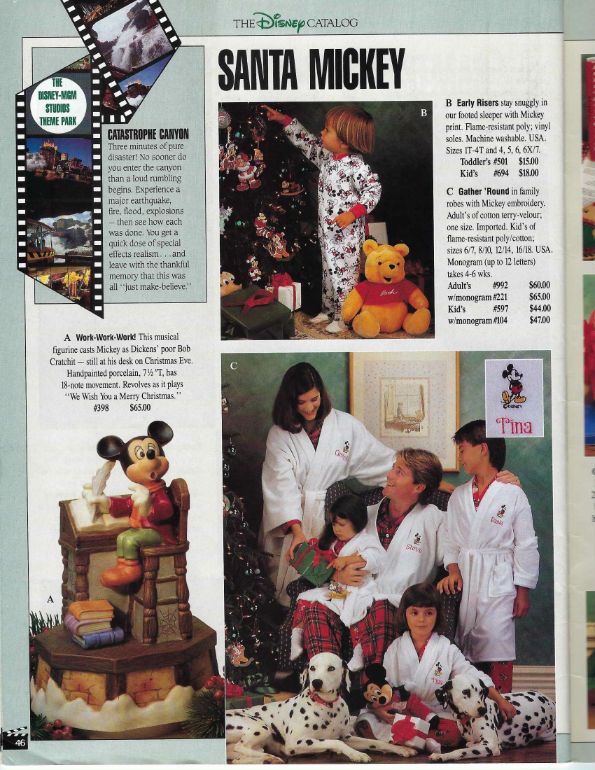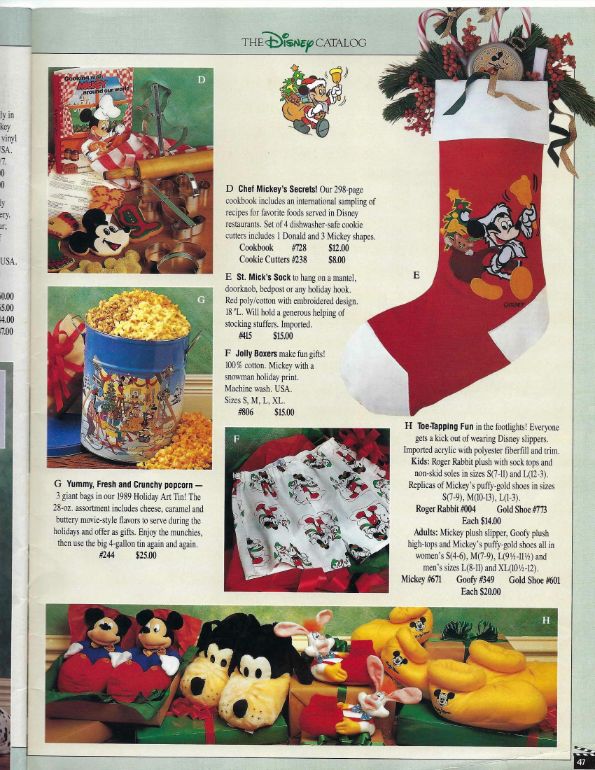 More holiday gifts pair up with Catastrophe Canyon in this next spread. Holiday… catastrophe… 1989? Someone must've been excited for National Lampoon's Christmas Vacation.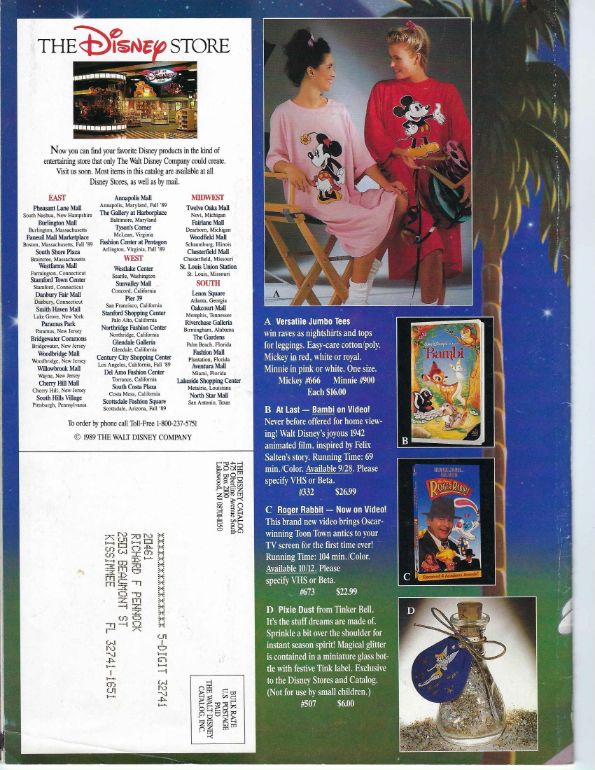 Of course, a catalog can be enjoyable, but there's nothing like going to The Disney Store. The shopping destination was still growing in 1989. but nowhere near what it is today. Can you find any locations near you that were open back then?
Keep reading WDWNT as we unearth even more documents from Disney Parks history!
MORE:
See a Park in the Making with the First Issue of EPCOT Center Construction News from February 1982
Take a Magic Journey Back to 1982 With This EPCOT Center "Journey Into Imagination" Opening Press Kit From Kodak
Take a Retro Journey to The Land Pavilion With This 1987 EPCOT Teacher's Guide