While it remains closed to the public, crew members at Jaleo at Disney Springs have put their skills to good use by making thousands of meals for those who serve the community and those in need.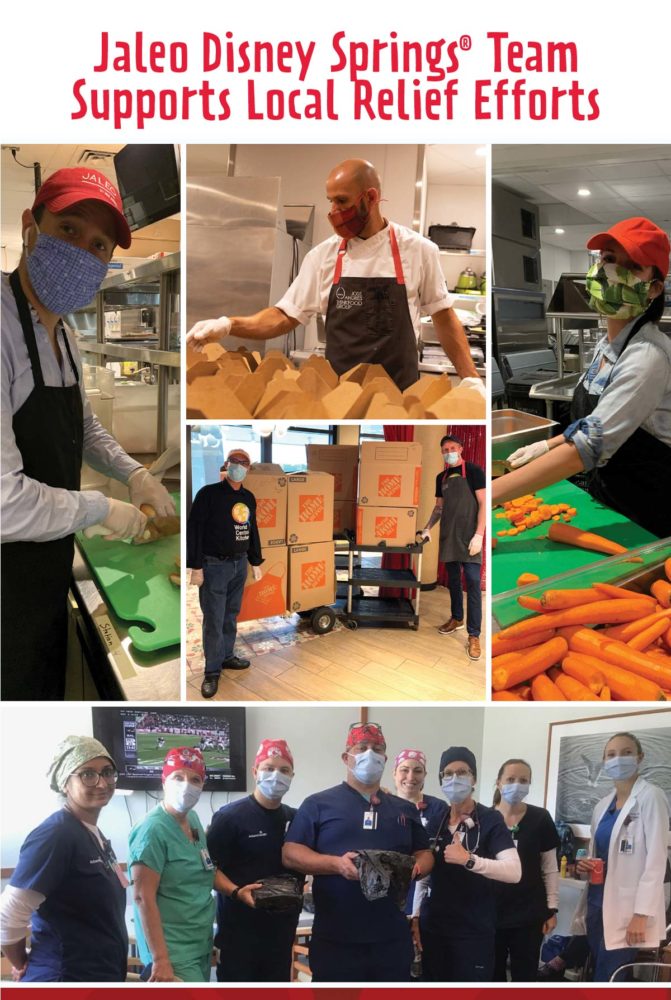 In Jaleo's latest newsletter, the restaurant highlighted their charitable efforts:
"Since the start of April, more than 5,000 meals have been shared free of charge with healthcare heroes, first responders, and underserved members of the Orlando community by the Jaleo Disney Springs team of volunteers – including chefs, managers, and team members alike.
Inspired by José Andrés, two-thousand meals were cooked, packaged, and delivered on week one of the World Central Kitchen Commissary at Jaleo Disney Springs. The activation of the Commissary at Jaleo adds a multiplying effect to the relief effort led by Chef Kristoffer Anderson and Sommelier Rafael Delgado, in support of the core mission of ThinkFoodGroup: changing the world through the power of food.
'We believe that a nourishing meal especially in a time of crisis is more than just a plate of food,' says Rafael. 'It is something that reminds you that you are not alone. And that provides hope and dignity.'
With the support of World Central Kitchen, the Jaleo Disney Springs Commissary is planning to prepare 4,000+ meals this week."
You can support World Central Kitchen and their mission by donating at this link.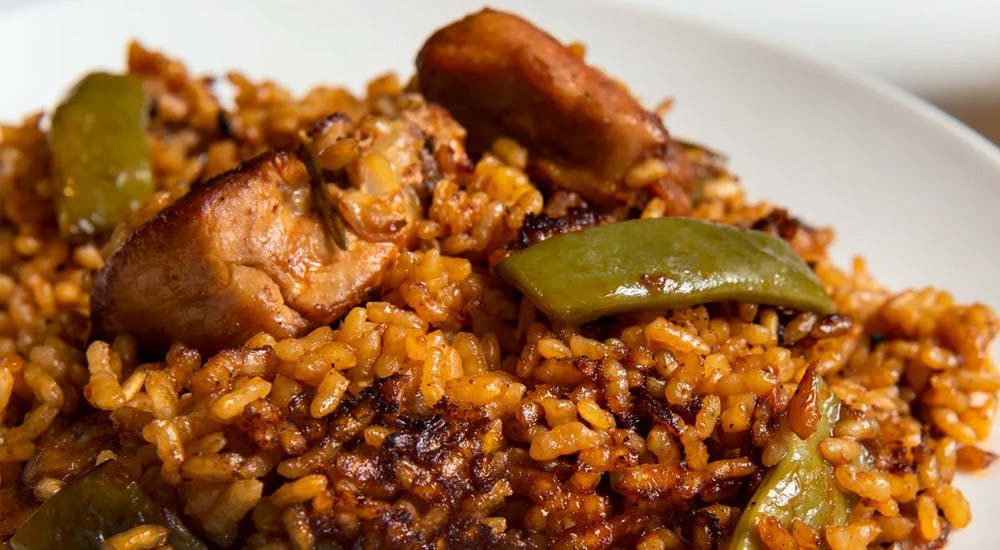 And if you're stuck at home and looking for something special to cook, Jaleo also revealed two of its paella recipes! Whether you're a fan of seafood or want something vegetarian, you can have a taste of Spain at home!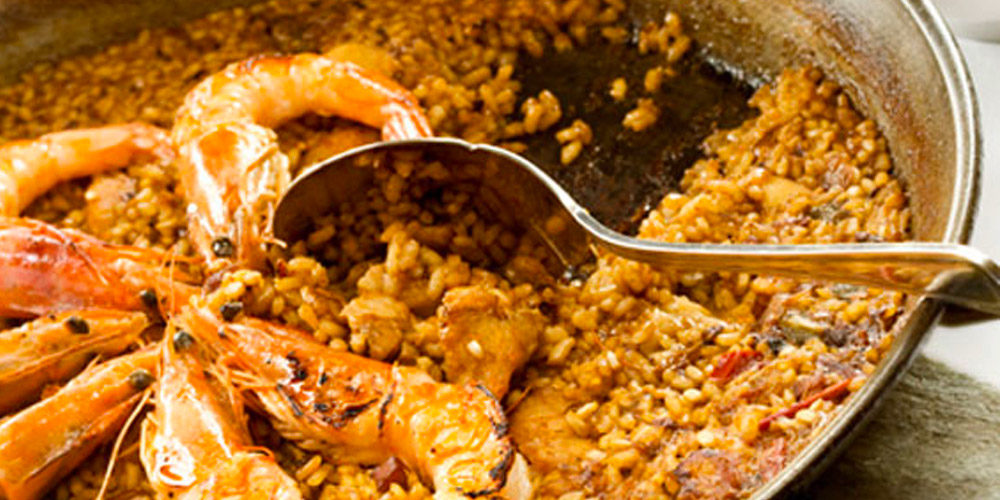 SEAFOOD PAELLA
SERVES 4-6
For the Salmorra:
INGREDIENTS
1 tablespoon extra virgin olive oil, preferably José Andrés Extra Virgin Olive Oil
12 cloves garlic, peeled
3  ñora  chile peppers, seeded
One 16-ounces can plum tomatoes, drained
1 teaspoon sugar
1/8 teaspoon  Spanish smoked paprika
DIRECTIONS
Heat the oil in a medium pot over medium heat. Add garlic and sauté until soft, about 2 minutes.
Add the chile peppers and toast, stirring, for about 3 minutes, then add the tomatoes and sugar.
Cook until the liquid evaporates and the mixture is a dark red-brown color, about 15 minutes. Stir in the  paprika.
Transfer the mixture to a blender and purée. Pour into a bowl, and season with salt, to taste.
Notes: Salmorra  may be kept in the refrigerator, covered with plastic wrap, for up to 10 days. Drizzle the top with olive oil to keep sauce from drying out.
For the rice: 
INGREDIENTS
Extra virgin olive oil, preferably José Andrés Extra Virgin Olive Oil
8  large whole shrimp, peeled with heads and tails intact, deveined
4 ounces monkfish, cut into ½-inch cubes
2 ½ ounces fresh tuna, cut into 1/2-inch cubes
2 ounces fresh squid, cleaned and cut into ¼-inch  rings
1 clove garlic, finely chopped
¼ cup  Salmorra
1 cup Spanish  bomba  rice
Pinch of saffron
3 cups hot, high-quality seafood stock
DIRECTIONS
Heat 2 tablespoons of the olive oil  in a 13-inch paella pan  over  high heat.
Add the shrimp and  sear  for about 1 minute on each side. Transfer shrimp to a plate. Pour 2 more tablespoons of the olive oil into the paella  pan,  add the monkfish, tuna and  squid  and sauté for 2 minutes.
Stir in the  garlic and cook for 1 minute. Add the  salmorra  and rice  and cook for  1 minute more, stirring to coat the rice with the sauce.  Set a  timer for 5 minutes,  increase the heat to high and  add the  hot  stock.
Bring to a boil,  add  the saffron  and season with salt. Stir the rice during the first 5 minutes  while boiling, then  lower the heat and simmer  for an additional 11 minutes.  Do not stir the rice again as it may cause it to cook unevenly. After about 8 minutes, lay the  reserved  shrimp on top of the paella to finish cooking for last few minutes. The paella is finished when the rice has absorbed all of the liquid.
Remove the paella from the heat, cover with a clean kitchen towel and let the paella rest for 5 minutes before serving. Serve with  spoonfuls  of  aioli  (garlic mayonnaise) and a green salad, if you like.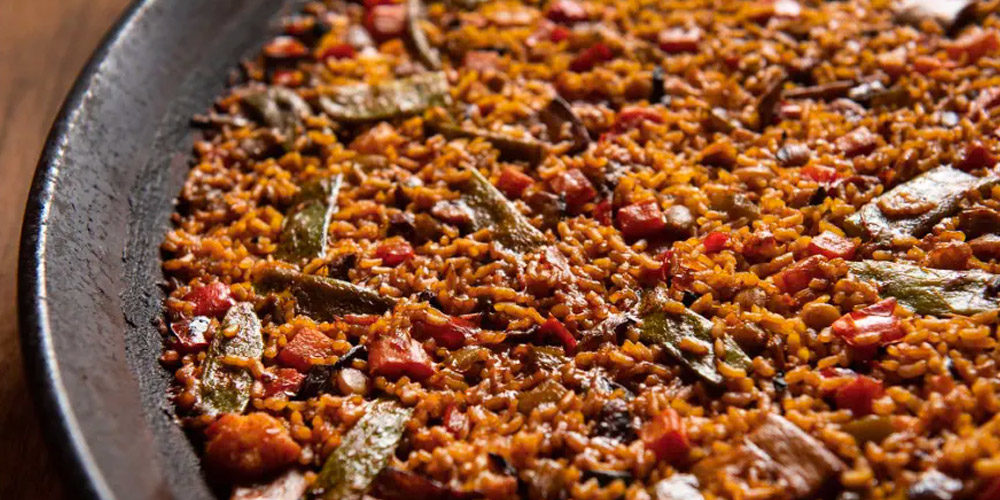 VEGETABLE ARROZ
SERVES 4-6
INGREDIENTS
¼ cup Spanish extra virgin olive oil
2 yellow squash, cut in ½" cubes
1 medium eggplant, cut in ½" cubes
1 cauliflower, broken into florets
¼ pound wild mushrooms, roughly chopped
2 cloves garlic, minced
2 tomatoes, diced
¼ cup Sofrito
1 cup dry white wine
Pinch of saffron, crushed
3 cups vegetable broth, like Aneto
1 cup Spanish bomba or calasparra rice
¼ cup fresh or frozen green peas
Sea salt, to taste
Aioli, for serving
DIRECTIONS
In a 13-inch paella pan, heat the extra virgin olive oil over medium-high heat. Add the squash to the pan and brown it on all sides. Add the squash and cauliflower and cook for another 2-3 minutes, then add the mushrooms and garlic and cook for another 2-3 minutes. Stir in the diced tomatoes and the sofrito and cook for a minute, then add the white wine and reduce everything by half.
Add the crushed saffron to the pan and then the broth. Increase the heat to high and bring to a boil, then let it boil for 2-3 minutes. Add the rice and peas and stir until everything is combined, then add salt to taste. Check the box or bag the rice came in – you'll want to cook the rice as long as is recommended (timing can vary by rice type – always keep the bag!) You want the rice to be slightly al dente, with a nice firm center. Set a timer, and then don't stir as the rice is cooking. When you have 2 minutes left, increase the heat to high to get the crunchy soccarat at the bottom of the pan. When the rice is done, remove the pan from the heat and let it sit for 5 minutes before serving.
Serve with aioli and share the soccarat with everyone – no matter how much you want to save it exclusively for the chef (yourself).
Which paella would you like to make? Let us know in the comments below!
MORE:
Jaleo by Jose Andres Launches New Employee Support Fund In Response to Coronavirus (COVID-19) Closures; Discount Gift Cards Now Available For Disney Springs Location
Disney Parks Donates a Huge Supply of Treats to Orlando Police in Support During COVID-19 Pandemic
Disney Donates 105,000 N95 Masks and 150,000 Ponchos to Hospitals in Need During Coronavirus (COVID-19) Pandemic