While construction has come to a halt at all domestic Disney Parks, overseas in Hong Kong Disneyland, work continues on transforming their castle into the Castle of Magical Dreams. We were last able to check in on the progress of the castle transformation back in January, shortly before the park closed due to the COVID-19 pandemic. Now, thanks to our friends at Disney Magical Kingdom Blog, we have a look at the latest additions.
As part of its multi-year transformation, Hong Kong Disneyland's iconic Sleeping Beauty Castle is becoming the Castle of Magical Dreams. The newly-reimagined Castle will stand as a shining beacon of courage, hope, and possibility, drawing inspiration from 13 beloved Disney stories featuring princesses and heroines. Despite the park closure, work is still visible by the park entrance. Cranes can be seen towering next to the newly-revealed turrets and towers.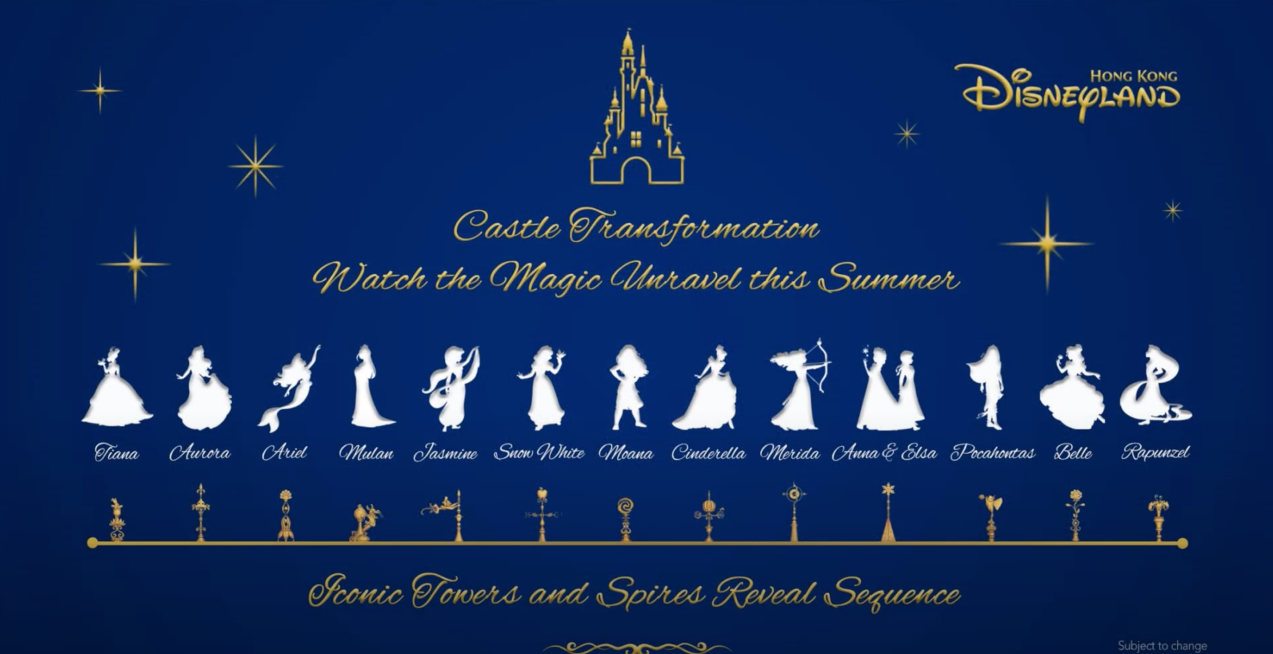 Here's a visual guide to each princess-themed spire. Princesses such as Tiana, Aurora, Ariel, Mulan, Jasmine, Snow White, Moana, Cinderella, Merida, Pocahontas, Belle, Rapunzel – along with Anna and Elsa from Disney's Frozen – will all have their moment to shine on this castle.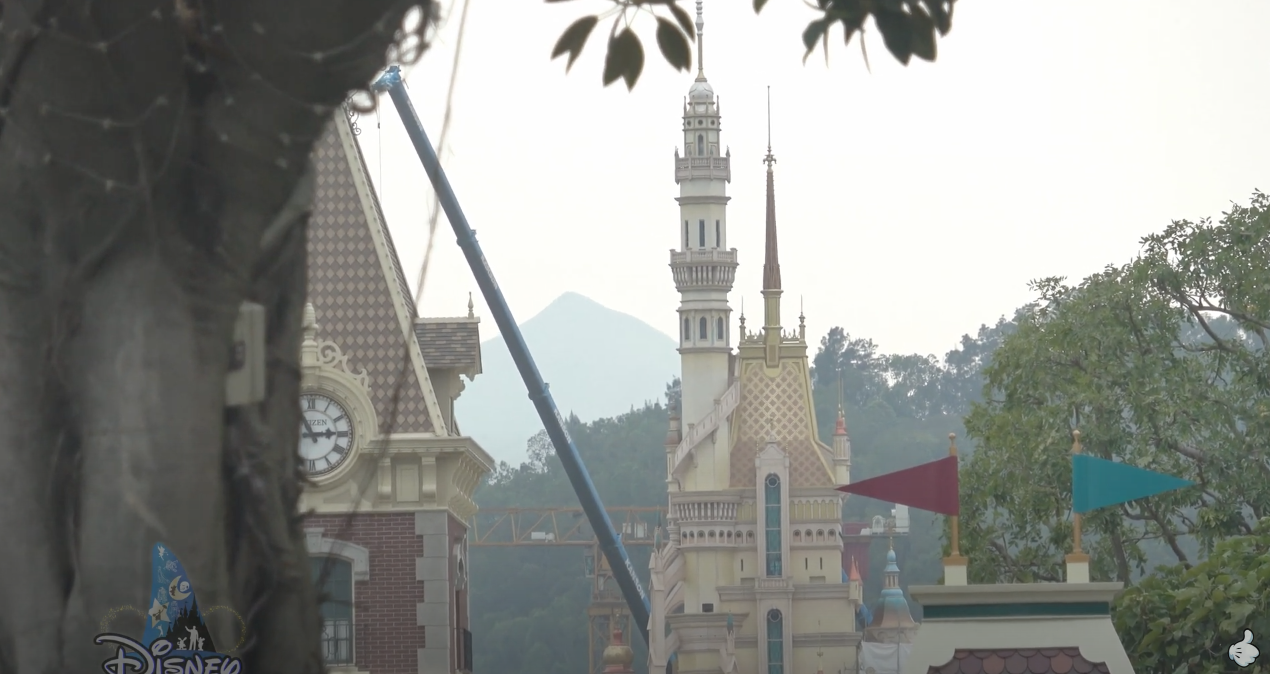 Here's a head-on look at the front of the castle, with its deep blue stained glass windows and tall central tower.
Based off concept art for the castle transformation, the blue hues of the stained glass will glow alongside each illuminated spire.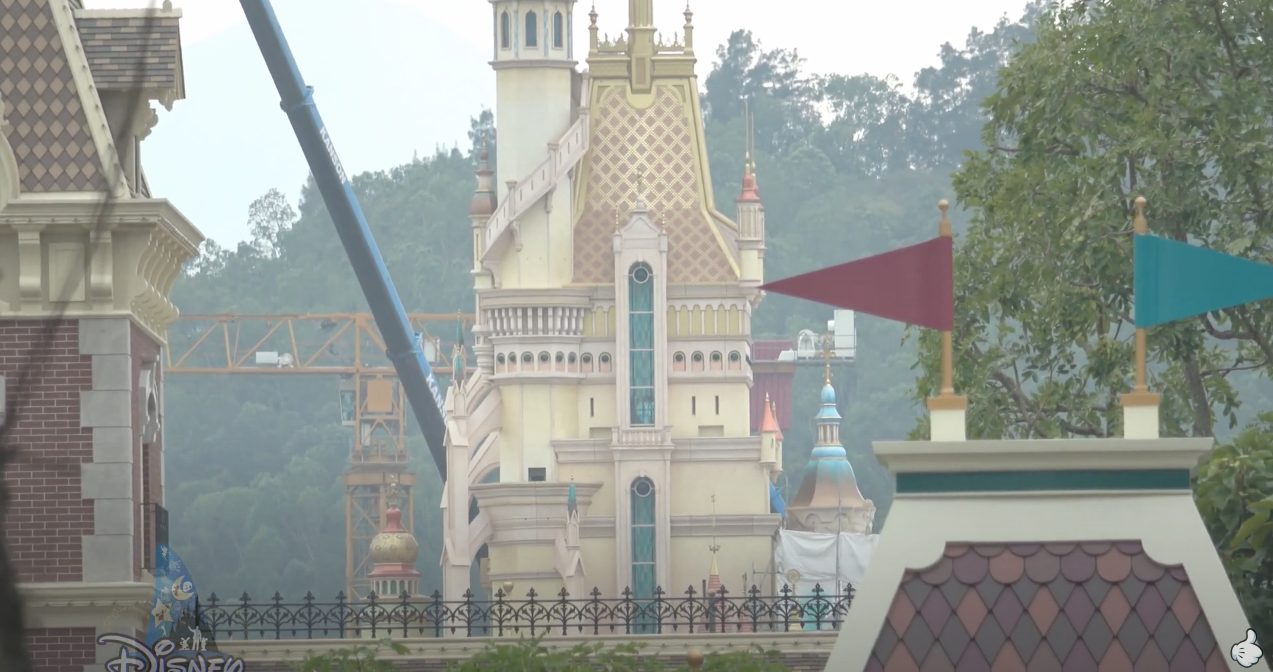 A closer look reveals a lattice-style design on the stained glass. On the freshly-painted gradient blue turret to the right, you can see the golden spire for Aurora. Along the bottom right, you can see the Moana-themed spire peeking out from over the fence. On the left, we have what looks to be the Princess and the Frog spire, with a water lily at the base.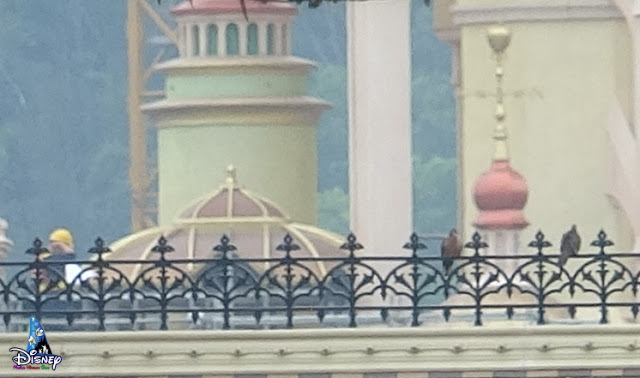 On the blood red turret shown to the right of the image above, you can make out the Poison Apple shape of the spire themed to Snow White.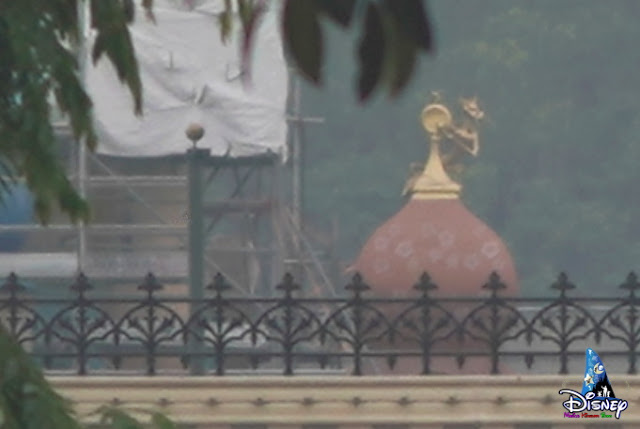 Finally, we have a look at one of my favorite spires, themed to Mulan, with cherry blossoms along the turret and Mushu banging a gong on top. The Castle of Magical Dreams is expected to be completed just in time for the park's 15th Anniversary in September.
You can take a full 4K tour of the latest construction update on the Castle of Magical Dreams at Hong Kong Disneyland by checking out the video below from Disney Magical Kingdom Blog:
Source: Disney Magical Kingdom Blog