Anyone who has ever had a food allergy knows the fear that comes with dining out. You're constantly having to look up menus online, talk to Chefs, trust servers. The whole thing can bring a lot of stress and anxiety, two feelings you don't want to be experiencing when visiting a Disney Park. Fortunately, Walt Disney World rolled out Allergy-Friendly menus across the resort in 2018. These menus generally cover the top 8 most common allergens, including gluten/wheat, milk/dairy, egg, soy, peanut, tree nut, fish and shellfish.
Furthermore, when booking a reservation on the My Disney Experience App, there is also a "special requests" button, which allows you to check any-and-all dietary restrictions when making your reservation.
For the most part, Disney really tries its best to do every and anything they can to accommodate allergies and special diets. However, sometimes the accommodations can be lackluster. You get a burger with just a patty on a lettuce wrap and don't even bother about asking for dessert. These are hardly the Instagram-worthy meals that you saw leading up to your Disney vacation. Luckily, I've compiled a list of some of my favorite dining locations in all of Walt Disney World Resort.
Keep in mind, this isn't a list of food that I like, it's a list of places that made me feel comfortable, went above and beyond to help me, and most of all, had great options for multiple allergies. Starting off my list are the table service restaurants in the Magic Kingdom.
#3 – Jungle Navigation Co. LTD.  Skippers Canteen
Skipper Canteen, located in Adventureland, is the most recent table service addition to the Magic Kingdom, and arguably one of the best. With a unique menu and fun atmosphere, Skipper Canteen really stands out among the other dining locations available in the park.
The Jungle Navigation Co. LTD Skipper Canteen is modeled after the world-famous Jungle Cruise attraction and offers a menu influenced by African, Asian, and Latin flavors.
Like many locations, Skipper Canteen offers a full Allergy-Friendly menu and you will be happy to know that an abundance of the options are either free from many allergens or can easily be modified. With this knowledge, any and everyone in your party should be able to enjoy a feast fit for a skipper.
Some notable dishes are…
Falls Family Falafel 
This appetizer is perfect for the whole family to share (or as one person's meal, if you're like me!) These little fried chickpea balls are served with house-made Edamame Hummus and toasted Pumpkin Seeds. This dish is free from gluten, milk, eggs, fish, and tree nuts.
Perkins Thai Noodles (pictured) 
If Skipper Canteen is known for any dish, it's their Thai noodles. What you are served is a sizeable plate of Tofu, Seasonal Vegetables, and Rice Noodles tossed in a Spicy-Soy Chili Garlic Sauce. The best part? You can get it with chicken, shrimp, and even steak. Or if you're vegetarian or vegan, simply order the dish as-is. This entree is free from gluten, eggs, milk, peanuts, and tree nuts. (And as long as you don't order the shrimp, it's fish/shellfish-free as well.)
Panna-Connie's Congo Lime Delight
Don't worry, they didn't forget about dessert. If you didn't already load up on Dole Whip (which is also gluten/dairy-free) you can grab this lime "Panna cotta". Served with a Mango-Lime Sorbet, Fresh Fruit, and a Brazil-Nut Cookie, this sweet ending is just the thing you needed to settle your tastebuds from that chili garlic sauce. This dessert is gluten, dairy, fish, and peanut free!
Don't see anything you like? There's plenty more where that came from. Just remember to ask for the allergy-friendly menu to see all the options available.
#2 – Liberty Tree Tavern
I remember every Thanksgiving as a kid eating at Liberty Tree Tavern. Something about the traditional American cooking just made the day feel like a home-cooked feast right out of a movie. Luckily, Liberty Tree Tavern makes every day feel like Thanksgiving, and a comfortable one at that.
Let it be known, Liberty Tree Tavern has two menus: a lunch menu, which is a-la carte, and a dinner menu, which is served family-style. Each has an Allergy-Friendly version available.
Starting with lunch, here are some highlights.
Revolutionary Meatloaf (pictured)
Made with Impossible meat, this loaf is served with Mashed Potatoes, Roasted Root Vegetables, and a smothering of Mushroom Gravy. Probably my favorite part of dining at Liberty Tree Tavern is that I get to eat mashed potatoes, and not only are they dairy-free, they are also delicious. Unless you're making them yourself, that's not something you can find just anywhere. While being safe for dairy allergies, this dish is also safe for those allergic to gluten, egg, fish, peanuts and tree nuts. And since it's made with Impossible meat, this dish is also 100% vegan.
Colony Salad
Served with Grilled Chicken, Washington Apples, Sweet Pecans, Applewood Smoked Cheddar, Dried Cranberries and a Honey-Shallot Vinaigrette, this dish is perfect for those looking for a lighter option on a hot day. This is safe for those with gluten, egg, fish and peanut allergies. Note that this salad can also be modified to made dairy and nut-free with the removal of the cheese and pecans. But like always, do double-check with a Chef before ordering.
TIP: Don't forget to ask for allergy-friendly bread and butter! Most Disney-owned locations will carry gluten-free bread as well as Earth Balance vegan butter, so you don't have to feel left out.
In terms of your dinner options, Liberty Tree Tavern offers it's entire "Bill of Fare" to be made free of most major allergens. This includes the Declaration Salad, Mashed Potatoes, Seasonal Vegetables, and Herb Rice Bread Stuffing which when ordering from the allergen menu are free from gluten, egg, fish, milk, peanuts, tree nuts and soy.
Your main entree would then be the Patriot's Platter which includes Roasted Turkey Breast, Pot Roast, and Oven Roasted Pork. This is free from all the same allergens EXCEPT soy.
FUN FACT: Liberty Tree Tavern shares a kitchen with its neighboring restaurant, The Diamond Horseshoe. On more than one occasion I have been offered allergy-friendly options at the Diamond Horseshoe that were brought over from Liberty Tree Tavern. This includes the mashed potatoes, their salad dressing, and even their dairy-free dessert option, which is an Apple Caramel Cake. 
#1 – The Plaza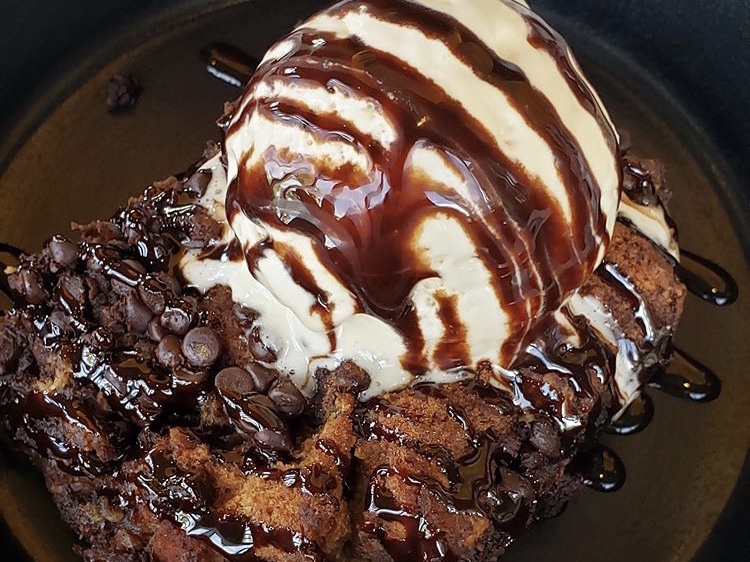 Ah, The Plaza… the quintessential Magic Kingdom eatery. You can't help but think of this restaurant or at least the accompanying Ice Cream parlor when you picture Main Street, U.S.A.
Now, this may come as a shocker, since the allergy menu here is a bit lackluster, however, the Chefs here are incredible. I always encourage people to not get discouraged by the options at some places because 9/10 most dishes can be easily modified or a Chef will work with you. The Plaza is one of those places that will try its hardest to give you what you want.
The Plaza is also the only restaurant on my list serving breakfast. So what are the options to get us ready for a long park day? Let's see..
Mickey Waffles
Guess what? You can get allergy-friendly Mickey Waffles, wherever waffles are on the menu. These little guys are free from gluten, egg, dairy, nuts, and soy. And don't forget to ask for that Earth Balance butter. You can then usually get a side of fruit, sausage, bacon, or breakfast potatoes, just make sure to always note your allergy.
Plaza Breakfast Plate
You can also try out their new all plant-based option. What you get are two Beyond Sausages, served over "Eggs" with a side of Breakfast Potatoes. Since this is a vegan option, the "Eggs" are made from a product called Just EGG, so this dish is then free from dairy, gluten, and well… egg.
Moving along to lunch and dinner…
The Plaza Burger
This burger when ordered off the allergy menu features Honey-Barbecued Beef Brisket, Cheddar, Lettuce, and Tomato and is served on an Allergy-Friendly bun. Without any modifications from here, this dish is free from eggs, fish, and nuts. However, a gluten-free bun is available upon request for all sandwiches on the menu. This burger can also be made dairy-free if you speak to a Chef.
But let's not forget the reason we'd really eat at the Plaza: DESSERT. And this is where things really kick into gear. The Plaza carries both Tofutti and Rice Dream Ice Cream, which are both dairy-free. If you're looking for a soy-free option, opt for the Rice Dream. For a topping that's gluten, dairy, egg, and soy-free, you can get some deliciously creamy peanut butter sauce on top. If you're lucky (and ask nicely) on occasion, a Chef may even be able to whip you up a milkshake.
However, if you are only avoiding dairy and eggs, they have also recently added a Dark-Chocolate Banana Bread Pudding (pictured above) option. That's right, for all of us who have missed out on bread pudding from 'Ohana for years, this is our time. This decadent dessert is topped with Tofutti Ice Cream and a dairy-free chocolate sauce.
So, feeling a bit more confident about eating in Walt Disney World with a food allergy?
Comment below what dish you're most excited to try or a favorite of yours that may not have made it on this list!
Before I go, while I do hope you can enjoy eating without fear, I do want to leave you with this message, always note your allergy and always speak to a Chef. Ingredients and menu items are constantly changing and so what may be safe as of now, maybe different tomorrow. Disney cares just as much about your health and safety as you do, so don't be shy and be vocal about any-and-all restrictions.
Allergy-Friendly Hack #1: Almost all Disney-owned restaurants and quick-service spots offer Enjoy Life cookies. These allergy-friendly desserts come in an array of flavors and options, so depending on where you go depends on what you get. Some cookie options I've been served across the park have been chocolate chip, double chocolate, sugar, and snickerdoodle.