Well, we've covered the most Magical Place on Earth and now it's time to look towards the world of tomorrow, as we cover the best places to dine with food allergies in EPCOT.
Like we did with the Magic Kingdom, EPCOT is going to be split between two parts, one covering Table Service options and the other Quick Service. Now, the thing to keep in mind when dining in EPCOT is you're going to run into the majority of the restaurants not having a designated Allergy-Friendly menu. This is because many of the restaurants in EPCOT, specifically World Showcase, are owned by third-party companies.
However, don't get scared off yet, because there are still plenty of options for you, and some even feature a few of my favorites. So let's dive in.
#3 – Garden Grill (The Land Pavilion)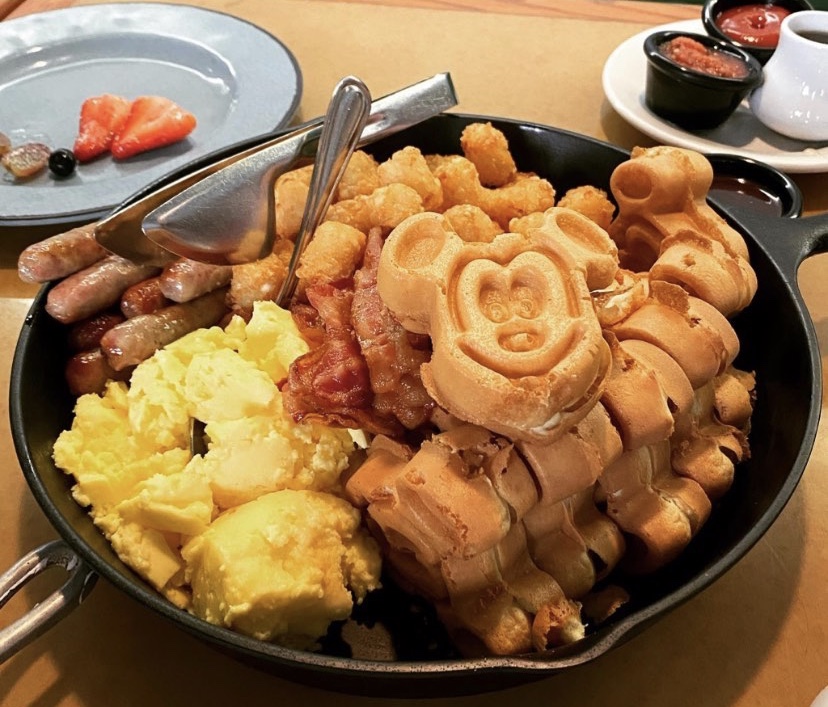 Located within The Land Pavilion, Garden Grill is a slowly spinning restaurant that, much like Liberty Tree Tavern, has a family-style menu. For those unfamiliar with dining family-style, you are basically given a giant platter of food for the table to share. Thankfully, both the breakfast and lunch/dinner offerings can be made free from gluten, milk, fish, shellfish, and nuts!
For your Breakfast, you will be served an appetizer of Seasonal Fresh Fruit and allergy-friendly Muffins. You will then be given a platter complete with Fluffy Scrambled Eggs, Thick-Sliced Bacon, Sausage Links, Tater Tots, and of course, Mickey Waffles (pictured). Don't forget to ask for that Earth Balance butter, and you have a breakfast fit for a king.
For your Lunch and Dinner options you will start with some allergy-friendly Rolls, these are most likely going to be the Gluten-Free rolls most restaurants carry, as well as a Garden Salad.
The entree will then be a platter filled with Grilled Beef with Chimmichurri, Roast Turkey Breast, Rice Pilaf, Seasonal Vegetables, and French Fries. You will then finish off your meal with a house-made Mixed Berry Shortcake! That's right, no sorbet or bagged cookies here, you will be treated to the decadent dessert that you deserve.
Oh, and did I mention all the while you get to enjoy the company of Chip, Dale, Pluto, and Mickey Mouse? Sounds like a sweet deal to me.
NOTE: For those who follow a vegetarian or vegan diet the meat in the entree platter can be subbed for a Veggie Loaf and the breakfast platter can also be modified with vegetable fritters replacing your breakfast meat and/or eggs. 
#2 – Coral Reef (The Seas Pavilion)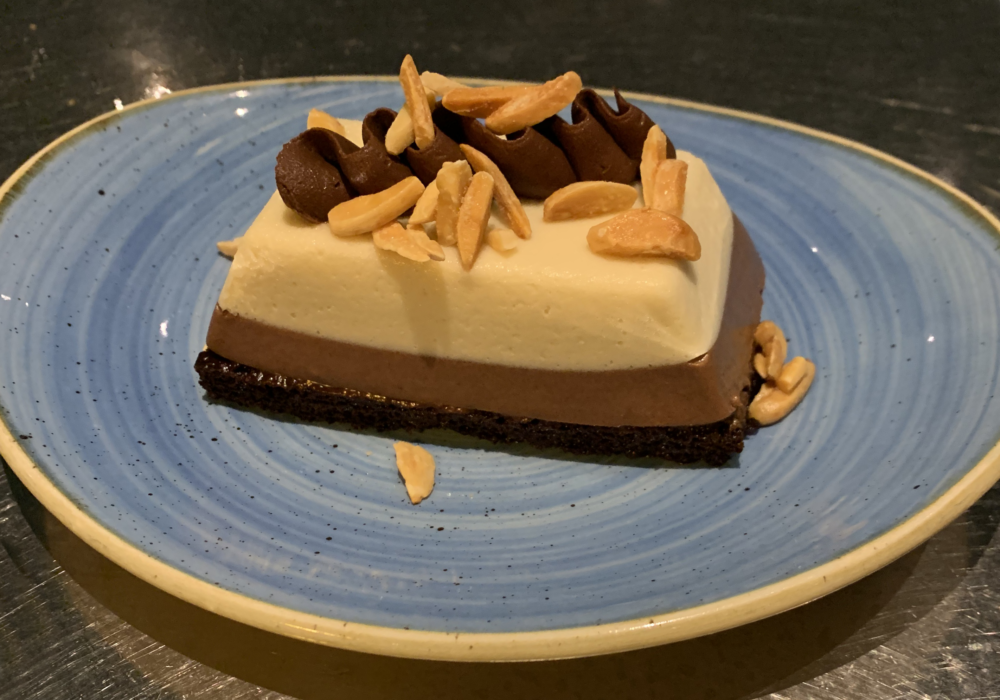 Coral Reef features a picturesque dining room that has you enjoying your meal in front of a giant fish tank! Now before all of you with fish or shellfish allergies scroll past, you will be surprised to know how many safe options there are for you here.
Starting off your meal, one of the most notable appetizers is the restaurant's Lobster Bisque*. This creamy soup features chunks of whole lobster and is safe for those with gluten, egg, nut, soy, and fish allergies.
*Note this is not safe for shellfish allergies.
Another option is part of their plant-based offerings and is called the Mushroom (Lobster-style) Salad. Free from gluten, egg, fish, shellfish, milk, nut and soy this appetizer features Wild Mushrooms, Hearts of Palm, Tomato and Avocado with a Lavash Crisp.
For your main course, any and everyone should be able to find something on this menu.
If you want to try the fan-favorite, the restaurant's Seared Mahi-Mahi is available off the allergy menu. This dish consists of a generous portion of Mahi as well as Jasmine Rice, Caribbean Shrimp Salsa, and a Coconut Cilantro-Lime Sauce. This dish is safe or those with gluten, egg, milk, peanut and soy allergies.
If you're not much of a seafood person, or fish is your allergy, you can also get the house Sirloin Steak, served with Olive Oil Mashed Potatoes and Seasonal Vegetables. Those with allergies to gluten, egg, fish, shellfish, milk, nuts, and soy can enjoy this 10-oz cut safely.
If meat isn't your thing or you're vegan, there is even a delicious option for you. The Grilled Garden Vegetable Skewer is a delicious and unique option for those following a plant-based diet. The dish features a mixed skewer of Eggplant, Zucchini, Squash and Red Onion over a generous offering of Basmati Rice, Lentils and Asparagus. The dish is then finished off with a Smoked Eggplant Salad and a Kefta Meatball made from Impossible Meat.
And we're not done yet! Probably the most appealing part of Coral Reef, at least for me, is their dessert options. For those looking for a gluten-free dessert, the Chocolate Wave is a crowd favorite. What you are served is a moist Flourless Warm Chocolate Cake that's topped off with a Raspberry Gelato. As well as being safe for those with a gluten allergy or intolerance, this dessert is also nut-free.
Last, but certainly not least, the Bailey's Almond and Jack Daniel's Mousse Cake (pictured) is hands-down my favorite dessert in all of Walt Disney World. Featuring two different types of mousse layered atop a chocolate sponge cake, this dessert is then topped with a Chocolate Ganache and Slivered Almonds. If you're allergic to egg, milk, peanut, soy, or are on a plant-based diet, not only is this offering safe, it's also delicious in its own right.
#1 – Rose & Crown (UK Pavilion)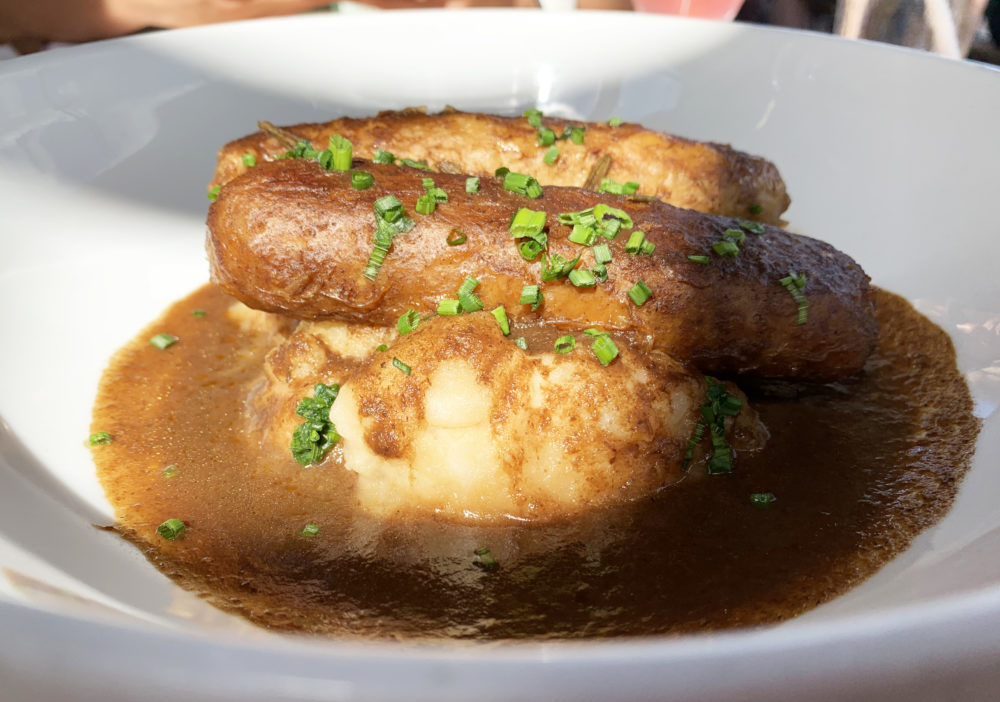 For those looking to wander into World Showcase, Rose & Crown will not disappoint. With seating available right on the lagoon and a traditional menu that will make you feel like you're eating in a real British pub, you really can't go wrong with this restaurant.
On top of the ambiance and menu offerings, the staff is always accomodating, knowledgable, and makes every dining experience stress-free.
Most, if not all, of the traditional pub food available, can be modified for allergies so you don't have to feel like you're missing out on the culture. For instance, the signature Fish & Chips, which is Beer-battered and served with a House-made Tartar sauce is available for those with egg, milk, nuts and shellfish allergies. This option can also be made gluten-free by ordering the Baked Fish & Chips option, served with a lemon wedge.
The Chicken Masala Curry, which is served with Seasoned Vegetables, Basmati Rice, and Raita, is safe for those with gluten, egg, fish, milk, nut or soy allergy. And if you are vegetarian or vegan, the chicken can be swapped for Tofu!
Further vegan/vegetarian hacks for this restaurant include a Plant-Based Fish & Chips, which subs the fried cod for Gardein Fishless Fillets. As well as a Plant-Based Bangers & Mash (pictured). This dish replaces the traditional sausages with Beyond Brats and has a dairy-free Mash and Mushroom Gravy. Do note that none of these options are on the menu, but just mention it to your server and they will be more than happy to accommodate you.
One Plant-Based option that is available however is the Savoy Vegetable Crumble. This dish features Seasonal Vegetables mixed into a Meatless Casserole and is topped with Crispy Potatoes. This is free from any wheat, egg, fish, milk or nut ingredients.
If you are looking for a gluten-free/nut-free dessert, the Traditional English Trifle is available featuring Strawberries, Vanilla Custard, and Whipped Cream. They also offer a Rice Pudding that is also gluten-free as well as free from egg, fish, milk, and peanuts. This dessert consists of Coconut and Orange Rice Pudding and a Berry Compote.
Allergy Note: All 3 of the restaurants listed have dedicated Allergy-Friendly menus, however when dining in any other location in EPCOT that may not have that option, make sure to request to speak to a Chef.
Hopefully, one or more of these options has your tummy rumbling and is getting you excited to book any future Disney vacations. Be sure to be on the lookout for Part 4 of this series, where we will be going over the top Quick-Service options in EPCOT. Until then, if you haven't yet, you can read Parts 1 & 2 of this series, where we covered the top options in the Magic Kingdom: