Welcome to Part 4, round 2 of dining with food allergies in EPCOT! In Part 3, we covered the top Table Service options around the world, in the sea, and with the land. Now, it's time to see what options we have for those looking for a quick bite to grab in-between rides, (or drink, depending on what kind of EPCOT day you're having.)
With a whole world of options, sometimes EPCOT can get a little overwhelming when it comes to picking a location to grab a quick bite. On top of that, with so much of the park spread out, and construction making it even more difficult to maneuver, it's good to have a plan when heading in.
On that note, let's see our top picks…
#3 – Katsura Grill (Japan Pavilion)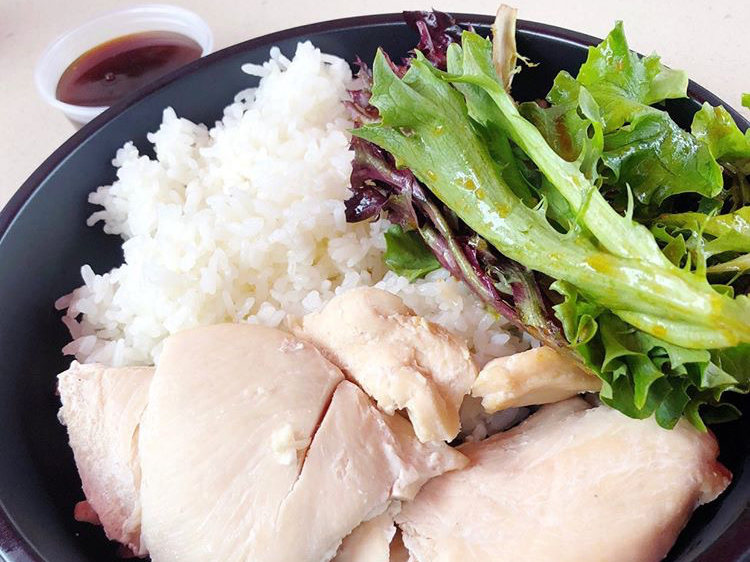 Located within World Showcase in the heart of the Japan Pavilion, Katsura Grill is a counter-service nook serving up traditional Japanese cuisines such as sushi, teriyaki, and even sake.
Though not always the case, Katsura Grill recently started serving up Gluten-Free versions of both their Shrimp and Chicken Teriyaki (pictured with sauce on the side) dishes. Served with a side of White Rice and Mixed Greens, you will also be glad to know that it is also free from milk, nuts, and egg. Keep in mind if you do have a shellfish allergy, avoid the Shrimp and you'll be good to go with the Chicken Teriyaki.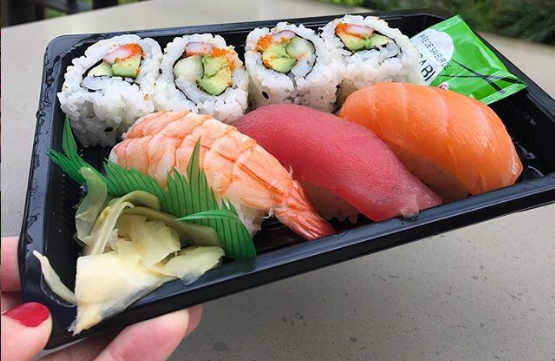 If you're more in the mood for Sushi, the Tokyo Sushi Combo (pictured) which features 4 pieces of a California Roll and 3 pieces of Nigiri (Yellowfin Tuna, Salmon, & Shrimp), is free from gluten, milk, and nuts.
If you're looking to stay clear of any fish, or if you're a vegetarian or vegan, the Vegetable Roll is plant-based as is. Featuring Avocado, Carrot, and Cucumber just add a side of some chilled Edamame and you've got yourself a meal. As this roll is vegan, it is free from milk and eggs as well as gluten and nuts.
If your allergy happens to be Soy, seeing as most Japanese cuisine uses soy sauce, you may want to avoid this location. But don't worry, there are still many more options elsewhere.
#2 – Sunshine Seasons (The Land Pavilion)
Sunshine Seasons, located just downstairs from our #3 Table Service pick, Garden Grill, is a quick service where even the pickiest of eaters can find something to enjoy. With a Wok, Grill, and Salad station, no matter what you're in the mood for, chances are, Sunshine Seasons serves it.
Starting at the Wok station, the Mongolian Beef and Sweet and Sour Chicken are going to be the safest options, as they are free from egg, fish, milk, and nuts. You also get to pick your side and you have the option between Jasmine Rice, which is gluten, egg, fish, milk, and soy-free or Lo-mein Noodles with Vegetables which is free from fish, milk, and nuts.
The plant-based option at this station is a Vegetable Korma, which is made with Mock Chicken and Cashews. This is safe for anyone following a vegan diet and is free from eggs, fish, and milk.
Over at the Grill station, the Rotisserie Chicken is free from gluten, egg, shellfish, milk, and nuts and is served with Yellow Rice and Black Beans. If you can't have soy, however, I recommend trying out the Oak-Grilled Salmon which is served with Cheesy Grits and an Andouille Corn Succotash. On top of soy, this is also good for those avoiding gluten, egg, and nuts!
If you're looking for something on the fresher side, you can opt for the Power Salad with or without Chicken. Topped with Quinoa, Almonds, and a Honey Vinaigrette, this salad is perfect for those with gluten, egg, shellfish, milk, and soy allergies. Just be sure to note your allergy with a Chef as they do sometimes sprinkle shredded parmesan cheese on top.
You can also head over to the dessert station (and I highly recommend you do!) There you can find gluten and nut-free Creme Brulee, as well as a plant-based Oreo Chocolate Mousse (pictured). This decadent dessert is free from milk and eggs and will satisfy any and all chocolate cravings.
ALLERGY HACK: This location also offers Grab & Go options. With packaging labeled with the exact ingredients of what you are choosing, it may be a quicker and less stressful option for some.
 #1 – Regal Eagle Smokehouse: Crafts Drafts & Barbecue (The American Adventure)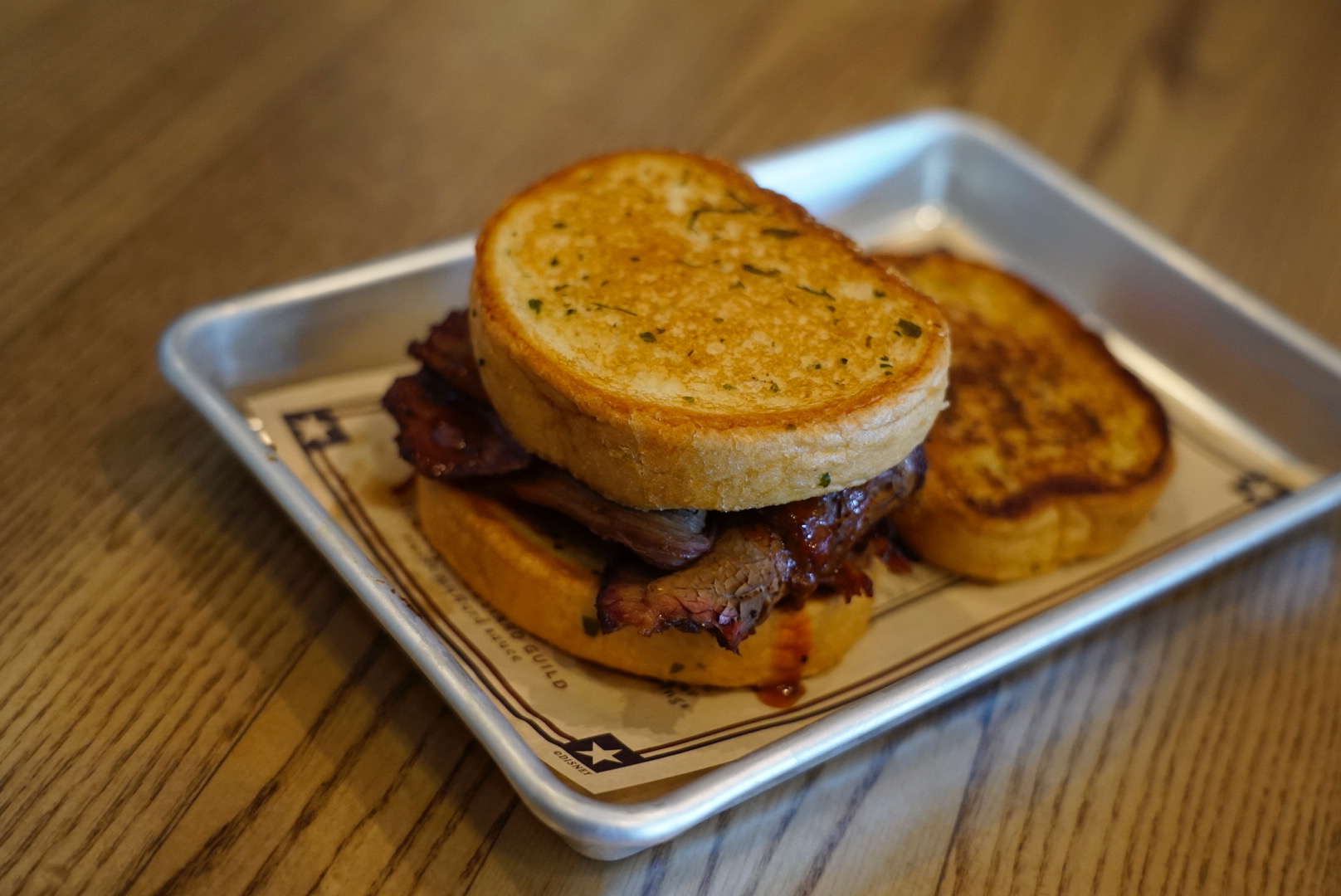 For our number 1 spot, we had to hand it over to the newest addition to EPCOT, the Regal Eagle Smokehouse located within the American Adventure. With an outdoor bar and a menu dripping with barbecue sauce, whether you're a carnivore or a herbivore, this menu is filled with unique Allergy-Friendly options.
Before we get started, it's important to note that no fish or shellfish is cooked within Regal Eagle Smokehouse so if that is your allergy, you are free to order anything and everything off of the menu.
Now for the meats. If you're in the mood for a hearty sandwich, the Sliced Texas Beef Brisket Sandwich (pictured) is the perfect thing to end a night with. Rubbed with a secret Brisket Rub and smothered in a Spicy Mop Sauce, this beef is then laid between two slices of Gluten-Free Texas Toast.
Under the entree portion of the menu, you'll also be glad to know that the Kansas City Smoked-Half Chicken is an option as well as the Memphis Dry-Rub Pork Ribs. All three of these above options are free from gluten, milk, nuts, and soy as well as come with your choice of side!
Some of the sides available here are some good, old-fashioned French Fries, Baked Beans, House-made Pickles, and Creamy Coleslaw. All of these are safe for those with gluten, nuts, milk, and egg allergies, and the beans and pickles are free from soy.
Now for an option that probably wouldn't stand out to most people, but happens to be a sleeper favorite amongst visitors is the Power Greens Salad (pictured). This bowl of Mixed Greens is tossed with Fresh Citrus Fruit, Sunflower Seeds, Dried Cranberries, and Radishes and is drizzled with a Fresh Citrus Vinaigrette Dressing. The whole thing then gets topped with Chilled Pulled Chicken, however, if you are following a plant-based diet of any kind the chicken can be subbed for BBQ Jackfruit. This salad is free from gluten, egg, milk, nuts, and soy and when ordered without the chicken it is completely vegan.
These are only some of the options available at Regal Eagle Smokehouse, so if you don't see anything tickling your fancy, just ask for the Allergy menu upon arrival. This, of course, goes for all the locations listed above, this is just a taste of the options available.
Stay tuned for Part 5, where we will head over to Disney's Hollywood Studios and take a bite out of what Tinsletown has to offer. Until then be sure that you read the previous 3 parts of this series where we covered Table Service options in EPCOT, as well as all of the Magic Kingdom.
Top 3 Locations to Dine With Food Allergies in Walt Disney World Part 3: Epcot – Table Service
Top 3 Locations to Dine With Food Allergies in Walt Disney World Part 2: Magic Kingdom – Quick Service
Top 3 Locations to Dine With Food Allergies in Walt Disney World Part 1: Magic Kingdom – Table Service