If you're an Annual Passholder and a local (including "3-hour drive" locals like myself) or planning on staying offsite for your next Walt Disney World trip, and your Annual Pass is expiring at some point during the COVID-19 closure period, you may be in for a rude awakening if you try to book FastPasses for June onward.
Guests eager to return to the parks can of course book reservations for hotels, FastPasses, dining reservations and more for June 1st and beyond still, even though a reopening date hasn't been formally announced as of yet for the Walt Disney World Resort. If your Annual Pass hasn't expired yet, you're good to go: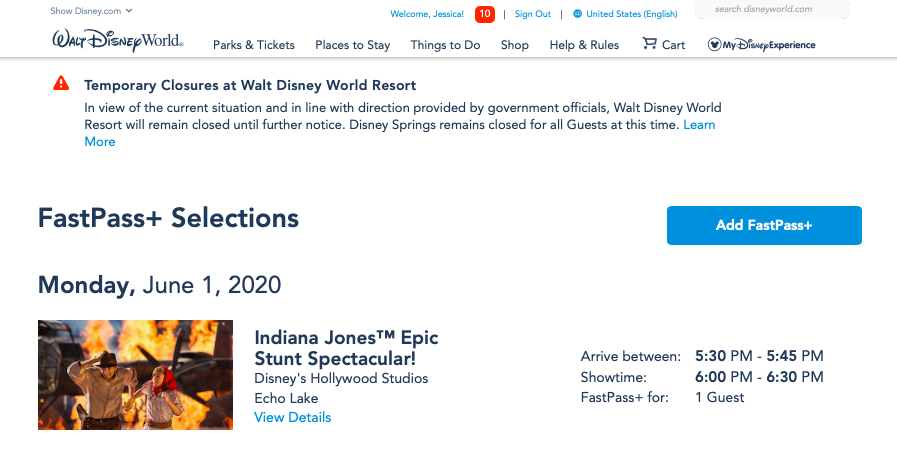 However, here's the screen I was met with when I attempted to make FastPass+ selections for June 1st or later: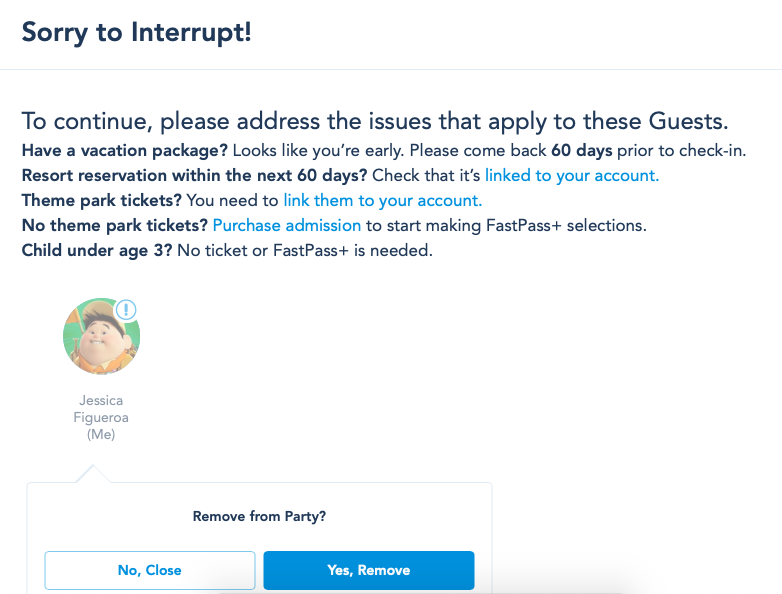 The main difference? My Annual Pass expired on April 29.
As an Annual Passholder who has paid in full, my current pass will be extended for the number of days the parks are closed. The new expiration date will be reflected on My Disney Experience prior to the reopening of the parks, according to Disney's latest communication on extensions and refunds. However, I still can't make FastPasses within the 30-day window allotted for Annual Passholders.
Assuming that my pass had been automatically extended (or was at least flagged for future extension), I called the VIPassholder line to inquire as to why I couldn't make FastPass+ selections. According to the FastPass help desk, extensions for Annual Passholders whose passes expired during the span of the COVID-19 closure won't be fully processed until a reopening date is announced. Annual Passholders with on-site resort reservations however, can be granted a temporary extension on their account, and therefore allowed to make FastPass+ reservations throughout the 60-day window. This still leaves Annual Passholders whose expiration dates lapsed over the course of the closure at a disadvantage in terms of FastPass+ selections, at least without paying a premium in the form of a room booking (which is what Cast Members suggested I do.) Even if a member of your Friends & Family group want to add you to their existing FastPass+ selections, they can't––you've been essentially booted from the system automatically and the only way to get back in is to either book a room or wait until the official reopening announcement.
Regardless of whether the parks actually reopen on June 1, having to jump these kinds of hoops is a headache for those Annual Passholders who, in thinking their passes were automatically extended, are now attempting to plan their possible trips. While there are certainly more important things to deal with right now, it could be emotionally comforting to know you have a vacation a few months down the road planned out that you might be able to enjoy.
This problem can only become more abundant as the closure rages on and more passes expire. Hopefully Disney will just correct the system in the coming days so everyone will be ready when the reopening announcement does happen.
Has your Annual Pass expired over the course of the closure? Have you been able to book FastPass+ selections? Let us know in the comments.