Universal Orlando has officially announced its June 5 reopening for all three of its theme parks: Universal Studios Florida, Islands of Adventure, and Volcano Bay. For a full overview of all the new guidelines and operational changes leading up to their June 5 reopening, click here. We also have a photo report of the grand opening of CityWalk, which includes a walkthrough of the temperature screening process, and more.
In this post, we'll be reviewing some of the intricacies of the reopening: Will I need a reservation? Do I need to wear a mask while screaming my lungs off on Hulk? What's even going on with Halloween Horror Nights? What if I'm planning on going to Volcano Bay? You can find the answers to all that and more below, courtesy of Universal Orlando's Frequently Asked Questions section.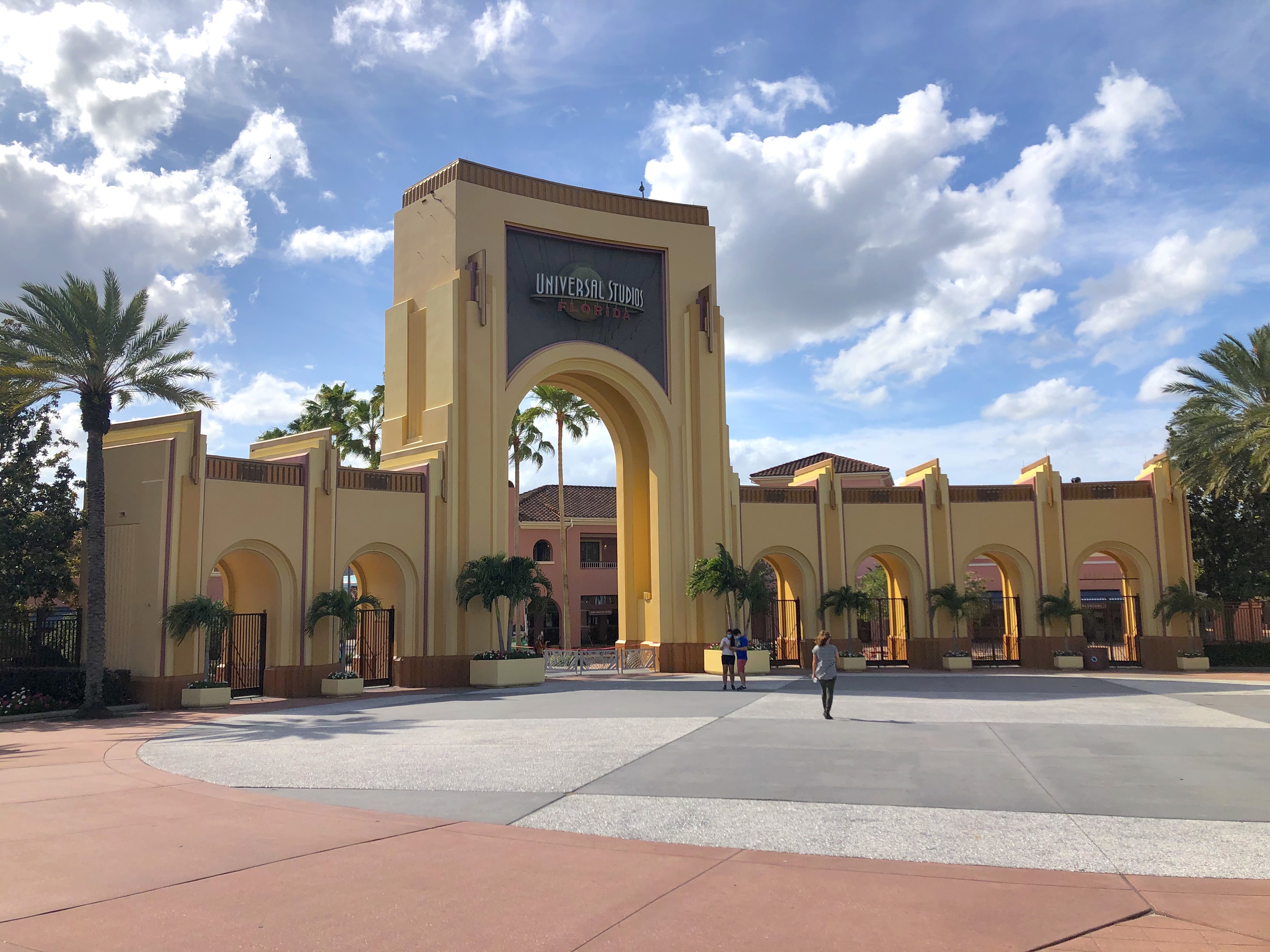 General Information – Temperature Checks, Face Masks, Halloween Horror Nights, and More
1. Where do I have to go to get my temperature taken?
Guests will have their temperatures taken in a screening area inside the parking structure, prior to the security checkpoint.
2. What will happen if a guest has a high temperature?
Any guest that has a temperature of 100.4 degrees or greater will not be able to enter CityWalk and it will be requested that the individual see a doctor, per CDC guidelines.
3. Will I be required to wear a face covering?
Yes. We are following CDC guidelines as well as local health protocols. If you have a disability that prevents you from wearing a face covering you will be referred to guest services to discuss ways we can accommodate you. If you do not have a face covering, we'll have them available for purchase. Also, per CDC guidelines, children under the age of two are not required to wear facial coverings.
4. What is considered an appropriate facial covering for my visit?
Facial coverings in line with CDC's guidelines are considered appropriate for a visit to Universal Orlando Resort, and should cover an individual's nose and mouth. Costume masks and veils will not be considered as facial coverings and per our costume guidelines, are not permitted.
If a guest has a disability that prevents them from wearing a facial covering, they'll be directed to our Guest Services team to discuss reasonable accommodations. Also, per CDC guidelines, children under the age of two are not required to wear facial coverings.
5. Where can I purchase a face covering? Are they available in various sizes?
Face coverings will be available for purchase at a merchandise cart in the screening area within CityWalk. At this time, face coverings are available in one size.
6. What about face coverings when guests are eating?
We have arranged tables and seating so that guests can remove their face coverings while they eat. But we ask that they wear them at all other times.
7. Who will be the "limited number of guests" during your first days of operation?
We are still working through those details and will share soon.
8. Are cashless payments available?
Yes, guests can use Apple Pay or Google Wallet for cashless payments at merchandise and quick service food locations.
9. Is Mobile Food Ordering available? And at which venues?
Yes, mobile food ordering is available for Voodoo Doughnut, Red Oven Pizza Bakery and Cinnabon. To use it, download the official Universal Orlando Resort App and select "Order Food and Drinks" under the drop-down menu. Then, select the food location you're interested in to view the menu. Make your selection(s) then follow the prompts to place your order.
10. Will these new procedures be in place for Halloween Horror Nights and the 2020 Holidays celebration?
More details about these events will be shared at a later time.
11. Grad Bash 2020
Due to the parks' temporary closure, all Grad Bash 2020 events have been cancelled.
12. Gradventure 2020
Due to the parks' temporary closure, all Gradventure 2020 events have been cancelled.
13. Will you have themed face coverings for sale?
Yes, we will have themed face coverings available for purchase in the weeks ahead. Stay tuned for updates.
Theme Parks – Reservations, Attractions, and Volcano Bay
1. Are the parks reopening at reduced capacity during this phase?
Yes, we are limiting attendance at our theme parks during our phased reopening.
2. Is a reservation required in order to visit the theme parks beginning June 5?
No, a reservation is not needed in order to visit the theme parks. Please note that since we're limiting attendance, there may be times when the parks reach capacity and additional guests will not be admitted.
3. Will all rides and attractions be open?
Majority of the attractions and experiences within the parks are scheduled to open. Select experiences will not be available during this phase, and some queue experiences may be slightly altered as we implement our new procedures. Additional details and specific experiences will be shared soon.
4. Will I have to wear my face covering while on the attractions?
Yes, guests will be required to wear face coverings on attractions. The only exception will be for attractions that include significant amounts of water as part of the experience, as well as Volcano Bay's slides and pools.
5. Will I have to use my own hand sanitizer in order to board a ride vehicle?
Universal Orlando team members will provide guests with the hand sanitizer that is required prior to boarding a ride vehicle.
6. What is Virtual Line?
Virtual Line allows guests to select a time to experience an attraction via the Official Universal Orlando Resort app so they're minimizing the time they're actually waiting in the queue line. Guests can make Virtual Line selections while they're onsite at the parks on the day of their visit. Virtual Line will be available for select attractions.
7. How will you implement social distancing guidelines at Universal's Volcano Bay?
Overall, Universal's Volcano Bay will follow the same guidelines and procedures as the other theme parks. Some of the specific measures we're taking to implement social distancing at Volcano Bay include:
We will limit capacity on each attraction – including rivers and pools
For multi-person raft rides, only one travel party will be allowed to ride in a single raft. Please note that Volcano Bay's standard height and weight requirements will be applicable.
Lounge chairs will be placed in a fashion that allows travel parties to sit together, while also maintaining at least six feet of distance between other guests.
8. At Volcano Bay, will I have to wear my face covering while on the slides?
Face coverings are recommended when guests cannot socially distance. They will not be permitted on slides and in pools.
9. Will all Volcano Bay team members wear face coverings?
Face coverings are required for team members in "dry" roles. Team members who have "wet" roles, such as lifeguards, will wear a balaclava when they cannot socially distance. These will not be worn on slides or in pools for safety reasons.
10. Will the TapuTapu wearables be cleaned and sanitized?
Yes, per our standard practice, all TapuTapu wearables will be cleaned and sanitized prior to guest use.
Hotels
1. What about hotels? And what if I have a hotel reservation?
Our hotels are an important part of our guest experience and we will share details soon. We are still finalizing our reopening plans and will contact those guests with reservations as soon as our plans are available.
2. Universal's Endless Summer Resort – Dockside Inn and Suites
We have postponed the scheduled March 17 opening of our new hotel, Universal's Endless Summer Resort – Dockside Inn and Suites, as we continue to evaluate our offerings during this time. A new opening date will be announced at a later time.
Guests have the option to modify or cancel room or package reservations. Guests with specific questions can call this number for more information: (877) 801-9720
3. Hotel and Package Bookings
Guests can modify or cancel room or package reservations held for our closure period with no penalty or fee. During our park closure period, cancellation fees will be waived for hotel reservations cancelled prior to 24 hours of arrival.
4. What if I make a booking while you are closed?
Ticket purchases, hotel reservations and packages purchased between March 4 and May 31 qualify for our Stress- Free booking policy, which means they may be modified or canceled with no fee at least 24 hours prior to arrival. We will continue to evaluate this policy after May 31. For details, click here.
Tickets and Annual Passes
1. Are the limited-time increased Passholder discounts still available?
Passholders can take advantage of their increased limited-time discount at select Universal CityWalk venues through May 31, 2020. There will be additional special offers and discounts for passholders once the parks reopen. Additional details will be shared soon.
2. How will my Annual Pass or Seasonal Pass be affected?
All Annual and Seasonal Passes will automatically be extended by the number of days our theme parks are closed. There is no action required from the Passholder. Existing benefits and restrictions will continue to apply.
3. Will my monthly payment be charged during the park closure?
If you are signed up with FlexPay, we have postponed all monthly payments effective March 25, 2020. We will be in touch with further details on when payments will resume. If you need to make any changes to your credit card information, please contact Passholder Services at 1-888-5-FLEXPAY
4. Will there be changes to blockout dates for Seasonal and Power Passes?
Current blockout dates remain and can be found at www.universalorlando.com/apblockout. Any future updates will be communicated.
5. Can I get a refund?
Unexpired single-day tickets that have already been purchased will be valid on any day for 365 days from the purchase date. Unexpired multi-day tickets that have already been purchased will also be valid for first use on any day from 365 days from purchase – but, as always, must be used within seven days of first use. Florida Resident discounted ticket usage windows and blockout dates remain unchanged unless otherwise communicated. If you cannot travel during this time, you can apply the value of a wholly unused ticket toward a new purchase.
6. What if I purchased Blue Man Group tickets?
Blue Man Group's shows through at least Sunday, May 31 are cancelled. Guests who have purchased tickets for Blue Man Group shows during this time can call (407) BLUE-MAN (258-3626) for assistance.