Today marked a historic event in theme park history, albeit not the theme park that's usually in our realm of coverage––that is, until every major theme park shut down due to COVID-19 and CityWalk became the first place to reopen. Universal Orlando Resort has presented its reopening plans before the Orange County Economic Recovery Task Force group, and is the first to do so ahead of Walt Disney World Resort and SeaWorld Orlando.
Universal Orlando Resort plans to reopen its theme parks on June 5 to the public, with soft reopenings for Team Members starting on June 1. From June 3-4, only invited guests (such as Annual Passholders) will be granted access.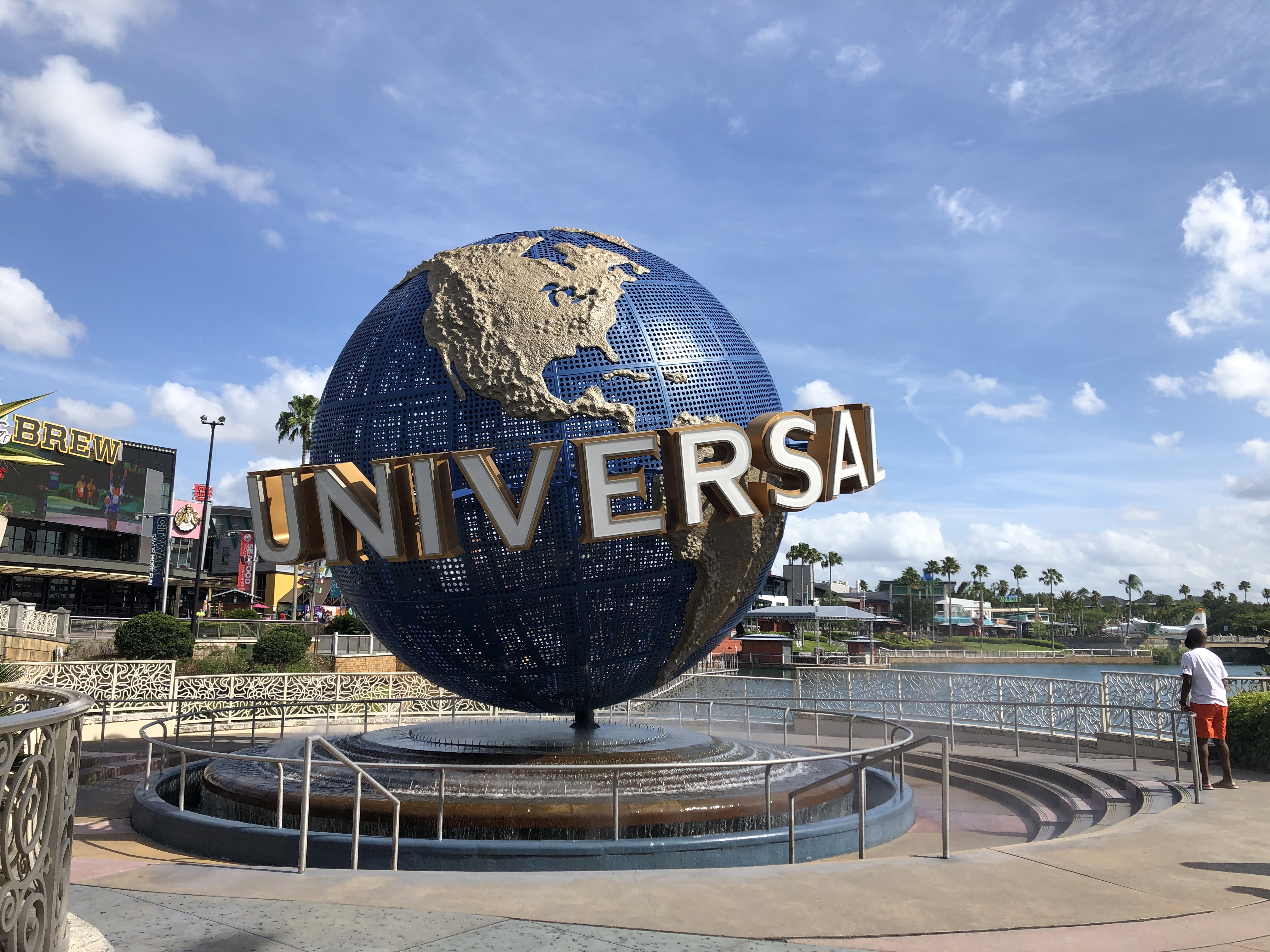 Universal Orlando plans to reopen just in time for its 30th Anniversary on June 7. Here's a look at the various preventative measures that will be in place when Universal Orlando theme parks reopen. Universal will implement a system of the three "S" – Screening, Sanitization, and Spacing: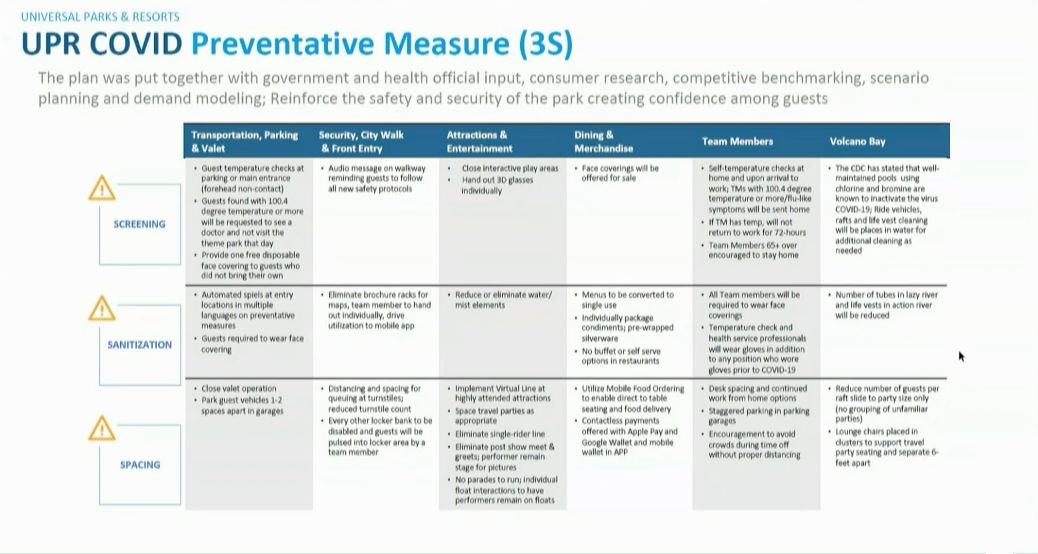 Universal will provide one free disposable face covering to guests who did not bring their own. As we saw at the CityWalk reopening, face masks will also be available for sale. Play areas will remain closed, and 3D glasses will be handed out individually. There will also be a reduction and/or elimination of water and mist elements throughout the parks.
At dining locations, menus will be converted to single-use with individually packaged condiments and pre-wrapped silverware. No buffets or self-serve options in restaurants will be available. Mobile Food Ordering will be enabled for direct-to-table seating and food delivery. Contactless payments will be encouraged through the use of Apple Pay, Google Wallet, and the Virtual Wallet in the Universal Orlando app.
Volcano Bay will be moving forward with the reopening now that the CDC has stated that well-maintained pools using chlorine and bromine are known to inactivate the COVID-19 virus. Ride vehicles, rafts, and life vest will be continuously cleaned. The number of tubes in the lazy river and life vests will be reduced. For rafts, the number of guests will be reduced to the size of the party, with no grouping of unfamiliar parties. Lounge chairs will be placed in clusters to support travel party seating, with each cluster separated 6-feet apart.
As we saw throughout CityWalk, a number of social distancing signage and demarcations will line the grounds: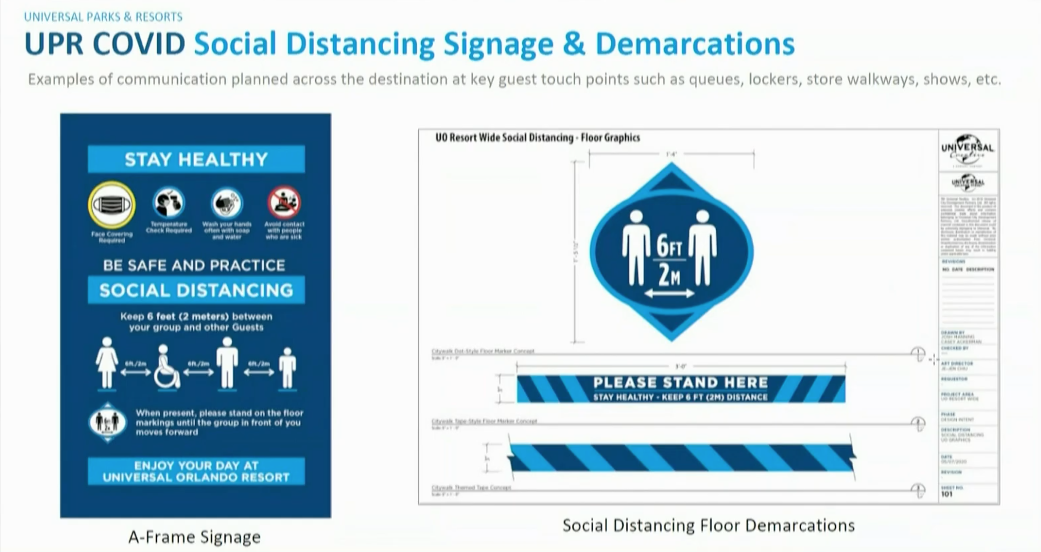 Virtual lines will be used at the highly-attended attractions, with Single Rider eliminated throughout. Attraction queues will be modified as well: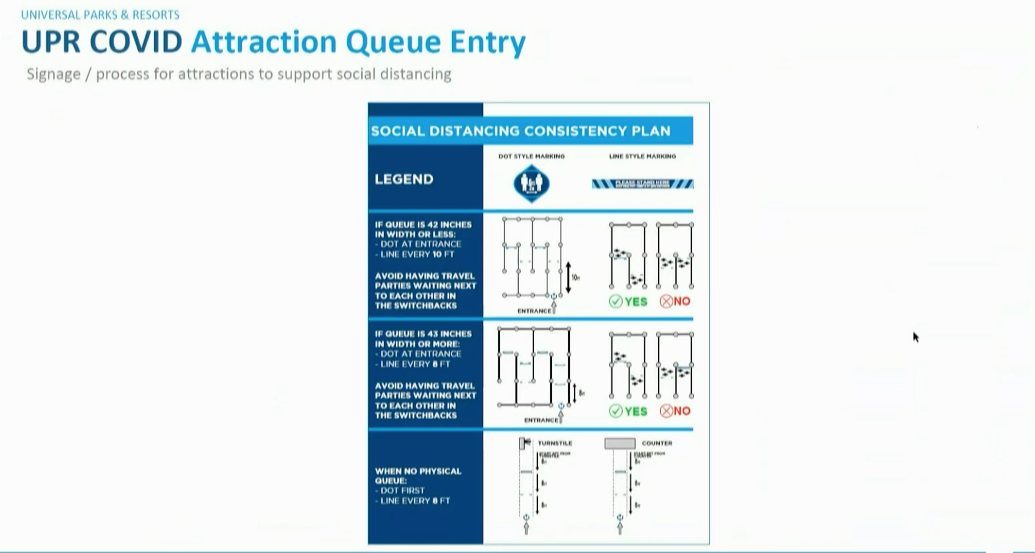 All turnstiles will have distancing and spacing for queueing, with a reduced turnstile count. Universal is known for its use of lockers. During the phased reopening, every other locker bank will be disabled, and team members ill monitor guest access to the locker area. Travel parties will be spaced out as appropriate.
Post-show meet & greets with characters will be eliminated, and performers are to remain on stage for pictures. Parades will not run during the phased reopening, but once they return, float performers must remain on their units at all times.
Brochure racks for maps will be eliminated, with team members handing out maps and notices individually. Guests will be encouraged to utilize the park's mobile app in lieu of paper maps. The following "Important Information" handout will be distributed with information on masks, temperature checks, and more.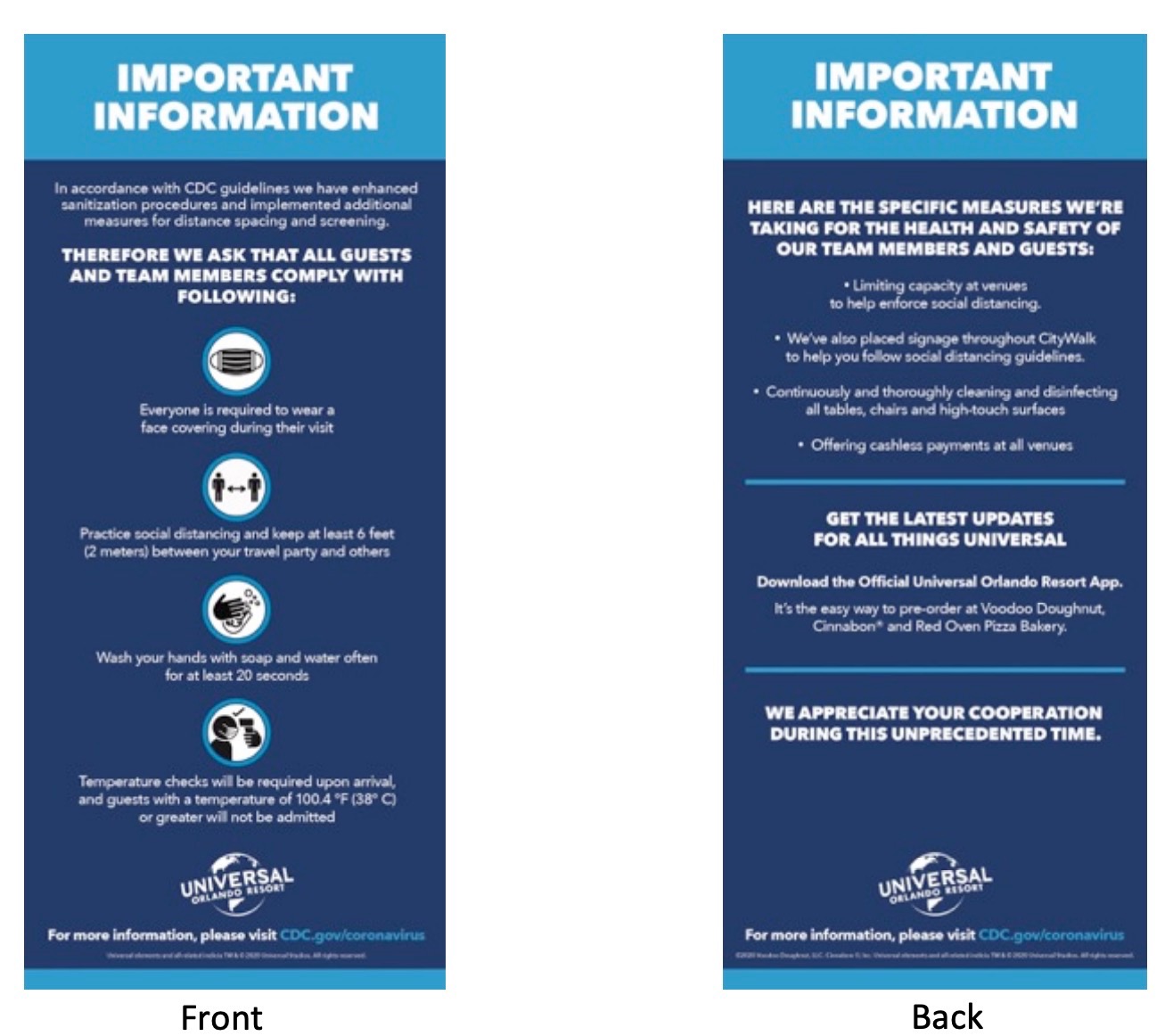 Rich Costales, Executive VP of Resort Operations at Universal Orlando Resort and John Sprouls, Executive Vice President and Chief Administrative Officer for Universal Parks & Resorts made the announcement at the Orange County meeting today. Reopening plans will require endorsement from the Orange County Mayor before they can be submitted to Florida Governor Ron DeSantis. You can view the full Orange County Economic Recovery Task Force Meeting from today below:
For a recap of what the current experience is like at Universal Orlando's CityWalk, including temperature checks and new social distancing guidelines, click here.
At this time, all Walt Disney World parks and resort hotels remain closed, and no reopening date has been announced or identified. Disney Springs began its phased reopening yesterday, with third-party restaurants and stores now able to abide by the new increased capacity limits. Starting on May 27, Disney-owned shops and eateries will also reopen under the new guidelines.