After yesterday's Walt Disney World reopening announcement, there are a lot of moving pieces with regards to reservations. Disney has temporarily paused all new ticket sales and Disney Resort hotel reservations in order focus on guests with existing tickets and reservations. Now, dining and other experience reservations are also not available.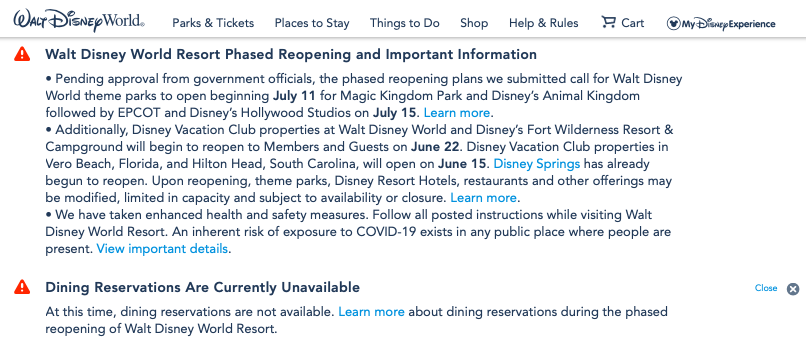 The update has been posted to the Walt Disney World website, and if you look closely at the July 11 announcement, the wording about resort hotels reopening has also been removed. We are still awaiting confirmation regarding the removal of the statement and what it means for the reopening of the resorts. At this time, the reopening of Disney Vacation Club resorts and Disney's Fort Wilderness Resort & Campground on June 22 is confirmed.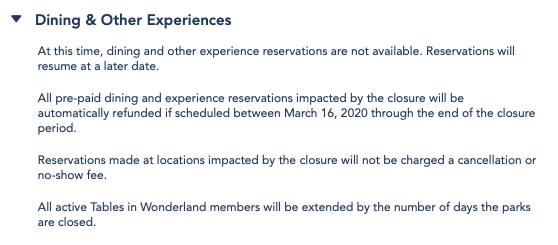 Under "Dining & Other Experiences", Disney states that reservations will resume at a later date, with waived no-show fees on any reservations made at locations impacted by the closure. All active Tables in Wonderland members will be extended by the number of days the parks are closed.
Despite proposed reopening dates, the logistics of the reopening are still being determined, and with limited capacity and operations, it's likely that not all restaurants will be available.
Guests with booked reservations are reporting being unable to book FastPasses, even for dates within the reopening announcement. Once again, until those dates are approved by the state and officially announced, it seems Disney is keeping the entire reservation system on lockdown until everything can be sorted out.