With the reopening of the Universal Orlando Resort last week came a new way of waiting for your favorite attractions: Virtual Line. While the parks are back open, the need for social distancing has brought about the advent of a way to control how many guests are allowed into a queue at the most popular rides and attractions.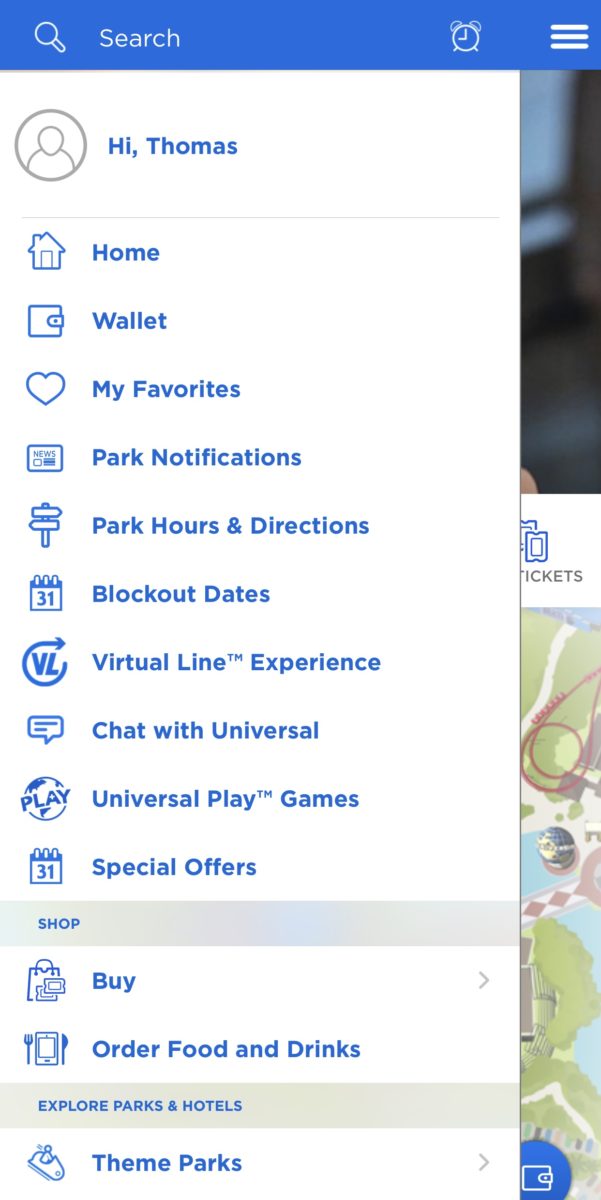 To see what's available for the Virtual Line service, just pop open the Universal Orlando app. In the app's directory, you'll see a menu item for "Virtual Line Experience". Click that, and you'll arrive at a description of the service: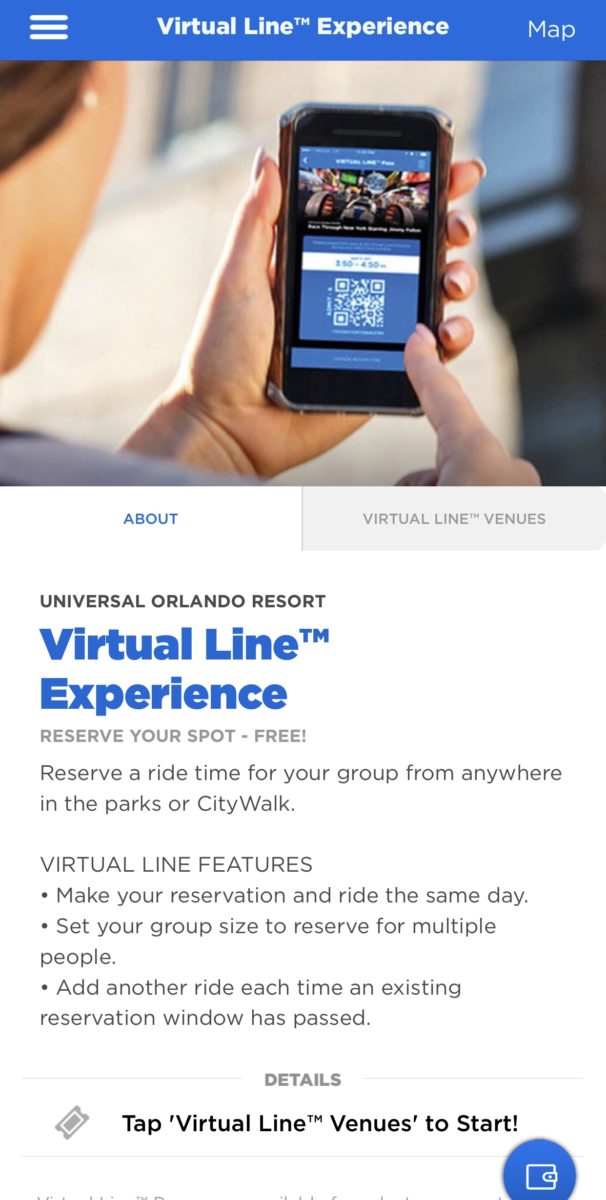 You can then tap "Virtual Line Venues" to get started. That being said, every time you open this, you may not have many, or even any options to actually book.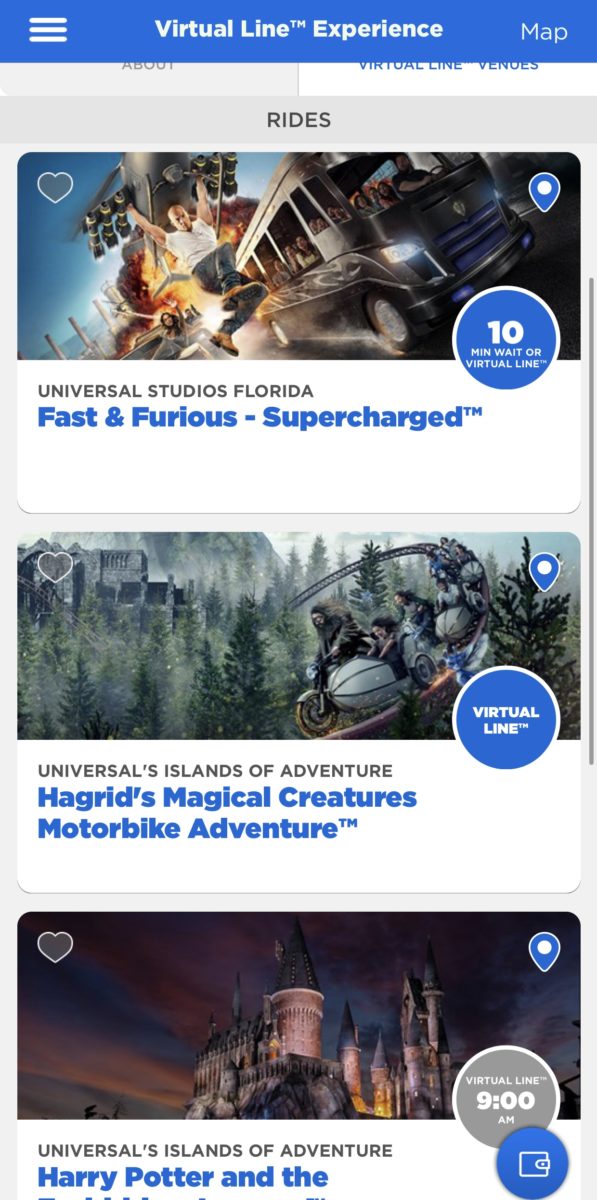 Various attractions advertise the service, but availability will vary based on the time of day and crowd levels. The attractions currently offering Virtual Line at any given time are:
Fast & Furious – Supercharged
Hagrid's Magical Creature Motorbike Adventure
Race Through New York Starring Jimmy Fallon
Revenge of the Mummy
Skull Island – Reign of Kong
Harry Potter and the Forbidden Journey
Harry Potter and the Escape from Gringotts
Despicable Me – Minion Mayhem
You can click on various attractions to try to obtain a return time for them. Most often, you'll be met with a screen telling you the following: "Sorry there are no return times currently available".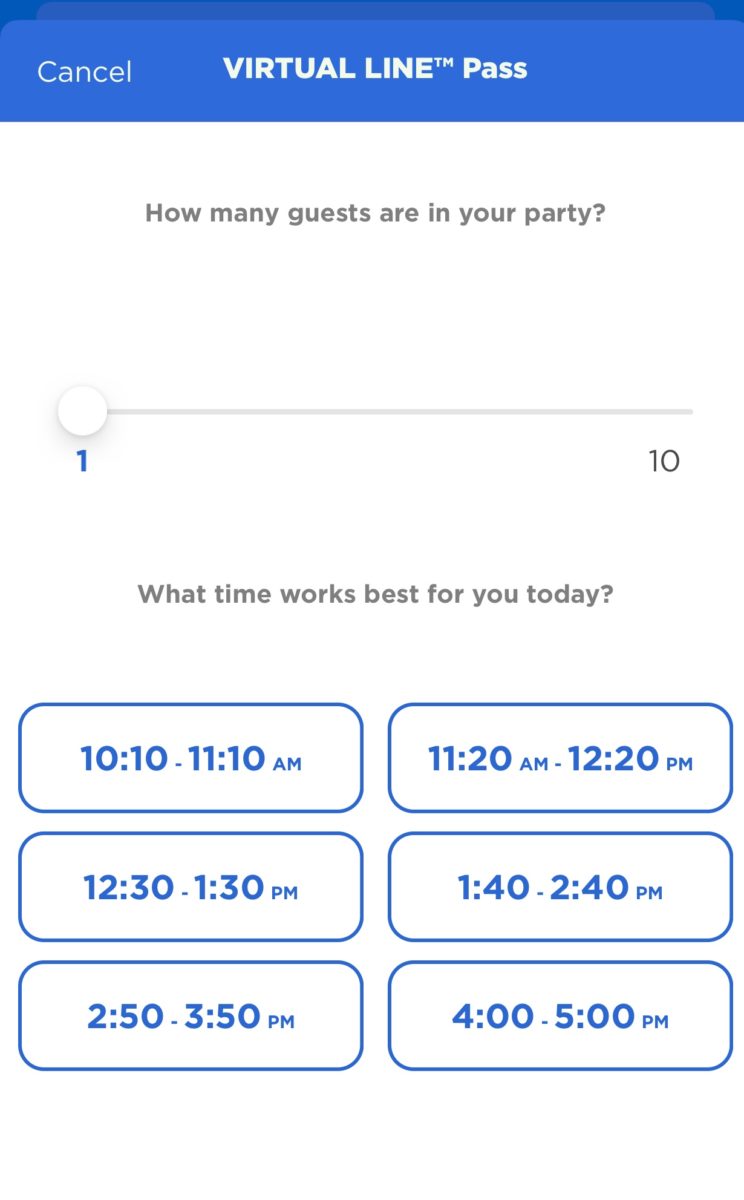 On rarer occasions, you'll get the chance to select a party size and a return time window in which to visit an attraction (unless you want to ride Race Through New York with Jimmy Fallon, then you'll likely always be in luck).

Upon successful selection, you'll get a page with all of your reservation info and a QR code to scan at the entrance of the experience. I say successful selection because sometimes you click through these choices only to be met with a message that you aren't able to actually get the time and party size you are actively clicking on. Some return times run out fast, so expect to see this a lot, possible as much as the "sorry" screen I mentioned before.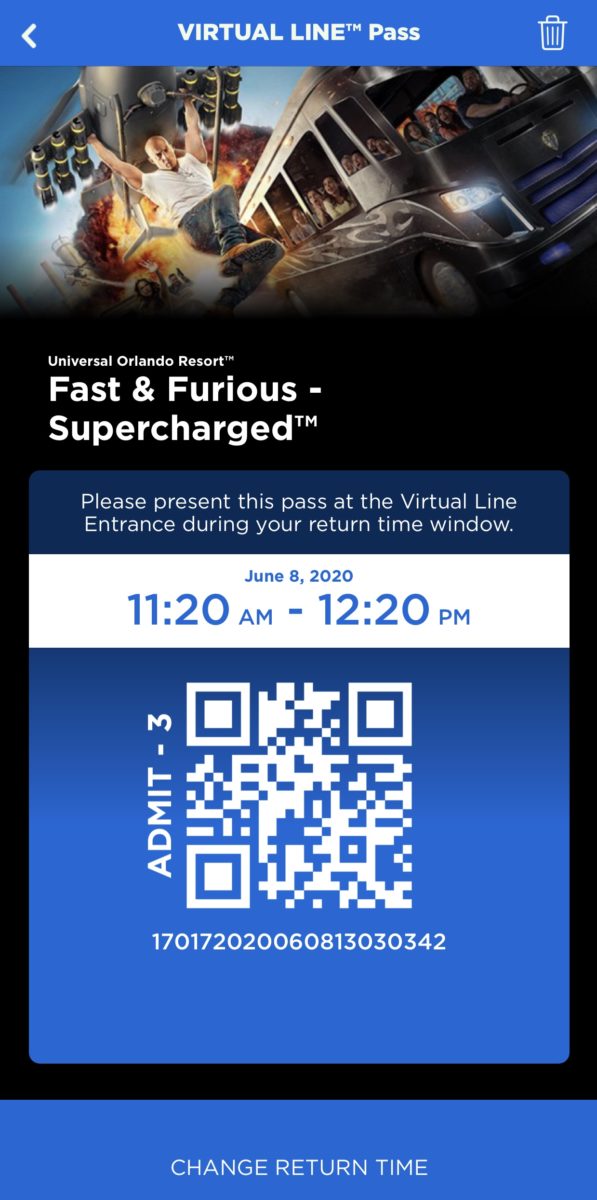 When you do successfully book a time, it remains in your app. As with any of these virtual ride time services at any theme park, I advise taking a screenshot just in case of any technical glitches and such. If you're feeling brave, you can also modify the reservation from this screen and change the time and party size at any moment. A warning though: you can lose your reservation by doing this. I once tried to modify my Hagrid's Magical Creature Motorbike Adventure virtual line time only to completely lose any and all reservations to the attraction, both the old and the new time I was trying to change it to. On other attempts, this did work, you may just not want to chance it if you have a particularly hard one to book already made.
Some attractions require a Virtual Line reservation to gain admittance. Some attractions utilize both a Virtual Line and a normal standby line. To confuse you even further, some change between both of these systems on a whim. One day, we entered the standby line for Escape from Gringotts as you normally would, but when we went to ride again later, we needed a Virtual Line reservation. The Universal Orlando app will be your best way to check what system each attraction is using on a given day or at a given time. The more you check the app, the more likely you'll be able to grab exactly what you want.
I wish I could tell you for much of anything with complete certainty, but the only definite seems to be that Hagrid's Magical Creature Motorbike Adventure exclusively uses Virtual Queue.
There are some caveats to this system where you don't need to even worry about using Virtual Line. If an attraction has a Universal Express queue and you have the service, you can use it without bothering with the Virtual Line system. If you utilize the Attraction Assistance Pass for guests who have trouble with a standard queue, you don't need Virtual Queue either. If neither of these apply to you or the attraction doesn't offer Express, well, you had better learn how to book a return time on your phone.
In our experience, any one guest can book and hold up to two Virtual Line return times at once. These times are good for up to eight guests using the slider in the selection screen for each attraction to choose your party size. The larger the party size, the harder the return times will be to book based on what we saw.
If more people in your party have the Universal Orlando app, you can get more return times. We had 3 people in our party one day and all 3 of us acquired return times for Motorbike Adventure that were good for up to 3 guests. As you would guess, this means we got to ride the attraction 3 times.
To book a Virtual Line, you don't even have to be in a park at times. I booked a Virtual Line for Motorbike Adventure while on the bus to the parks just yesterday. Today it wouldn't allow me to do so, but I could book other attractions from outside the parks. In the case of Hagrid's, the return times became available to book just prior to park open, but only for some earlier reservation times (prior to noon). Later times are released in the app later in the day based on how many guests the ride has accommodated so far. The ride breaking down or weather closing the attraction will affect the release of these Virtual Line times daily. The latest times will even get cancelled as the return times fall behind schedule (similar to Rise of the Resistance's Boarding Group system).
Basically, there's some luck needed, but it has seemed that just about anyone who wanted to ride Hagrid's over the last few days has been able to get at least one return time a day. We honestly had a much harder time booking one for Revenge of the Mummy, an attraction generally in way less demand. Also, remember that crowds have been low thus far, so result may vary as tourists return to Orlando.
Procuring a Virtual Line return time doesn't necessarily equal the shortest wait times imaginable for a ride, but in most cases they seem much shorter. On average, we waited about 30 minutes for Motorbike Adventure, about the same for Escape from Gringotts, and roughly 20 minutes for Skull Island – Reign of Kong. These waits are pretty good compared to what these wait times could be normally.
Undoubtedly, what you read above will change over time. It's a new system and they are still working out all of the kinks. When it does work and you can book what you want, the system is great and is likely the wave of the future for the theme park experience. I can see a day, even long after COVID-19, when you can roll into a park and set up several virtual queues for throughout the day, ensuring shorter waits for everyone just by spreading guests out better throughout the day. It's what FastPass was intended to be, but well on its way to being perfected by modern technology. Let's just hope it gets to full functionality soon and is less a game of roulette.