It's time to relearn the process of attending the Walt Disney World theme parks as we go step-by-step into the new Disney Park Pass System bright and early this morning. If you've been tirelessly attempting to secure reservations since dawn, you're not alone. The Walt Disney World website was overloaded at 7:00 AM (ET) this morning and is only now recovering. Once we get through ourselves, we'll make sure to follow up with a step-by-step guide, but for now, we can only offer some links that may be more helpful than whatever static castle image you've been staring at for the past two hours: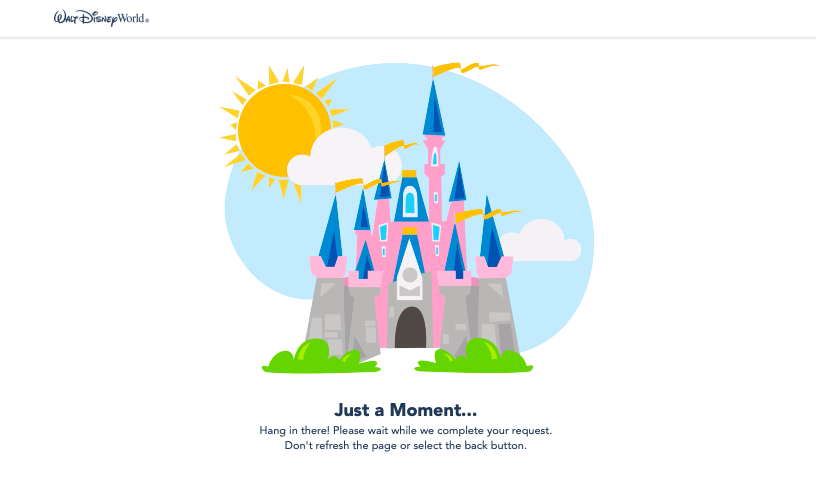 First off, you'll of course want to make sure you're signed in to My Disney Experience. You may encounter a number of "hold" screens before reaching the very site itself.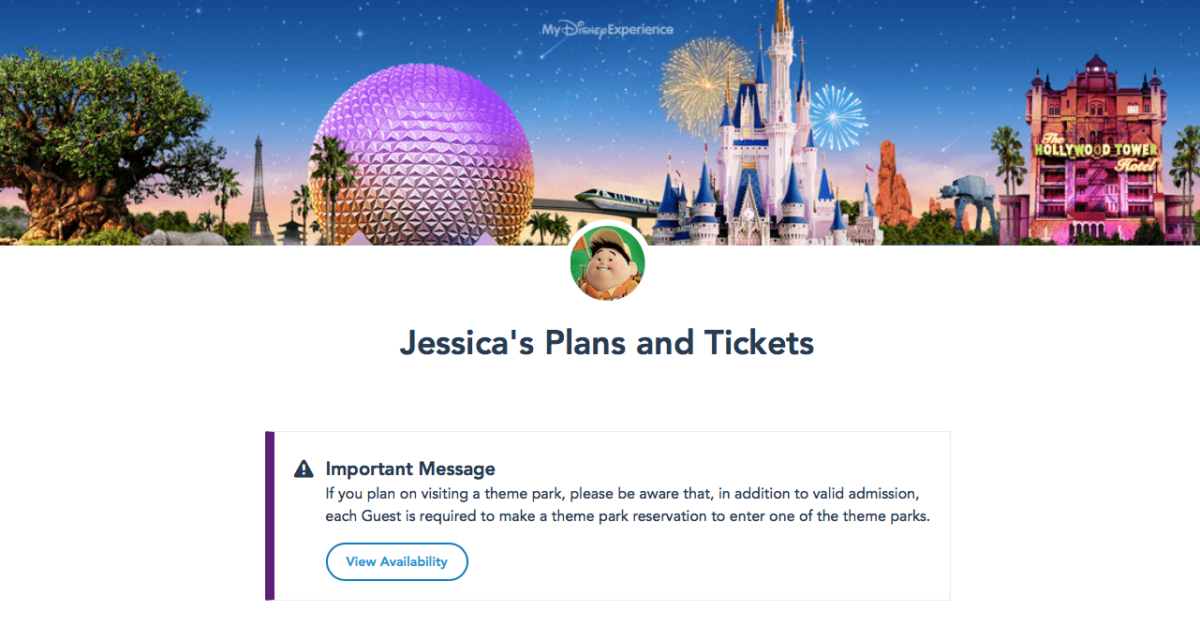 Here you'll notice an important message warning guests that in addition to valid admission, they'll need a theme park reservation in order to enter:

Clicking "View Availability" below the message will take you to the new Disney Park Pass Availability page, where you can check to see if your desired date and park is currently available. You can also access the availability calendar by clicking here. Calendars can be filtered by Theme Park Resort Guests, Disney Resort Guests, and Annual Passholders.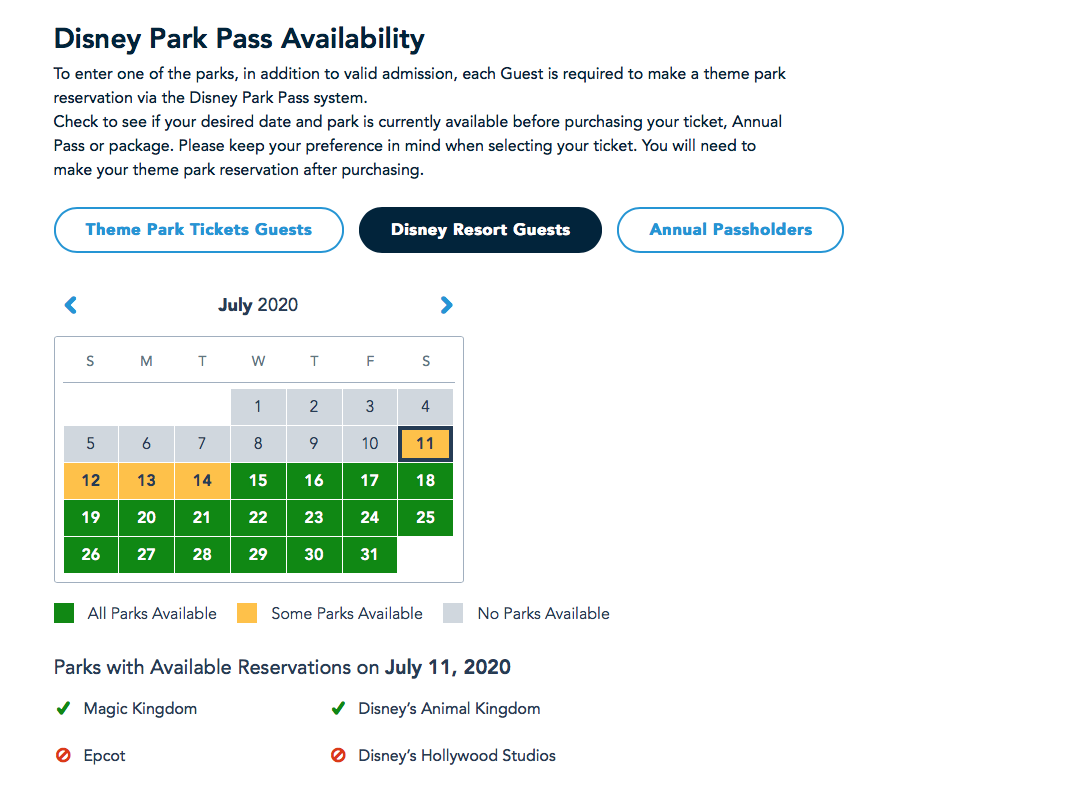 Now, under the My Disney Experience drop-down, you'll see the new Disney Park Pass System as an option to click: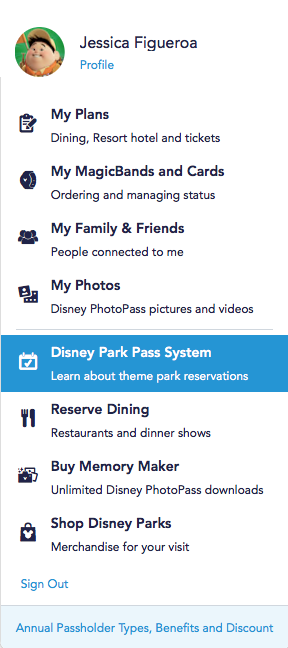 Click through on that and you'll be sent to this page: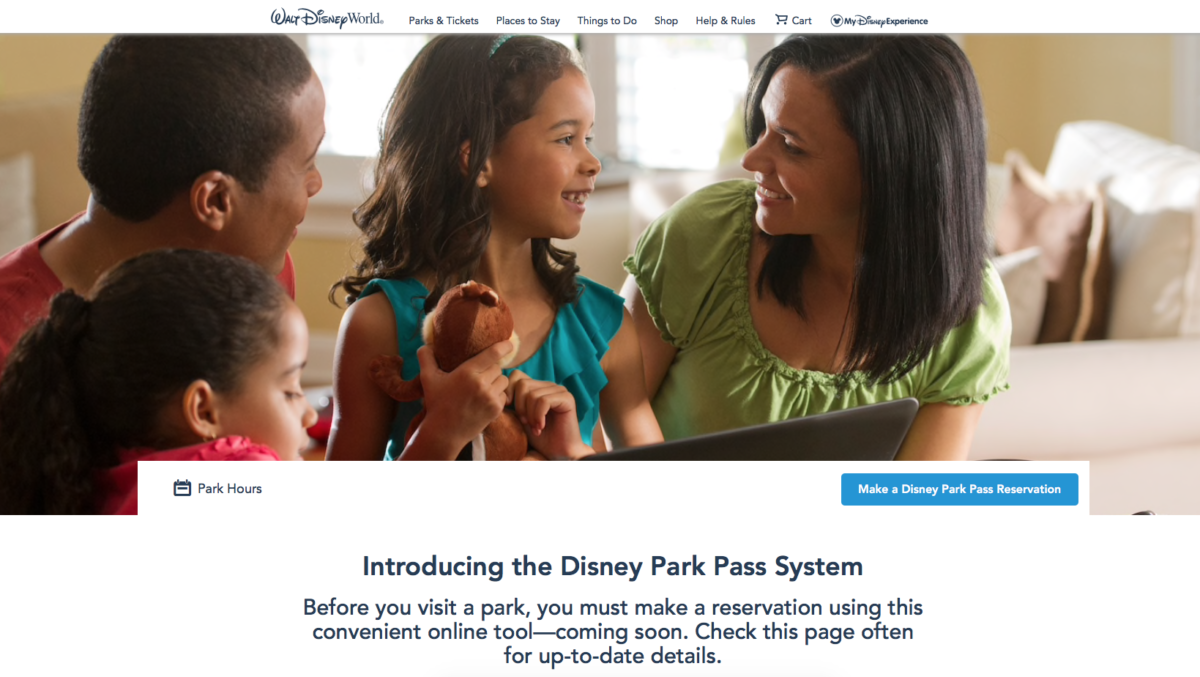 Clicking on "Make a Disney Park Pass Reservation" (the blue box in the corner) will lead you to the following link: https://disneyworld.disney.go.com/park-reservations/
Many have also been attempting to reach the reservation system via this link: https://disneyworld.disney.go.com/login/?returnUrl=/park-reservations/create-party
Do note that this page, for many, is simply another countdown page, but many have reported on some success waiting it out and getting through to the Park Pass page… eventually. Do let us know how your progress goes, and we'll continue to update you on the full process once we get through as well. Readers have reported successfully obtaining reservations by specifically using Chrome or even Internet Explorer as their browser.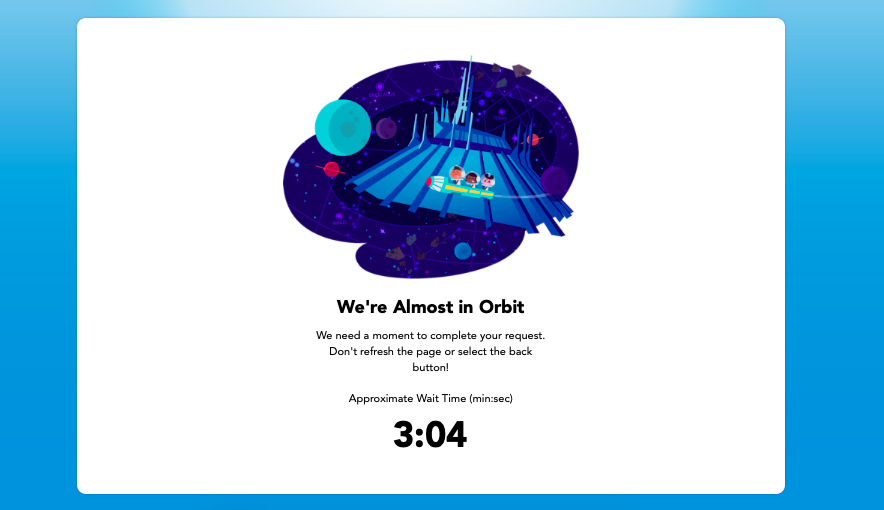 We waited a while on Chrome, but after a few countdown screens, we finally got through. Here are our step-by-step instructions on how to secure a Disney Park Pass reservation:
For all guests with confirmed Disney Resort hotel reservations, today marks the day you can make theme park reservations. Do note that you require valid park admission in order to proceed with the reservation process. Beginning June 26, Annual Passholders without a Resort stay booked can begin to make reservations, and on June 28, all other existing ticket holders can start booking reservations.
Step 1: Link Your Admission to Your Disney Account
To get started, you'll need valid park admission that's linked to your Disney account.
Once your admission is linked to your account, you can begin to make a park reservation.
Step 2: Create Your Party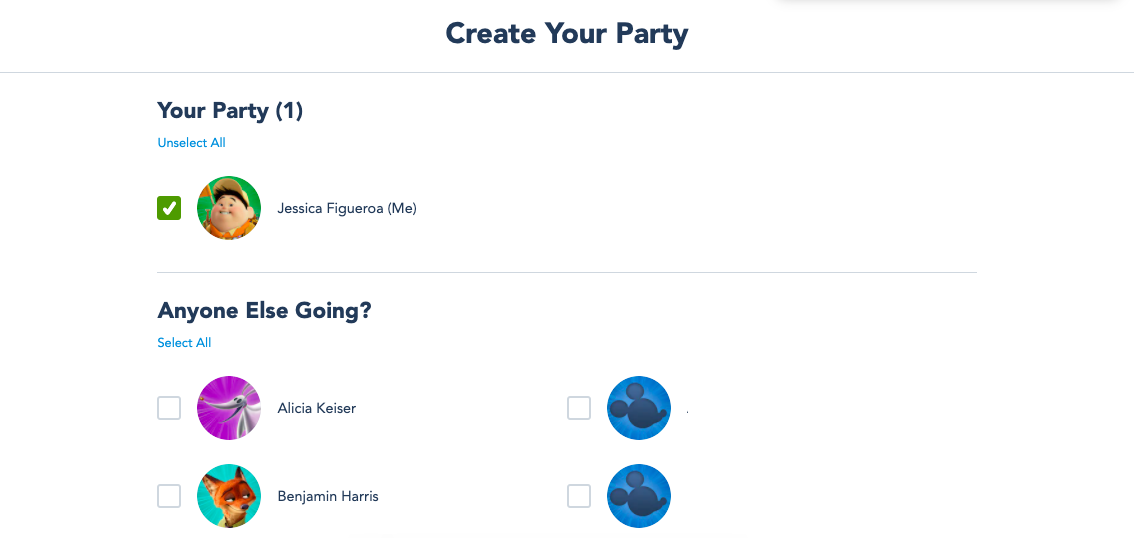 When you begin to make a reservation, you'll be prompted to create your party from your Family & Friends list. Simply select the family and friends you'd like to include, then select "Continue".
Don't see someone in your travel party? Select "Add a Guest" to include them: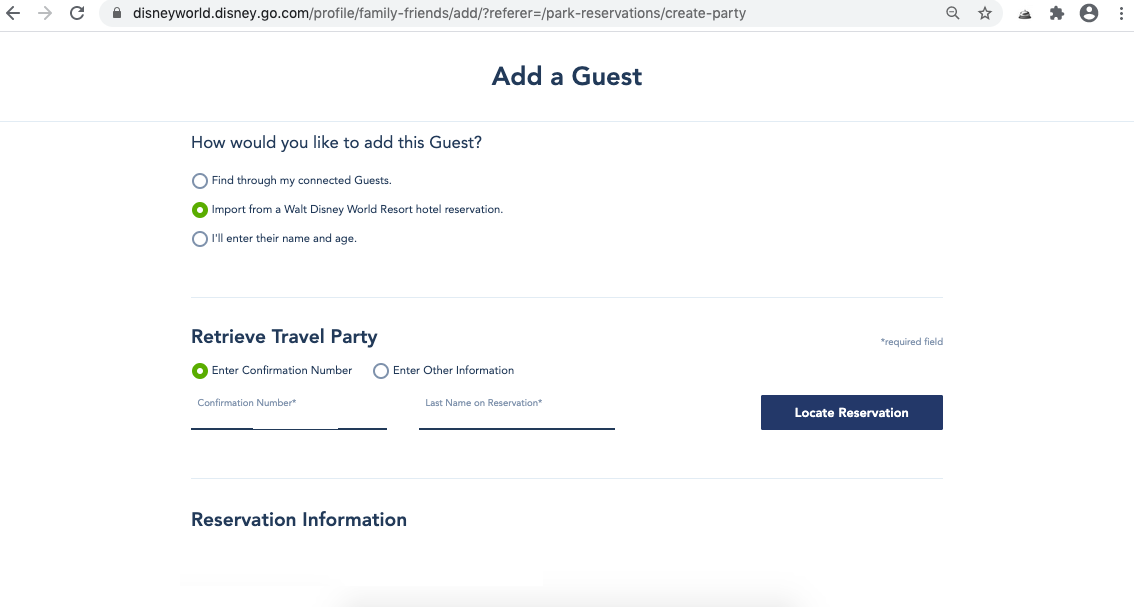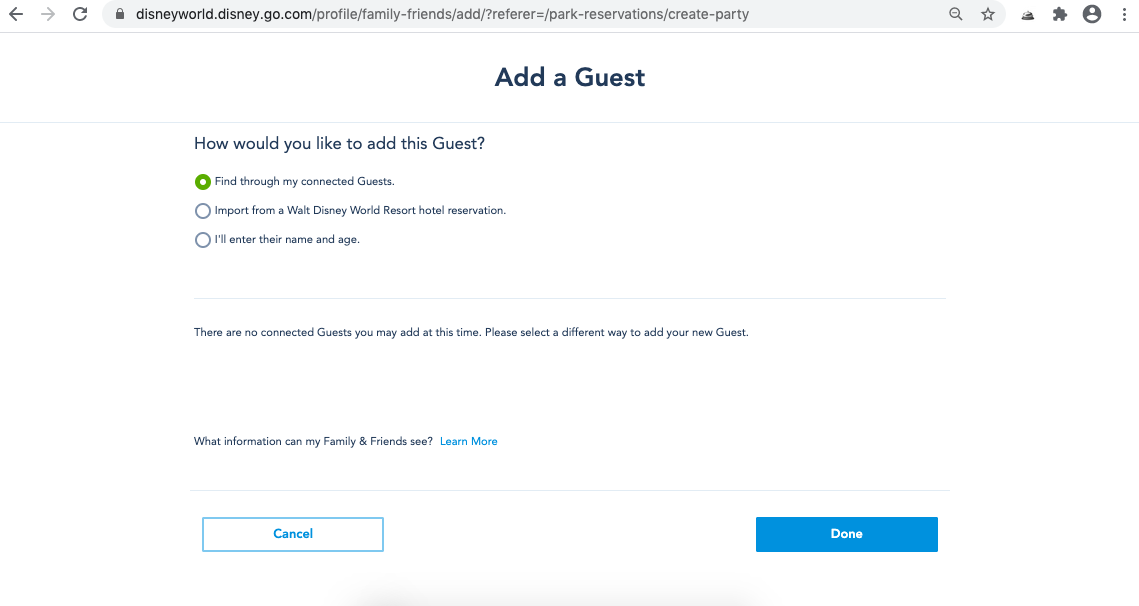 Note: You may need to make more than one Disney Park Pass reservation for your party depending on your admission type. Please make sure your party consists of Annual Passholders or theme park ticket holders.
Everyone in your party must also have a hotel reservation. If this varies, you will need to make separate Disney Park Pass reservations.
Step 3: Select a Date and Park
Choose the date and the theme park that you'd like to visit from the available reservations. Please note that dates and theme park selections are limited and subject to availability.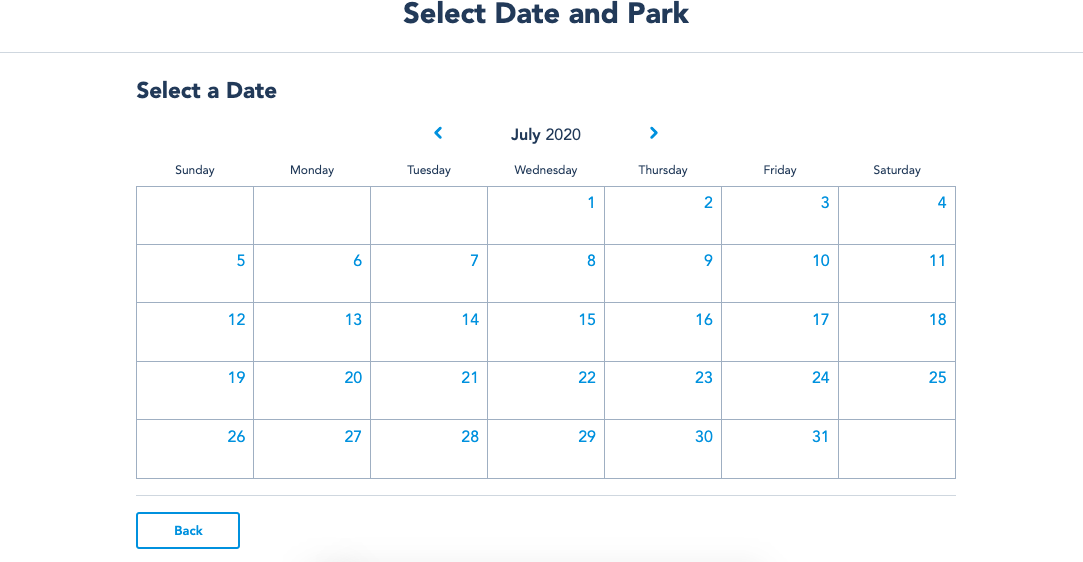 The earliest you can book a theme park reservation is starting on July 11, with the option of the Magic Kingdom or Disney's Animal Kingdom. Starting July 15, you can also pick between EPCOT and Disney's Hollywood Studios.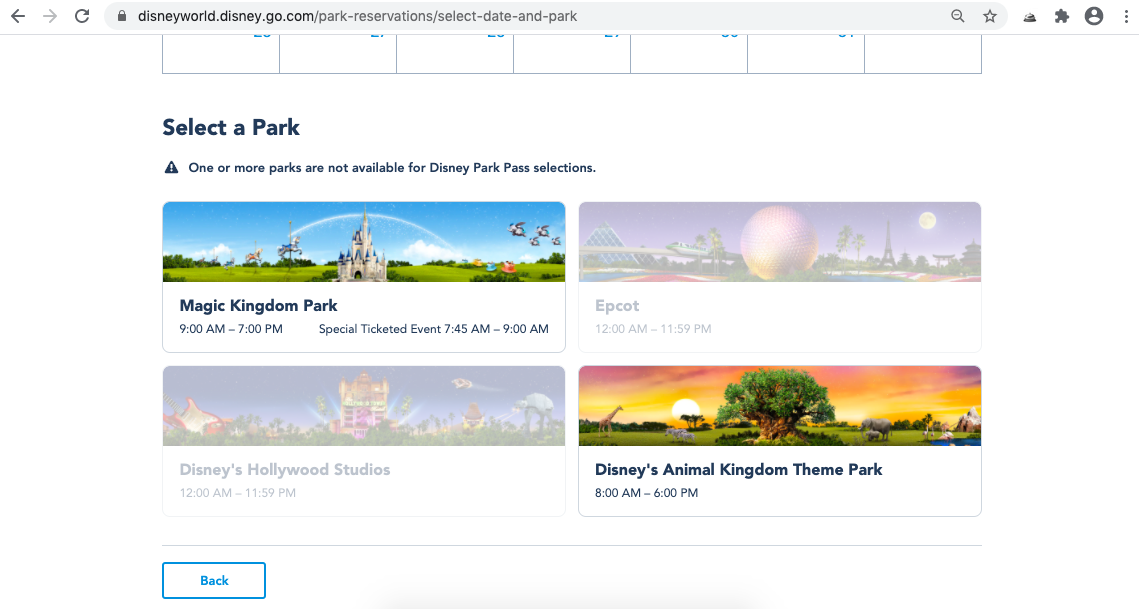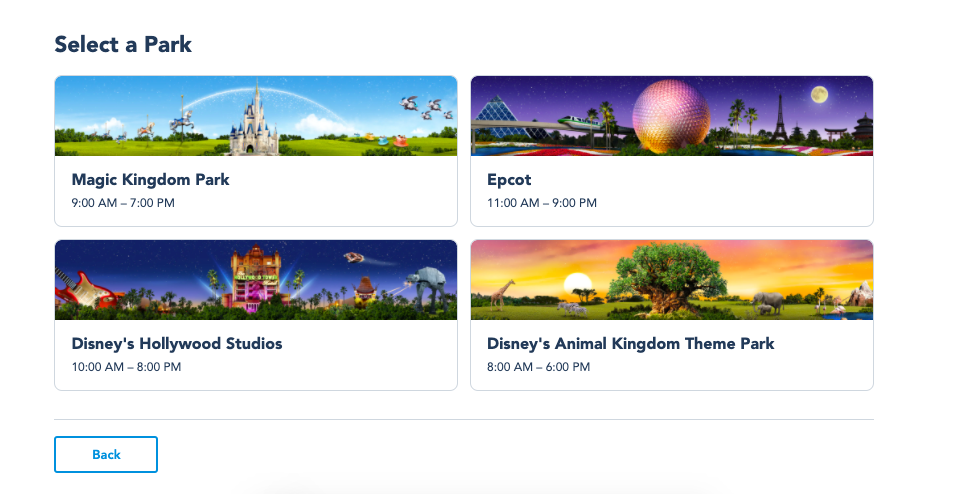 After creating your party in the Disney Park Pass system, you'll be prompted to:
Select a Date: View a calendar and choose one of the available dates for your visit.
Select a Theme Park: Park hours will be displayed for your convenience.
Select a Time: This is the time that you can visit the park.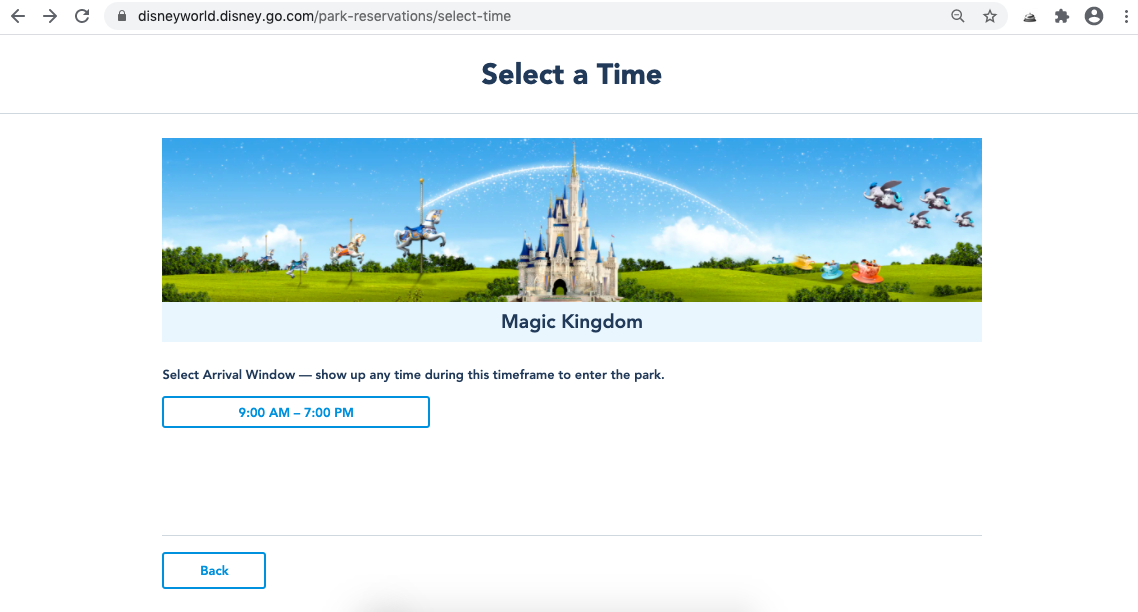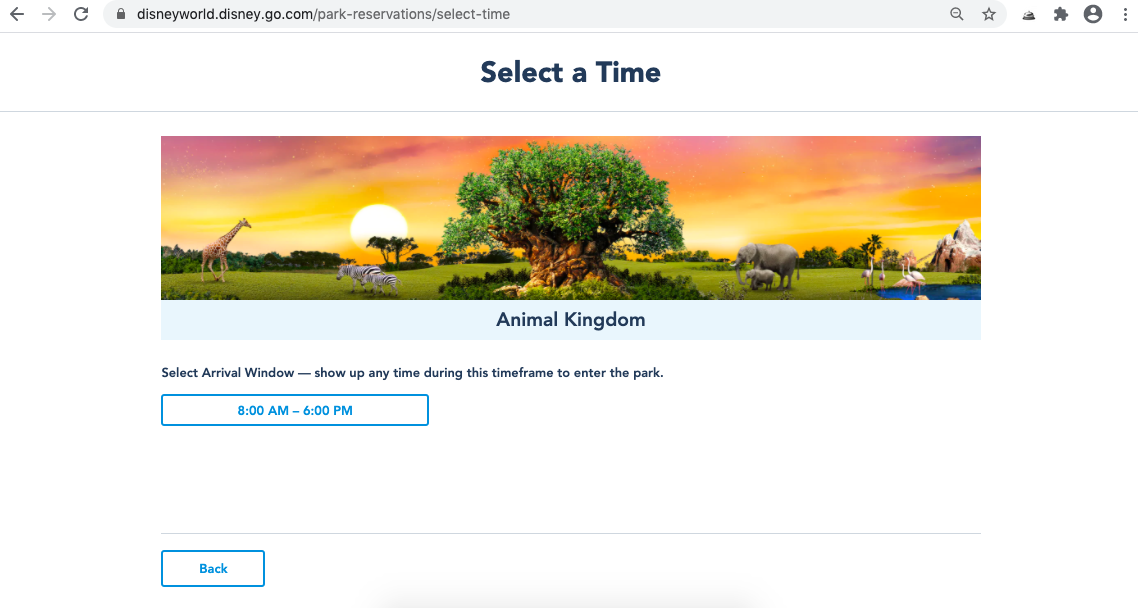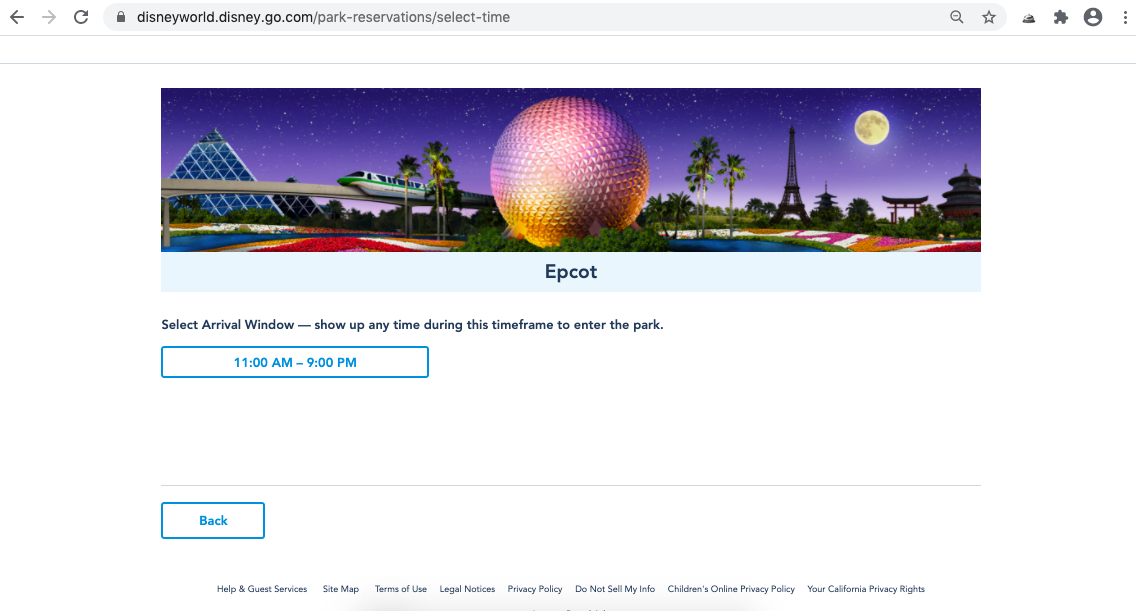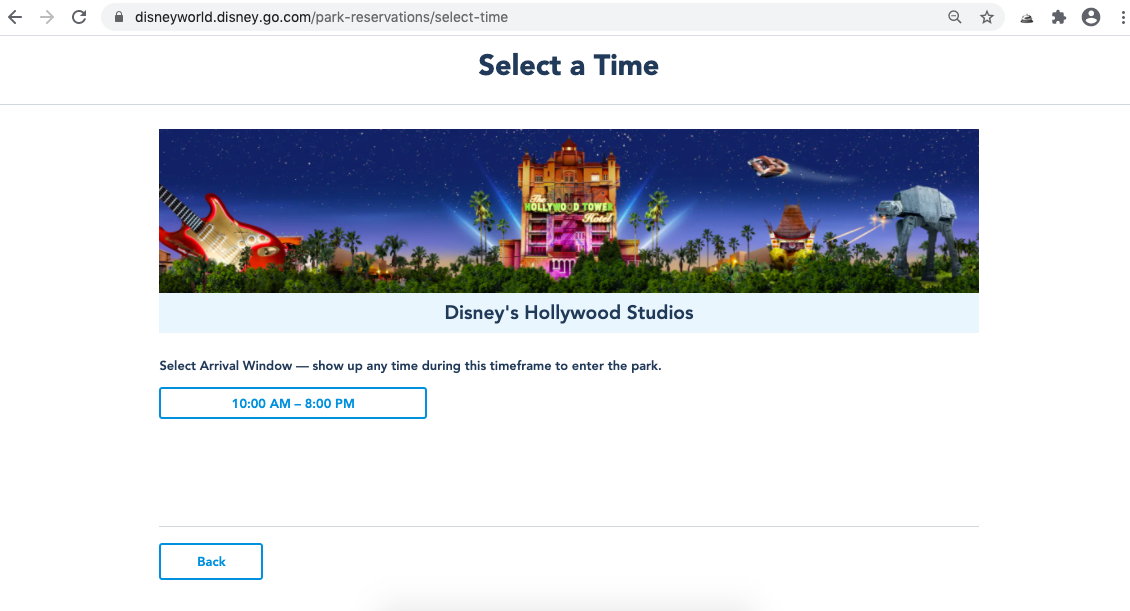 Do note that if you've surpassed your allotted number of reservations, you will get the following notice: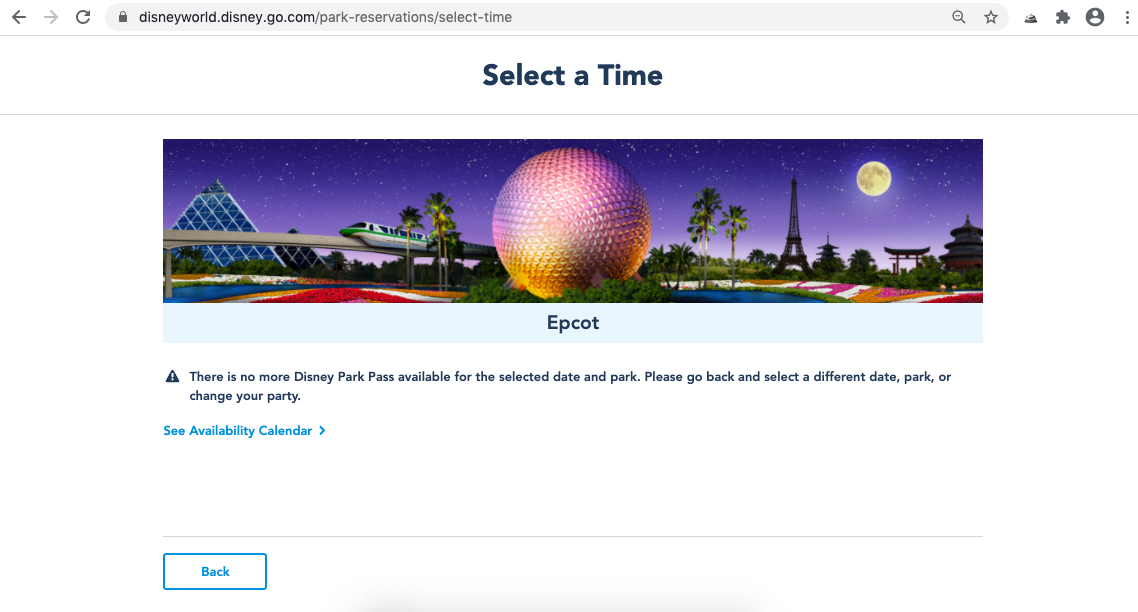 After selecting your date, park and time, you can confirm your reservation.
Step 4: Review and Confirm Your Plans
Carefully review and confirm your selected park and date. If you need to make any changes, select "Back" to revise your selections: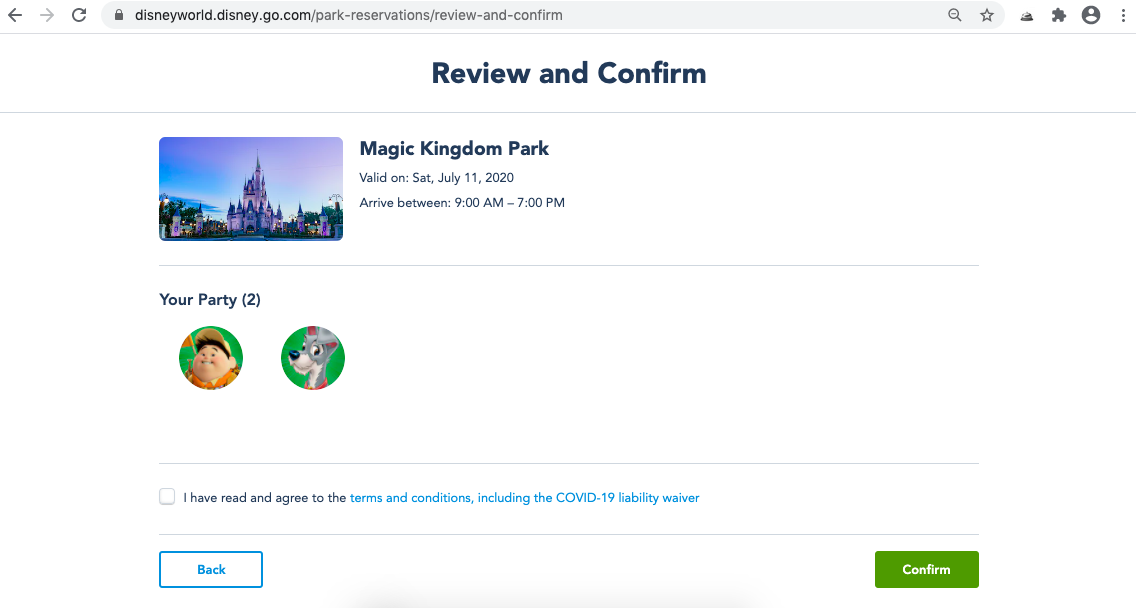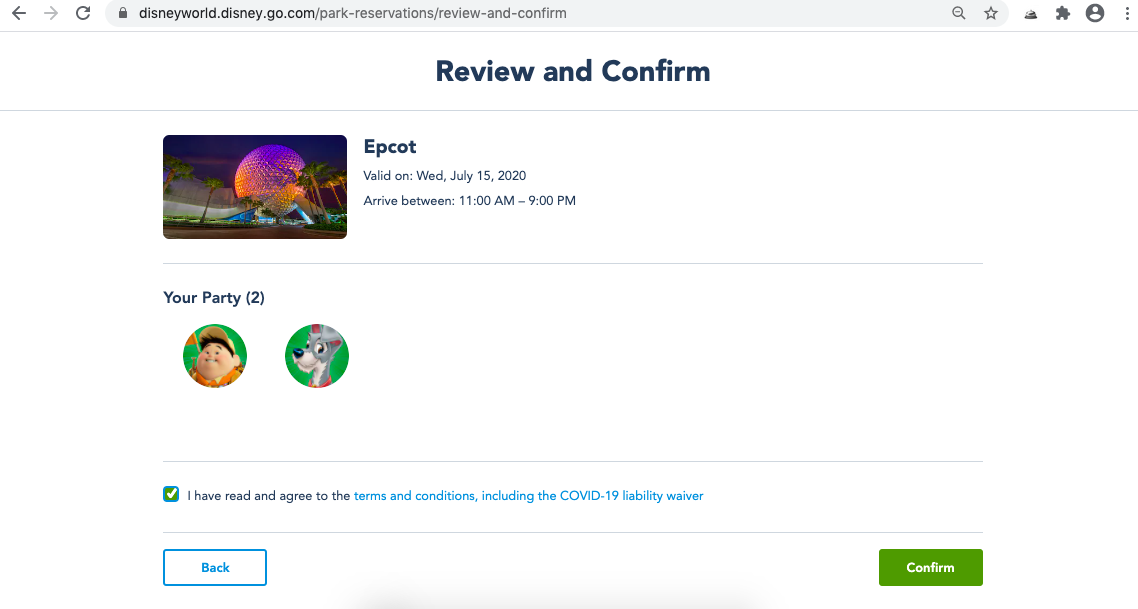 Before confirming, you'll need to agree to the Terms & Conditions, including the COVID-19 liability waiver. Then, select "Confirm" to complete your park reservation.
Once confirmed, your reservation will appear in My Plans.
Want to make another park reservation? Select "Make Another Reservation" to continue planning. As a reminder, if you have a multi-day ticket, you will be required to make a park reservation for each date of your visit. Your new reservation(s) will appear in My Plans—both online and in the My Disney Experience app.
If you need to cancel a reservation, view your daily itinerary in My Plans, then select "Reservation Details".
And there you have it, a secured theme park reservation! Even though there will be no FastPass+ offered, with Disney choosing to just utilize Stand-By queues upon all parks reopening, we're very excited to get back into a Walt Disney World theme park.