After a slow and frustrating launch for many guests on Monday, the Disney Park Pass system is now live for Disney Resort Guests to make theme park reservations ahead of the reopening. Guests trying to access the system were faced with unresponsive hold pages, countdowns that loaded to blank pages, and errors once they finally managed to get through to the Disney Park Pass system.
In a statement to CBS News, Disney stated that the theme park reservation had no such glitching errors, stating that guests were simply trying to "book before it was their turn":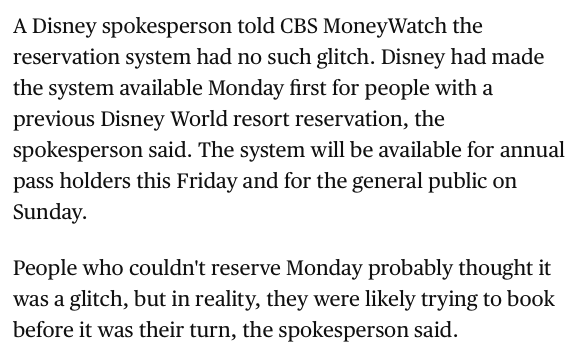 Mid-morning on the launch of the Disney Park Pass system, Disney updated their main Cinderella Castle hold page with a note on booking dates: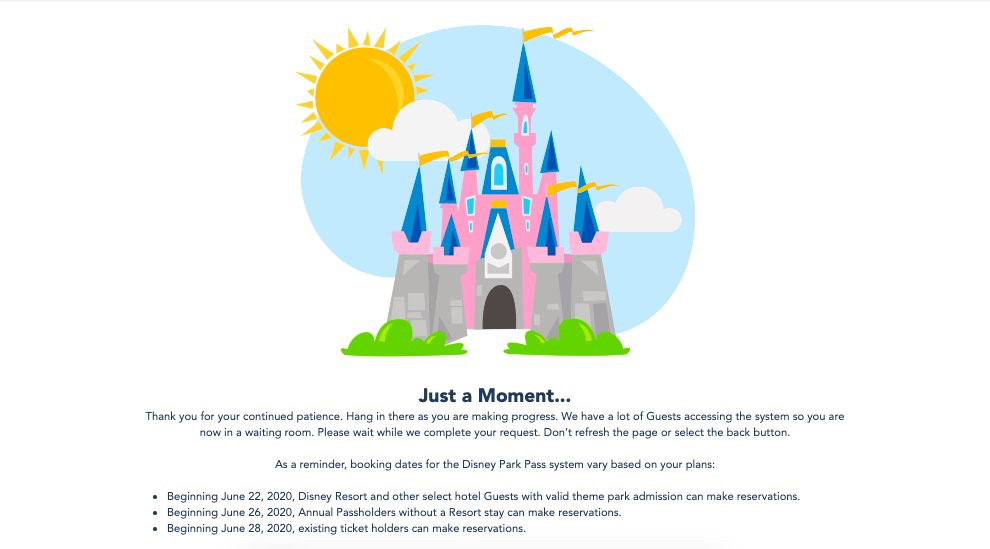 Many would argue that high levels of "user error" are typically a product of poor software design as opposed to consumer ignorance. Without the dates outlined on the holding page for hours after the launch of the Disney Park Pass system, guests who were not otherwise informed simply went through the holding process blind. In fact, multiple facets of the Walt Disney World website led to a holding page, so even guests who were just casually checking on their My Disney Experience account were made to wait.
If you're looking to make reservations, you can check out our step-by-step guide here. Do note that reservations are only currently open for Disney Resort Guests with valid admission. On June 26, reservations will open for Annual Passholders, and on June 28, all other existing ticket holders can start booking reservations.
What has your experience with the Disney Park Pass system been like? Sound off in the comments below.