Although the grand reopening of Disney's Hotel New York – The Art of Marvel has had to be delayed due to the COVID-19 pandemic, exciting new snippets of information are still being revealed about the highly-anticipated hotel, due to open soon at Disneyland Paris.
The superhero-themed hotel, which was originally scheduled to open to guests this summer, will be the result of a large-scale refurbishment project on what was formerly Disney's Hotel New York, located just outside of Disney Village at the resort. The canvas of the Manhattan-inspired hotel is promised to have been adorned with all different kinds of artwork inspired by the Marvel Universe. As part of this reimagining, the luxury suites available at the hotel have all received a unique theme, perfect for any guest hoping to be transported into a luxury, hero-filled New York during their stay in Paris. The full list of room types, plus new concept art from the Disneyland Paris website, are listed below…
Empire State Club Rooms & Suites
As well as all the amenities offered in the Superior category rooms of the hotel, each of the Empire State Club rooms and suites include access to the exclusive Empire State Lounge for private breakfast, drinks and afternoon snacks, valet parking and the services of a private reception desk.
The Art of Marvel Presidential Suite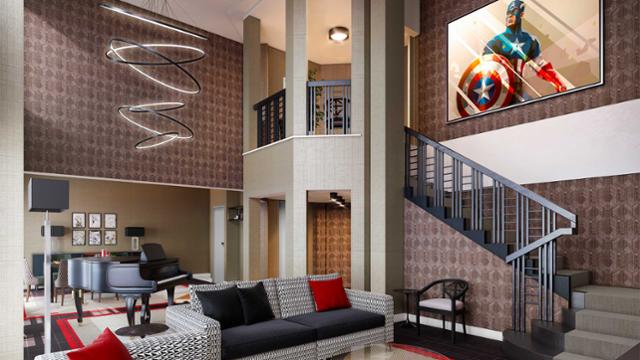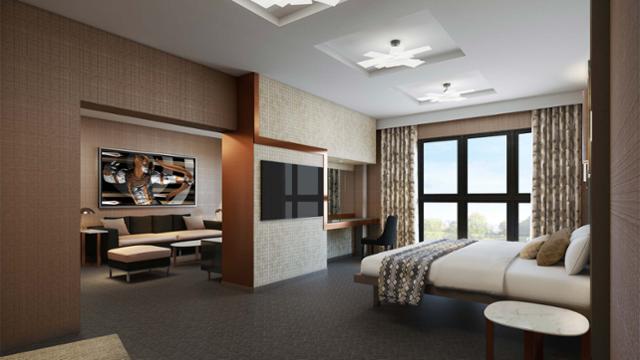 The highest room class available is The Art of Marvel Presidential Suite. Here, up to five guests can 'get a taste for the Tony Stark life' in this two-floored, elegantly furnished suite. These suites contain one large double bed and two sofa beds.
Avengers Suite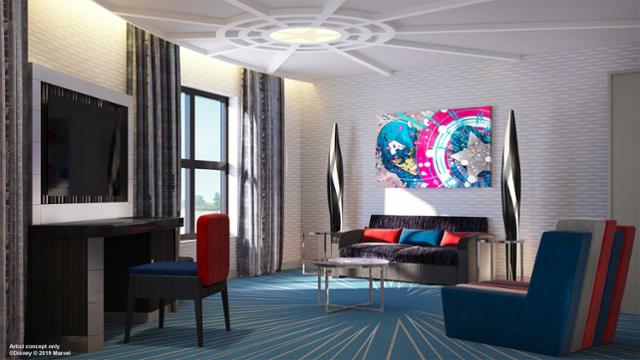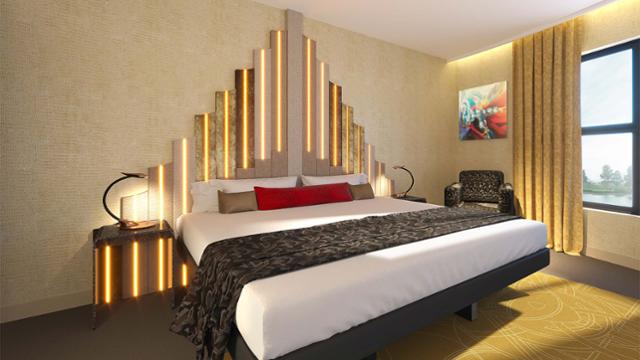 Inspired by Captain America, Thor and Iron Man, the one-bedroom Avengers Suite offers one large double bed and two sofa beds.
Spider-Man Suite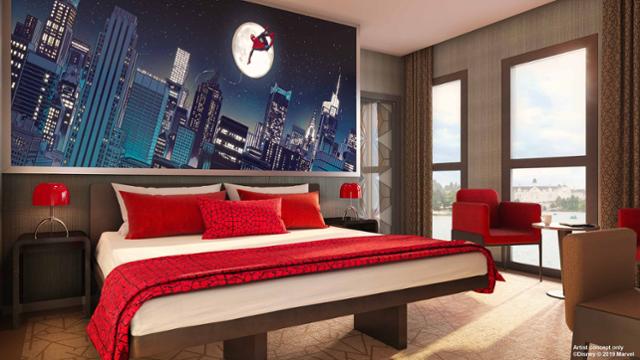 The large, modern Spider-Man suites feature incredible artwork depicting everyone's favorite hero. Suites for four and five guests are available, with a mix of one large double bed and either a sofa bed, or seat beds.
Super Heroes Suite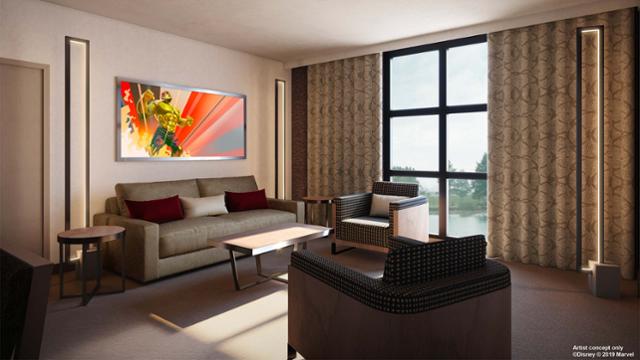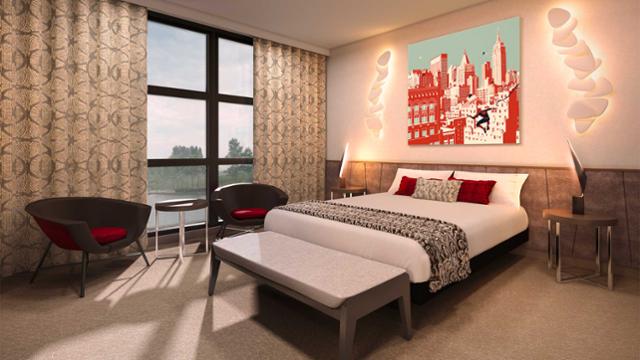 Guests can request separate bedroom and living areas with the Super Heroes suites, which is inspired by the timeless art deco style of the hotel. This option sleeps up to four guests, in one large double bed and one sofa bed.
Empire State Club Rooms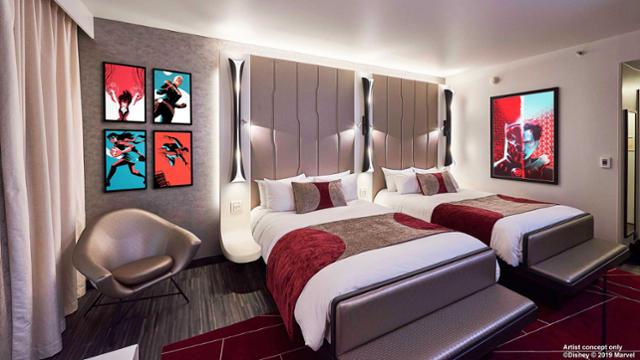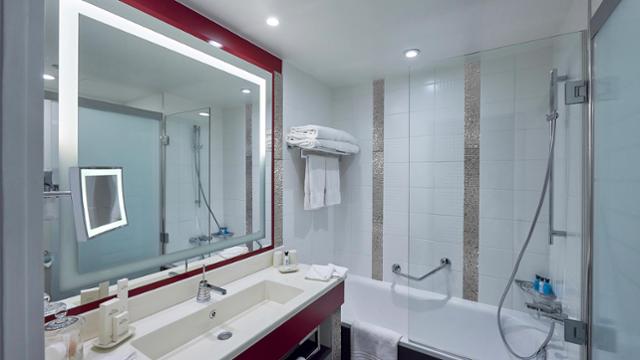 The Empire State Club rooms each sleep four guests, on either two double beds or a combination of one double bed and a sofa bed. They boast contemporary style blended with Iron Man-inspired decor, and either garden or lake-view rooms are available.
Superior Rooms
The Superior rooms at the hotel include tea and coffee making facilities, free high-chair and baby cot loan, free WiFi, a mini-fridge, radio, luggage service and a safety deposit box.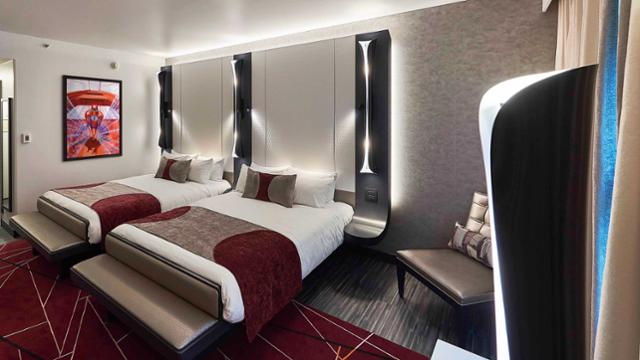 Each of the Superior rooms are adorned with Super Hero portraits and modern, Manhattan-style furnishings. The rooms sleep between three and six guests. Family rooms, Garden View rooms and rooms with a Garden Terrace are all on offer, each with either double bed or sofa bed sleeping.
Resort Facilities
Across the resort, there are a wide variety of activities for guests to take part in, and facilities to use. For those wanting to 'unleash their inner Hulk', an indoor gym is open 24-hours of the day, as is a brand-new outdoor fitness park for when the days are sunny. As well as this, heated indoor and outdoor pools, kid's pool and hot tub are all available at the Manhattan-themed Metro Pool complex.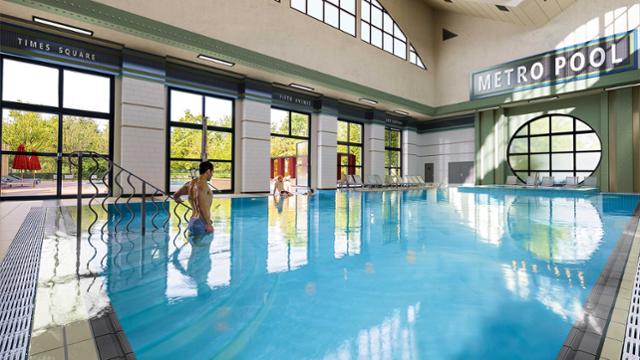 For fun, family things to do, guests can meet their favorite heroes at the Super Hero Station (health and safety permitting) and explore their creative talents in the Marvel Design Studio – an artists' haven inspired by the Marvel Animators Ballpen.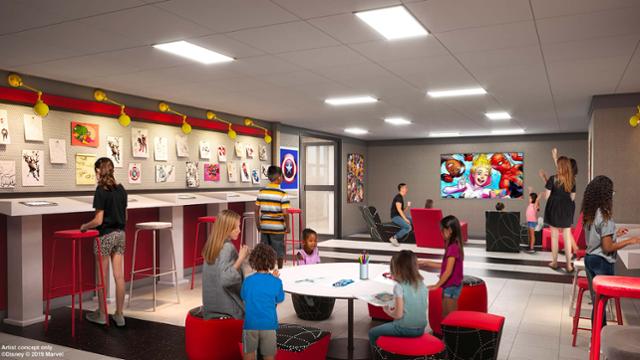 To check out more concept art for the hotel, click here. Are you excited to book your stay at Disney's Hotel New York – The Art of Marvel? Which room type will you be staying in?